If you use Instagram, you'd know by far that Instagram is all about visuals and maintaining an aesthetic feed. Without that, you're very less likely to gain visibility and engagement. That is why several users ensure that their helpful content also looks aesthetically pleasing. And that is why putting up simple photos or videos isn't enough, especially if you're a designer or a creative agency. It would be best if you had Instagram apps to ensure that the photos and videos you put up are great and likable.
So what are exactly Instagram apps?
Well, they are applications that can help you create a better feed for your Instagram. Some of them are photo editing apps; some are video editing, while others are used to create better designs. But all of these Instagram apps help you create content worth seeing and engaging. 
Benefits of using Instagram apps
Why do you need Instagram apps, you ask?
Well, as a designer or even a member of a creative agency, you're already overwhelmed with work. But at the same time, you have to ensure that your agency or your Instagram feed looks great. This is where using Instagram apps can help you out. They can speed up your work by streamlining the editing process. 
Let's look at some of the great benefits that they can offer:
Provide better and quick editing options
Editing Applications tend to have better editing options present, which means that you have a range of editing styles and ideas that you can apply.  These include various styles and forms of editing. So you can easily pick out a style for yourself and use that to create a distinct brand identity. 
Bring the A-game to your portfolio and feed
It does not matter if the pictures and videos you have are good; editing is necessary, either less or more. That's because maintaining a constant theme and style would help you create a brand identity and distinguish you from the rest.
Using Instagram apps in this regard can better enhance your work, making it look more eye-catching and pleasing than the competitor's work. 
Applications to edit pictures
Now there are different types of applications. There are the ones used to edit both; videos and pictures, but some are solely focused on one another. 
Below, we have compiled a list of the best Instagram apps for creatives to use. Let's look at them.
1. VSCO
You can see a #VSCO hashtag in almost all the captions of the pictures put up by creative teams or even individuals on their Instagram pages. And that's because it's quite a great tool to use for editing. That is also one of the reasons why VSCO is our top pick for editing pictures. It is available on both IOS and Android.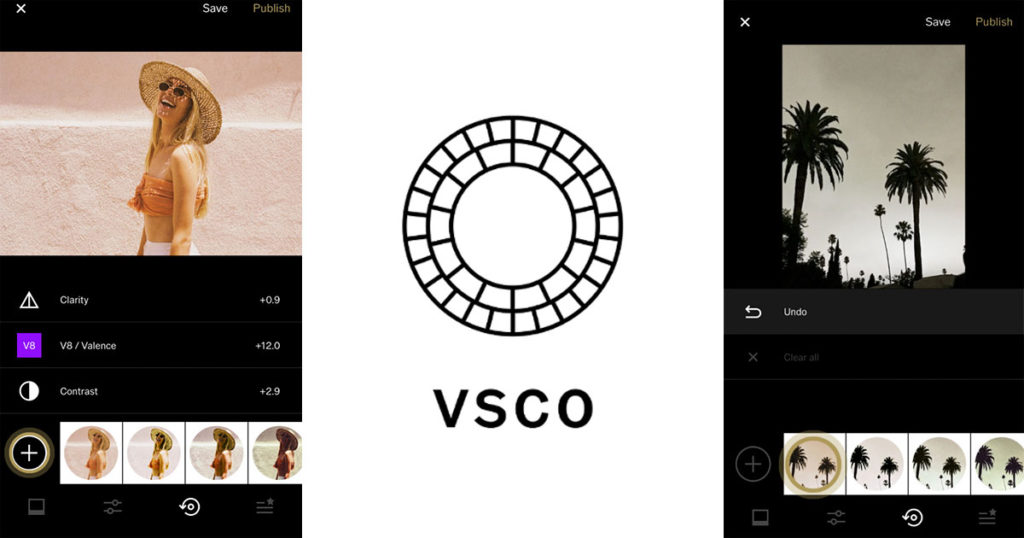 Here are some of its remarkable features:
Free Filters
Its basic version has around 10 free filters for you to start editing your pictures. These filters are so on point and natural that it seems like a camera captured your photograph. 
Advanced tools to bring out the appeal
It has various yet interesting editing tools to ensure that your picture gets a complete professional look. You can play around with the saturation, contrast, skewing tools, and see how they transform your image.
Added features with paid subscriptions
VSCO has monthly and annual paid subscription plans, and you will not regret buying one. 
The paid plan has around 200 filters for your pictures. It also offers some advanced photo editing tools along with video editing tools to polish your skills simultaneously.
There are also some weekly challenges that you can try to see how far you have come. Moreover, it also offers tutorials for its users so they can make their good content look great. 
2. Adobe Lightroom Photo
Adobe Lightroom Photo has always been the best go-to application for creatives to create masterpieces. You can easily use it on your laptops and mobile phones. Adobe offers it on both IOS and Android.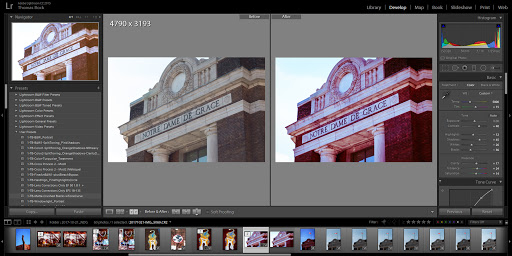 Here is a list of the standout features:
See the before and after version
Lightroom offers the best editing tools, even on its free version. You have the best tools at your disposal, and you can use them as you like, quickly editing your photos on the go. 
This includes one of the most exciting features of seeing an image before and after with just a click. This way, you can compare and track the changes that you've made.
Share your content
You can also share your work on Lightroom and allow everyone to view it and get inspired by your work. This is a great way to network and sees the work of other people as well. After all, there's always something that you can learn from a different perspective. And Adobe Lightroom's feature helps you with that.
Integration of data on the Adobe account 
Another feature that deserves to be highlighted is that the pictures edited on the phone's lightroom can easily be transferred on the laptop. How? You ask. 
Well, you need to login to your Adobe account on the mobile and the laptop. You can quickly transfer data from the mobile to the computer and from the computer to the mobile. 
3. Snapseed
There was a time when creative teams relied on only one or two applications to edit their pictures and videos. But Snapseed has been successful in breaking that monopoly.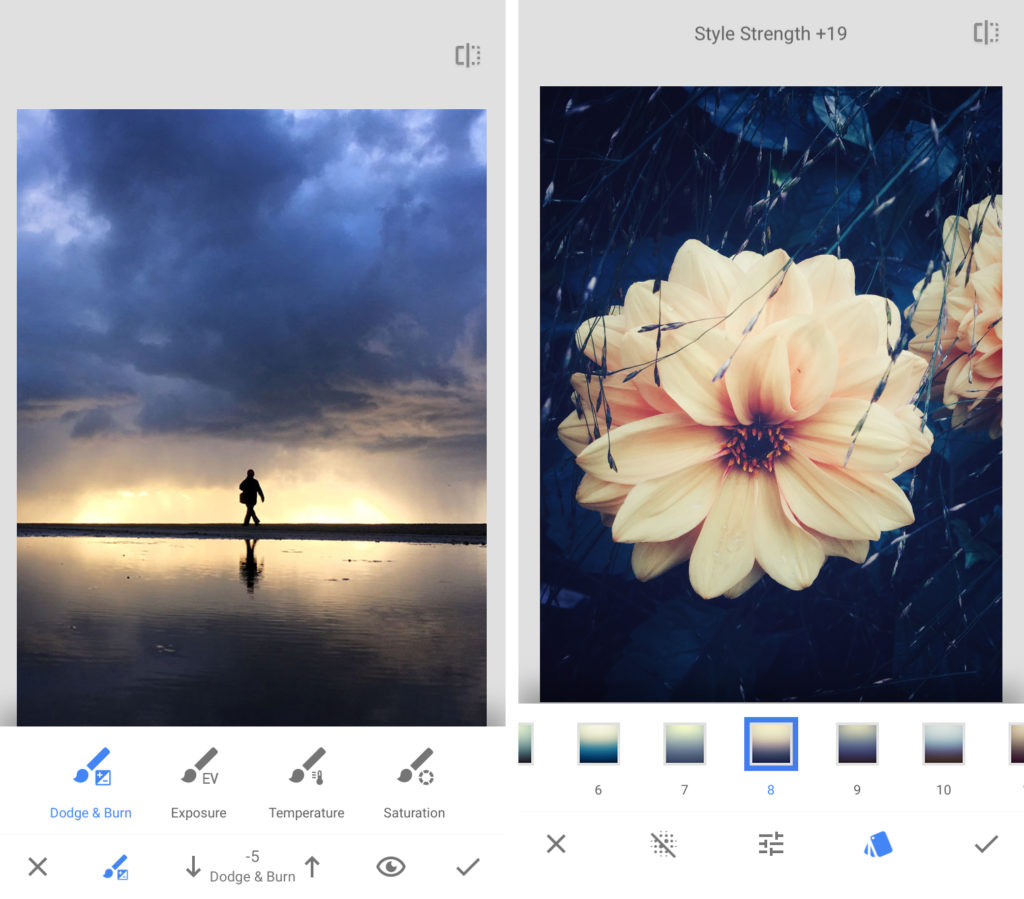 In fact, it is now preferred by a lot of professional photographers. Here's why:
Variety of tools to bring out the aesthetic appeal of your photograph
There are around twenty-five-plus features offered by Snapseed in its free version. Through these, you can remove various elements in your pictures to make them Insta-worthy!
Professional photo editing
Snapseed editing allows you to give the photo a professional touch of editing. You can easily adjust the geometry, use the curves tools to adjust the light and brightness, and edit to the minutest detail. 
Simple and easy user interface
Snapseed's mobile version has a simple and easy interface that can be used. The simple interface makes it easy for the creative teams to quickly do their work and make their pictures ready for Instagram. 
4. Canva
Providing its users with flexibility and ease, Canva is an option that can be used by people belonging to almost any age group.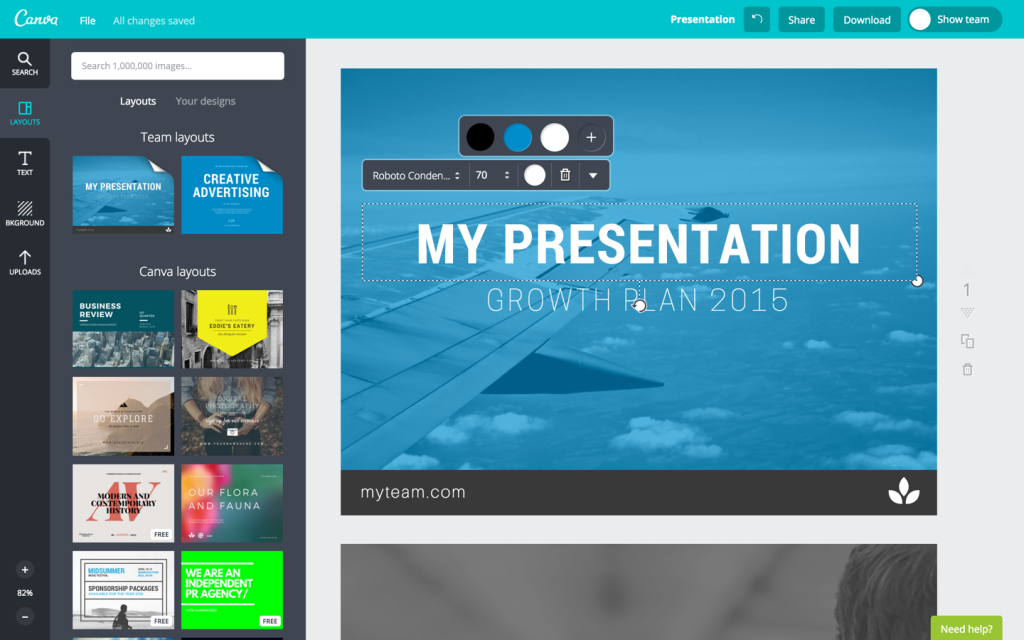 Helps in creating instant and captivating designs
It does not matter if you have no background in designing or have no prior knowledge of running an Instagram page. Canva is quick and easy and helps you to get through your tasks quickly. 
It has around 8000 free templates that can be used, and the different design styles and posts size present. You don't even have to put in the size. Everything is already set, you have to make it according to your need, and you're done!
Straightforward to use
Canva has an interface that is very easy to use. On the left side, it has all the necessary tools. You have to choose the size and edit it. That's all.
Everything is customizable
From the background and the fonts to the pictures, sizes, and even templates, everything on Canva is customizable.
The paid plans that Canva offers are surely irresistible and offer a wide range of extended options that can work for the creative teams even more accessible than before. 
Applications to edit videos
Moving on to video editing now, creatives widely use numerous applications. But we have shortlisted and mentioned the best ones:
1. InShot
InShot is a very famous video editor used by many. Like the applications mentioned above, InShot can also be downloaded on both IOS and Android.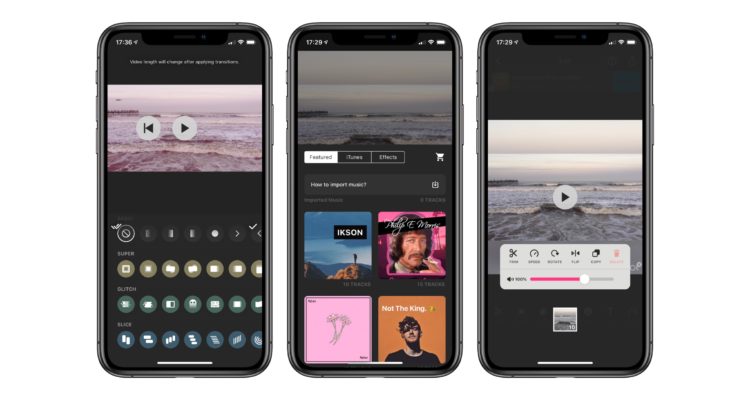 Here's a list of the features that makes it one of the best applications for video editing:
Bring life to videos with professional editing
There are many professional video editing techniques present. You can easily trim, split, merge, and even crop a video according to the requirement. It is also easy to add background music to your videos as well. This helps add life to your videos and make them more presentable.
Add transitions and effects
The transitions and effects present in InShot are also significant. It's easy to adjust the brightness, saturation, and contrast level. Stickers and text are also easily addable to the videos. This way, you can easily add effects to make your videos stand out.
Instagram sized videos
InShot has the option where you can easily resize your video according to the Instagram size. All you have to do is upload the video and resize it accordingly and later save it. That's it! Your work is done, and your video is ready to be uploaded to Instagram. 
2. Go Pro
Go Pro is a company that sells cameras and its accessories. But along with that, it has an incredible and exciting application reserved for video editing.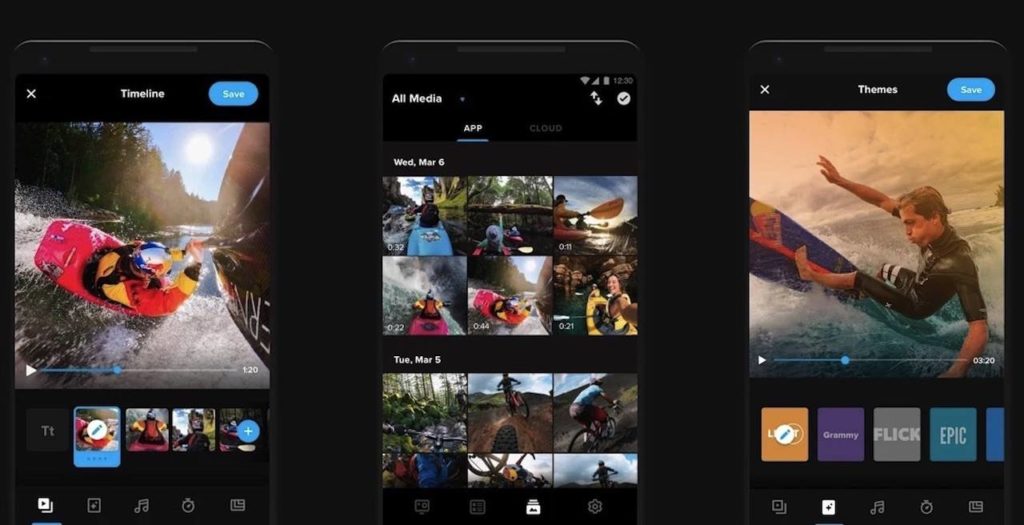 Here's why you should be using it:
Adjustable settings
The settings in this application are adjustable in multiple ways.  In fact, the GoPro camera works excellent with the GoPro application. The phone can be used to set the right settings and get an initial shot of the video. In this way, you don't have to record the video again and again. 
Fast editing
The editing is super easy and fast. Like other applications, it does not take a lot of time for editing. After the video is recorded, you can quickly start editing the video's speed, color, and perspective. 
Subscription Offer
Go Pro also provides a fair subscription offer. It gives you unlimited storage, but the feature that makes it stand out is that it offers discounts on its cameras and various accessories. 
3. Magisto
Magisto is a video editor gaining a lot of success lately.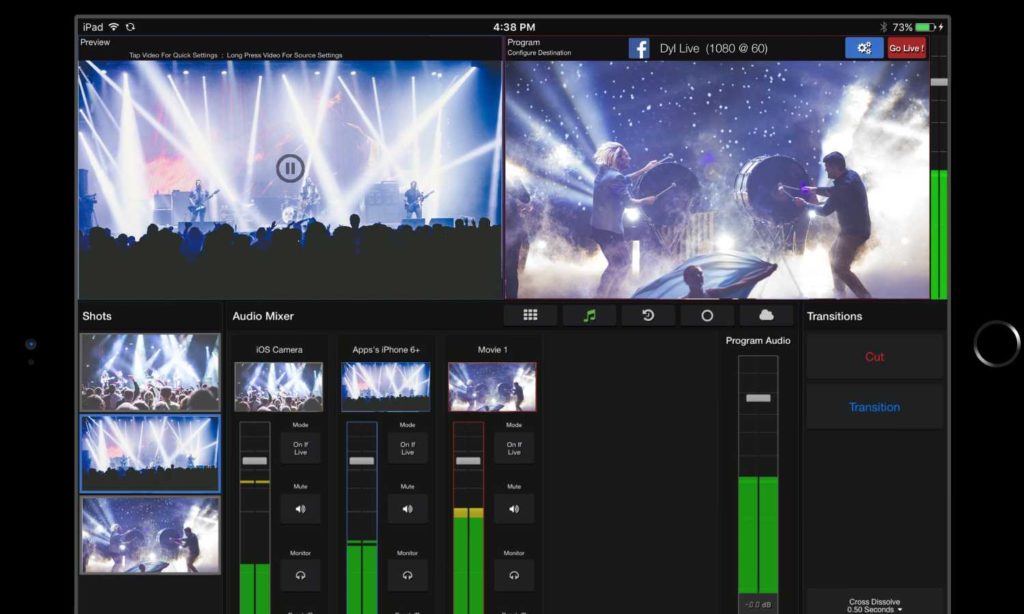 It's primarily because of the unique and attractive artificial intelligence features such as the ones listed below: 
AI video editor
Magisto is an artificially intelligent video editor that helps you to create the best video possible. It picks up the best part of your video to get the maximum engagement from your audience. 
Business-centric
Along with video editing, Magisto uses algorithms to help you with video marketing. In this way, you can target a specific audience for your business using the right kind of video content. This is quite useful for creative agencies as it can help them create audience-centric content in less time. Moreover, they can also make their video portfolio using Magisto as it would be specific to their audience and ideal clientele.
Provides insights to help you learn to create better videos
Magisto also provides insights to its users regarding the videos. This feature helps them decide which video is working better than the rest and what kind of videos should be created in the future. These features can prove to be very useful for creative teams who are always targeting potential clients. 
Final Verdict
All of the aforementioned applications are only slightly different from one another but offer the best editing of pictures and videos for Instagram. They are quick and can help the creative teams get a lot done in just a few minutes.
So pick the one that you like the best and create masterpieces of your own!