In 2021, video marketing has effectively become one of the best ways of communicating with potential consumers. Approximately 85% of consumers spend most of their time watching video content. More importantly, most marketers and businesses are now actively investing in video marketing to increase their sales, brand recognition, and market shares. Does that mean that if we invest in video content in 2021 that can help resolve some of the major marketing challenges, such as building trust with the audience or increasing sales?
Industry experts predict that by 2022, almost 82% of internet traffic will derive from video content. One of the primary reasons for that is that applications like Netflix, Facebook, YouTube, and Tiktok has changed the way people consume information. Millennials and Gen-Z are more prone to consuming and understanding video content now.
Therefore, if you are not using video marketing in the future, you will have to fight for less than 20% of internet traffic. And no brand wants that.
This is why, today, we will be discussing how video content can help resolve the 5 major marketing challenges that most brands and startups face.
1. Building Trust with Video
Winning your customer's and prospective client's trust is the basis of any good brand. The more people trust you and your product or service, the likely they are to spread the good word of mouth around. And believe us, there is no better organic way to reach than positive word of mouth.
However, achieving that trust can be fairly difficult, especially for companies just starting in. Most people find it very difficult to trust new brands due to scammers and hackers all over the internet. Or even the possibility of bad customer support or poor experience overall. It's a risk that they're not willing to take. And if your brand doesn't seem trustworthy, consumers will not purchase from you.
So, where does video content step in?
Think of it this way; selling a product can often be hard, but proposing to add value is easier. First, your content needs to be aimed towards what the consumer will gain from trusting your brand, not vice versa. Once you've established that approach, leverage video content for effective storytelling. By far, the video has proven to be the most effective way of telling stories. They're more intimate, have room for creative vision, and connect with the audience quickly than any other content mode.
Take a look at the advertisement below for a real estate agency. The Ad might be a bit old, but the message isn't. Under 2 minutes, they've conveyed their message and reasons to trust them with a hint of emotional appeal. And that is your recipe for creating trust with videos.
Remember, if people connect emotionally to your brand, they will more likely trust your brand. You can even use that trust to drive a social change or communicate messages as a corporate. Take the example of Nike in this case. Despite being one of the world's strongest presence, they still spend billions of dollars on video content. And that's because video content allows you to
Be direct
Focus on what the customer will achieve from it or what value you'll be providing them
Create creative narratives or build a story your audience can connect with
2. Establishing Brand Presence
So after building trust, the second problem you're likely to face is building awareness around your brand. Now there are a lot of useful and meaningful ways to go about it.
Optimize content for search engines so you'll rank higher.
Put up informative and engaging content on social media handles.
Interact with the audience and create user-generated content.
Conduct surveys and post out their results.
Reach out to customers for testimonials.
And while all of these ways are the right strategy to follow, they can be best encapsulated within video content. Videos bring almost 300% more traffic as compared to other kinds of content. And it's not just about numbers. More traffic essentially means more exposure to your brand and a better chance at creating a brand presence across multiple channels.
This is what big brands like Apple do as well – share stories through video so more people can relate to it, and the brand continues to grow.
3. Improving Search Engine Ranking
Every day there are almost 6.9 billion searches on Google alone. What that means is that if you don't act differently than your competitors, you're likely to be lost in the crowd of similar brands. However, at the same time, it presents an opportunity to stand out among those searches too.
That is important because by now, even you'd know that brands on the top of the search engine results earn a huge advantage over their competitors. According to Ahref's research, only 5.7% of the new webpages will get the chance to get on top 10 Google searches in a year. Even if someone manages his or her webpage regularly, it can take up to 6 months for them to rank higher. And that essentially means that either your content has to be exceedingly good and different that it would rank quicker, or you'll have to take the slow and steady approach.
And while we think that both are great strategies to follow, you can turn to video content for help to fasten up the process. If there is a video embedded on your webpage, then the chances of showing up first on Google search increases almost 53 times.
Similarly, having published videos on YouTube can help search engine position when the consumers are using keywords similar to your video. For better results, it is preferable to include tags and descriptions.
Social media applications like Instagram also work similarly and prioritize good video content over other types of content.
Monopoly Live by Evolution Gaming is an electrifying fusion of the timeless board game with the verve of a live
game show. This isn't just your average game; it's a visual feast and an interactive extravaganza. Hosted in
real-time by engaging presenters, the game revolves around a giant spinning wheel, where each spin could
translate to big wins. But the real icing on the cake? When the wheel hits special segments, it propels you into
a virtual 3D Monopoly world, making it an immersive experience where Mr. Monopoly himself jumps into action,
moving around the board to collect prizes. For fans of the iconic board game and new players alike, this game
offers a fresh take that's both nostalgic and innovative. Curious? Dive deep into the world of Monopoly Live by
visiting https://monopolyliveshow.com/ – it's a realm where the old
meets the new, and every spin is an adventure!
4. Increasing Conversions
Before you can potentially convert a lead, your ideal customer must understand the importance and benefits of the products or services you're offering.
The truth is that your competition is more or less selling the same thing that you are, so your challenge is to market yourself differently. Or present yourself as perhaps the best options. Now it's no lie that we're all stormed with information all the time. Our brains process tons of information, and that is why it prefers shortcuts to make things easier for itself. That is possibly one of the consequences of too much information – a shorter attention span.
On average, you have about 3 to 5 seconds before the user decides to leave your landing page. So your job is to capture their attention in that span. Now there are a lot of ways you can do that. You can probably offer them something, or your content can be so lit that they can't help but read it further.
But videos have proven to drive sales by 500%, and that's because they're direct. The customer feels real-life engagement and is more likely to stay in the video's content is relatable.
Take Dropbox's examples, for instance. In 2009, Dropbox had difficulty selling its products because its audiences did not apprehend their product. Therefore, they used video to explain their product to consumers and showcase the use. Within months, their sales and conversions skyrocketed.
So you don't necessarily have to design elaborate Ad campaigns. You can also create explanatory animations and videos that can translate the intricate message into easy to understand a piece of content. It can be something as simple as putting up an explanatory video on your landing page. Check out Loom's landing page, for instance. Apart from great copywriting, they've also put up a video to make things easier for their customer base.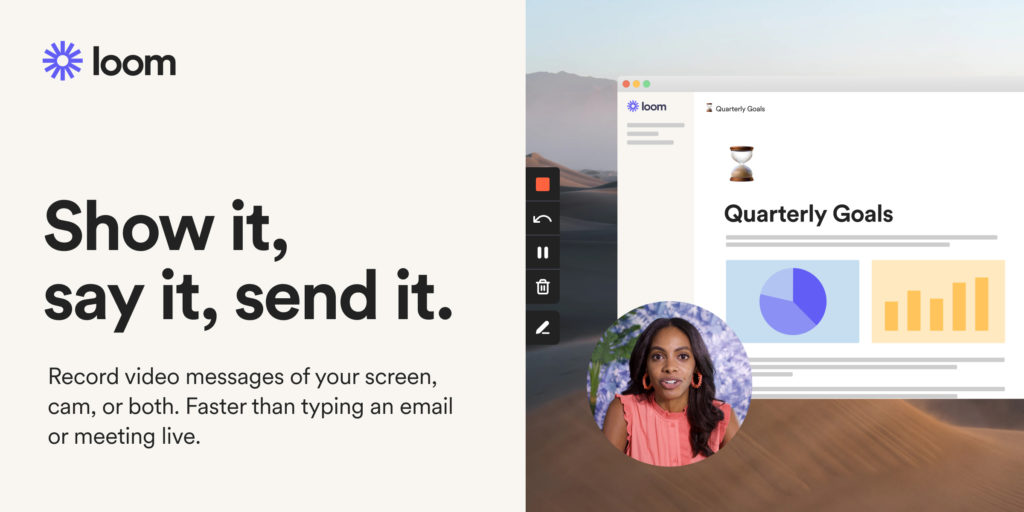 5. Creating Content Strategy
And finally, we've reached the last major marketing challenge that even big companies face: creating a content strategy?
There's no hard and fast rule because different brands and niches have different audience types. And what works for one audience set might not necessarily work for another. So before you dive in to create a strategy, you need an in-depth analysis of your buyer persona to figure out the kind of content strategy you need.
Once you have that, you'll be in a better position to leverage video content in your strategy and make it stand out. Including videos as part of your creative strategy will not only add variety to your content stream, but it will also help engage your audience. You can collaborate with industry influencers, your customers, or even your team members to present an insight into the industry, your company culture, or simply a podcast.
In fact, with TikTok on the rise and Instagram's newest Reel feature, the more video content you produce, the more engagement you'll receive from the younger audience.
There are different software like Google Trends, SEMrush, Ahrefs, and BuzzSumo that you can use to find out the content you should be creating.
Final Advice
So starting today, try and include more video content in your overall strategy. You'd be thanking us later!
And when you're ready to put up your video content, make sure you review it among your team first with the leading proofing platform. This would help streamline your reviewing process and leave little to no room for errors.
But remember to focus on creating good quality and understandable content that your target market can relate to.