The world is rolling into 2023 with vigor, vibrance, vision, and Viva Magenta!
Pantone's color of the year isn't just a trend. It's a creative movement for brands, businesses, and professional designers. The color of 2023 is a revolution in this movement as it welcomes you to the Magentaverse.
Brands and creators have already liked this 'unconventional color for an unconventional year' as they prepare to dive headfirst into the next year.
Since all creatives are curious about what Viva Magenta will hold for upcoming industry designs, this article is dedicated to our color of the year, its implications, and inspiration.  
So let's jump right in! 
A dive deeper into the world of Pantone 
Every year, for the past 20+ years, Pantone has chosen a new color to become the "Color of the Year." Choosing a new color usually involves experts on color trends and what is happening worldwide. 
These colors remain popular across fashion, art, architecture, and several creative industries. A novel and refreshing shade, Very Peri, was introduced as the Pantone color of 2022, which took the design industry by storm.
So can the same be said for this year's color?
Pantone states that each year's color reflects where we stand in our progress as humans and what we can expect for the future. And that's exactly what makes this year's color so unconventional.
What is Pantone color of the year 2023: Viva Magenta and why is it unconventional? 
In an 'unconventional' twist, this color was brought to existence and selected with the help of AI instead of humans. A rhetorical and symbolic representation as we stand on a breakthrough with artificial intelligence technology.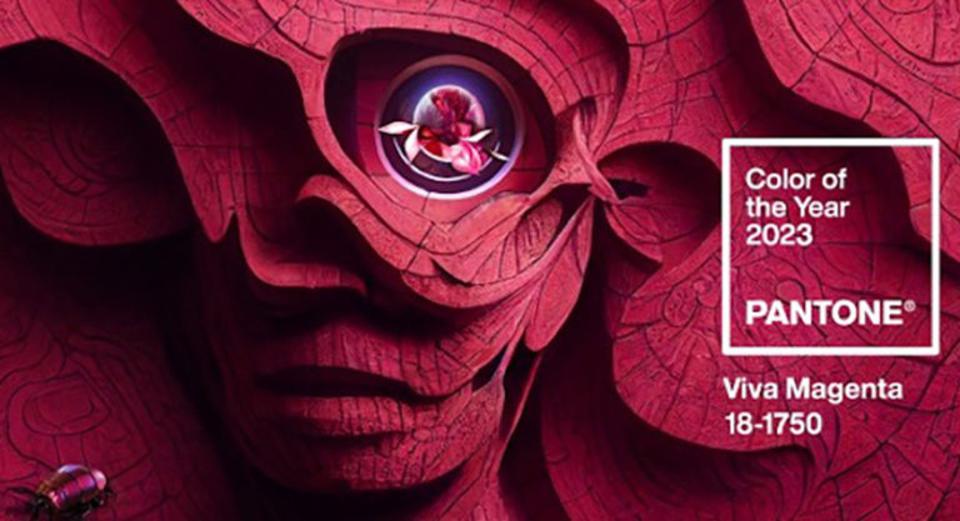 The color has several psychological implications. For example, the red undertone is often associated with passion, love, power, and vigor. At the same time, pink colors are often associated with romance, playfulness, caring, and youth. 
Viva Magenta strikes a good balance between the two, allowing it to communicate power while also having a softer playfulness.
As Pantone describes it, Viva Magenta is:
"Powerful and empowering, it is an animated red that encourages experimentation and self-expression without restraint. Audacious, witty, and inclusive of all, Viva Magenta welcomes anyone and everyone with the same rebellious spirit."
A new vision – Pantone color of the year theme 
Pantone 18-1750 Viva Magenta is an earthy, reddish-purple to ground us in nature as we increasingly move ahead with the virtual verse. It's a fiery, brave color meant to be optimistic and joyful. 
While it was derived through AI, the color itself isn't completely artificial. A red dye inspires Viva Magenta in a scale insect called Cochineal.
The duality of this color, which belongs to the family of red, is meant to reflect our place between the physical and virtual worlds. 
Pantone worked with its longtime creative partner, Huge, to create an AI-generated visual manifestation of Viva Magenta. The vision behind Magentaverse explores an undeniable connection between nature, humans, and technology.
"As virtual worlds become a more prominent part of our daily lives, we look to draw inspiration from nature and what is real, … rooted in the primordial, it reconnects us to original matter. Invoking the forces of nature galvanises our spirit, helping us build our inner strength."

– Leatrice Eiseman, the executive director at Pantone Color Institute.
Color palettes of 2023 with Viva Magenta 
Viva Magenta is a very powerful color. It could easily overpower a design, but it can also be an exciting addition to your work. 
The Pantone Color Institute selected it partly because it connected with nature and offered a variety of muted, natural colors in the Magentaverse palette.

In this color palette, Viva Magenta is the color that stands out most. But if you wish to steer away from neutrals, you can apply color theory to create new palettes to compliment Viva Magenta and your designs.
Viva Magenta: Design inspiration for creatives 
The color is already booming in the industry, so let's look at some real and awestriking examples of Viva Magenta showing its magic.
1. Web design 
If you're thinking of rebranding your brand's digital persona this year, Viva Magenta will add the softness and zest it needs at once.
From a color psychology standpoint, this shade can invoke a feeling of trust, anticipation, and joyfulness. The color is perfect for designers with its cool and warm undertones.
Take Huge, the creative partner of Pantone, as an inspiration. They have added Viva Magenta to their website and logo as part of the campaign. And to say it only looks visually stunning would be an understatement.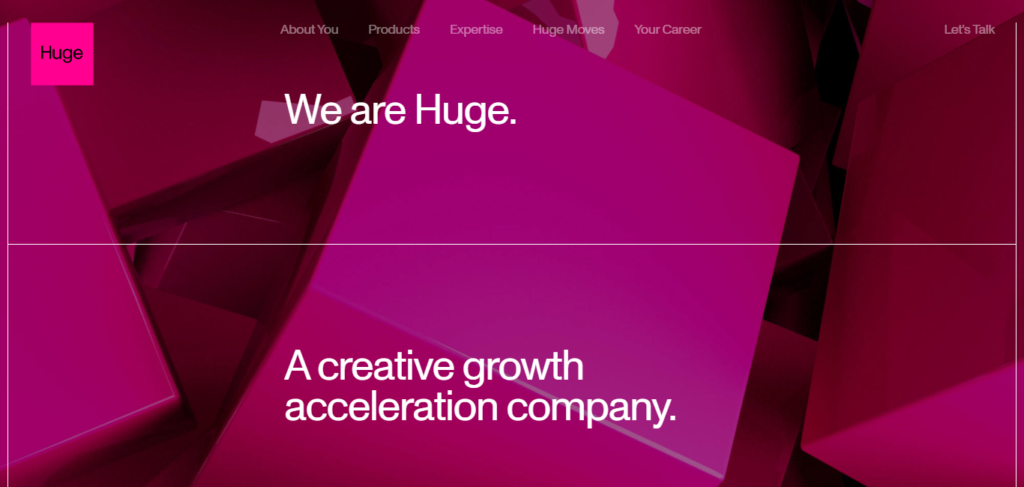 The content and branding agency, Storyteller's Saga is also a great example of branding with Magenta. From logos to illustrations, you can expect to see more Viva Magenta this year.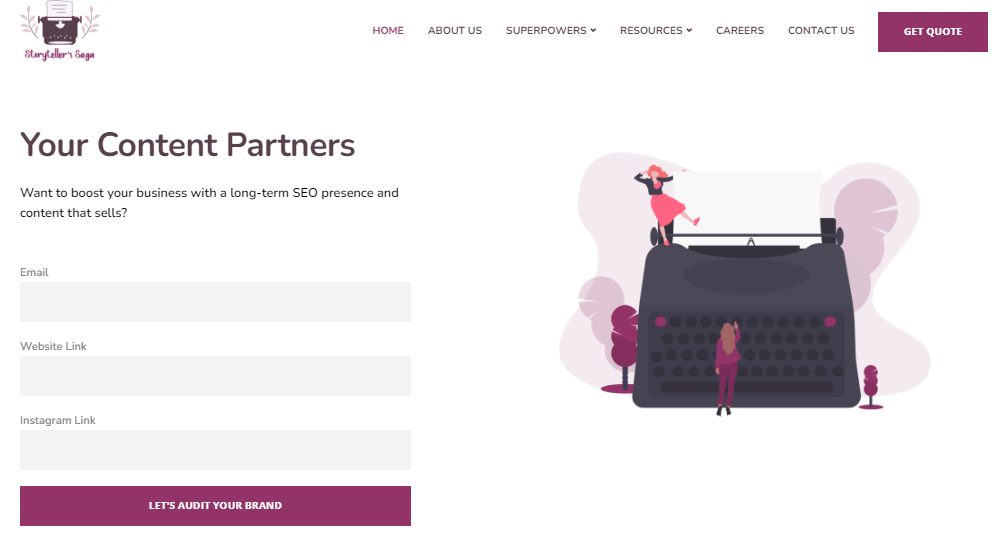 2. Product design & packaging  
The future of product design was completely transformed last year. With more minimalist yet vibrant themes in trend, Viva Magenta can be the spark your product needs. 
Color-of-the-year products released by Pantone are inspirational enough to get us started.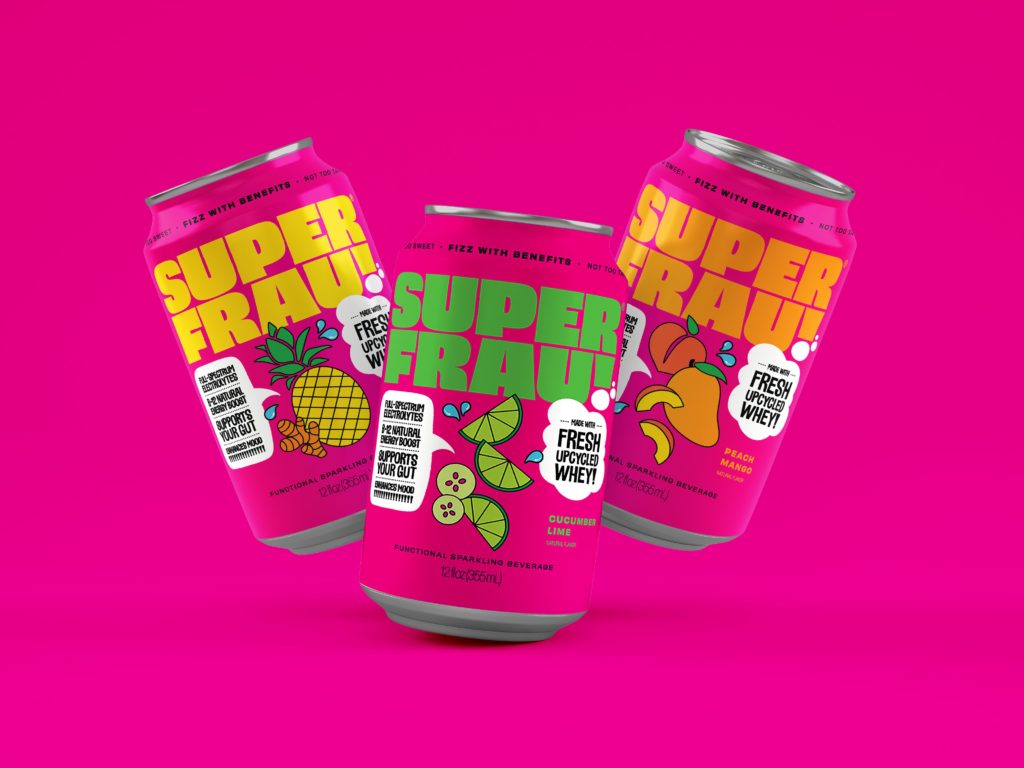 Pantone described Viva Magenta as "audacious, full of wit, and inclusive of all." 
The inclusivity extends to technology as well. Motorola has announced a strategic partnership with Pantone to implement impactful colors on its products. Their first product together, Edge 30 Fusion Smartphone, channels the spirit of Viva Magenta to start this new revolution. 
The revolution continues in nature-oriented packaging design as well.
The founder of Superfrau, Melissa Martinelli, wanted to create a brand identity that would make the upcycled whey beverage attractive to millennials and Generation Z consumers. 
Viva Magenta was the perfect choice for this unconventional and eco-friendly idea. And the packaging is striking enough to want it in one glance!
3. Art and AI 
Obviously, this shade will overwhelm artists and will be one of the illustration trends to continue in 2023. However, with AI taking over art, Viva Magenta attempted to reflect on where the creative industry stands and how it will change with AI.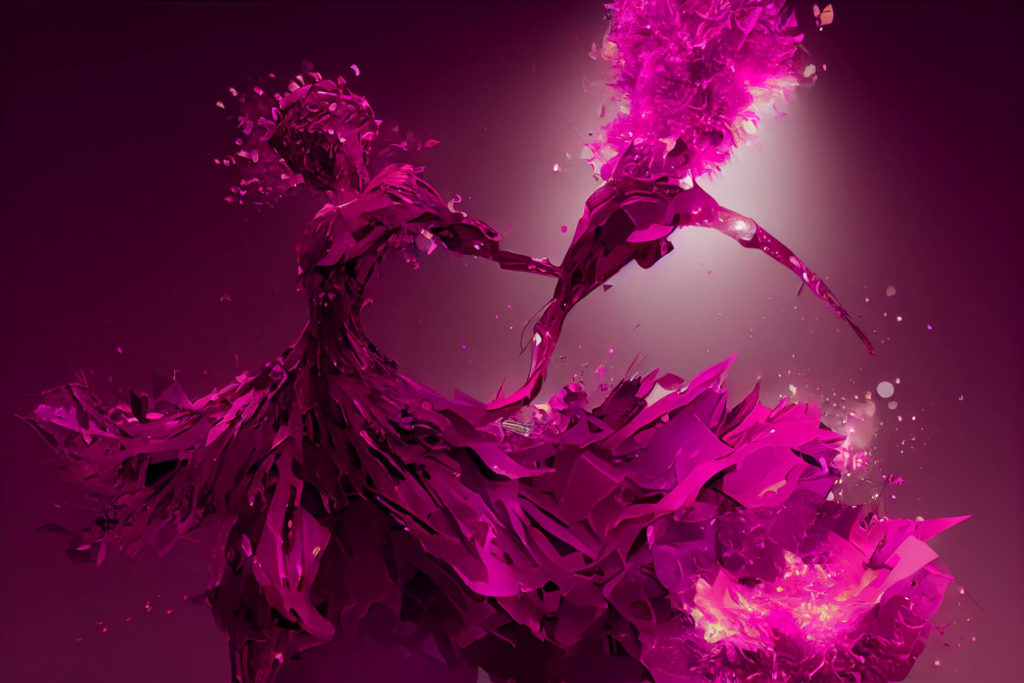 Pantone utilized AI to create illustrations that can visualize what Magentaverse is all about. On the same note, they partnered with Artechouse to create an immersive exhibition in Miami. 
As you step into the Magentaverse, this is a much-needed reminder that both AI and humans are playing a significant role in contributing to art. And while AI cannot replace human artists, it can assist us in creating better digital experiences.
Final word 
Viva Magenta is a new color that will be used in many different ways next year. It might influence what colors people use on their phones, what they wear, and what they design on the internet.
Like every Pantone color of the year revelation, Viva Magenta will become a revolution in design and art for the year. It might define more than just a moment in time, but that's something only the future can tell.
Let us know your thoughts on Pantone color of the year 2023, Viva Magenta, and stay tuned for more creative insights and updates on our blog.