When trying to annotate a PDF document, you might not find out until several hours of painstaking efforts that you could have saved quite a lot of it if only you knew about the right tools and PDF annotation secrets that every reviewer should be aware of.
With more than 2.5 trillion PDF documents worldwide, and increasing right now, we work with many of these hard-to-edit files daily. We have encountered some forbidden scenarios while seeing people work with PDFs.
The worst? Printing it out, physically annotating, scanning it again, and converting it back to PDF. Believe me when I say it's all wasted effort because it's tough to understand.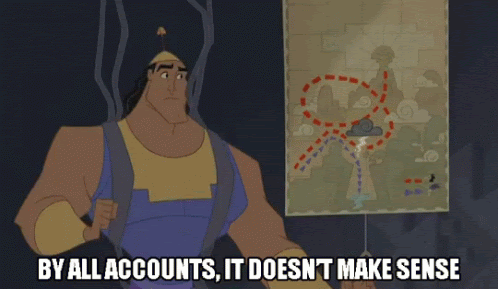 You wouldn't want to be in that place when so many advanced tools are waiting for you, just a simple search away, and you might already be using some. However, there is more to PDF annotation than you can imagine.
That's why we'll talk about the perfect solution for PDF annotations to make your life easier and your work super productive, and features you must look for that nobody's telling you where to find.
It's all about the things you don't know, so better dive in!
Why old methods of annotation don't work
Most apps for PDF annotation only work well to perform simple tasks, like adding a signature or a highlight. However, if you're a design professional who uses PDFs all the time, you'll need more features than adding a text box to your file.
This is where you need online proofing software that includes PDF review and annotation tools to make collaboration, feedback, and project management available in one place. More than that, you need advanced PDF annotation tools with a single click.
With all its glory and history, PDFs have become the go-to file type for all businesses today for three major reasons: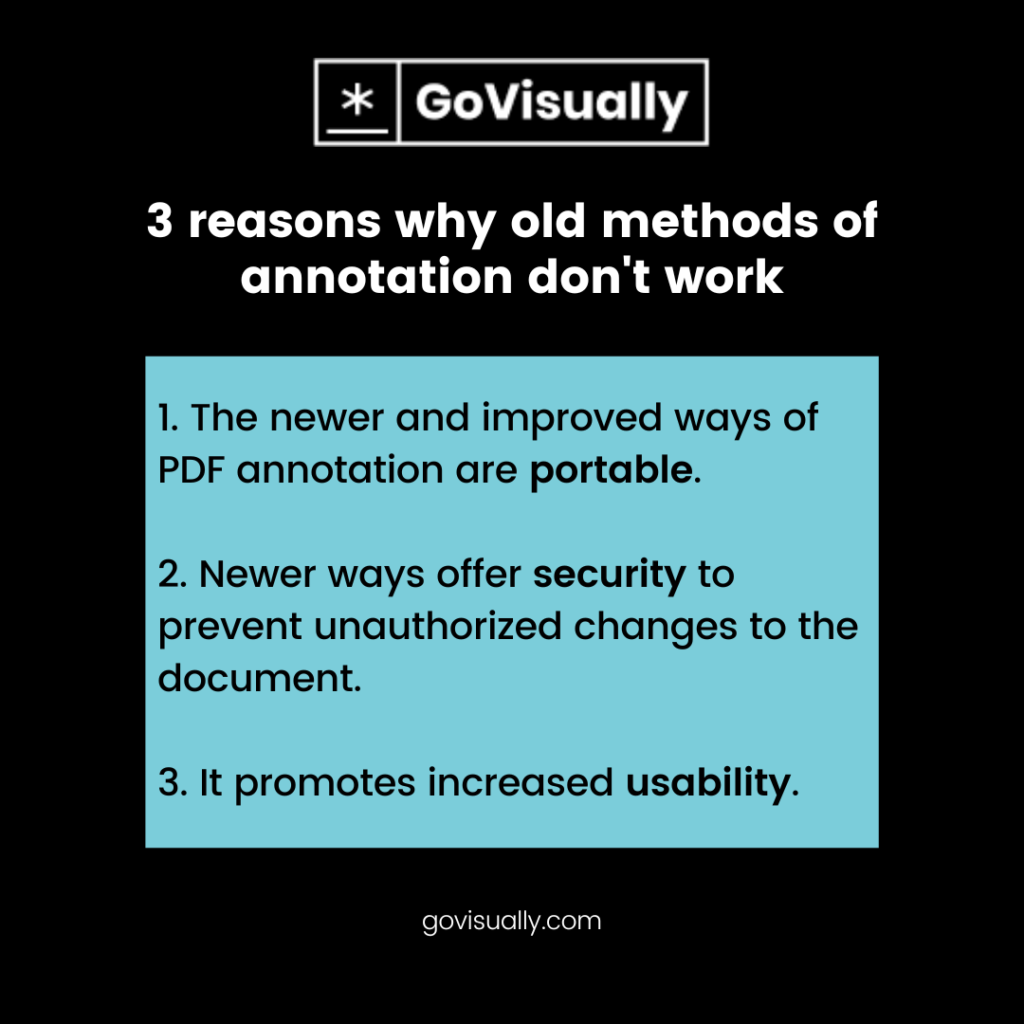 Portability – No matter whether you're working with Windows 10, iOS, or an Android tablet, PDF files can easily be viewed on any device without altering their content.
Security – To prevent unauthorized changes to the document, PDF files can be protected with passwords and disabling copy/paste or printing options.
Usability – PDFs allow people to add information such as name and address into the document while keeping the document uneditable. You can also include electronic signatures without printing the doc.
A PDF annotation app should retain all these qualities of a PDF while also making the annotation process user-friendly and intuitive. So with all that explained, here are 5 not-so-secret features that you're missing out on when you look for how to annotate PDF.
5 PDF annotation features you need to look out for
Since PDFs are static files, they can only contain a small amount of data. Therefore, we cannot expect them to offer advanced text editing functions, such as adding chunks of text, images, or formats. However, with so many use cases for a PDF, it is often necessary to work with a PDF document.
Apps for PDF annotation generally offer a basic highlight and strikethrough function. So if you're searching 'how to highlight PDF,' you will likely come across some counter-intuitive tools that offer the bare minimum.
To save you the effort of finding advanced features and an online proofing software that offers them all, we will list them right here.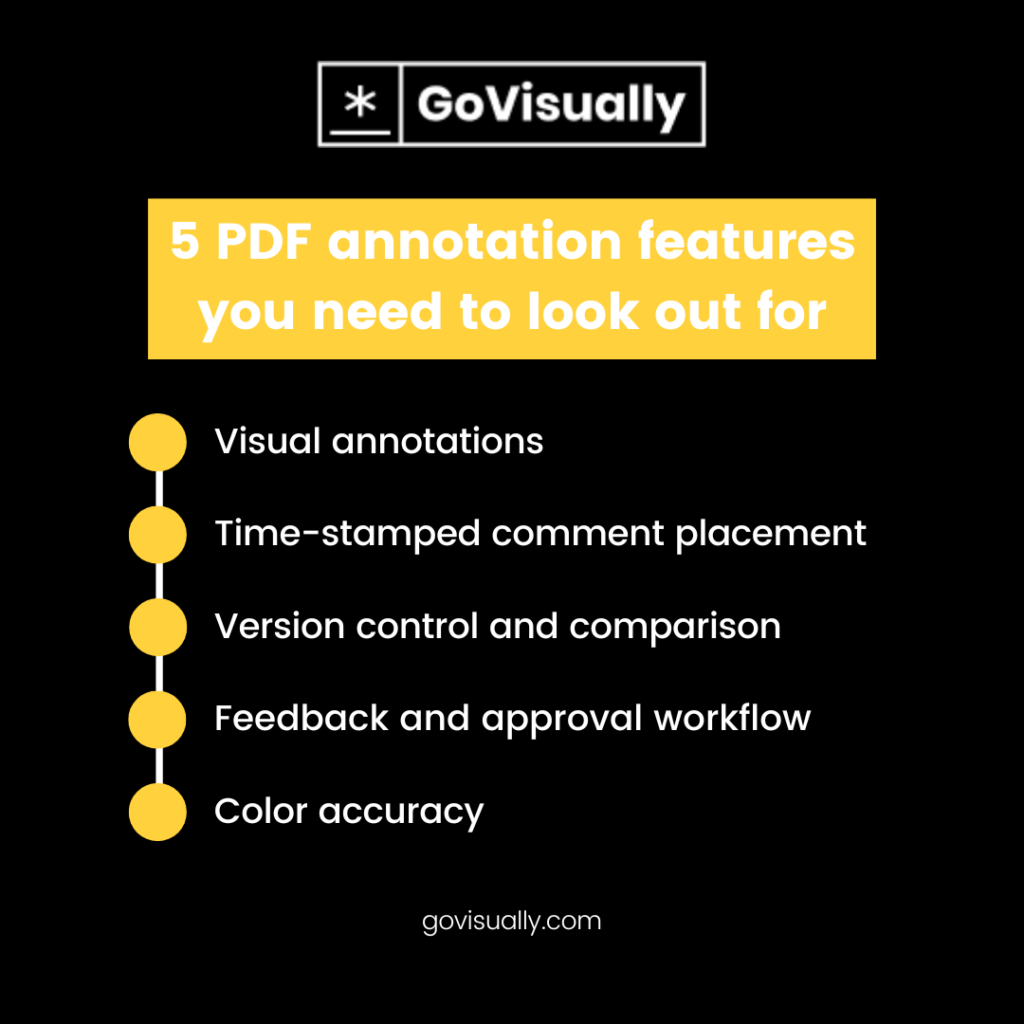 1. Visual annotations 
By now, we all know how to highlight PDFs, leaving a text box looming. However, high-quality and advanced visual annotations work differently. Whether highlighting, strikethrough, drawing over the PDF, or inserting shapes and images, a tool that does everything should be your top priority.
2. Time-stamped comment placement  
Time-stamped comments are important to keep your project timeline in check. Now add precise comment placement to the mix, where you can select a word, a whole paragraph, and even an image to leave a comment on that specifies your feedback. 
More surprisingly, some apps for PDF annotation also let you resolve comments like a checklist so you can keep track of the progress.
3. Version control and comparison 
If you're thinking long-term, wouldn't it be great if your PDF annotation app also allows you to keep your files organized and compare them to see if there are differences between older and newer versions?
While it might seem like a given to have this feature, you'd be surprised to find out how many PDF review apps don't have any of that. You see, that's the difference between using an online proofing software that goes beyond standard features for effective workflow. 
Cut design & video review time in half
GoVisually is the #1 online proofing software to get visual feedback on Designs, PDFs & Video content.
Try GoVisually free today!
4. Feedback and approval workflow 
To ensure that your annotated PDFs consistently receive the same level of attention from stakeholders, you should ensure that your annotation tools include automated approval workflows with notification features. 
This ensures that stakeholders know when they need to review your annotations and that your team is notified when clients approve edits. It's more crucial when your PDFs hold hundreds of pages for a legal document or magazine proofing where you can easily collect and implement feedback.
5. Color accuracy  
When you convert a PDF into a proof, most PDF annotation apps fail to maintain color accuracy, resulting in slightly darker or lighter shades on the document. Color errors can misrepresent the images in your PDF, especially if they're a part of a large-scale printing project. 
Color accuracy is the most important feature, especially when doing a PDF review for quality assurance and brand compliance, where there's no room for errors.
GoVisually – the perfect solution to PDF annotation 
If you're wondering where to find these features, we already have a one-stop solution prepared for you now that you know about them. 
GoVisually is the online proofing platform where you can find all these features and more to make your PDF annotation and proofing successful, creative, and productive. The software supports various file types, including images, PSDs, and videos.
If you haven't already experienced the innovation behind GoVisually, book a free demo and find out about a new, revolutionary world of PDF annotation, sharing, and collaboration!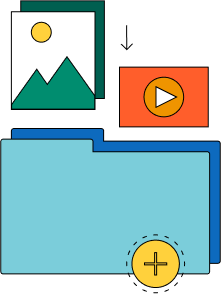 Need a quick way to share large files and creative assets?
With GoVisually Share, it's absolutely free! Try today.