When you're the face of your business, it makes perfect sense to build a personal brand.
But how do you make it stand out in today's competitive digital landscape?
Building a personal brand is becoming increasingly important for anyone looking to grow their business or career. When starting a business around your niche, designing your brand may come naturally. 
Yet many businesses and individuals struggle to grasp personal branding and how they must approach it to set themselves apart in this ever-growing competition.
To help you out, we're here with a complete guide from setting up your brand to making it grow beyond the competition.
If you're curious about how it works, stick to the end and take notes.
Cut design & video review time in half
GoVisually is the #1 online proofing software to get visual feedback on Designs, PDFs & Video content.
Try GoVisually free today!
What is personal branding? 
You must already have an answer to 'what is branding?', but there are many things that work differently for a personal brand. 
Personal branding is creating a unique brand identity around yourself – separate from your business entity. This can be done through various means, such as developing a unique persona, creating a strong online presence, and developing a unique marketing strategy. 
It can help advance a person's career by positioning them as an authority within an industry. By developing yourself as a brand, you can help increase your social following, which can help you secure a better job, sell more products, and increase opportunities in your career.
If you're still wondering what branding yourself is and how it works, think of social media influencers, writers, motivational speakers, and so on. They establish their individuality and expertise in a certain field as a brand, which is exactly how they excel in their career.
Let's look at some very successful personal brand examples for inspiration and know what made them so successful in the first place.
Personal brand examples – what makes personal branding successful?  
Do you know Elon Musk because of Tesla, or do you know Tesla because of Elon Musk?
Building a personal brand is still valuable, even if your company has its brand. It's because most people tend to be more interested in following other people than in following specific companies. 
Building an audience around your brand can help your company receive more exposure. One of the best personal brand examples here is Elon Musk. He has a greater number of Twitter followers than all three of his companies combined, and in most cases, people know his companies because they know him.
Many successful entrepreneurs, such as Manny Gutierrez, Arianna Huffington, and Gary Vaynerchuk, share certain common traits. These individuals are often successful because they can strike a chord with their audience and create products and services that are desirable and useful. 
Each business owner has a powerful personal brand to attract customers and increase their visibility.
82% of people trust a company more when its CEOs are active on social media. The same is true for entrepreneurs who don't offer products but services, like marketers, writers, and designers.
Now, how to make a personal brand that can grow in this competitive field of self-promotion? 
We have the perfect strategy for you!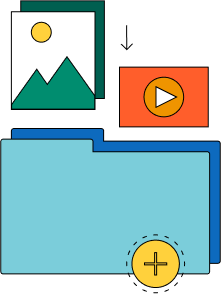 Need a quick way to share large files and creative assets?
With GoVisually Share, it's absolutely free! Try today.
How to make a personal brand that stands out?  
While studying some of the greatest personal brand examples, we realized that these success stories share several features that helped them stand out and grow in their respective fields. 
The perfect personal branding strategy should be implemented right at the beginning, so here are some guidelines you must follow to make your branding successful.
1. Create the right foundation 
Start by taking stock of your existing branding assets to create a strong brand foundation. Your brand is where you can combine your assets to create a powerful identity. This includes your skills, credentials, experience, passion, and personal values.
Once you have identified your existing brand assets, the next step is to start putting together the key elements of your brand; this begins with answering the following questions:
How will you get people to know about you and what you want them to think of you?

What would it be if you became the world's go-to expert for a certain topic?

What is your purpose for wanting to create a personal brand?

What message do you want to reinforce in your content and marketing consistently?

What do you think are some of your brand's personality traits and characteristics that could embody?
A great foundation for personal branding starts with understanding who you are and what you stand for, your market, and your niche.
2. Determine your target audience 
When marketing yourself, you can not develop a personal brand to try to appeal to everyone. Instead, focus on targeting a specific audience and creating content and experiences that are relevant to them. This will help you to build a loyal following, which will help you to grow your business. 
Not everyone is your ideal customer, so start by making a client profit that fits your interest and grow your brand in a way that appeals to them. If you're going around creating different types of content, everyone, you'll lose their identity and their footing in their niche.
3. Position yourself as a specialist 
Starting a brand can be difficult if you don't have a strong area of expertise. There is no one way to be an influencer.
For example, if you have worked in a hair salon, you may have built a personal brand around your hair-related expertise and use this platform to sell hair products. 
Your brand should always revolve around your passion and interest. Otherwise, growing and tiring you out will take twice as much work.
4. Optimize your digital presence 
Having a website is an important part of building a personal brand. Hence, it should be designed to convert casual visitors into paying customers. Several important elements are necessary for this to happen, many of which can be found on your homepage. 
Your website's appearance will improve significantly if you have a professional logo and UX design. Adding testimonials from previous clients as social proof and making sure your calls-to-action are clear are some of the essential UX principles to create attractive landing pages on your website.
5. Build more connections 
Instead of trying to build an audience that is large and diverse, focus on becoming a leader in a specific niche.
Virtual networking allows you to have daily meaningful conversations with your audience and an environment to interact and support one another.
Live events on social media are a great way to connect with your audience and clients in person. Setting up your professional profile on LinkedIn, Instagram, Twitter, and other platforms where your audience hangs out is also necessary. 
6. The more you put in, the more you'll reap – stay consistent!
Remember that knowing how to ensure brand compliance is even more important in personal branding. Consistency isn't just about posting on social media every day. One way to unify the brand look and messaging is to ensure that all branding elements are consistent. 
This can be done through various means, such as ensuring all logos, colors, and materials are used appropriately. Your brand needs a brand toolkit and compliance guidelines like your professional brand do. Your audience is compelled when you live up to your image and stays when you stick to it.
7. Time to put on your creator cap!
All successful personal brands have one thing in common, informational and valuable content shared by the individual. You'll need an effective content strategy and mediums where you can share it.
To create a content strategy for your brand, start by listing all the topics that would be helpful to your target audience. After creating a list of topics to write about, the next step is to decide what type of content to create and where to publish it. Some common mediums include:
Blogs

YouTube

Social media

Podcasts

Emails
There are many ways to get your message out from other sources with more exposure, like interviews and PR, guest blogging, public speaking, and partnerships with other brands or individuals.
GoVisually – the creative review tool your brand needs 
A personal brand can not be created without a creative team like a professional brand. It takes a team of experts to manage your connections, content, website, and every other part of your branding strategy. Implementing the perfect personal branding strategy unconditionally depends on effective team collaboration. 
GoVisually is essential in the creative review process of your personal brand need with its advanced creative, collaborative, and communication tools.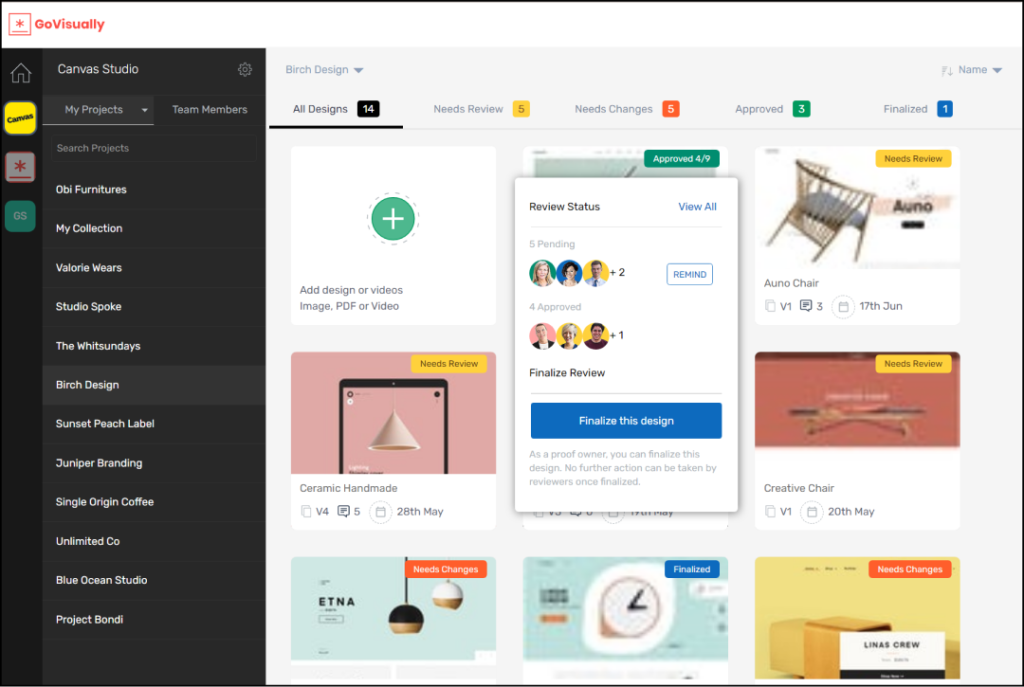 It ensures accurate proofing and brand compliance and increases efficiency by 10x. GoVisually allows your team to streamline their projects, communicate efficiently, and collaborate in real time for faster and greater results.
If you're ready to supercharge your branding workflow, start a free trial with GoVisually and experience the revolution yourself!