We're not talking about one or ten. There are billions of prints going through every day, and one mistake can make all of them go down the drain with a million-dollar loss.
This is why print proofing has always been an essential part of the printing process, but with things becoming more digital, the need for a printing press are also evolving. So what's new for printing and proofing in the digital town?
Online proofing software.
Digital solutions for online proofing have revolutionized the daily life of a print by making it easier and more cost-friendly to collaborate, review, and proofread prints on a single platform.
How?
Let's find out!
What is print proofing?
The history of printing can be traced back to as early as the 15th Century. Traditionally, a print proof is a single printout of what will be printed in bulk later. It checks if everything is correct before a final copy is produced.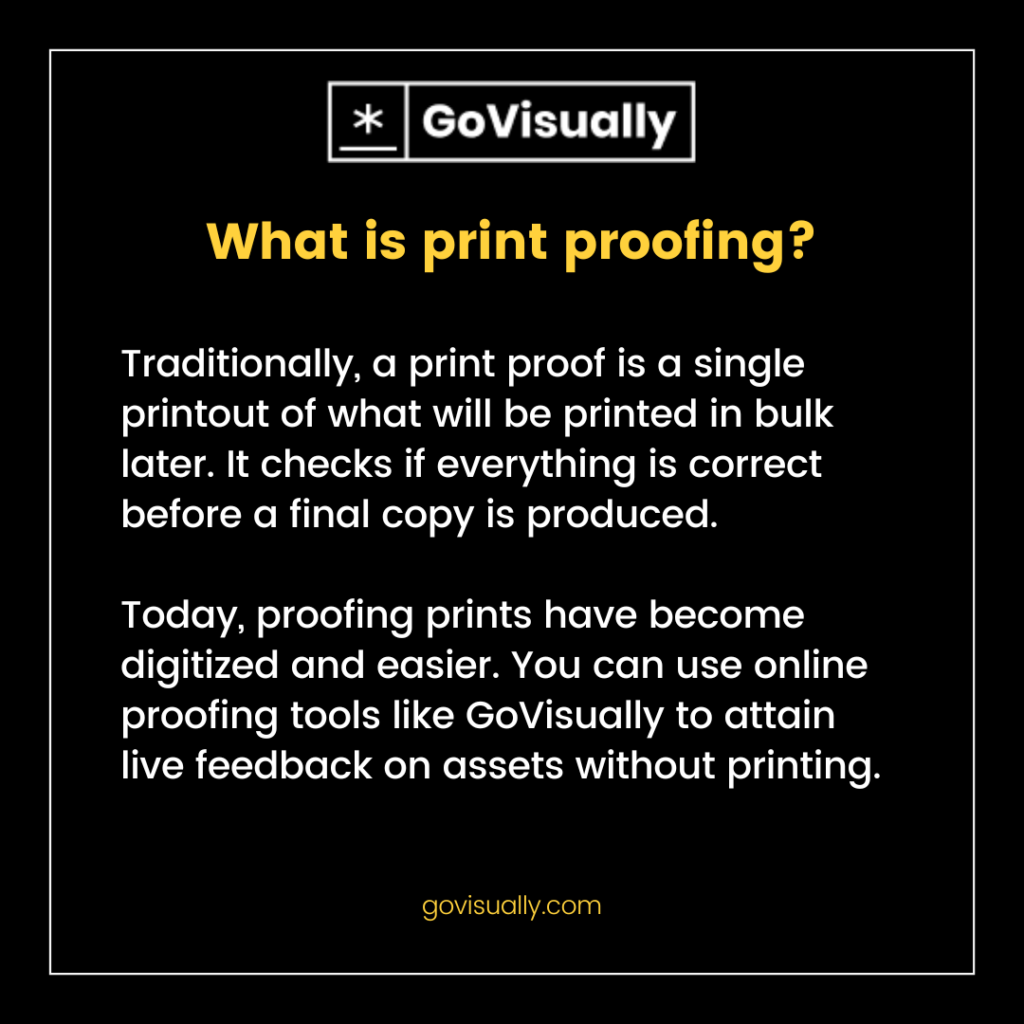 This copy of the print then goes through several stages of proofreading and approvals until it's ready for the press. Traditional proofing methods involved writing over hard copies and passing them down to other teams. Much worse, making several 'test copies' and sending them out for approval separately.
Even until a few years back, proofing printing required long email threads, scanning documents with edits, and printing them again. Sounds like a hassle? Imagine doing it for a hundred different projects in one day.
Today, proofing and reviewing prints have become digitized and easier. You can just send a file for feedback without printing it all to avoid common content mistakes, but can it be more effective?
Yes, yes, it can.
Why do you need online print proofing? 
Print proofs are vital because they're the last chance to catch mistakes before an order goes into production. 
It's risky not to proofread prints because, by the time you find an error, the printer may already have completed its job, leaving only a small window open to make changes. Not to mention, that small window will cost you a lot of money.
While we talk about how online print proofing actually works, let's also go through some benefits of using online proofing methods that save your prints and your press!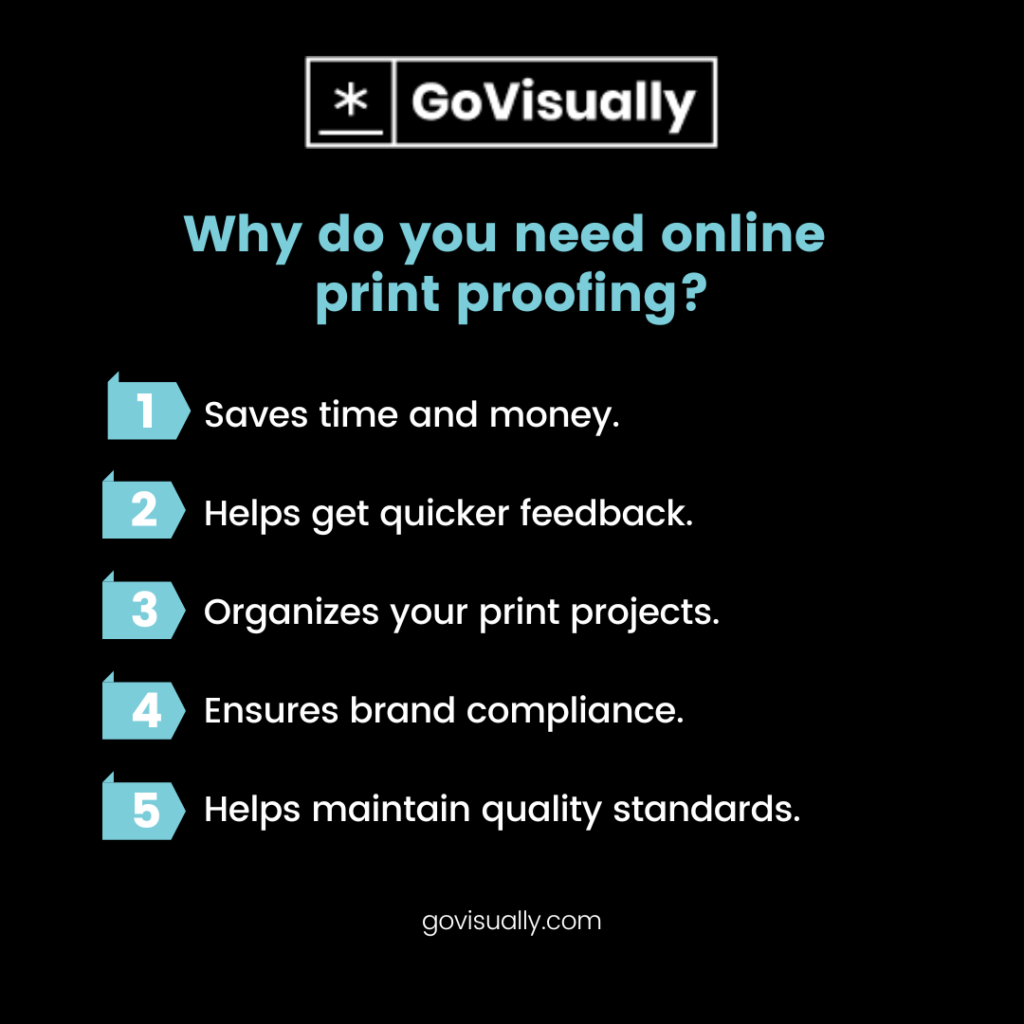 1. Save time and money 
Despite the decline in recent years, the printing industry is the 14th largest manufacturing industry in the U.S due to the continuous demand for packaging, advertisements, magazines, and books.
With so much going on, a more streamlined and faster method to ensure perfect prints is to use online proofing software that allows you to share files and bring your team to make edits right over them and suggest changes.
It won't just save you time but also cut a huge chunk of costs for printing test copies over and over to make changes since we all know PDFs and other file types are free no matter how many times you replicate them!
2. Communicate better with your team  
Whether you're printing for commercial purposes or your small business merch, you'll have to go through several stages of designs before finalizing the one that fits your goals. This is where communicating with your team is essential.
You can bring everyone from your team and important stakeholders to track the progress and suggest changes to your design when needed. Most proofing printing platforms also serve as great communication tools because you can make comments and replies in real-time.
3. Organize and streamline printing projects 
When it comes to file sharing and management, one of the biggest headaches is not knowing where things are stored. You might spend hours trying to find something that should be simple. 
Fortunately, online proofing software offers a solution. With it, you can organize your projects into categories and add tags to each file. After that, you can quickly browse through your projects and download any files you need. 
Especially if the platform is cloud-based, you won't have to worry about losing important files or uploads and can access them from anywhere regardless of what device you're using. Print proofing online will also allow you to track projects and changes throughout the timeline.
4. Ensure brand compliance 
Your print requires a change of color in multiple locations, but how does one explain such an idea to a graphic artist? Online proofing software, which allows you to leave visual annotations and feedback about a PDF or image, will free you from having to use just verbal feedback as the only method of communication.
For a printing press, making sure that the print meets all guidelines set by the client can be difficult unless they get their opinion on every step, which will obviously slow down the process. A proofing software where you can add your clients separately on each project could be a dream come true.
With this, your clients can give feedback as soon as the changes are made, and you won't have to worry about meeting brand guidelines all alone.
5. Meet quality standards 
When only an individual designs the layout, they can easily miss some of the mistakes. Perhaps it's a typo or the text positioning; there are lots of things that may not catch your attention. However, if these issues end up within the final design, it could cause problems for you and your press reputation. 
The opinions of your team matter a lot to help ensure you produce quality printing. Of course, the platform you're using plays an important role as well. If it doesn't offer all the features needed for successful print proofing, you might not be able to carry out all tasks effectively.
So we'll give you a definitive checklist of all the things you should look for in an online proofing software for your printing projects!
6 features that make online print proofing easy and accessible! 
There are several features for online proofs only the leading platforms can offer. To identify the one, you can use the list provided here and make an informed decision.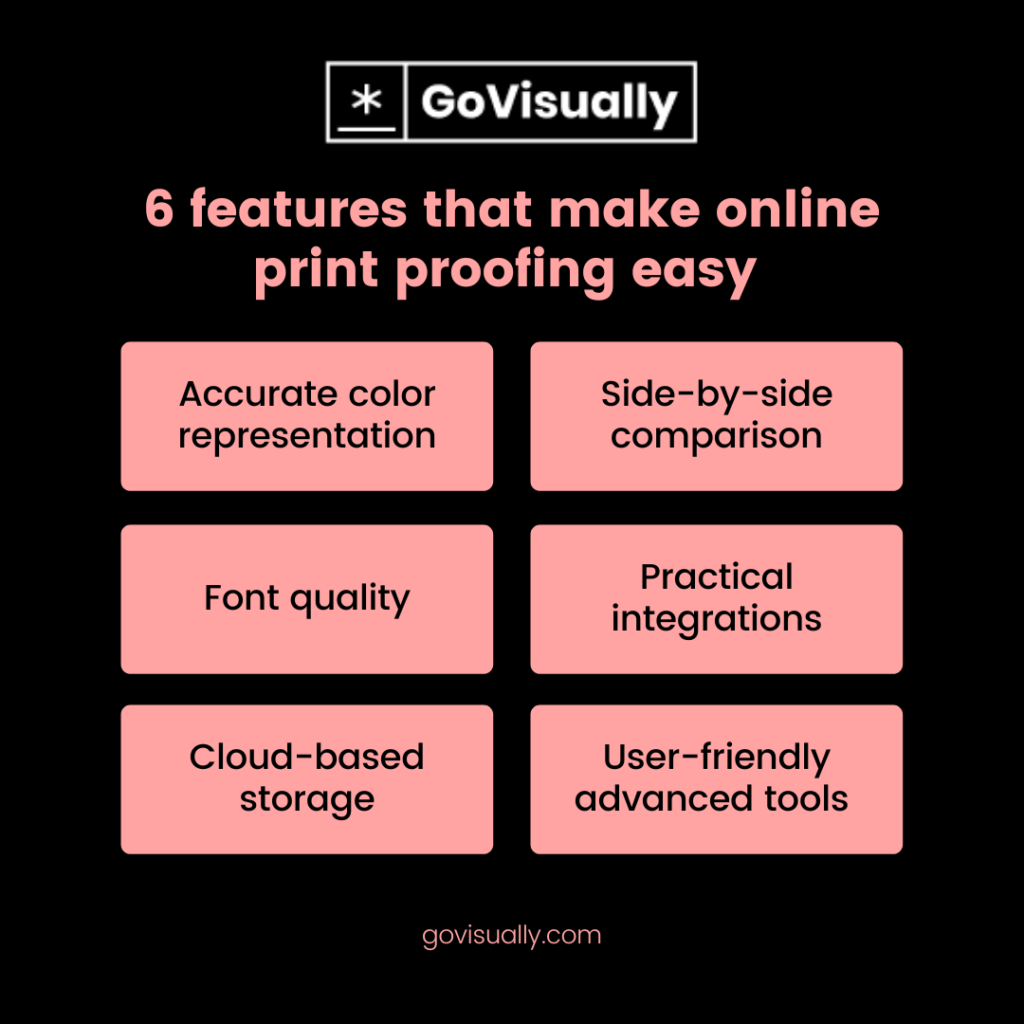 1. Accurate color representation 
Many proofing tools miss the mark, failing to reproduce the images, colors, and graphics accurately. These inaccuracies make reviews difficult to complete and make the editing process frustrating. Maintaining image and color accuracy is an important part of any proofing tool.
2. Side-by-side comparison 
If you're using the software for long-term printing projects, make certain they have a feature to help you make quick comparisons. 
When you make changes, the side-by-side comparison will show how those affect every other aspect of the project. You can quickly see if any changes impact the overall appearance of the print. You can also easily spot any issues with fonts, spacing, images, and other elements.
3. Font quality 
Keeping good typography is to be expected from any proofing tool. But just make sure you're not dropping the quality when zoomed in. 
The pixelation issue can go completely haywire when zoomed into a higher resolution if the software doesn't understand higher-quality fonts and shows them differently from how it appears on the print. This can also lead to inconsistent use of font or misjudging the text format of your print completely.
4. Cloud-based storage 
As mentioned above, using cloud-based printing software can solve all your printing problems. You won't have to worry about missing files or getting them lost. The software will also help manage and organize your projects so that you get the best results possible. It's two tools in one!
5. User-friendly advanced tools 
A proofreading program should use an array of powerful features to make it easy to use and efficient. Here are just a few of them:
Highlighter function

Strikethrough function

Comment placement

Use of arrows and pointers

In-built measurement tools

Automatic file conversion.

Graphic element placement

Hand draw and write tool

High-speed upload and download 
Simply having these tools won't be enough if using them is impossible, so also lookout for user-friendly tools that can perform all actions with a simple click.
6. Practical integrations 
Getting access to a range of other platforms through one can definitely be a game-changer for your printing process. Integrations like Adobe CC can make your design and feedback process happen in an instant.
Other integrations with project management tools and sharing tools can also help you make use of all good aspects from other software while doing your good old print proofing!
GoVisually – the online proofing software you need 
Known for being a user-friendly online proofing software with 1000+ integrations, GoVisually is, no doubt, the best platform you can choose for your print proofing projects. With all the essential functions listed above and much more to provide, the solution is using project management and visual proofing tools like GoVisually. 
Using GoVisually, you may keep control of your workflow, design releases, and approvals in one place. We're sure your next print and publication venture will be one of the best ever with GoVisually.
So if you want to unleash the power of visual collaboration and online print proofing, sign up for a demo today.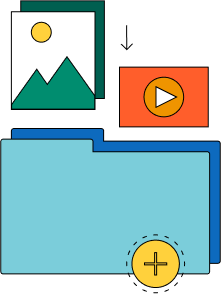 Need a quick way to share large files and creative assets?
With GoVisually Share, it's absolutely free! Try today.