The purpose of an ideal product video is to present your audience with a comprehensive yet compelling overview. However, not all businesses can create a product video that resonates with their customer base while simultaneously doing justice to the product itself. 
Why?
Well – the product video creation process is hard to execute. There are many people involved, many responsibilities to be undertaken, and many aspects to be supervised. Needless to say, the creation is likely to become complicated, long, and high-stake. 
So, what is the solution?
The Importance of Product Video
Let's talk about why product videos are such a big deal now.
We all know that video marketing is one of the most reliable tools a marketer can rely on. The way a video can draw in your target audience is unparalleled compared to other forms of marketing. As a result, it is a vital component for every business looking to create a mark on the industry. 
Here are a few facts from WordStream to give you a perspective on how well video marketing fits into the business sphere: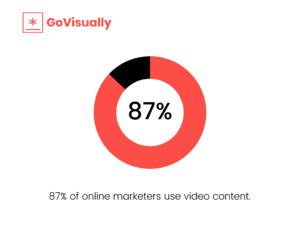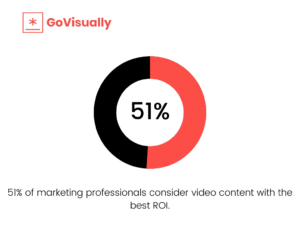 What do these stats prove?
Well, for starters, they give us an idea that video marketing is not just another trend. It provides real results and is therefore here to stay. It can take your business to the next level and can really equip your marketing efforts with the necessary boost they need. 
Product videos are an element of video marketing that has become indispensable for small and big businesses. The reason behind this is that they come with a plethora of benefits! 
Firstly, it helps you present a better sense of your product to the target audience.

It would help if you focused on how your product seems to the customer online before they move forward into purchasing it in today's time and age. Your potential buyer is likely to be influenced into or deterred from buying your product based on the first impression it leaves, and this is exactly where a product video comes into play.

You can also leverage it to shape the customer's expectations yourself. The better constructed your video, the more your product will appear appealing to the customer. 

Additionally, a product video also means that you have complete autonomy over defining the use of the product. You get to position your product in the customer's lifestyle as creatively as possible, which means a boost in sales and the ability to make your product seem like a natural part of the customer's life.
Imagine you are marketing a pen.
Through a product video, you have full control over making that pen seem more than a pen – something that will bring quality to the buyer's academic life, or help them write letters to loved ones, or maybe even sign important cheques!
Not only that, but a product video also means that you get to solidify your online presence as a business. Product videos usually make their way to social media. When various social media users see your brand dominate the online space with your products, you will obviously get the desired spotlight.
In addition, by offering your audience a creative, well-created product video, you are demanding a larger piece of their time and attention, which will translate into a better reach for your business. 
For these reasons, product videos are a great element to incorporate into your marketing strategy!
Challenges with Product Video Production
Even in bigger companies with a larger workforce and better resources to put into the venture, product video production is quite complicated. While creating the perfect video, you are likely to face the following challenges:
A lack of centralized files. 

Difficulty in obtaining and distributing file permissions. 

No video players or codecs. 

Longer feedback rounds amongst members. 

Mismanagement if there is more than one version involved. 

Low productivity due to information silos. 

Irregular delivery of feedback. 

Delays made due to localization issues.

Possible travel may disrupt your overall workflow.
In addition to these issues, there are also many people involved in the production process. Typically, these stakeholders will have a major role in the creation process: 
Project manager.

Marketing team.

Video production team or video production agency.

Product team.
Product Video Optimization Tips with GoVisually
Despite these issues, you can make your product video stand out, attract your target audience, and ensure that the introduction to your product does justice to it!
How?
By following these optimization tips, of course:
Always provide context
The one thing you should remember is that audiences love context. So no matter how amazing your product is, it won't resonate with the potential buyer if the product video does not present it correctly.
Therefore, during the video review process, ensure the context being provided aligns with how you would ideally want the audience to perceive your product. For example, asking questions like what problem the product is solving or how the product introduces value to the customer's life is a good starting point in terms of context. 
Show and tell
Your ultimate goal is to show and tell your customers about the product you are offering them. Yes, you are supposed to be as creative as possible with this process, but you shouldn't get carried away to the point that the real purpose of the product video is pushed to the side. At its core, the aim should be to show off your product and answer any possible questions or queries that the customer may have. 
Add multiple elements
A product video stands out from other marketing efforts because it is so much you can do with it. To ensure that your video is as interesting as possible, you must add plenty of photography, dimensions, a call to action, social proof like reviews or testimonials, and other things that will make you stand out. 
Customize by the preferences of the customer
As a business, you must realize how important it is to place the customer at the forefront of all work processes. In fact, interactive marketing focused on making the customer experience better by basing it off on customer behavior is taking the world by storm. You can shape your product video based on these ideals to – get to know your target audience before you create the video. Establish a comprehensive understanding of their preferences, pain points, and behavior.
Thanks to social media analytics and analytical software like Google Analytics, it is now easier to understand how your audience operates. So, once you get your hands on this data, you can easily customize your product video according to the needs of your audience. And then share the video online. 
Since many people are involved in the video production process, it can be quite hard to collaborate, send feedback, share suggestions, and review more than one product video. By using GoVisually, you can simplify all of these things. Your clients don't even need to sign in, making the whole review and approval procedure so much easier.
Not only that, but with the real-time updates from GoVisually, you can keep track of progress, revisions, and changes. So, no longer do you have to wonder how to share videos online for feedback because GoVisually has your back.
Key Takeaway
Product videos are a great way to boost your marketing efforts and draw in your customers. The best part? The process doesn't have to be hard anymore!
Just follow the tips we shared above, review your video assets on GoVisually, and you're good to go.