Managing remote teams can become your personal hell if you're not doing it right. That's why we've got the perfect solution for you; project management tools software for remote teams!
It's 2023, and most of us are either working on a hybrid model or have gone entirely remote. And while that has shown significant improvement in team morale and work, it comes with challenges.
The one challenge we've seen most remote teams struggling with is managing the workload, duties, and approvals.
And the answer is project management tools!
Project management tools are essential in today's business world, allowing teams to collaborate efficiently and stay on top of their tasks.
In this article, I'll cover the following:
A brief introduction of what are project management tools

6 top features you should look for in the best project management software
5 immediate benefits you'll see when you start using a project management software

And finally, I'll introduce you to some of the top project management tools with their prominent features, pricing, and who they are best suited for. 
Let's begin!
What are project management tools?
Project management tools are software applications designed to help teams properly plan, organize, track, and manage their projects.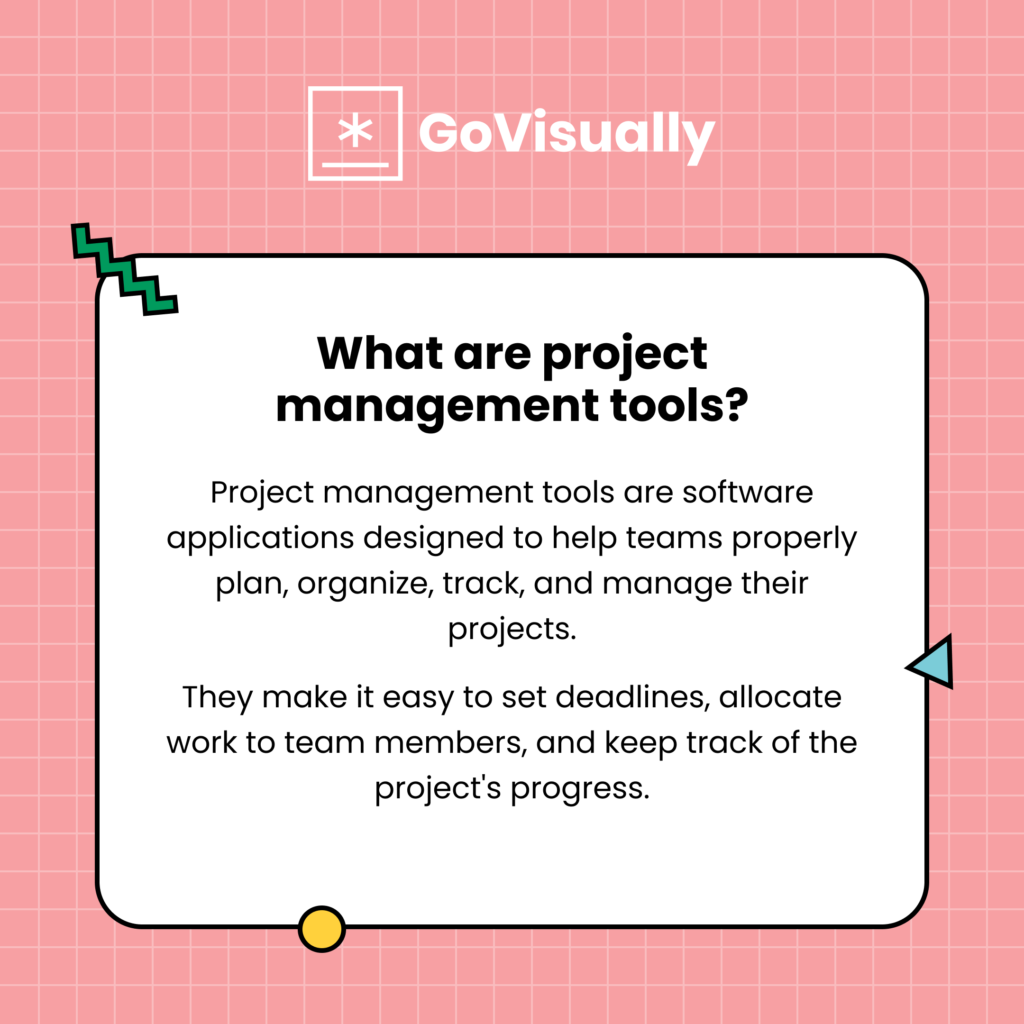 Managing projects manually in today's fast-paced business environment can be daunting, time-consuming, and error-prone. This is where project management tools come to your rescue!
Whether working on a small or a large-scale project, project management tools can execute any task successfully, regardless of size. 
Project management tools make it easy to set deadlines, allocate work to team members, and keep track of the project's progress. Plus, project management tools have various functionalities so you can execute your tasks effectively. 
The best part is: project management tools can be accessed everywhere! 
6 features that make a great project management software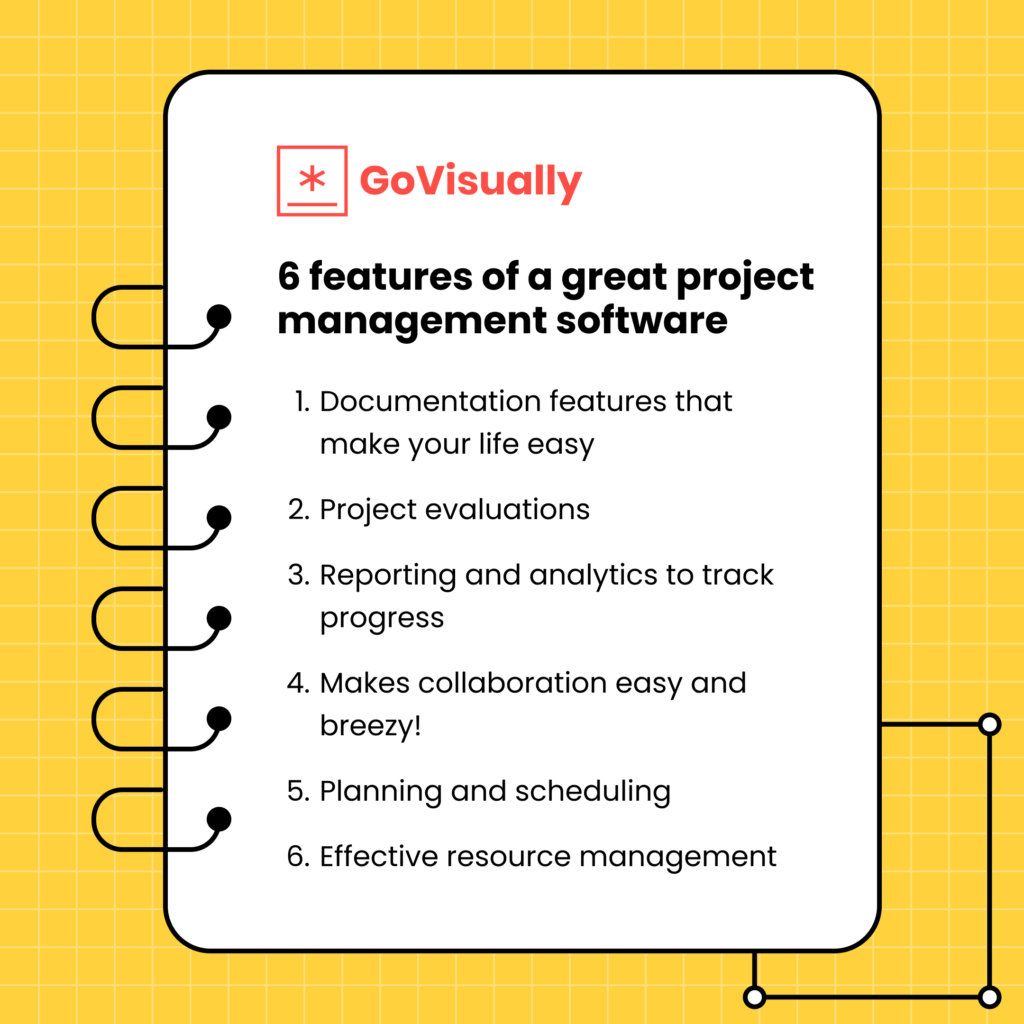 1. Documentation features that make your life easy
Organizing project-related files is crucial in any project management software, allowing team members to access and maintain up-to-date records. A document management system must support a variety of file types, versions, and permissions. For instance, a design agency can store design files to share with clients with the help of a project management tool. 
2. Project evaluations
Evaluating project progress is essential for decision-making. An effective project management software should have an evaluation feature allowing managers to monitor project status, task completion rates, and deadlines. For instance, a marketing team can use this to track campaign performance and website traffic.
3. Reporting and analytics to track progress
Generating reports on project progress, team performance, and costs is critical. This information helps stakeholders understand project expenses and can be used to adjust budgets. For example, a finance team can use it to review the costs, such as salaries or equipment.
4. Makes collaboration easy and breezy!
Collaborating with team members is an essential facet of project management. Remote teams can collaborate effectively, assign tasks and share files in real time. Effective project management software should provide features for task assignments, file sharing, and comments to facilitate seamless communication.
5. Planning and scheduling
Creating project plans, assigning tasks, and setting deadlines are the benefits of using a project management tool. Effective project management software should allow managers to plan and schedule lessons based on dependencies. 
Plus, planning and scheduling help team members keep track of their tasks. This way, everyone can execute their duties promptly and prevent missed deadlines. 
6. Effective resource management
Efficient utilization of resources is a vital aspect of project management software. This feature allows managers to assign necessary resources like personnel, equipment, and materials to different projects, thus ensuring optimal resource utilization and overall project success.
Let's take an example of a manufacturing company equipped with a project management tool to manage its resources like raw materials, production capacity, and labor hours. With this tool, the project manager can prioritize and allocate resources to different projects, ensuring efficient use of the company's assets.
5 benefits of using a project management tool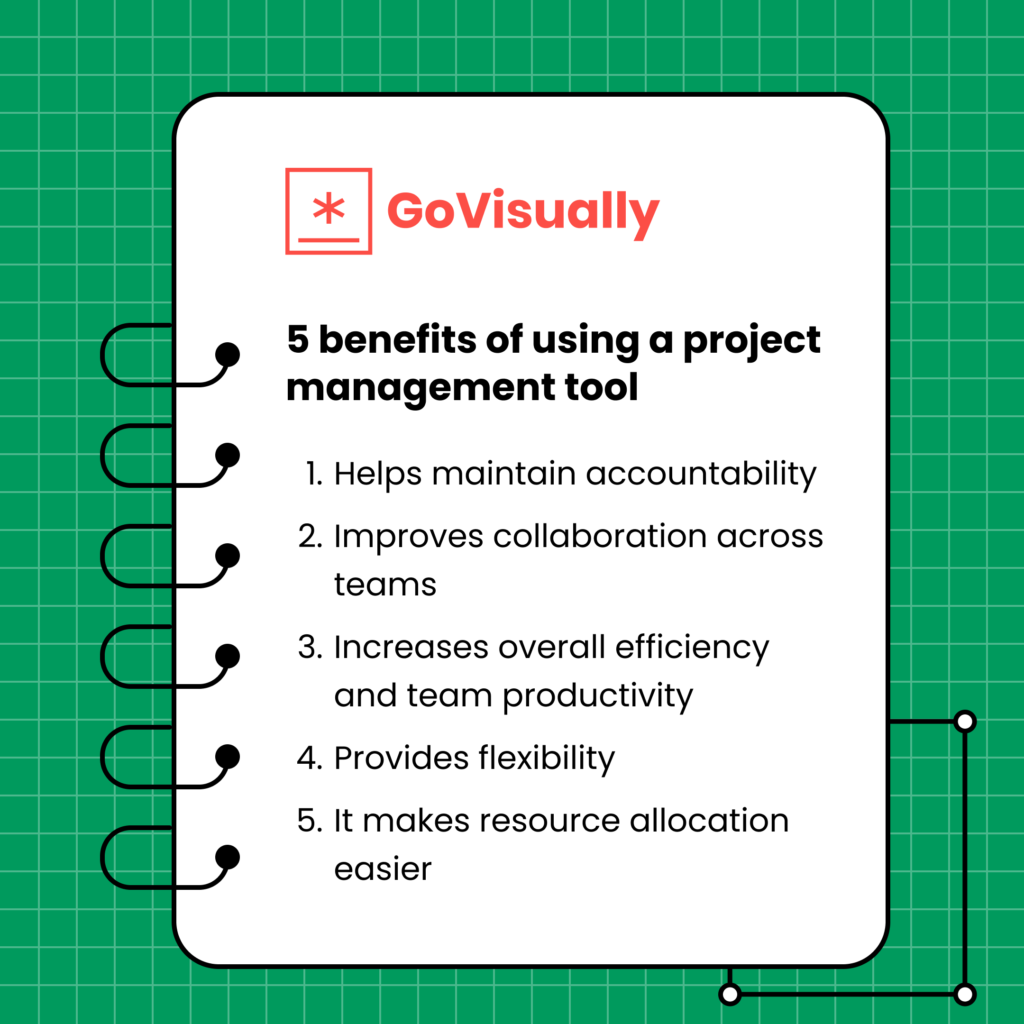 1. Helps maintain accountability
When it comes to teamwork, accountability is crucial. Luckily, project management tools can help team members stay accountable by providing them with a clear understanding of their responsibilities and deadlines. Assigning tasks and tracking progress have never been more manageable with these tools. 
And when any delays arise? No problem! Project management tools make identifying missed deadlines and uncompleted work easy so defenses can be adjusted accordingly.
2. Improves collaboration across teams
Team collaboration can be significantly improved with project management tools. These tools provide a centralized location for accessing critical information about the project, including tasks and timelines. Using these platforms, team members can communicate more easily with each other, resulting in increased transparency and faster completion of projects.
3. Increases overall efficiency and team productivity
Do you wish there was a way you could increase your productivity? Well, project management tools can help you with that. 
These handy tools work wonders by keeping track of deadlines and milestones, ensuring that none are missed thanks to automated reminders and notifications. They also help track how much progress has been made, allowing team members to identify bottlenecks and change workflows quickly.
4. Provides flexibility
Project management tools are a great way to enhance team flexibility and productivity. 
With the rise of remote work, these tools have become even more essential in helping teams work from anywhere. Thanks to these tools, team members can easily access project information and updates from any device with an internet connection. 
Many project management tools also come with mobile apps that allow team members to stay up-to-date on their tasks while on the go. This level of flexibility boosts productivity and ensures everyone is on the same page, no matter where they are.
5. Makes resource allocation easier
Project management tools also help teams with improved resource allocation. These tools provide an overview of all project tasks and timelines, making it easier for teams to identify potential resource conflicts. For example, if one team member is overburdened with jobs, the project management tool can help the team determine that and allocate the necessary resources accordingly. 
8 best project management software
Here are the top 8 project management tools that most remote teams use to keep their team members, projects and resources aligned.
1. ClickUp
ClickUp is an incredibly versatile platform that can be customized to fit any project, team, or organization's needs. 
Whether you're a solo entrepreneur, a small business owner, or part of a large enterprise, ClickUp has features that can help you stay on top of your work and collaborate effectively with your team.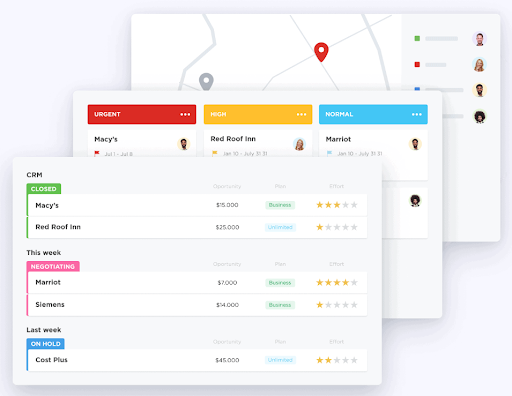 Top features
Multiple views

: You can switch between list, board, calendar, and even mind map views to organize your tasks in the way that works best for you.

Custom fields

: ClickUp allows you to add custom fields to tasks, allowing you to track essential details like priority level, due date, estimated time, and more.

Collaboration

: You can leave comments, tag team members, and assign tasks to specific people within ClickUp.

Integration

: ClickUp integrates with various other tools, such as Google Drive, Slack, and Trello.
Pricing
ClickUp offers a variety of plans to fit different needs and budgets. They have a free plan with essential features and paid plans starting at $5/user/month for the Unlimited plan, $12/user/month for the Business plan, and $19/user/month for the Business Plus plan. Each program offers more features and benefits to choose the right one.
Best for
ClickUp is best for teams and individuals looking for an all-in-one solution to their project management needs. Any corporation, regardless of the size, can use the application to stay on top of its duties. 
2. Asana
Asana's name is inspired by yoga, and we agree that it puts your project management into a relaxation mode. With everything planned and ready for execution, Asana is a dynamic and intuitive project management tool companies use worldwide. 
In fact, we love it so much that we use it for our content team at GoVisually. It helps us keep our blog plan aligned and makes accountability easier.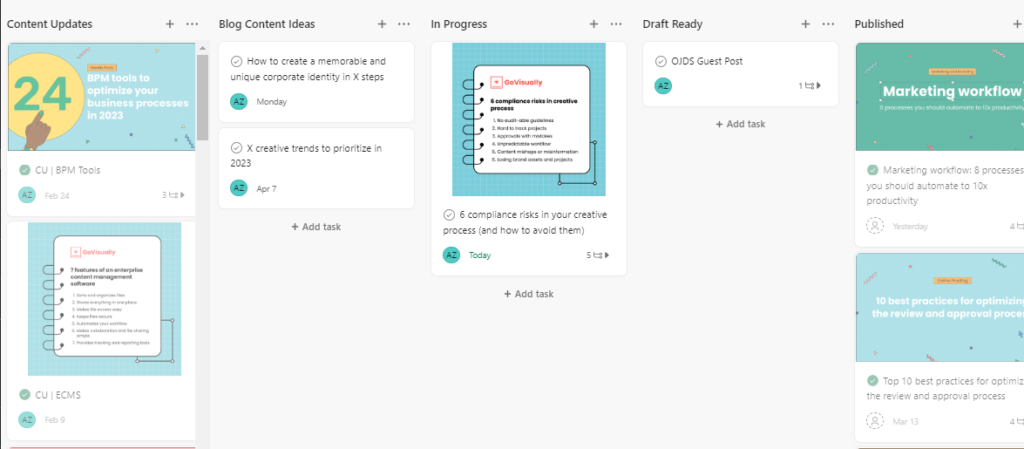 Top features
User interface

: It's simple and easy to use, and you get tons of flexibility over how it looks. Plus, you can quickly move your task list around and keep up with your team's activities with the activity feed on your dashboard. 

Visual project timeline

: Asana's visual project timeline is a Gantt chart highlighting your task due dates, assignees, and progress over time. 

Integrations

: Asana integrates with tons of popular apps such as Slack, Google Calendar, Outplanr, and Dropbox.
Pricing
Asana offers a free plan and two paid plans. The Premium plan costs $10.99 per month per user, while the Business plan costs $24.99 per month per user.
Best for
Asana is best for enterprise companies requiring more than traditional project management software. Asana is a top choice when it comes to the comparison of project management software. 
3. Trello
Trello is a free Kanban board-style project management software that is free and perfect for small projects. With Trello, you can nest project tasks under boards labeled with an overarching theme. 
For example, you might have a board for "Not started," "In Progress," and "Complete." The setup makes it easy to track project progress from board to board, which is helpful when you need a simple tool for small projects.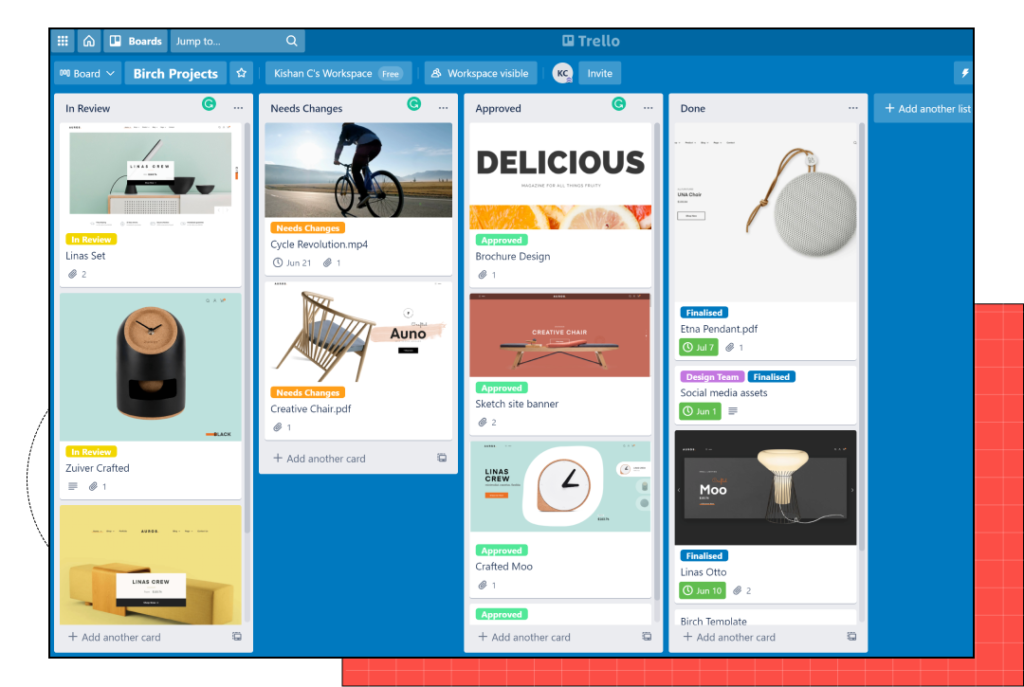 Top features
Simple task management

: Trello assigns a "Board" to each task. Project managers can access these boards from their dashboards and make any changes. They can add tags, custom fields, and priorities with one click.

Drag and drop functionality

: Trello lets you drag and drop tasks around your dashboard. This makes rescheduling and editing tasks and projects easy.

Power

–

Ups

: Each project task can be assigned a power-up depending on what's needed. Most of these free power-ups have paid upgrades for more functionality (similar to most freemium games.) These power-ups include features like calendar views, Google Drive integrations, and quick file sharing. Trello's most popular power-up is its "Butler" feature, which lets it automate a preset group of tasks.
Pricing
The basic plan of Trello is free to use.
However, some paid programs add automation, integrations, priority support, and more. The Premium variant costs $9.99/month per user, billed annually.
Best For
Trello is best for individuals or small teams that manage very few projects simultaneously. There's a lack of reporting functionality and project tracking features. But Trello's straightforward interface and drag-and-drop functionality makes it easy to use, even for non-technical users.
4. Monday.com 
Monday.com is a popular project management software for creatives. It is used by companies of all sizes, from small to large enterprises.
It's a visually appealing platform that offers a variety of features to help you manage your projects efficiently. Let's look closer at what makes Monday.com stand out from the crowd.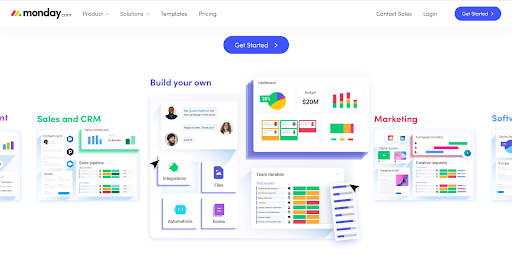 Top features
Third-Party collaboration:

Monday.com allows you to add third-party agents to your team, which is not something every project management tool offer. You can customize their access rights to ensure they only access assigned projects.

Accessible communication: Monday.com's

 robust commenting system lets you share ideas, project tasks, and files with your team members. You can also follow Twitter and LinkedIn threads within the app to stay updated.

Loads of integrations:

Monday.com can integrate with numerous tools, such as Google Drive, Dropbox, and Zapier, to boost its functionality. Developers can also add custom integrations, as Monday.com is built on an open-source framework.

Resource and project management

: Monday.com's resource and project management tools help you track your team's workload, timelines, and invoices.

Reporting capabilities

: Monday.com offers detailed reporting capabilities that allow you to track your project's progress, budget, and other essential metrics.
Pricing:
Monday.com offers four different pricing plans, starting at $8 per monthly user. The Standard plan adds project timeline views, 5 native integrations, and 50 GB of data storage for $10 per user per month. The Pro plan with advanced features costs $16 per user per month. An Enterprise plan is also available for larger organizations that require more advanced features and customizations.
Best for
Monday.com is an ideal solution for small to medium-sized businesses that need an easy-to-use and customizable project management tool.
5. Wrike 
Wrike is an excellent project management application that's worth checking out! The software has prominent features that can help you keep organized and on top of your work, no matter how complicated your project is.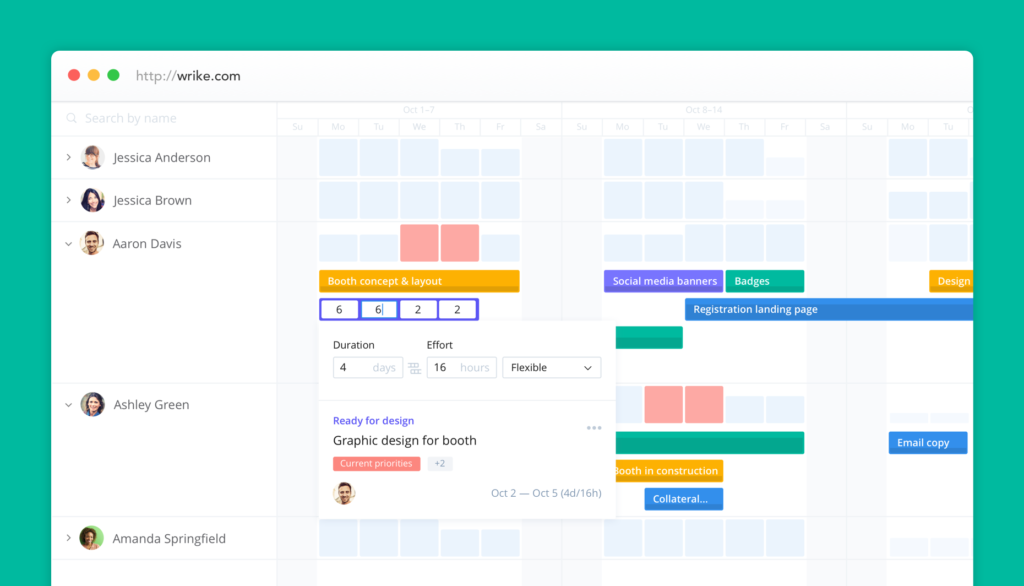 Top features
Task management

: Wrike allows you to create and assign tasks, set deadlines, and track progress. You can also collaborate with team members and interact within the application. 

Project planning:

 With features such as Gantt charts, project schedules, and resource management tools, Wrike makes it simple to plan and track projects.

Customizable dashboards:

In Wrike, you can create dashboards to keep track of the information that is most important to you. 

Integrations

: Wrike integrates with a variety of different apps, including Slack, Microsoft Teams, Google Drive, and others.
Pricing
Wrike has various pricing plans, beginning with a free program ideal for small teams.
The paid projects range from $9.80 per user per month to $24.80 per user per month, depending on your required services. You can also contact the sales team for Enterprise plan pricing if you have a corporate team that needs advanced functionality.
Best for
Wrike is best suited for teams of all sizes and industries. It is ideal for remote teams collaborating across several locations or time zones.
6. Airtable
Have you ever found yourself torn between using spreadsheets or databases to manage your projects? Airtable puts an end to this debate. 
Airtable combines the best features into one customizable and easy-to-use tool perfect for businesses of all sizes. While it may lack robust reporting features, it makes up for it its versatility of data organization.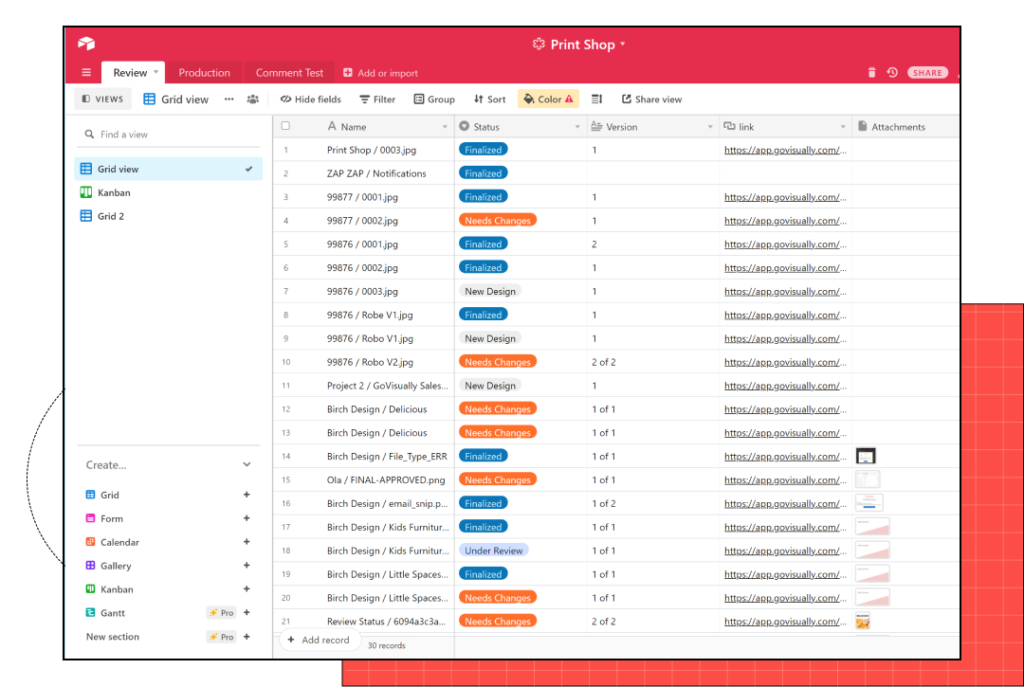 Top features
Data organization

: You can store information in a database that can be used for task management and project planning.

Flexibility

: Airtable allows you to switch between different views, such as Kanban, list, grid, and calendar. This will enable users to organize their data in whatever suits their team best.

Third

–

party integrations

: Airtable also offers a variety of integrations with popular apps like Asana, Basecamp, Box, Evernote, Facebook, Github, MailChimp, and Slack using Zapier, Workato, Integromat, or Automate.io.
Pricing 
Pricing for Airtable starts with a free plan that supports essential features like rich field types, multiple views, and collaboration. The Pro plan offers advanced features like custom branded forms, personalized ideas, and domain-restricted sharing. Their paid plans start at $10/user/month if you need more data storage.
Best for
Airtable is best for those who want to build their project management system. It's a flexible, no- and low-code database that lets you create custom applications to suit your unique needs. If you prefer to oversee the backend development of your project management software, Airtable is an excellent option.
7. Basecamp 
Basecamp is a tried and proper project management tool that's been around since 2004. With over 3.5 million users, it's clear that this platform is doing something right. Basecamp is an excellent choice for detailed planning and management by project.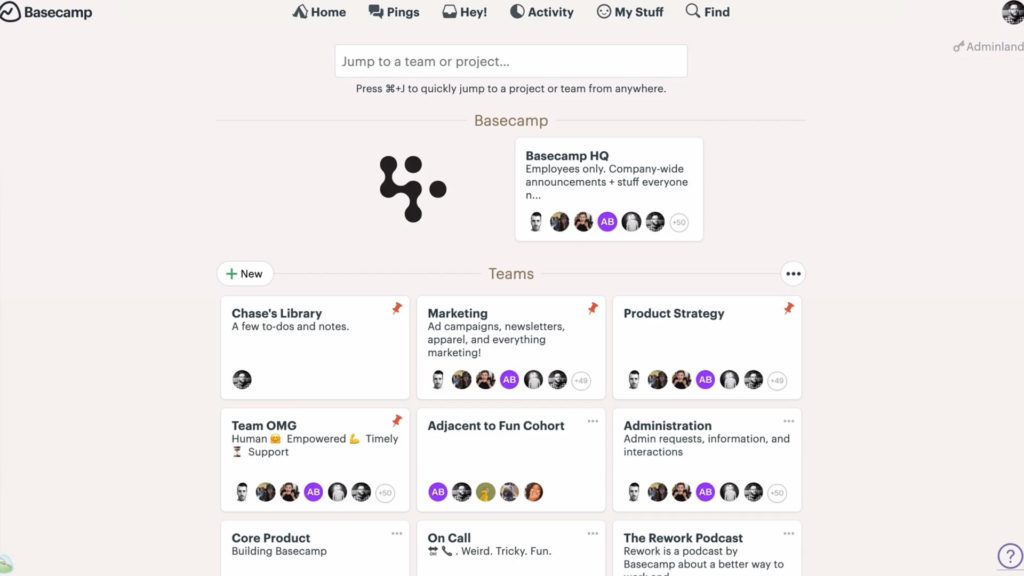 Top features
Dashboards

: Basecamp has project dashboards that keep work organized and segmented

Userfriendly

: It has a simple interface and is fast to learn

Collaboration

: Collaborate with clients and people outside your organization

Integration

: Basecamp has email integration and the ability to share individual tasks and messages with people outside the organization
Pricing
Basecamp's $15 monthly pricing makes it an appealing option for small teams and freelancers; Basecamp Pro Unlimited can be purchased for $299/month. Unfortunately, there's no free plan currently available. However, the length of the 30-day trial is more generous than most.
Best for
Basecamp is best suited for a simple, no-frills project management solution. Its uncluttered interface and powerful search tools make finding the task, image, or message you're after easy. It's an excellent choice for freelancers, small teams, and individuals who require active collaboration with clients and people outside your organization.
8. Nifty
Nifty is the perfect solution for remote looking for a user-friendly tool to manage their projects. With its focus on team collaboration and project efficiency, Nifty is one of the best project management software.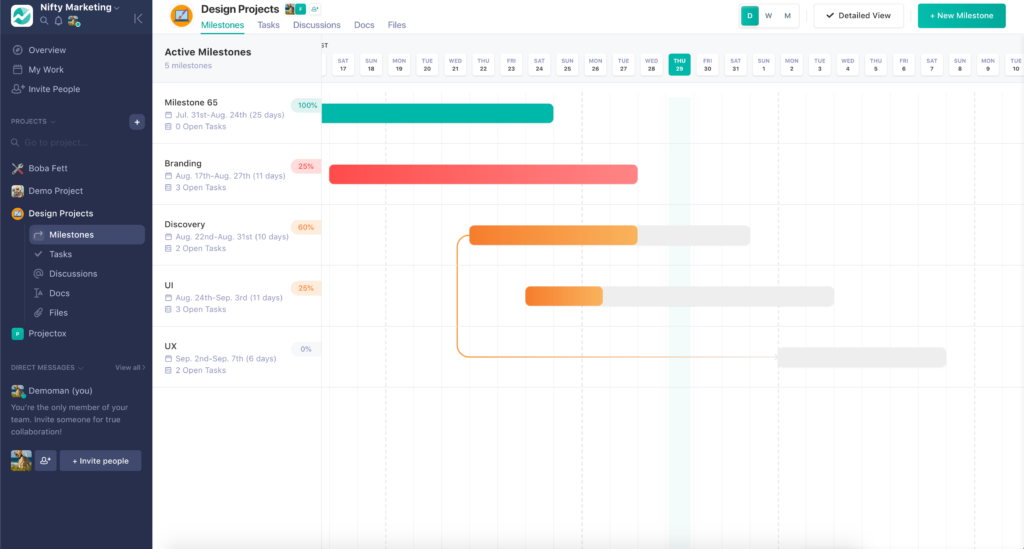 Top features
Task management

: Nifty allows team members to create, assign, and track tasks, set deadlines, and receive notifications, ensuring that everyone is on the same page and no critical studies fall through the cracks.

Time tracking

: With a built-in time tracking feature, team members can easily track their work hours and estimate future projects more accurately.

Project roadmaps

: Nifty lets you plot milestones and deadlines on your roadmap, giving you a clear overview of your project's progress and timeline.

Collaboration

: Nifty's collaborative docs allow you to create, store, and share files with your team members. You can also use Nifty's discussion threads to communicate with team members and organize project-related discussions in one place.

Integrations

: Nifty has integration with various tools such as Slack, Zoom, GitHub, Dropbox, Google Drive, and Google Calendar, among others. It also allows data import from other project management tools like Asana, Basecamp, ClickUp, and Trello.
Pricing
Nifty offers a free plan that allows you to work on up to two projects.
If you need more features, you can upgrade to the Starter plan for $39 per month, which includes unlimited projects, task dependencies, time tracking, custom workflows, and more.
You can also sign up for the 14-day trial to test drive the tool before making the final purchase.
Best for
Nifty is an ideal solution for remote teams searching for a simple project management application that promotes team communication and efficiency. 
The secret superpower? Integrate your project management software with GoVisually!
Do you know you can achieve 10x more by integrating your project management tool with GoVisually?
GoVisually is one of the leading online proofing tools, making the review and approval process easy and quick. It streamlines your team's collaboration process and significantly reduces email chains.
With GoVisually, you can give feedback on all designs and video collateral within minutes, not days!
Top features of GoVisually
Real

–

time editing and feedback

: Collaborate with your team in real time and make changes on the go, ensuring everyone is on the same page.

Version control:

GoVisually keeps track of all versions of your project, so you never lose track of your progress.

Private comments

: Keep team discussions private by enabling personal remarks while working on the project.

Attachment upload

: You can upload attachments and control who can download brand files, ensuring the security of your files.

Sections for projects: Our newest section feature allows you to categorize your work into different projects.
The best part?
You can integrate GoVisually with several project management software for increased productivity, including all the top 8 project management tools in this article.

Final word
Each application covered in this article has unique features suited for different team types. Remember, with the right project management tool, teams can collaborate seamlessly, track progress, and stay on schedule.
 You can also integrate these project management tools with GoVisually to make collaboration among the team members easier.