Are you chasing after reviewers and facing difficulty in finding ideal project management tools? We understand!
As a project manager or the marketing team lead, it can become quite a hectic job to close a project successfully. And that's because project management isn't easy as it's painted out to be.
So, today, we're going to let you in on a cheat sheet. We will review the features and pricing structures of the top 100+ project management tools so you can make an informed choice and pick the best project management tools online.
What Are Project Management Tools?
But before we start, let's do a quick rewind for those of you who want to know what a project management tool is and how using project management tools and techniques can benefit their workflow.
Project management tools are software that helps marketing heads, creative teams, and project managers plan, organize and manage the project until completion.
Some of the key benefits of a project management tool include:
Bringing stakeholders on the same platform

Creating tasks, assigning work, and meeting deadlines

Faster turnaround

Improved quality

Ensuring that compliance guidelines are met

Timely work delivery

Improved efficiency and management
So, in simpler words, it's an incredible city, and you're the one in charge!
100+ Project Management Tools Online
Without further ado, let's review the best project management software and tools.
1. GoVisually
Designs and visuals are a crucial side of any project. You need design approvals from clients, you need internal reviewing, and even within your designer's team. That is why you need GoVisually to streamline your reviewing process and eliminate the chaos.
It is the simplest online proofing tool built with the sole purpose of enhancing your creative team's work efficiency.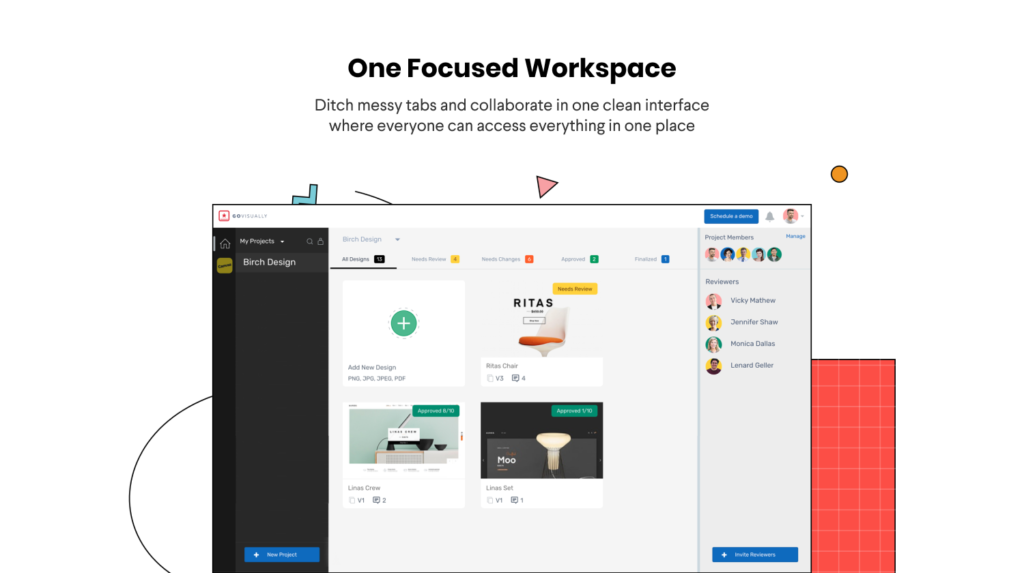 Key Features
Upload and annotate multiple file types
Share with your clients (They don't need an account, only you do)
Invite as many reviewers on the project as you want
Keep all your revisions and feedback organized in one place
Mobile optimized so you can manage and review your projects even on the go
It can be integrated with Slack and Zapier
Outstanding customer service available 24/7
Pricing
GoVisually has two plans: Solo and Team. The Solo plan is for $20 per month and is perfect for freelancers. The Team plan is for $50 per month and includes 5 users. For more information, visit here.
2. Asana
Asana is a complete all-in-one featured platform that improves project management functionality in several different areas. Besides, It can foster a team schedule and monitor promotions and releases using marketing strategy management software.
The platform has a significant range of project management features, including BM tools which incorporate almost all of the purposes that an individual looks for in a project management software.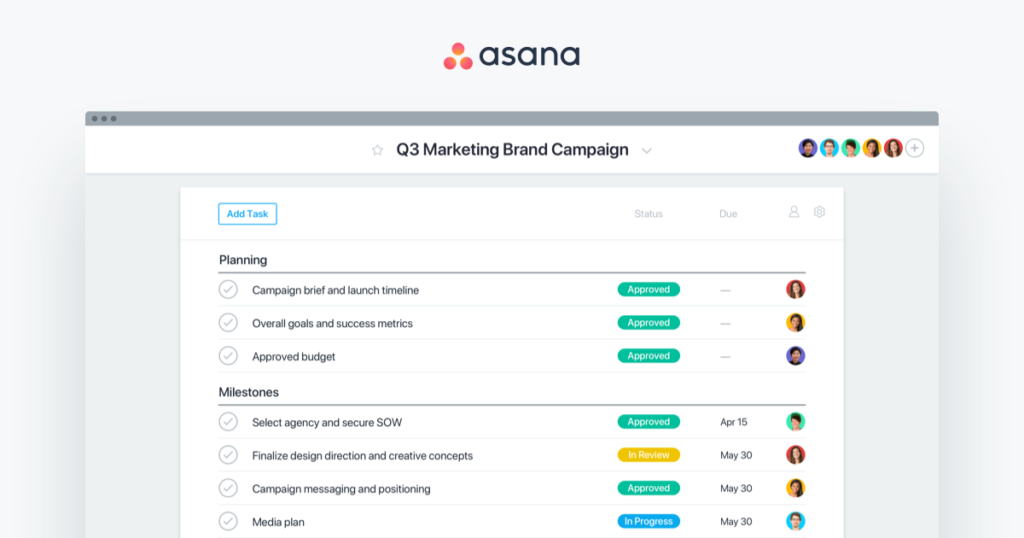 Key Features
Create projects.
Allows users to communicate directly.
Specify deadlines.
Mobile compatibility.
Slack, GitHub &Instagant Integration.
Pricing
Asana offers four different pricing plans, and each upgraded feature unlocks with other plans: Basic, Premium, Business & Enterprise. The basic plan is for new and amateur users, and Asana allows them to create projects for free forever with the basic pricing plan.
The premium plan will enable individuals to use more upgraded features for creating better projects with confidence; the premium plan is for US$ 10.99 per month. For further details, click here.
3. Project Manager
Need an online solution for all your work-based issues? Get your hands on ProjectManager.com!
ProjectManager helps you to prepare, organize, and post your tasks online. You can quickly create calendars with deadlines and requirements, as well as drag-and-drop schedules.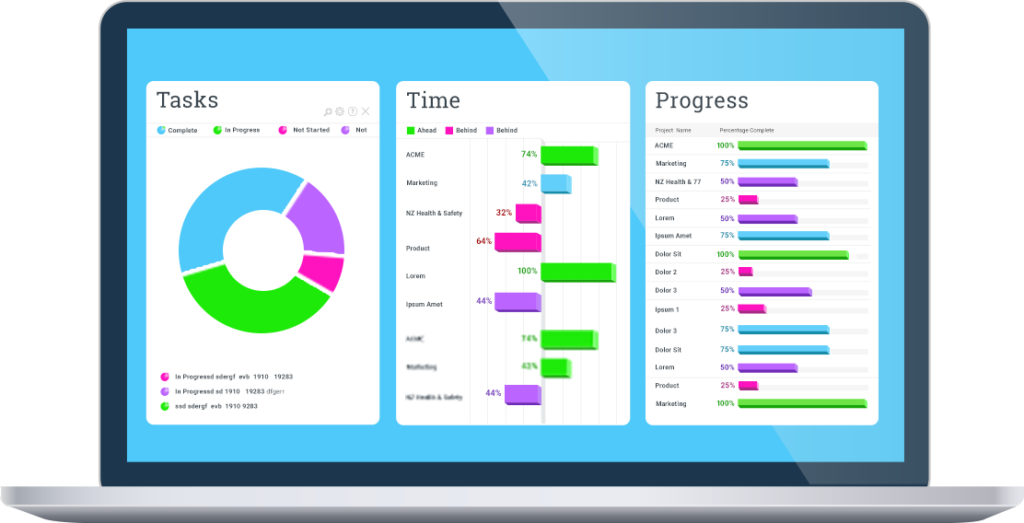 Key Features
Online planning tools.
Real-Time Project Dashboards.
Web-Based Task Management tools.
Manage Multiple Projects.
Online Timesheets.
Pricing
ProjectManager involves three pricing packages; Personal, Team, and Business. Personal is for US$ 15, and Team is for US$ 20. For more information, visit click here.
4. Brightpod
If you opt to start a marketing campaign and get more creative tools to put your hands on, BrightPod software is just right for you! It is a project management software aimed primarily at digital media and creative agencies.
Brightpod has a wide range of applications, including; Kanban and project schedules for task formation, time monitoring, and prediction software; an action tracker is a cloud-integrated software.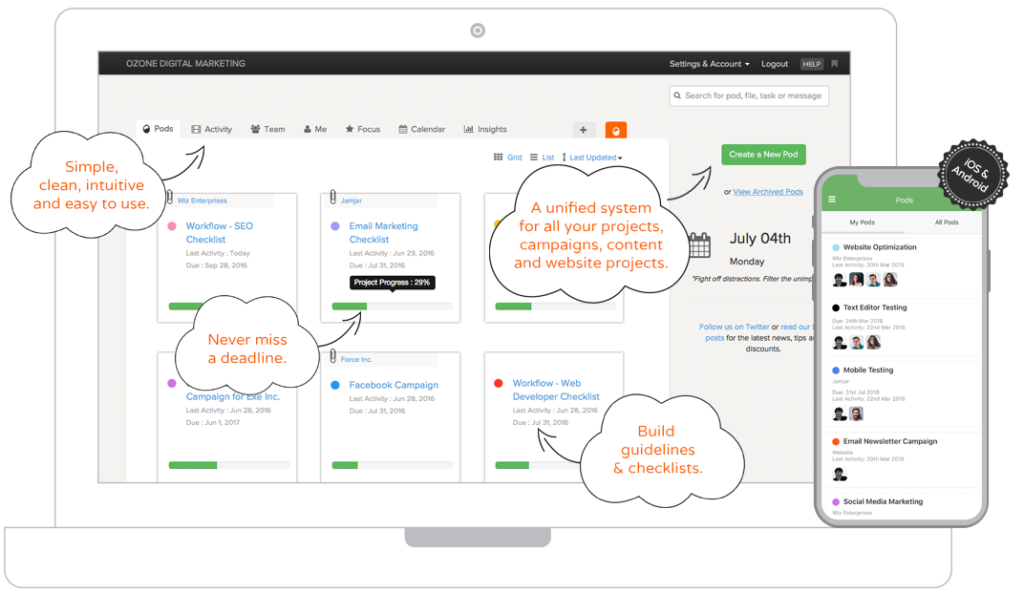 Key Features
Web-Based Project Management & Tracking
Pods (Projects)
Task List & Tasks.
Workflows.
Editorial Calendar.
Time tracking enables you to check and set a time limit for each task to meet the deadline effectively.
Pricing
BrightPod offers four different pricing plans; Professional, Studio, Agency & Agency Plus. The professional plan is for US$ 29/month, which offers 15 projects, 5 Users, and 10 Gigabytes of storage. For more information, visit click here.
5. nTask
nTask is an excellent and one-stop to-do list application for creative teams. It is designed to cater to both a remote team and a team working from the office.
The application is built for small and big businesses alike. In fact, if you're starting your business journey, it will help you set up your team properly without prompting you to sign up for any premium plans.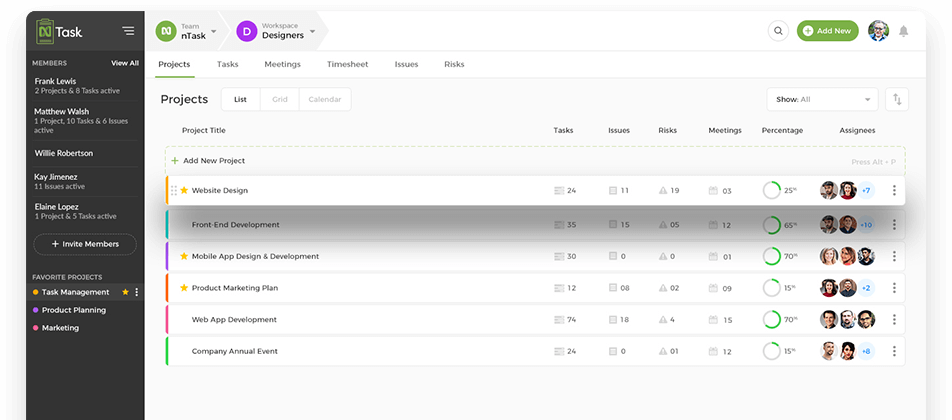 Key Features
Timesheets to help you stay organized
Gantt Charts
Issue tracking for all your projects
Option to set up meetings (remotely and in-person)
Advanced data sorting for all your projects
Option for multiple board views to categorize your teams or projects
Activity management so you can know what your creative team is onto
Customer support available to help you throughout
1000+ integrations including Google Drive, Zapier, and Slack
Pricing
Basic: Free
Premium: $1/month per user for up to 3 users. If you have more than 3 users, they can still be added but will be charged at $2.99/month.
Business: $7.99/month per user
6. Nifty
There are generally several development sessions, based on the initiative, in which every investor discusses the latest progress reports. These sessions are not only inconvenient, but they also waste your time, which is your project's most limited yet precious resource.
After painstaking work is done through automatic activity alerts, Nifty helps you create visual schedules and coordinate with your group.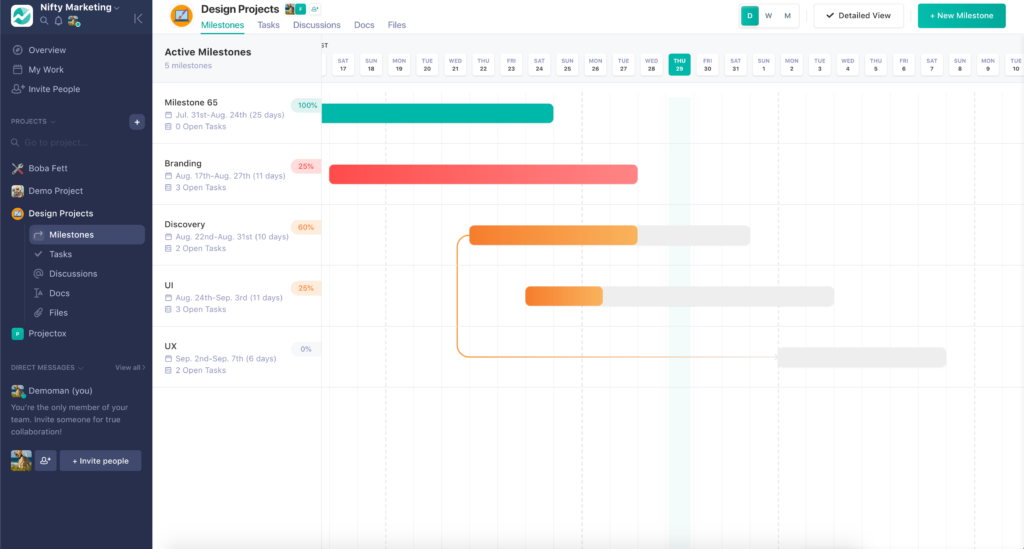 Key Features
Discussion.
Time Tracking.
Reporting.
Pricing
You can upgrade, downgrade or cancel the pricing plans anytime. Nifty offers you four packages; Starter, Pro, Business, and Enterprise. The starter can cost US$ 39/ monthly. For more information, visit click here.
7. Trello
If you're looking for a fun, collaborative tool for project management, then Trello should be your go-to choice. The visual workflow is laid out quite impressively, which makes it a great application for creative teams.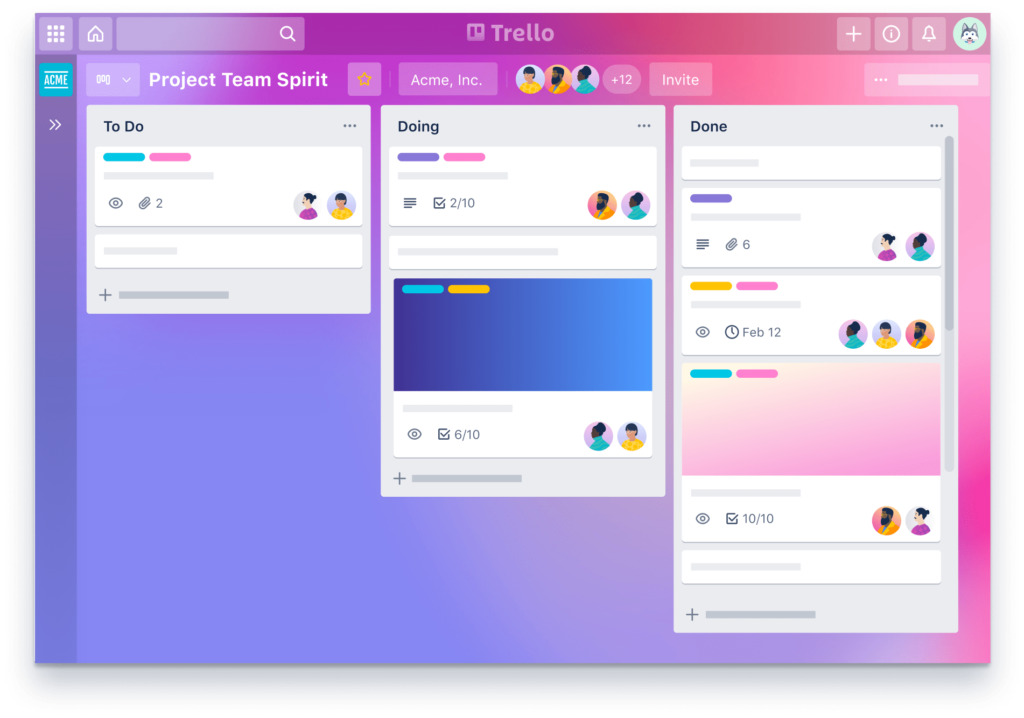 Key Features
Kanban boards to easily organize your work
Schedule your tasks using labels and stickers
Add a description to each task
Collaboration tools for project management
Option to integrate other applications and software (premium version)
Create as many boards as you want for effective management
Use the free templates available to create your own boards for your creative team
Pricing
Starting from $9.99/month per user.
8. 2Do
If one of the primary reasons why you need a to-do list app is because you need faster results, then you should go for 2Do. You can download it on iOS or Android and easily use it while you're on the go, so all your tasks and project are properly managed.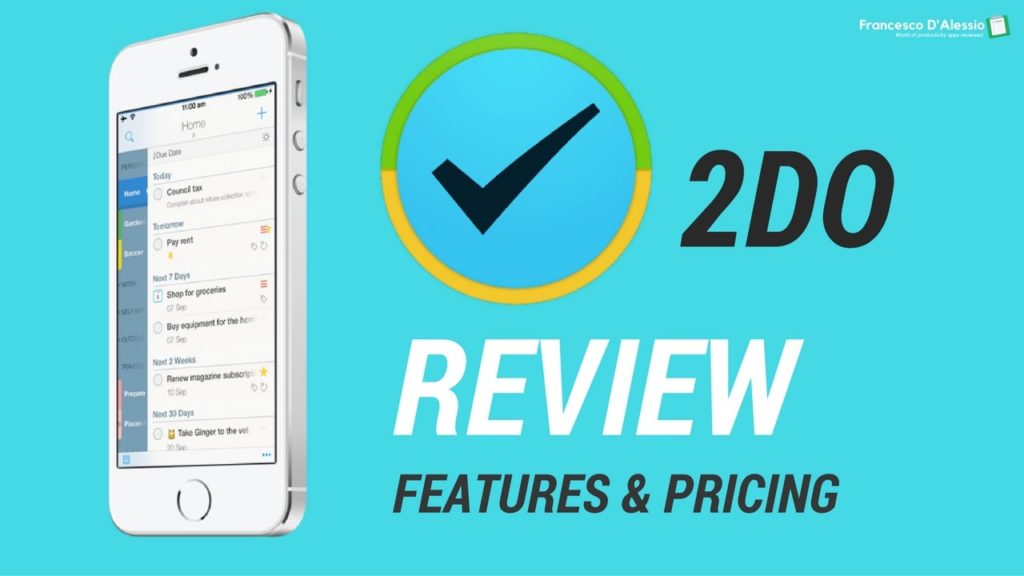 Key Features
Task editor offering a full range of features so your team can create and edit tasks as per their requirement
Options to apply sorting filters that will help your creative team remain more organized.
Option to integrate other software and platforms
Option to create smart lists that can be optimized for individual use as well
Geographical location-based reminders for the team members (Excellent for remote teams)
Notification center layout so you never miss out on an important update
Backups for your data so you never lose out on important work
Pricing
$14.99 for iOS. Available on Android as well.
9. Wrike
Wrike is a professional service and preparing platform that appeals to many groups in many sectors. Whatever the case could be, Wrike will help you optimize your flows, plan assignments, and see your strategic aims whether you work in marketing, creative, product creation, or as a full-time project manager.
Frameworks can also be used to accelerate tasks like event planning, service delivery, and staffing. This free project management software is suitable for small groups of up to five individuals.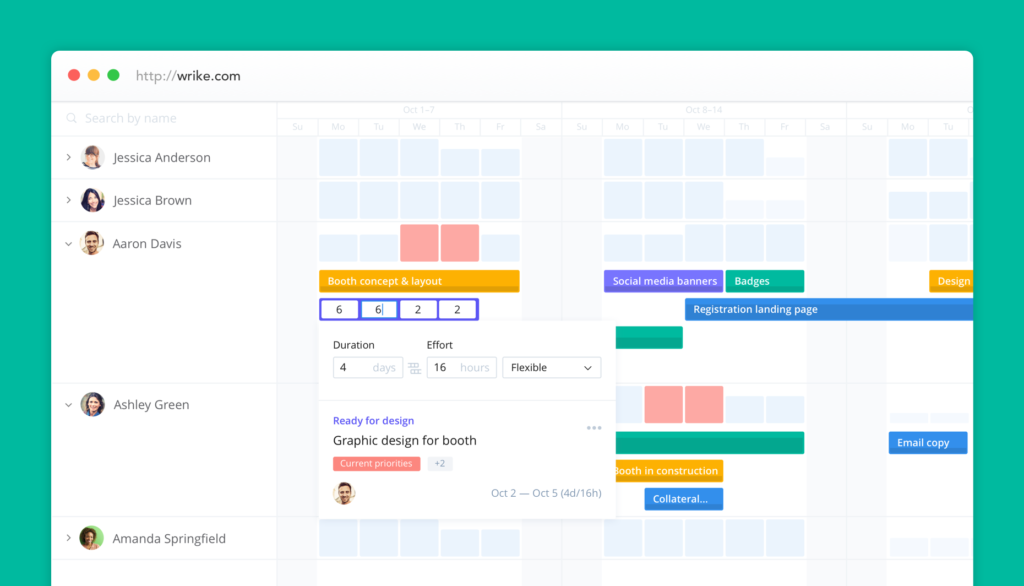 Key Features
Customize tools for any team.
quick slide tools and user-friendly GUI
Enable better collaboration.
Imagine your plans with immersive Gantt graphs
Visual Proofing.
Asset Publication.
Share Team Calendar.
Pricing
This software tool offers you four pricing plans; Free, Professional, Business and Enterprise. The professional plan is for US$ 9.80, and Business US$ 24.80. For more information, visit click here.
10. ProofHub
An all-in-one solution with heaps of capabilities allows the team to schedule, coordinate, organize, and execute tasks on time. ProofHub enables you to schedule, imagine, and view project-related data in the most effective manner possible, as well as delegate assignments, share information, and ensure that your goals are met.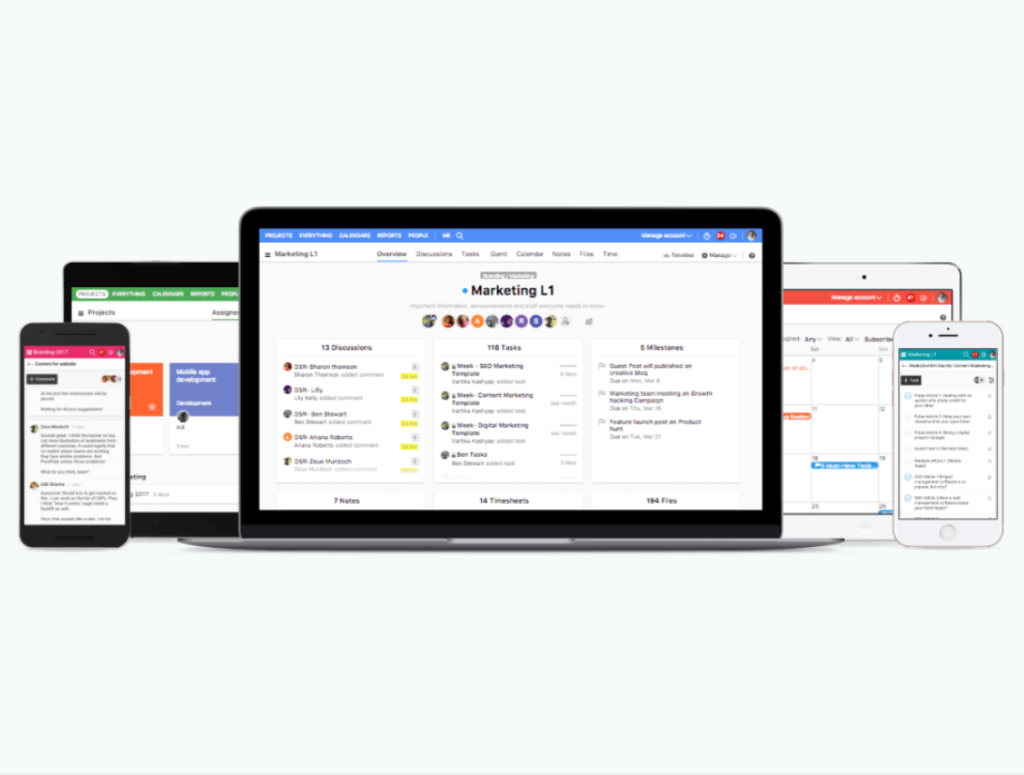 Key Features
Discussions.
Table View.
Custom Roles.
Proofing.
TimeSheets.
Integrated with API.
Pricing
ProofHub involves no per-user fee. It offers two pricing plans; Ultimate control and Essential. Ultimate control is for US$ 89, and Essential is for US$ 45. For more information, visit click here.
11. Clarizen
Clarizen is one of the most impressive project management applications that offers everything. From your data security and protection to an easy-to-use interface, this might be heaven for your creative team.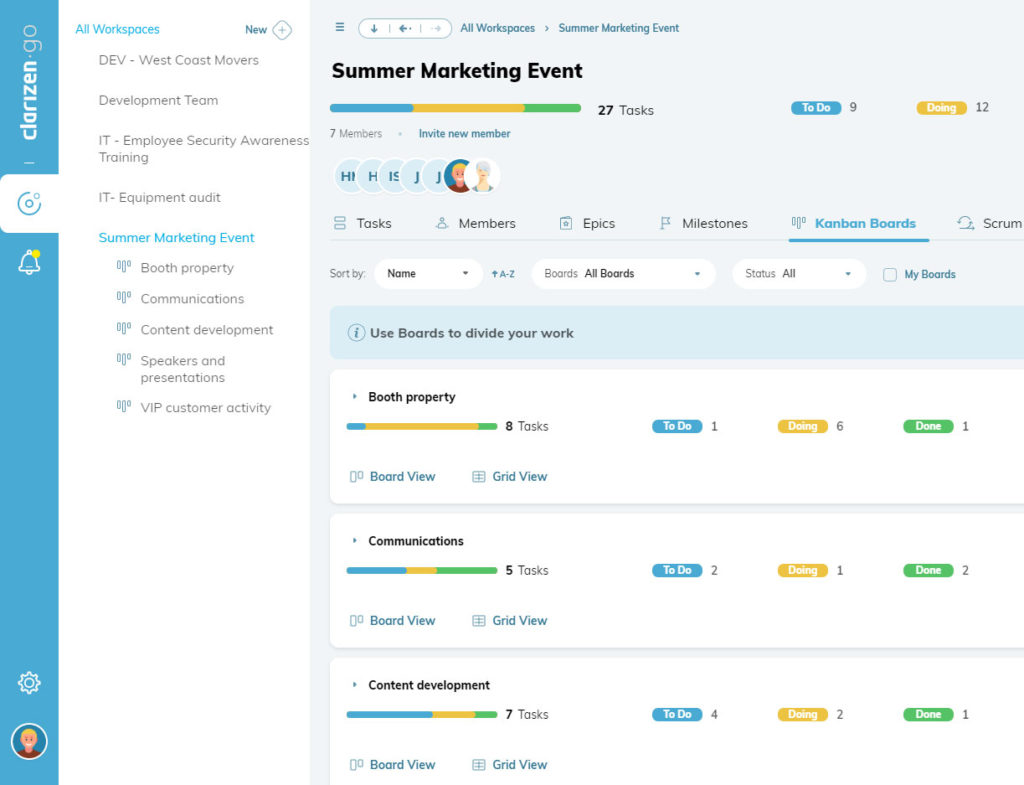 Key Features
Time tracking and timesheet management are available to check on the logged hours by your team members.
Multi-tiered network security to protect your data and valuable assets
Billable & non-billable work items available along with budget tracking, so you never run out of your budget
Multiple dashboards to organize projects and teams
SSP & LDAP integration
Progress and work scope management
Document review and feedbacks available so you can streamline the editing process.
Gantt Chart
Issue tracking
Real-time analytics and data available to assess your progress
Third-party integration
Risk assessment and security encryption
Task scheduling and activity tracking
Option to create a project hierarchy, so your team knows what to prioritize first.
Pricing
Free trial available. You can also request the pricing based on your needs from their site. But it usually starts from $45/month per user.
12. Basecamp
Basecamp enables you to break down your tasks into smaller assignments making them more manageable and effective. Moreover, it provides tools such as visibility for all staff members, discussions, and documentation to ensure that everyone is updated and can monitor progress in real-time.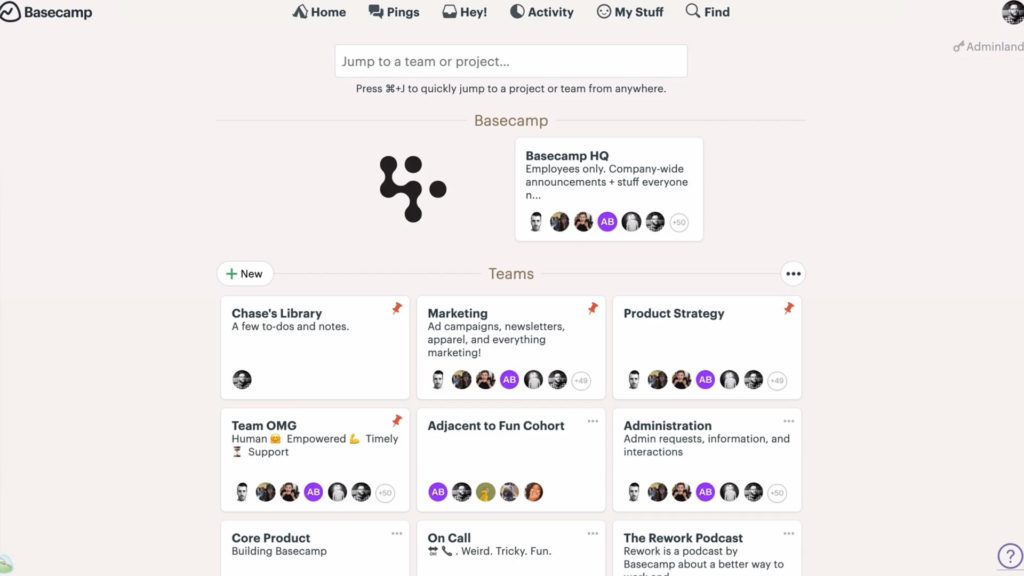 Key Features
Visibility for all staff members.
Group Discussions
Documentation.
Manage Deadlines.
Real-Time updates for bosses, managers, and staff.
Another exclusive feature of BaseCamp enables you to keep projects on track with basecamp's Hill Charts.
Pricing
BaseCamp offers two plans: BaseCamp Business and BaseCamp personal. BaseCamp business is for US$ 99/per month with unlimited offers whereas, BaseCamp personal is free but limited.
13. Workfront
It is a company integrated with Adobe providing the company with innovative, simple preparation software. Workfront Scenario Planner provides you with ongoing preparation tools that help you create various what-if situations, analyze each, and form an opinion depending on the projected consequences.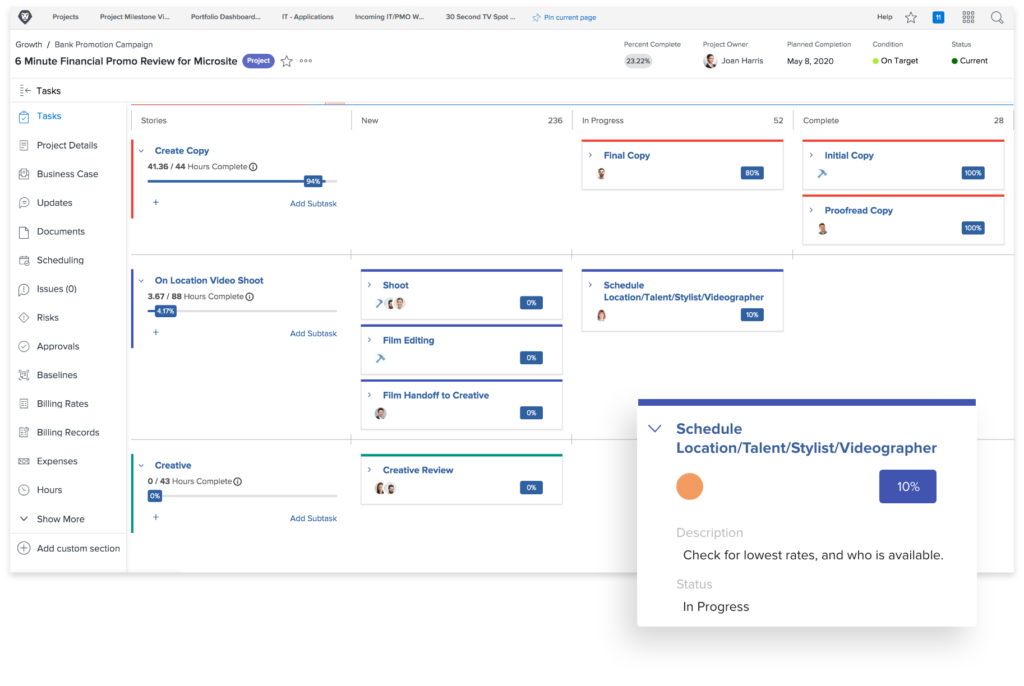 Key Features
Project Management.
Resource Management.
Digital Collaboration.
Portfolio Planning.
Strategic Planning.
Workfront keeps you up to date on the status of each task.
Pricing
Workfront allows you to use three pricing plans; Enterprise, Business, and Pro. For more information, visit their website.
14. Liquid Planner
Liquid Planner is a perfect alternative because it has many special preparation functions. You may build ongoing, funded, and active projects using project and task-level options.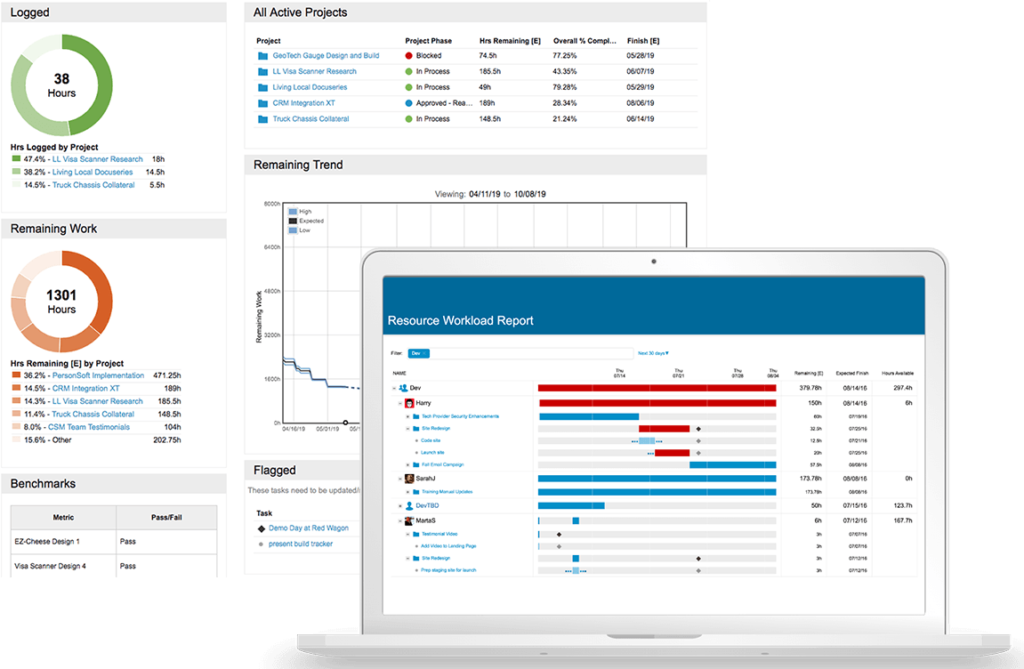 Key Features
Track.
Plan.
Analyze.
The only software that caters to automated scheduling and forecasting solutions. By considering team availability and goals, LiquidPlanner estimates the possible completion date for your project.
Pricing
LiquidPlanner's pricing plan involves three plans: Enterprise, Professional & Free trial. The professional plan offers US$ 45/month, and it is best for startups, basically, small ventures and projects. For more information, visit their website.
15. Scoro
Scoro is an exclusive project management tool that includes real-time Gantt maps to help you get more done. When problems emerge in a project, Scoro highlights them and helps you to make fast and simple choices on how to proceed.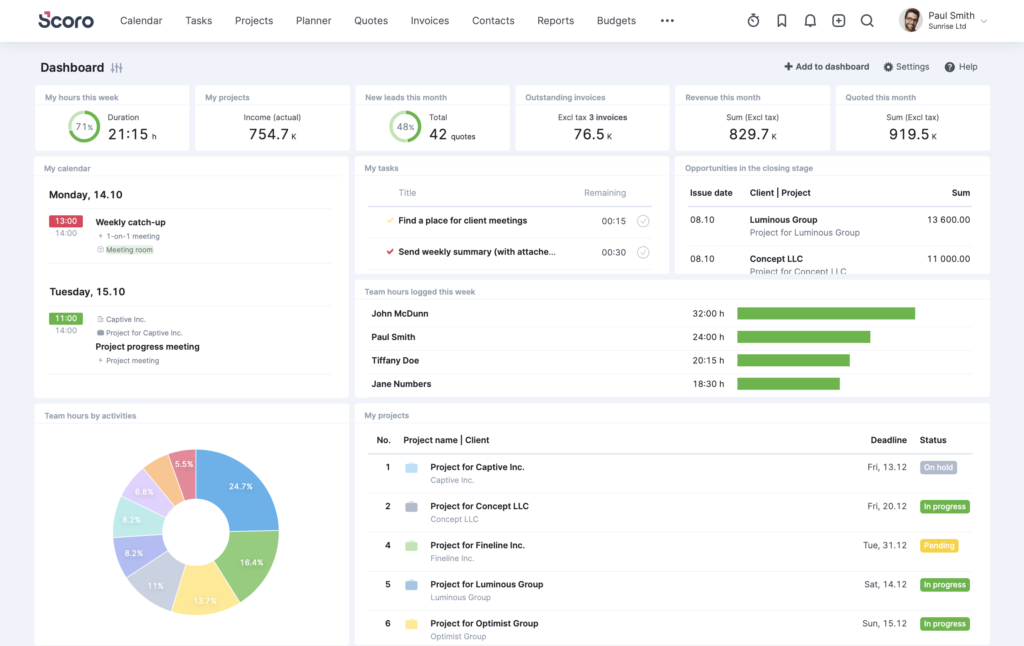 Key Features
Time Management.
Project Management.
Sales & CRM.
Finances.
It helps you eliminate manual changes.
Mitigate double-bookings by including a comprehensive set of automation features.
Pricing
Scoro offers you four different packages of pricing; Essential, Work Hub, Sales Hub, and Ultimate. Essential offers you service for US$ 26 and Work Hub for US$ 37.
16. Quire
Quire's minimalist design is what sets it apart from the rest. It has intuitive features and navigation tools that make project management easy. As a team, you can also prioritize the tasks and update their deadlines on the boards.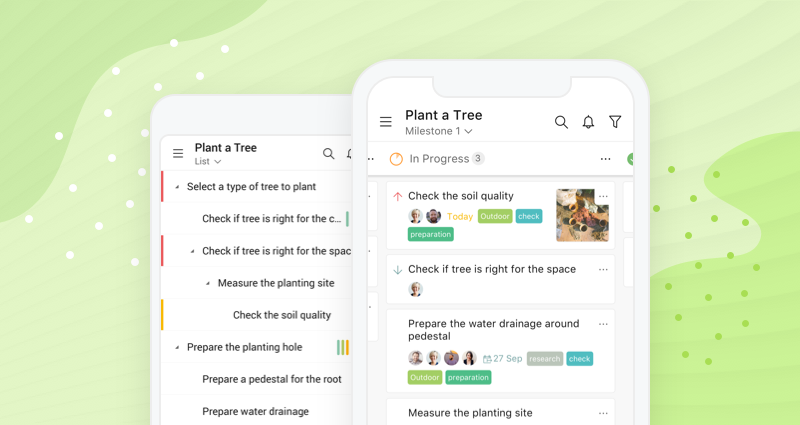 Key Features
Real-time updates on your work progress and project management
Already made templates that you can customize according to your needs
Visual management of all the projects makes them easy to handle
Share files and documents via 3rd party app integration
Option to manage work timelines individually across all the projects
Allows you to invite collaborators and reviewers (clients or someone who's not part of your creative team)
Pricing
Free to use.
17. Microsoft OneNote
Microsoft OneNote is like your digital notepad for creating to-do lists. You can then share and collaborate on the lists with your teammates and clients. The biggest advantage of using OneNote is its easy-to-use interface. You can rely on the site to keep things in the same order that you leave them.

Key Features
Option to categorize and divide the work among different pages and sections
Revise and edit your work using different highlighting annotations
Insert recordings, online files, and videos
Share your notebooks easily with your colleagues, clients, and friends.
Pricing
You can request the pricing on the website.
18. Backlog
Backlog is software for project management platforms particularly developed for programmers. It combines all project control resources into a single interface, such as graphic tools like Kanban-style boards, Gantt maps, and burndown charts.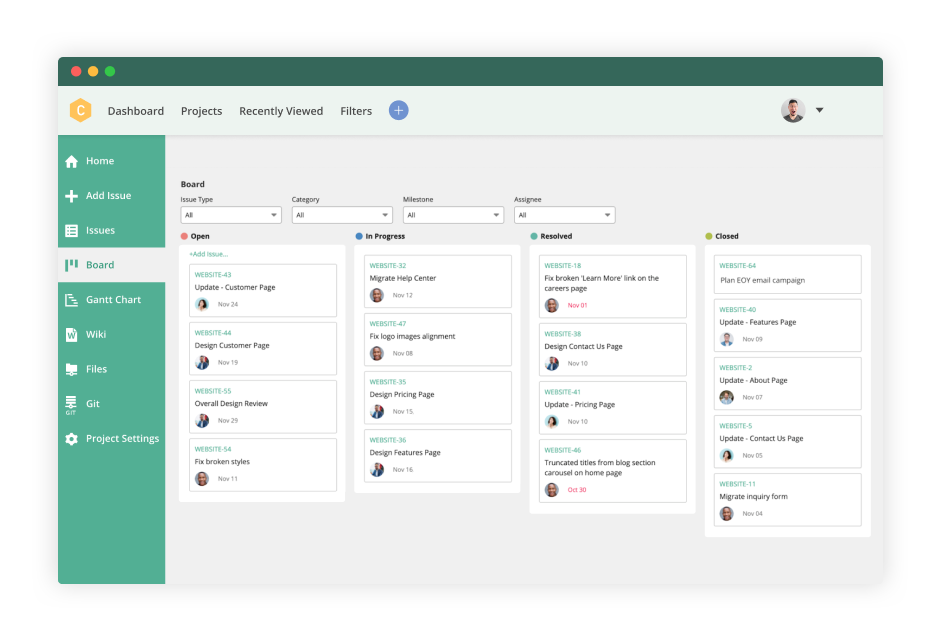 Key Features
Track Project Progress.
Task Management.
Version Control.
Team Collaboration.
Backlog also offers an exclusive feature, bug tracking, to mitigate any issues hindering the task's progress.
Pricing
Backlog offers four cost-effective payment plans; Free, Starter, Standard, and Premium. The free plan enables you to work on a trial platform, including only ten users, one project with 100 Megabytes of storage.
The starter plan is for US$ 35/month and elevates the offers to use more upgraded tools for starters, including 30 users, five projects, and 1 Gigabyte storage.
19. Microsoft Project
Microsoft Project enables you to remain focused and execute a variety of activities and programs. This software allows you to effortlessly build business processes and provides a better interface for PC and smartphones.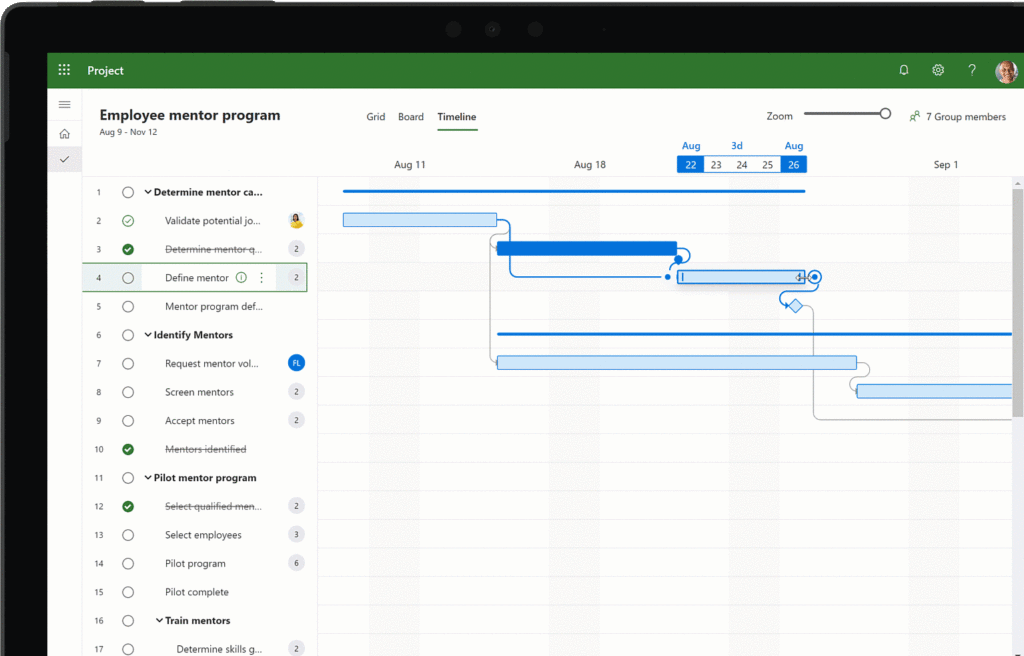 Key Features
Interactive Dashboards.
Automated Workflows.
Dynamic Scheduling.
Pricing
Microsoft Project enables three different project plans; Project plan 1, Project plan three, and Project plan 5. Project plan 1 is for US$ 10.00/ month, and Project plan 3 is for US$ 30.00, whereas Project plan 5 is for US$ 50.00/month.
20. TeamGantt
TeamGantt helps you to make comprehensive project planning by putting the Gantt map in the cloud. You can use the Gantt map app to prepare, organize, and monitor your tasks. Also, you can construct a Gantt chart quickly using the drag and drop function.
Key Features
Drag and Drop Simplicity.
See all your projects on one screen.
Workloads & Team availability.
Easy Collaboration & Organization.
Pricing
It offers three different plans; Free, Standard Plan & Advanced plan. The standard plan allows you to unlock more upgraded features to use, and it is for US$ 24. The advanced plan allows you to use the best features, and it is for US$ 29.
21. Workzone
Workzone is a web-based project management tool for small and big teams alike. It's a great tool to keep track of project progress and keep stakeholders in the loop. The interface might look a bit difficult to use at the start. However, the more you use it, the easier it becomes.
Moreover, the templates can be used to save time. Or you can even customize them as per your brand guidelines. However, it's very pricey for companies that have large teams.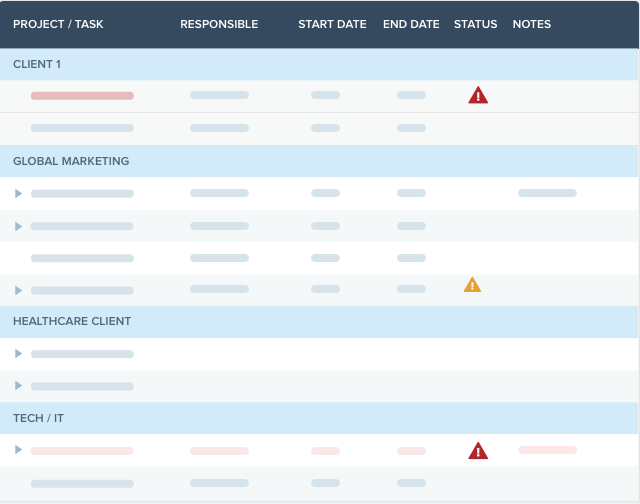 Key Features
Project dashboards that allow you to track progress easily.

To-do lists for each team member

Gantt charts

Multiple project templates available for customization and use.

Project requests forms to automate workflow.

Workload reports to review your team's progress

Time tracking option available to ease remote work

Group calendars for easier project review

Document sharing and review options

Custom branding to create a stronger brand presence
Pricing
The Workzone pricing starts from $24 per user per month and goes up to $43 per user per month.
22. ActiveCollab
ActiveCollab is an all-in-one project management tool that helps with all the various aspects of project management and team management. It is one of the cheapest tools to use with a great dashboard, with time tracking features, and is very easy to use.
However, there is a lack of integration of ActiveCollab with other versions of control systems.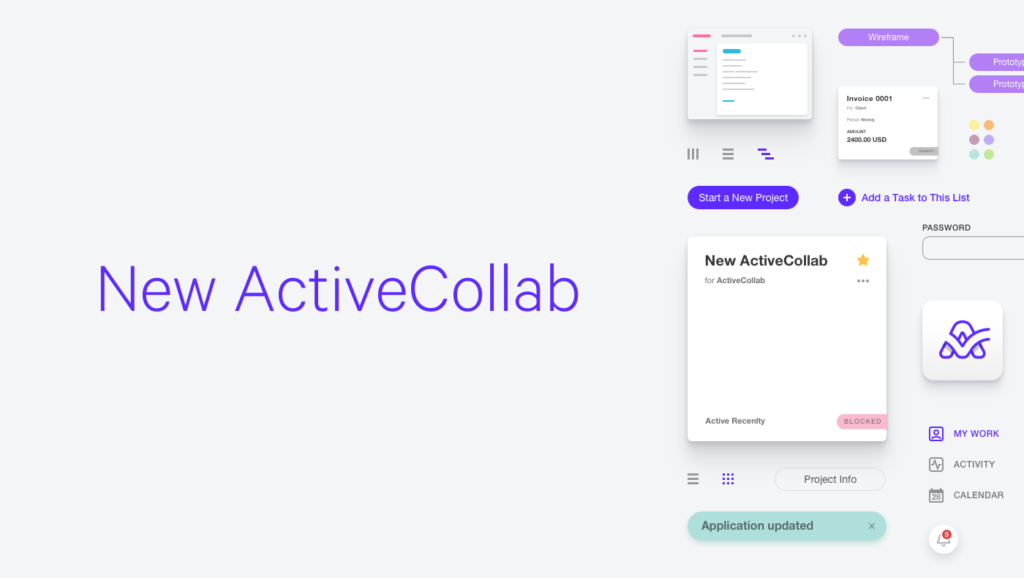 Key Features
Planning and organizing projects

Projects tracking and measuring

Active communication and collaboration

Project budget and expense tracking.
Pricing
You can choose from annual or monthly packages where the first package is free for personal use but later charges $7.5 per three users in yearly billing and $9 per three users in monthly billing, rising to $6.25 and $7 per user, respectively.
23. Smartsheet
Developed and marketed by Smartsheet Inc, Smartsheet is used for collaboration and work management. It provides easy integration with other tools, has customizable sheets and dashboards, and provides help pages and support departments' assistance.
However, conditional formatting takes a lot more time and has row and cell link limitations.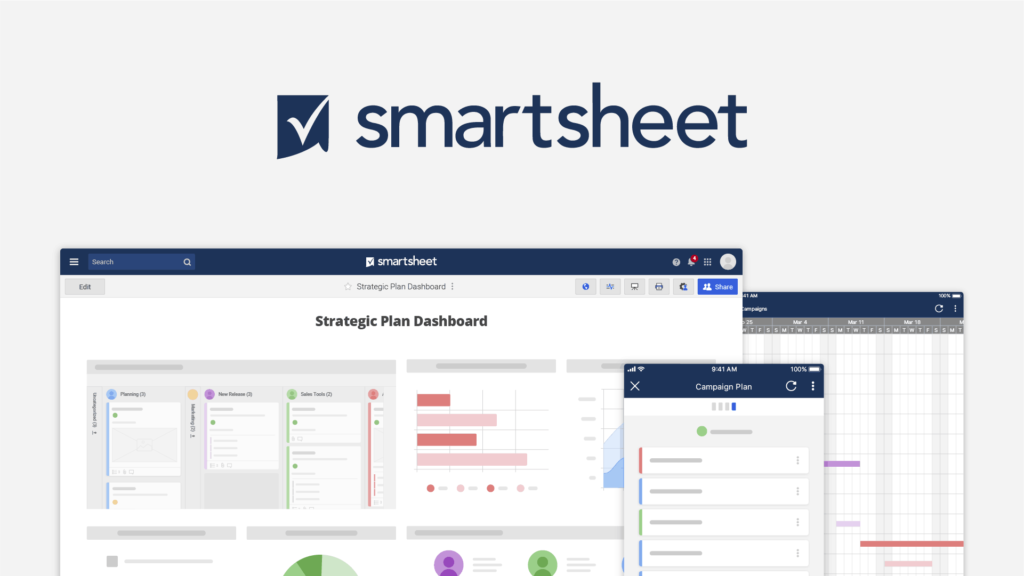 Key Features
highlight changes for faster feedback.

shared workspaces

advanced reports

permission levels for better security

Sharing of sheets

Receiving and sending updates through email.
Pricing
Smartsheet plans include standard and enterprise plans with individual plans starting from $14 per month, going up to $25 per month per user in the annual billing cycle.
24. GanttPro
GanttPro is an online chart software where one can plan, create and manage various tasks in less time. It is easy to use and supports the management of various projects at one time.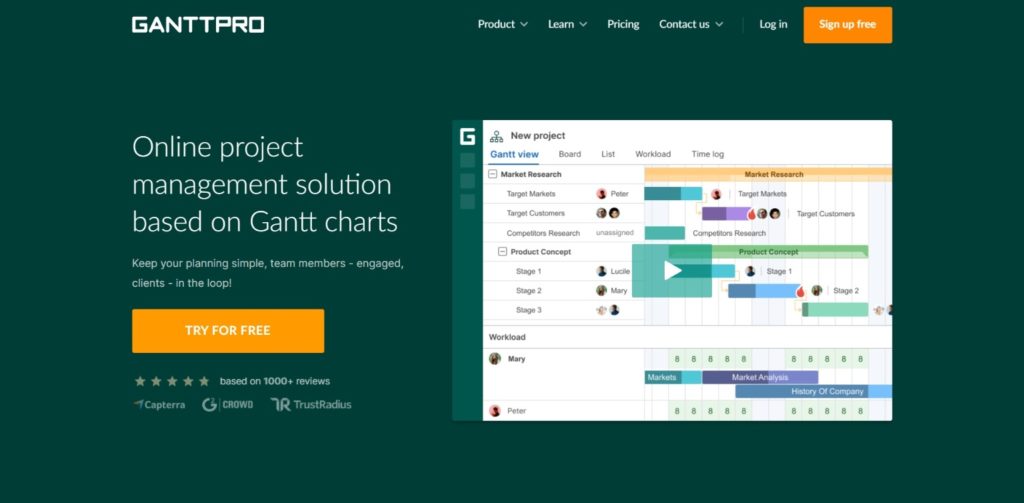 Key Features
Budget tracking

task management

Collaboration

time management,

team and resources management
Pricing
Gantt Pro offers three pricing packages, individual, team, and enterprise, where the individual one costs $15 per user per month in annual billing.
25. Microsoft Teams
Microsoft Teams is a video conferencing tool that allows users to go from group chat to video call with one click.
The integration of all the tools is easy. There is no additional cost for the Microsoft 365 users. There are helpful bots, and it also provides seamless file search, backup, and collaboration.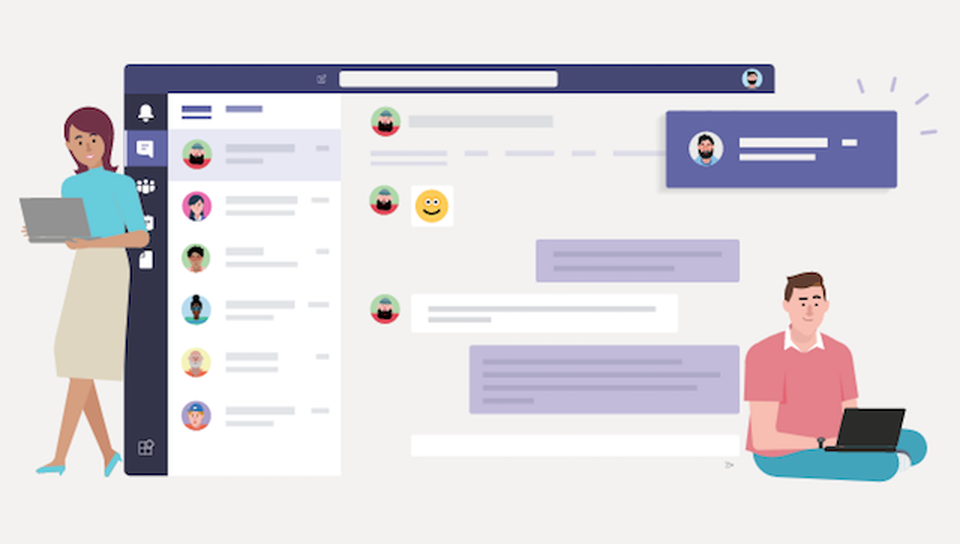 Key Features
greater data visibility

secure collaboration

powerful integration options

audio and video calling options

support for healthcare, education, and emergency services.
Pricing
Apart from providing the free version, Microsoft Teams offers three more packages with the basic package starting from $5 per user per month in annual commitment and the E3 going up to $20.
26. Zoho Projects
Zoho Projects is a cloud-based project management tool that helps plan your work and track and collaborate. The pricing is fair and practical. The customer service is very responsive, and the billing and time tracking features are great functionalities.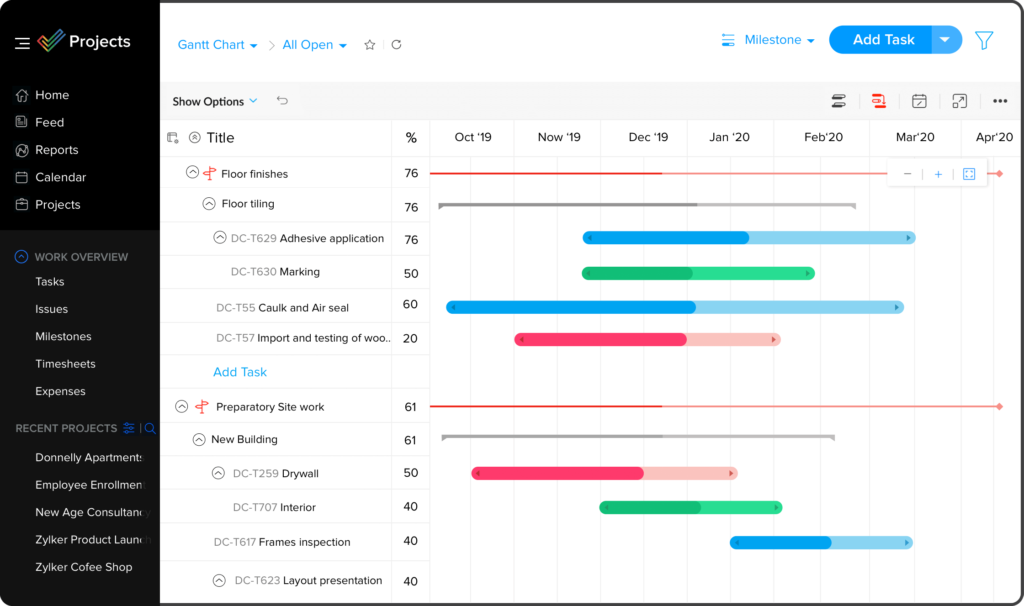 Key Features
task automation

time tracking

team collaboration

charts and reports

project administration

issue tracking

project timesheets.
Pricing
After the ten-day free trial, try their various priced packages according to monthly or yearly billing options. The premium version starts from $5 per user per month.
27. Jira Software
Jira Software is project management allowing bug tracking and project management. It is highly customizable, works for different users, is great for agile project management, and supports roadmap requirements.
However, the mobile application is not that great. The reports are not usable, offer limited file size upload, and have a confused User Interface.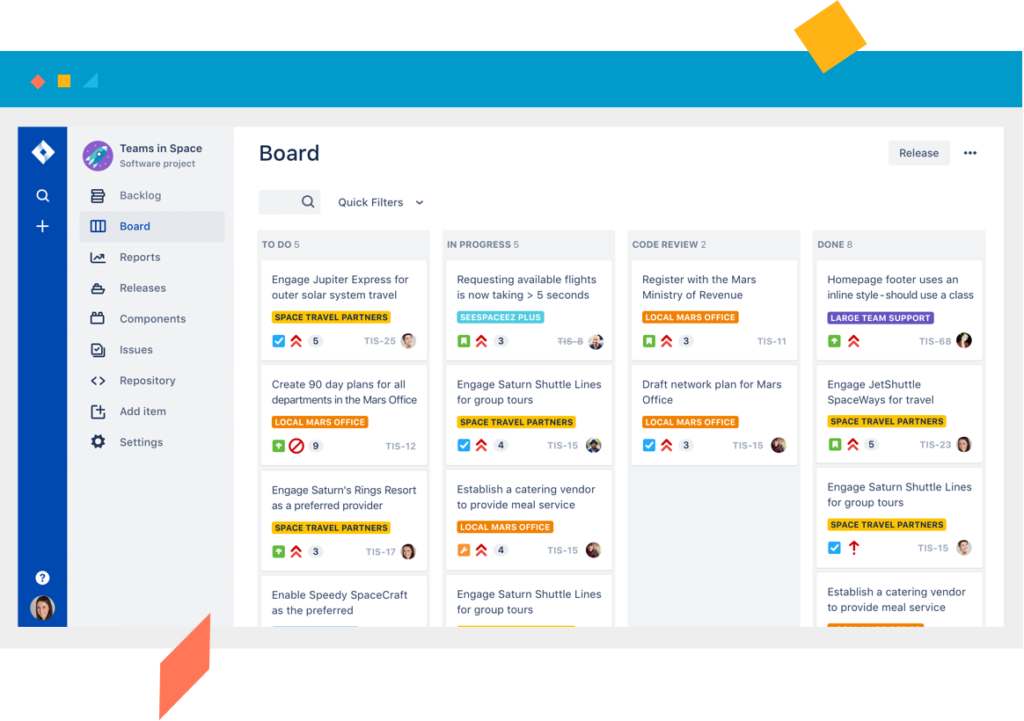 Key Features
scrum boards

Kanban boards,

agile reporting

roadmaps.
Pricing
Have a look at the pricing packages offered by Jira Software which include Free, Standard, Premium, Enterprise.
28. Podio
Podio is a tool that helps to align all the collaborations, content, and conversations in one place. Help keep track of all tasks, helps to maintain contact information, and is super easy to use. Project sharing becomes difficult, and tagging someone on a project is difficult as well.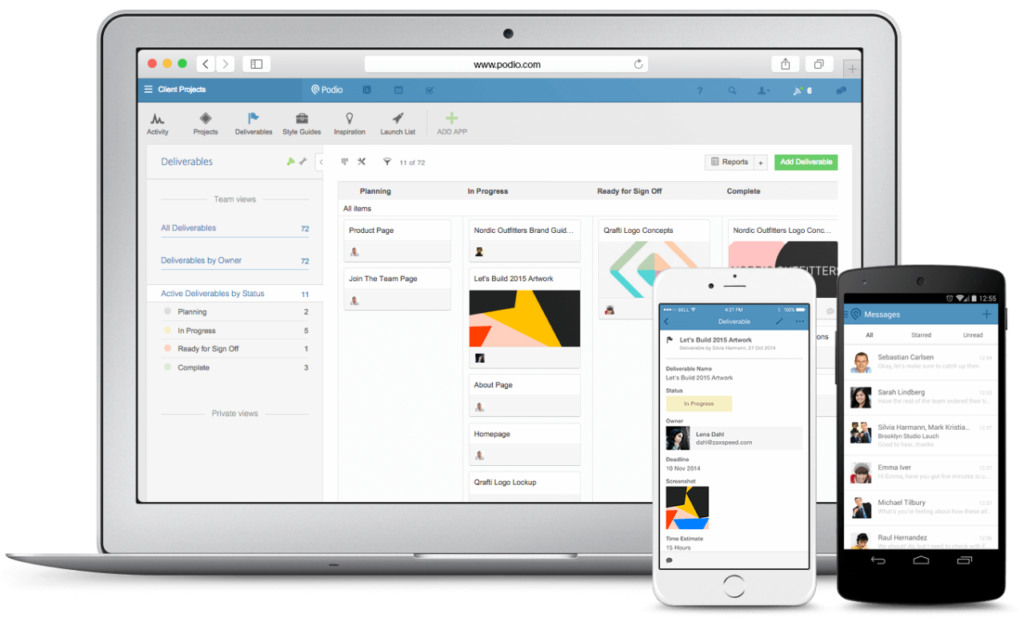 Key Features
Podio apps

integrations of different applications

API and file sharing

task management

mobile version for better working
Pricing
There are monthly and annual subscriptions available with the basic packages starting with $7.20.
29. Slack
Slack is a tool that helps to communicate faster and allows it to stay better organized than emails. It is effortless to set up, has a great pricing plan, and helps to collaborate with various teams, and helps to cut down on relying on emails.
However, it gets expensive after a person adds additional paid members to the group. Also, if you end up creating too many channels, it might become difficult to navigate through them.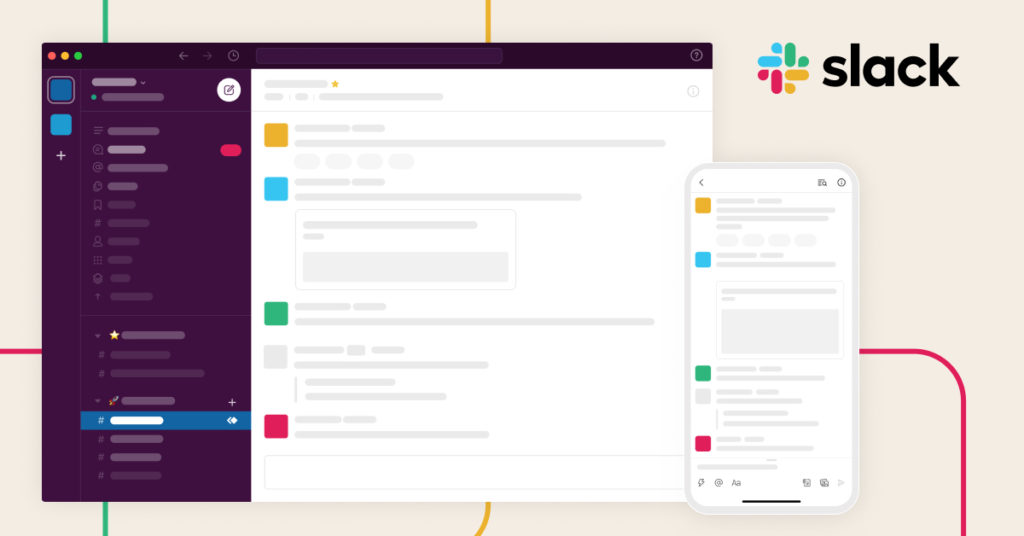 Key Features
channels to stay focused

collaboration with other teams

voice and video calls

messaging features.
Pricing
Slack offers three packages, which are standard offered at $6.6.7, plus and enterprise grid.
30. Monday
Monday is an operating system that helps to run processes, projects in one concise digital workspace. Organization of different projects and tasks in easy, great customer service, personalization of your items, along with great reporting features.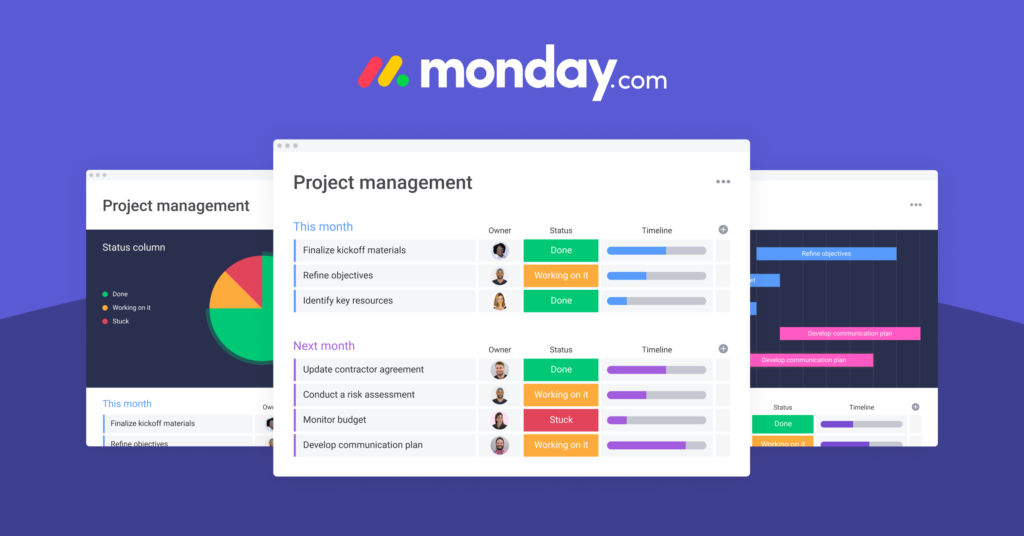 Key Features
Project management tools based on a priority model
Workload management includes easy to create tasks and assigning options
Option to change the view of your timelines as charts or sheets (whatever you like more)
Integration with other platforms
Time tracking
File sharing
Organized notification bar, so you never miss out on important updates from your team.
Pricing
The basic annual plan is $8 per month per seat while $10 per month per seat for the monthly plan. In the yearly package, you can save 18%.
31. Click Up
ClickUp helps you create, plan, organize and track people to projects through a single tool. It allows you to avoid the hassle of switching between various tools.
But, the tool is a little challenging to use, so you might need to watch a few tutorials. Moreover, creating a task is difficult, and the ones that are attached in the emails show up in a format that is difficult to read.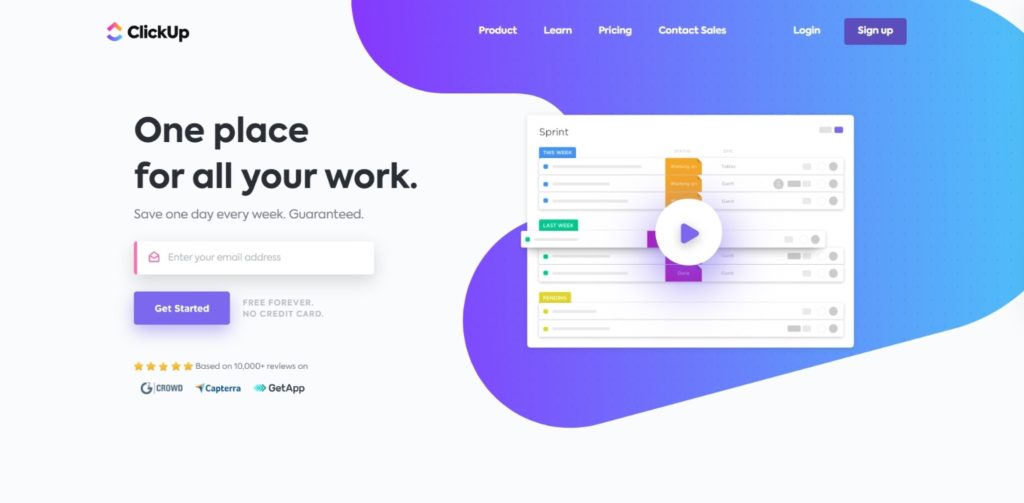 Key Features
Time tracking projects to increase efficiency

Real-time editing to avoid collisions

Capturing, marking up, and editing screenshots

Attachment of files in comments

Two-factor authentication ensuring improved security

Easy Integration of firefox and safari integrations helps save time.

Creation of customized dashboard for every business

Distribution of assigned tasks through scrum points or assigned tasks.
Pricing
There are two plans that Click up offers. Either you can choose the plan that is free forever or select the unlimited plan that costs $5 per user every month if charged annually and $9 per user every month if charged monthly.
32. Airtable
Airtable is a cloud collaboration tool that is used for creating and sharing databases. The user interface is very interactive and is the first thing that catches the user's attention. Moreover, it has active customer service and makes it easy to create amazing spreadsheets.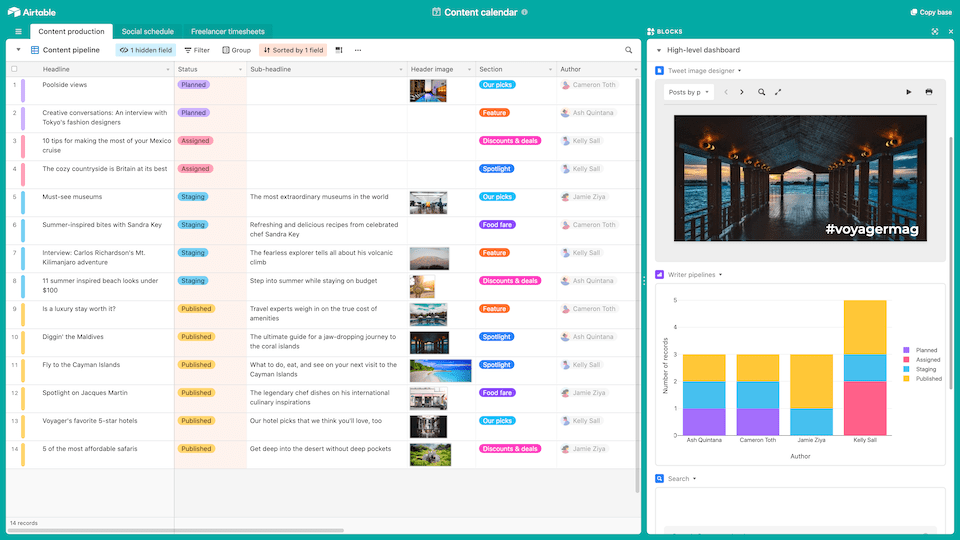 Key Features
Simple and user-friendly interface making it easy to use.

Allows collaboration from anywhere and anytime.

It helps to work with over 50 prebuilt apps making it easier to work.

Automation of redundant tasks and creation of custom notifications.

Powerful filtering and sorting help to create customizable views for every project.

Flexible relational data helps focus on what is essential.
Pricing
You can try the three plans for free and then choose the one that suits you. The plus plan is the one with the lowest cost starting from $10 per seat per month billed annually and $12 for monthly billing.
33. Google Tasks
Google Tasks is Google's latest innovation to help you with your project management. The best part about using Google Tasks is that it can be fully integrated with Google's other services.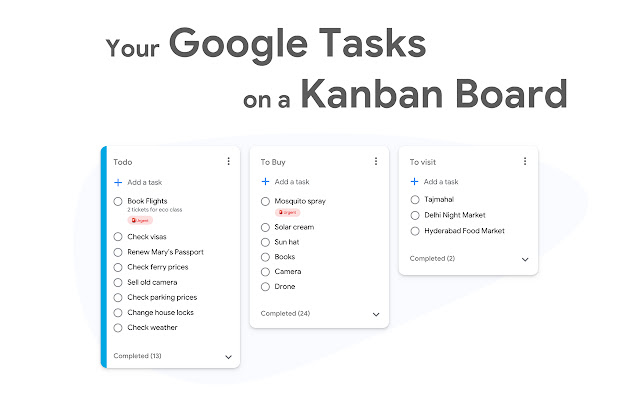 Key Features
Create and organize your to-do lists easily.
Option to categorize the tasks into lists of works that can be divided into different project setups
Drag and drop tasks to keep them more organized and structured
Option to integrate Gmail emails into Google Tasks that'll help you streamline your mails too
Calendar view
User-friendly interface that allows the creative team to make intuitive decisions
Pricing
Free to use.
34. Zenhub
With tracking, planning, and reporting as its powerful features, Zenhub is agile project management with GitHub. Setting up a board and integrating it with GitHub is easy and helps organize work quickly and fastly. It lacks custom options in cards and stories.

Key Features
Add browser extension or web application to manage your projects better.

Tracking of projects and filtering by labels allows for better visibility of progress.

Create actionable reports through real-time GitHub data.

On-premise and cloud version for easy working.

Integration with GitHub to update projects.

Flexible workflow customization
Pricing
ZenHub offers two plans. The monthly growth plan costs $7.95 per user per month when billed annually, whereas the same plan costs $95 per user per year.
35. Zenkit
A project management tool focused on your workflow, Zenkit provides you the flexibility and freedom you need to work.
It is affordable, and you can also learn how to use it through different video tutorials and blogs. Moreover, it is a multi-functional tool that keeps on improving its user experience and functionality.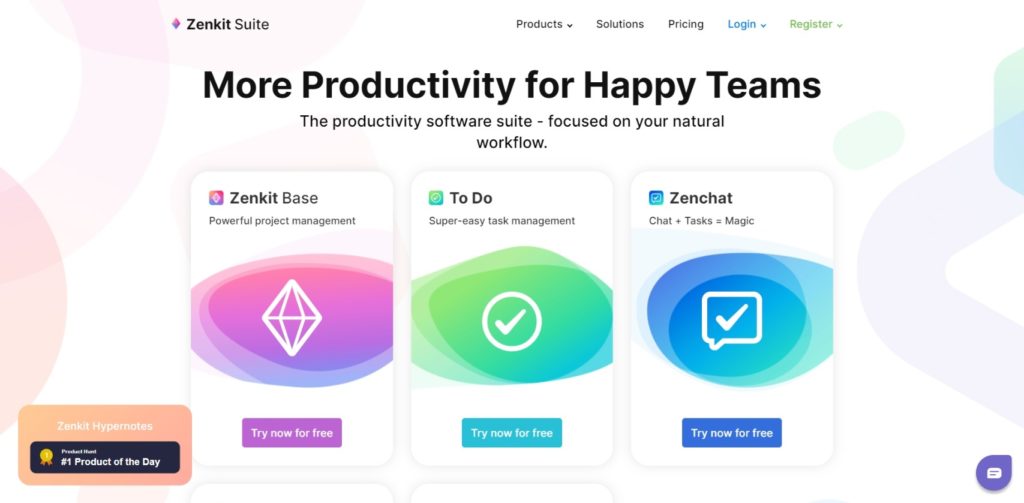 Key Features
A software suite that allows more productivity and better collaboration.

Powerful and central management of various projects.

Easy to use task management

Messaging app with built-in task management
Pricing
Basic Plus, Business, and Enterprise, with the option to either pay in euro or dollar. You can have a detailed look at their pricing page to decide on the plan that suits you.
36. Kanban Tool
Kanban Tool is perfect for visual management by depicting the various stages of a project using cards. Its drag and drop features allow for easy navigation. Furthermore, the time tracking and progress visibility features are flawless.
However, customizations are at times a little challenging to make because of problems in UI. Additionally, the mobile story still needs to be improved even further.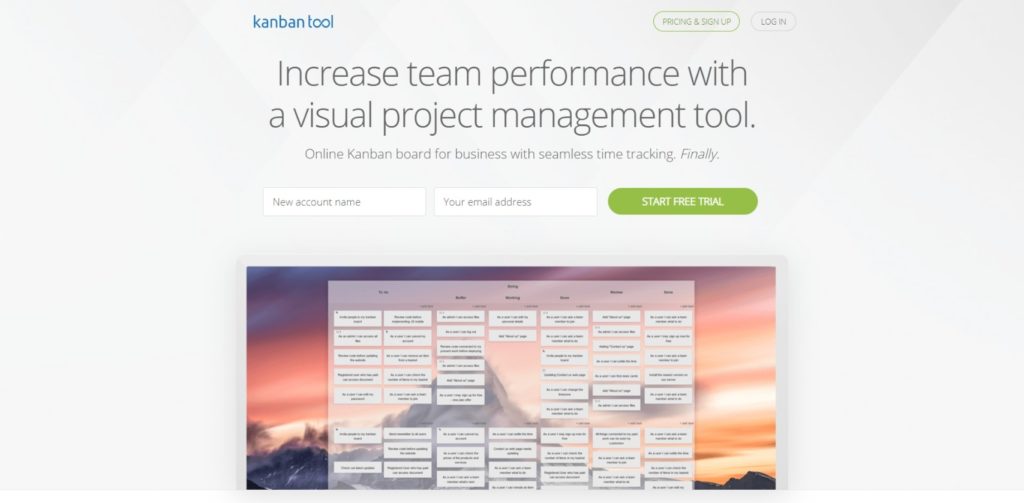 Key Features
The use of cards makes it easy to track the progress of projects.

Effective reporting in real-time.

Simple and easy editing of schedules.

Generation of detailed reports on various aspects of the projects and team.

Easy sharing of reports with only a click.
Pricing
They offer three plans, free, team, and enterprise. The team plan costs $5 per user per month, whereas the enterprise plan costs $9 per user per month.
37. Kissflow Project
An effective project management tool Kissflow project helps to manage all business tasks and creation of project plans. The navigation is simple, and the platform is pretty easy to -use, providing excellent performance.
However, the platform has many limitations, and the fact that it compares itself to other tools providing a lot of functionality is absurd.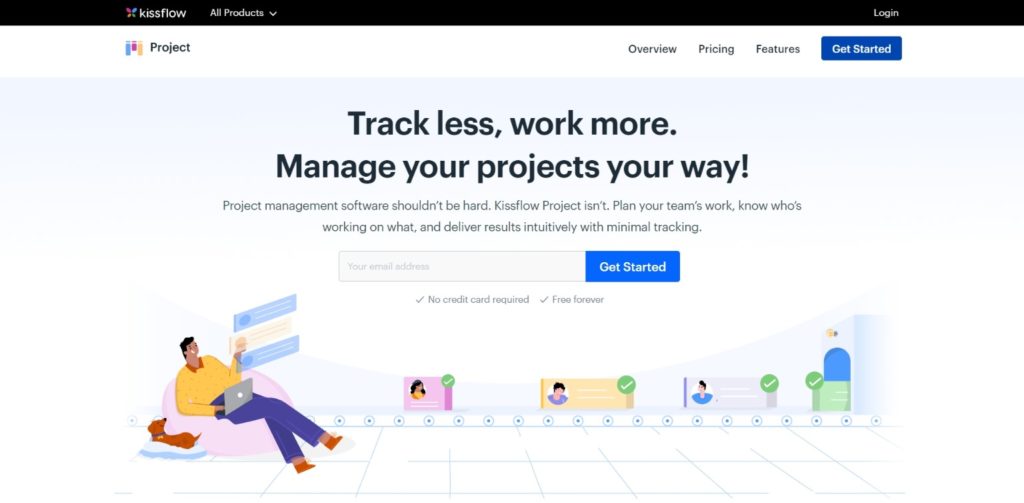 Key Features
Contextual collaboration through search, comments, and mentions.

Insightful reports increase efficiency.

Lists, sub-projects, and matrix help get multiple views.

Data security through activity logs and user roles.

Custom forms, tags, and activity feed allowing better task management
Pricing
Kissflow projects pricing has four plans with both monthly and annual payment options. The free plan charges nothing, but the starter plan costs $35 per month for five users and five projects in a yearly subscription option.
Whereas in monthly the cost increases to $45 per month.
38. Chanty
Chanty is an effective and powerful team collaboration and communication tool with unique features to make the team more productive.
It is an excellent tool for team communication that allows the team members' management with ease. Moreover, the feature to reach them through Facebook Group to get their response is their star feature.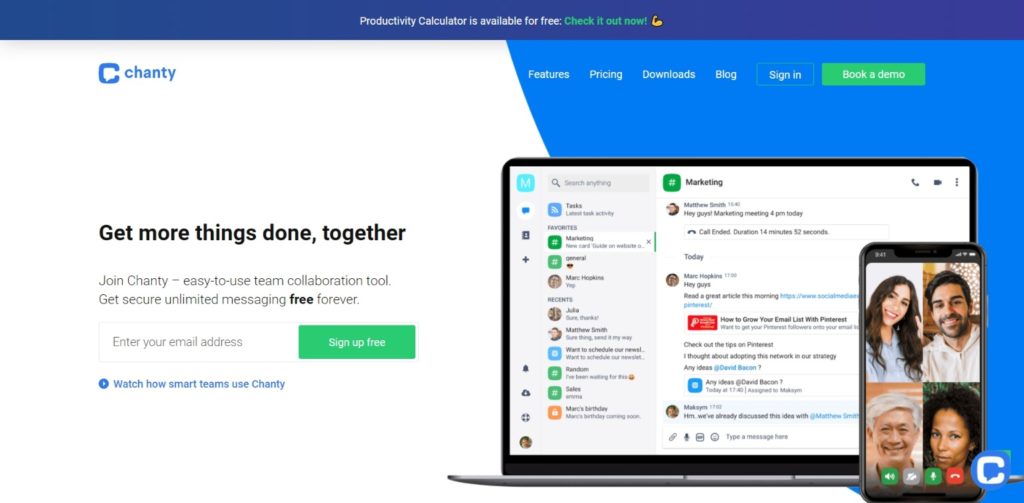 Key Features
Seamless onboarding across devices and platforms
Simple and intuitive user interface.

Easy creation and management of tasks.

Marking of important content through pins.

Setting and controlling permissions and roles.

Collaboration in real-time through calls and messages
Pricing
Chanty has two plans, free and business, which starts at $3 per user per month but offers monthly and annual subscriptions.
39. Redbooth
Managing tasks and communication through Redbooth helps to complete the projects faster.
The tool allows desktop sharing with excellent video and audio quality. On top of that, uploading files and data is very convenient, and so is getting alerts on finished projects.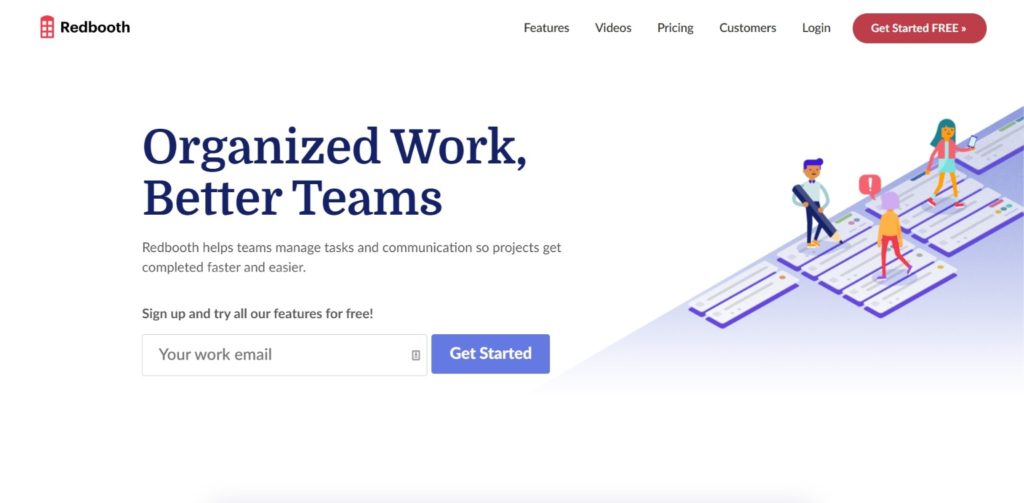 Key Features
Delegating responsibilities through tagging provides better transparency.

Gantt Charts in Redbooth help to get visual project timelines.

High Definition video calls

Detailed productivity reports better track the progress of projects.

Mobile applications for android and iOS.
Pricing
Pro, business, and enterprise are the paid plans offered by Redbooth. You can get it billed annually or monthly. However, the pro plan starts from $9 per user per month in the annual subscription. The prices of the other plans increase accordingly.
40. Proworkflow
Proworkflow is an all-in-one tool that helps to manage teams and projects in one place. It is an excellent tool for creative agencies by providing them with powerful functionalities for managing projects. Managing projects through it is just super easy.
While setting up customized reporting is complex, and standard reporting seems to have its limitations. It also lacks good feature updates and customer support.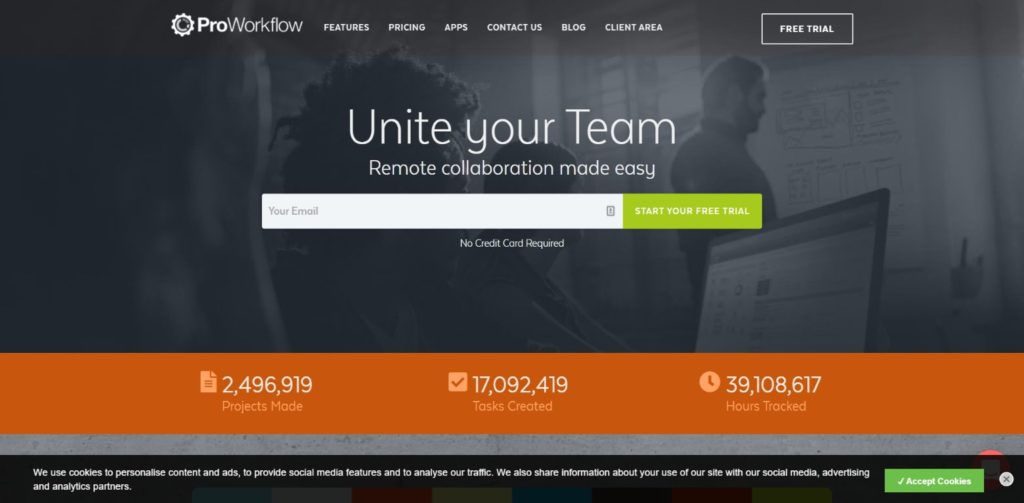 Key Features
Cloud-based technology

Mobile and iPhone application

Basic training and support

Project management

Easy scheduling

Microsoft integration
Pricing
$20 is the price of a professional plan, while the advanced plan is $30 per month per user.
41. Mavenlink
An award-winning software, Mavenlink caters to the needs of different professional services organizations.
It successfully provides details of project plans and timesheet views for tracking hours. Furthermore, it provides a central location for all the project information and integrates well with Google Drive.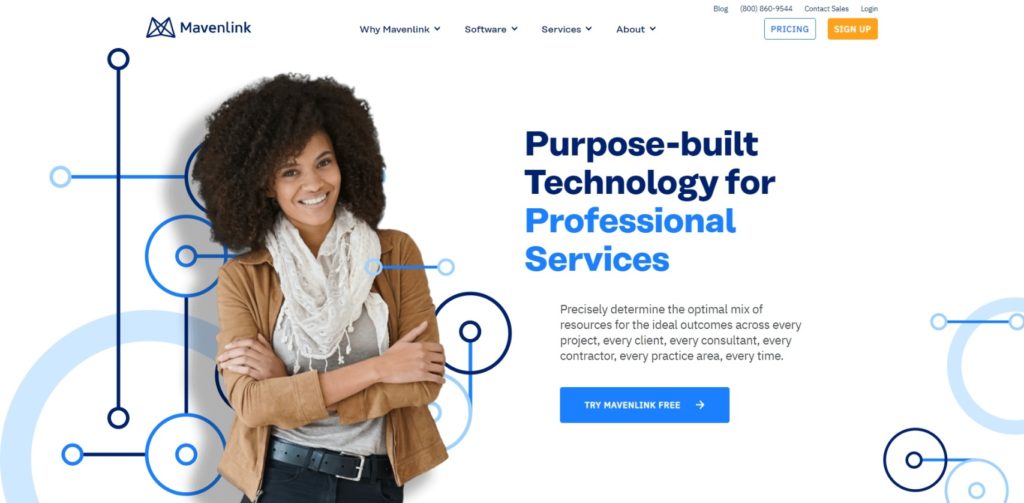 Key Features
Resource Management through planning and optimization of resources.

Management of projects and time.

Estimation with different features to create precise proposals.

Forecast based on actionable and reliable data.
Pricing
They ask you a couple of questions, after which they suggest the best plan for you.
42. Insightly
Insightly is a powerful software and assists businesses to manage contacts and other essential details at every stage of the process.
It's not just easy to use but has an excellent customer support service that is quick to answer your query. Moreover, it uploads contacts from excel and .csv files quickly. However, the email functionality is limited as you cannot send an email based on an organization.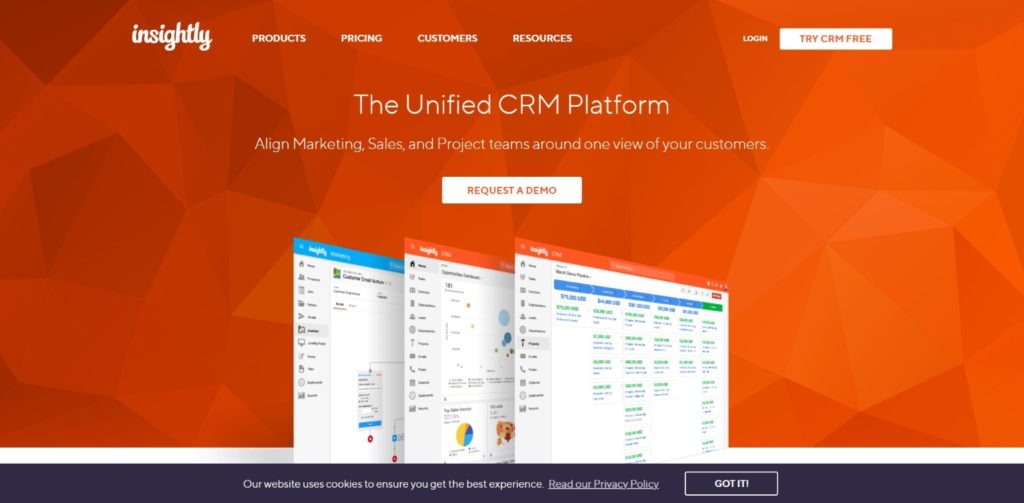 Key Features
Creation of customizable emails.

Embedded forms to get better feedback.

Sharing valuable insights with the team.

Visual representation of customer journey.
Pricing
You can easily choose from the three plans to cater to your needs. Marketing-centric and CRM-centric Evernote plans are differently priced. Moreover, marketing plans are more expensive than CRM plans. $299 is the starting price of the marketing plan.
43. Crocagile
Crocagile is easy to use for agile teams by providing them with a user-friendly workplace and further allowing them to work in real-time and enjoy their work.
They are quick to respond to their user's reviews by adding relevant features. Screensharing and collaboration are its best features. However, it is not open for many industries and might not be for big companies that limit its use.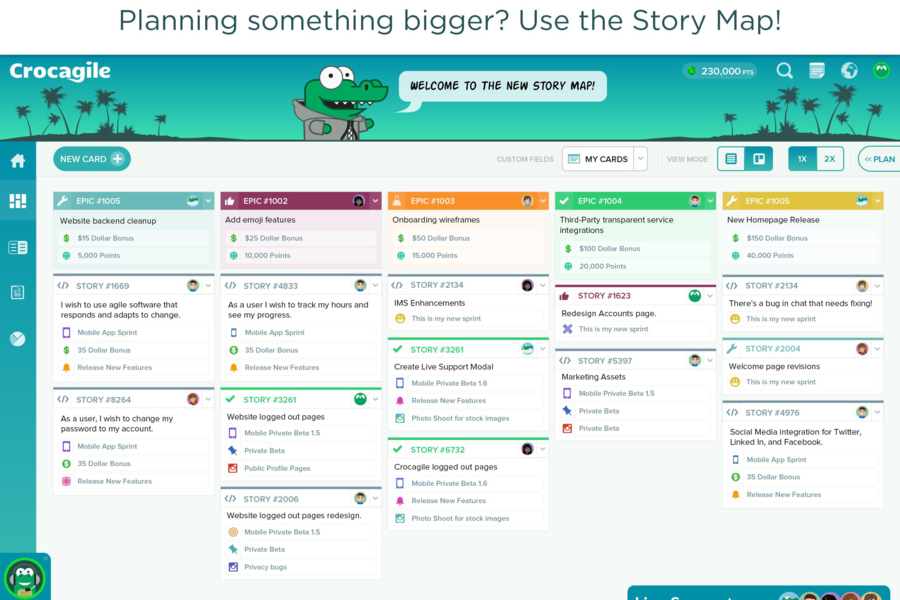 Key Features
Documents management

Budget management

Integration of collaboration tools

Content management

Customizable templates.
44. Teamdeck
Teamdeck is an effective resource management solution for software houses and agencies.
The calendar is very interactive because it helps keep one updated about everything. Moreover, the time tracking and timesheets tool are handy because it helps monitor the entire team's performance.
However, it often fails to send a notification through emails or even slack. And the messages are only viewable when you open the entire application.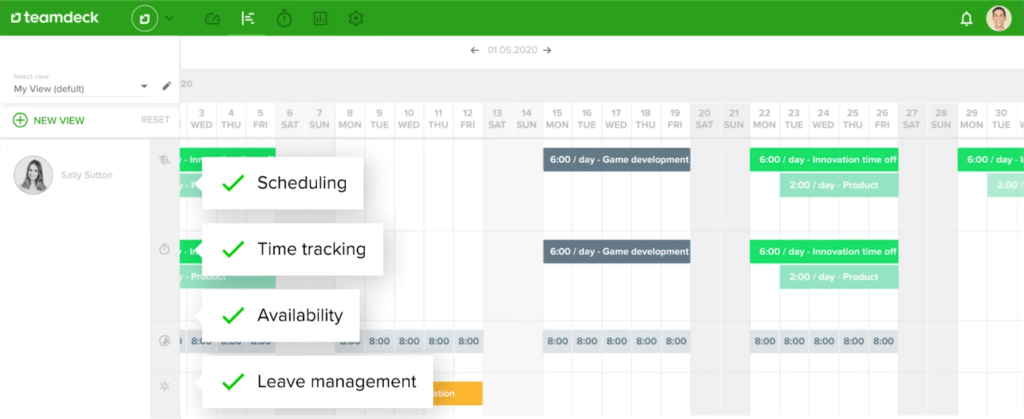 Key Features
Interactive calendar

Provides timesheets and time tracking

The smart mobile version of Teamdeck

Resource Management helps manage projects more efficiently.

Provides clarity and efficiency through remote management.
Pricing
There is just one plan with all the features and a fixed price. $3.99 per team member per month is what the plan states.
45. Hive
A cloud-based project management tool, Hive, helps teams automate their tasks management. A cheaper solution that is easy to set up and work with and where multiple users can work at a time.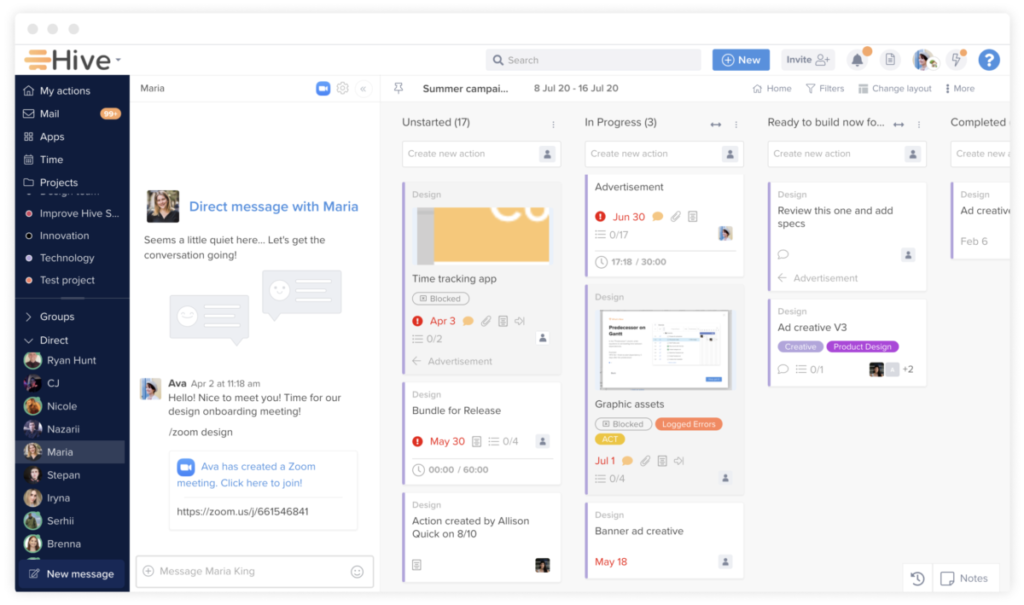 Key Features
Streamlined communication through emails, comments, and chat.

Various customizable templates

Centralized processes with proofing, approvals, and automation.

Analytics and project views for better analysis of work.
Pricing
There are two pricing plans: base package and enterprise pricing. There is workspace add ons as well. You can choose the one you want, and it can be added at nominal prices starting from $4 per user per month.
46. Flock
Flock is a top communication and collaboration tool with added features related to project management. Its pros include that it is available on all platforms, and file sharing is effortless.

Key Features
Configuration of external apps

Integration from Flock App Store.

Polls

Reminders

Video Conferencing

Voice notes

Data retention
Pricing
They have the starter, enterprise, and pro plans to help the businesses with their different projects.
47. Project Insight
Project Insight is used to centralize all the work, tasks, and projects on one online tool. It is excellent for project management because it creates and makes it easier to understand the project summaries even better. The export functionality is restricting, and getting the permissions is also a bit tricky and challenging.

Key Features
Useful project insights

Project Insights consulting

Robust Features

Connection with the best applications

Project Baselines and budgeting
Pricing
Sign up to enjoy the free plan and later decide on the plan you decide to buy.
48. Teamwork Projects
Teamwork Projects is one of the best project management tools that help you deliver projects on time.
The chat threads right in the project are a noticeable advantage over other tools. Moreover, it is straightforward to upload and view documents. You can later go back, search for them and look at them again.
The dashboards need to be updated and made a little more interactive. Also, it has customization issues and can be very difficult to load when different tasks are running.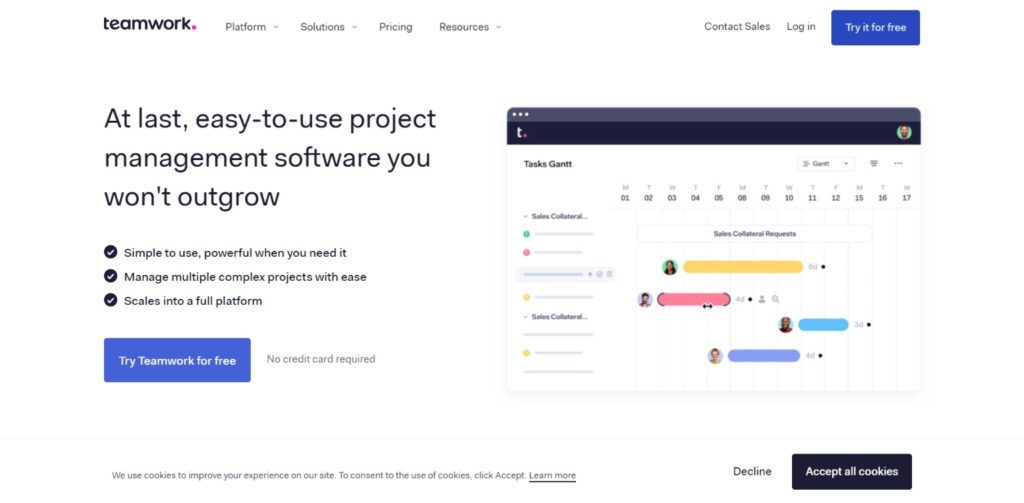 Key Features
Collaboration through messages and chats.

Gantt Chart

Kanban Board View to automate workflow

Unlimited Free client users.

Best in class project management apps.

Effective time logging

Personalized dashboard for key project metrics
Pricing
The free plan costs you nothing. However, the other three packages are charged on monthly and yearly subscriptions. You can start with the delivery package, which is $10 per user per month in annual billing.
49. Redmine
An open-source tool, Redmine is a tool that works across platforms and provides multi-language support. It is an easy, lightweight project management tool offering great features in Gannt Charts, Calendar, and file storage.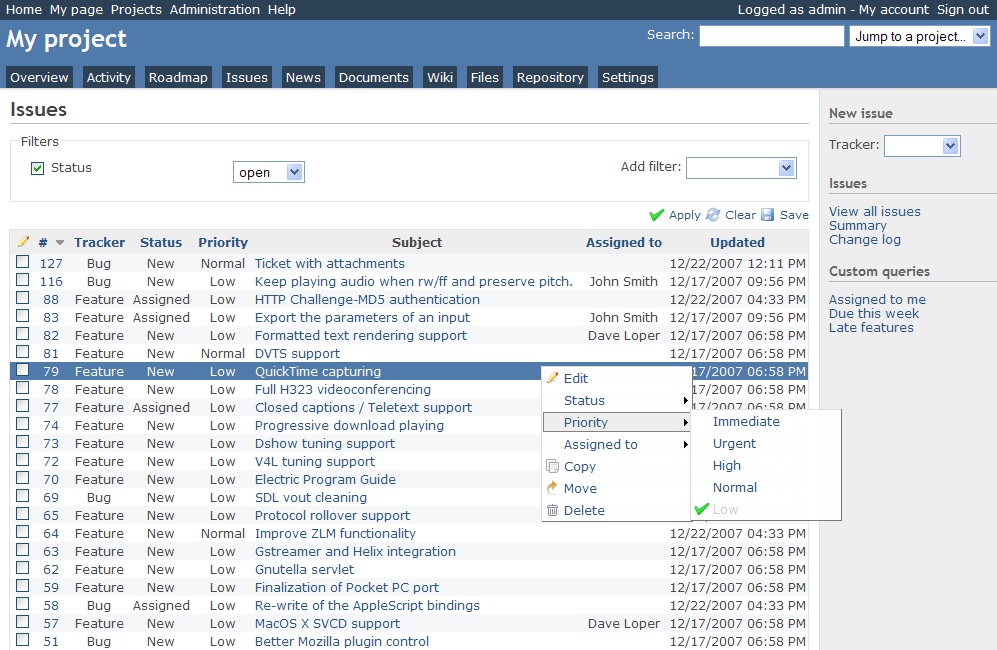 Key Features
Flexible time tracking

Calendar and Gantt Chart

Documents and files management

Multi-Language support

Role-based access control

Self-registration support for user
Pricing
You can visit the website to check the pricing and use cases.
50. Nutcache
Nutcache provides tools that can help get the work done timely. It also allows you to manage, plan and track the projects faster. The tool is user-friendly, and the services continue to improve and develop.
Moreover, you can add more than one company to work as well. It has some glitches that cause problems, and at times the time reporting goes missing for different projects.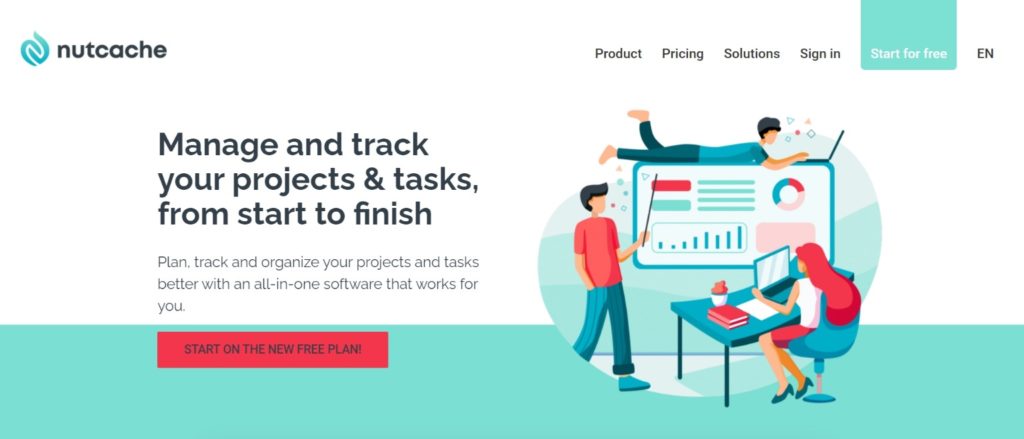 Key Features
Accurately bill time and expenses.

Well-organized tasks.

Customizable workflows.

Manage priorities through cards.

Use milestones and alerts to avoid missing deadlines.
Pricing
They have three free, pro, and enterprise plans. Their pro package starts from $6 per user per month, but you can choose the annual billing as well.
51. Cage
Cage is a great media collaboration tool for online proofing, review, and projects. It helps to get the feedback faster and act on it immediately. It is effortless to work with multiple collaborators on various projects at a time.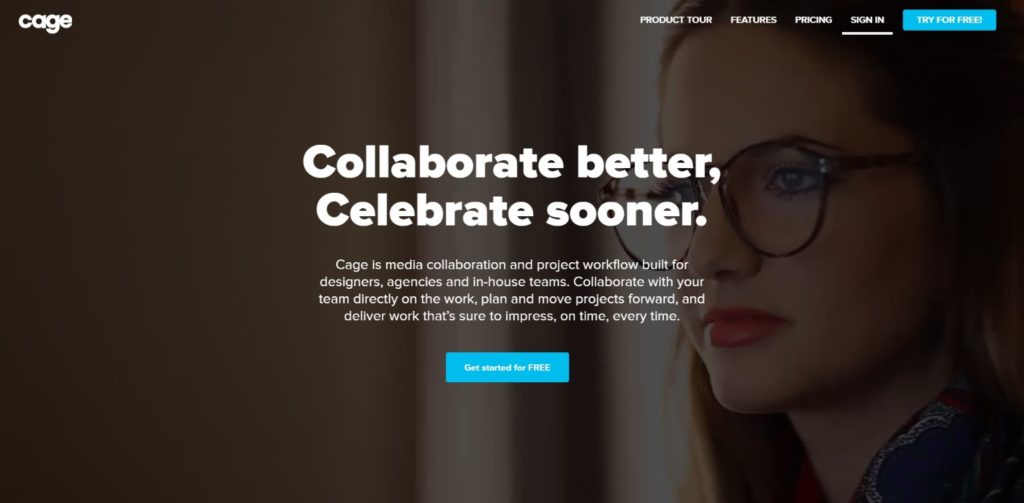 Key Features
Addition of annotations to various attachments.

Sharing of design-related work and layout.

Record work in progress.

Asset management.

Unlimited archiving for safekeeping.
Pricing
Cage offers popular packages that start from $8 per user per month.
52. Notion
An all-in-one workspace, Notion is where you can write, plan and collaborate the way you want. The User Interface and the documentation features are simply excellent. Also, it has excellent flexibility and an immaculate presentation.
However, Notion's offline mode is inaccessible.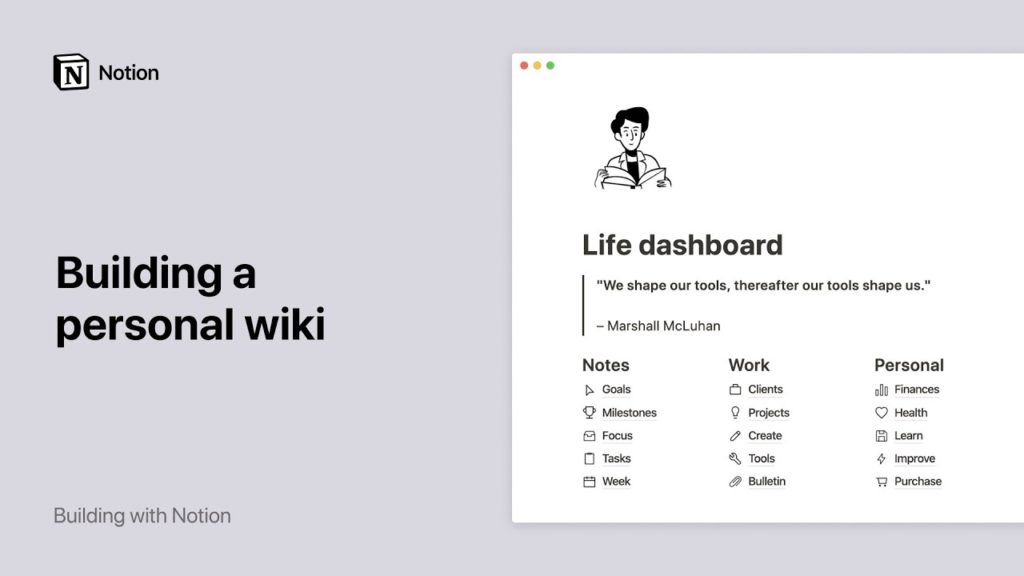 Key Features
Laptop and mobile versions for easy working.

Collaborations in real-time.

Works offline to provide better working.

Records everything to help keep track of work.
Pricing
They have four available plans. To are for individuals and two for teams and businesses. The personal pro for individuals is $4 per month, while the team for businesses is $8 per member per month.
53. Paymo
One-of-a-kind project management system Paymo helps teams work better through multiple features. It also allows you to work faster and in harmony. The time tracking feature is imposing as it directly connects to the projects without any hassle, and the invoices generated are neat and precise.
The major issues are related to exporting data, which becomes a serious problem, and that the mobile version needs to be better than it currently is.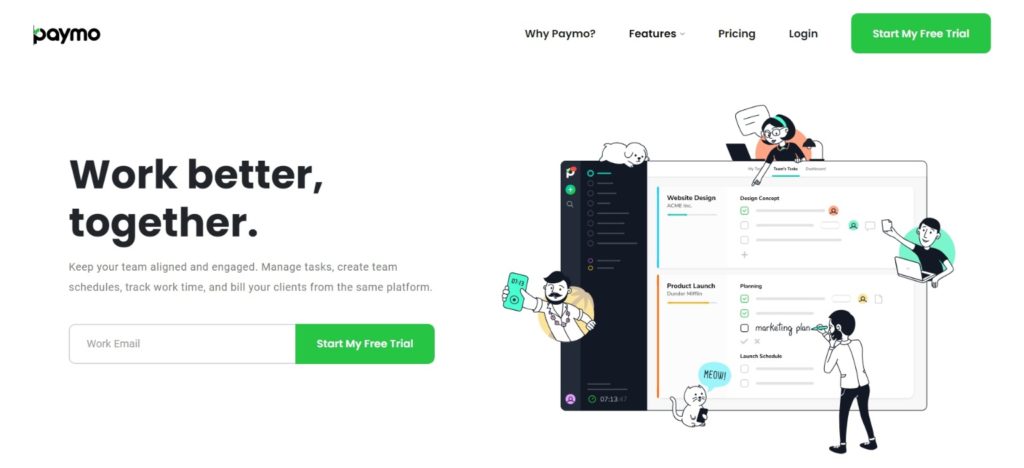 Key Features
Kanban board

Easy team scheduling

Automatic ghost bookings saving time.

Built-in planners

Collaboration with teams in real-time.

Personalized task viewer with filters.
Pricing
Paymo is offering three pricing plans, and the first one is free. A small office is the most popular one that is $9.95 per user per month. Furthermore, you also get two months free when you pay annually.
54. Avaza
If you want to run a more productive business, then Avaza is your solution to collaborate, track time, and manage different projects. It ensures better time management and actively keeps track of time spent on each project.

Key Features
Powerful task management through all task view

Smart email integration

Role-based security

Customer collaboration

Integrated workflows for time tracking

Insightful reporting

Project Resource Scheduling (PRS).
Team Chat.
Online TimeSheets.
Online invoicing.
Business Reporting
Xero, Slack, Quickbooks Integrated.
It also offers an expense management tool to streamline your expenses.
Pricing
You can either choose from the three paid plans that Avaza offers. Or you can try their pricing calculator to get the customized package for your needs.
55. Dropbox
Dropbox is a cloud storage service and a workspace that helps you divert your attention to other essential tasks.
It provides file storage to all its users, and the mobile version is equally effective as the web version. Moreover, it allows for an automatic backup which helps to update all the data.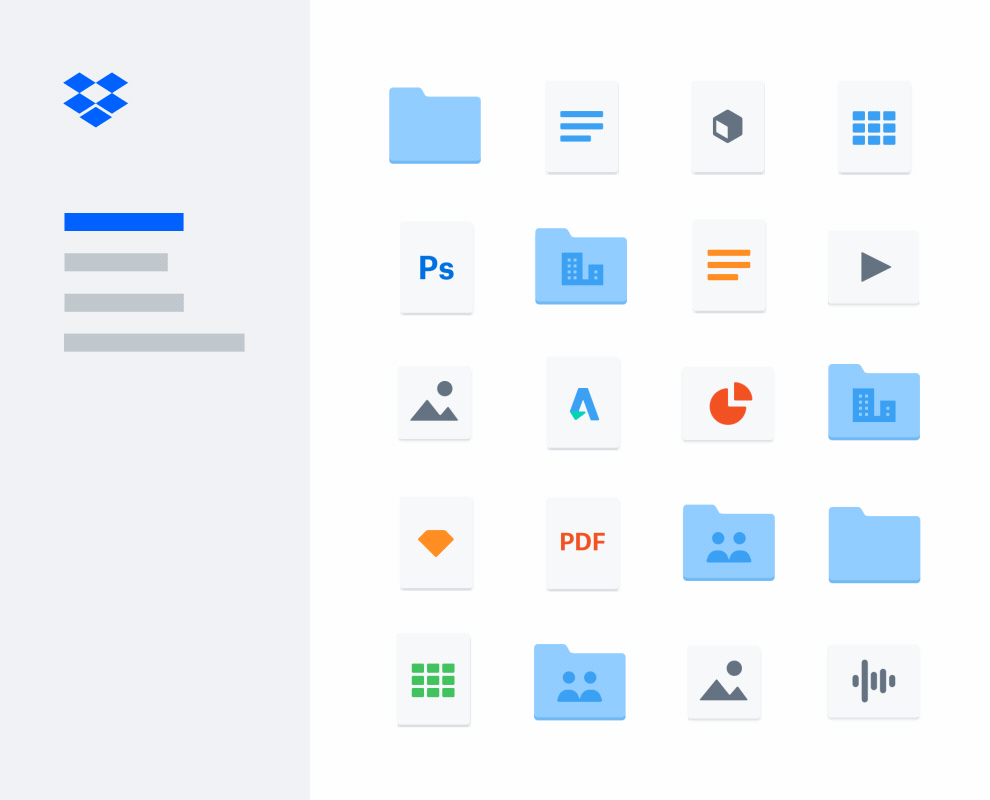 Key Features
Automatic file backup

It helps stay organized by bringing all the content together.

Integration with different tools

Disaster proof option for better security

Easy file sharing

Content collaboration
Pricing
You need to choose options according to your requirements, and then a customized plan is suggested to you. So, it is advised to visit the pricing page and get the personalized plan options.
56. Evernote
Evernote helps to keep all the things organized. It helps when you create notes or lists and even read online content.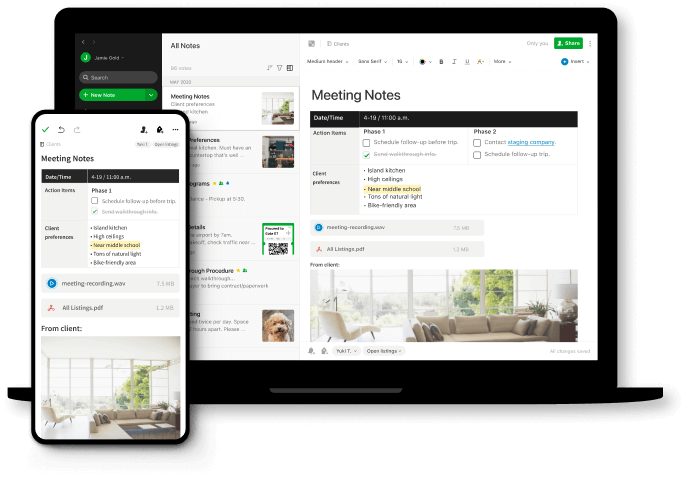 Key Features
Checklists and reminders to keep you on track

Templates to create notes faster.

Keyword tags to find notes quicker

Document scanning to help go paperless

Document search

Comprehensive task management solutions for your creative team
Options to keep a record of tasks and create tasks even when you're offline
Web clipping
Sync and organize your notes in one place so you know what needs to be done
Option to integrate with other applications and software
Option to search handwriting within the notes
Go paperless with the document scanning option
Pricing
They offer basic, premium, and business plan. The premium plan starts at $.99 per user per month.
57. Todoist
Todoist is a powerful task manager that significantly helps to boost productivity with its tasks organization and scheduling system. Todist provides ease and a lot of functionality regarding the scheduling of tasks. Moreover, organizing the tasks, projects, and meetings is also very easy.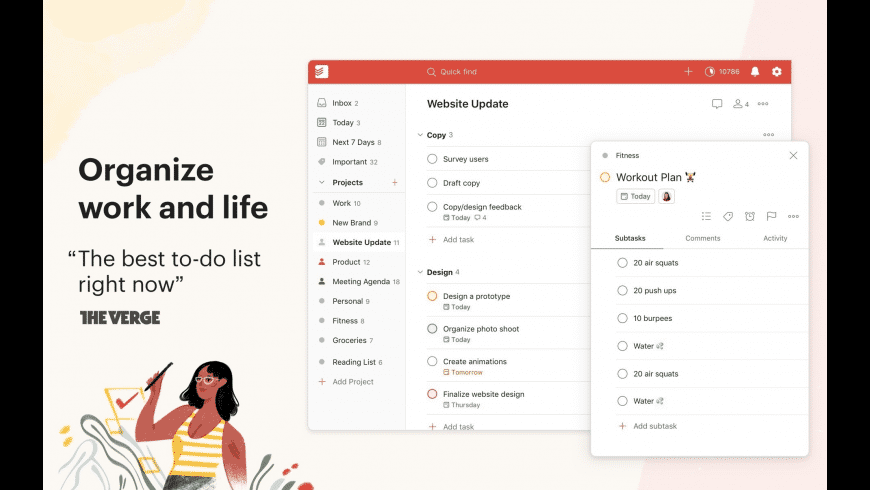 Key Features
Personalize task views with Quick Add.

Centralize work in one place.

Measure progress with visualization.

Synchronization with all your devices.

Share workload by efficiently delegating tasks.
Pricing
Pro plan starts at $3 per user per month while business costs $5 per user per month in annual billing.
58. Timecamp
Timecamp is a simple time tracking tool that helps you gain valuable insights regarding your projects.
Can be used on different devices and operating system without any significant issues. It also has excellent analytical reporting capabilities to help us make better decisions.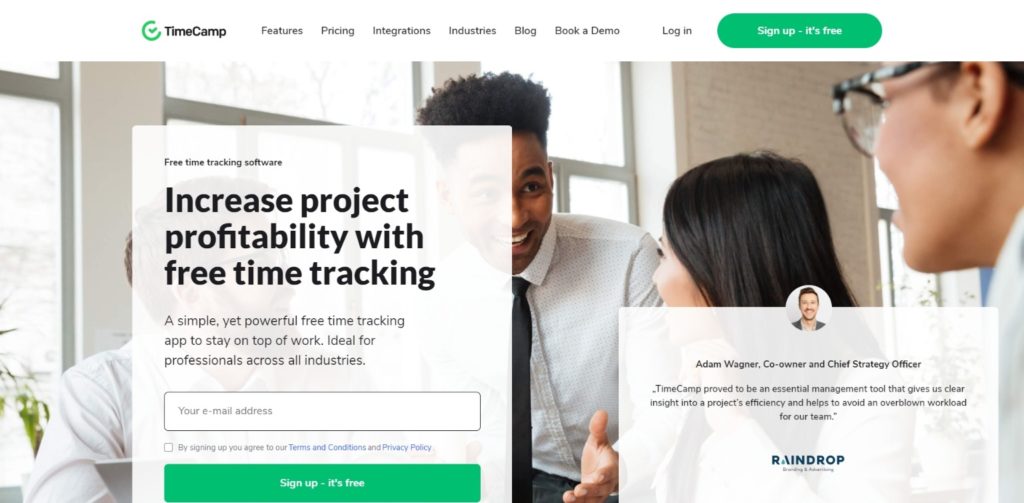 Key Features
Accessible and insightful reports.

One-clickThe premium approvals.

Effortless invoicing for clients.

More focused time tracking for projects.
Pricing
Apart from their free plan, Timecamp has three paid plans made to cater to your needs. Pro is the most popular plan priced at $7.50 per user per month in yearly billing.
59. Bitrix24
Ideal for small businesses, Bitrix24 helps to manage all the aspects of daily operations and tasks happening. The data cataloging feature provides excellent scalability and can be connected to various platforms and business management services.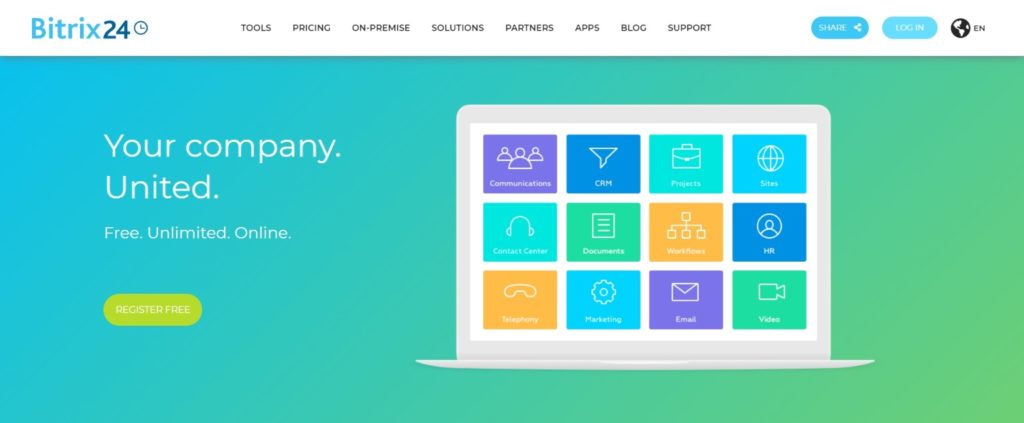 Key Features
Kanban and Gantt charts

Workload planning

Complete control over data

Customization options

Activity stream and group chats.
Pricing
It has cloud pricing plans and on-premise plans that are separate. Moreover, they are further divided into unique and business plans with the number of users you have.
60. Workbooks
Workbooks is a customer-centric CRM tool that is actively used to keep track of the customer life cycle and further help with lead generation and sales. It provides great flexibility in order tracking and user management. And the dashboard feature is pretty good as it helps to view everything at once.

Key Features
Tracking opportunities.

Simple and easy order processing

Agile workflows and automation

Dashboards and analytics

Client portal support

Customizable.
Pricing
You have to choose the service and then the plan which suits you more. In addition to this, the pricing is in pounds.
61. Confluence
A remote-friendly workplace Confluence is where teams collaborate and work together to get all the tasks done on time.
It is a very interactive and useful tool that displays the information where the user wants it to be. Moreover, it is straightforward to search the content and sort out all the information.

Key Features
Simple and hassle-free file sharing

Notifications to help you stay top of progress.

Personalized feed to help you stay active

Integrations to streamline work.

Advanced search

Customizable templates.
Pricing
Choose a pricing plan from either the cloud or the data center group. The number of users you have questions of also helps to decide which plan suits your needs.
62. FunctionFox
Functionfox is a timesheet tool and project management tool that is easy to use and very effective. It works great with task management and time tracking and provides excellent analysis for its growth. It needs to improve the search function and also integrate with more tools like CRM.

Key Features
Real-time reporting.

An easy and interactive scheduling system

Customizable dashboard

Easy project creation and management
Pricing
FunctionFox offers three paid plans. Classic starts from $5 and goes up to $20. You can also have a look at their full price sheet.
63. WORKetc
A customer relationship management tool integrated with project management, Worketc helps small to medium-sized businesses increase their sales and manage their projects better.
It is super easy to work with while reviewing customer's data, staff, and time management. It also integrates with Google Applications easily and makes working even easier.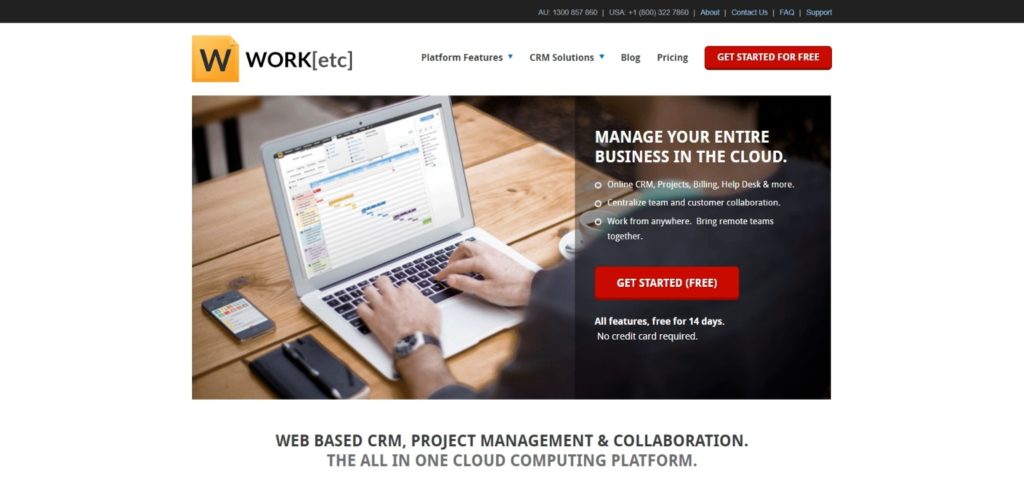 Key Features
Web and mobile apps for better working.

Inbox and Gmail add-ins.

Custom fields for selected information.

Control access through permissions.

Gannt Charts, Tree, and Timeline.
Pricing
Pricing plans offered by Worketc are expensive, where the starter plan costs $78 per month for two users maximum.
64. Weekdone
Track the performance of your employees with their goals setting, check-ins through Weekdone, an employee performance tracking tool. You can quickly set it up without any problems. And it is excellent when aligning your work and personal tasks.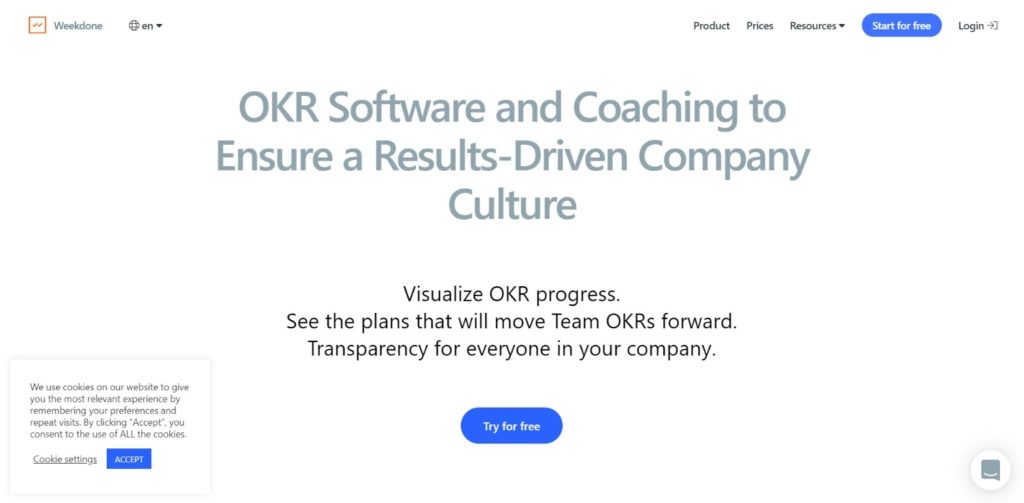 Key Features
Easy setting of weekly plans.

Setting up of company structure.

OKR coaching and support

Data visualization and reporting

Active and meaningful conversation within teams.
Pricing
Get to know what you will be paying annually or monthly through the number of people working in your organization.
65. MindGenius
Mindgenuis is a perfect tool for planning and managing projects. Setting goals and strategic planning are straightforward and easy to do through this tool. It allows real-time editing, which is hassle-free and saves a lot of time.

Key Features
Mind mapping for better visualization of ideas.

Real-time editing

Hassle-free meetings.

Caters to different professions
Pricing
Mindgenius has two licensing models; subscription and perpetual.
66. Toggl Plan
Toggl Plan is a fast and easy task management software to help you stay updated on all your projects. The price the tool is charging is great for all the features. Moreover, it helps to improve the workflow and brings valuable updates.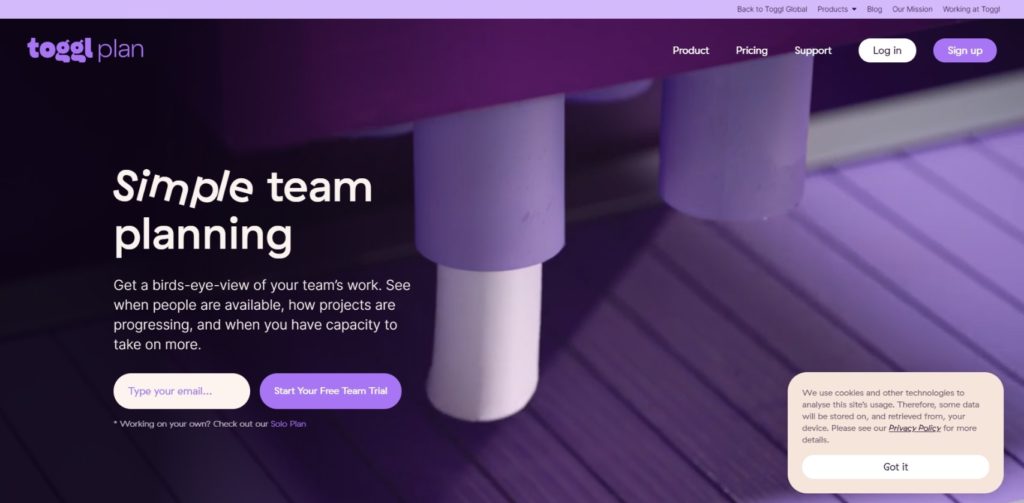 Key Features
Easy and effortless planning.

Workload planning

View complete project timeline with ease.

Simple task scheduling and planning

Color coding and checklists.

Easy sharing
Pricing
Either choose the team or business plan priced at $8 and $13.35, respectively, in annual billing.
67. Easy Project
Easy Project is a professional management tool for the entire organization, individuals, and teams.
The User interface is very impressive and interactive, and the tool is very stable and easy to work with; it does not lag like others. It also does not miss notifications and provides easy collaborations.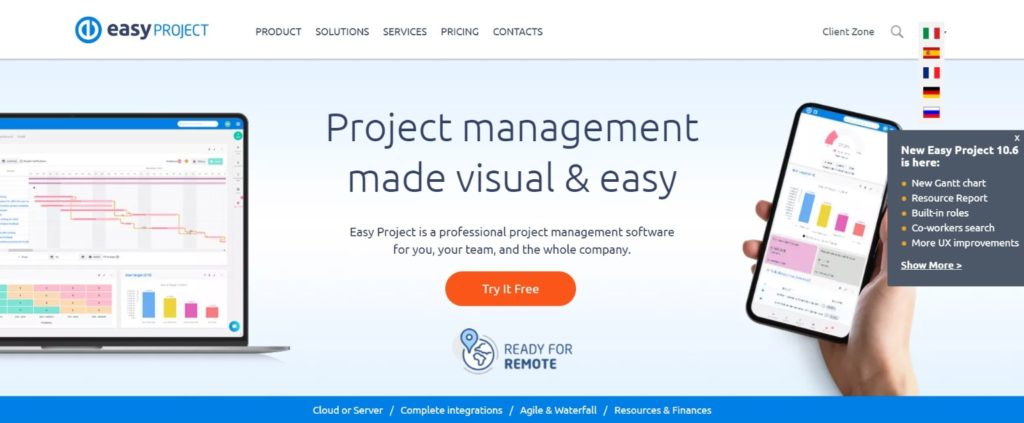 Key Features
Visual mapping and planning for projects.

Successful integration with Outlook, Excel.

Compatibility with CRM, finances, and Help desk.

Easy to use

Faster access

Mobile application for better management.

Personal dashboards
Pricing
The cloud plans are three, with their pricing in euros, whereas to get the server pricing, you have to provide them with information.
68. Copper Project
Copper Project is the most advanced project management platform on the market. They offer their services to multiple industries. Minimizes unorganized work and replaces it with an intelligent collective project allocation and status update.

Key Features
Real-Time tasks management and time tracking.

Flexible project and file management.

Budgeting, invoicing, integration and customization.

Resource management.

Unified database

The revolutionary interactive design allows users to concentrate on their market, customers, and income.
Pricing
Pricing packages come with a free 30-day free trial for consumers to use before deciding to sign up. It offers three pricing packages; Studio, Corporate, and Premium. The studio package is for $49 / month with unlimited users.
69. Ravetree
Ravetree is a flexible project management tool that combines essential company management functions into a single framework. All company data is stored in the main point, giving all subscribers access to see the updates. This encourages them to make more informed decisions and perform at their best at all times.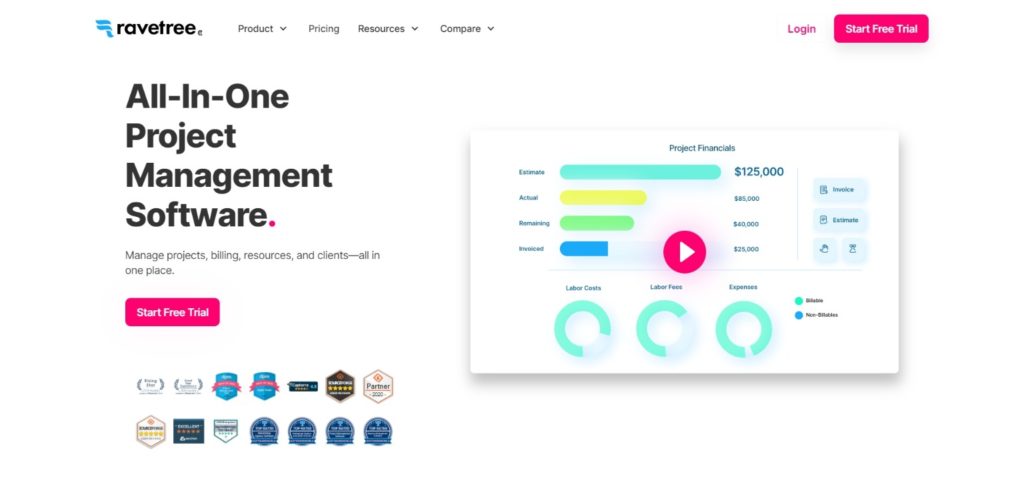 Key Features
Custom branding.

Digital asset management.

Team management.

Time and expense tracking.

Customer relationship management.
Pricing
Ravetree offers pricing packages such as; Yearly, Quarterly, and Monthly allowing you access for a limited period. The yearly pricing plan is $29 per month, summing up to $348 yearly.
70. Highrise
Although Highrise (CRM) is a great platform, it does not take any new signups since 2018. Only users that already have an account can access it.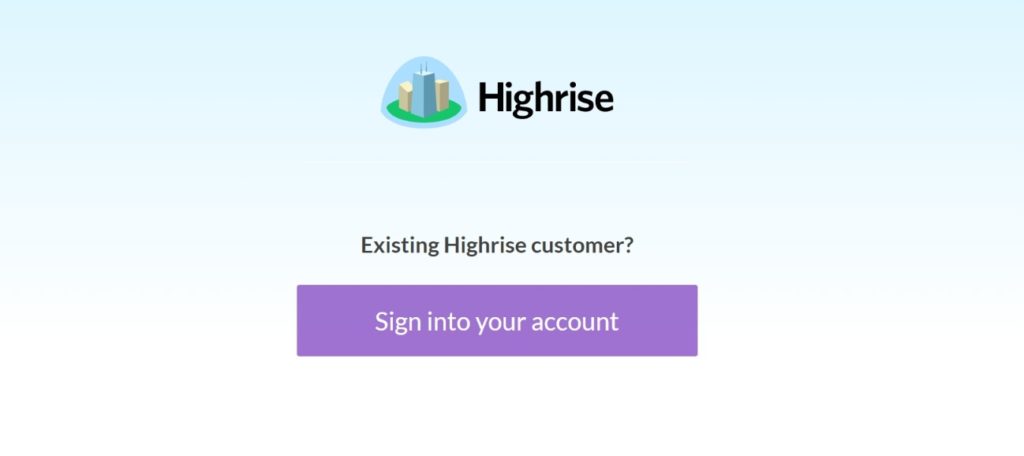 Key Features
Notes and emails about your leads all in one place.

Easy follow-ups and reminders.

Bulk email.

User-friendly and responsive interface

Works with any email system.

Report on your information and pipeline.

Easy search and sophisticated filters.

Privacy and permissions

The app helps users to keep track of customer contact.
Pricing
Highrise offers a free trial initially, and afterward, it costs you $24.00 per month.
71. Buildertrend
Buildertrend is the most helpful platform for construction companies, renovators, and contractors. The construction project management software is a solution to everything you need in an app that includes constructive work.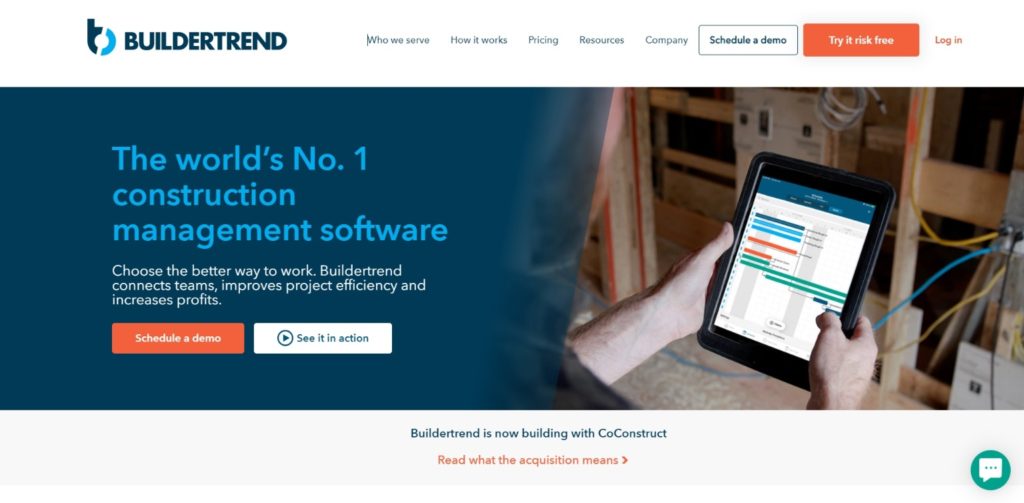 Key Features
Import for Excel and other integrated softwares.

Start working from existing templates.

Collect digital signatures.

Notify subs via email, text, and push notifications

Set deadlines, and we'll send reminders

Accept bids and roll them into contracts
Pricing
Builder trend offers three pricing plans; Pro, Core, and Premium. The pro plan is for $499 per month, unlocking various advanced features.
72. WorkflowMax
WorkflowMax is a project management platform that includes various tools such as work costing, quoting, time monitoring, invoicing, and reporting. This platform helps to improve the team's visibility and project effectiveness.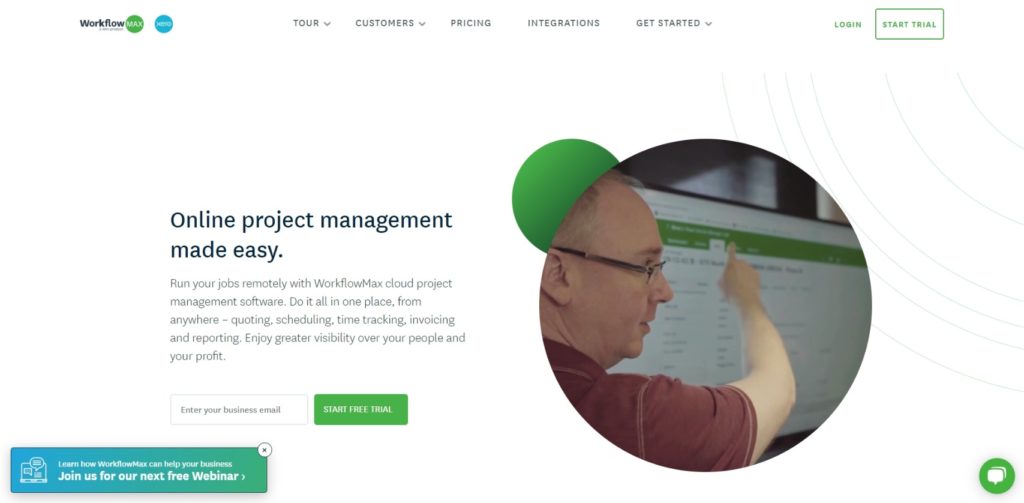 Key Features
Usability and Customizability help users to retrieve relevant information conveniently.

Client-Management functions enable to build strong customer-relationship and gather information in one place.
Pricing
The WorkflowMax lets you start with no setup fees and no upfront costs. It offers two pricing packages; Standard and Premium. Three members can use the standard pricing package, and it is for $45.00/month.
73. BuildTools
BuildTools is an online construction project management platform that is completely developed. It's a flexible construction management tool for home designers and renovators to handle their back-office operations.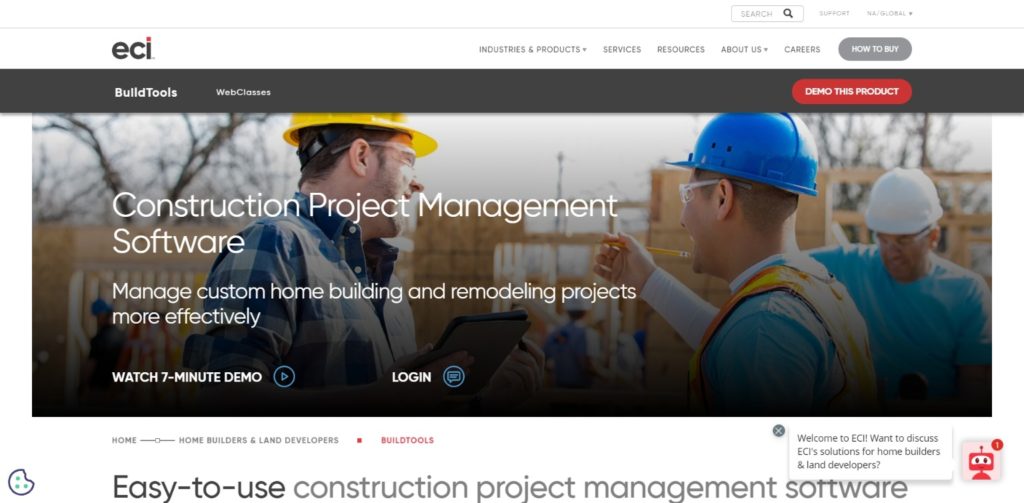 Key Features
A fantastic planning system integrated with the financial system

Creates quotes quickly.

Send professional-looking proposals

Manage proposals at each stage

Buy order system and change order monitoring

Customize quotes

Enter information once.

You can organize the building mess by storing all of your project details in one location.
Pricing
Buildtool allows you to start a free demo, and afterward, it can cost you $199 per month for the base package, and you need to pay for additional users around $20.
74. Caspio
Caspio is an online framework for quickly and easily developing business database programs, documents, and records. It comes with everything you'll need to build and operate a web-based database application on any website with many users.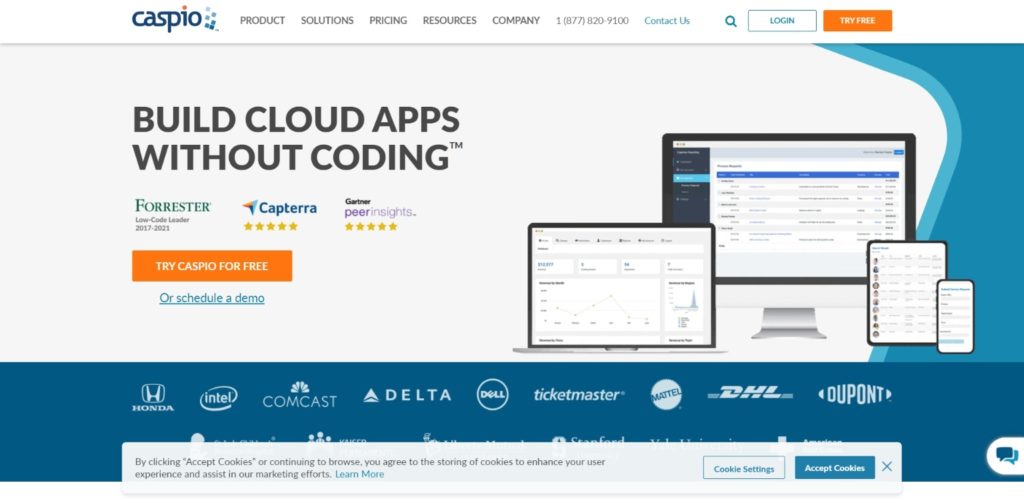 Key Features
Visual App Builder, Interactive Reports and Data Publishing.

Built-in Cloud Database, Online Forms

User Management

Application Modules

Advanced Deployment Options

Integration with other applications

Allows you to create digital experiences for a fraction of the cost and time it takes to hire in-house engineers.
Pricing
Caspio has two types of plans: Basic and company. It has a Free program to help people get started and an Explore plan for $29 per month under the Basic plan.
75. Knack
Knack is a web-based server creator that converts spreadsheets into web-based databases. As a simple web app interface, it enables anybody to create apps that can access data, generate reports, and be shared with many users.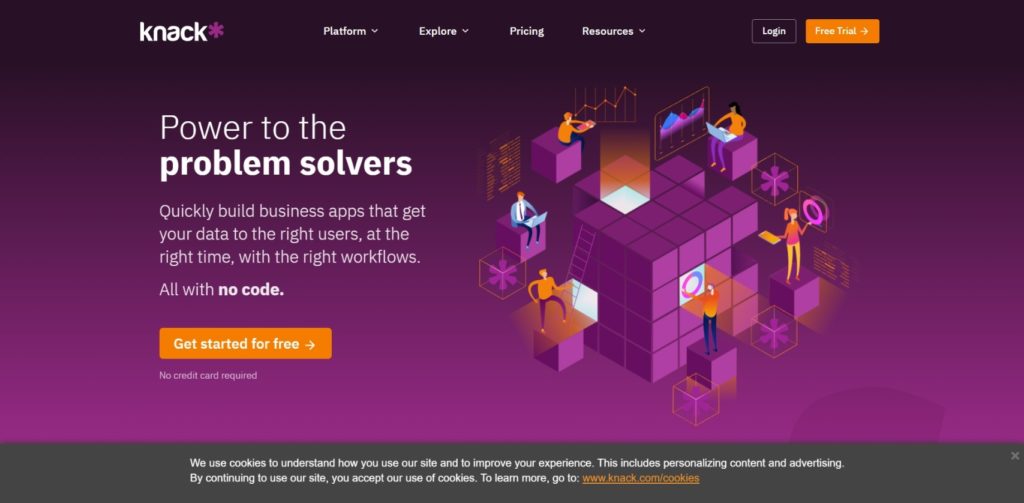 Key Features
User Access. Secure access for your users to manage their data.

Workflow & Automation.

Data Management. A single platform to collect, manage, and audit your data.

Reports & Dashboards. Real-time charts and formulas to report on your data.

Payments.

Integrations
Pricing
The $39 a month Starter package comes with 20,000 documents, 2 GB of bandwidth, three applications, and primary email and chats support.
76. Procore
Procore produces plans, responds to RFIs more quickly, keeps track of project communications, and archives records and images. Documentations, regular logs, shift requests, work costing, and punch lists are also things to keep track of. MS Project and Sage Timberline Office are also sponsored.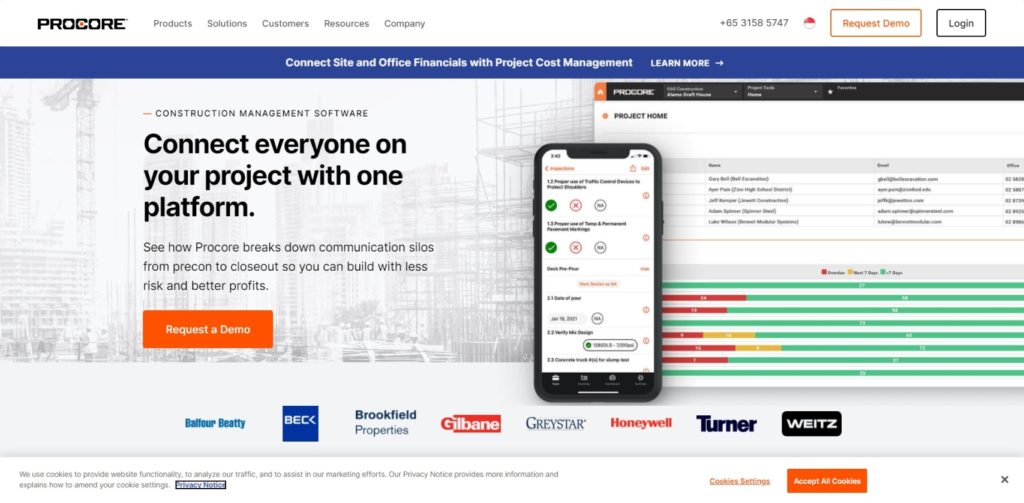 Key Features
Capture and manage all project correspondence efficiently.

To reduce risk, everything is readily available in one location.

Accurate Information.

Track all steps and speed up the approval process
Pricing
It provides customer service for $375 per month.
77. Brain Sensei
While this isn't a project management tool, it's certainly a platform that every project manager needs. Many project managers at world-leading firms, including Apple, Microsoft, Disney, and Uber, have been certified by Brain Sensei. It generates engaging narrative electronic learning programs that help you get your Project Management Certification.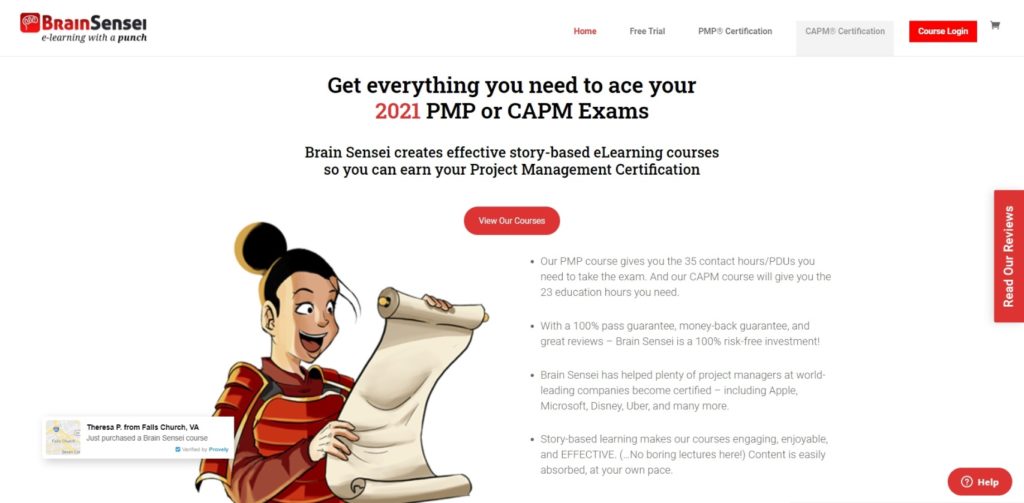 Key Features
Nine interactive modules with story-based learning.

13 storyline challenges.

Four practice tests with 800 practice questions.

Knowledge summaries and recaps.
Pricing
Based on the qualification, the time required to complete this education course varies from 30 hours to 3 months, with an average time of 3 months. The registration fee for Brain Sensei is $400.
78. Kintone
In only a few taps, Kintone can plan out your tasks, simplify job scheduling, and even set up automatic alerts and reminders.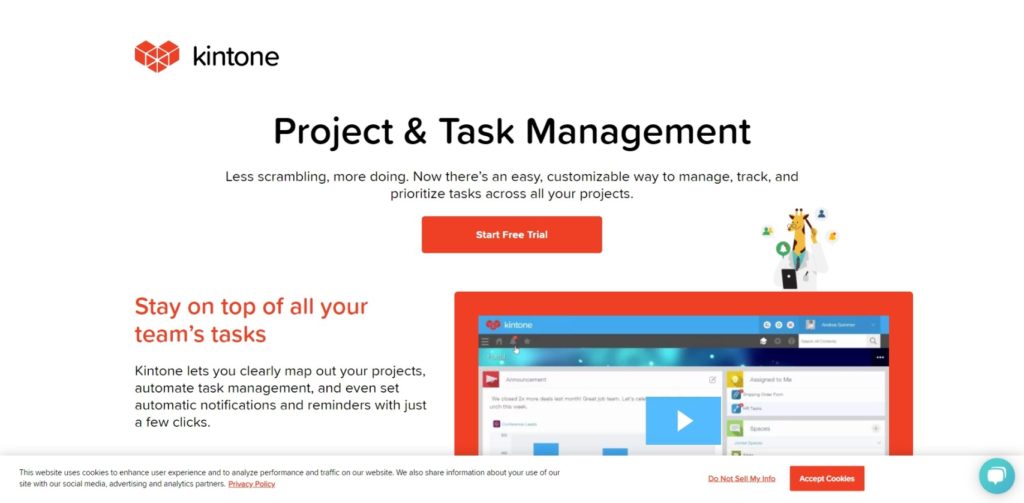 Key Features
Workflow Management Software.

No-Code Development Platforms Software.

Business Process Management Software.

Database as a Service (DBaaS) Provider.

Inventory Control Software.

Warehouse Management Software.
Pricing
Kintone offers several pricing plans; Professional, Enterprise, Education, and Non-Profit. The professional pricing plan is $24 per month.
79. Forecast
Forecast has everything you need to schedule, run, and monitor projects from beginning to end in one innovative automated platform.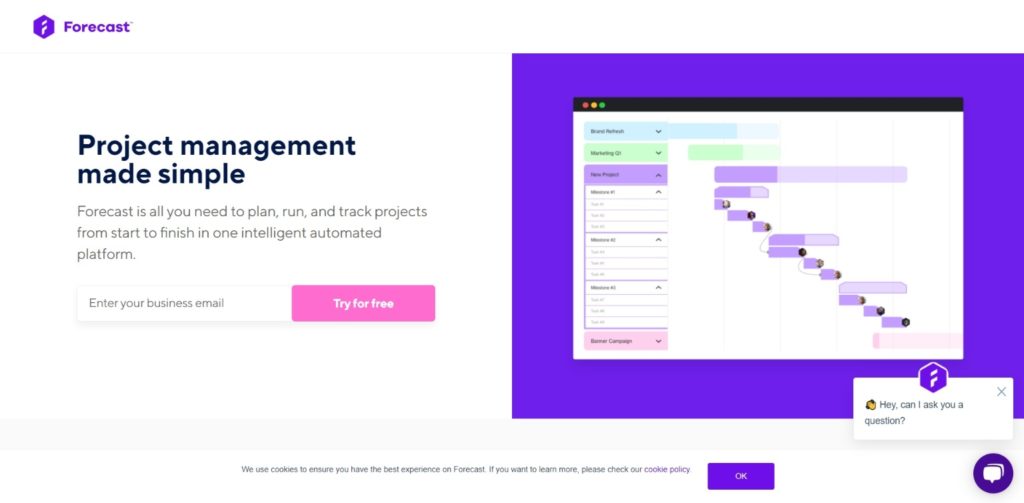 Key Features
Work Automation.

Project management.

Resource management.

Team collaboration.

Time management.
Pricing
The forecast offers three different pricing plans; Lite, Pro, and Plus. Lite pricing plans are for $29 per month with ten users.
80. MeisterTask
MeisterTask is an interactive task management and coordination platform that allows project managers power over managing projects.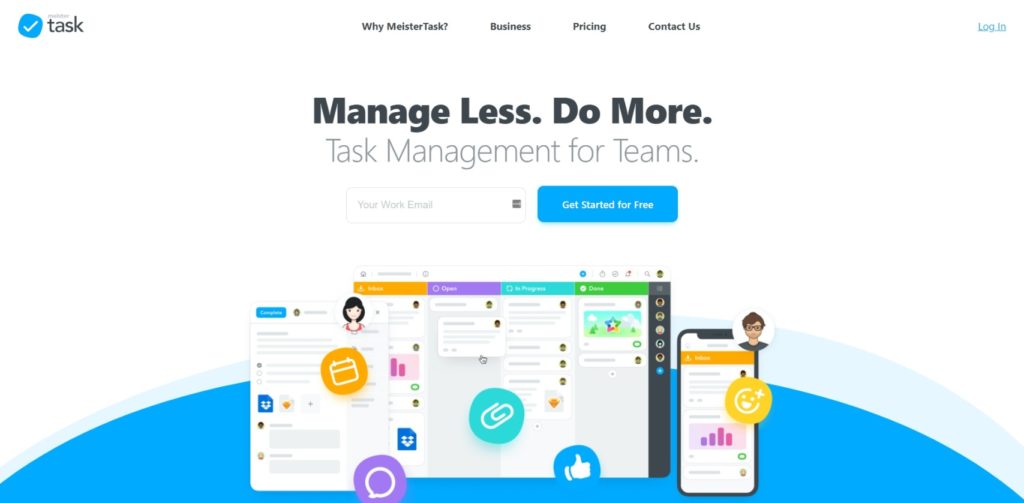 Key Features
Unlimited sections.

Filters.

Timeline.

Automation.
Pricing
MeisterTask offers three different pricing plans; Basic, Pro, Business, and Enterprise. Essential is for free, and it is simpler to use.
81. Planisware
Planisware is a project management program that assists project managers in defining, prioritizing and managing their portfolios while gaining valuable exposure.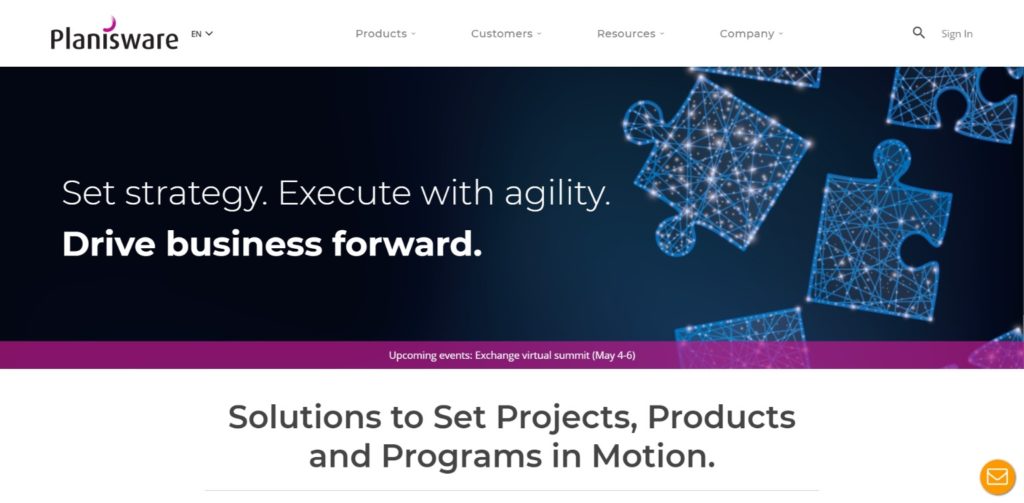 Key Features
resource management and time tracking abilities.

Enterprise social networking tools.

Budget management and demands processing.

Flexible reporting and dashboards.

Full support of agile processes.
Pricing
The one-time payment for Planisware starts at $250000.00 per customer. There is no free edition or free trial available.
82. Eclipse PPM
Eclipse PPM aids project managers in project implementation, scheduling, prioritization, resource allocation, coordination, and other functions. It allows you to troubleshoot issues that are incurring with the compilation of information. It provides support for various construction schemes, such as CMake.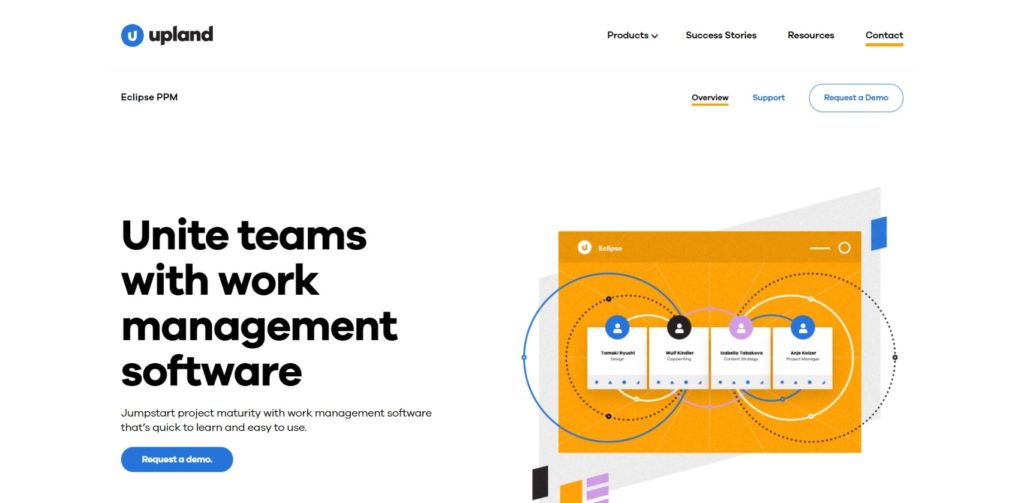 Key Features
executives & portfolio managers

resource managers

project managers

project resources

Intake

Prioritization

selection, execution, project overview, schedules, financials, risks, issues, and documents.
Pricing
EclipsePPM pricing begins at $15.00 a month as a flat rate. There is no free version available.
83. BVDash
BVDash is a mobile project management platform that was created to assist project managers in various industries.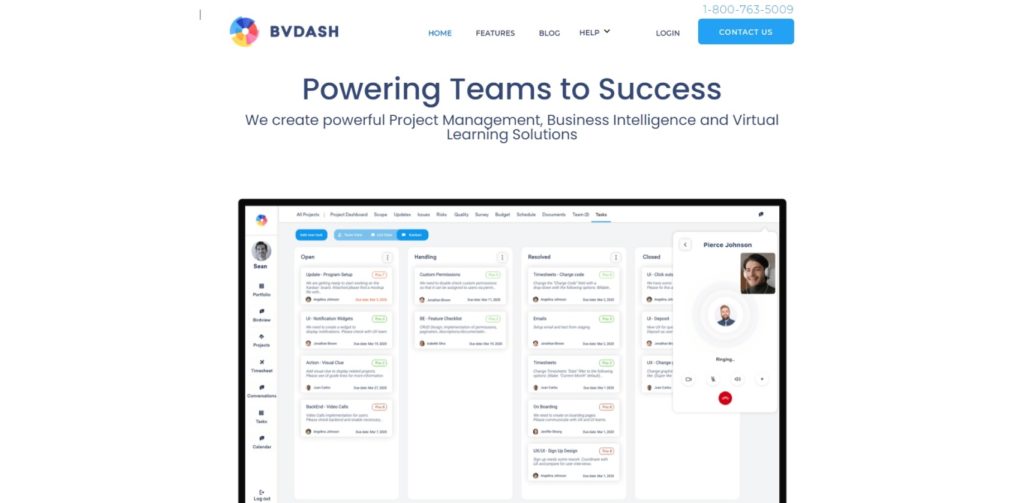 Key Features
Updates.

Allows you to schedule tasks.

Budget-friendly.
Pricing
The monthly cost of BVDash starts at $29.00 per customer. However, you can also start with a free trial.
84. Deltek Vision
Deltek Vision is a task ERP that enables service providers to monitor their entire project development cycle and create value.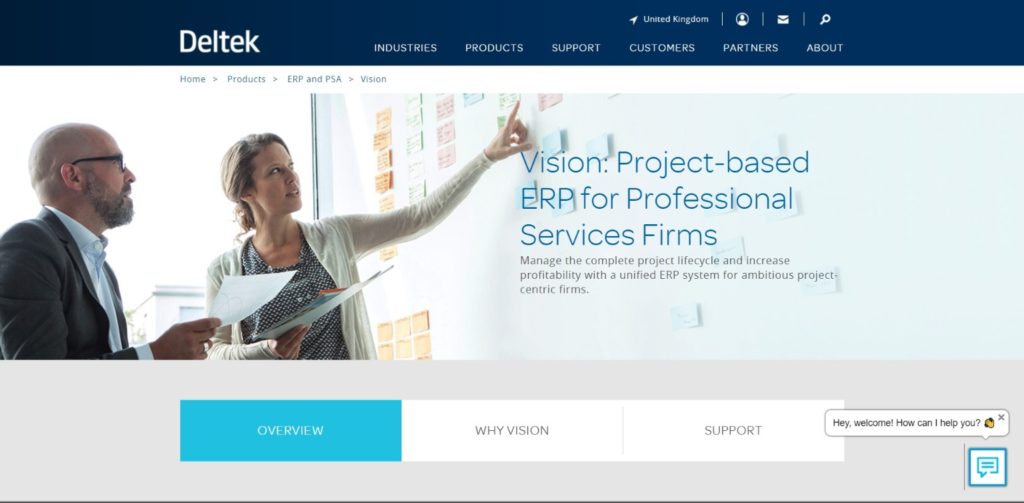 Key Features
Performance management.

Resource planning.

Vision in the cloud.
Pricing
Deltek Vision's monthly pricing ranges from $30.00 to $46.00 per employee. The subscription fees can be paid yearly.
85. InLoox
InLoox is a project management program that enables users to schedule, execute, and cooperate on various projects.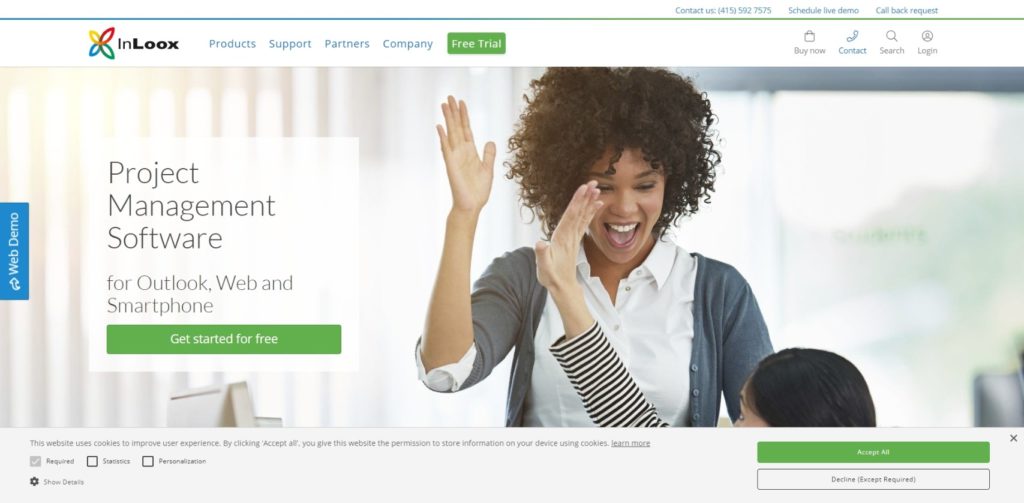 Key Features
Project planning with Gantt charts.

Outlook Synchronization.

Dashboards.

Graphical budget overview.

Workplace.

Project planning with Gantt charts.

Kanban.

Outlook integration
Pricing
InLoox offers a pricing plan starting at $490 for unlimited projects.
86. Comindware
Comindware is an automation application that allows you to create business apps and advanced tools for many sectors without knowing to code.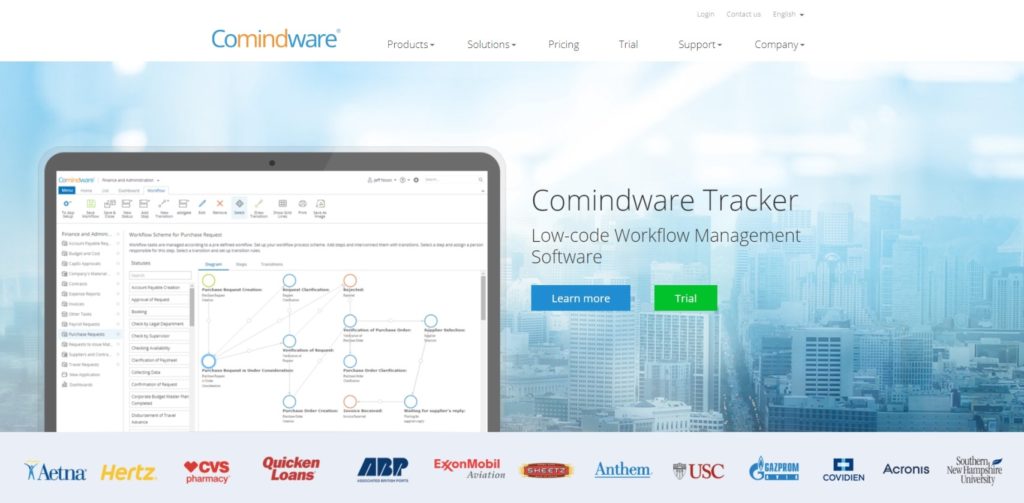 Key Features
Predictive Real-time Gantt Chart.

Automated Priority-based Planning.

Visual UI Across All Devices.

Available in Microsoft Outlook.

Unparalleled collaboration capabilities.

Project and Timesheet Reports.

Resource Management.

Configurable Reports.
Pricing
Comindware pricing plan is for $24.99 per month per user.
87. ReQtest
ReQtest is a virtualized platform for specification management, testing, and error monitoring that aids development teams in creating the best available tools.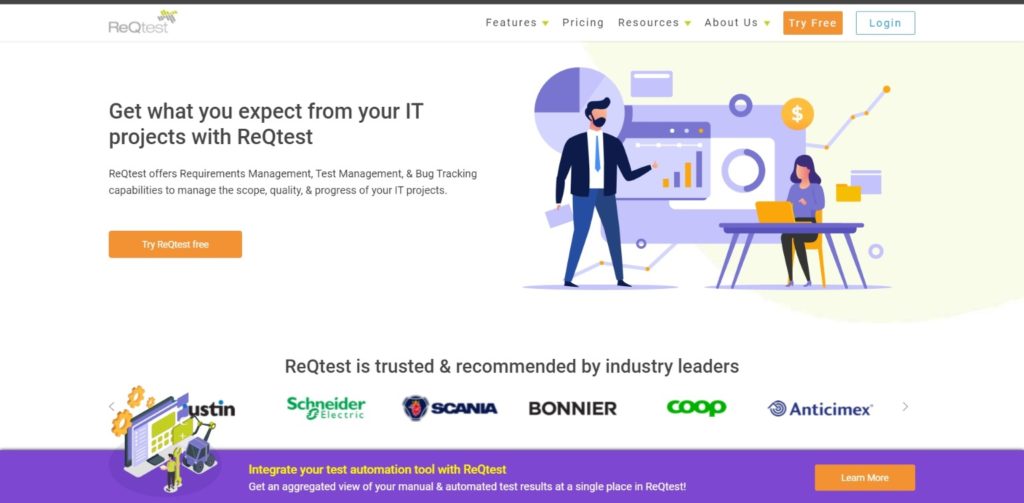 Key Features
Task management.

Bug tracking.

Screen Capture.

Agile board.

Integration.
Pricing
ReQtest offers two pricing plans; Professional and Enterprise. A professional pricing plan can cost around $6 to $45 per user.
88. CollabNet
CollabNet VersionOne software is a company that offers a variety of DevOps and Agile strategies for businesses. With the merger in 2017, the two firms will now have full corporate Agile, technology lifecycle management (ALM), integration, versioning, and DevOps tools.
They allow enterprises and federal agencies to use integrated Agile and DevOps techniques to boost software creation and execution and control it across a single network that scales sector agility.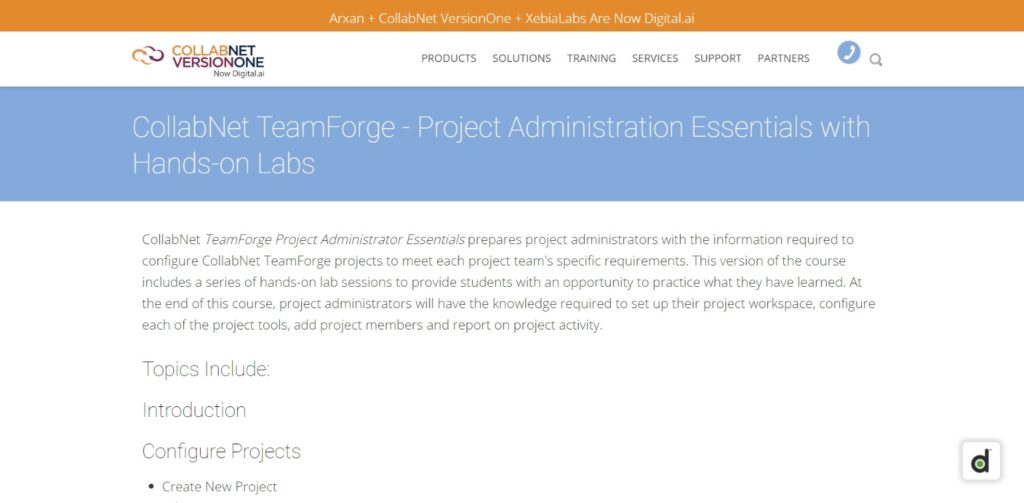 Key Features
Flexible, centralized document management.

Centralized role-based access control.

Universal search.

Burn Down Charts.

Visualize Progress with Task Boards.

Fast-Track with Planning Templates.

Enterprise Subversion Management.

Manage Code Repositories.
Pricing
The project management software has several choices to meet specific needs. You can check their website for details.
89. Huddle
Huddle helps project management in the private and public sectors to efficiently communicate and handle activities, programs, and documentation.
The interface is excellent – loading documents straight from the internet browser in desktop applications and making the files encrypted and reopened instantly makes folder loading very simple for our employees.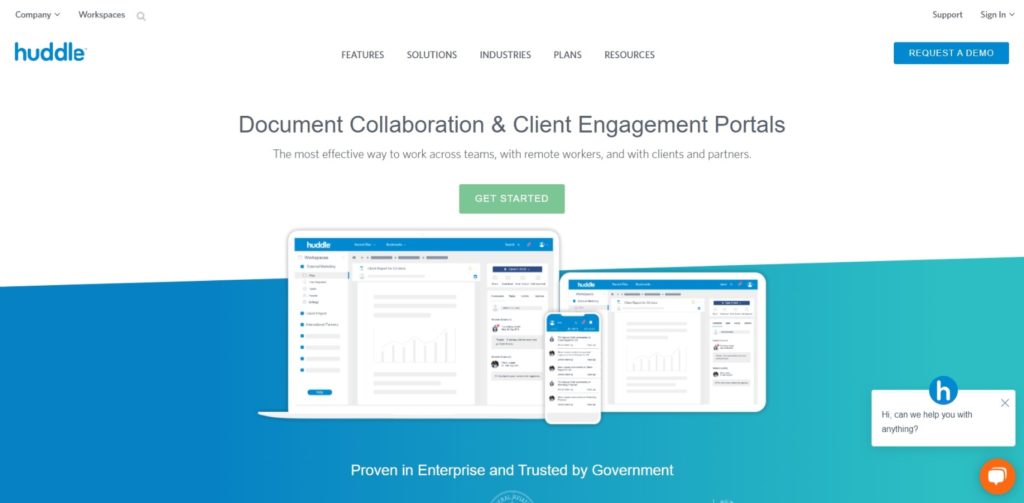 Key Features
Collaboration.

File sharing.

Version control

File request.

Mobile working.

Security.

Tasks management.
Pricing
Huddle offers three different plans for pricing; Huddle, Huddle Plus, and Huddle Premier.
90. Odoo
Odoo is a resource development and customer relationship management fully accessible organization with a variety of modular interfaces. The applications are seamlessly incorporated, enabling you to simplify your company operations and enjoy the benefits fully.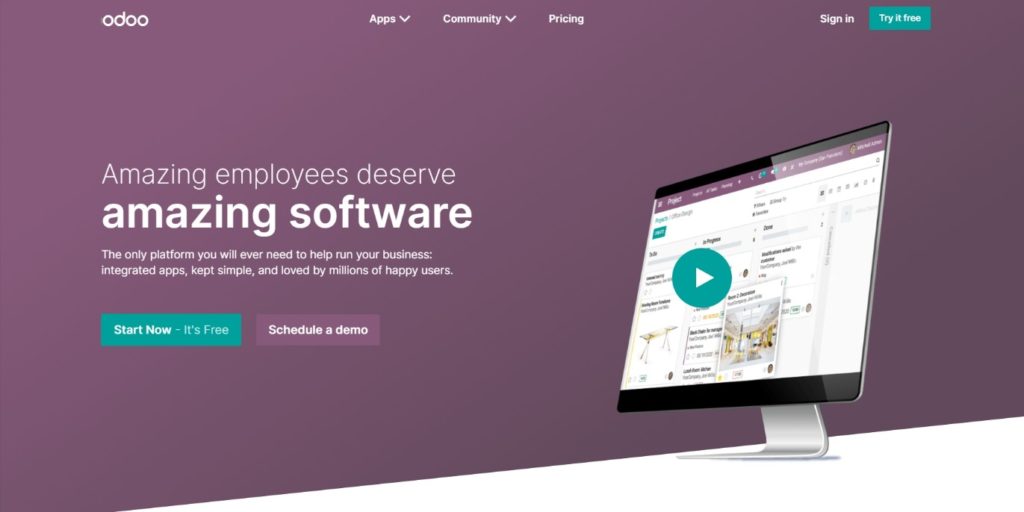 Key Features
Strongly integrated apps.

CRM

Great mobile support.

Robust corporate and cloud solutions.

Communication tools.

It helps you maintain a comprehensive list of all employees and can expand its modules.
It is easy to use and relatively inexpensive to execute.
Pricing
Odoo offers various ranges of different pricing plans for other applications.
91. OrangeScrum
OrangeScrum is a software mainly based on task management that aids project managers in managing their multiple tasks effectively.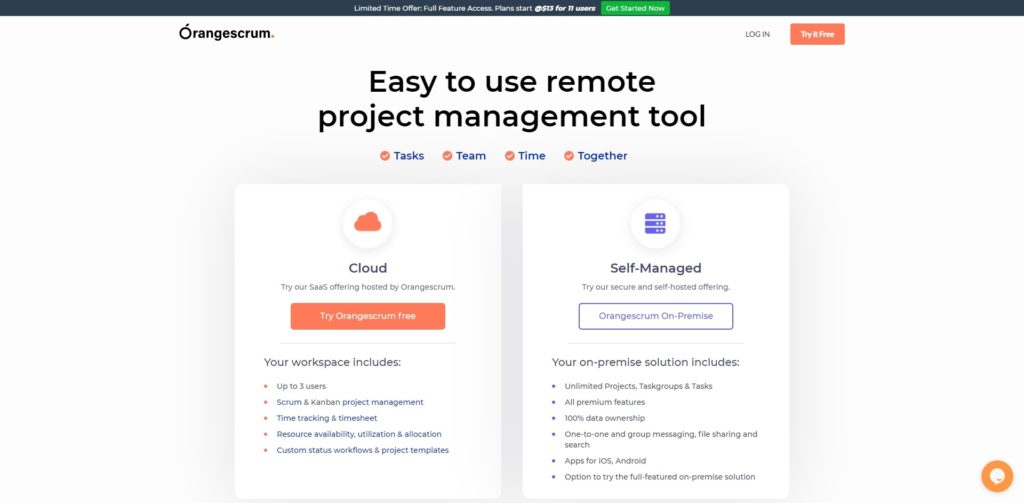 Key Features
Task management.

Agile project management.

Project template.

Custom task tracking.

Resource management.

Slack integration.
Pricing
OrangeScrum offers three pricing plans; Startup, Professional, and Custom plan. The startup pricing plan is $9 per month per user, allowing you to have a fourteen-day free trial.
92. Oracle Primavera
Oracle Primavera is a leading international management platform that uses a modular cloud-based service to support users handle projects of any scale.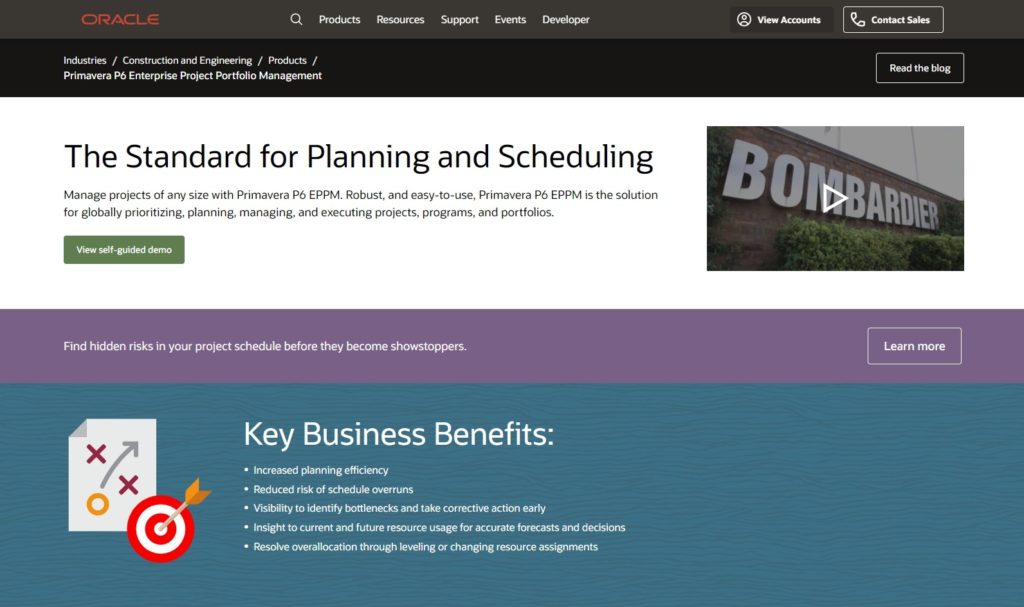 Key Features
Interactive user-interface

Easy to use program

Advanced networking site that enables you to exchange documentation easily

You can tag messages and collaborate more effectively

Risk management.

Information dashboards.

Reporting and analytics.

Timelines.
Pricing
For pricing details, you can contact them directly through their website.
93. Hubstaff Tasks
Hubstaff Tasks is an agile project management and automated platform that promotes itself as the simplest way of organizing a team's work by keeping everyone on board.

Key Features
Agile workflow.

Automated stand-ups.

Agile sprints.

Project timeline.

Roadmaps

Epics
Pricing
Hubstaff offers two straightforward pricing plans; Free and Premium. The free plan allows up to 5 users with ten projects and limited epics.
94. Samepage
Samepage facilitates team coordination and virtual project management through various devices, boosting agency and marketing team performance and productivity. The software is beneficial for keeping various files, comments, and other items together in one location and on one mission.
Essentially, it allows you to work on a project in real-time rather than providing a separate site for documentation, talk, and so on.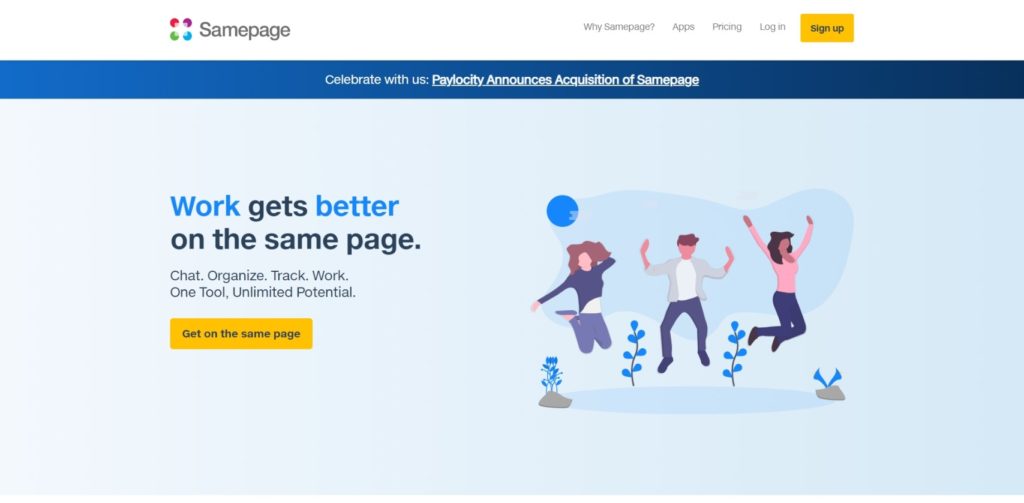 Key Features
Collaboration management.

Collaborative workspace.

File management.

Discussion board

File synchronization.

File transfer.

Group scheduling.

Instant messaging.
Pricing
Samepage offers the pricing plan; Free, Standard, and Pro. Free pricing plan allows essential document collaboration and communication.
95. Todo
Todo.vu is a successful initiative that provides project managers with a variety of tracking time and billing tools that remove the hassles of integrating many billing processes.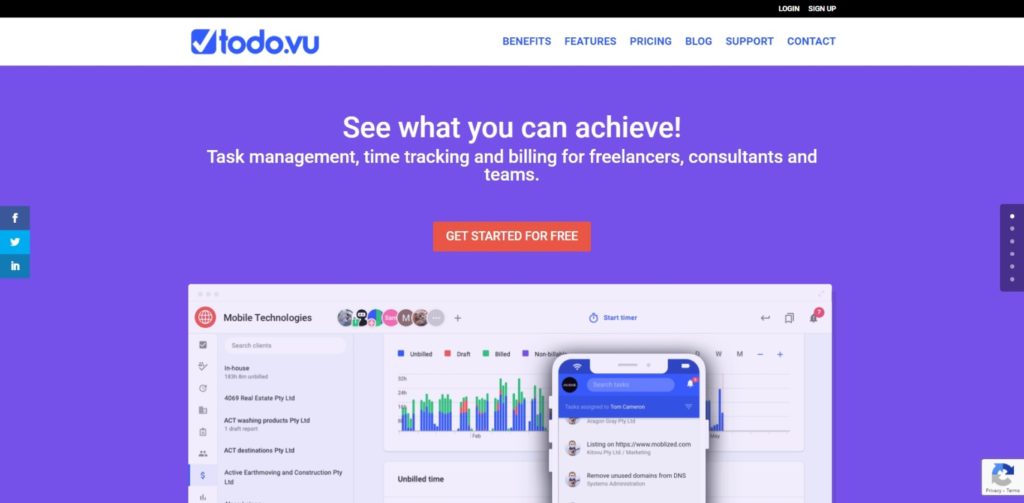 Key Features
CRM.

Tasks.

Time tracking.

Time billing.

Email tasks.

Checklist.

Calendar sync.
Pricing
Todo.vu is free for freelancers.
96. Hansoft
Hansoft is a flexible forecasting platform with a wide variety of advanced and versatile capabilities that can help scale global productivity.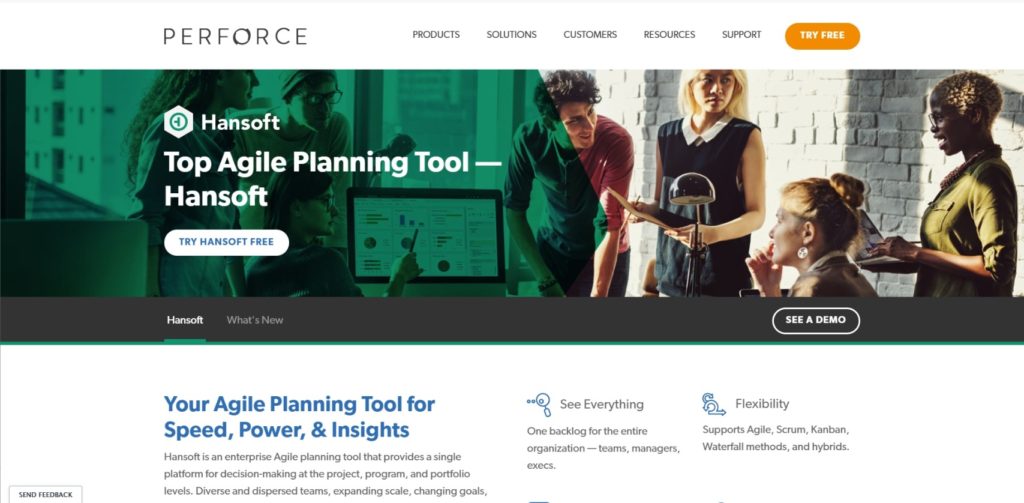 Key Features
Collaborative project management

Collaborative task ownership

Supports creative and technical workflows

Git and P4 integrations

Reports

Supports a wide range of working disciplines
Pricing
Hansoft allows you to start a free trial and also offers a free pricing plan.
97. Float
Project managers will schedule their team's time and tasks in one location with Float, a resource management and team planning tool.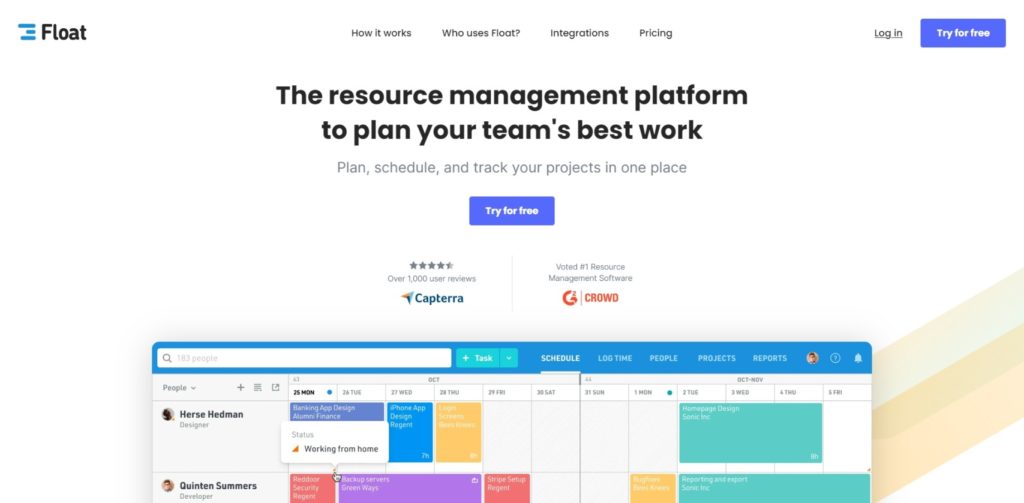 Key Features
Resource scheduling.

Time tracking.

Capacity management.

Multi-project planning.

Forecasting and reports.
Pricing
Float offers two pricing plans; Resource Planning and Resource Planning plus Time Tracking. The resource planning pricing plan is for $6 per user per month with unlimited projects.
98. Proggio
Proggio is a project management solution that includes project timeline development, various project displays, and more.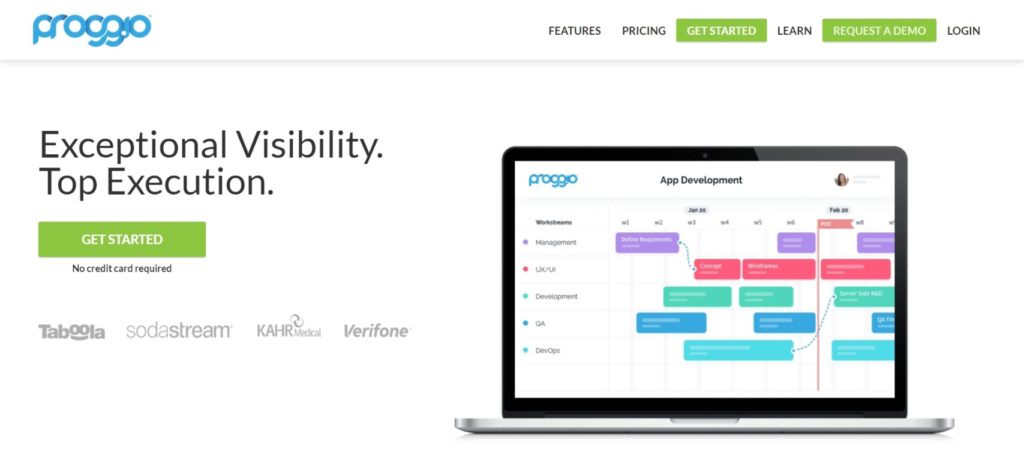 Key Features
Project portfolio.

Mobile app development.

Task management.
Pricing
Proggio allows you to manage projects smartly with four simple pricing plans; Basic, Business, Professional, and Enterprise. The basic pricing plan is $250 for unlimited users, and it is paid annually.
99. Yodiz
Yodiz is a piece of agile software that lets developers improve their overall performance by streamlining their workflow.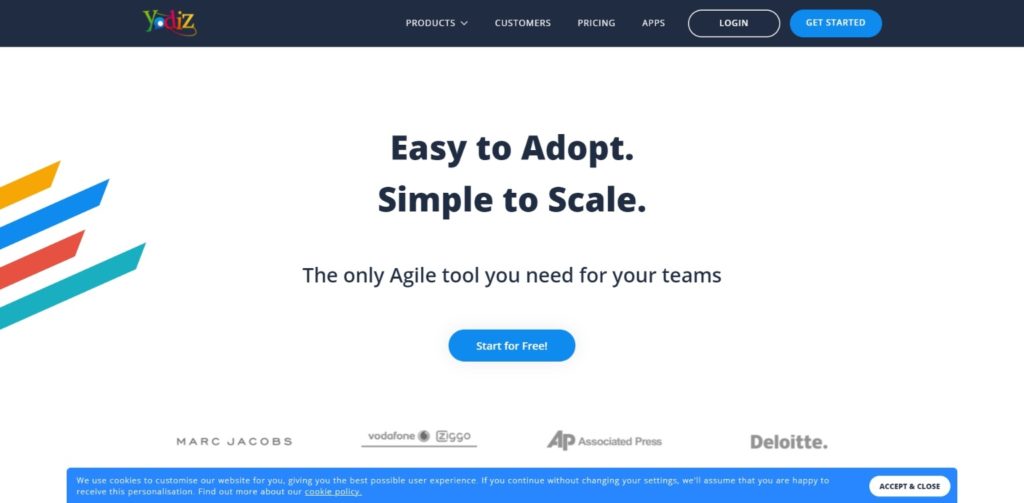 Key Features
Product backlog.

Epics management.

Sprints.

Release management.

Planning board.

Integration with GitHub, Zendesk, and others
Pricing
This software offers four different pricing plans; Starter, Issue Tracker, Agile Tool, and Self-hosted. The starter plan is for free for up to three users with unlimited projects.
100. Daylite
Daylite is a CRM for Mac and iOS-based small companies. It aids project managers in the development of partnerships, the closing of agreements, the execution of plans, among other tasks.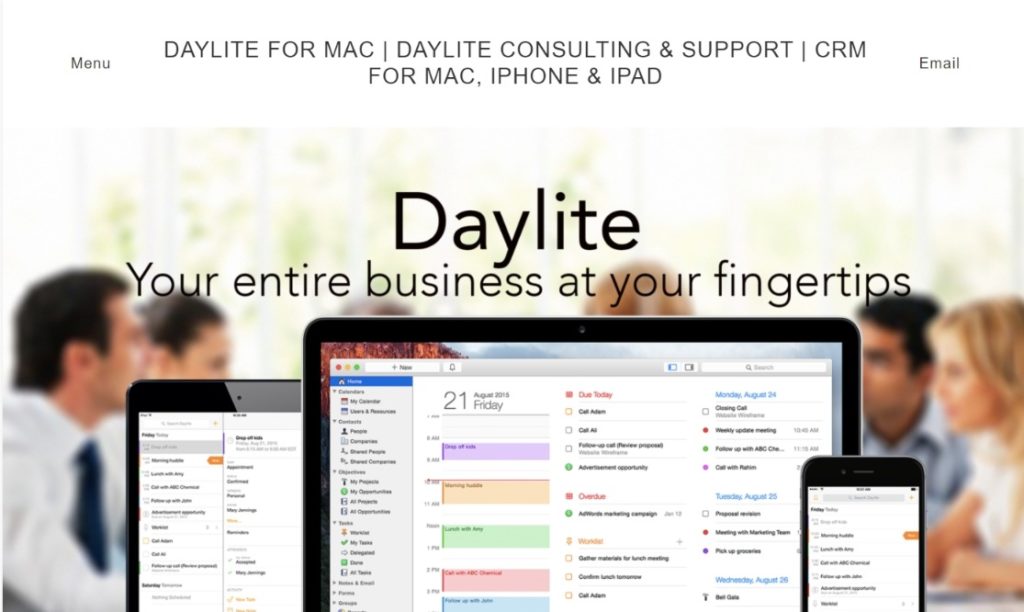 Key Features
Apple supported features.

CRM and sales features.

Project management features.

Customization.

It syncs with Mac Mail to keep track of email communications with both people and businesses.
Allows for extensive customization to suit my company's unique knowledge needs.
It serves as a focal point for everyday routines and assignments.
Pricing
Daylite allows you to start with a free thirty-day trial and also book a demo. The yearly pricing package is $24 per month.
101. Hitask
Hitask is a task manager that focuses on teamwork and task execution for project managers.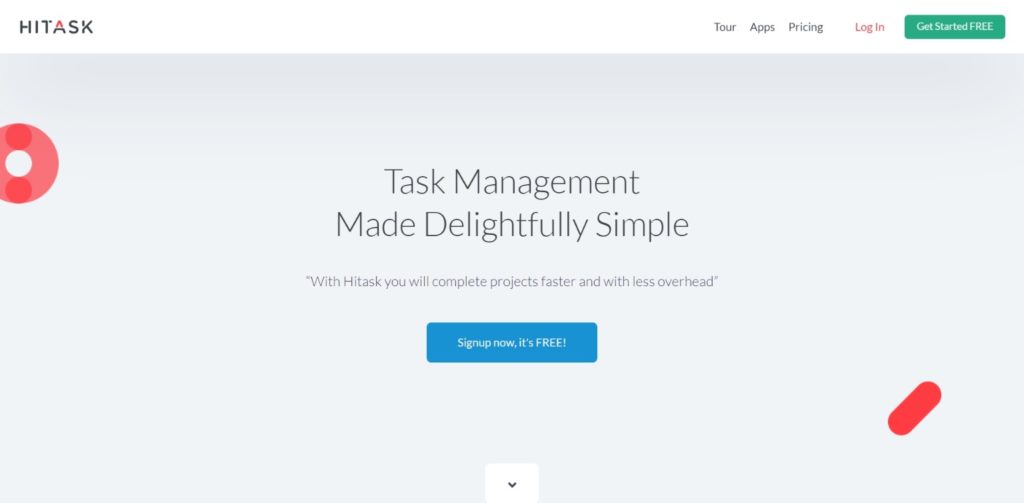 Key Features
Project management.

Document storage.

Selective sharing permission.

Shared calendar.

Time tracking.

Hitask is capable of creating and assigning tasks.
It is fast, stable, and easy to use.
Pricing
Hitask offers three different pricing plans; Team free, Team business, and Enterprise. Team free allows access to up to five users with unlimited projects.