Are you looking for project planning software that would make planning and management as easy as eating pie? Well, your search ends today!
Needless to say, technology makes things easier for us in every regard, and project management is no different. With each passing day, we have new software that makes it easier to commit to project management and project planning. 
If you're wondering what the difference between project management and project planning is, worry not – because, in this article, we will look at what project planning is, how it is different from project management, and the 28+ best project planning software to boost your creative productivity.
Without further ado, let's get started. 
Project Planning vs. Project Management?
No, project planning and project management are not the same things! Project planning is actually a distinct phase within the project management life cycle. Although we are mainly concerned with project planning today, we must look at what project management is to set the right context.
To put it simply, project management is the amalgamation of knowledge, skills, techniques, and methodologies to execute a project. Initially, it was considered to be an informal practice but is now a full profession!
The project management cycle consists of five groups: initiating, planning, executing, monitoring and controlling, and closing.
Let's look a little deeper into what project planning is.
What Is Project Planning?
Project planning is one of the stages of the project management life cycle. It involves exactly what its name suggests: extensive, hardcore planning. This phase is the starting point for any project and is, therefore, more or less the heart of the project life cycle. 
At the core of project planning, you have the ultimate goal you aim to achieve at the end of your work. Therefore, through project planning, everyone involved in the project can gauge their respective roles to achieve the final objective. 
Generally, during the project planning phase, you document all the plans you have for your project, including the deliverables and requirements you need to consider before you start. It also involves creating a schedule and other aspects to guide your team through the project and the end goal.
As a project manager, project planning is likely to be the hardest, most challenging phase for you. You'll have to take care of all things minuscule and monumental, from delegating tasks to the right people to ensuring that you have the right resources available. The better you do your job in this stage, the more likely it is that you will be able to manage time adequately, cost, quality, risk, and other factors further into the project.
In short, the burden of responsibility on you during this phase is high, and hence you're required to put in more effort. 
What Is A Project Planning Software?
Luckily for you (as for countless other project managers), technology has evolved enough to be of help when it comes to project planning! Project planning tools make it easier for project managers to streamline work processes during this stage of the project management cycle. Such tools are essential if you want to get your job done on time, with accuracy, accompanied by an unparalleled surge of productivity.
How Can Using A Project Planning Software Streamline Your Work Process? 
Different project planning tools offer different features, so the way they affect your project depends on that. However, they majorly help with organizing all the important aspects of the planning phase in one place. They help you have an overview of everything that needs to be done and, therefore, take care of the project's stressful part.
As mentioned earlier, they allow you to be productive and punctual with your tasks, which is a rather important part of ensuring that your project's planning phase is carried out seamlessly.
Overview of the 28+ Best Project Planning Software and Tools
If you're looking for a project planning tool that wraps things like online proofing, collaboration, and content review in one package – then GoVisually is your best friend! GoVisually pairs creativity with efficiency and gives you plenty of features that make it easier for you to complete your projects' planning phase successfully.
Key Features
The key features of GoVisually include:
Share collaborative feedback

Get up to the minute status of every review

Slack integration. 

Mobile compatibility.
Pricing
GoVisually has two plans: Solo and Team. The Solo plan is for $20 per month and is perfect for freelancers. The Team plan is for $50 per month and includes 5 users. For more information, visit here. 
Asana is a complete all-in-one featured platform that improves project management functionality in several different areas. Besides, It can foster a team schedule and monitor promotions and releases using marketing strategy management software.
The platform has a significant range of project management features, including BM tools which incorporate almost all of the purposes that an individual looks for in a project management software.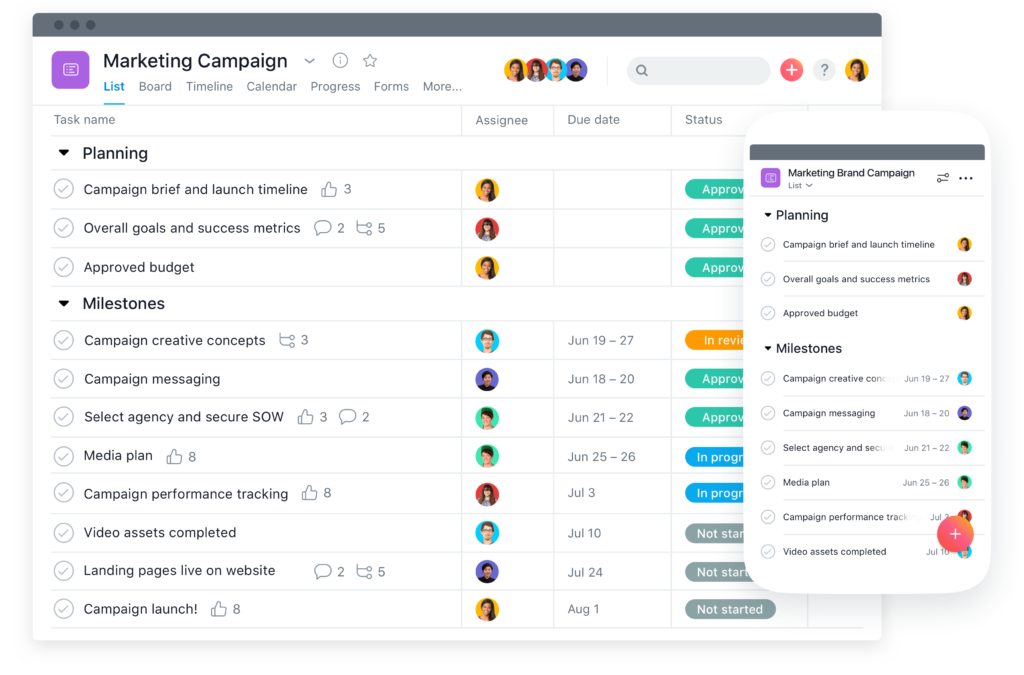 Key Features
Create projects.

Allows users to communicate directly.

Specify deadlines.

Mobile compatibility.

Slack, GitHub &Instagant Integration.
Pricing
Asana offers four different pricing plans, and each upgraded feature unlocks with other plans: Basic, Premium, Business & Enterprise. The basic plan is for new and amateur users, and Asana allows them to create projects for free forever with the basic pricing plan.
The premium plan will enable individuals to use more upgraded features for creating better projects with confidence; the premium plan is for US$ 10.99 per month. For further details, click here.
Individuals who often look for untidy and convenient ways of managing and building ActiveCollab software is the one to look up to; aids in preparing and planning project execution and ensuring that targets are never missed. This project management tool contains the details of all project objectives.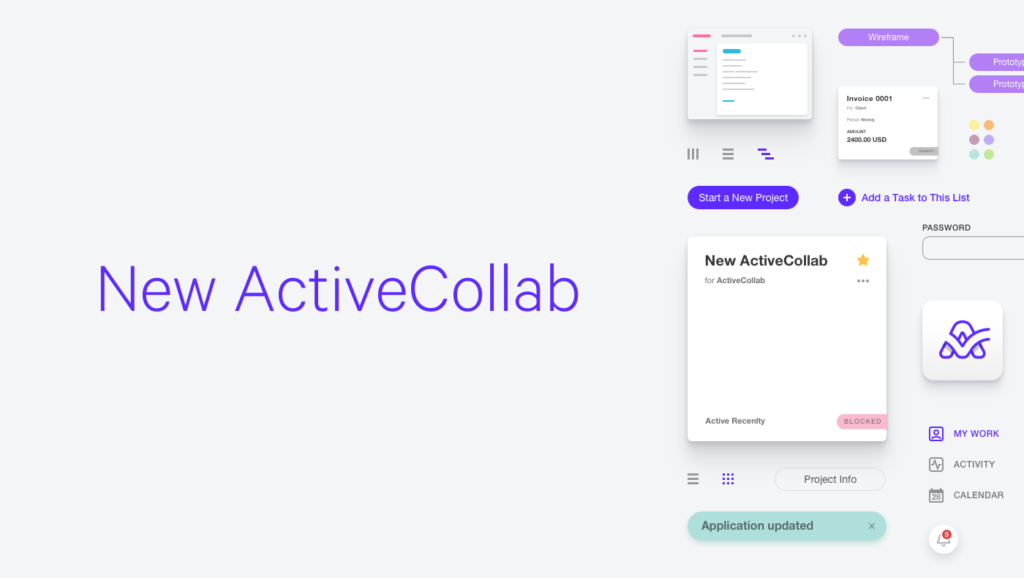 Key Features
Allows individuals to plan & organize tasks.

Communicate & Collaborate.

Track & Monitor tasks.

The exclusive feature is the billing tool that will enable you to monitor paid hours for all programs and also build and deliver receipts to consumers directly from the software.
Pricing
ActiveCollab is the most reasonable software with excellent bundles and only for US$ 6.25 per month with an additional + US$ 3.00 for upgraded bundles. For more information, visit click here.
Are you looking for a lot more than a standard project management set of tools for effective freelancing? Avaza is a centralized portal that incorporates; project management, resource scheduling, cost, time monitoring, pricing and invoicing, and communication functionality. Azana's project management tools are very advanced and best for freelancers.
Within seconds, you can build and maintain daily projects and also set goals, deadlines, and resources for each objective.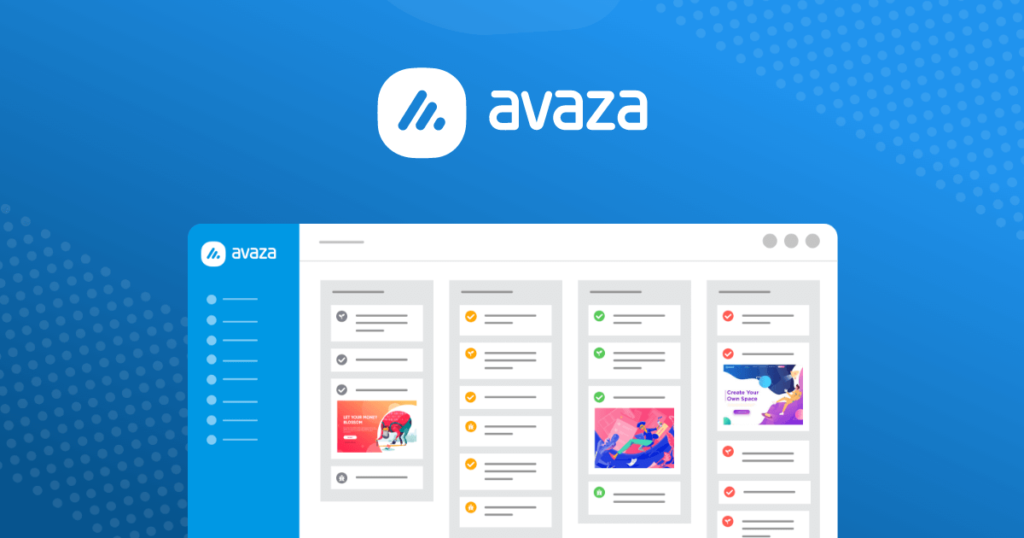 Key Features
Project Resource Scheduling (PRS).

Team Chat.

Online TimeSheets.

Online invoicing.

Business Reporting

Xero, Slack, Quickbooks Integrated.

It also offers an expense management tool to streamline your expenses, enabling you to digitize your expenses, get instant expense approvals, and get information about recurring expenses.
Pricing
It enables you to start a free trial and then opt for an upgrade when you get the hang of it with four different plans; Free, Startup, Basic & Business. The startup plan is for US$ 9.95. For more information, visit click here.
It is not just a highly effective project preparation and management tool. Still, it also addresses the current necessity of working remotely and operating effectively by controlling the staff from anywhere.
Basecamp enables you to break down your tasks into smaller assignments making them more manageable and effective. Moreover, it provides tools such as visibility for all staff members, discussions, and documentation to ensure that everyone is updated and can monitor progress in real-time.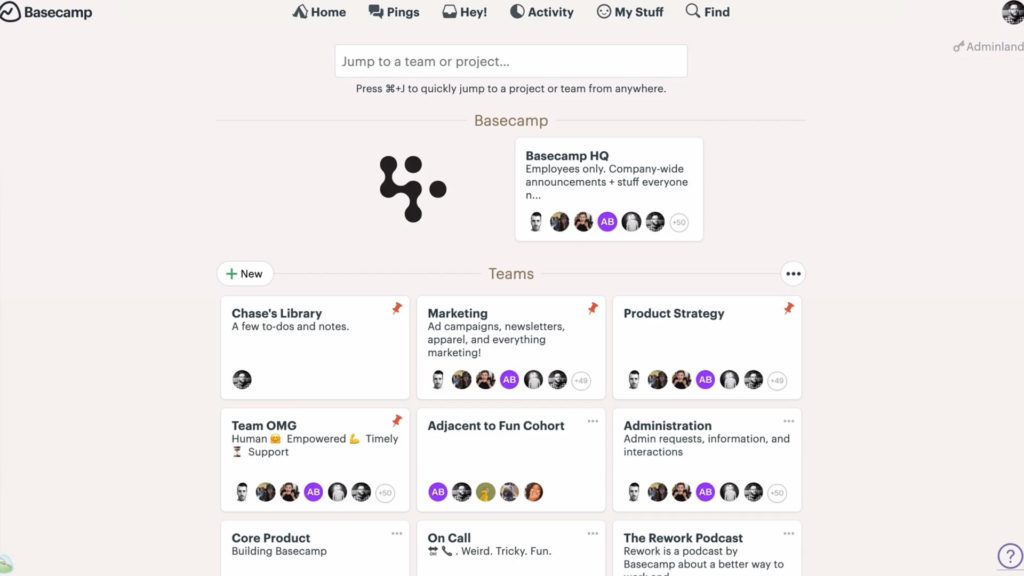 Key Features
Visibility for all staff members.

Group Discussions

Documentation.

Manage Deadlines.

Real-Time updates for bosses, managers, and staff.

 

Another exclusive feature of BaseCamp enables you to keep projects on track with

b

asecamp's Hill Charts

.
Pricing
BaseCamp offers two plans: BaseCamp Business and BaseCamp personal. BaseCamp business is for US$ 99/per month with unlimited offers whereas, BaseCamp personal is free but limited. For more information,
click here.
The above software in the list was business-oriented, while Backlog is software for project management platforms particularly developed for programmers. Backlog combines all project control resources into a single interface, such as graphic tools like Kanban-style boards, Gantt maps, and burndown charts.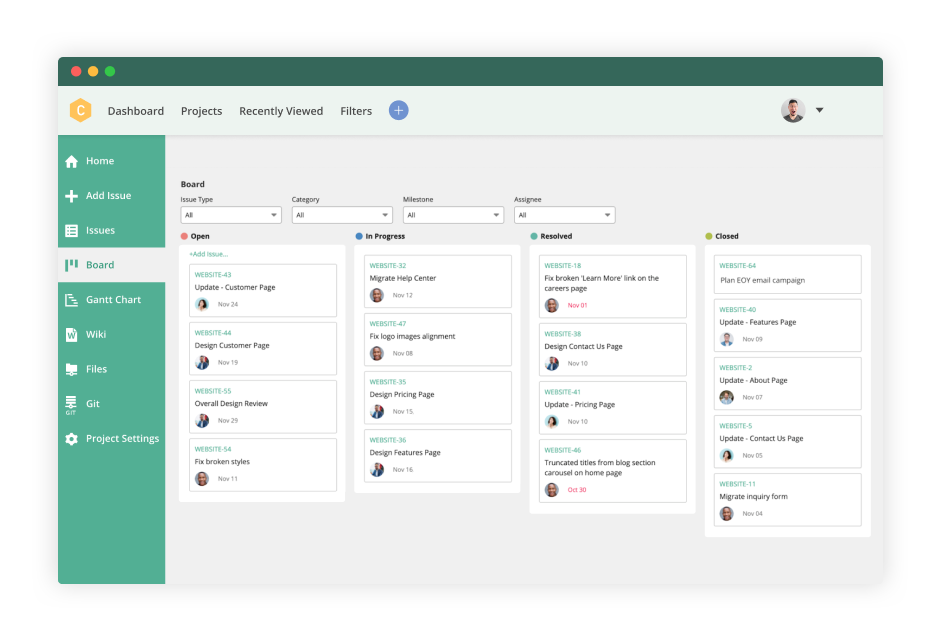 Key Features
Track Project Progress.

Task Management.

Version Control.

Team Collaboration.

Backlog also offers an exclusive feature, bug tracking, to mitigate any issues hindering the task's progress.
Pricing
Backlog offers four cost-effective payment plans; Free, Starter, Standard, and Premium. The free plan enables you to work on a trial platform, including only ten users, one project with 100 Megabytes of storage. The starter plan is for US$ 35/month and elevates the offers to use more upgraded tools for starters, including 30 users, five projects, and 1 Gigabyte storage. For more information, visit click here.
If you opt to start a marketing campaign and get more creative tools to put your hands on, BrightPod software is just right for you! It is a project management software aimed primarily at digital media and creative agencies.
Brightpod has a wide range of applications, including; Kanban and project schedules for task formation, time monitoring, and prediction software; an action tracker is a cloud-integrated software.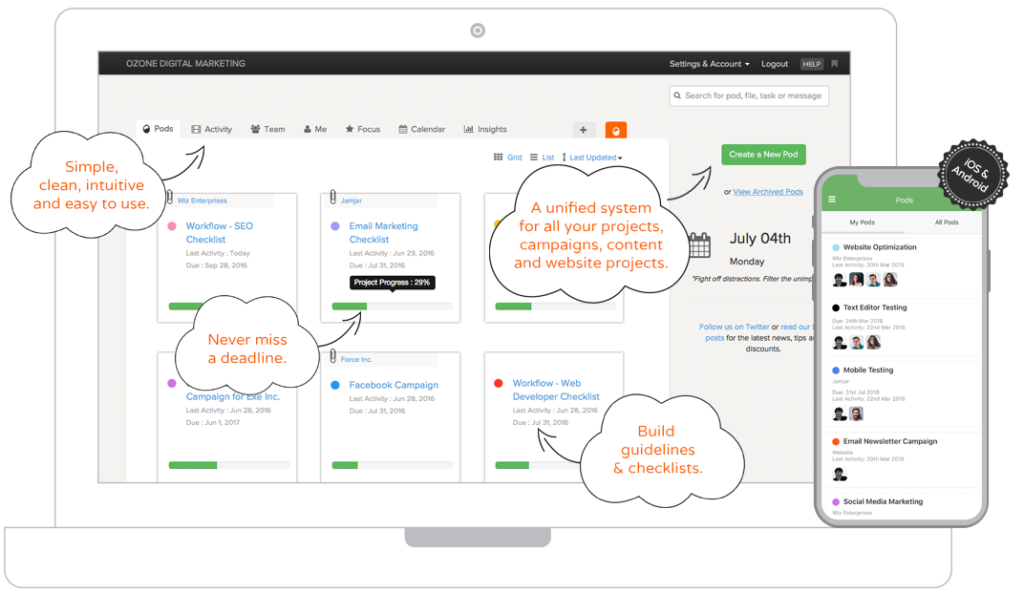 Key Features
Web-Based Project Management & Tracking

Pods (Projects)

Task List & Tasks.

Workflows.

Editorial Calendar.

The exclusive feature of BrightPod is

t

ime tracking

which ensures that time is money. It enables you to check and set a time limit for each task to meet the deadline effectively. 
Pricing
BrightPod offers four different pricing plans; Professional, Studio, Agency & Agency Plus. The professional plan is for US$ 29/month, which offers 15 projects, 5 Users, and 10 Gigabytes of storage. For more information, visit click here.
Individuals juggling with different issues and finding it complicated to cope up with multi-tasking should opt for Celoxis. Celoxis is an All-in-one software, more than a tool for multiple tasks, as it is a multi-purpose project management software, a solution to different project management problems.
Celoxis allows you to create complex project schedules that reflect current realistic circumstances and manage your projects, resources, and business processes.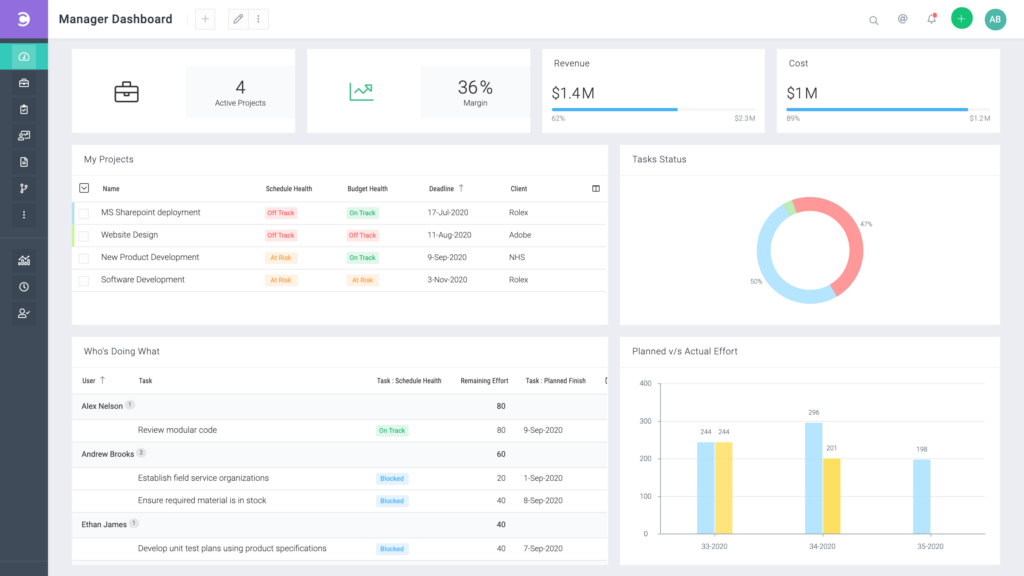 Key Features
Project Request Tracking.

Project Planning.

Accounting.

Portfolio Management.
Pricing
It suggests pricing for Cloud and other premises. The cloud pricing plan is for U$ 22.50, which is relatively less costly, but it is billed yearly than the other premises, which costs US$ 450, but you need to pay it only once. For more information, click here.
Clickup allows you to be more efficient, saving time and managing tasks effectively. The features in ClickUp enable you to consolidate all of your projects in one place, work with your team, and monitor the progress and goals.
With the support of Gantt graphs, forums, schedules, and other personalized solutions, you can automate whole project interfaces and control your activities.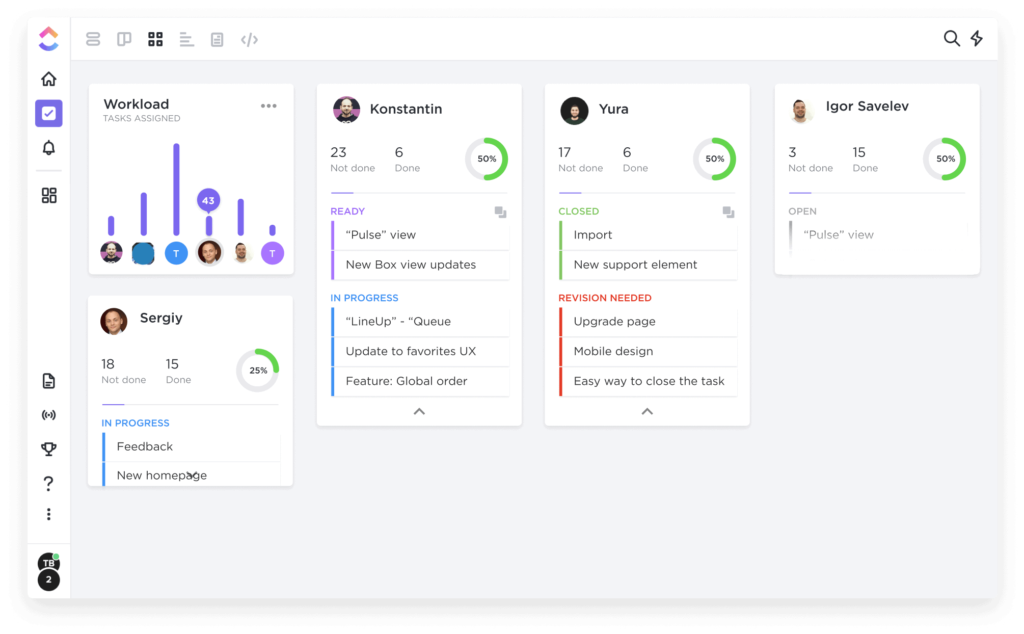 Key Features
Time Management.

Integrated with Slack, API, GitHub & GitLab.

Complete Customization.

Team Collaboration.
Pricing
Clickup pricing plans are pretty simple and very affordable, costing only US$ 5/ month for unlimited packages. The free plan is also beneficial, and you don't even need to go for an unlimited offer as you can do a lot with the free plan. For more information, visit click here.
Hubstaff is Remarkably easy and for individuals with no prior experience in managing projects. Several relevant features allow you to get your work done conveniently without any hassle. In one interface, you can build automatic Kanban-style workflows, task lists, and assignments.
You will also use it to create tasks, keep teammates on board, reflect on your top priorities, and have a bird's-eye view of all your projects.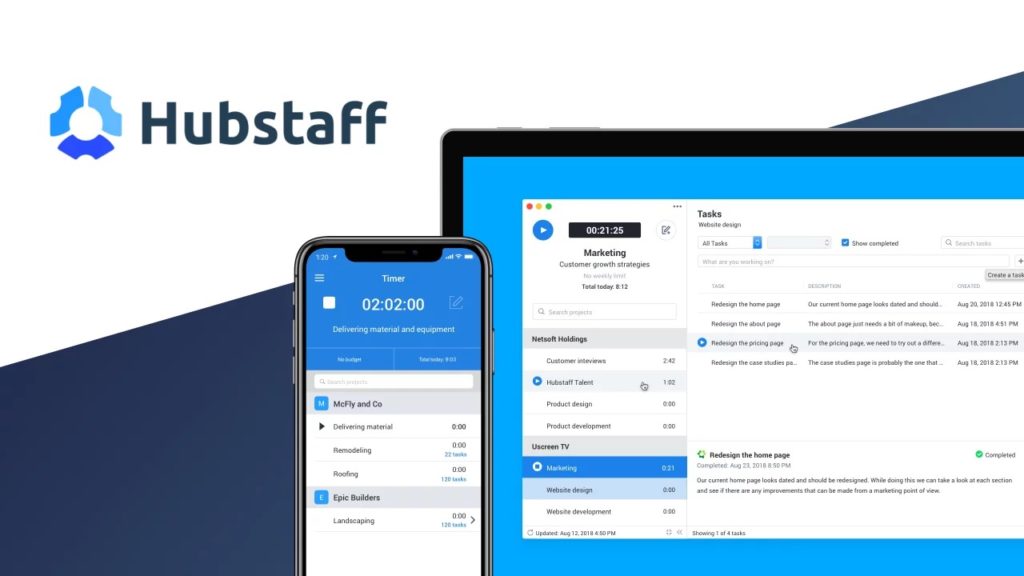 Key Features
Time Tracking.

Online Timesheets.

Payroll Software.

GPS tracking.

Productivity Measurement.

Mobile Time Tracking.

Detailed Reporting.

Moreover, Hubstaff offers an exclusive tool, geofencing. A time clock enhances this convenience with geofences, which instantly starts and stops time monitoring when the team members arrive and depart a job site.
Pricing
Hubstaff's pricing plan incorporates; Free, Basic, Premium, and Enterprise plan. The free plan only allows one member and is for free forever. Basic is for US$ 7/ month that can include two users. For more information, visit click here.
Insightly is customer relationship management (CRM) and project management software which entails tools that bolster marketing, sales, and project teams. Your marketing staff will use the project management framework to create intriguing consumer experiences that increase revenue.
Your sales force will also streamline customer info, and technical divisions can turn new schemes into ventures.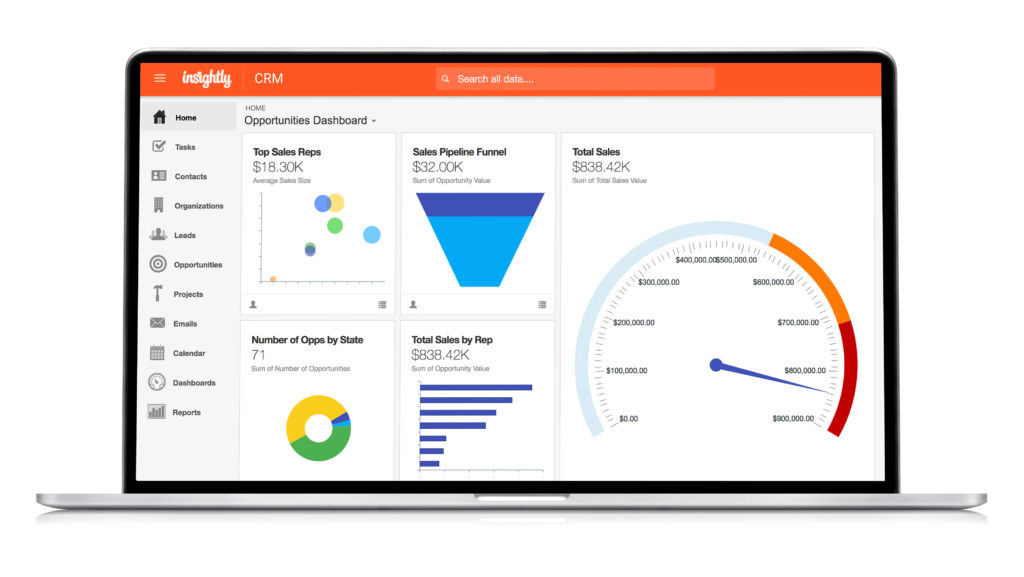 Key Features
Marketing

Customer Relationship Management (CRM)
Pricing
Insightly offers three different pricing categories, including Marketing, CRM, and Build your bundle, which combines both. The marketing category provides three plans, including Plus, Professional & and Enterprise. Plus is for US$ 299/month for a startup; a Professional requires experience and is for US$ 599. Enterprise can cost US$ 1,299, but this one is merely for agencies that work for enterprises. For more information, visit click here.
A Platform by Atlassian for project management that allows any team member to schedule, monitor, and deliver software packages. You will build customer narratives and challenges, schedule sprints, and delegate all of the projects to the software team using the project management program's preparation feature.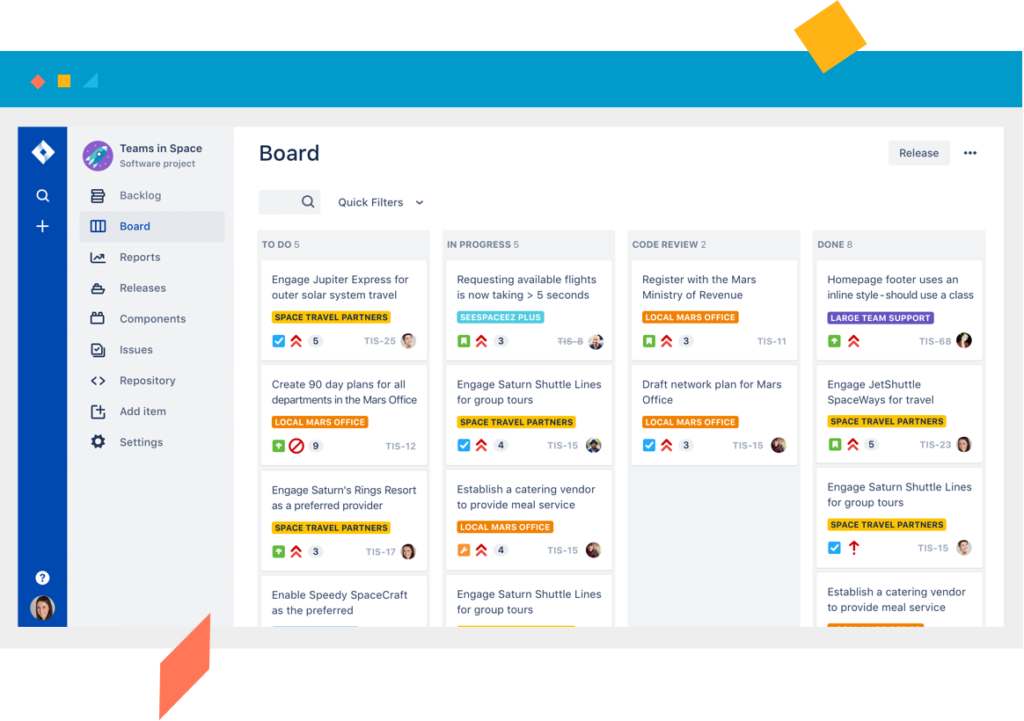 Key Features
Scrum Boards.

Kanban Boards.

Roadmaps.

Agile Reporting.

Connect issues to code.
Pricing
Jira incorporates four pricing plans; Free, Standard, Premium, and Enterprise. Standard is for US$ 7 on average, and premium is US$ 14. For more information, click here.
The software is a perfect alternative because it has many special preparation functions. You may build ongoing, funded, and active projects using project and task-level options.
You should also examine how your goals can impact deadlines. As no projects are alike, you may enter an approximate specific date for each objective's completion.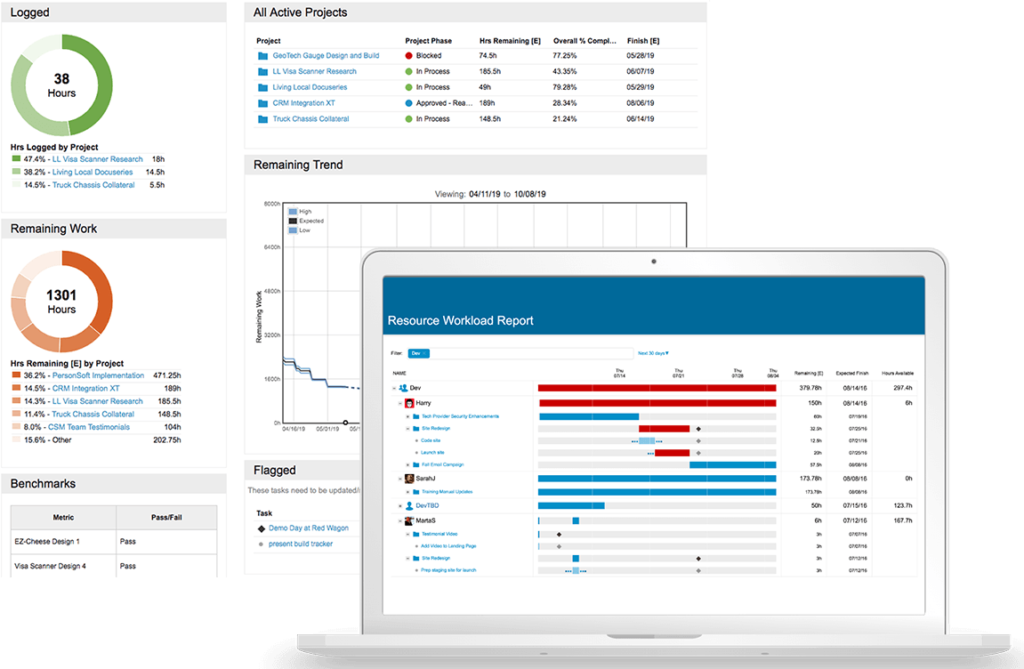 Key Features
Track.

Plan.

Analyze.

 

The only software that caters to automated scheduling and forecasting solutions. By considering team availability and goals, LiquidPlanner estimates the possible completion date for your project.
Pricing
LiquidPlanner's pricing plan involves three plans: Enterprise, Professional & Free trial. The professional plan offers US$ 45/month, and it is best for startups, basically, small ventures and projects. For more information, visit click here.
Markup Hero is a daily use screenshot and annotation tool that works on the Web. All your screenshots, images, and PDFs can now be quickly annotated and shared seamlessly in your project management app of choice.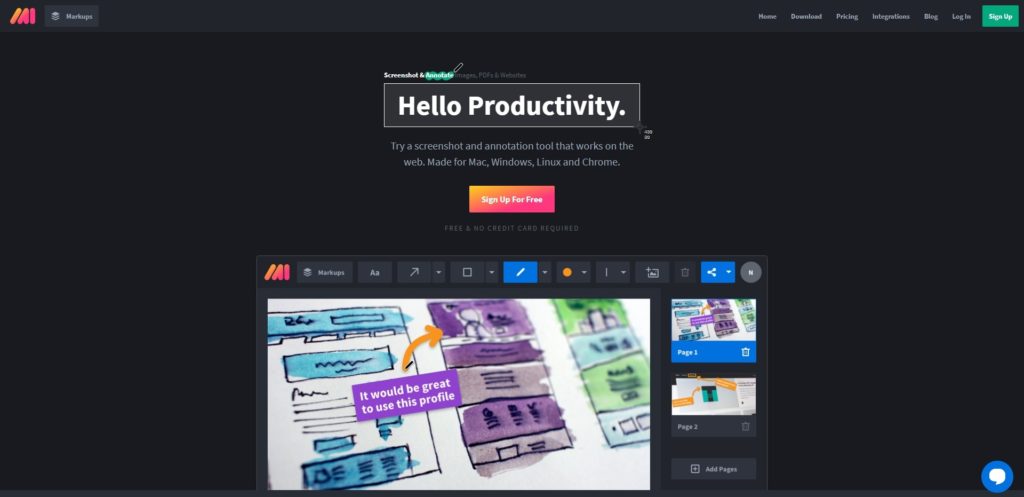 Key Features
Screenshot Tab, Scrolling Screenshot Tab, Screenshot Desktop
Upload images, PDFs + Google Docs, Sheets, and Slides
Annotate using Text, Arrow, Line, Rectangle, Oval, Blur, Pen, Highlighter
Edit Colors, Font Size / Line Thickness, Move, Scale, Rotate, Undo / Redo, Delete
Insert Images to any page to enhance your feedback or message
Share Unique Links
Pricing
Markup Hero currently offers three plans, 2 free plans and a pro plan. It's really easy to get started as the first free plan doesn't even require you to sign up to give it a try. Their pro plan, which includes all the advanced features + unlimited usage starts at $4/month. For more info and a complete feature comparison click here.
When it comes to advanced technology and working on tasks deliberately, Microsoft is no exception to managing our work-life flexibly in the best possible manner. Microsoft Project enables you to remain focused and execute a variety of activities and programs.
This software allows you to effortlessly build business processes and provides a better interface for PC and smartphones.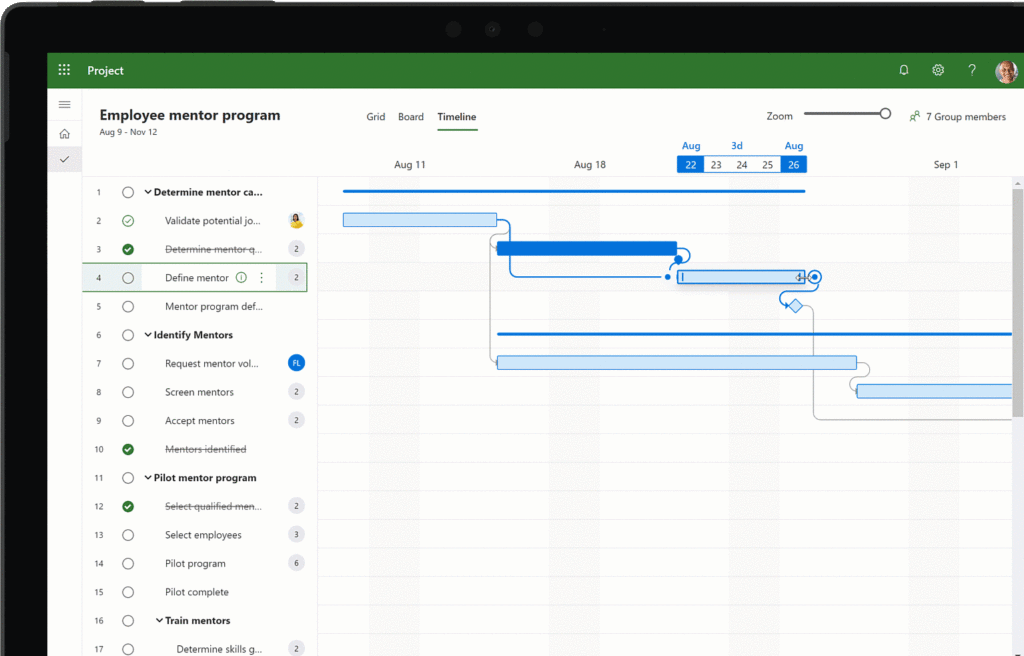 Key Features
Interactive Dashboards.

Automated Workflows.

Dynamic Scheduling.
Pricing
Microsoft Project enables three different project plans; Project plan 1, Project plan three, and Project plan 5. Project plan 1 is for US$ 10.00/ month, and Project plan 3 is for US$ 30.00, whereas Project plan 5 is for US$ 50.00/month. For more information, visit click here.
Monday.com has all the answers to multiple problems. It isn't just a project management tool; it also has a range of regulatory functions. Monday.com comes in handy for mission and systems integration, as well as an advertising resource network and management software.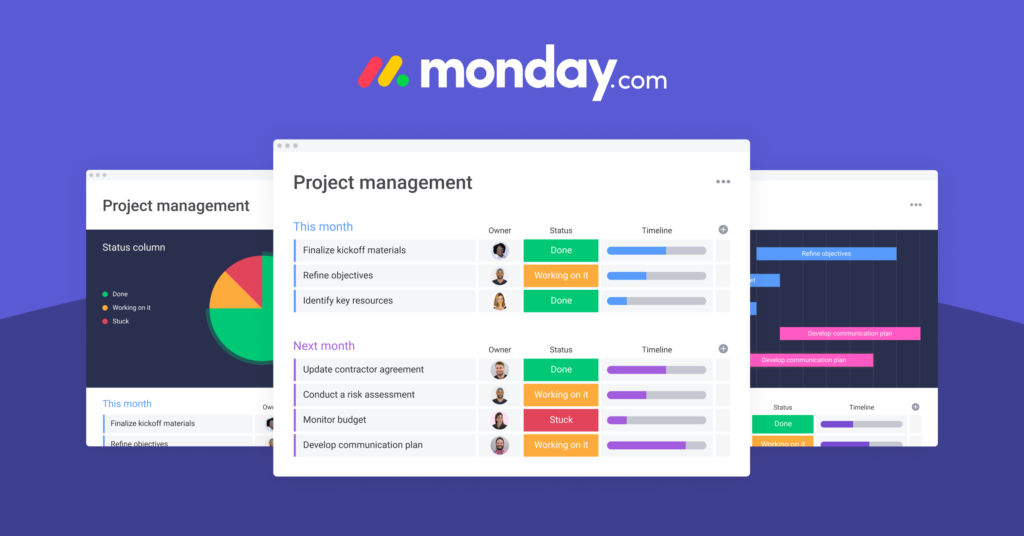 Key Features
CRM and Sales.

Marketing.

Remote Work.

Offers more than 200 solutions.

Software Development.
Pricing
Monday.com offers five different pricing plans; Individual: US$ 0, Basic: US$ 8, Standard: US$ 10, Pro: US$ 16, and Enterprise. For more information, visit click here.
There are generally several development sessions, based on the initiative, in which every investor discusses the latest progress reports. These sessions are not only inconvenient, but they also waste your time, which is your project's most limited yet precious resource.
After painstaking work is done through automatic activity alerts, Nifty helps you create visual schedules and coordinate with your group.

Key Features
Discussion.

Time Tracking.

Reporting.
Pricing
You can upgrade, downgrade or cancel the pricing plans anytime. Nifty offers you four packages; Starter, Pro, Business, and Enterprise. The starter can cost US$ 39/ monthly. For more information, visit click here.
The notion is a powerful project management platform that makes it simple to schedule and implement tasks of any scale, coordination within a group has never been more successful. By obtaining automatic update alerts personalized to your individual preferences, you can save time on meetings and status checks.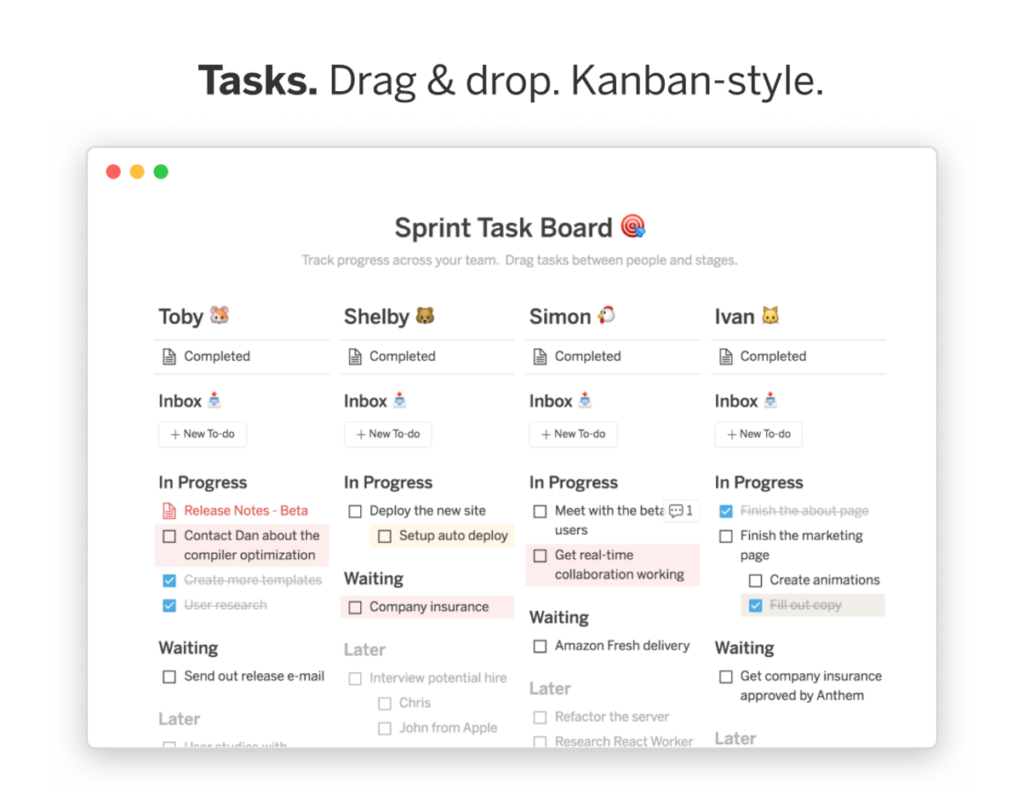 Key Features
Team Wiki.

Project & Tasks.

Notes & Docs.
Pricing
Offers four different pricing packages; Personal, Personal Pro, Team & Enterprise. A personal package does not require payment. It enables you to start. Personal Pro is for US$ 4, and Team is for US$ 8. For more information, visit click here.
Podio is a structured and versatile tool for managing projects with a wide range of capabilities for planning and executing project business processes. It provides all tools needed in a single platform, from automation and scheduling tasks to data analysis and collaboration applications.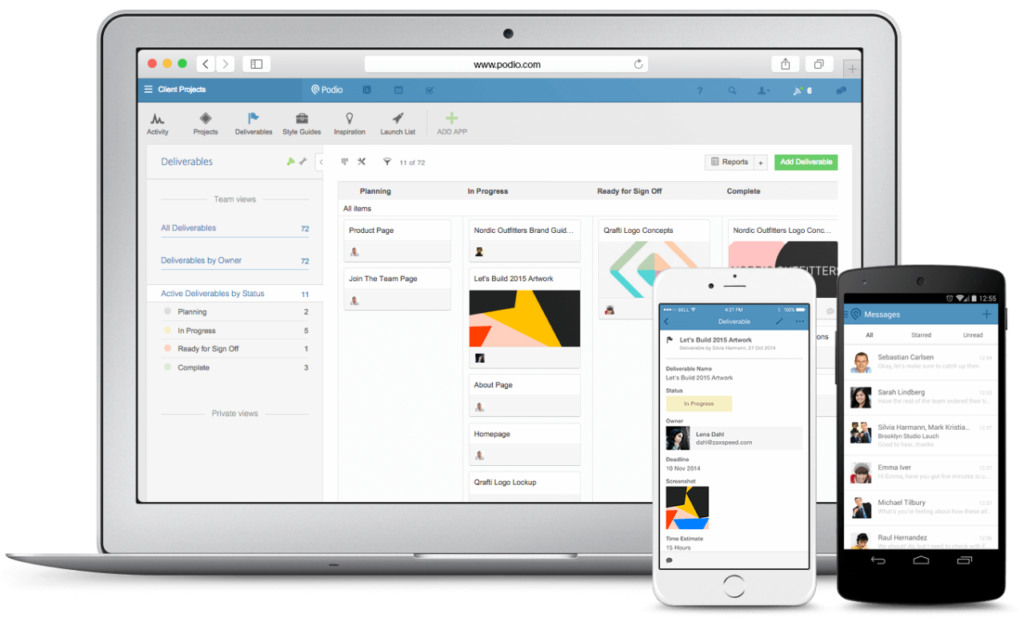 Key Features
Podio Apps.

Workspaces.

Communication & Online Meetings.

Integrated with Zendesk, Campaign Monitor, Evernote, FreshBooks.
Pricing
Podio gives you four packages to choose from; Free, Basic, Plus, and Enterprise. The basic package is US$ 7.20, plus US$ 11.20. For more information, visit click here.
Need an online solution for all your work-based issues? Get your hands on ProjectManager.com!
ProjectManager helps you to prepare, organize, and post your tasks online. You can quickly create calendars with deadlines and requirements, as well as drag-and-drop schedules.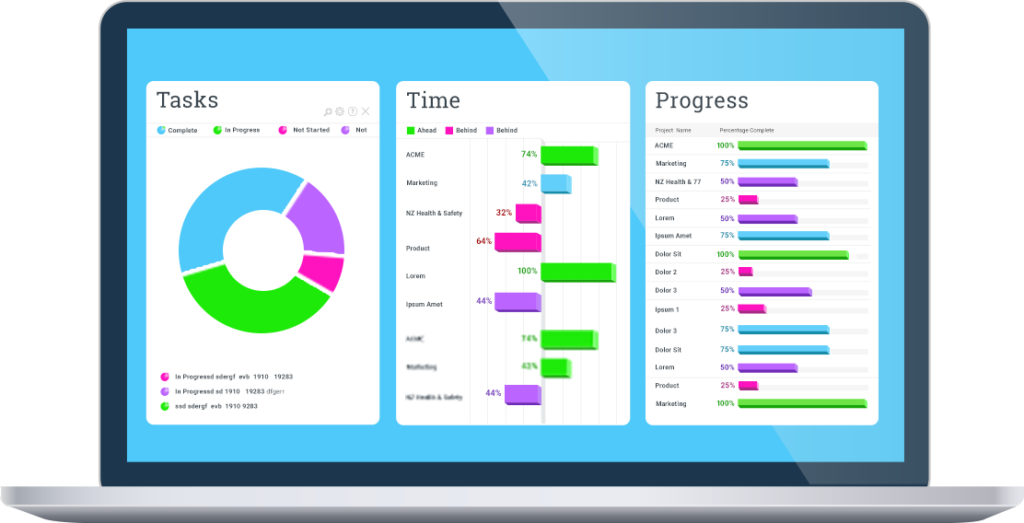 Key Features
Online planning tools.

Real-Time Project Dashboards.

Web-Based Task Management tools.

Manage Multiple Projects.

Online Timesheets.
Pricing
ProjectManager involves three pricing packages; Personal, Team, and Business. Personal is for US$ 15, and Team is for US$ 20. For more information, visit click here.
An all-in-one solution with heaps of capabilities allows the team to schedule, coordinate, organize, and execute tasks on time. ProofHub will enable you to schedule, imagine, and view project-related data in the most effective manner possible, as well as delegate assignments, share information, and ensure that your goals are met.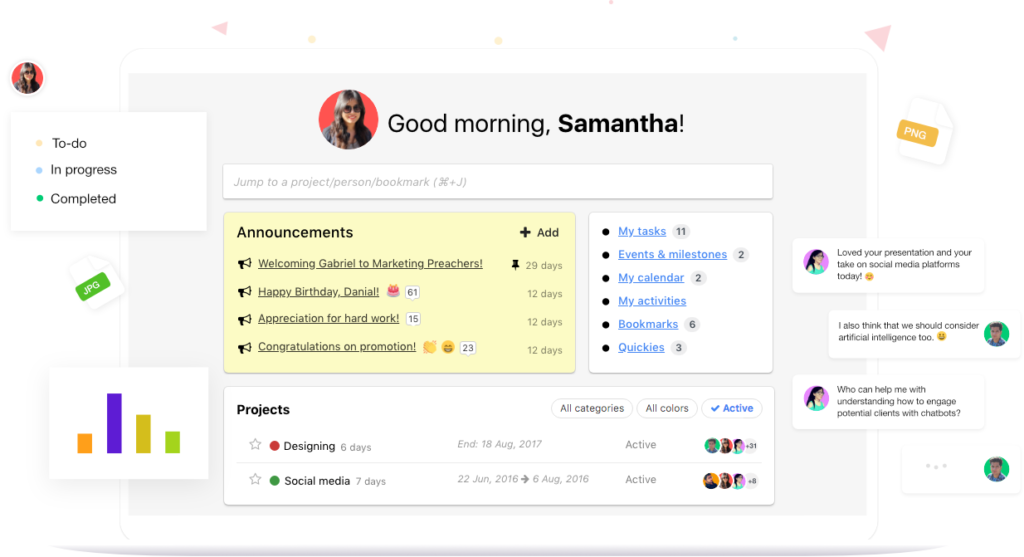 Key Features
Discussions.

Table View.

Custom Roles.

Proofing.

TimeSheets.

Integrated with API.
Pricing
ProofHub involves no per-user fee. It offers two pricing plans; Ultimate control and Essential. Ultimate control is for US$ 89, and Essential is for US$ 45. For more information, visit click here.
is a fantastic tool for planning and organizing tasks. You can quickly connect and filter projects in RedBooth through associates, deadlines, and labels. You may also use boards, work lists, and schedule views to show all of your tasks in the manner you want them to look, depending on your preparation needs and specifications.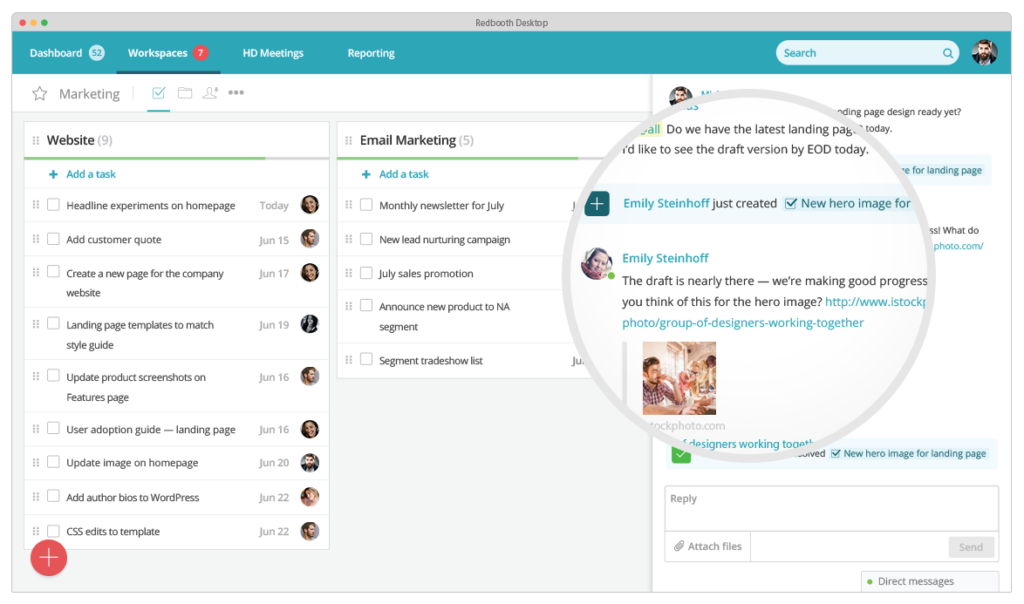 Key Features
Visual Projects with Timelines.

Detailed Productivity Reports.

HD Video Meetings.
Pricing
Redbooth ensures your affordability in their pricing plans and offers three different pricing plans; Pro, Business, and Enterprise. The Pro provides you service for US$ 9, and the Business package is for US$ 15. For more information, visit click here.
Scoro is an exclusive project management tool that includes real-time Gantt maps to help you get more done. When problems emerge in a project, Scoro highlights them and helps you to make fast and simple choices on how to proceed.
Scoro helps you eliminate manual changes and mitigate double-bookings by including a comprehensive set of automation features.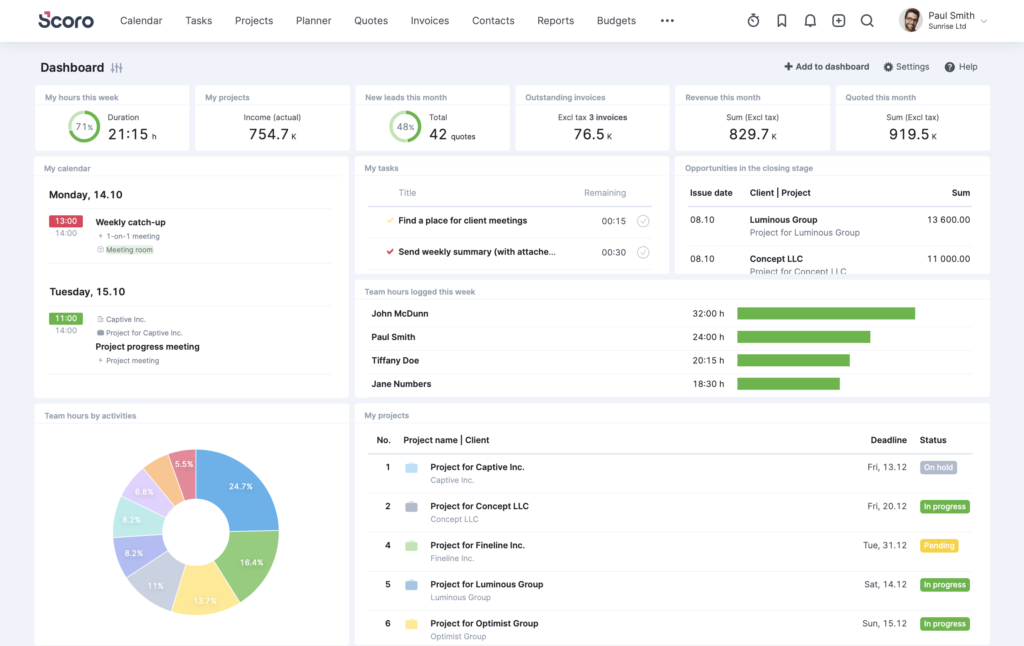 Key Features
Time Management.

Project Management.

Sales & CRM.

Finances.
Pricing
Scoro offers you four different packages of pricing; Essential, Work Hub, Sales Hub, and Ultimate. Essential offers you service for US$ 26 and Work Hub for US$ 37. For more information, visit click here.
Smartsheet offers a versatile project management solution that consolidates and simplifies teamwork, business processes, and web development. It brings together various resources in one place, allowing you to complete tasks with only one piece of software.
Making the switch among grid, card, Gantt, and calendar views in Smartsheet allows you to imagine data in the best possible way.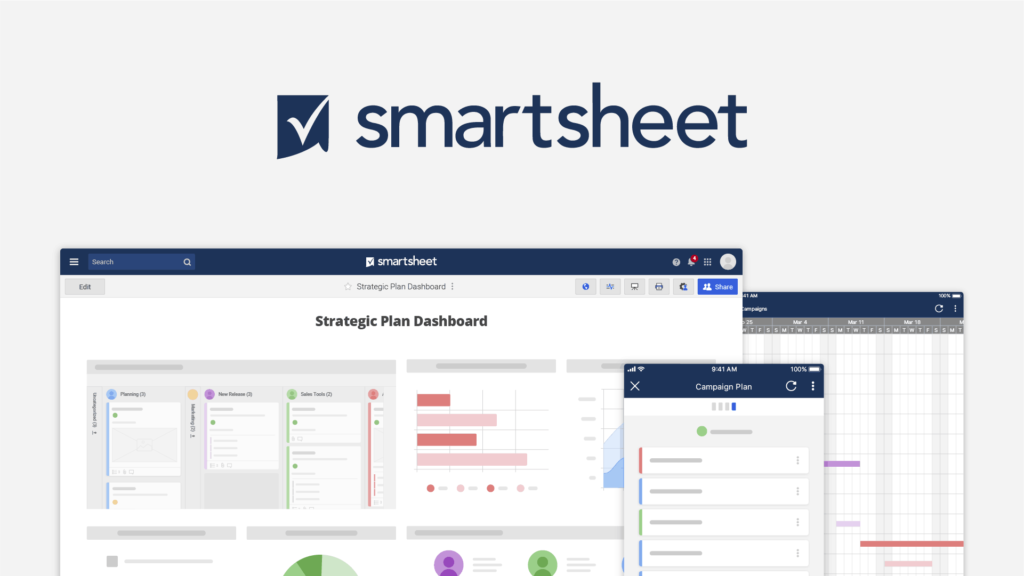 Key Features
Admin Center.

Automation.

Content Collaboration.

Integrated with Slack.
Pricing
Smartsheet allows you to choose from two pricing plans; Enterprise and Premier. For more information, visit click here. 
Trello is an amazing software for managing projects. It lets you get connected with your team in different locations, which enables you to work remotely. It mitigates ambiguity regarding the tasks as all the tasks are explained in detail with the cards' help.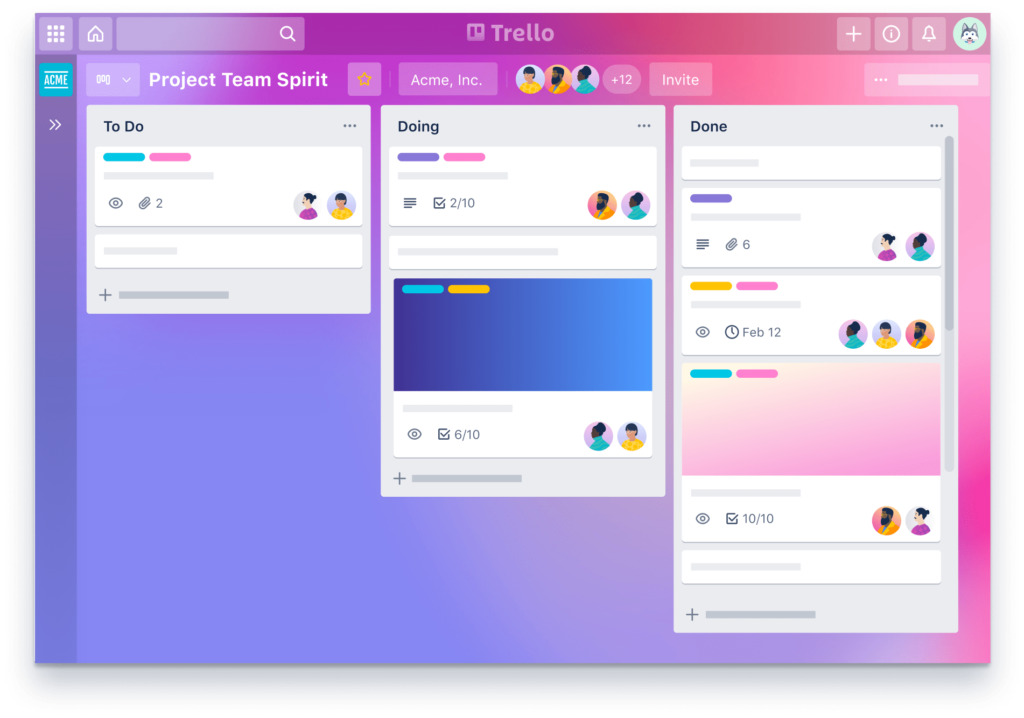 Key Features
No Code Automation.

Slack Integrated.
Pricing
You can get started with it through the free plan offer or go for business class. These are the best plans for freelancers. For the Enterprise plan information, visit click here.
TeamGantt helps you to make comprehensive project planning by putting the Gantt map in the cloud. You can use the Gantt map app to prepare, organize, and monitor your tasks. Also, you can construct a Gantt chart quickly using the drag and drop function.
Key Features
Drag and Drop Simplicity.

See all your projects on one screen.

Workloads & Team availability.

Easy Collaboration & Organization.
Pricing
It offers three different plans; Free, Standard Plan & Advanced plan. The standard plan allows you to unlock more upgraded features to use, and it is for US$ 24. The advanced plan allows you to use the best features, and it is for US$ 29. For more information, visit click here.
It is a company integrated with Adobe providing the company with innovative, simple preparation software. Workfront Scenario Planner provides you with ongoing preparation tools that help you create various what-if situations, analyze each, and form an opinion depending on the projected consequences.
I
f your goals shift, you can make simple changes to your schedule despite disrupting your present job. Furthermore, Workfront keeps you up to date on the status of each task.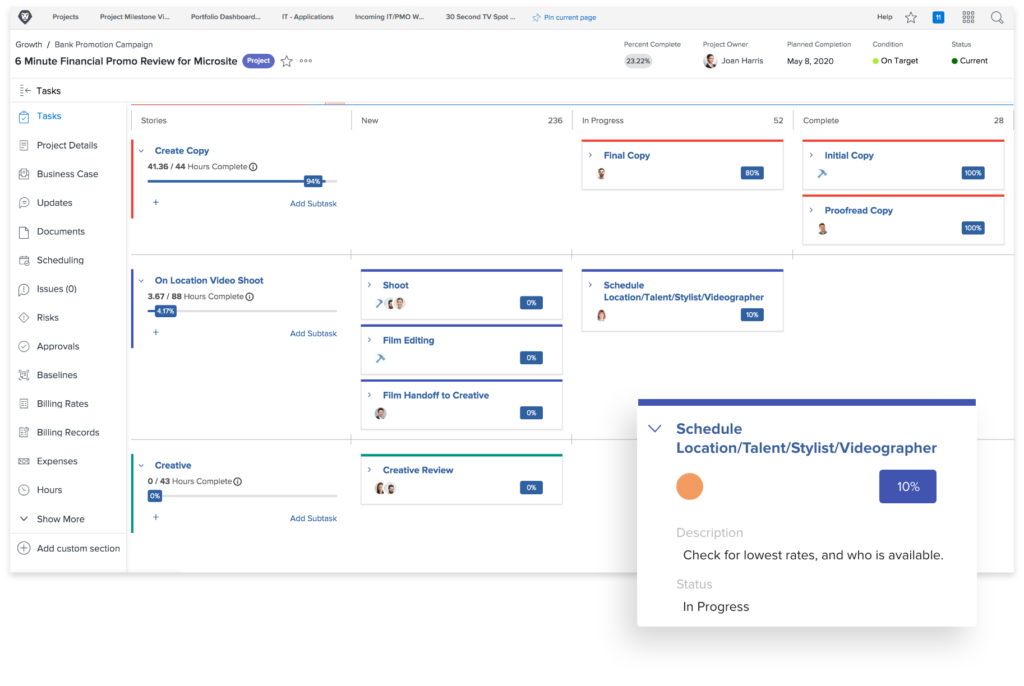 Key Features
Project Management.

Resource Management.

Digital Collaboration.

Portfolio Planning.

Strategic Planning.
Pricing
Workfront allows you to use three pricing plans; Enterprise, Business, and Pro. For more information, visit click here.
Workzone is a project management platform with a strong focus on teamwork. You will schedule your tasks and get a better idea of how your project management priorities can stack up with Workzone. You'll also be capable of identifying certain roadblocks and making appropriate adjustments.
Workzone began as a project and resource management platform for advertisers to better organize their campaigns and coordinate with other teams.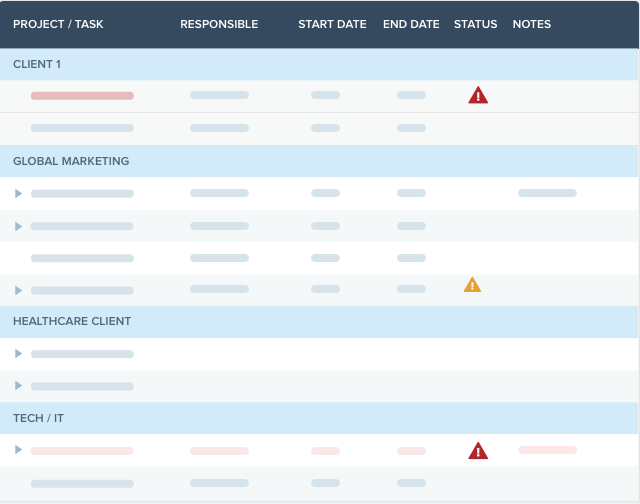 Key Features
Project Dashboard.

Status Alerts.

Project Templates.

Secure File Sharing.

Custom Branding.

File Versioning.
Pricing
It allows you to choose from three distinct pricing plans; Team, Professional, and Enterprise. The Team plan offers you service for US$ 24 and Professional for US$ 34. For more information, visit click here.
Wrike is a professional service and preparing platform that appeals to many groups in many sectors. Whatever the case could be, Wrike will help you optimize your flows, plan assignments, and see your strategic aims whether you work in marketing, creative, product creation, or as a full-time project manager.
Through Wrike's quick slide tools and user-friendly GUI, you can imagine your goals and plans with immersive Gantt graphs. Frameworks can also be used to accelerate tasks like event planning, service delivery, and staffing. This free project management software is suitable for small groups of up to five individuals.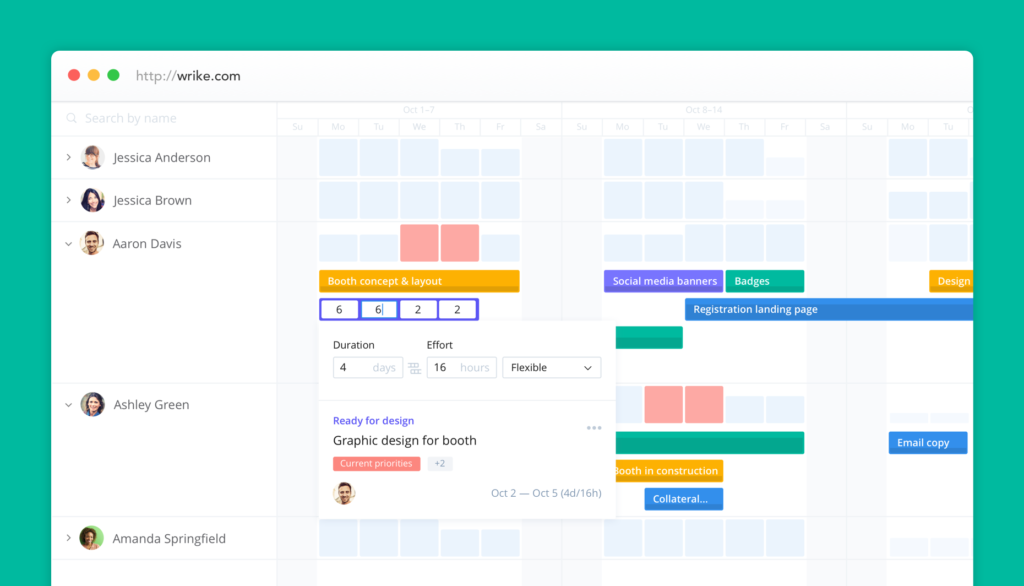 Key Features
Customize tools for any team.

Enable better collaboration.

Visual Proofing.

Asset Publication.

Share Team Calendar.
Pricing
This software tool offers you four pricing plans; Free, Professional, Business and Enterprise. The professional plan is for US$ 9.80, and Business US$ 24.80. For more information, visit click here.
Zoho Projects is a software approach for project management that enables you to schedule tasks, keep productivity high, and interact with all of your teammates, regardless of where they are located.
Not only does Zoho Projects assist you in organizing your operations with useful Gantt graphs and other planning resources, but it also tells you how your current success compares to your original plans.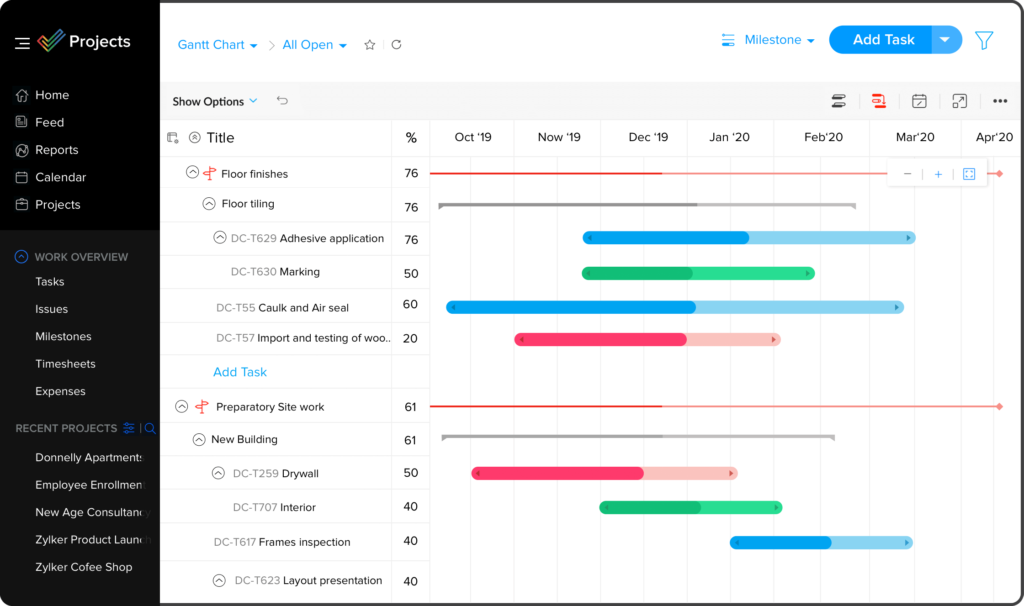 Key Features
Task Management.

Task Automation.

Time Tracking.

Charts & Reporting.

Issue Tracking & SLA.

Slack Integrated.
Pricing
Zoho allows you to choose from their three different pricing plans; Free, Premium, and Enterprise. The premium is US$ 5, and the enterprise is US$ 10. For more information, visit click here.
6 Tips On Structuring Project Planning
Now that you're aware of the 28+ best project planning software and tools let's equip you with the 6 essentials tips on acing every project.
1. Show Initiation
To start with project planning, you need to dig deep to form an initiative. The initial process is crucial; it is where you can generate ideas from internal and external sources. Internal factors, such as new product development, or external factors, such as a consumer order.
At the time of the initial phase, you can identify the criteria and desired results and weigh the benefits and drawbacks of various options. To develop the initial concepts for a project, strategic plans will help you figure out and balance your goals. The central concept is to gather ideas and form alternatives.
After figuring out, you can organize or rank the best possible ideas that you think are realistic and approachable.
2. Create SMART Goals
When priorities and performance metrics are outlined, a comprehensive work plan is developed, deadlines are added, tasks and duties are assigned, and the financial plan is calculated during the planning process. In balancing all of these complicated activities at this stage, the preparation tools previously mentioned are needed.
To start your SMART goals, you need to rank the alternative ideas according to their functionality. To make an effective goal, you need to identify stakeholders' interests, scope, quality benchmark, expected results, benchmarks, performance metrics, and project parameters. 
3. Get Your Project Plans Reviewed and Approved
While planning software is essential, it isn't always the only tool you use during project planning. Online proofing tools like GoVisually makes it simple to share the proposals with all stakeholders. Stakeholders can quickly provide reviews or support the ideas with only a single press.
4. Executing the Strategy
While executing your planned strategy, you must make sure to go through it first and check for any errors. That is how you will see if your system is working or if it needs to be corrected.
For example, if you believe any documentation needs to be modified, software like GoVisually will help you speed up the process. It is always crucial to check for errors to implement your strategy well to get the desirable results. 
5. Monitor Your Progress
Monitoring solutions must be used before the actual project to ensure that your objectives are being completed. Moreover, you can get an idea from the above page about the software features that include monitoring projects' progress. This enables you to be up-to-date to mitigate any ambiguity from delivering the project on time.
This process takes place concurrently with the project implementation phase. The project's progress and success measurements are tracked to ensure that the project stays on track.
6. Sign-off the Project
When the project is completed, you can build a worksheet to complete the project to keep the records, write the closing review, and apply what you've discovered on another project. 
However, do bear in mind that the utmost crucial aspect to note is that project planning should not be hurried. Plan preparation requires a while until done correctly. And it's worth trying to make it right; however, if you don't, you'll have trouble later as it will get confusing if you don't plan out well, and then it will become very tedious work to finish.
You'll have a better chance of succeeding if you prepare well. It gives you the peace of mind that all of the procedures, resources, and programs are to achieve the best possible outcome. 
Key Takeaway
Planning tools can aid the planning process, and evaluation and monitoring software can optimize teamwork and increase yields. You can take help from the tools and software mentioned above for planning a practical project that will meet all your needs and help you achieve success.
Hopefully, this will guide you in your best interest. Good luck!