Building a highly collaborative remote marketing team can become your hell if you don't do it right.
Without the physical presence of team members, it becomes hard to maintain consistency and inspiration. However, there are ways that you can employ to ensure that you build a great remote marketing team and retain their progress.
These tactics include basic strategies like monitoring their progress, dropping a follow-up, setting deadlines, and regular meetings.
Luckily for you, we will discuss the top 12 methods today.
So, keep reading to find out!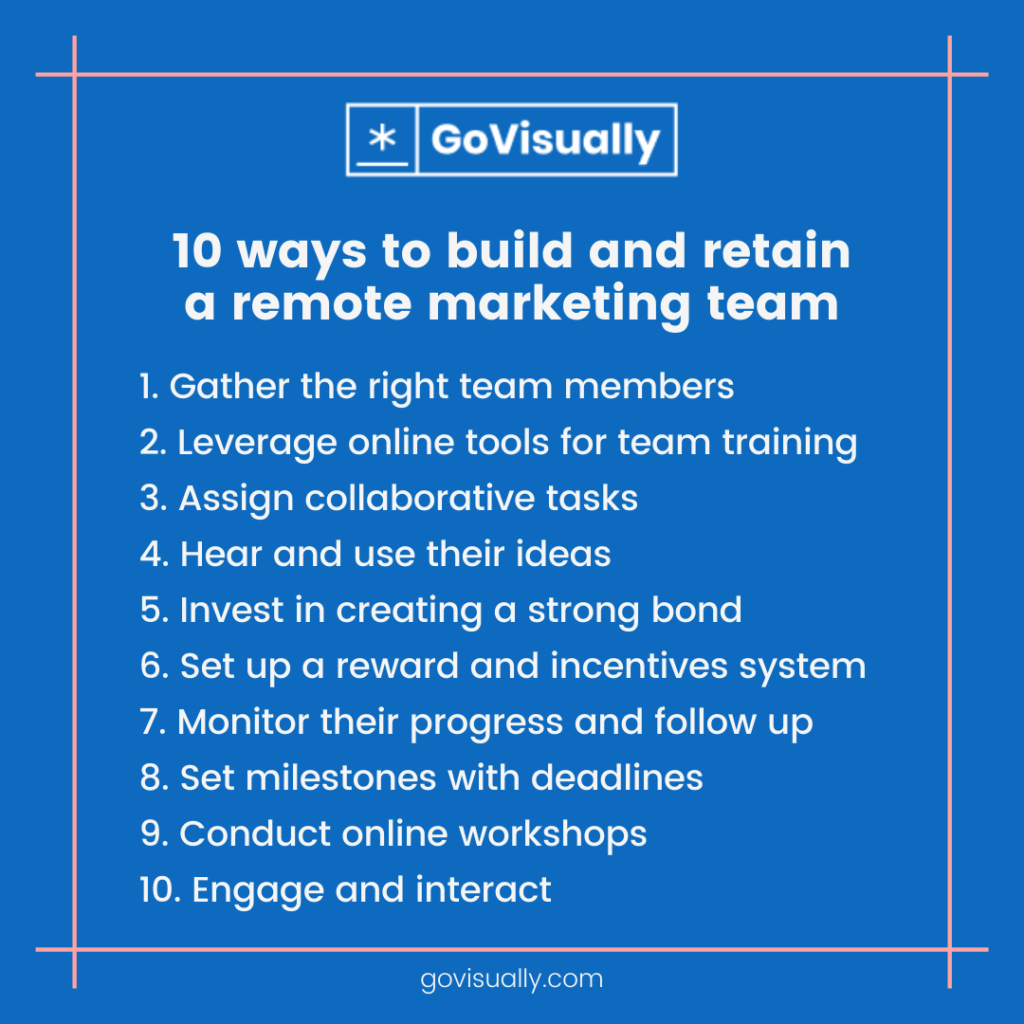 1. Gather the right team members
First of all, you need the right people or candidates for building a team. Suppose you hire team members with no potential in the marketing field, then it would be a waste of time and effort. So it's essential to hire people with a similar mindset as you require for the position.
Moreover, you need to understand which expertise you need to run your marketing campaigns. That's why initially, you should hunt for potential team members by filtering specific expertise.
You can search for good candidates using online platforms as well. The most popular ones include:
LinkedIn

Indeed

Glassdoor

Upwork

Fiverr

Instagram
It's important to remember that recognition motivates employees more. It also helps improve their competency. So ensure that you recognize their dedication when they do a good job. 
2. Leverage online tools for team training
When you finally have gathered team members in the desired fields, training them is next. This can be done through online orientation or training programs. And you can conduct those training activities with the help of various online tools like Google Meet, Telegram, Zoom, or Microsoft Teams. 
During your training program, you can help the team members gauge and acknowledge how your marketing agency performs or gathers tasks and how to deliver them using tools. These tools have screen-sharing options with several other valuable features that can help the training become more comprehensive for the team members. And you can further discuss those tools as per your requirements.
However, the one that we love and has proven to cut your work time by half is GoVisually – the #1 proofing software. Marketing teams use GoVisually for internal and external proofing needs as it mitigates lengthy approval processes by bringing all stakeholders to a centralized platform.
Cut design & video review time in half
GoVisually is the #1 online proofing software to get visual feedback on Designs, PDFs & Video content.
Try GoVisually free today!
3. Assign collaborative tasks 
Now that you have done everything to gather a team that includes offshore team members, what can you do about making them highly collaborative? All members need to collaboratively discuss and brainstorm ideas, strategies, goals, and more in a marketing team. And that's why you need your team to be after the same mission. 
So, you can assign them the same tasks to work on. You can further break your group into teams of two or three team members to work on the same projects by breaking the tasks into milestones. When you do that, the team members will be motivated to communicate more, eventually increasing productivity. 
4. Hear and use their ideas
What else can you do to make your team members involved and collaborative? You can use the autonomy strategy to make them feel more important to the team. And you can ensure that by allowing each team member to share ideas and discuss strategies for meeting the goals. 
For example, plan weekly workshops or meetings where all team members solely work on improving your marketing agency's presence. All team members can come together on a video chat through any tools mentioned above, like Google Meet, and showcase their presentation through screen share. 
And discuss the ideas and strategies. Now it's on you to take those efforts and use them to show your team members that they are not merely a part of the team but pillars to the substantial of your marketing agency. 
5. Invest in creating a strong bond
Another idea to make your team members more collaborative is to engage them where they have developed a strong emotional bond with the agency and among team members. It can be tricky to achieve, especially when the team is remote.
So, you need to develop plans to gather your employees on the same platform once every week to share ideas, communicate more about various aspects, and share a laugh. 
6. Set up a reward and incentives system
Do you know that 85% of employees and team members feel more satisfied and motivated to perform tasks when rewarded? And that's exactly what we will talk about in this section. Rewarding your team members will encourage them to showcase their best skills and perform even better to maintain the title of recognition. 
And since gamification is introduced, the rewarding remote team has become easier than ever. You can use gamification to reward your team members whenever they perform well or achieve milestones effectively. For example:
Support appraisals.

Offer commissions.

Offer them reward badges and scores. 

Give team member of the month award. 

Assign them as project leaders. 
7. Monitor their progress and follow up when needed
Whether you have gathered and maintained a team of professionals, you need to watch if they are performing as instructed and within the time they have been assigned to do. Although monitoring the team's performance online could be challenging, the availability of project management tools has made it more accessible. 
Some of the most popular and widely used project management tools include:
Trello

Asana

ClickUp

Jira Software

Monday.com
These tools help you monitor work, active time, review the work, drop feedback, and edit simultaneously.
Although you can monitor the performance of team members through online tools, the follow-up will alert them more if they are hibernating. With that being said, no matter how many professionals you gather in a team, there comes a time when you have to pull out a strict strategy to make them more productive and effective.
If you see your team members' performance taking a downturn or they are being more elusive with the projects, then it's time that you step in and drop consistent follow-ups so that they stay alert to perform their tasks as instructed. 
8. Set milestones with achievable deadlines
As a team manager, you must be well aware that no team member will take an interest in completing the tasks on time without setting a due date and time. The next thing we will talk about is to set up milestones with deadlines to keep your team members hinged on performing the tasks effectively.
You can start this by setting an editorial calendar or content strategy every month, setting updated times for the specific project, and assigning a particular team member to perform that task. 
This way, you can wipe out or minimize the hassle of managing or assigning tasks to your team members at the last moment. They will have a vision from the start of the month to plan and organize their time accordingly to finish the tasks on time. 
9. Conduct online workshops
I can not stress this enough – workshops are an extremely valuable part of training your team members. Even as a marketing agency, you cannot stick to one plan and a few skills that your team members follow. There's an ongoing competition, and competitors are looking for better solutions for making their teams solid and ahead of the competition. 
That's why you also need to focus on building and improving your team member's skills. Also, you need to improve the existing practices to fit in or be ahead of your competition. And you can do that with the help of workshops. In workshops, you can introduce the following things to help your team members learn more:
Introduce a strategy.

Help your team members learn it.

Analyze what competitors are after.

Analyze the market gaps. 

Reform existing strategies

Use more tools to increase productivity.
10. Engage and interact
Communication is the bond creator and the wrecker. 
Communication is a measure that helps create a bond and collaboration, but it can fire back if not done appropriately, especially remotely. It depends on you how you take the approach. You cannot stay on the video chat with your team members throughout the day, and the written messages can be misunderstood if the team members are not aware of the purpose. 
So, it would help if you communicated and discussed essential matters on a video chat. Moreover, you can also use Slack to send updates, drop follow-ups, mark the attendance, send alerts, etc. However, avoid using it for discussing critical matters since it could create ambiguity among the team members. 
Ready to take your remote marketing team to the next level?
We know it requires more effort and attention to build a remote marketing team, but it can be the most productive and effective dream team if you manage, organize, plan, and lead accordingly.
Remember, the most important element is to inspire their creativity towards the work and get them excited. If you achieve that point where all your team members are connected to your marketing strategies, then the rest settles on its own.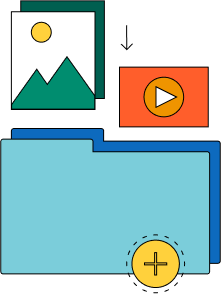 Need a quick way to share large files and creative assets?
With GoVisually Share, it's absolutely free! Try today.