Remote teams are an essential part of the modern workplace.
Maintaining effective communication between team members is a constant challenge in the increasingly prevalent remote work landscape. Whether you're managing a startup or a thriving company, knowing the best way to get your message across in a global environment is key to success. 
With a high-quality camera, microphone, and video conferencing software, video can help to cultivate relationships and boost productivity. Communication is more efficient, feedback is faster, and remote workers feel more connected to their team. In this article, find out how remote teams can use videos to stay productive!
What can video conferencing do? 
Video conferencing can be a great way to enhance remote work and virtual team building. It can help improve communication and collaboration and be used as a productivity planner to hold meetings and presentations.  
Here are some tips on how to use video conferencing to enhance remote work:
Ensure everyone knows the video conferencing capabilities and how to access and use the video conferencing software.

Schedule regular video conferences. Use video conferencing for regular check-ins, virtual team meetings, and presentations. This will help to keep everyone on the same page and improve communication.

Take advantage of screen sharing. Screen sharing can be a great way to collaborate on projects or share documents and presentations. It can also be used for training or webinars.

Use video conferencing for social events. Just because you're working remotely doesn't mean you can't have some fun! Use video conferencing for social events like happy hours or game nights.
Cut design & video review time in half
GoVisually is the #1 online proofing software to get visual feedback on Designs, PDFs & Video content.
Try GoVisually free today!
How to use video to enhance remote work?
Video conferencing allows you to stay connected with your team and work on projects together – even when you're not in the same location.
Many different video conferencing platforms are available, each with its own features. To find the right platform for your needs, consider your budget, the number of participants you need to support, and the meeting you'll be holding.
Once you've selected a platform, setting up a video conference is easy. Create a meeting invite and send it to your participants. When it's time for the meeting, click the link to join the call.
You can use the platform's features during the meeting to enhance your remote work experience. For example, most platforms allow you to share your screen so that everyone can see what you're working on. You can also use chat features to type out messages or questions during the call. 
Here are some tips on how to use video conferencing to enhance remote work:
1. Onboarding talent
Video can be an invaluable tool for onboarding new team members. By creating short, engaging videos introducing new hires to the company culture and their fellow team members, you can help remote workers feel like they're part of the team from day one.
Here are a few ideas for using video to onboard new remote team members:
Create a company culture video that gives new hires a taste of what it's like to work at your company. Include footage of employees working remotely, socializing, and collaborating.

Make introductions via video so that new team members can put faces to their names and start to build relationships with their colleagues. Have each team member record saying something about themselves and their role on the team.

Use video conferencing to hold virtual meetings and orientations, so new hires get a feel for how your team communicates and collaborates online.

Ask current employees to create short welcome videos for new hires, sharing advice and tips for productivity and success when working remotely.

Use screen recording software to create helpful tutorial videos for new remote employees, walking them through common tasks and procedures step-by-step.
2. To engage remote team members and provide regular updates
Assuming your team is already using some video conferencing software to stay in touch and collaborate on projects, there are several ways you can use videos to keep everyone engaged and productive.
For example, you can start or end each day with a quick team huddle where everyone gives a brief update on their work. This helps everyone stay informed and allows people to give and receive feedback and input from their colleagues.
You can also use videos for more informal check-ins throughout the day. These can be used to share successes, ask for help, or socialize and build morale. And since they're shorter and less formal than meetings, they won't interfere with people's workflows much.
Finally, you can use video content to create educational or training materials for your team. This can be anything from recorded "how-to" videos to presentations from guest speakers. Regularly sharing this kind of content will help keep your team up-to-date on new developments in their field and improve their skill sets.
3. Peer learning & innovation
There's no doubt that video conferencing has become a staple for remote teams. But did you know that you can use video in other ways to stay productive and connected?
Here are some ideas:
Use the video for peer learning. Schedule regular times for your team to get together and share what they've been working on. This is a great way to keep everyone up-to-date on projects, get feedback and ideas, and troubleshoot any problems.

Use the video for innovation sessions. Set aside time each week or month for your team to brainstorm new ideas and solutions to problems. This is a great way to generate creative solutions and keep your team thinking outside the box.

 Use the video for remote team-building activities. Schedule regular social times for your team to connect on a personal level. This can be anything from coffee chat sessions to happy hours or virtual game nights. It's important to make time for these activities so that your team feels connected and bonded, even if you're not in the same location.
4. Use screen sharing to give presentations or demos.
There are a few different ways to use video conferencing for presentations or demos. One is to share your screen with the other meeting members simply. This can be done with most video conferencing software, and it's a great way to show slideshows or give a demonstration of something on your computer.
Another option is to use a whiteboard or virtual canvas. This can be a great way to brainstorm ideas or collaborate on a project in real time. Many video conferencing software programs have whiteboard features built-in or a separate online whiteboard tool like Mural or Google Jamboard.
Finally, you can also record your presentation or demo ahead of time and share it with the team via video conferencing. This can be helpful if you want to ensure that everyone views the same screen at the same time or if you're not available to meet in person. You can record your presentation using screen recording software like Screencastify, QuickTime Player, or Camtasia Studio.
5. Record videos instead of sending long e-mails
Recorded videos are a great alternative to long e-mails when communicating with team members. They allow you to quickly and easily convey your message without requiring lengthy written explanations. Plus, team members can watch the video at their convenience, saving everyone a lot of time.
There are many different ways to record videos, such as using your computer's built-in camera, webcam, or smartphone. Once you've recorded your video, you can upload it to a file-sharing service like Google Drive or Dropbox and then share the link with your team members.
If you're unsure where to start, try recording a quick video introduction for your team or giving a virtual tour of your workspace. You can also use video to give presentations or demonstrations, provide training materials, or share customer testimonials. The possibilities are endless – so get creative!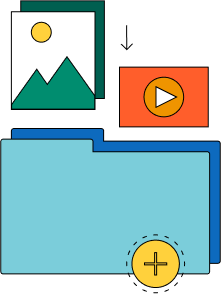 Need a quick way to share large files and creative assets?
With GoVisually Share, it's absolutely free! Try today.
6. Use video to give feedback to your team. 
Feedback is an important part of being a leader and even more important when managing remote teams. Video is a great way to give feedback because it allows you to see body language and facial expressions, which can help you understand how your team members feel.
There are a few different ways that you can use video to give feedback to your team members. One way is to record a short video message and send it to them via email or a chat program. This can be helpful if you want to provide specific feedback on a project or task.
Another way to use video for giving feedback is to hold regular video meetings. These can be used for general check-ins or in-depth discussions about specific projects. During the meeting, you can provide feedback and answer any questions team members may have.
Video conferencing is a great way to stay connected with your remote team members and ensure everyone is on the same page. Using video to give feedback can help your team stay productive and focused on their work.
Blazing-fast video reviews that work great for remote teams!
Is your remote team struggling to stay productive and connected?
GoVisually is here to help!
We're the leading video proofing tool that allows remote teams to collaborate easily on video projects, regardless of their location.
With GoVisually, you can leave comments directly on the video timeline so everyone knows exactly what needs to be changed. You can even compare versions and add visual annotations to point out specific issues, like arrows and shapes.
What's more, our platform integrates with all the major video editing software, including Adobe CC. So you can streamline your video review process across all the apps you use – no more app-switching anxiety!
There are no limitations to sharing real-time feedback with GoVisually.
Whether you're working on a marketing campaign video, an explainer animation, or anything in between, GoVisually is great for every creative review process.