Sitting in the comfort of your home, sipping from a big cup of iced coffee, setting your work schedule, and working in an environment with no stress and disruption sounded like a dream a few years ago. Now, this dream has turned into reality for many people. 
With the onset of the recent trend for remote work, more businesses are shifting to remote or hybrid work models. And that is where remote work tools come in.
They help streamline your work, workflow, meetings, and everything that comes in between. More importantly, it helps remote workers to balance their tasks easily while also catering to personal life.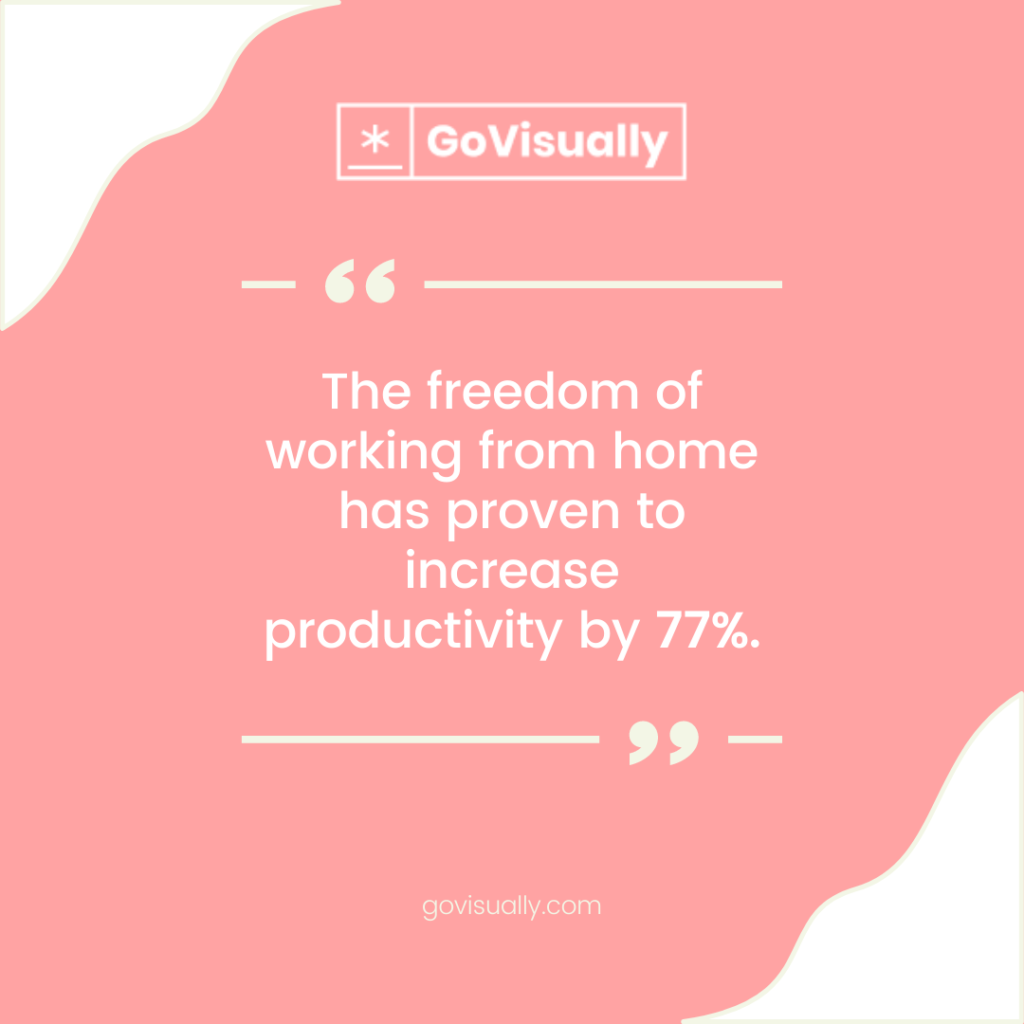 So, whether it is a remote or hybrid model, the company also saves a lot of money that would otherwise be spent on rent, bills, and other utilities. Making it a win-win situation for all the parties involved.
However, working in a remote environment does not come without challenges, especially if you manage a remote team.
You need the best remote work tools to level up your game, whether keeping track of deadlines or collaborating effectively with team members. 
And today, we're going to enlist the top 20 remote work tools you need to manage and grow your team. 
What are remote work tools?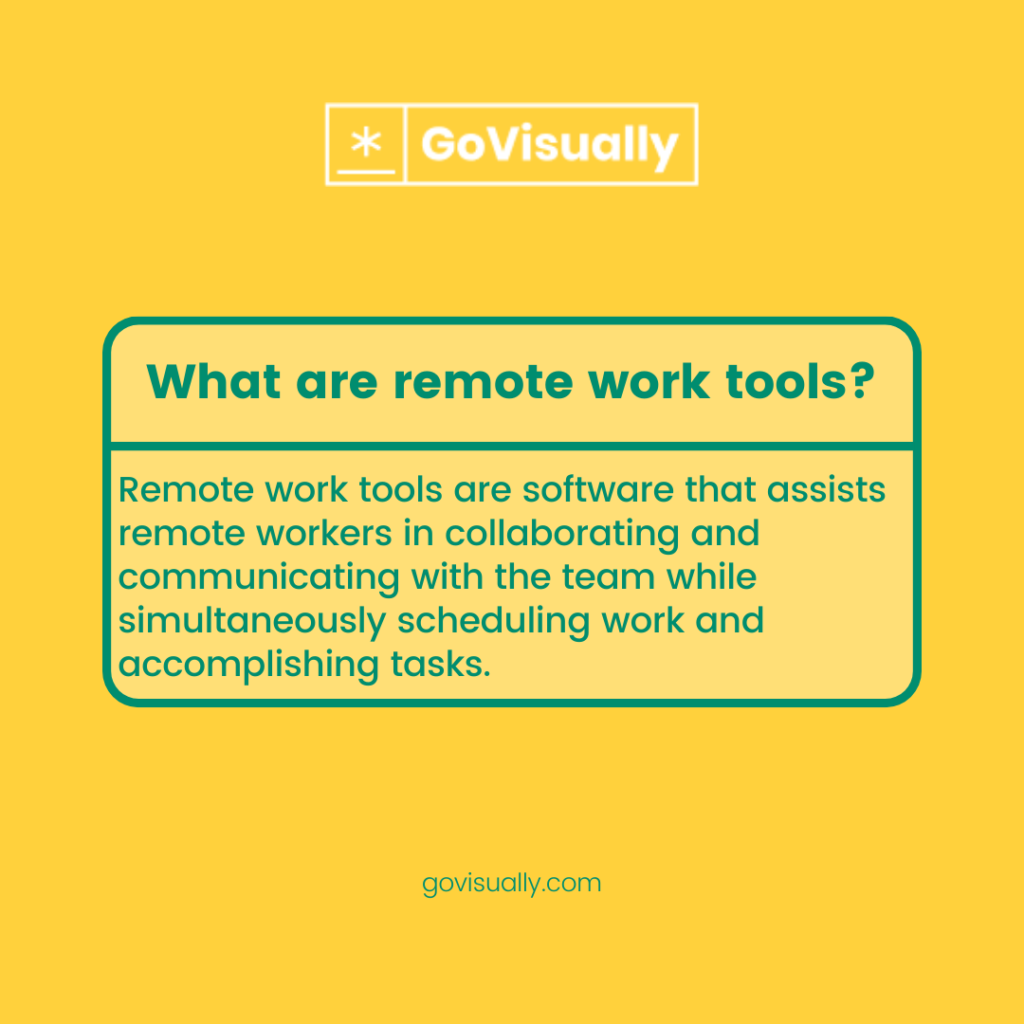 Remote work tools are software and applications that assist remote workers in collaborating and communicating effectively with the team members while simultaneously scheduling work and accomplishing tasks.
These digital tools let workers stay connected with their managers and coworkers at every step of the work, regardless of their locations. 
Tools for remote work can range from simple time management software to custom digital workplaces to connect the entire team for a digitalized workplace experience.  
Why do you need remote work tools?
Do you find it overwhelming to stay on track with all the assigned tasks?
Maybe it is because there is no supervisor to physically keep a check on you that is making it hard for you to motivate yourself to work. 
Whether you are a freelancer or a remote employee, you might encounter many hurdles such as communication problems, meeting your deadlines, and effectively keeping track of all the tasks. Deadlines can get mixed up, and late submissions and negative client feedback are consequences of an unorganized and chaotic remote work environment. 
There are many tools to work remotely in the market to facilitate you. These remote work collaboration tools will help you stay at the top of your game and grow your business. 
However, the number of options in the market can feel overwhelming. 
Which tool should I choose? What is the best remote work tool for me? 
These questions might be knocking around in your head, so we have curated a list of the 20 best tools for remote work that can increase your productivity and make communication among team members easier!  
Collaboration and communication tools for remote teams
Team communication is essentially the most important part of the company. Remote working can bring forth various communication problems that can potentially waste resources, delay work, and risk your company of loss. Here are some remote work collaboration tools to keep you at the top of your game. 
1. GoVisually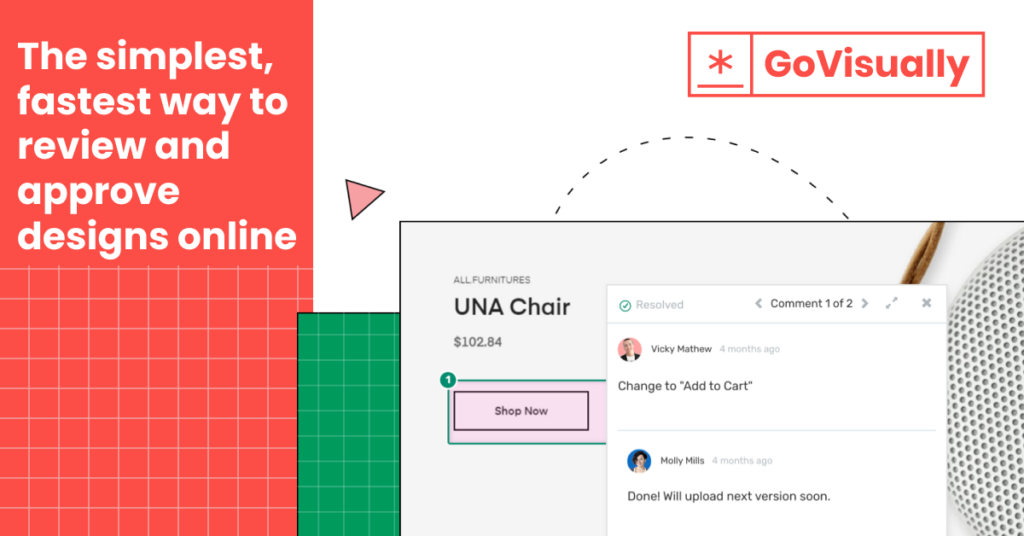 GoVisually is the #1 proofing software that simplifies all teams' review and approval process. 
It streamlines feedback collection by letting you provide visual feedback directly on PDF, designs, and video content to save you from the hassle of long email threads. 
Moreover, the reviewers can compare versions too and tag each other for specific requests. This solves the one problem that most feedback procedures have; not being able to pinpoint the changes. 
Top Features
GIF and video annotations

Client's approval system

Quick feedback

Sharing files easily

Deadlines tracker

Real-time updates
GoVisually offers a 7-day free trial to help you decide whether you want to sign up for long-term use. It also offers users two pricing plans: Solo and Team.
The Solo plan costs $20/month and is suitable for small businesses 

The Team plan

costs $50/month and is suitable for mid to large enterprises. 
2. Zoom
Creating a remote work collaboration tools list without mentioning Zoom would be impossible. Zoom was one of the fastest-growing apps in 2020 and 2021, with active meeting participants increasing by 2,900%. The easy-to-use and affordable applications are used for video, audio conferences, and meetings.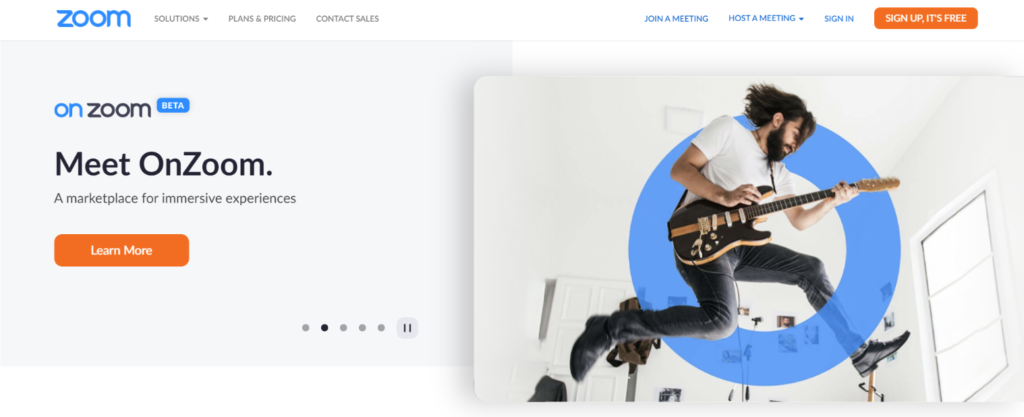 Zoom became one of the most used applications across various niches during the pandemic, including education, legal, accounting, and health. Over 90,000 schools used Zoom as a tool for education during the pandemic.
Zoom is equipped with a simple interface that allows the user to create a digitized conference room that can host up to 100 participants for free. 
It also allows users to create breakout rooms for individual collaboration among the team members. Zoom also gives the power to the host to either 'lock' the meeting room or allow anyone to join. It's become an ideal app to connect teams for work wherever they are. 
Top Features
Screen-sharing

Video call recording

Whiteboard

File sharing

Private messages
Zoom is available for free. However, it comes with a few restrictions. It also offers four pricing plans: Pro, Business, and Enterprise. 
The Pro plan costs $13.99 per month per host. 

The Business plan costs $18.99 per month per host, with a minimum of 10 hosts required.

The Enterprise plan is charged $18.99 per month per host, with a minimum of 100 hosts required.
3. Slack
Imagine Facebook Messenger BUT for work! That's what Slack is.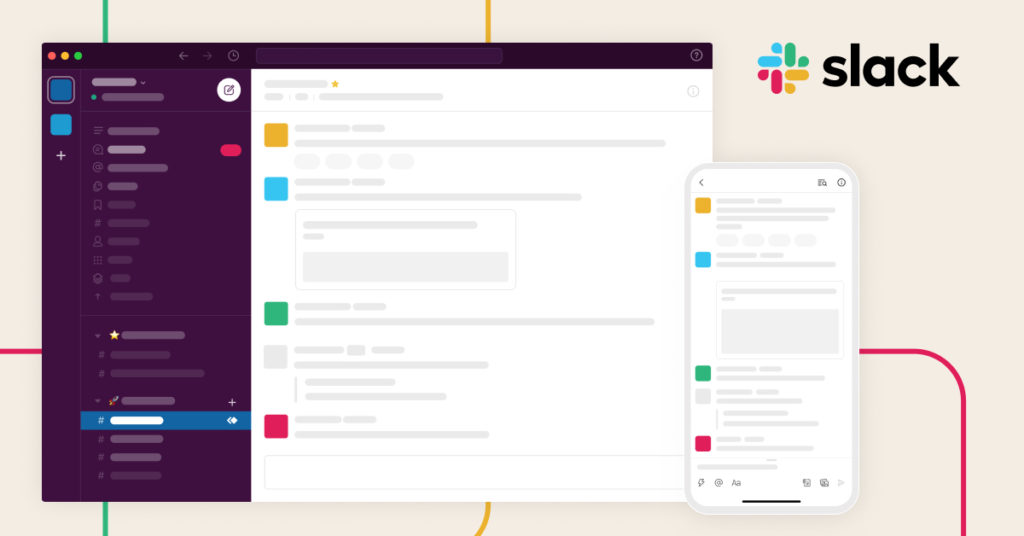 Slack is one of the most loved remote work collaboration tools. It's a real-time, instant messaging application with many features that effectively make one-on-one or group communication. 
Besides, Slack has integrated various other remote tools like Trello, Google Docs, Friday and Hive, etc. 
Top Features 
User-friendly chatting application

Enables users to create channels and threads to keep the chat organized

File sharing

Allows custom workplace
Slack offers a free program that comes with some limitations. However, the limitations are reduced with each of the plans. 
The Pro plan costs $6.67 per user per month.

The Business+ plan is offered at $12.50 per user per month.

You can also request an Enterprise plan.
Digital workplace for remote teams
Working remotely means downloading several apps to keep up with all the tasks. Keeping up and checking so many apps might start to feel overwhelming, so you should invest in a digital workplace. 
A digital workplace presents a comprehensive singular platform that is equipped with all the essential tools for remote work to enhance your productivity and maintain transparency among the team members.
4. Microsoft Teams
Microsoft Teams is one of the widely used digital workplaces and one of the best remote work tools that enable users to actively connect and collaborate with the other team members through video conferences and meetings.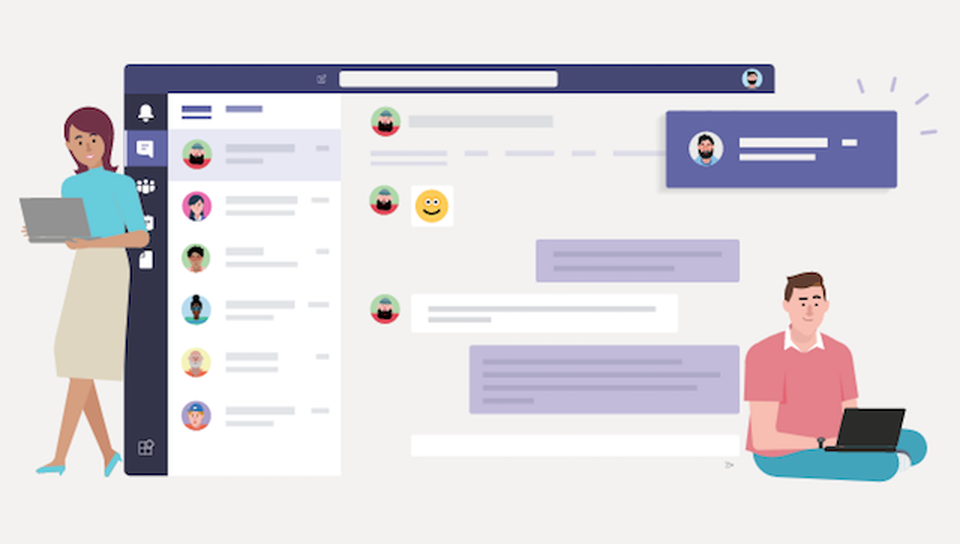 The dynamic online workplace is highly customizable and allows you to create teams where members can easily be assigned tasks, leave comments to get real-time updates, and be notified when the deadline is due. 
Top Features
Online video conferences

Screen sharing

Files sharing

Chat functions

Access control

Integration with other Microsoft Tools
The freemium version of Microsoft Teams is ideal for small businesses. It allows unlimited group meetings for up to 60 minutes and 100 participants per meeting. These, along with other limitations, are removed as you move towards the various pricing packages. 
The pricing plans are:
The essential plan is available for $4.00/user/month.

The business basic plan is available for $6.00/user/month.

Business Standard plan charges $12.50/user/month. 
5. Kissflow
Kissflow is an all-in-one cloud-based digital workplace that frees you from the trouble of going back and forth among various email threads by providing you with all the essentials at a unified platform.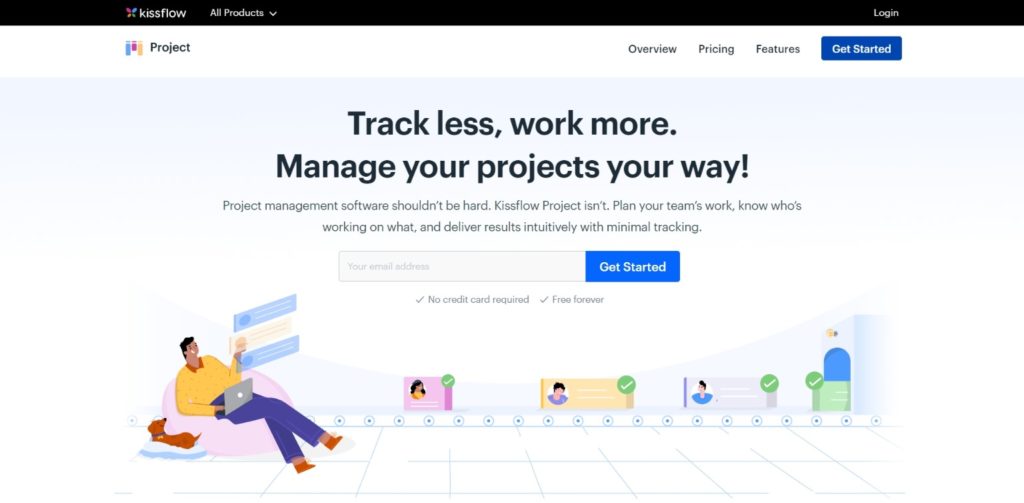 With a user-friendly interface that caters best to non-technical users, Kissflow is used to streamline work, automate processes, and create, assign and manage tasks. All in all, Kissflow helps in seamless communication and collaboration between teams. 
Top Features
Unlimited channels

Drag and drop 

No-code workflow

Access control

Quick tagging
Kissflow is not available for free. However, a free trial is available to take a test drive before making the final decision. The paid plan of Kissflow are:
The basic plan costs $10/month/user.

The advanced plan costs $9.90/month/user.

A fully loaded plan costs $19/month/user.

For Enterprise, contact Kissflow's sales team.
Project management tools for remote teams
A project management tool is one of the essential tools to work remotely for a team to enhance their productivity while maintaining transparency in the remote work environment. 
If you're constantly juggling multiple projects and deadlines and moving back and forth multiple email threads, you need to update to a smart project management tool.
6. Basecamp
Basecamp is one of the most flexible and intuitive projects management tools. The cloud-based software has earned popularity among business managers, team organizers, and remote workers for its easy-to-use, organized and efficient software that helps you seamlessly manage projects and communicate with the clients.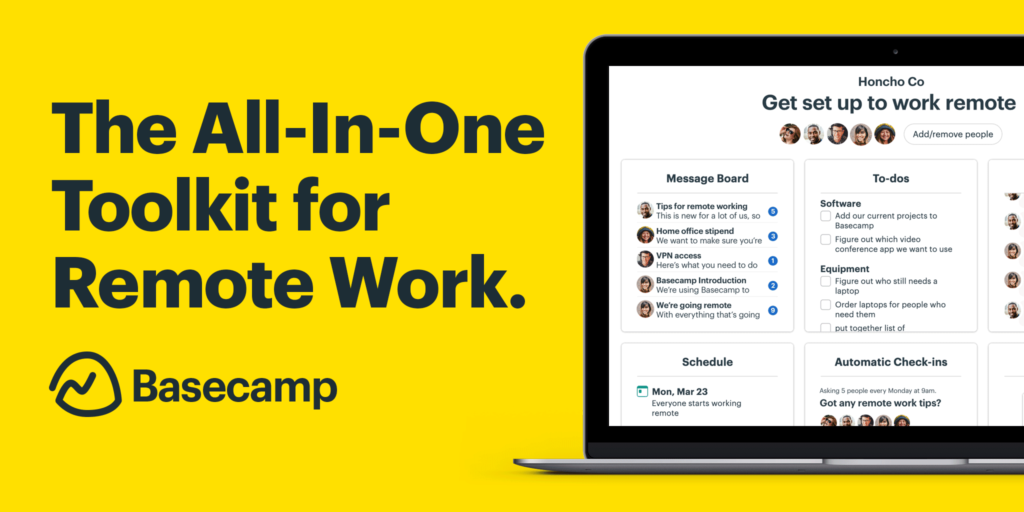 Basecamp effectively allows users to arrange and track work, schedule meetings, and use alerts and comments to view real-time updates, all in a singular platform. 
Top Features
To-do lists for work

Real-time group chat

Stores files and documents

Task scheduling

Message boards
Basecamp does not offer a free version. However, you can register for a free trial before selecting one of the pricing packages. Basecamp Business costs $99/month. 
7. Trello
Trello is one the most widely used visual remote work collaboration tools among small businesses. It creates a shared management space for seamless team collaboration in a fun, friendly, and flexible user interface.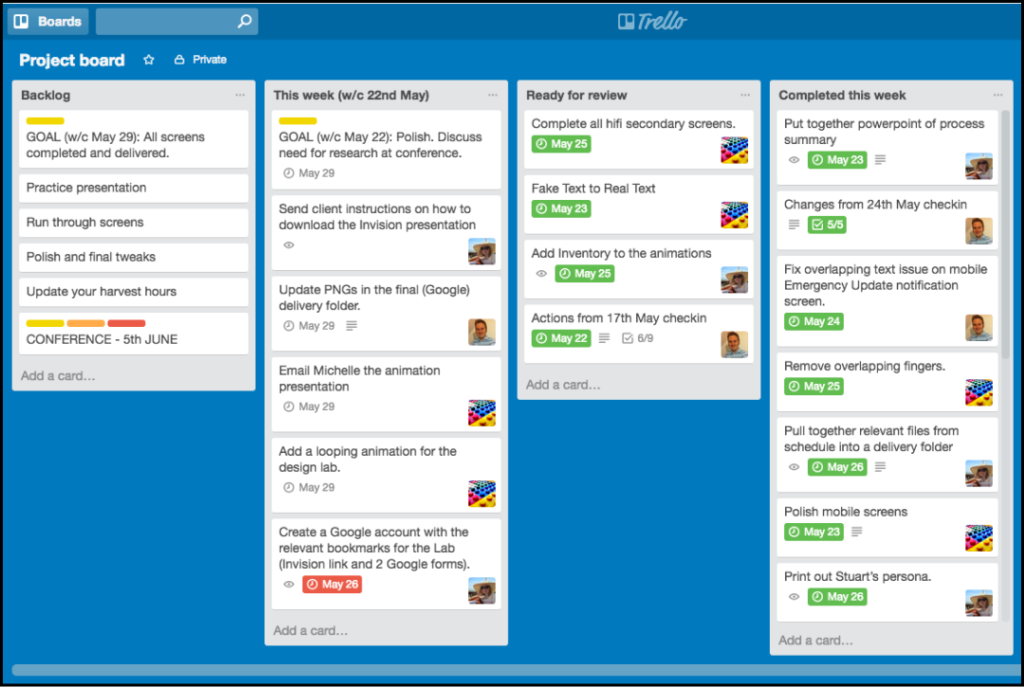 Trello is a Kanban board-based intuitive project management tool that enables users to create cards and organize them on different boards. 
Moreover, Trello empowers the teams by allowing them to prioritize the cards, label them, comment on them and visualize the task's progress through every step. 
Top Features
More than 100 integrations

Project management

Notifies due dates

Color coding

Files sharing

Real-time updates
Trello offers a free program that works best for small teams and individuals. Trello also offers paid plans: 
The standard package is available for $5 per month per user.  

The premium package is offered at $10 per month per user, Ideal for teams up to 100.

An enterprise plan is available for $17.50 per month per user, best for organizations with 100+ employees.
8. Asana
Starting as a list-based project management tool by one of Facebook's founders, Asana has now developed into a comprehensive task management tool used by creatives and teams from all over the globe.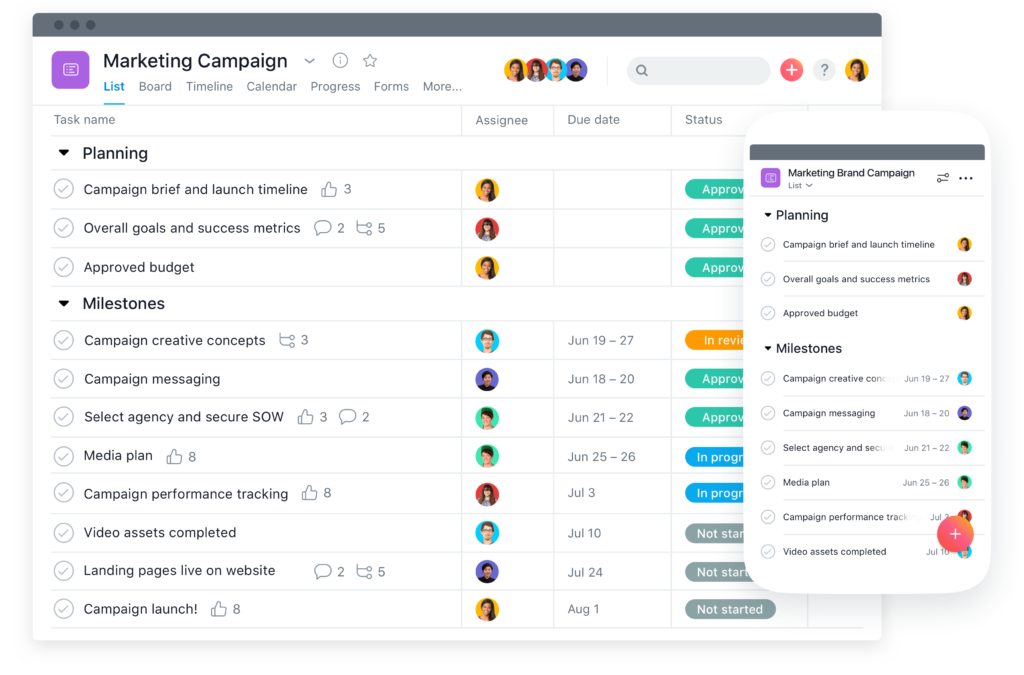 Asana enables users to create and assign tasks to specific team members and keep a check on the due date. It is a great communication tool to keep the tasks organized efficiently. It creates project boards and calendars, all of which can be accessed on a single dashboard.
Top Features
Project and tasks management

Assigns task to a particular team member

Tracks work

Custom templates

Cross index your tasks
Asana is free for individuals or small teams that allow collaboration among 15 team members. Asana pricing plans are also available in Premium, Business, and Enterprise. 
The premium package is available for $13.49 per user per month

The business package is available for $30.49 billed monthly

For the Enterprise package, contact Asana's customer service. 
Software for cloud storage services
You need to store, track and record a large amount of data, so it's crucial that you select an affordable yet highly secure cloud storage service.
Here are the most popular choices!
9. Google Drive
Google Drive is a centralized, cloud-based storage platform that allows collaboration among teams to share files, spreadsheets, slides, videos, and images. What's better is that Google Drive can be accessed from anywhere globally, allowing hassle-free communication among the team members.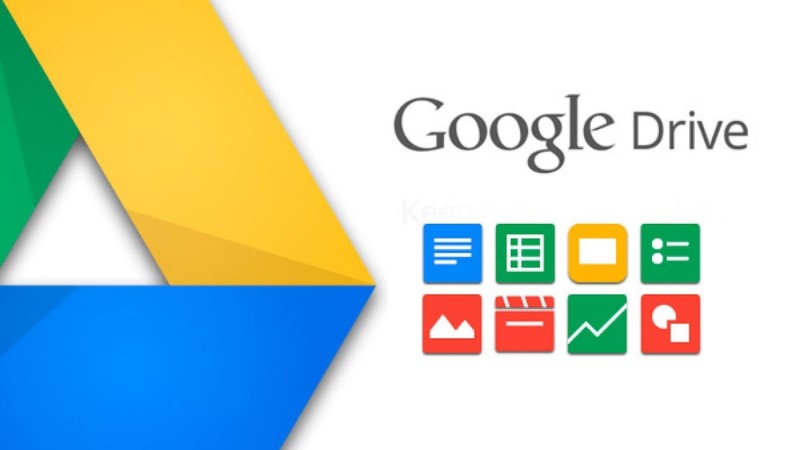 Google Drive has a user-friendly and simple interface that does not demand sophisticated technical knowledge from the users. The data is backed up daily and can be synced across all the devices – PC, Tablet, or Smartphone. 
Top Features
File storage

Accessible anywhere

Drag and drop features

Backed up data

High security
Google Drive offers a free plan that allows users to store up to 15 GB of data. The paid plans include:
The basic plan costs $1.99 / month for 100 GB

The standard plan costs $2.99 / month for 200 GB

The premium plan costs $9.99 / month for 2 TB
10. Dropbox
Working remotely means sharing large files with the team members and clients. Since emails restrict file sharing to a specific size, it may feel like a nuisance if you're trying to do so over emails.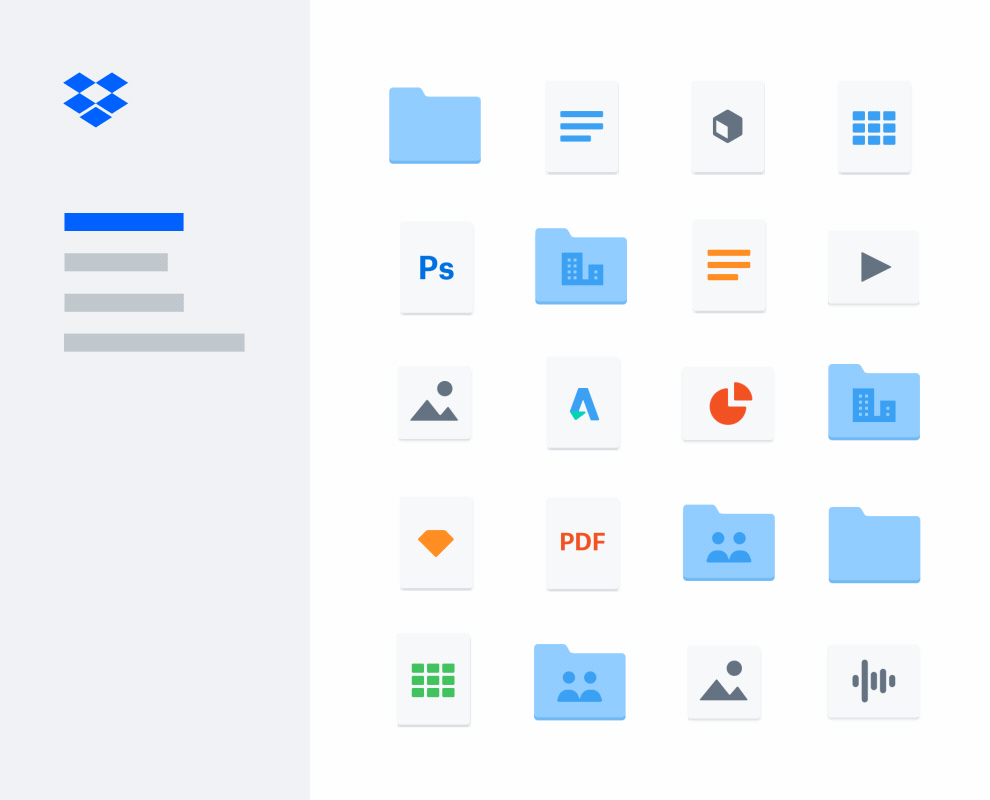 Dropbox presents itself as the modern solution to such troubles. It's a cloud-based, files-housing platform that doubles as a project management tool.
Equipped with data security to counter system crashes, Dropbox allows team members to seamlessly store big files, documents, images, and videos and share them with others. 
Top Features
File sharing

Easy to collaborate with teams

Cloud storage

Backed up data

Share comments

Device synchronization

Encryption security
Dropbox Basic is available for free. However, it only allows you to store 2 GB of files and can sync to three devices.  You can also select one of the two pricing plans.
Dropbox Plus – $9.99/month

Dropbox Family – $16.99/month
11. OneDrive
Like Google Drive and Dropbox, OneDrive lets users upload large files and access them anywhere.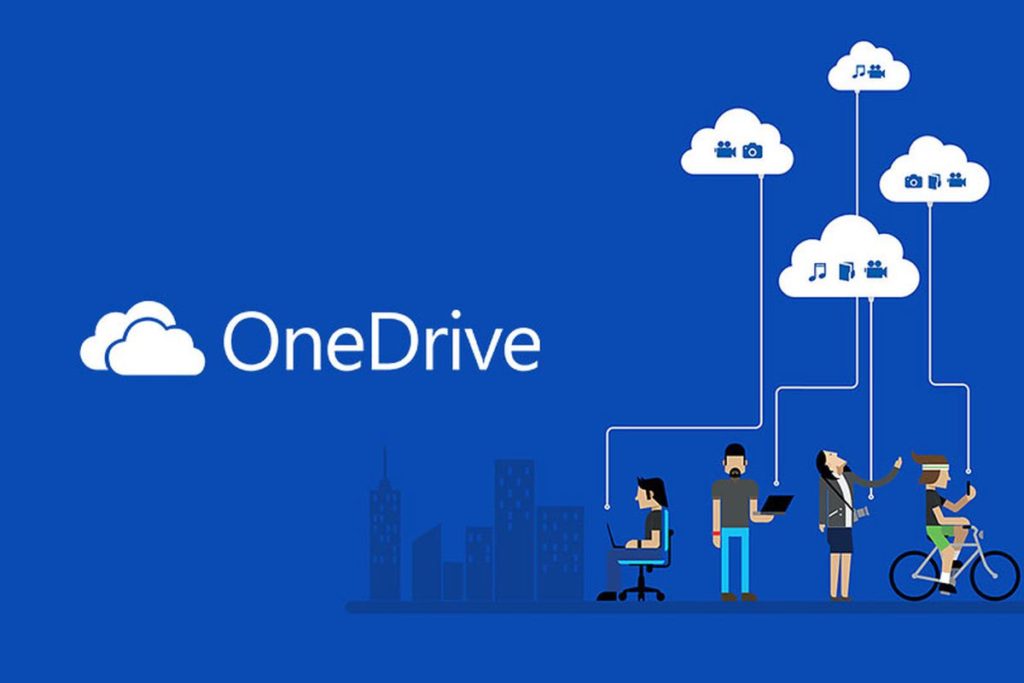 Since OneDrive is integrated with other Microsoft tools, OneDrive also empowers its users to edit Office files, create folders, and add comments online with Office 365. 
You can select and provide access to offline files or sync them to offline folders on your Desktop, which makes it even easier due to OneDrive's slick and reliable solution. 
Top Features
Collaboration among Teams

Offline data available

Data security

Cloud storage
OneDrive is available for free. However, the free version only allows up to 5 GB of storage. The paid plans include:
OneDrive Standalone comes with 100 GB and is offered at $1.99 per month.

Microsoft 364 Personal offers 1 TB at $5.99 per month.

Microsoft 365 Family offers 6TB at $7.99 per month.
Video and screen sharing apps for remote teams
While there are many perks of remote working, one of the cons is that it can be extremely hard to make the other team members understand your perspective. Screen Sharing applications enhance the efficiency of the team members by letting them share their screens with the clients to resolve the problems quicker. 
12. Join.Me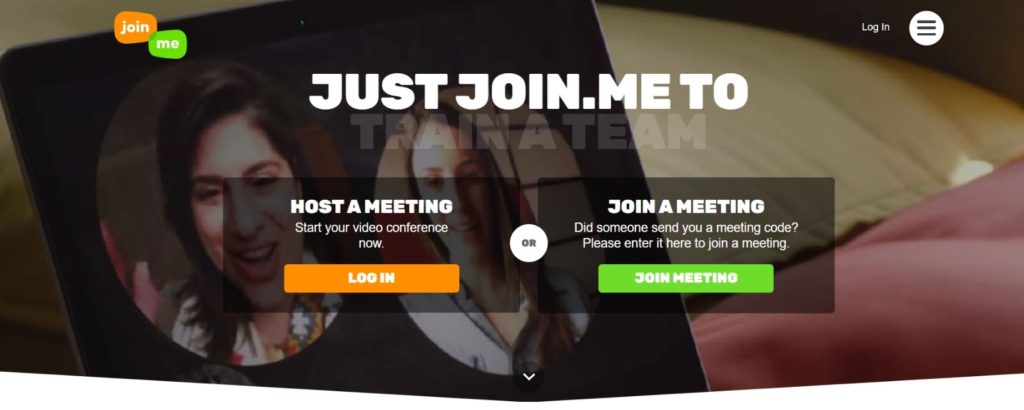 Join.me is an advanced video conferencing app that lets you share your screen by pressing only a few buttons on your keyboard.
With a pool of uniquely interesting features, Join.me has become one of the most sought-after, user-friendly applications that allow you to join the meeting by only copy-pasting the URL. 
The best part is that Join.me dashboard keeps a check of past meeting recordings and alerts the users in advance of the future video conferences. 
Top Features
Easy-to-use interface

TSL encryption

Integration with calendar applications, including Google Chrome, Office, and Outlook.

Whiteboard 

Chat
Join.me has a free version that comes with a few limitations. The pricing begins at $10.00 per user per month. 
13. TeamViewer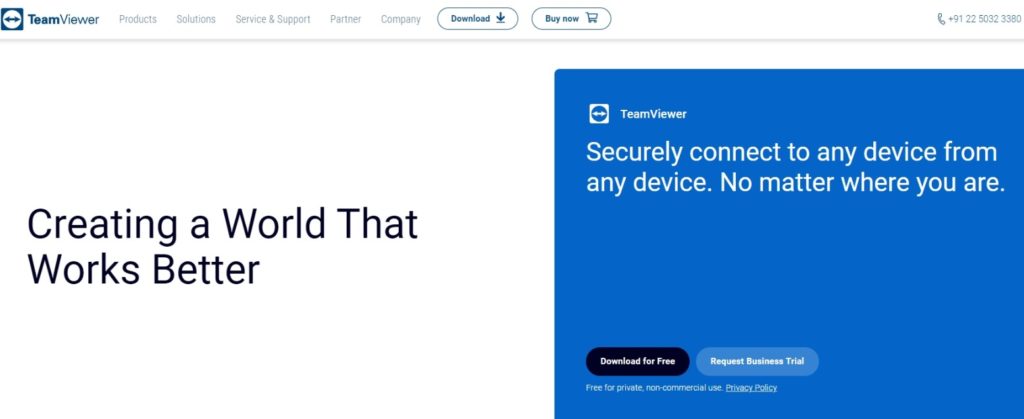 Alt-text: homepage-of-screen–sharing-software-TeamViewer 
Whether traveling or working remotely, TeamViewer is one of the best remote work tools that enables the users to securely access their data from anywhere in the world, manage it and collaborate with the team members. 
Moreover, TeamViewer comprises various tools, including chat, whiteboard, file transfer, remote audio, and video feature with high-resolution VoIP. What's more, the sessions are recorded if the user wishes to view them later.
Top Features
Chat and messaging

Calendar management

Access permission

Presentation tools

Recording

Personalization
TeamViewer offers a free plan. It also comes with paid plans that are divided into three categories:
A business plan starts at $50.90/month and is ideal for individuals or small teams

The premium plan starts at $102.90/month and works best for small to mid-range enterprises

The corporate package is offered at $206.90/month and works best for big enterprises.
14. Loom
Want your employee to make some changes to the project?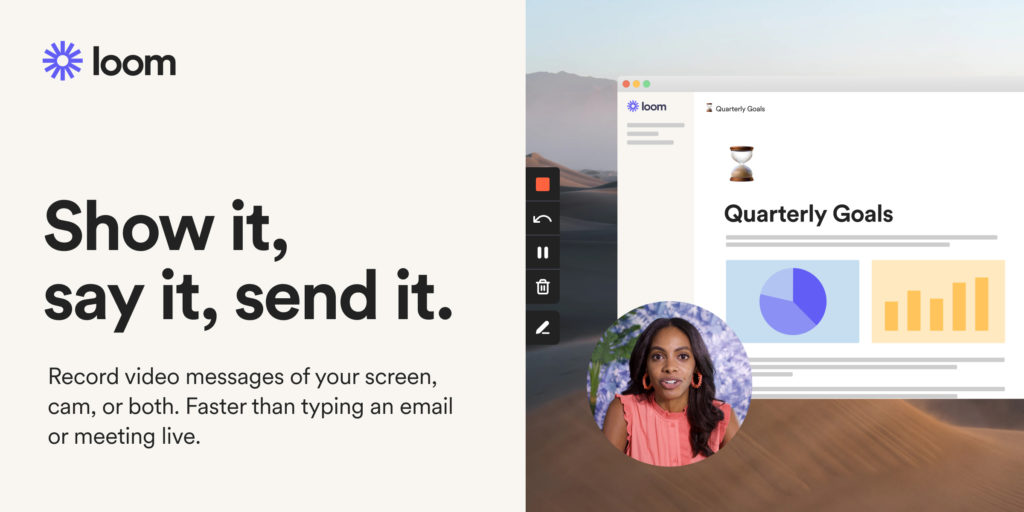 It's easy to identify and resolve errors in a team member's work in a normal work environment. You can easily approach them with the file, specify the mistakes, and work on the solutions. 
Unfortunately, this is not an easy task while working remotely. This is where Loom comes to the rescue as one of the essential tools to work remotely. 
Loom is a one-way video-sharing app that allows users to share and record their screen and share the recorded video with others through a shareable public link. Plus, Loom does not require you to sign up to view the recording. 
Whether you're screen recording graphical reports, virtual teaching or simply writing an email, Loom is a leading visual communication platform that saves you ample time with its fast, easy, and reliable technology. 
Top Features
Records your screen, video, and audio

Videos are backed up on cloud storage

Downloadable recordings

Emoji reactions, comments with time stamps

Video transcript

SSL encrypted
A freemium version of Loom is offered with limited access to many videos. 
On the other hand, paid versions to give access to unlimited videos on monthly and yearly subscriptions starting at $8. Contact Loom sales for more details. 
Time management remote work tools
Time is one of the most important assets in business and one that you can not buy. So, if you are constantly losing track of time while trying to meet all deadlines, you need the help of time management tools to free up the resources. 
15. Every Time Zone

Alt-text: homepage-of-global–time-zone-app-Every-Time-Zone 
If you are a manager who has been working with remote teams from all over the globe, then figuring out their time zone to effectively maintain communication and productivity might seem like a strenuous task. This is why Every Time Zone is your loyal companion. 
With Every Time Zone's popular visual world clock, you have access to all the world's time zones. This helps you coordinate with the team members efficiently, working in different time zones. Plus, you can assign and manage the working hours of the employees working in different time zones. 
Top Features
Intuitive web application

User-friendly interface

Track teams across multiple time zones 
Every Time Zone does not have a free version, nor does it offer a free trial. However, the pricing plan of Every Time Zone starts at $39.00/user/year.
16. Harvest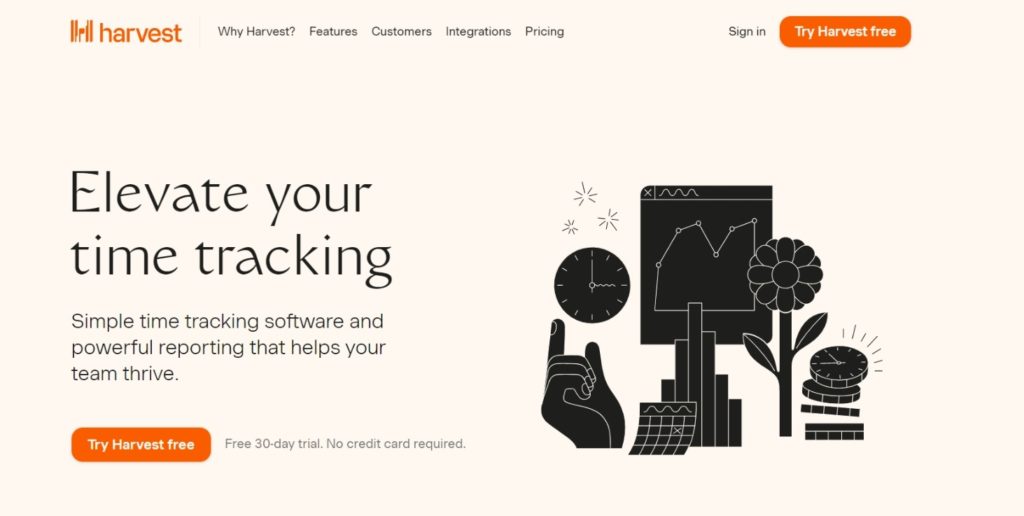 Alt-text: homepage-of-global–time-tracking-app-Harvest 
Harvest is one of the most popular time-tracking and billing tools that allows you to track time spent on projects for different clients. Harvest is a powerful app that fosters quick collaboration anywhere at any time.
Harvest's lightweight, user-friendly and straightforward application makes it effortlessly easy for you to track billable and non-billable hours for every project. 
Moreover, Harvest allows you to manage invoices, log expenses, analyze data, and even submit your timesheets through the application. 
Top Features
Creates, manages, and sends invoices

More than 70 integrations include Asana, Basecamp, Trello, and Slack. 

Time and bill tracker

Real-time updates on the time spent
Harvest is available for free. The pricing plan costs $12 per month plus $10 per month for each additional user. 
Note-taking remote work apps
Whether you're writing down instructions from your supervisor or noting down the new changes, note-taking apps will come in handy to keep a safe copy of all the texts, checklists, and voice memos. 
17. Evernote
Started in 2008, Evernote is one of the widely known note-taking apps. Engineered with simplicity, Evernote is a note-taking app that enables users to organize their notes efficiently.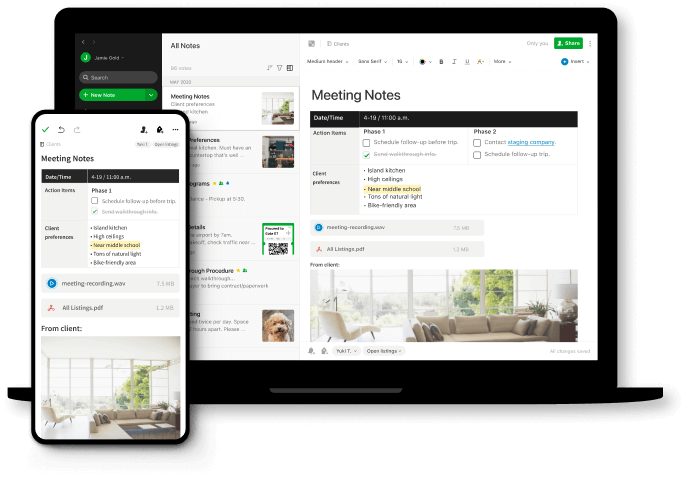 Users can also share these notes with others, allow them access to edit them and sync them automatically across all the devices. Evernote is most popular for its web clipping tool that lets users 'clip' or saves a webpage or a specific portion of the page and saves it to the app. 
Top Features
Notetaker

To-do list

Document scanning

Calendar

Web clipping
The cherry on top is that Evernote is available for free. The paid versions of Evernote are equipped with a couple more features and include:
The personal package starts at $7.99/per month

The professional package begins at $9.99/per month

Evernote Team starts at $14.99/user/month and is best for enterprises. 
18. Notion
Notion is an all-in-one platform that lets team members organize and coordinate notes and data, organize and schedule meetings and brainstorm new ideas for a project, all in a single place.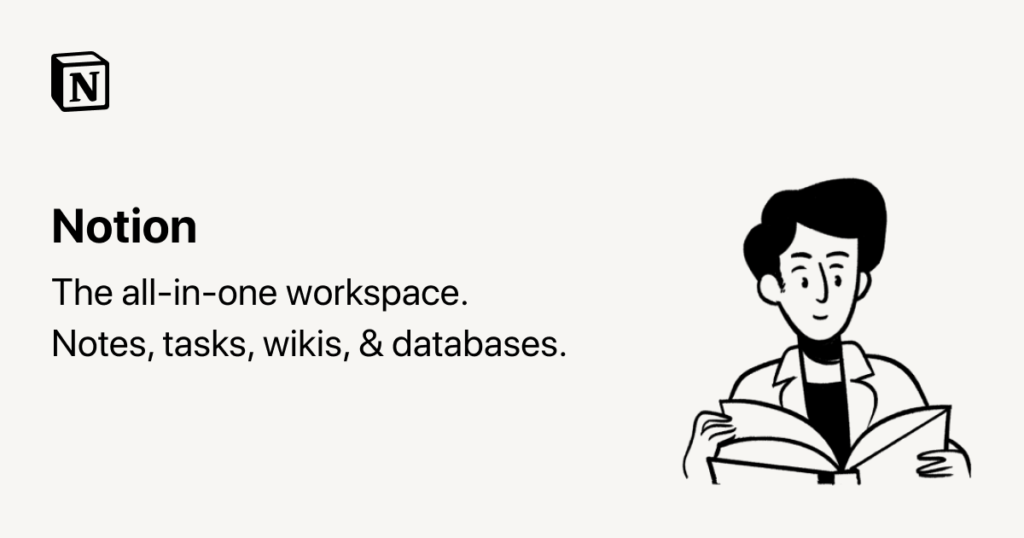 The best part is that notion has no storage limit. So, you can store as much data and information as you want without worrying about hitting the limit. 
Top Features
Create reminder

Tag another page/person

Custom pages

Building blocks
Notion is free to use. The paid plans start from $4 per month and are billed annually. Contact Notion Sales for more information. 
Productivity tools for remote work teams
Are you wondering if there is a way to improve your focus and boost your productivity? 
We have enlisted a few tools that might come in handy to keep you focused on the work and streamline your productivity. 
19. Brain.fm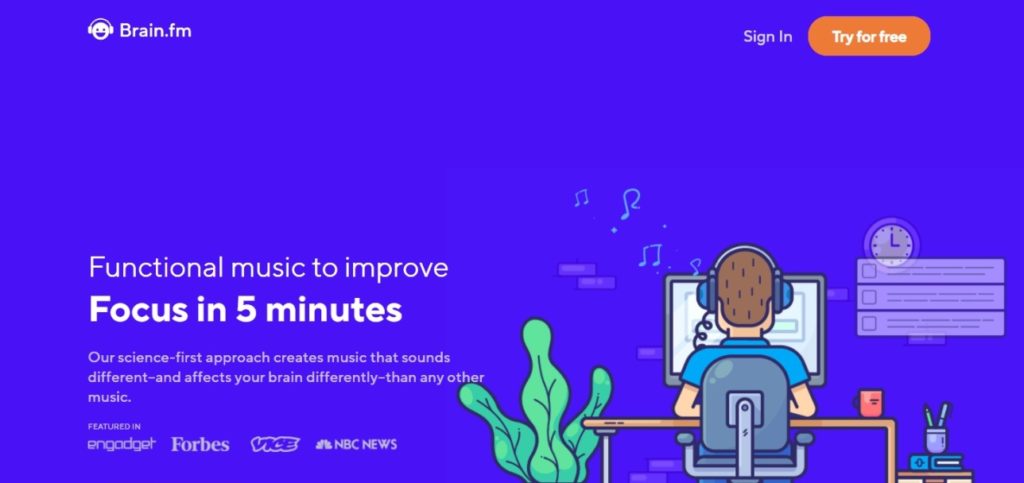 Alt-text: homepage-of-functional-music-app-Brain.fm 
If you're someone who gets easily distracted by noises and nearby disruptions, Brain.fm is the one for you. 
Brain.fm provides a cure to eliminate all the distractions that are in the way of your productivity. The app has connected composers with scientists to engineer functional music that improves your focus and helps you concentrate on the task and finish the work on time.  
Top Features
Functional music

Enhanced focus

Meditation
Brain.fm is available for free for five seasons. Once the trial period ends, pricing begins at $6.99/month or $49.99/year. 
20. Shift

Alt-text: homepage-of-web-browser-app-Shift 
Imagine if you could keep all your accounts and apps in one place? 
Shift is a web browser that saves all your email accounts and applications to save you from the trouble of logging in and out every time you open a browser. Besides, it would be easy to focus if you had a single web browser dedicated to working only to prevent chaos and disarray. 
Shift is one of the best remote work tools as it also allows you to connect with over 1200+ apps to build a perfect workflow for yourself and the company members. Shift allows you to streamline your work and increase your productivity.
Top Features
Analytics

Business process automation

Chat

Archive

Email tracker and management
A free version of Shift Basic gives limited access to up to 2 email accounts and one app. 
Shift Advanced charges you $99.99/year for unlimited accounts and several other features, including Chrome Extensions and Google Ad-on. 

Shift Teams charges $99.99/per year per user and provides consolidated billing and team management dashboard along with the features available in Advanced.
Key takeaway
Remote working has revolutionized the way organizations operate globally. However, the freedom to work from home does not comment without hurdles—communication problems, lack of self-motivation, and often a chaotic environment. And that is why you need the assistance of the best tools for remote work to streamline your workflow and boost productivity. 
We've discussed the top 20 remote work tools today. Each of the software is tailored to your specific needs. So choose the ones that best match your remote work needs.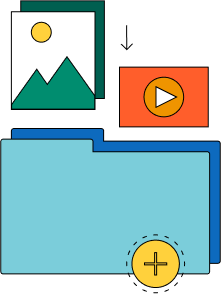 Need a quick way to share large files and creative assets?
With GoVisually Share, it's absolutely free! Try today.