What's more important in a remote workplace; trust and transparency or the dot monitoring?
Or, as I sit down to write this draft, I rephrase this question, what's more, important for growth in any workplace?
And the answer has to be trust.
While monitoring and tracking to ensure timely deliveries and performance (at times), it's a short-sighted solution. That's because it comes with the risk of the workers becoming disenfranchised in the long run or feeling incapable of doing tasks. Constant monitoring leads to micro-management, a tussle between the superior and the team members, and burnout from constantly anxious environments.
This is one of the reasons why remote work comes across as the holy grail of the work environment. It offers flexible hours, more control over your work, and fills you with the confidence to do the right things, the right way.
But does it?
With remote work becoming increasingly common, we're also seeing a rise in multiple apps and software to track and monitor employees.
This leads me to this piece – how team GoVisually continues to grow by breeding an environment of trust and self-accountability in our remote workplace.
Excited to learn about our process?
Let me take you on our journey!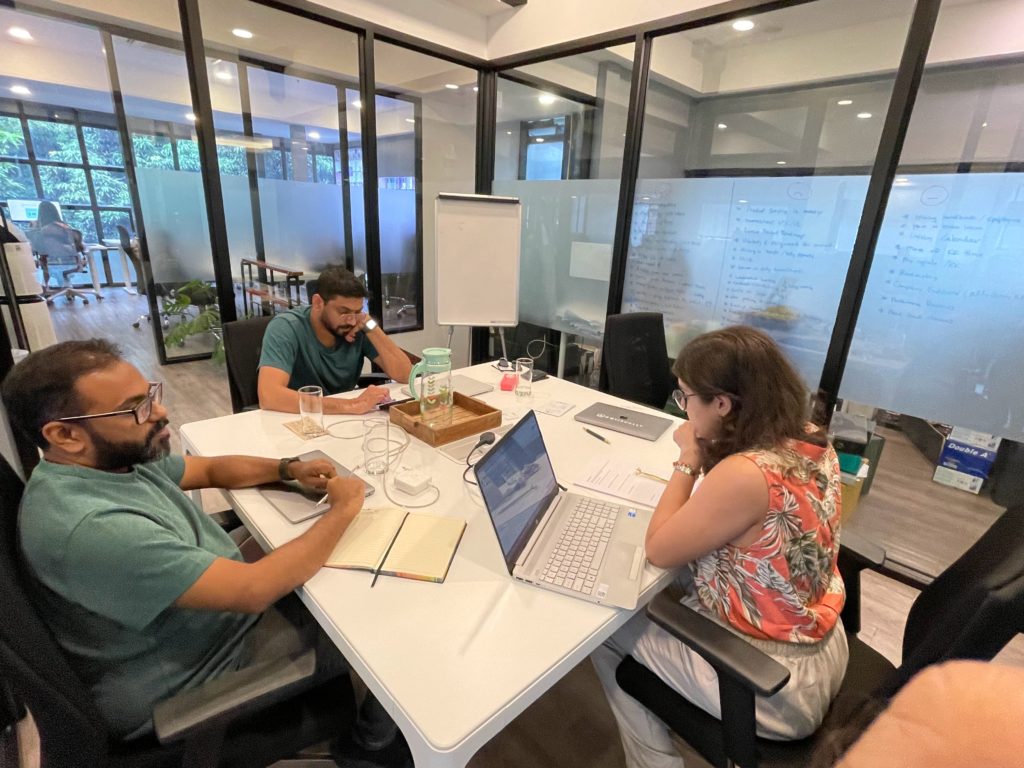 GoVisually is completely remote, and we're super happy about it!
GoVisually has been a fully remote company since it started 12 years ago.
We're a team of 15+ people spread across 6 different countries. We continue to look for talented and like-minded superheroes who share our vision of making creative reviews easy and simple.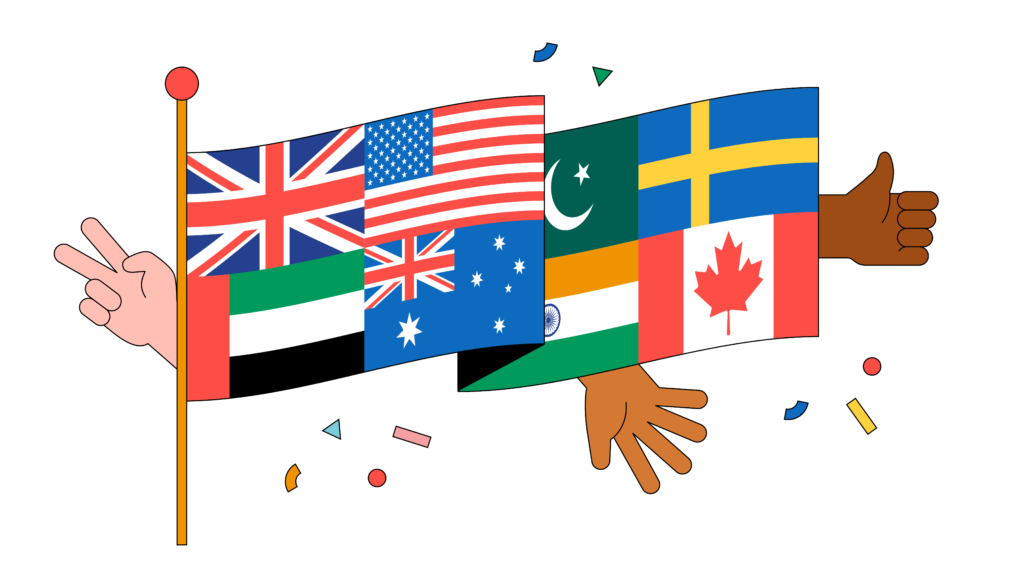 And at the heart of it all – trust has been our default work mode.
Being associated with the company for over 2 years now, I've experienced the two-way cultivation of trust along with its challenges and benefits.
Some days, it can become overwhelming, and you might think, 'hmm… are they working.'
And during that time, you must remind yourself of important things as we do.
Think about why you hired them in the first place. The answer is that they were probably the best in their field, which means they're motivated, career-oriented, and know how to deliver.
And with being a determined individual comes the by-product of ensuring great work. So if your team members are producing the work they are responsible for, there shouldn't be a question of if they're working.
Lastly, it goes both ways – if you want them to be transparent, you'll have to start it from the upper management, so it trickles down.
The bottom line is if your team members are performing their duties while maintaining their social life or indulging in the smaller pleasures of life – it's a win-win.
The best talent will stick if they're trusted, given the room to grow, heard, and given an open environment – not one that's laced with doubt.
This is exactly what we practice at GoVisually.
Let me walk you through our typical processes!
Cut design & video review time in half
GoVisually is the #1 online proofing software to get visual feedback on Designs, PDFs & Video content.
Try GoVisually free today!
What is a high-trust work culture, and how to cultivate it?
So a high-trust work culture is based upon the idea that all the individuals working at the company have their stakes and, therefore, will produce the best work, which would advance their careers and help the company grow.
It's based upon mutual respect and acceptance of different workflows and methods shared by a common goal.
Most of the time, as should be the case, it is based on results instead of hours.
While there's particularly nothing wrong with managing hours, the difference, in this case, is that companies focus on results as opposed to the hours employees are putting in. For instance, it shouldn't bother upper management if an employee can finish a task with complete diligence in less time and log off. A strict work schedule shouldn't matter or overlook the contribution as long as they meet their targets.
So a high-trust work culture typically has the following:
Credible leaders
Respect for all professionals working at or for the company
A fundamentally fair workplace
At GoVisually, we define and ensure these traits with our five core values.
Doing the right thing. 

Challenge ourselves to think about what great looks like

Be one with the team

Working without borders

Making our customers look great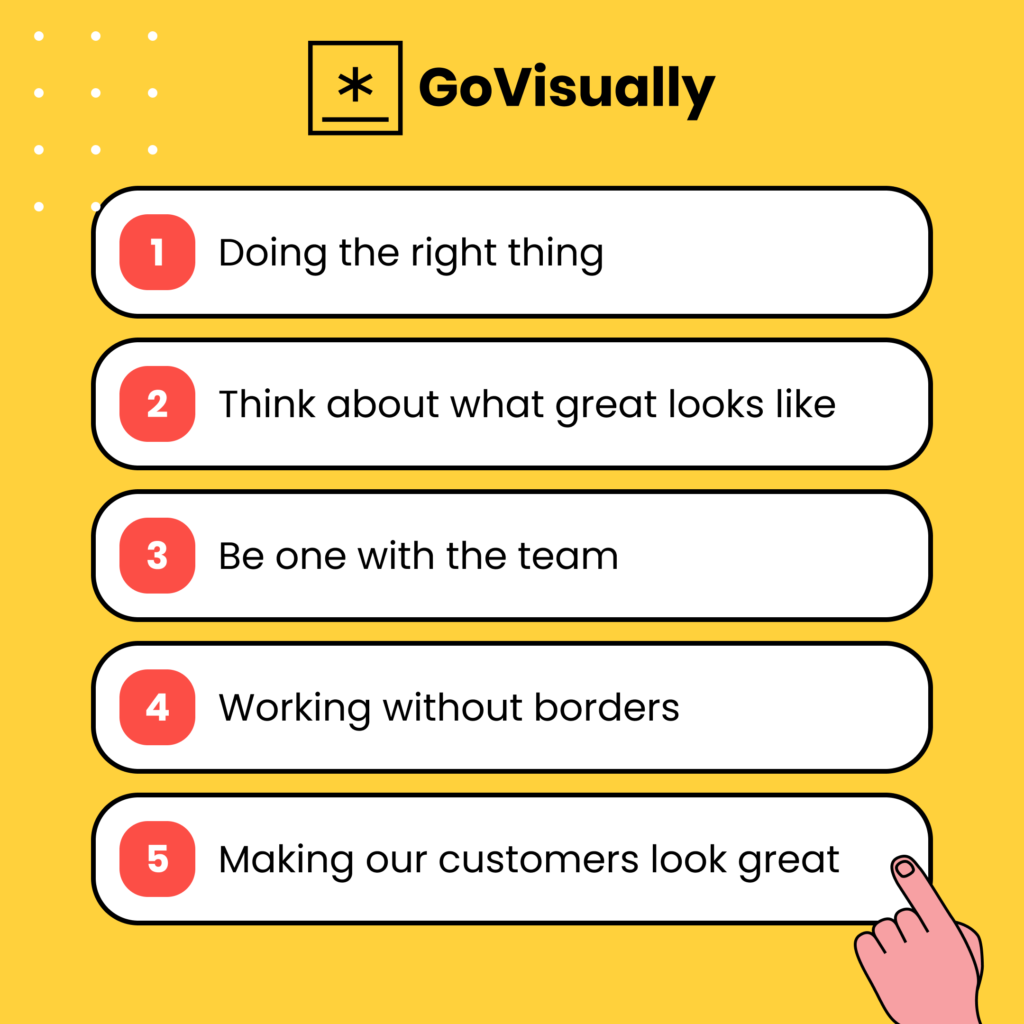 How do we practice this?
Over our day, we try to engage in small activities to ensure that we can practice what we believe in. We're still learning newer and better ways of building trust in the remote workplace. However, I'd say that we've come a long way from where we started and have a long way to go.
I've often seen companies start on a good note but eventually lose base with the values they started with.
It's very easy to get distracted by other things happening around you. It could be that your company's size is bigger or your company is making more revenue, so your priorities change. However, it would be best if you took time to reflect and refocus.
To help you understand this process better and how we aspire to do things at GoVisually, I've broken down this section into 3 important parts.
Let's walk you through these!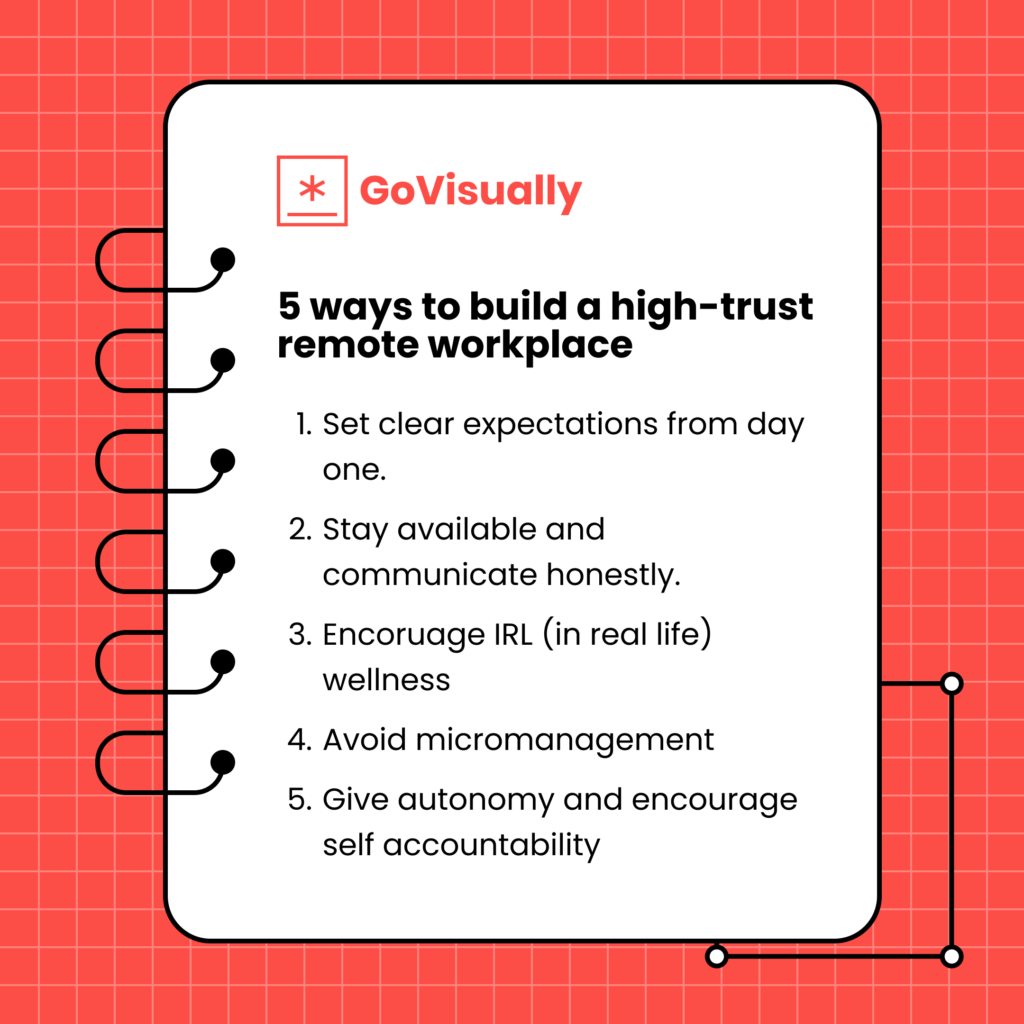 The right start during the recruitment process
The first step to building a strong trust foundation is starting it on the right note. These are the steps we take during the recruitment process.
The candidate is punctual for the interviews.
This might seem small and insignificant to some, but we see how punctual candidates are for their interviews.
Remember, any individual showing up on time shows their commitment to responsibility.
They're honest and open about their shortcomings
'So tell us about your weaknesses?'
You must've heard this question at some point in your career. And while you've been trained to either dodge the question or pull off the classic presenting your strength as a weakness tactic, I'm telling you that it places you a step back.
Genuine companies who believe in growth want to know the human in you and learn how on your bad days, you're able to push through. More importantly, what would they need to do (and not do) as a company to ensure you have the right work environment?
And that is why it's important to have an open and honest conversation about your shortcomings.
At the same time, if you want to build a high-trust environment as a company, you should be open to hearing about these things.
So the right question is, 'tell us about your professional weaknesses and what steps you feel can be taken to minimize their effect?'
The interview isn't one-sided; there's a 2-way communication
An interview shouldn't feel like an exam.
Repeat that!
If you feel this way on either side, that's a red flag you shouldn't ignore.
They share our vision.
One thing I've noticed over my 6 years of career in the content industry is that people work best when they feel they are a part of something bigger than themselves.
That's because, apart from individual goals, they can see themselves contributing to an overall vision. And that is what motivates them.
Understand that money would only work as an incentive for some time. But ultimately, you'll have to invest in a good culture and include your team in your vision.
At GoVisually, we envision becoming an essential tool in every creative review process so teams can deliver their best work.
Think about your company vision and how it relates to your current employees, their goals, and those of the individuals you're recruiting.
Building a strong foundation during onboarding
Next, discuss the steps you can take during the onboarding process to ensure a smooth transition.
Set expectations from day one.
This is perhaps the most crucial thing to do – set clear role expectations and stick to them.
What's more important to understand is that this goes both ways.
If the individual is meeting all their expected responsibilities, do not burden them with more simply because you think they can squeeze it or because you feel they aren't giving 'enough time.'
Instead, as an employer, if you find yourself shrinking to these thoughts, talk to them first, and if they want more responsibilities, you can draft it together.
Stay available and communicate honestly.
The second thing you can do is promote communication.
At GoVisually, we aspire to achieve this by engaging in the following activities daily:
Daily standups with the team to get a sense of their workflow and what cool things are in store for the day.
Asking people how their day is going.
Getting everyone to check in and out on Slack daily as a general rule. This also works great for knowing when it is okay to contact a team member and not disturb them during inactive hours.
And finally, we leave small updates to keep everyone aligned and accountable.
But the key here is, again, not to overdo it where both sides start feeling exhausted. 
Encourage IRL (in real life) wellness.
This is one of the most important things a company can do to ensure overall employee satisfaction.
The idea is simple – your workforce is likelier to perform better when they're devoid of external pressure as much as possible. So investing in your employee's real-life wellness would benefit the company in the long run.
Depending on your business stage and budget constraints, you can achieve this in several ways. Bigger companies have a separate wellness budget allocated for each individual, including gym membership or meal preparation services.
However, you can also achieve this in smaller (and often more effective) ways. Here are some of the practices we adopt at GoVisually:
An empathetic approach toward employees.
Wishing people on birthdays or asking if they need help if someone is sick.
Paid time off on significant days for them (such as birthdays, anniversaries, or an event that needs their attention).
Getting people on vacation to share their experiences and pictures
Sharing both good news and not-so-good news.
Playing games once a month on a social call.
A fun GIF from our 2022 retreat in Chiang Mai.
Encouraging trust with autonomy and self-accountability
Moving toward the day-to-day routine, it's important to keep encouraging trust. The best way to do that is by building a culture of self-accountability that's power by autonomy over decisions and responsibility for the consequences.
You can do this as a trickle-down effect where the supervisor engages in these behaviors, so it trickles down to all the team members.
Here are things we do at GoVisually to encourage trust in our daily activities.
Autonomy and self-accountability is the way to cultivate progress.
Remember, when you empower people, you're essentially allowing them to take the space and time to make great decisions. More importantly, autonomy also comes with accountability and responsibility for actions and results.
One of the activities we did in our most recent retreat in October 2022 was creating individual OKRs (Objectives and Key Results) for the coming quarter.
The idea is that every individual sets the tasks they want to achieve with specific intended goals and works towards them.
So now, apart from the company goals, we all have individual lists to keep us all on track and accountable.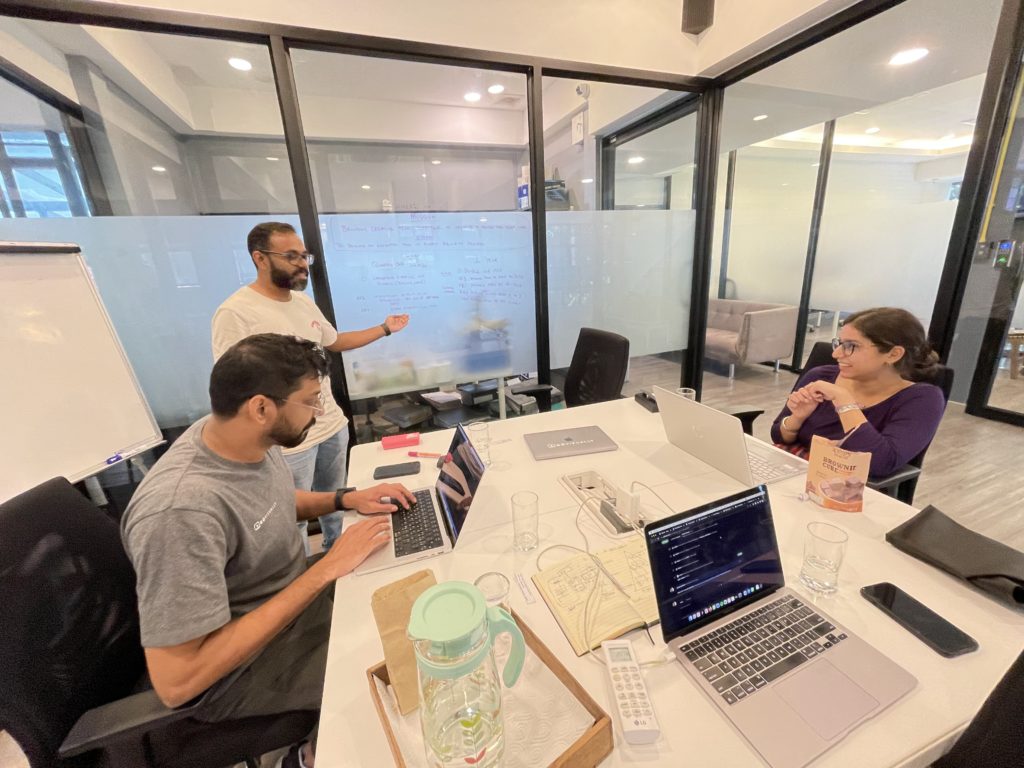 Micromanagement alienates individuals and destroys trust.
The last thing you want to do is spoon-feed your team members. Understand that it's detrimental for both the receiving and the giving end.
As a supervisor, it limits you from exploring the individual's full potential. More importantly, constant micromanagement can lead to frustration and anxiety as it takes time and energy. It can also make you passive-aggressive.
And in the case of the individual, they're hindered from growing and realizing their skill and its impact. In prolonged cases of micromanagement, the employee can become disenfranchised by the company.
Plus, micromanagement essentially spells, 'I don't trust you,' which isn't an ideal way to lead a remote workplace.
So if you have tendencies to be a micromanager, ask yourself what makes you act this way and instead focus more on quality and the results.
If you put more energy into facilitating actions rather than engaging in blame games or scrutiny, it'll get things done faster.
What do we do when trust is broken?
So far, we've guided you through our daily processes and how it helps us maintain a high-trust remote work environment. I'd say that these steps and activities help in most instances, and we rarely face any problems.
However, we do understand that implementing it takes time. And believe me, it took time for us too.
So here's what I propose doing if you feel that trust is broken.
Schedule a call for open communication based on empathy
Firstly, you should start by scheduling a call to discuss the issue.
During this call, your approach should be based on empathy. Try to connect with the other individual on a human level and understand why they couldn't keep up with the communicated delivery.
Often, there are human errs that bar the individual from performing well. For instance, someone might have a rough week because of a family event that impacts their overall wellness.
So it's important to understand and discuss three things during this call:
Why did this occur? Specifically, explore and discuss each reason leading up to it.
Discuss if it's something that can be fixed. If yes, look into the solutions and ways to implement them effectively.
If the problem is devastatingly humungous and can't be resolved, it's best to identify why this wasn't traced earlier and what would be the path forward.
Remember to jot down all the relevant information. It's always better to have your call followed by written communication to avoid misunderstanding later.
Final word
At the end of the day, we try and condense all our actions into following one of our core values, doing the right thing.
Whether it's your work, a call with a customer, or even a meeting with a manager – do the right thing, and you'll find resolve and growth.
I hope this helps you understand the importance of trust in a remote workplace. I'd love to hear more ideas and thoughts on how everyone else deals with this. So drop it down in the comments!
Until next time, do the right thing, everyone!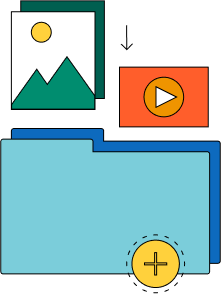 Need a quick way to share large files and creative assets?
With GoVisually Share, it's absolutely free! Try today.