The world is becoming more digital, and for creative teams, that means more ease and access. Whether you want to show a team member a demo of a new product, create an insightful tutorial, or make a comprehensive how-to guide for new members of your team, you will want to share your screen. And some great screen sharing tools make it convenient for you to do all this.
But how do you identify the best ones from the rest?
Today, we will take a look at the top screen sharing tools available to make design review and collaboration among your team more efficient. We've done extensive research on your behalf to shortlist the best screen sharing tools. To make things easier for you, we'll be highlighting the key features of the phenomenal apps that are here to make screen sharing a lot easier for your creative team!
1. Loom
Loom is a cloud-based screen recording and screen sharing app that is sleek and simple to use. Creative teams worldwide use it to review changes in a document or design and share it with their teams.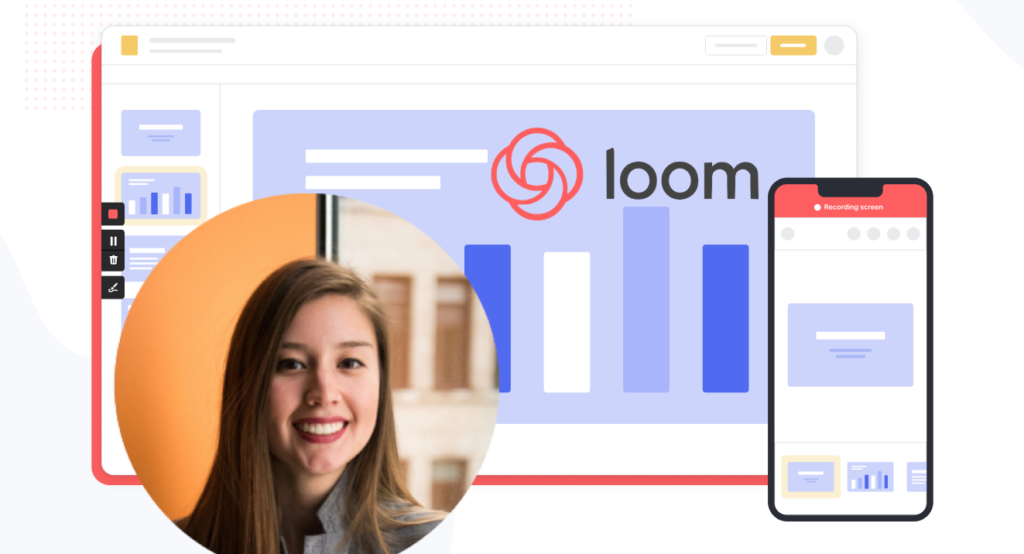 Here are the key features of using Loom:
Chrome Extension
It comes with a chrome-extension – you can click on that and instantly start your screen-recording. Yes, that's all you need to do to be able to record yourself, the screen, or both simultaneously and instantly! 
Easy Sharing
Loom also allows you to edit your video, and of course, share it. The app gives you a unique URL for your video that can be shared with others for access. This is incredibly convenient, as it takes away the focus from uploading, downloading, and sending heavy content and instead places it on a more straightforward, lighter way of communication. 
User-Friendly Interface
There are no complicated controls when it comes to Loom; everything is quite simple to get a grasp on. The interface is user-friendly, and you can quickly learn how to record and share your screen efficiently. So, if you're looking for an app that doesn't frazzle your brains with complexities, Loom is your best friend!
No Cost – It's Free
Yes, Loom offers all these cool features and tools for free! Yes, there are no additional costs or fees involved, and you can access all of the app's features for free. 
So, if you're someone who prefers their apps to be simple, straightforward, easy to navigate, and free – do consider Loom. 
2. Screencastify
Up-next on the list is another super simple app, Screencastify, that enables you to have effective communication with your peers with ease. Like Loom, Screencastify has a Chrome extension too that makes it a great screen sharing tool.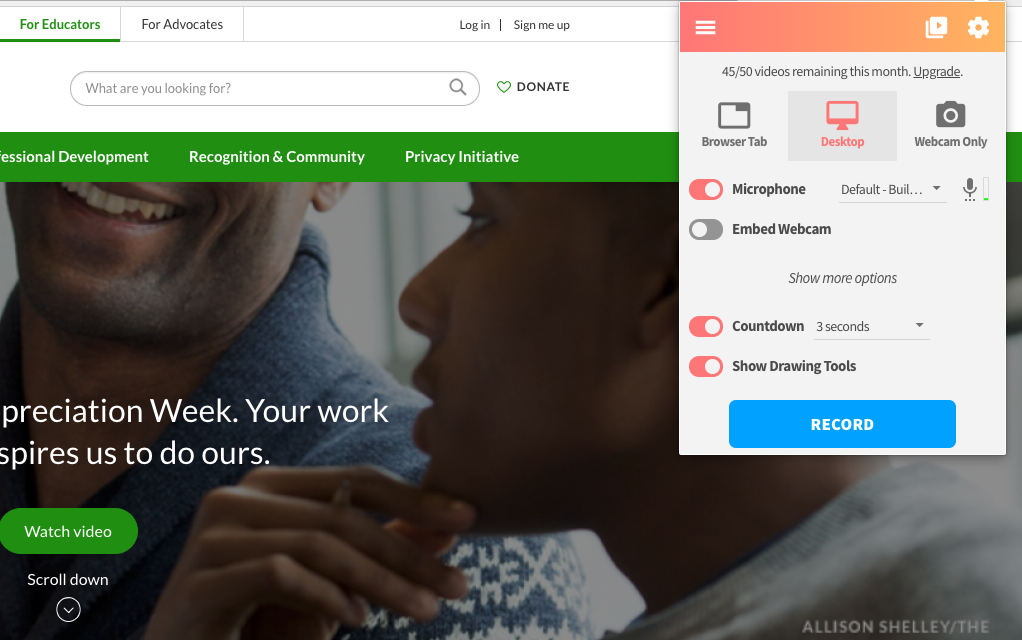 Here are the features that make Screencastify one of the best screen sharing tools:
Annotation Tool
Not only does Screencastify help you record videos at sonic speed, but it also allows you to edit them where necessary. The app offers a powerful annotation tool that is supposed to "capture and hold" your audience's attention. The tool includes mouse spotlight, drawing pen tool, and click highlighting – all of which help you create engaging content for your audience. 
Speedy Sharing
The app specifically focuses on making the sharing process as fast as possible. How does it achieve this? Well, it does so by taking care of all the "heavy-lifting" for you. 
Pricing Options
There are two different options that you can avail of when it comes to Screencastify. One, you can invest a minimal amount and access their features boundlessly. So, if you don't mind spending a penny or two for the sake of having a savvy and efficient software, do all the work for you. The second option, however, allows you to use the app for free! Although certain restrictions are imposed if you choose to use Screencastify for free, it is still a great option if your work is not extensive. 
3. Flashback (Express & Pro)
If you need their software to be flexible and customizable, let us introduce you to Flashback. Flashback offers two versions for its users; Express and Pro. Flashback Express is free to use, whereas you have to pay $99 for Flashback Pro. So, this software seems to be a good option, whether or not you are willing to pay.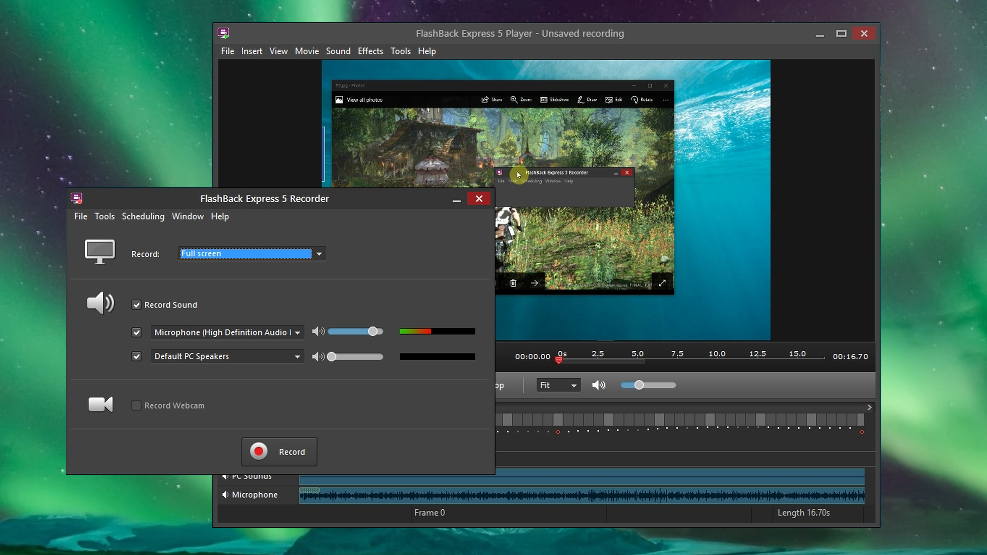 Flashback claims to be "the best screen recorder for remote work and learning," The features it offers surely supplement this claim. 
Let's have a look. 
Wide Range of Tools
Flashback offers its users a diverse collection of tools that can be utilized to make your screen sharing journey a lot more productive. These include; recording screen, webcam, and sounds trimming footage and creating small clips, editing with effective annotations, images, and commentary!
Easy Sharing
Flashback is not only a good screen-recorder. It is very effective and screen sharing, too; you can very easily (and at great speed!) export any video in MP3/MP4 format – as well as instantly share it on YouTube.
Free Trial
Flashback is one of the very few apps that allows you to access the Pro version for a trial. There is no hidden cost to this. You can try out all the features of Flashback Pro for free and see if they work for you! For more information, click here.
4. Snagit
Number four on our list is Snagit, another swift tool that could make screen sharing easier and more comfortable for you! Offered by TechSmith, this software has "built-in advanced image editing and screen recording" that enables it to be a go-to for all your screen-sharing needs.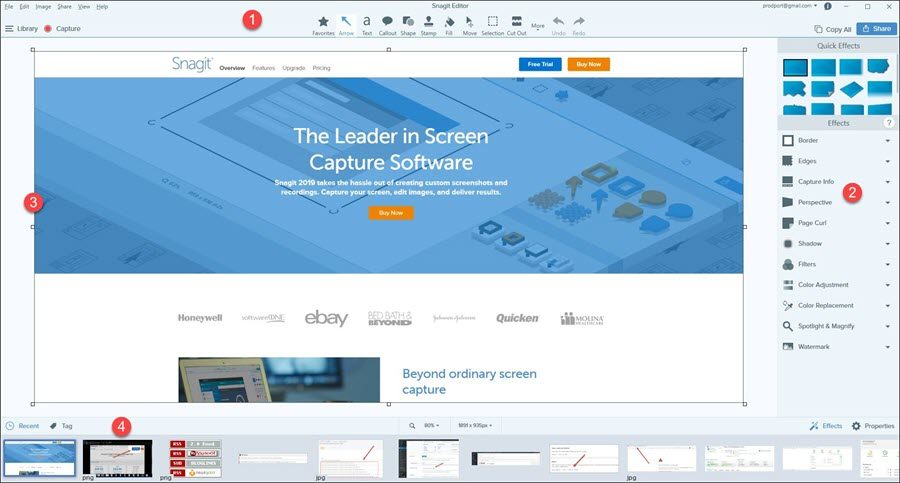 So, what makes Snagit so great? Let's take a look at its key features.
Record Meetings
What makes Snagit such a great option is that unlike some of the other apps we have discussed, it has to be installed onto your desktop. This essentially allows for it to capture your activity as it happens – including any Zoom/Skype meetings or Google Hangouts. So, you can record your entire video conference without the use of any fancy equipment. 
Minimal Cost
Snagit is a paid app, but it is quite cheap compared to other software that literally costs a limb and a leg. For a one-off payment of $49.95, you get a plethora of features that will make your life easier. You may have to pay for updates eventually, but even that cost is minimal so that you don't end up unnecessarily straining your pockets.
Advanced Editing
When it comes to editing, Snagit surely offers way beyond others. In addition to helpful annotation tools like highlighting and drawing, it also offers a "simplify tool" that will transform standard screenshots into simple graphics, making your content even more engaging.
5. Recordit
Have you ever wanted to share your screen – but via a GIF? Recordit is a GIF-based screen sharing software that is unique and quite productive and effective at what it does.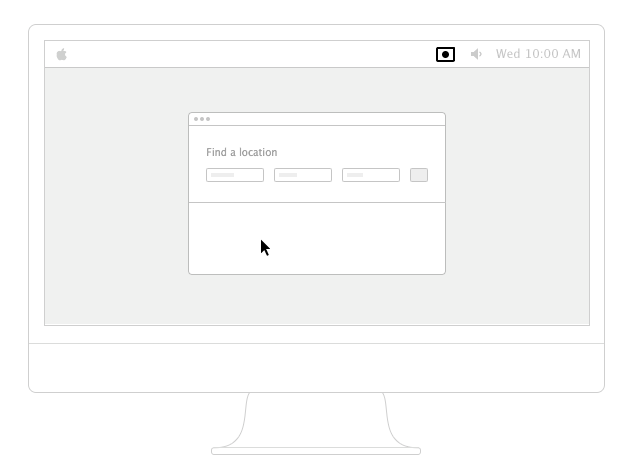 Here's a shortlist of what it offers:
Convenient Sharing
The videos you record using RecordIt are not encoded; everything happens on the Web, and hence the videos are public. What does this mean? Well, it means that you can conveniently share your content with whoever you like without the hassle of downloading/uploading videos! 
Mac and Windows
Recordit is optimized to work for both Mac and Windows – so whether you're an Apple user or rely on your desktop computer, Recordit has you covered. 
No Costs Involved
Yes, RecordIt is absolutely free! You can avail of all its features and record your screen for up to 5 minutes for free. Certain upgrade features are paid-only, but the free version is likely to suffice for minimal work. 
6. Vidyard
The last on the list for today is Vidyard. With a tagline that states, "Video to Close Distance," Vidyard aims to make screen sharing as fast and efficient as possible. It is great for office work, as the software is specifically targeted as segments such as Sales Teams, Corporate Comms, and Marketing Teams, which makes it the go-to option for the corporate environment.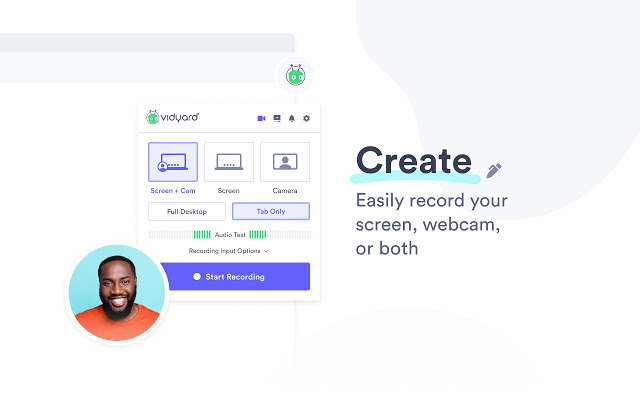 Here are some of the other features that make Vidyard an effective tool for screen sharing:
"Human Element" to Your Content
Vidyard claims to add the "human element" to your communication and screen sharing experience. What this essentially means is that you can fully control the recording and editing aspect of your videos! Vidyard ensures that the work you create does not look half-hearted or mass-produced.
Ad-Free Hosting and Video Management
With Vidyard, you don't have to worry about ads. Your hosting process and video management will be as swift as possible, devoid of any pesky ads. Vidyard promises high-quality video streaming wherever you are or whoever your audience is. 
Wide Range of Pricing Options
Vidyard gives you different options for different prices, so you can easily pick a package following your needs. These packages range from $0 (yes, there is a free option!) to $1250/per month. For more information on the pricing, visit here. 
7. Zappy
Zappy by Zapier is one of the fastest ways to share screenshots, screen recordings, and gifs with your team members. You can even link them with other applications and easily share them around the team.
Let's look at some of the other features that make Zappy stand out:
Free Cloud Hosting
If you have a big creative team that shares recordings frequently, then the free cloud hosting would prove to be of great help to you! You can upload all your gifs, screenshots, and screen recordings here.
However, this feature only comes with the paid subscription for Zappy.
Annotations For Easy Screen Sharing
You can highlight the important bit in the screenshot using annotations. They come in a variety of colorful arrows or drawings that you can add. So make your screen sharing fun and interactive with Zappy annotations.
Integration with Other Applications
One of the best parts of using Zappy is that it can be easily integrated with other applications. These include Slack, Microfost Team, Gsuite, and many more. Essentially, it makes screen sharing easier and also helps in circulating the screenshots easily among team members.
Our Advice
Remote working and collaboration are on-trend and will soon become the new normal of working. That is why it's crucial to gradually shift your focus towards making reviewing and collaboration digital and easier. These top screen sharing tools are the best way to get your creative work reviewed among teams. So give them a try and let us know how it worked out.