Remote work and virtual collaboration are a reality now, and so to ensure workflow, you need screen sharing tools.
Utilizing these tools as a creative team member can significantly enhance your design presentations, gather valuable feedback, and facilitate seamless communication, regardless of your team's location.
In this article, we'll explore the following tangents:
Who needs a screen sharing software?
6 top features to look for in a great screen sharing tool
6 best screen sharing tools (with winning features)
Integrating GoVisually to 10x your workflow productivity
Let's begin!
Who needs screen-sharing software?
Whether you're a remote worker, a team member, a client, a content creator, or an IT support professional, screen sharing tools can significantly enhance your ability to connect, review and collaborate.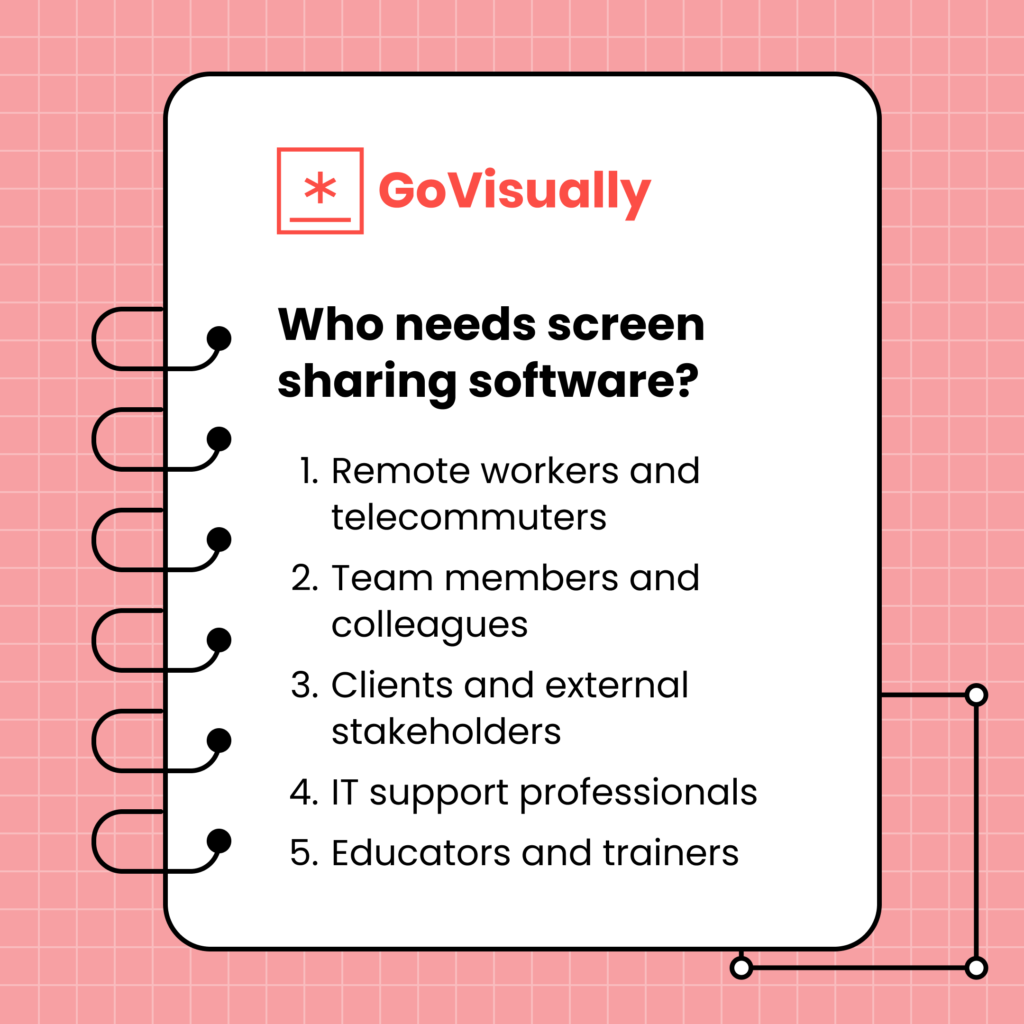 Remote workers and telecommuters
The rise of remote work and telecommuting has transformed the way we work. For individuals working from the comfort of their homes or coffee shops, screen sharing software becomes an indispensable companion. 
Best screen sharing tools allow remote workers to collaborate in real-time, share presentations, brainstorm ideas, and even deliver training sessions. With screen sharing, you can virtually recreate the experience of being in the same room, fostering teamwork and productivity.
Team members and colleagues
Even within traditional office settings, screen-sharing software proves invaluable. It enables colleagues to hold effective virtual meetings where everyone can simultaneously view the same documents, spreadsheets, or presentations. 
By providing a visual context, screen sharing eliminates misunderstandings and streamlines decision-making. No more emailing files back and forth or struggling to explain complex ideas over the phone; just seamless collaboration at your fingertips. 
Clients and external stakeholders
In the business world, impressing clients and stakeholders is crucial.
Screen sharing software lets you easily showcase your products, services, or project progress. Whether you're giving a sales presentation, conducting a product demo, or seeking feedback, screen sharing enhances the client experience and builds trust.
Clients can actively participate, ask questions, and provide input, fostering a sense of involvement and collaboration beyond mere words.
IT support professionals
Imagine you're an IT support professional faced with solving a technical issue for a remote worker. Screen-sharing software becomes your solution!
Instead of relying on vague descriptions or lengthy phone conversations, you can visually see the problem in real time. With remote access and control features, you can even troubleshoot the issue directly on the user's computer, saving time and minimizing frustration.
Screen sharing empowers IT professionals to provide efficient and practical support, regardless of physical distance.
Educators and trainers
In education and training, screen-sharing software unlocks a world of possibilities.
Teachers and trainers can conduct interactive online classes, share educational resources, and provide real-time feedback to students.
Whether explaining complex concepts, showcasing multimedia content, or facilitating group discussions, screen sharing makes distance learning engaging and immersive. It opens doors to remote training sessions, webinars, and workshops, reaching learners across the globe.
6 features to look for in a screen-sharing software
To help you navigate through the options, here are six key features to look for in screen sharing software that will enhance your online interactions.
Intuitive user interface
When selecting screen sharing software, opt for an intuitive user interface solution. Look for easy-to-set up and navigate software, ensuring a seamless experience for hosts and participants.
With a user-friendly interface, you can save time and avoid frustration by focusing on your content instead of struggling with complex controls.
High-quality screen and audio sharing
Effective communication relies on clear visuals and crisp audio.
Prioritize screen sharing software that delivers high-quality screen sharing capabilities, enabling participants to see your content clearly. Additionally, ensure the software offers reliable audio transmission so your voice comes through without interruptions or distortions.
A seamless visual and audio experience enhances engagement and understanding during virtual meetings and presentations.
Interactive collaboration tools
Collaboration is critical in today's digital landscape.
Look for screen sharing software that provides interactive collaboration tools to foster engagement and teamwork. Features such as annotation tools, whiteboarding, and document sharing allow participants to contribute and provide real-time feedback actively. 
These tools promote effective brainstorming, problem-solving, and idea sharing, making virtual interactions more dynamic and productive.
Cross-platform compatibility
Compatibility across different platforms and devices is crucial in our diverse tech ecosystem. Ensure that the screen sharing program you use is compatible with Windows, macOS, iOS, and Android.
This flexibility ensures that participants can join your screen sharing sessions regardless of their devices. Cross-platform compatibility promotes inclusivity and encourages collaboration across teams with diverse technology preferences.
Security and privacy measures
Protecting your sensitive information is paramount in the digital age. Look for screen sharing software that prioritizes security and privacy.
End-to-end encryption, password-protected sessions, and user authentication give further layers of security to your shared content.
Strong security measures instill confidence in participants, ensuring your discussions and data remain confidential and secure.
Recording and playback capabilities
Recording your screen-sharing sessions can be invaluable for future reference or sharing with absent participants. Consider screen-sharing software that offers recording and playback options.
This feature allows you to capture essential discussions, save them for later review, or share them with team members who couldn't attend the live session.
The ability to record and playback sessions promote knowledge retention and facilitate effective collaboration, even across different time zones.
Plus, this makes the information more accessible to people.
Top 6 screen sharing tools for creative teams and online collaboration
And with that, the wait is over.
Here are the top 6 screen sharing tools for seamless online creative review and collaboration.
1. Loom
Loom is a cloud-based screen recording and screen sharing app that is sleek and simple to use. Creative teams worldwide use it to review changes in a document or design and share it with their teams.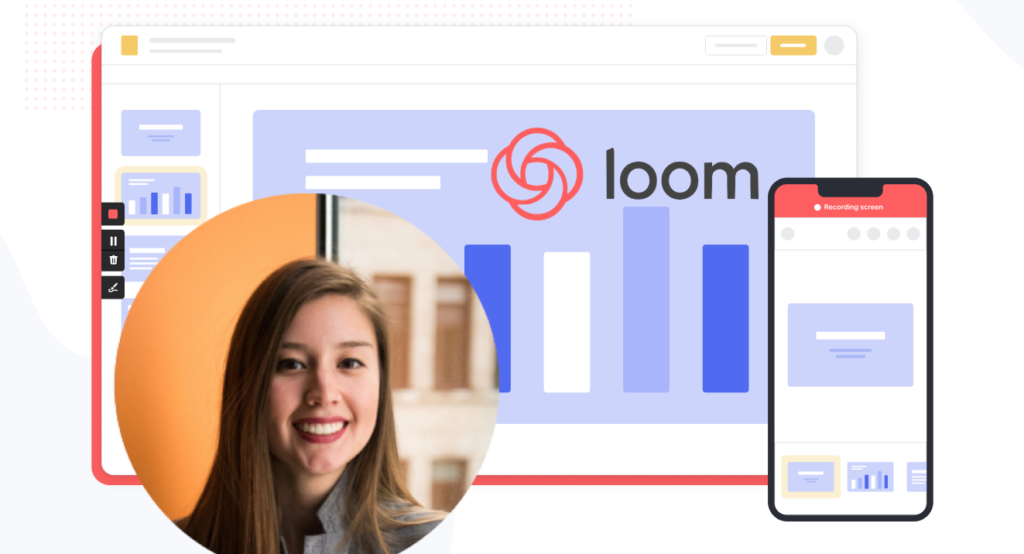 Here are the key features of using Loom:
Chrome extension
It comes with a chrome extension – you can click on that and instantly start your screen-recording.
Yes, that's all you need to do to be able to record yourself, the screen, or both simultaneously and instantly! 
Easy sharing options with a link
Loom also allows you to edit your video and share it. The app gives you a unique URL to share your video with others for access.
This is incredibly convenient, as it removes the focus from uploading, downloading, and sending content and instead places it on a more straightforward, lighter way of communication. 
User-friendly interface
There are no complicated controls when it comes to Loom; everything is quite simple to get a grasp on. The user-friendly interface allows you to learn to record and share your screen efficiently and quickly.
So, if you're looking for an app that doesn't frazzle your brains with complexities, Loom is your best friend!
No cost – it's free
Yes, Loom offers all these terrific features and tools for free! Yes, no additional costs or fees are involved, and you can access all of the app's features for free. 
So, if you prefer their apps to be simple, straightforward, easy to navigate, and free, consider Loom. 
2. Screencastify
Next on the list is another super simple app, Screencastify, enabling you to communicate easily with your peers. Like Loom, Screencastify has a Chrome extension, too, which makes it a great screen sharing tool.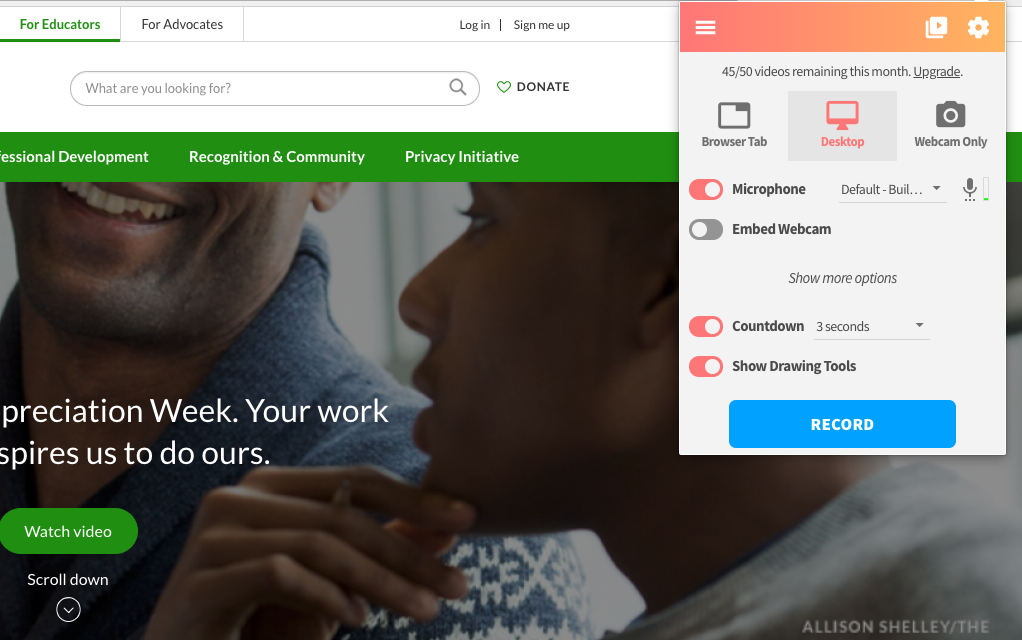 Here are the features that make Screencastify one of the best screen sharing tools:
Annotation tools
Not only does Screencastify help you record videos at sonic speed, but it also allows you to edit them where necessary.
The app offers a powerful annotation tool to "capture and hold" your audience's attention.
The tool includes a mouse spotlight, a drawing pen tool, and click highlighting – all of which help you create engaging content for your audience. 
Speedy and easy sharing
The app specifically focuses on making the sharing process as fast as possible. How does it achieve this? It does so by taking care of all the heavy lifting for you. 
Different pricing options
You can avail of two different options when it comes to Screencastify. One, you can invest a minimal amount and access their features soundlessly.
So, if you don't mind spending a penny or two to have intelligent and efficient software, do all the work for you.
However, The second option allows you to use the app for free! Although certain restrictions are imposed if you choose to use Screencastify for free, it is still a great option if your work is not extensive. 
3. Snagit
Number three is Snagit, another swift tool that could make screen sharing more accessible and comfortable for you!
TechSmith offers this software with "built-in advanced image editing and screen recording, " enabling it to be a go-to for all your screen-sharing needs.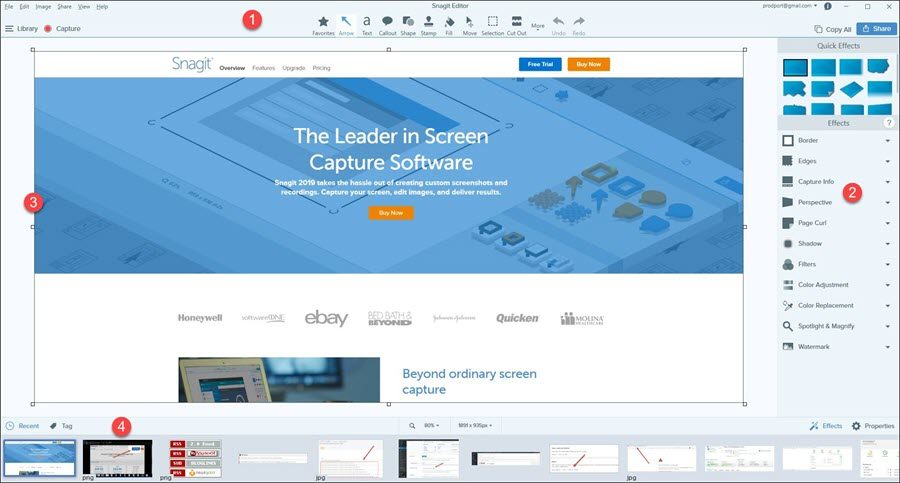 So, what makes Snagit so great? Let's take a look at its key features.
Record meetings
What makes Snagit such a great option is that unlike some of the other apps we have discussed, it has to be installed onto your desktop. This allows it to capture your activity as it happens – including any Zoom/Skype meetings or Google Hangouts.
So, you can record your entire video conference without using any fancy equipment. 
Minimal cost
Snagit is a paid app, but it is pretty cheap compared to other software costing a limb and a leg.
For a one-off payment of $62.99, you get many features to make your life easier. You may have to pay for updates eventually, but even that cost is minimal so that you don't end up unnecessarily straining your pockets.
Advanced editing
When it comes to editing, Snagit indeed offers way beyond others.
In addition to helpful annotation tools like highlighting and drawing, it offers a "simplify tool" that transforms standard screenshots into simple graphics, making your content even more engaging.
4. Recordit
Have you ever wanted to share your screen – but via a GIF?
Recordit is a GIF-based screen sharing software that is unique and quite productive, and effective at what it does.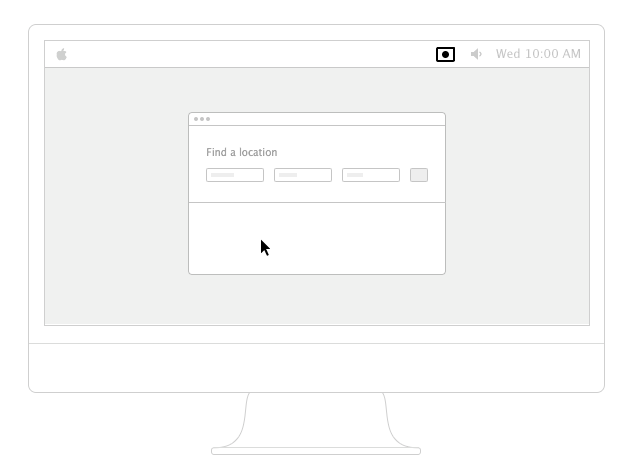 Here's a short list of what it offers:
Convenient sharing
The videos you record using RecordIt are not encoded; everything happens on the Web, so the videos are public.
What does this mean?
Well, it means you can conveniently share your content with anyone you like without downloading or uploading videos! 
Compatible with Mac and Windows
Recordit is optimized to work for both Mac and Windows – so whether you're an Apple user or rely on your desktop computer, Recordit has you covered. 
Zero cost!
Yes, RecordIt is free! You can avail of all its features and record your screen for up to 5 minutes for free. Certain upgrade features are paid-only, but the free version will likely suffice for minimal work. 
5. Vidyard
The next one on the list is Vidyard.
With a tagline, "Video to Close Distance," Vidyard aims to make screen sharing as fast and efficient as possible.
It is great for office work, as the software is targeted explicitly at segments such as Sales Teams, Corporate Comms, and Marketing Teams, which makes it the go-to option for the corporate environment.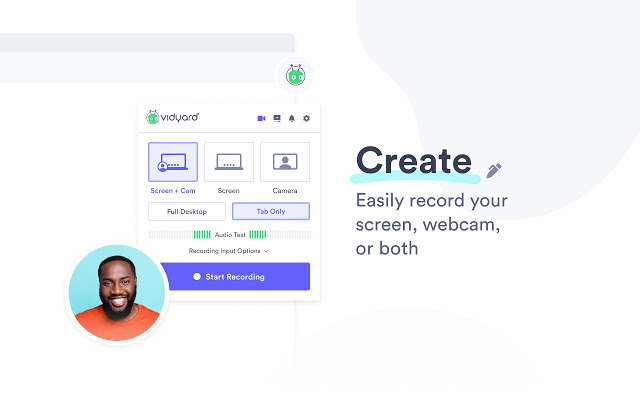 Here are some of the other features that make Vidyard an effective tool for screen sharing:
Add the human element to your content
Vidyard claims to add the "human element" to your communication and screen sharing experience.
What this essentially means is that you can fully control the recording and editing aspect of your videos! Vidyard ensures that the work you create does not look half-hearted or mass-produced.
Ad-free hosting and video management
With Vidyard, you don't have to worry about ads. Your hosting process and video management will be as swift as possible, devoid of pesky ads. Vidyard promises high-quality video streaming wherever you are or whoever your audience is. 
Wide Range of Pricing Options
Vidyard offers different price options, so you can easily pick a package following your needs.
These packages range from $0 (yes, there is a free option!) to paid plans. Check their website for complete pricing options.
6. Zappy
Zappy by Zapier is one of the fastest ways to share screenshots, screen recordings, and gifs with your team members. You can even link them with other applications and share them with the team.
Let's look at some of the other features that make Zappy stand out:
Free cloud hosting
If you have a big creative team that shares recordings frequently, then the free cloud hosting would greatly help you! You can upload all your gifs, screenshots, and screen recordings here.
However, this feature only comes with a paid subscription to Zappy.
Annotations for easy screen sharing
You can highlight the critical bit in the screenshot using annotations. They come in various colorful arrows or drawings that you can add. So make your screen sharing fun and interactive with Zappy annotations.
Integration with other applications
One of the best parts of using Zappy is that it can be easily integrated with other applications. These include Slack, Microsoft Team, Gsuite, and many more. It makes screen sharing easier and helps circulate screenshots easily among team members.
GoVisually – best tool to review and approve creative collateral faster.
Are you tired of the endless back-and-forth emails, confusing file versions, and missed deadlines often come with reviewing and approving creative collateral? 
GoVisually has revolutionized online creative collaboration, and it's time for you to onboard!
Whether you're sharing and reviewing images, videos, PDFs, or even pesky PSD files, GoVisually has your back. 
Here are some of our winning features that our million+ customers love!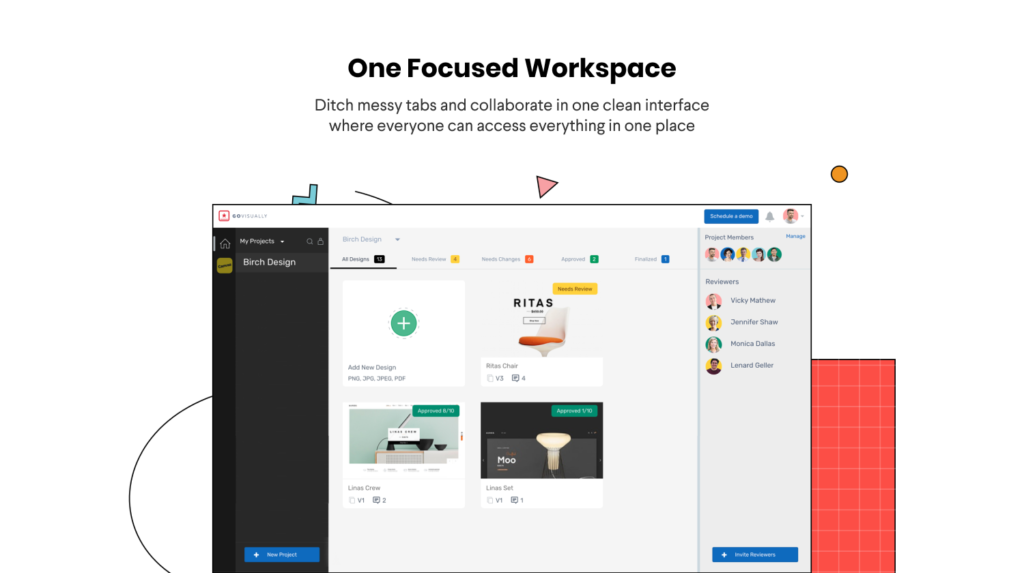 Various annotation tools 
Let your creativity flow freely with the help of GoVisually's wide range of annotation tools that facilitate the process.
GoVisually offers an array of annotation tools that make it easy to provide feedback. 
Want to highlight specific areas?
Add arrows and boxes!
Need to leave detailed comments?
Go ahead and type away! 
With its powerful features, you can effortlessly communicate your vision to your team, ensuring they understand your requirements accurately.
Seamless collaboration even on the go!
Collaboration is the key to success, and GoVisually knows it. 
Invite your team members, clients, or stakeholders to join the project and share their thoughts. One great thing about GoVisually is that you cannot limit the number of reviewers you can have.
Share the project's review link; your collaborators can access the files and leave their comments without hassle. 
Plus, whether traveling, lounging at your favorite café, or prefer working from your mobile device, you can access your projects, review files, and leave comments conveniently anywhere.
Organized data and notifications
Gone are the days of sifting through endless email threads or searching for the latest file version.
GoVisually keeps everything neatly organized in one place. All the comments, annotations, and versions of your creative collateral are correct at your fingertips.
This streamlined approach ensures that you never miss any valuable input, and you can keep track of the project's progress with ease.
Effortless revisions and feedback collection
GoVisually's revision management feature simplifies the entire process for you. No more confusion over file names or lost iterations!
Each revision is labeled and categorized, allowing you to compare and evaluate changes quickly. With GoVisually, managing revisions becomes easy, and you'll stay on top of your project's evolution.
Engage in collaborative conversations
Clear and effective communication is vital for successful collaboration. GoVisually makes engaging in meaningful discussions with your team and clients a breeze. 
You can address questions, provide clarifications, and have conversations directly within the platform. It's like having a virtual meeting room where ideas flow freely.
Stay on track with GoVisually!
We know how crucial it is to meet those project deadlines.
With GoVisually and a screen sharing tools power duo, you'll never miss one.
So, what are you waiting for?
Sign up for a free trial of GoVisually today!