SEO for SaaS companies is driving exponential growth.
It's one of the most employed and measurable strategies that has proven extremely successful in increasing Monthly Recurring Revenue (MRR).
SEO for SaaS platforms inherently differs from mainstream SEO, with strategies only to make your software products succeed in the competitive digital world.
Many investments have gone through the SaaS (Software as a Solution) industry in the last decade.
According to Silicon Valley Bank's 2022 report, this only amounted to $6 billion in 2010. However, the biggest jump happened between 2020 and 2021, when investments increased by $55 Billion!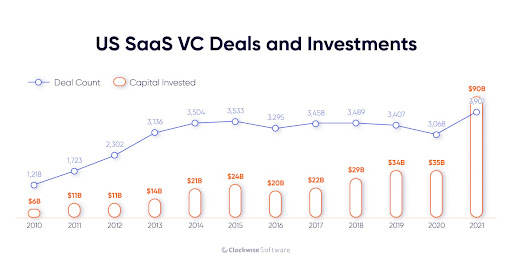 The SaaS industry is expanding quickly, and the battle for rankings is becoming more competitive. Yet, SaaS startups can succeed in a matter of months with the right SEO for SaaS strategy. 
In this guide, we'll help you discover the secrets behind a great SaaS SEO strategy and an actionable guide to implementing one for your business!
What are SEO and SEM for SaaS?
Search Engine Optimization (SEO) is a process to gain more traffic to a SaaS platform's website by ranking high on search engines for relevant keywords.
Search Engine Marketing (SEM), on the other hand, is all about running paid ads on search engines like Google Ads.
It is crucial to note that SEO for B2B SaaS is more useful than SEM.
That's because SEM only brings paid traffic. And that increases the chance of a major dip in organic traffic if there's a change in the Ad budget or you stop running Ads.
More importantly, the Customer Acquisition Cost (CAC) over SEM is much greater than SEO and often less affordable for startups.
This is why, I recommend investing in SEO for SaaS.
Is SEO worth it to grow your SaaS business exponentially?
All leading SaaS platforms, including our experts, would agree that no SaaS business can grow without a tailored SEO strategy.
The search growth status for platforms like Canva and Ahref exploded within the past three years with an SEO for SaaS approach.
Search growth for Canva was over 282% between 2020-2022. Search growth peaked at 122% for Ahref within 2022 and made the biggest chunk of their overall growth through the years.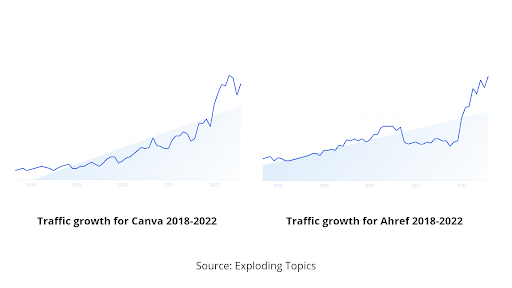 This growth was also partly due to the sudden popularity of the software solutions industry.
Some specific benefits of SEO for SaaS and things that set it apart from general SEO are:
It reduces the cost per acquisition (CPA) on every conversion/customer.

SaaS SEO has a compounding effect with time. This means Month-on-Month (MoM) added users from organic traffic.

It works across all marketing channels to gain traffic everywhere with product-led, repurposed, and evergreen content.

The strategy brings more ROI in the long run when your rankings, brand authority, and recognition are there to stay

.
So as we jump into our not-so-secret 8 steps of a successful SaaS SEO strategy, remember that SEO for SaaS is an ongoing process. There's no magic spell to achieve exponential growth in one day with a one-dimensional strategy.
8 steps of building a SaaS SEO strategy  
Here are the 8 steps you need to take to ensure you have a bulletproof SEO strategy: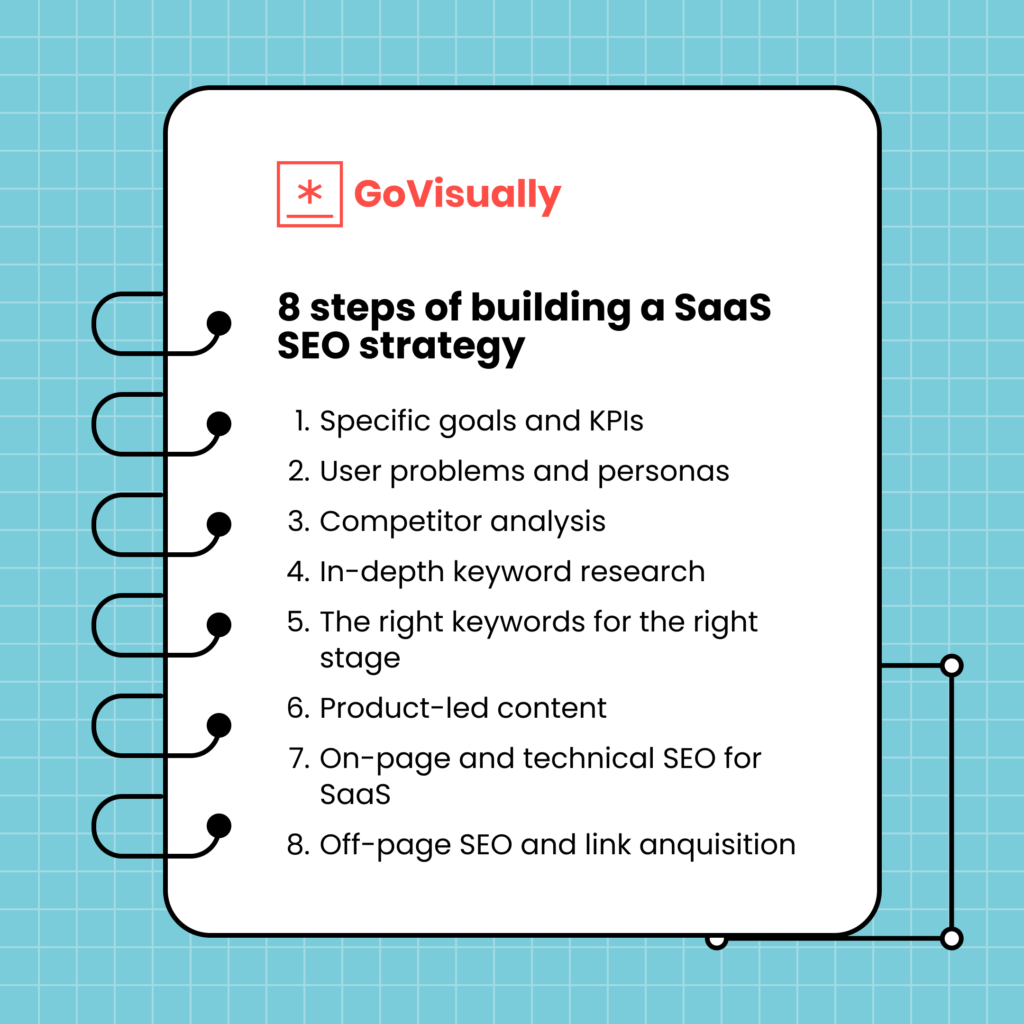 1. Set specific goals and KPIs 
SEO for SaaS and creative agencies is similar to this approach. In both cases, you must decide which go-to-market approach you prioritize: self-serve, small business, or enterprise. This will help determine which SEO metrics and KPIs to focus on. 
For example, if your goal is to increase the number of qualified signups and activations, you would focus on different metrics than if your goal is to increase the number of qualified pipelines and closed deals.
The uniqueness of SaaS content marketing and scaling depends on being specific. The more detailed your goals, the easier it gets to scale them and tailor your strategy.
2. Identify the user problems and personas 
Every digital marketing strategy follows a customer awareness framework. However, for a SaaS SEO and content marketing strategy, you must know it's all about user problems and personas.
To help your SaaS business stand out, you need to know your target customers and their problems. Once you know this, you can create a strategy to put your service right before them when they're looking for it.
Remember that user personas and their problems can differ at different awareness stages. You can consider this approach with the following outcome in mind:
User Persona A finds a service that can help them solve a problem. You create content around the problems, directing Persona A to the solution (e.g., the service) for the problem they're experiencing.
3. Run a complete and detailed competitor analysis 
Understanding your competitors' SEO strategies is a key part of your own. Looking at how they drive traffic from organic sources would be best.
You can conduct competitor analysis efficiently with competitor tools like SemRush Organic Research. Learning from their success and drawbacks is a good way to start your strategy.
To identify your competitors, you'll need to look at their products, their marketing strategies, and their business models:
Direct competitors

are those who offer the same services as you. They may have different features but aim to help people solve the same problems. 
Indirect competitors

help people solve the same problems in different ways. They're focused on providing services or products rather than assisting people to become more aware of their brand. 
4. Conduct in-depth keyword research 
Keyword research forms the core of any Saas content SEO strategy. SEO keyword research is all about finding keywords your target audience will likely be searching for. 
As a SaaS platform, you must develop a list of seed keywords. These are the most basic keywords for your service, product, and user problems.
For example, you can use "appointment scheduling" as a seed keyword and search for more long-tail keywords and search terms. You can do this using tools like Semrush, Ahrefs, and Moz, which will provide you with relevant keywords.
Seed keywords are only the starting point. In-depth keyword research means searching several thousand search terms, related topics, and everything your platform solves.
Remember for the early success of your SEO for SaaS strategy; the more, the merrier! It would help if you also looked out for search volume and difficulty in making the most of your strategy.
Cut design & video review time in half
GoVisually is the #1 online proofing software to get visual feedback on Designs, PDFs & Video content.
Try GoVisually free today!
5. Use the right keywords for the right stage  
A SaaS marketing funnel consists of three steps:
Top of the Funnel (ToFu)

Mid of the Funnel (MoFu)

Bottom of the Funnel (BoFu)
Top-of-the-funnel keywords are targeted at users who need to be made aware of the solutions they could have. This is where your SEO strategy revolves around informational keywords and content like "What is email marketing?" Or "How does an appointment scheduling software work?" 
Mid-funnel keywords are where your users are aware of a solution and need more information before deciding. This includes informational keywords but more specific ones like "schedule management software" or "best email marketing platforms." 
Bottom-of-the-funnel keywords are particular and more transactional/sales-oriented than informational. This is where your users know your brand and directly search for it to make comparisons or learn about pricing. 
Bottom-of-the-funnel keywords for SaaS are commonly product landing pages or A vs. B comparison articles to pitch yourself against competitors.
6. Create product focused content 
Product-led content makes it a point always to introduce your SaaS platform and the solutions it brings in different scenarios.
You can go far and wide with your topic clusters to increase your ranks for a range of keywords. However, the degree to which you can talk about your product within different topics and articles vary, and it's always better to avoid mentioning it if it feels too pushy.
Keyword analysis tools use a metric called "business potential" to give each keyword a score that tells us how likely it is to promote your SaaS product naturally. You can also consider it manually by using data on keyword search volume, monthly traffic, ranking difficulty, and relevance to your service.
7. Do regular audits for the optimization of on-page and technical SEO for SaaS 
There's a reason why it's important to learn SEO basics for web developers.
If you want to succeed with SEO for SaaS, you must ensure your site is well-written with great content and well-optimized for that content and the search engine.
This means following proper technical SEO techniques and regular on-page website audits to ensure everything is in order.
On-page and technical SEO factors include:
Including target keywords and optimizing metadata

Optimizing URLs

Utilizing keywords in the content

Optimizing images and media by resizing, compressing, and renaming with Alt-Text

Adding internal links to relevant pages on your website
8. Invest in off-page SEO and link acquisition strategy 
Link acquisition and PR are the final steps to make SaaS SEO successful because it puts your brand in front of target customers, position you as an industry expert, and bring in referral traffic from other websites.
Common link-building tactics for SaaS are:
Broken link building

Email outreach

Resource content (eBooks, Studies, Stats)

Brand mentions

Guest posting
A recent approach to acquiring backlinks is developing free tools for landing pages related to your main SaaS platform. These free tool pages drive traffic, attract backlinks, make people familiar with your product, generate leads, and even convert some visitors to bring sales like Ahref's free basic SEO tools.
SEO for SaaS: Implementing the strategy
Now you know the tactics, tools, and strategies that go into groundbreaking SaaS SEO companies. But are they as credible as they seem? Is it capable of producing the expected results, or does it only work in theory?
It does!
GoVisually is a SaaS platform that exploded with remarkable growth with this SaaS SEO strategy in 11 months! 
Case Study: GoVisually
Our last yearly website and content audit blew us away by the amount of traffic this tailored SEO strategy brought us between January-November 2022.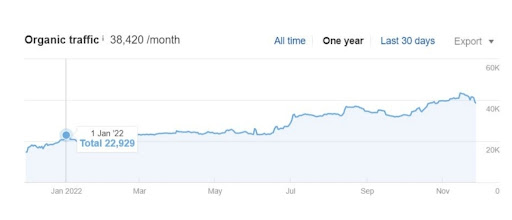 GoVisually's organic search traffic grew by 40.3%.
If you're wondering how growth in traffic turns into an ROI, most SaaS platforms use a metric called Traffic Value. Traffic Value is the equivalent monthly cost of traffic from all keywords your website ranks for if paid via Google Adwords pay-per-click (PPC) instead of ranking organically. 
For GoVisually, our total current traffic value is $45.6K, half of which was generated in 2022. Using the link-building tactics, our backlinks profile also grew by 63.4%.

A great SaaS SEO strategy aside, our teams' effective collaboration and feedback cycles through our state-of-the-art platform made this growth a reality.
Remember, implementing an effective SEO for SaaS strategy takes time, consistency, and, most of all, teamwork. Collaboration becomes necessary for quality outcomes when web developers, content writers, video creators, UX designers, and marketing professionals work together.
The whole strategy in SaaS SEO is one of the many signs your business needs marketing approval software to streamline workflow and centralize communications, project management, and feedback cycles. 
GoVisually – the ultimate collaboration platform for marketers
GoVisually is the best online proofing, collaboration, communication, and approval software for creative marketing teams. The platform offers advanced tools for visual annotations and supports all file types, including images, PDFs, videos, PSDs, and more.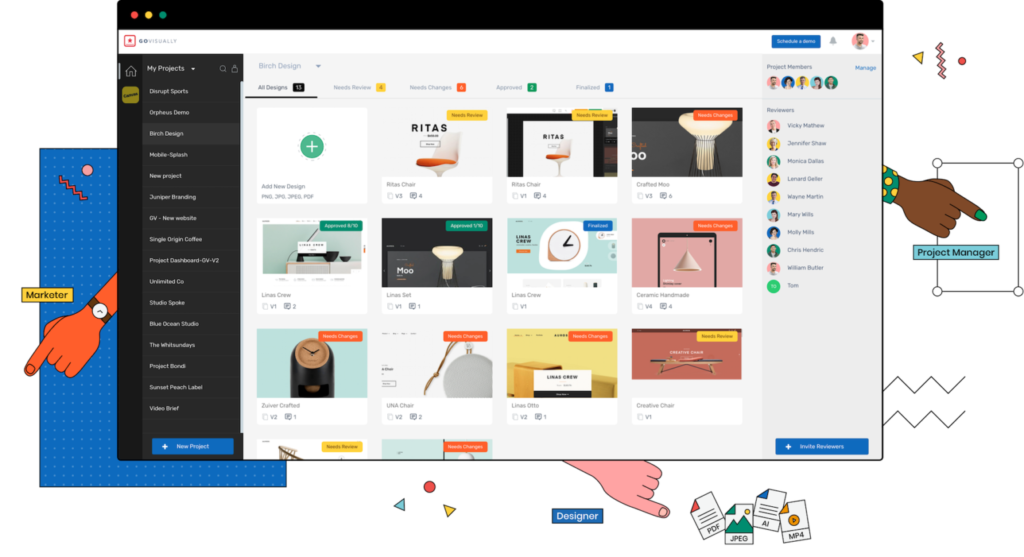 This is the one-stop platform where everyone working on SEO for your SaaS platform can collaborate in real time. Without delays or long and confusing email threads!
Book a demo with GoVisually today and experience how collaboration becomes a revolution.
And don't forget to share your experience with these strategies. I'd love to hear how they work for your SaaS company.