Remote work has been slowly becoming a norm among many big and small companies. But the pandemic pushed it more than anyone could have imagined, leading us all to ask how to stay productive at home.
You might be surprised that more than 4 million US citizens work remotely. And with more people realizing the importance of work-life balance, this is just the beginning.
Working from home has many benefits; no commute, a flexible schedule, more time for friends and family, hobbies, fewer work-related distractions, and a better lifestyle. 
However, lack of a workplace also has several drawbacks, such as procrastination, lack of routine, work and personal life can easily get mingled, and you might find it difficult to manage time and work. 
So to help you bridge the gap perfectly and understand how to stay productive at home, I'll be discussing the top 8 most impactful things you can start with!
8 tips for staying productive while working from home
1. Design your workspace
Productive work from home sounds like a dream. That is, until you get lost in the chaos and miss all the deadlines. 
Create a custom work environment if you want to know how to work effectively from home. 
Designing a workspace for your remote job is essential to staying productive. Working while reclining on the comfortable living room couch might be tempting, but the TV will distract you from work. On the contrary, a workspace with a spacious desk, comfortable chair, and strong WiFi will boost your productivity. 
Your brain naturally associates your couch and bed with sleep and relaxation. 
It would help if you had a change of space for your work. Working in a designated space will make you feel more confident, alert, and energetic. 
To set up your workspace, find the part of the house with the following:
The least distractions

No TV, noise from the outside, or anything else that might distract you from work.
If you cannot find such a place in your house, look up cafes or co-working spaces in your area. 
Set up your workspace with all the essentials you need:
Your water bottle 

Notepad and pen

Table clock to keep track of time 

Other workspace tools
2. Set up a morning routine & follow it 
Working from home can easily make you lazy. You wake up late, spend most of your day in a sleepy haze and lose track of time. If you want to be mindful of your time, develop a morning routine. 
Waking up early is one of the challenges of working from home because you don't have to be accountable for late attendance at a job. But, set up your alarm, wake up early, and make a hearty breakfast to prepare yourself for the day. 
You might have watched YouTubers gush over how morning routines have changed their life. They're not wrong, though. Developing a morning routine can bring drastic changes to your life. 
Plus, setting up a doable morning routine has proven to improve your focus, productivity, and work efficiency. Imagine the satisfaction you'll feel when you check off the most difficult assignments of the day early in the morning! 
There are several benefits of the morning routine.
Here are the steps to creating a morning routine
Fixed bedtime and waking time daily to maintain a balanced circadian rhythm. 

Don't hit snooze – no matter how much you want to! 

Get out of bed. Your brain might trick you into bed for 5 more minutes, but you must get up immediately. Otherwise, 5 minutes will turn into half an hour, and so on. 

After waking up, spend 30 minutes planning your day and making a list of all the tasks – big or small – that you need to get done. 

Don't touch your phone. It might be a reflex to check social media and scroll down the feed immediately. But social media is an endless pit of mindless content that prevents you from achieving anything fruitful. 

Drink some water, and cook a healthy breakfast to prepare yourself for the day. 

 Exercise or stretch your muscle to warm up for the day.

Recite positive mantras loudly to give yourself a boost of self-esteem and confidence. 
3. Take breaks when needed; your mind needs to regroup!
There are two types of remote workers; one who can barely motivate himself to work and one who doesn't know how to stop working. Both are on the two ends of the spectrum and are bad examples to follow. 
Without the discipline of an office environment, remote workers tend to work long hours with fewer breaks in between. The lines between work and personal life tend to get blurry after some time, and before you know it, you're falling deeper into the pit of burnout and anxiety. 
Hence, it's important to take breaks between work to stretch and reconnect with humanity. Take longer breaks during the day to play a sport, hang out with a friend and rewatch an episode of your comfort show to relax and recharge. 
Make sure you integrate exercise into your daily routine. Go outside and take a walk. It would help if you had sun, fresh air, and the proximity of nature to thrive and free your mind from the clutters. Plus, it would help if you moved your legs after sitting in one position for hours. 
Interestingly, taking a short break every few hours can improve your productivity. Many productive people take effective breaks between work to retain mental clarity. 
If you struggle to manage time, you can apply Pomodoro Technique to develop healthy work habits and overcome any hurdles that can potentially impair your productivity. 
What is the Pomodoro Technique?
Created by Francesco Cirillo, Pomodoro (tomato in Italian) Technique is an effective time-management method based on a 25-minute work interval and a 3-5 minute break afterward.
This technique can effectively sharpen the focus and help you overcome the tendencies of procrastination by allowing healthy breaks from work.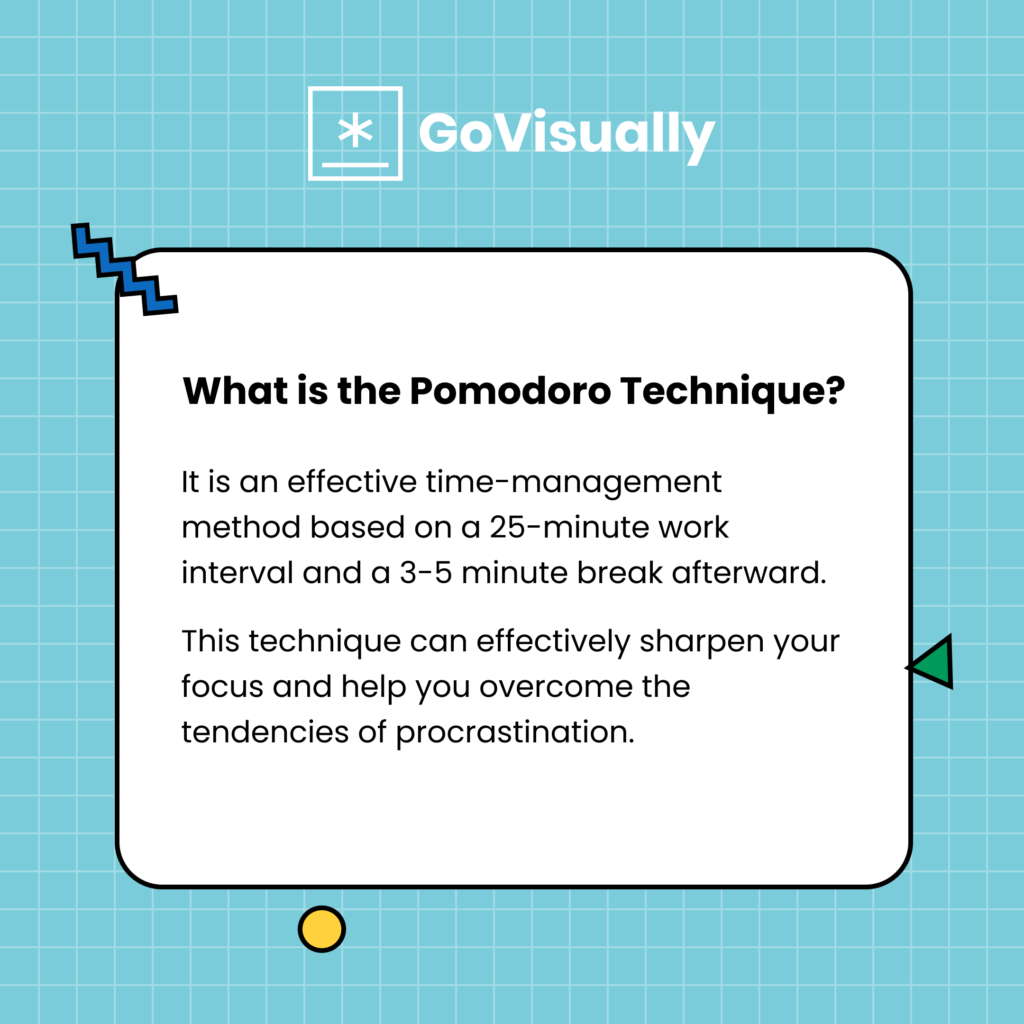 Steps for the Pomodoro Technique
Write a to-do list.

Choose a single task from your list, and write it down.

Set the timer to 25 minutes.

Work on the task until the timer rings.

Mark off one Pomodoro, and write down what you accomplished. 

Enjoy a short 5-minute break. 

Work for another 25 minutes. 

After 3-4 Pomodoro, enjoy a refreshing 15-30 minute break. 
4. Don't miss out on making personal connections with the team
Do you know that remote workers found the lack of collaboration and communication one of the biggest remote working struggles? 
An office or hybrid working environment provides space to engage and connect with your coworkers, something you miss out on while good working from home. The isolation can catch up to you and take a toll on your productivity. This can be a daunting challenge to overcome. 
However, many communication software – such as Slack, Glip, or ClickUp – can provide several features to connect you with your remote team seamlessly. You can use Slack to create random yet interesting channels to socialize with your coworkers.
For instance, create a monthly book club channel, a cooking channel to share the latest recipes you have tried, or a movie channel to talk about the recent movies you have watched. These channels will keep the conversation going and allow the employees to form bonds. 
Furthermore, if you find it hard to collaborate with your remote team and client on a project, GoVisually is the perfect option for you. 
Seamless collaboration with GoVisually!
GoVisually is a proofing software that encourages seamless communication between remote teams and clients.
You can easily upload your project – image, video file, or PDF – and share it with your client to get immediate feedback and approval. 
Moreover, you can also share the files with your coworkers to get opinions or feedback. GoVisually makes the task of communication a piece of cake for remote workers.
So you don't have to worry about how to work from home while maintaining effective communication and workflow with the team. 
5. Create a work schedule
Productive work from home can get very chaotic when your kids, spouse, or other family members are at home. They might overburden you with more responsibilities and drive your focus away from work. This can gravely impact your productivity. 
Set boundaries and tell your family not to disturb you during work hours. As selfish as it might seem to them, you should not overextend yourself beyond the breaking point. 
Set aside a specific time in your everyday schedule for work, socializing, rest, and recreation. 
6. Distractions are a killer to productivity; keep away!
When you are working in an office, it's easy to keep away from distractions. On the other hand, working from home frees you from any accountability, and soon you'll find yourself down the rabbit hole of social media. 
One moment you were looking up a work playlist for the background; next, you're watching a video on how two days old pasta killed an entire family – yes, it happened, look it up. 
Social media is called the silent killer of productivity. 
Even if it is done during your break period, don't mistake scrolling on social media as your time for rest and recreation. Social media is overloading you with more information than your brain can handle. This information is presented in chunks; stories, memes, and short headlines. Subsequently, you will feel full and want to take actual rest. 
Log out of your social media, and place your phone across the room where it's harder to reach. Work, take a breather, and spend as much time as you want on social media once you are done for the day. 
Cut design & video review time in half
GoVisually is the #1 online proofing software to get visual feedback on Designs, PDFs & Video content.
Try GoVisually free today!
7. Stick to the office hours (if you're not working flexible hours)
Suppose you were working at an office. What would be your working hours? 9-5? You should schedule your work-at-home like you would at an office. 
Let's say you wake up at 8 AM and make yourself breakfast. After taking a shower, you begin working on your daily assignments from 9 AM. With short and long breaks, you should be able to finish your work by 5 PM. If possible, don't entertain any work calls or meetings after work hours. 
Sticking to the same schedule daily will create a routine for you.
Remember, discipline is the key.
Motivation will only get you so far. Sticking to your schedule religiously will keep you organized, structured, and in control of your time. 
8. Master the art of multitasking
It's impossible to stay at home and not have a list of tasks you need to accomplish. You can not stay glued to your laptop all day and hope the dishes are magically washed. This is why you should learn how to multitask effectively. 
When you wake up, create a list of all the big and small tasks you need to accomplish throughout the day. The list should be categorized into important work tasks and household chores. You can schedule these tasks throughout the day. For instance, go to the kitchen during your short breaks and load the dishwasher while filling your water bottle. 
Key takeaway
Admittedly, working from home can be quite a challenge.
But nothing's impossible – especially if you follow through with the best work-from-home tips we discussed today!
If you have any secrets to conquering the work-from-home routine, don't forget to share.
Toodles!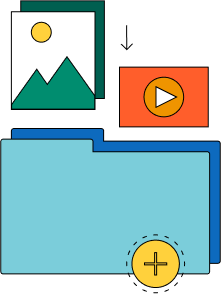 Need a quick way to share large files and creative assets?
With GoVisually Share, it's absolutely free! Try today.