Have you wondered what it is about these streaming sites that grabs our attention so well? Most of us don't even spend two minutes scrolling on Netflix before deciding what we want to watch, and it's all because of the thumbnail artwork. 
As the world struggles to come to terms with the changing times, we have to spend most of our days inside. With everyone having more time at home, streaming shows and movies on services like Netflix, Amazon Prime Video, Hulu, Disney+, and even Youtube has increased immensely.  
There is nothing else that can influence a viewer's decision-making like the visuals presented to them. Netflix has that aspect wholly covered. Each year, they spend considerable amounts to give the users more personalized thumbnails that will get their attention.  
As humans, we like visuals, and these images can help us process information better. Netflix is always trying to develop features that can allow users to be more engaged with the content. Nothing can get viewers more engaged with the content than the thumbnail artwork in this day and age.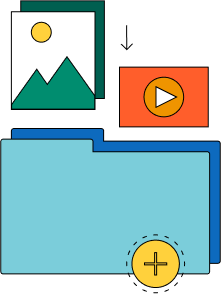 Need a quick way to share large files and creative assets?
With GoVisually Share, it's absolutely free! Try today.
What Is Thumbnail Artwork? 
A thumbnail is a version of a picture or a video that is reduced in size. It helps organize all the files to see what the image or video is without opening it. Thumbnails are mainly used on video streaming services and websites like Netflix and Youtube.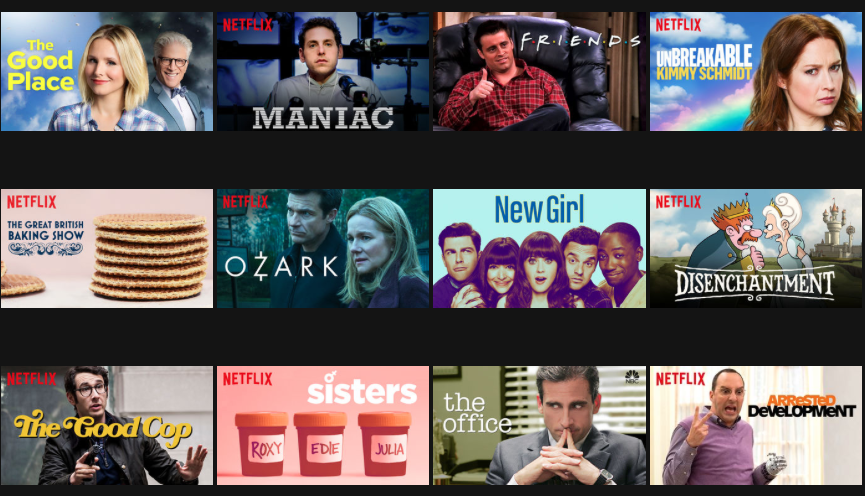 When browsing through any streaming website, we all come across countless thumbnails representing shows, movies, and other videos. Most of our decisions are influenced by what we see in these images and how intriguing they are for us. Streaming giants like Netflix realized how pivotal thumbnails are, and they have made the best use of them. 
How Is A Thumbnail Important?
Consumer research held by Netflix in 2014 proved that thumbnails are the focus of 82% of the browsing time spent on the website and application. This statistic makes it evident that people decide what to watch, depending primarily on which thumbnail they like. 
The Netflix consumer research also showed that thumbnails are the most effective tools to get someone to watch any content on the website. The most any user spends looking at a thumbnail on Netflix is 1.8 seconds, and this time frame is enough for them to make their decision. This data only shows how vital a good thumbnail is and how much it can affect any content's views. 
Cut design & video review time in half
GoVisually is the #1 online proofing software to get visual feedback on Designs, PDFs & Video content.
Try GoVisually free today!
How Does Netflix Select Thumbnails? 
The thumbnail selection process for Netflix is incredibly detailed and personalized for each user. You will always see thumbnail artwork that suits your interests. This thumbnail selection process is done by aesthetic visual analysis (AVA), which pulls every video frame on the platform. 
Look at the following thumbnails for the same Netflix series, Stranger Things. Notice how each thumbnail is entirely different from the other and focuses on a different aspect too. This is not coincidental at all. In fact, it has been carefully crafted to appear different to people with different interests. So more people can collectively watch the show based on the thumbnail artwork most likely to appeal to their interests.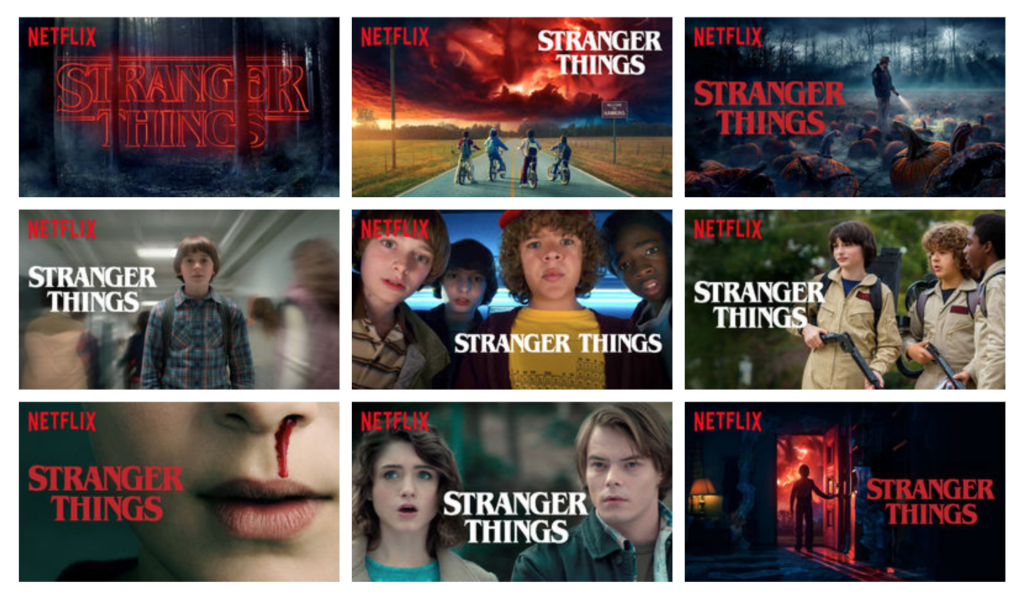 Step 1:
With the help of AVA, frame annotation occurs. Each frame is tagged with metadata like the frame number, skin tone, brightness and contrast of the image, saliency, and the probability of nudity. Each image is annotated with key variables that help identify the features and distinguish them from each other. 
Step 2:
The next step taken during AVA is grading the frames based on various aspects of the image. Some of the variables the frames are judged on include:
Composition (rule of thirds, symmetry, depth of field, and other photography principles)

Contextual (shot angle, face detection, etc.)

Visual (contrast, brightness, motion blur, color, and more) 
Step 3:
The next step for aesthetic visual analysis is ranking the image. Through this process, AVA chooses the thumbnail bound to get the most clicks from users. There are various traits and images can have that can lead to people being more attracted to it. A top-ranking thumbnail should include:
Bright colors that grab attention

Expressive faces of the people in the video

Main characters from the series or the movie

Use of localization to appeal to people from their specific region

The antagonist or villain from the show or movie

Not more than three people in the frame  
At the core of it all, Netflix uses machine learning to select a thumbnail best suited for each user. The images presented to all of us are based on our recent watch history, and they use our likes to judge which frame from any video will catch our attention. 
For example, a person who has a history of watching romantic movies is likely to see an image from a romantic scene from Goodwill Hunting. In contrast, anyone with an account of watching comedies will be offered a frame that has Robin Williams in it. 

Similarly, fans of John Travolta are likely to see a thumbnail for Pulp Fiction that has him in it. And fans of Uma Thurman will see a Pulp Fiction thumbnail that has her. The use of machine learning also allows Netflix to use images that have an actor or actress who is currently trending. 
Why Does Netflix Create Their Thumbnails?
To Give Everyone An Equally Personalized Experience 
The primary purpose of Netflix selecting different thumbnails for different people is to appeal to all viewers equally. If they use one thumbnail for the show or movie, it doesn't need to grab everyone's attention. To ensure all the users have a personalized experience, Netflix chooses to create its thumbnails. 
It is an excellent way to make all users feel equally special. One of the essential aspects of gaining loyal users is enabling them to feel they matter to your platform and service, and keeping their interests in mind to recommend content helps Netflix achieve that. With thumbnails tailored explicitly for your brain and eyes, Netflix improves your experience while using the website and application. 
Billboards And Posters Don't Work For Netflix. 
When Netflix was first launched, the layout and interface of the streaming service used to look a lot different than it does now. Back then, the thumbnails used were not personalized at all. Netflix used artwork from movie posters or DVD covers for the longest time. In a Netflix technology blog in 2016, it was explained that their images for thumbnails back then did not suit the layout. 
The images do not grab everyone's attention and appear intriguing. The posters and DVD covers are more generic, which Netflix is trying to avoid at all costs. These images don't go along with the interface of the Netflix website and application. Anyone who has used Netflix knows that the thumbnails we see are constantly changing, and if they had stuck to using posters only, the variety of images we see now would not have been possible.  
Key Takeaway
With each passing day, Netflix provides all users with a more personalized and improved experience. It uses algorithms like aesthetic visual analysis to come up with thumbnails a user would appreciate. Netflix also puts online machine learning to decide what to recommend based on their recent watch history. 
Overall, it is an extensive and detailed process, and Netflix has mastered the art of showing us thumbnails that will lead us to stream their content instead of closing the app after browsing for a while.