Looking for the best online proofing software in 2021?
You've come to the right place. We have shortlisted the 7 best online proofing software trending right now. To help you out, we've listed their pros and cons. So let's get you started on faster and quicker approval software.
1. GoVisually – The Best Online Proofing Software
GoVisually is a leading proofing tool for creative teams to deliver work faster without email chaos. Invite team members, clients, and reviewers to get your original work reviewed and approved quickly. GoVisually allows for precise comments, unlimited reviewers, real-time progress tracking and client approval.
Regardless of what your team is working on, GoVisually is the most straightforward way to work smarter. GoVisually's clients include Mazda, Fuji Film, Dolby Digital, and Coca-Cola.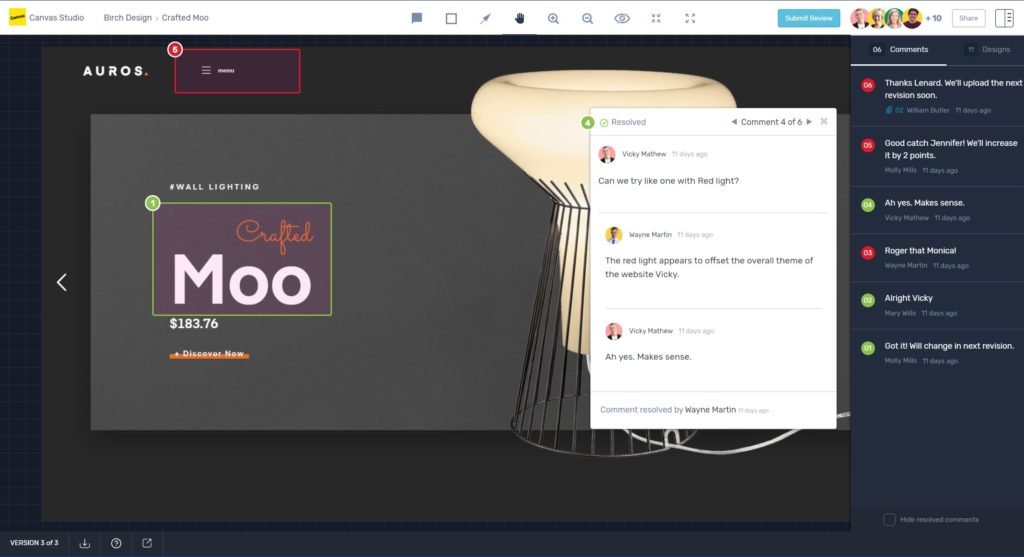 Pros
Video reviewing available with exact timestamps.

No tedious sign-up process is involved.

Creative Designers can easily add new projects, remove old ones, and request revisions. The revision tab even provides a real-time list of all changes to date so that you can track your version history. 

The platform allows you and your clients to 'download' the original design file. However, you can turn this feature on and off for each account. 

Password protect projects, support for over 1000 page PDFs, best pricing, and other features.

Turn on "private comments" – great for internal team discussions.

Upload attachments in the comments

Integration with Slack

Control who can download files

Annotate and comment on PNG, JPG, PSD, GIFs & Video (MP4, MOV) files
Cons
It is not possible to place proofs side by side for comparison. However, you do have the option to revisit previous versions one at a time.

Upload file size limit of 512MB.

When PDFs are uploaded, they're rendered as images, which some reviewers dislike.
Main Features
A detailed audit trail

Video review and approvals

File sharing with unlimited storage

Markup tools

Role-based permissions

Status tracking and setting deadlines

Task management

Version control 

Up to 512MB file attachment over each comment

Send reminders to clients.

Integration with 1000s of apps with Zapier

Project closing and source file delivery (download)
Ease of Use
GoVisually is an easy-to-use program for creatives and their clients. GoVisually's customer service department has a reputation for excellence and is always available to answer questions. Engineers also make frequent updates to the program to continuously adapt and become better than ever before.
Project and Client Management
People love GoVisually because it reduces much of the work associated with making proofs available to clients. While other software requires dozens of steps to access proofs, GoVisually makes client and project management very direct. Clients can receive links to a project without signing up for the system, for example. Even better, the proofing functionality is straightforward and comprehensive.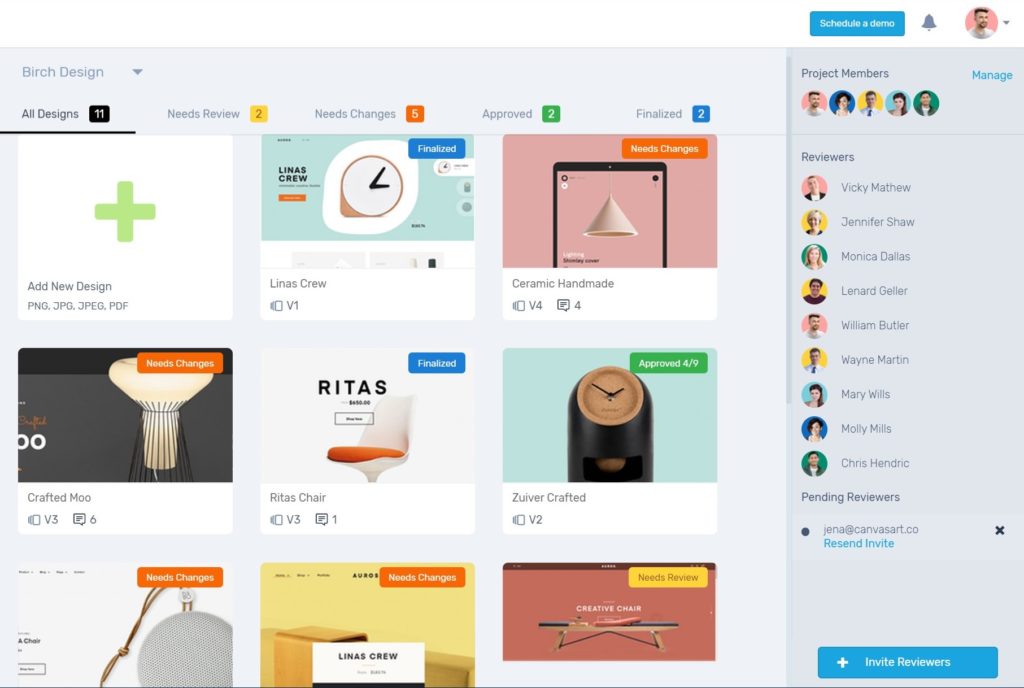 Pricing
Pricing starts at $10/user per month, with a 7-day no-obligation free trial option available.
Conclusion
If you're looking for intuitive proofing software, GoVisually is an excellent option. The software requires a minimal time investment on clients who want to proof material and minimum emails to communicate changes to the client. It also offers simplified but comprehensive proofing functionality. The learning curve to learn how to proof is very low, which leads us to happy clients. 
The tool is ideal for Creative teams, Solo designers, Design studios, Marketing Agencies, and In-house Design teams who want to prove their designs, magazines, PDFs, and any other print material.
Ziflow is the leading enterprise-ready online proofing for the world's most demanding agencies and brands. With over 1,200 supported file types, SOC2 compliance, and capabilities like automated workflow, version management, and integrations with leading project management solutions, it's the first choice for organizations looking for an effective enterprise online proofing solution. Customers using the software include Showtime, Splash Worldwide, AWS, Hilton, Weber Grills, WeatherTech, Olly, and Everyday Health.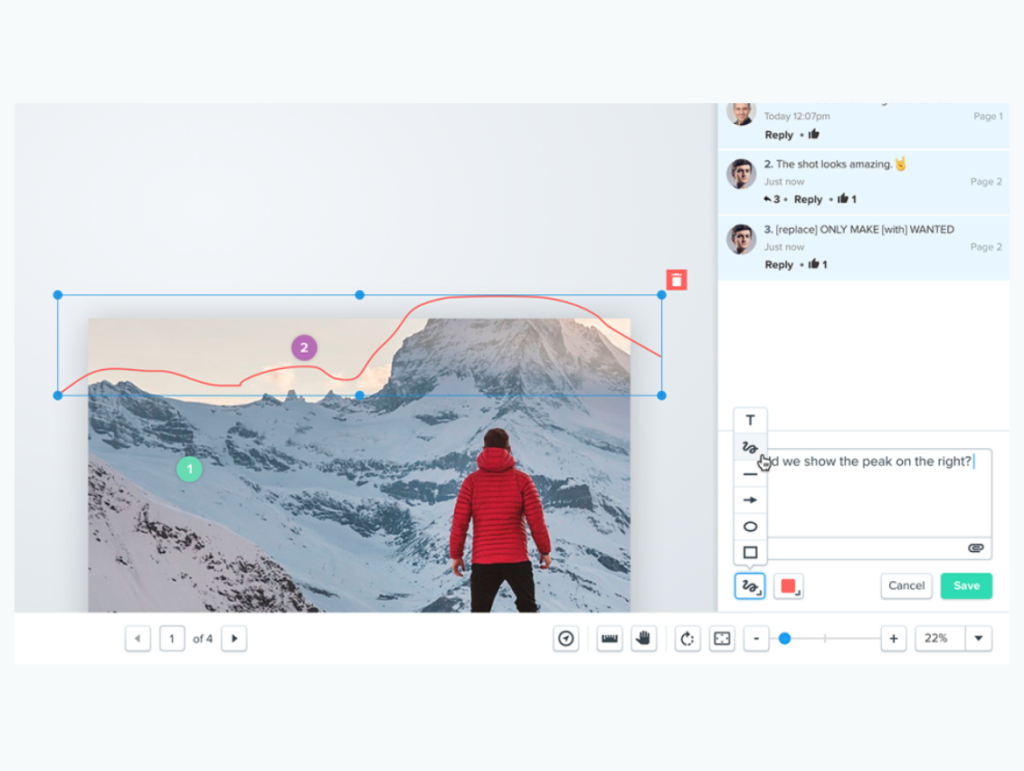 Pros
Ziflow offers many well-thought-out, useful options, right down to the software's look and feel.

The many features of the tool are easy to use. Even if a client doesn't utilize some of the software's features, they will remain in the workflow.

Customers using Zilflow to proof photos can access an overlay view, which makes comparing versions easy. 

Ziflow is known for offering excellent customer service.

Ziflow makes it easy for users and clients to adapt to the software, and users report a very friendly UI/UX.

Initial setup and configuration only take a few minutes.
Cons
The system has been buggy, and sometimes screens only show partially, forcing users to reload for a full view of their proof.

Significant updates frequently show minor errors.

Some users have complained that the platform could be more intuitive.

Some pages are slow to load.
Main Features
The software offers the following features:
Version control

Custom roles

Annotation and markup tools

Status tracking

Multiple markup tools

Due date tracking

Proof comparison

Audit tracking

File sharing

White labeling
Ease of Use
Reviewers say Ziflow is both robust and easy-to-use and that the process of integrating the software into a workflow is simple and straightforward. One customer said, "I enjoy the ease of use and ability to customize the interface/functionality to what fits us best. My contact at Ziflow (representative) was beneficial during set up and also continues to follow up with me monthly to see how things are going."
The platform's automated workflow makes it straightforward to use, and a favorite among busy teams:
Project/Client Management
PDFs can be sent to a customer in just a few steps. Each proof is quick and clean, and teams enjoy enhanced visibility through the workflow.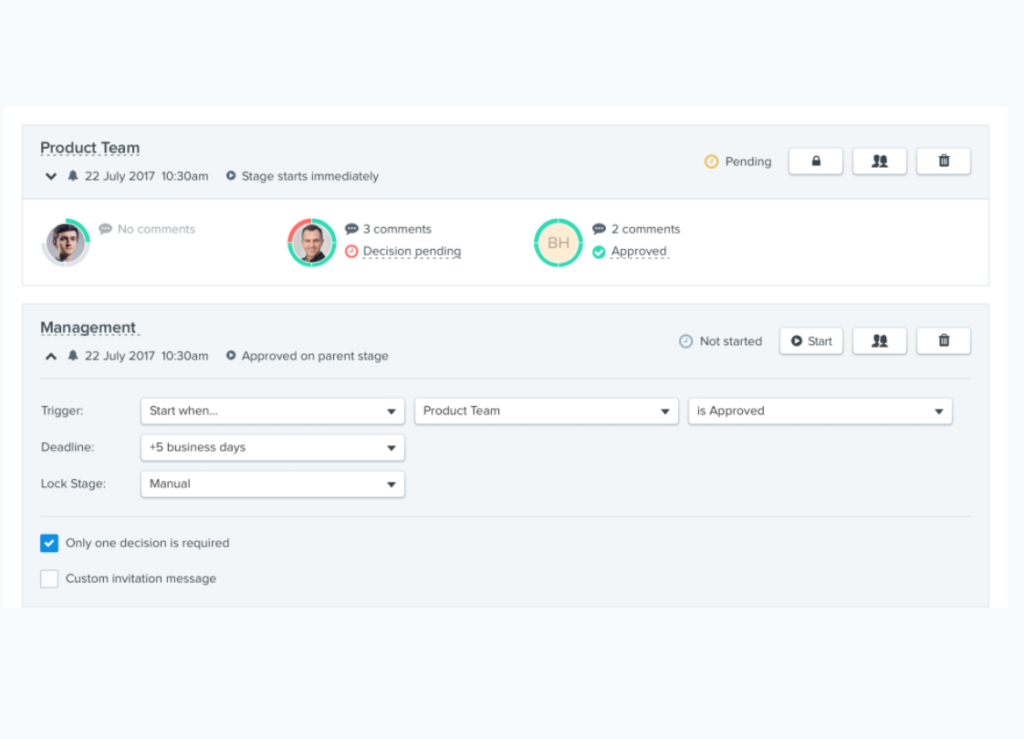 Pricing
The pricing for Ziflow starts at $10.0 per month. Ziflow has four different paid plans available: Basic at $10 per month, Starter at $20 per month, Business at $40 per month, and Enterprise at $60 per month.
Conclusion
If you're looking for a tool to centralize packaging proofs or simplify editing, Ziflow is a wonderful solution. The software makes it easy to track various projects' status, send reminders to team members, and add new versions after corrections have been made. 
Filestage is the content review and collaboration platform used by marketing teams, agencies, and media companies. Need content proofed within your team or approval from internal or external stakeholders? Filestage makes it easy to set up the structure you need for the entire process, and with no sign-up required for reviewers – it's simple to gather their feedback. Companies like Sixt, Netflix, BBC, and Lufthansa are using Filestage to improve their work.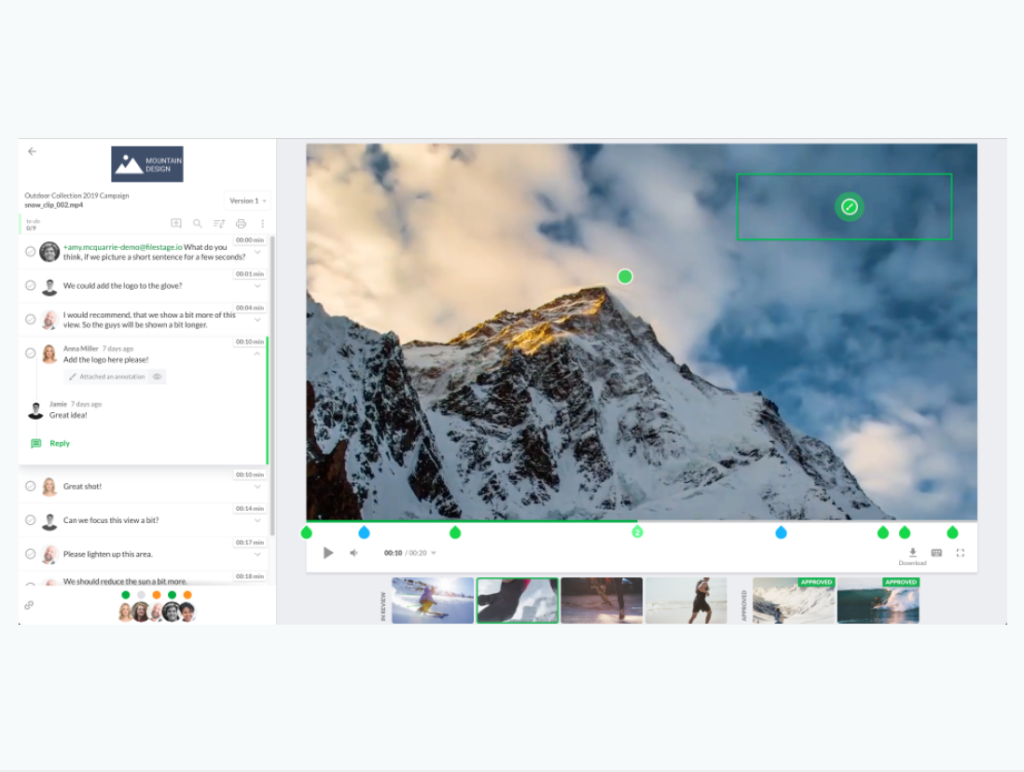 Pros
Easy interface 

Easy feedback & documentation 

Great customer service 

Clients can provide detailed feedback on the spot – they simply click into the video and write a comment. They don't need to send timecodes, need to make lists, write an email.

The user gets immediate revision notifications.

It's possible to brand the software and fit it into your company. 

You also have clear documentation and approval from your customers, which can be handy when things get complicated at a later point. 
Cons
Projects in the overview can't be sorted quickly.

The app is clunky to use on mobile.

The tool is more expensive than its competitors.  
Main Features
Filestage is the review and proofing platform for marketing teams, agencies, and media companies to manage their content review process. Its main features include:
Agile methodologies

Client portal

Collaboration tools
Ease of Use
Reviewers report Filestage is very user-friendly. The tool presents files with bullets denoting edits and input and allows users to see each document's version history. It makes it easy to create projects and invite a team to share projects. Additionally, the email is customized with your logo, which is an excellent addition to branding. 
Project/Client Management
Filestage streamlines client and project management by saving time in your post-production process and offering clients a great tool. In short, it saves time for both you and your clients.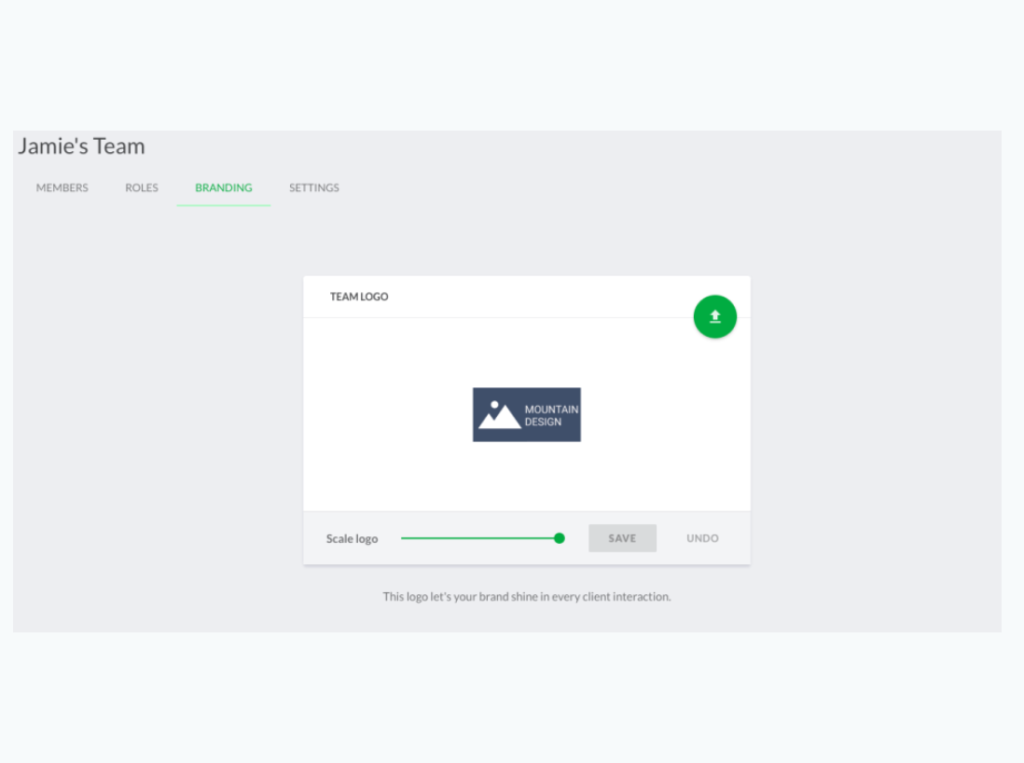 Pricing
Filestage pricing starts at $99.00 per month. Filestage does offer a free trial.
Conclusion
Filestage helps teams organize their projects and streamline feedback. Make communication between departments simpler and keep all feedback notes in one place with this tool. While it's the priciest tool of the bunch, the price tag is worth it to some companies. 
Ziflow is ideal for agencies and brands that require an enterprise-ready online proofing solution for their creative review and approval processes.
The functionality of GoProof removes the messy task of regularly exporting PDFs, MP4s, or images and creating a ton of disconnected email trails every time feedback is required. 
Creatives can use the Adobe CC extension or file uploader to share their work for approval through the secure GoProof website portal, allowing as many collaborators as they want to view, comment, request version changes, and sign the job off.
Collaborators using GoProof have access to more than ten markup tools, including @mentioning, to express their feelings. Gatekeepers can request changes to be made before finally hitting the sign off button when they're happy.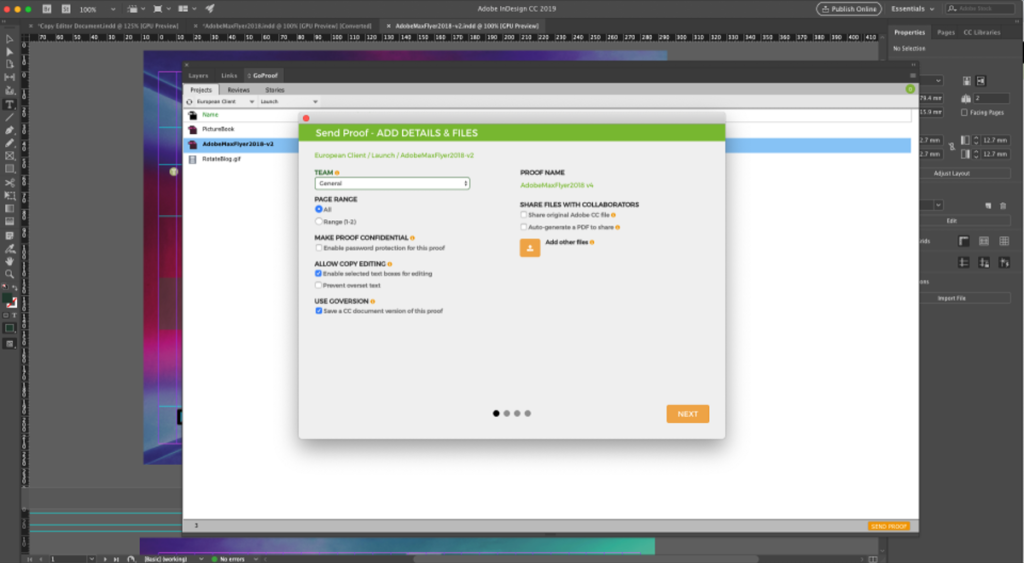 Pros
The integration between Adobe programs and GoProof is straightforward and useful to many reviewers. 

Users have the option of establishing permission for four paid users, although anyone can interact with GoProof without needing a login or paid account. 

The collaborators and history tabs make it easy for project manager hands to add reviewers and vet comments.  

You can set deadlines for each draft and "nudge" a reviewer if they haven't completed their review. 

Teams can retain proofs within the system once it's signed-off, which is excellent for times when you have to revisit a comment on an explanation after the printing of a project. 
Cons
If you want to unlock a request for changes, you must comment. If your client's email you change instead of putting them in through the software, you'll have to adopt an extra step to request changes to the proof. 

Some reviewers wish the software would allow users to upload a new version and bypass the need for comments and change requests.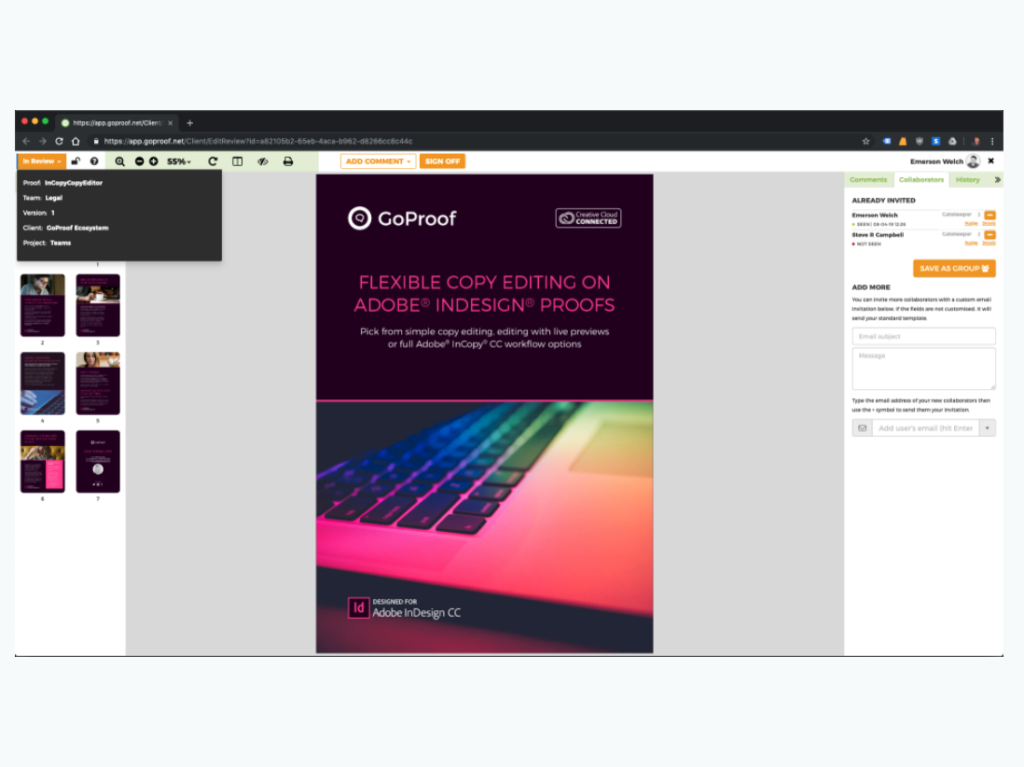 Main Features
GoProof is one of the best online proofing software. It is proofing digital and print media content for all sizes of creative and marketing teams, either internally or as an agency with clients. When used regularly, it offers enormous productivity benefits for organizations that use Adobe Creative Cloud.
To track all projects, version history, and design assets, GoProof includes workflow options for Adobe InCopy users to submit copy directly into Adobe InDesign documents. This allows managers to approve work with designers before forwarding it on as a new review to their clients.
The platform's main features include:
Plugin proofing extension for Ps, Id, Ai, Ic, and Pr Creative Cloud products 

Send content for review and receive change requests back through Adobe CC

No file-sharing, messy email trails, or PDF exports

One shared web app platform for the document, video, and copy proofing

Unlimited, role-based collaborators who don't require CC licenses

Multiple workflow options

iOS and Android mobile app for collaborators

Customizable notification email templates and 'sent from' domains

Export file uploader for proofing PDFs, PNGs, JPGs, GIFs, TIFFs, BMPs, and MP4s

Full version history management 
Ease of Use
The GoProof proofing software and collaboration ecosystem make the creative journey enjoyable and easy for all users. Most users find their workflow becomes more efficient after they integrate GoProof. For example, designers realize that they can handle edits faster and with more clarity, while project managers gain an extra level of autonomy and control over the review process. The software is updated frequently, which serves to add more features and fix bugs. 
Project/Client Management
GoProof makes proofing and editing much more streamlined while eliminating the need to email clients back and forth. In so doing, it saves the client time and allows your team to provide better service.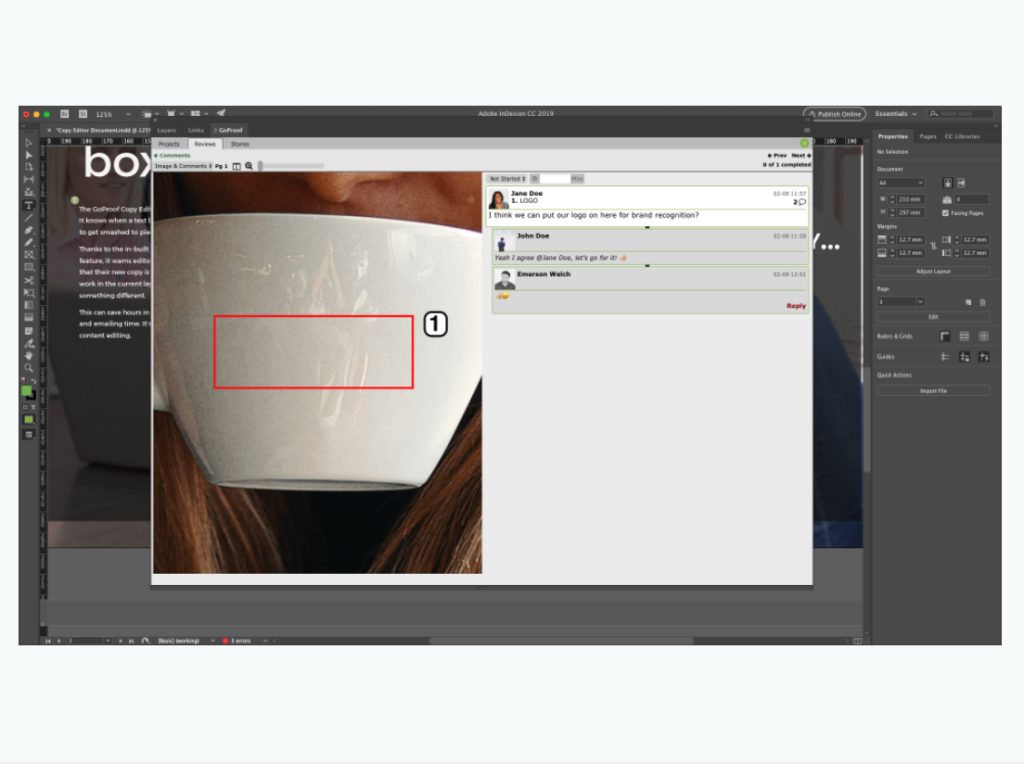 Pricing
GoProof offers a free option. Users who want to upgrade to Pro will pay $10/month for 5GB of space. The platform also provides customized enterprise plans. 
Conclusion
GoProof centralizes creative media collaboration, so you don't have to use dozens of different systems and workflows. The fact that it integrates seamlessly with Adobe Creative Cloud means designers can send proofs back for comments, edit and organize uploads directly, and simplify the approval process. While the software isn't as intuitive as some, it offers powerful collaboration tools in a user-friendly proof dashboard.
If you're sick of status updates, ReviewStudio may be the software for you. The tool collects and centralized creative feedback so you can comment on the video, images, web pages, and PDF documents from any device. The software tracks the status of reviews in real-time and allows you to track your changes in a series of side-by-side comparisons. Teams can review projects independently or collaboratively, which makes completing tasks faster and easier than ever.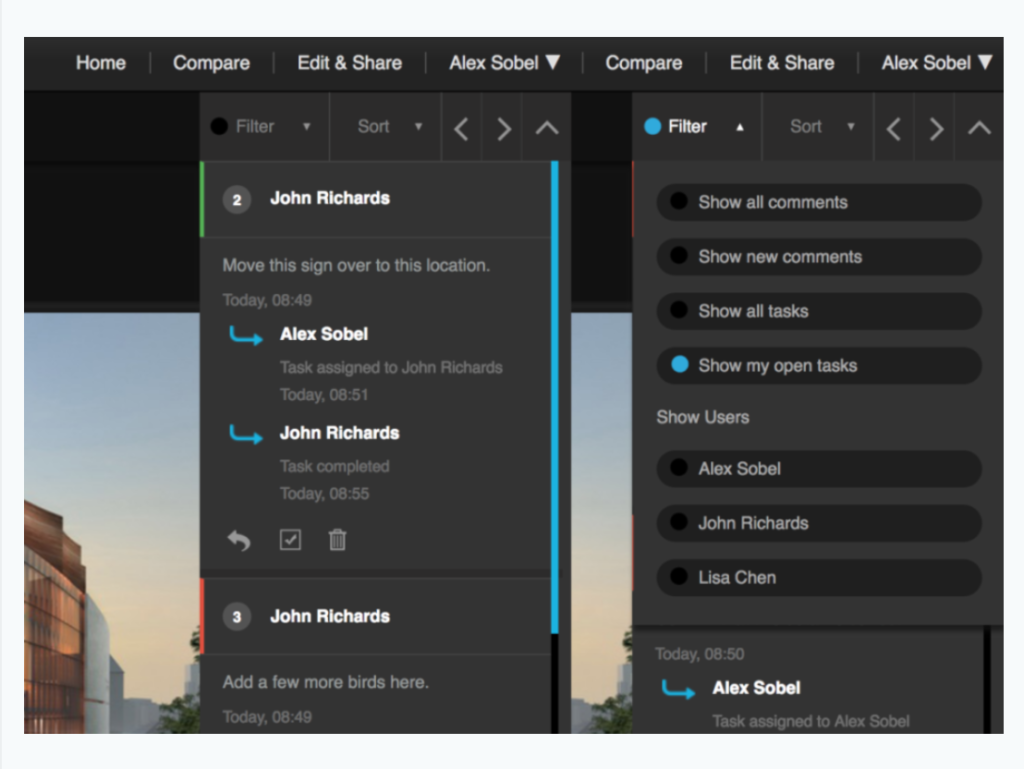 Pros
The software makes posting a comment simple and straightforward.

The high-visibility review feature keeps teams on the same page and cuts down on training and communication time. 

Having multiple reviews on the same window helps teams review feedback implementations and ensure the asset is ready for delivery. 

It is easy and quick to upload a file and get a review link. The software keeps all client comments in a single place, no matter how many people review the file. This means one version with all words for you and your team. 
Cons
If there are multiple reviews on a single file, the review comments don't present chronologically. Instead, the numbering happens based on who reviewed the file first, making it challenging to locate input. 

A recent interface update slowed the software down. 

It can be difficult for new users to figure out how to leave comments. 
Main Features
The software includes the following features:
File sharing

Role-based permissions

Task management

Due date tracking

Markup tools

Status tracking

Version control
Ease of Use
ReviewStudio is an easy-to-use tool that keeps everyone on the same page. The markup tools are very straightforward, and users widely report that the software is intuitive for both them and their clients. 
Project/Client Management
ReviewStudio helps clients save time by avoiding duplicate suggestions. It also helps your team save time by containing all the markups in one place — no more digging through email threads or passing edited PDFs from one department to the next.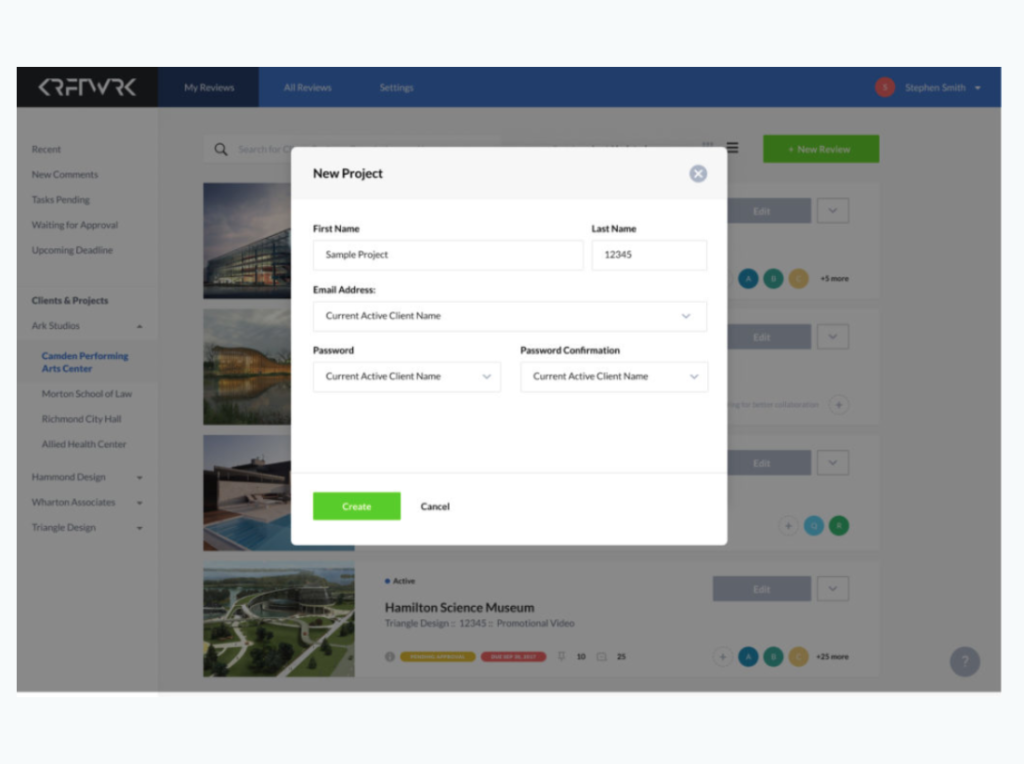 Pricing
Pro plans start at $15 per month and come with a free 15-day trial. 
Conclusion
Review Studio is the easiest way for teams to share visual information in real-time. The solution is ideal for advertising and marketing teams, Video Production, CGI and VFX production, and Photography, Publishing, and Education.
ProofHub is a SaaS-based project management software that comes with integrated Group chat, quick Discussions on projects, Workflow and boards, Project reports, and many more powerful features. It enables teams to collaborate and communicate over projects quickly and flexibly from one place. The tool is available for Android and iOS operating systems, making it easy for even remote teams to stay connected.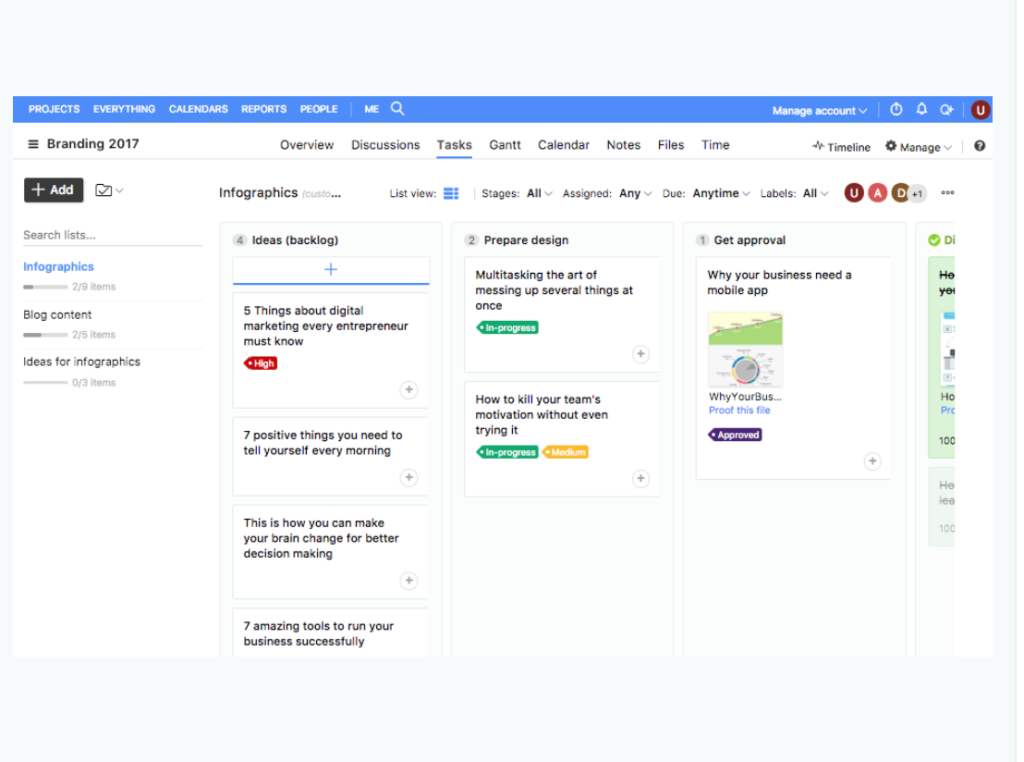 Pros
One of the many benefits of ProofHub is that it has little to no learning curve. The tool is simple and straightforward, which means even lay users can integrate it into their daily workflow with little hassle. 

The software syncs many tools and features together for higher productivity and time savings. 

ProofHub allows freelancers, remote teams, and businesses a centralized place to plan, schedule, organize, track, proof, and deliver work.

It is easy to implement and use – even for non-PMs.

ProofHub offers excellent features, including Gantt charts, personal views, project separation, user roles, different ways of presenting information, bulk upload, templates, and more.
Cons
The tool is quite simple and may not offer the functionality or features large organizations need.

There is no workflows or requirements management.

It cannot be easy to upload an existing list of tasks. First, you must break it down into different departments, which adds time.  

It takes a while to switch statuses in the Gantt chart view.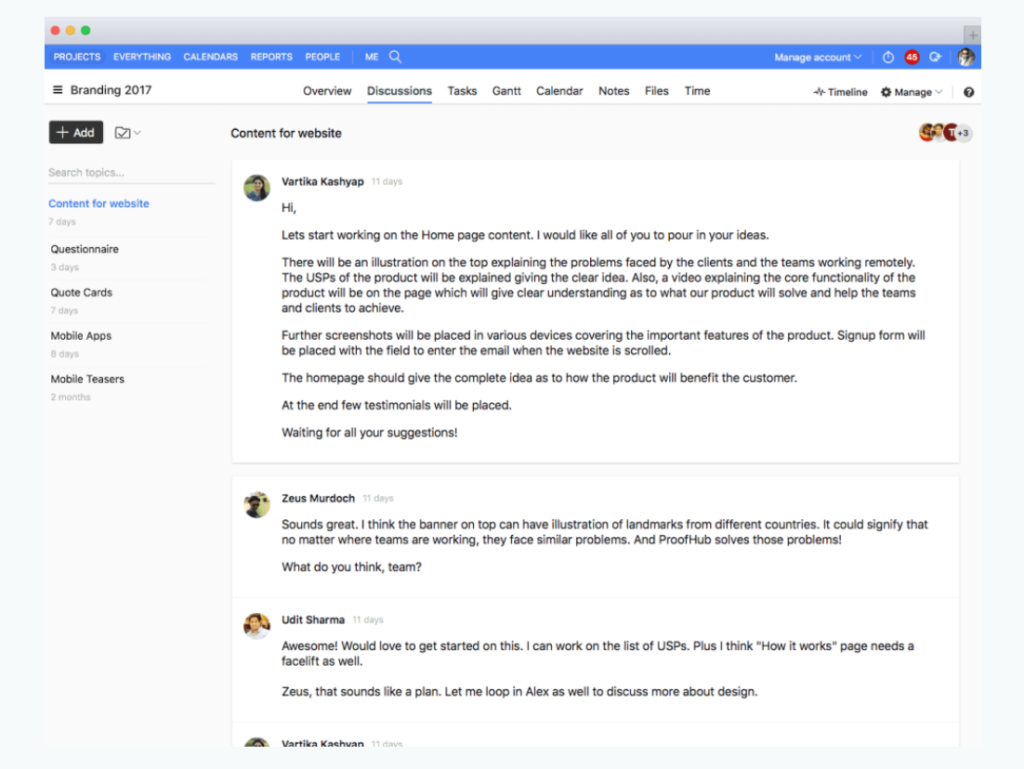 Main Features
The software includes the following features:
Agile methodologies

Client portal

Gantt charts

Kanban board

Time & expense tracking

Collaboration tools

Customizable templates

Idea management

Milestone tracking

Resource management

Traditional methodologies
Ease of Use
ProofHub is a tool made for everyone. From freelancers to large scale corporations, this project management and collaboration tool apply to every corporate setup. Even better – it's easy enough to use that anyone can figure it out. 
Project/Client Management
Clients generally find ProofHub intuitive to use. It integrates simply into the workflow, which allows it to transition seamlessly into a company's operations.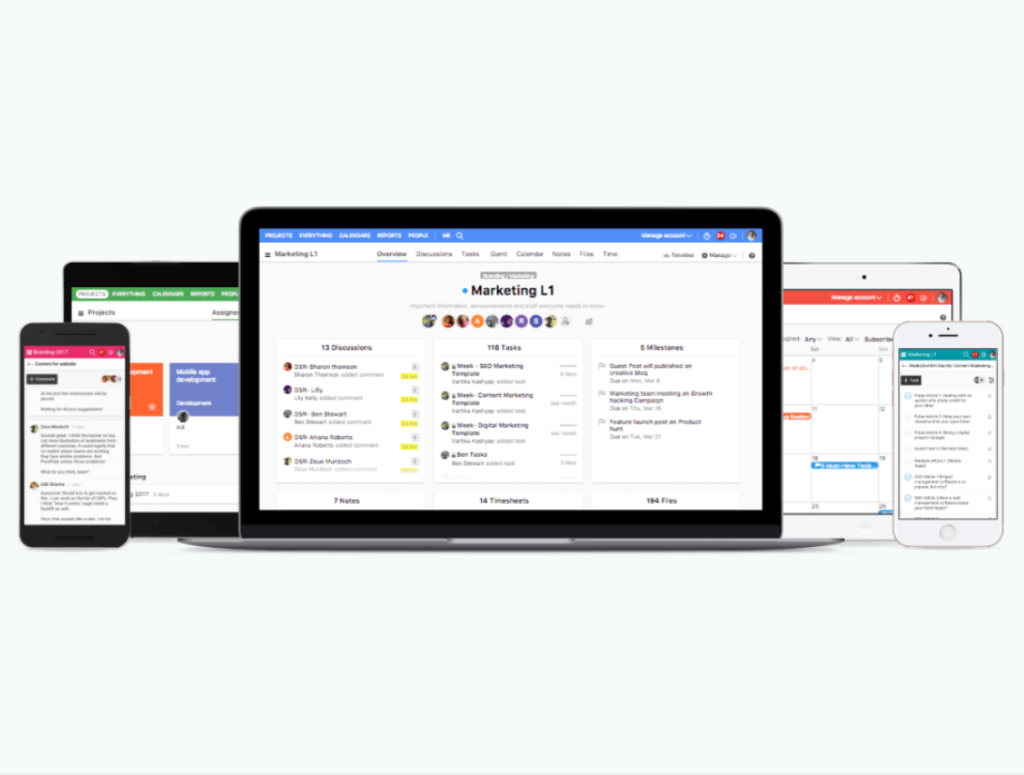 Pricing
ProofHub pricing starts at $50.00 per month. ProofHub also offers a free trial.
Conclusion
On paper, Proofhub is excellent software. It combines powerful functionalities and offers an intuitive experience, but the tool still has many loose ends, which developers need to work out. For example, ProofHub doesn't currently allow you to choose which notifications to receive, there's no possibility to organize groups into projects, and the pages don't always load completely. Overall, though, this is a helpful tool for small organizations and diverse teams.
PageProof is an online review and approval platform that allows you to gather feedback and approvals and only your creative work quickly.
Use PageProof to send out proofs of imagery, PDFs, brochures, video, audio, presentations, documents, websites, web banners, 3D content, and more. Your reviewers can all comment on the same file in real-time, which allows you to keep feedback organized and act accordingly. 
Marketers, web designers, and creatives can use PageProof to streamline getting sign-off on files. The tool allows teams to centralize feedback and laser-target edits for better-finished products right away.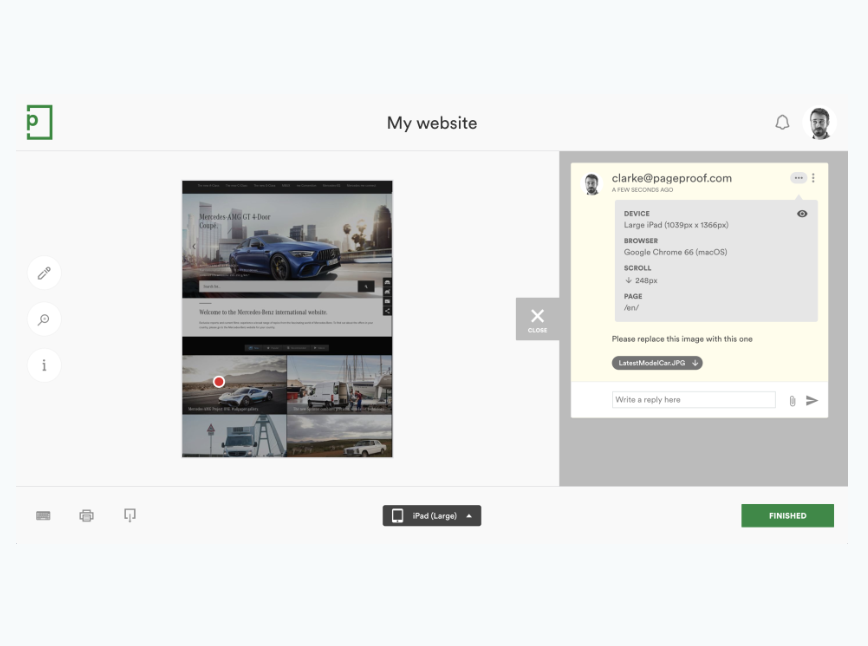 Pros
PageProof's users rave about how simple the tool is to use, from onboarding to support. 

The tool offers intelligent progress tracking and knows precisely where you are working, even with multiple documents.

Page Proof saves valuable time and multiple document revisions and integrates simply into a company's workflow. 

PageProof is a powerful yet low-cost solution that allows companies to review digital content more easily. 

The developers behind PageProof continue to innovate, introducing new features regularly. 
Cons
The briefing function has limited use in its current form. I'd love to see it customizable so that it can handle any design briefs.

Some users with the tool had a brief section instead of entering it as a document. 

Owners of projects will get many email notifications with the tool. 

Sometimes the load times are slow, and some users believe the notification features could be improved. 
Main Features
The software offers the following features:
Audit trail

Role-based permissions

Task management

Due date tracking

Markup tools

Status tracking

Version control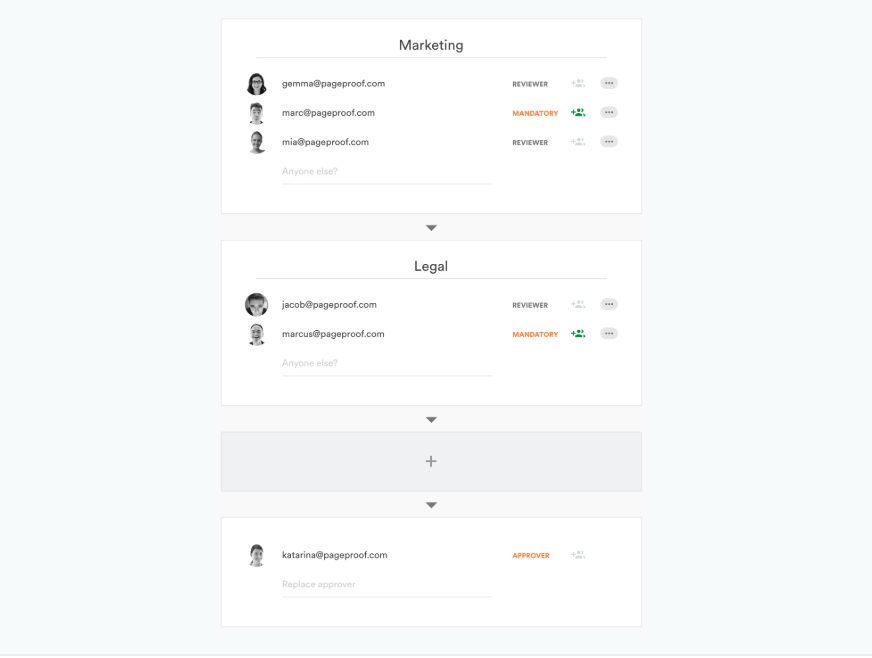 Ease of Use
PageProof is a smart system designed to make teams more productive and to limit revisions. Its intelligent interface allows teams to access feedback in the fastest, easiest way possible. 
Project/Client Management
PageProof provides training to make sure you fully understand how to use the tool. They also appreciate the technology teams use and have the knowledge and tools to facilitate integration. Because of this, many PMs believe you will not find a better proofing software than PageProof. Not only is the software is user-friendly and well-designed, but their customer service is known for excellence.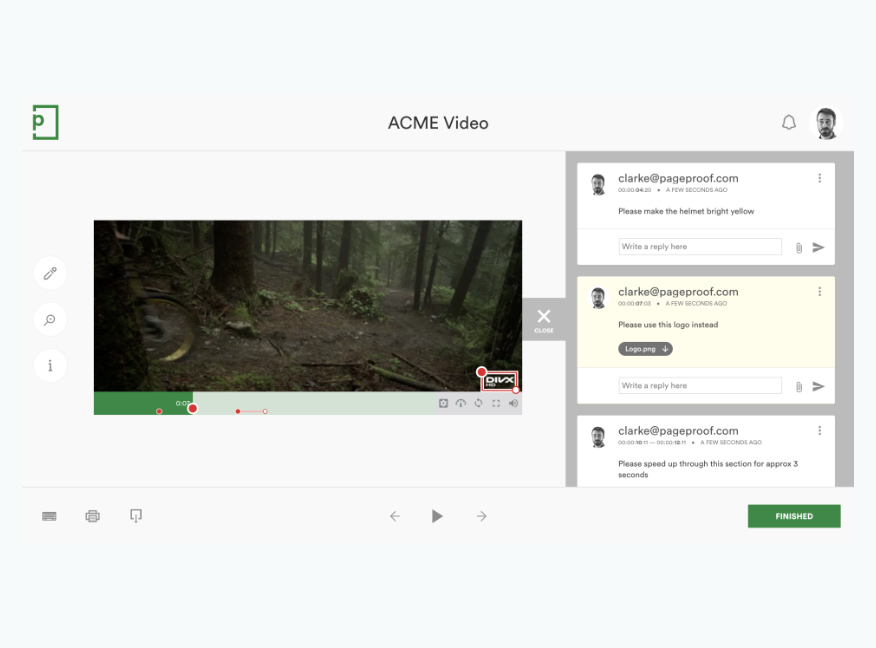 Pricing
PageProof pricing starts at $199.00 per month. They also offer a free trial.
Conclusion
Easy, smooth, and providing excellent customer service, PageProof does what you expect and does it very well. Although it's one of the most expensive solutions on this list, it helps teams streamline their business and win more projects, starting immediately upon deployment. 
So these were the best online proofing software. Which one do you use or would love to try out? Do let us know.