Music is one of the most powerful and ever-lasting resources you can tap into as a creative – nearly whenever and wherever you want. High-value, creative work like graphic design often requires a deep focus, dedicated commitment, and a strong work ethic. But things may not always work out perfectly, and that's when you can use the following Spotify playlists to help. 
Yes, you read it right. We've compiled a list of 15 of the best Spotify playlists for designers to listen to, whether for an energy boost or to encourage you to enter the "flow state." 
So, harness the power of music to give yourself some inspiration and peace of mind so that we can get this work party started!
1. 6:00 AM
Listen on Spotify | 31 songs | 1 h 46 min
This morning time playlist is one of the most peaceful Spotify playlists. Kalyn Nicholson curates exactly what you need to get you into the mood and mindset to be productive. As creatives or designers, we can really use some good energy music to help us reach our peak potential.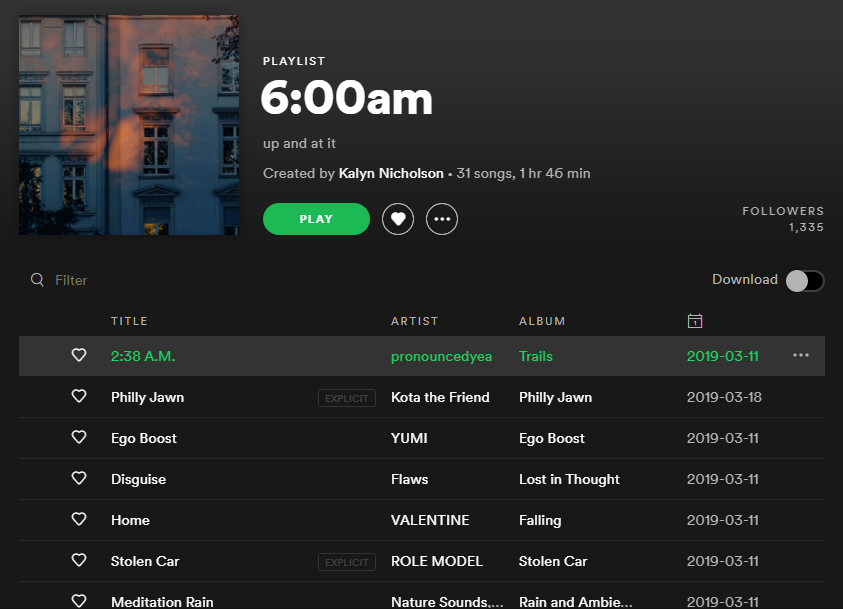 2. Design Vibes
Listen on Spotify | 69 songs | 7 h 5 min 
A playlist by Sherzod Max, you can easily find it on Spotify. This one is called "Design Vibes" for a reason; with no lyrics to distract you, you can listen to the mix in the background while maintaining a study workflow. And it's upbeat enough to keep you motivated.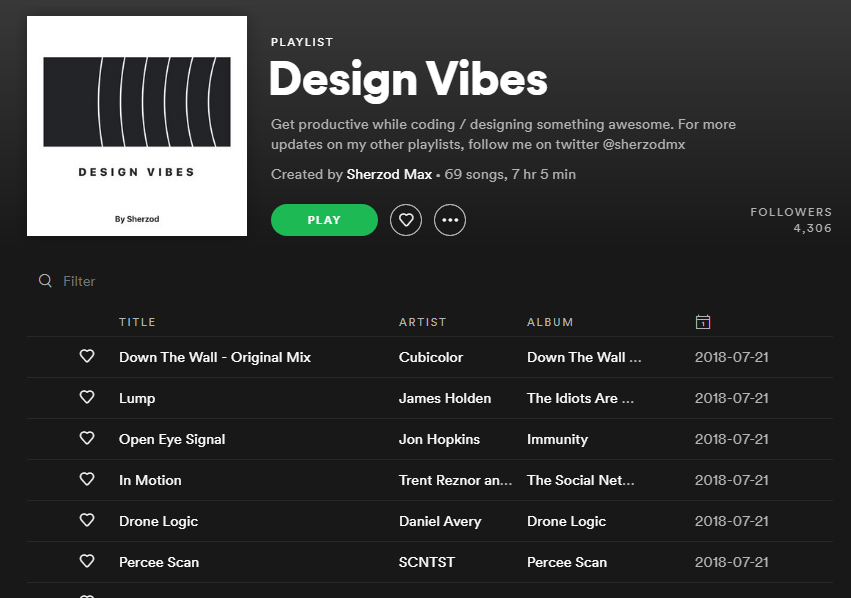 3. Hardstyle Playlist (Q-Base, Defqon, and Qlimax)
 Listen on Spotify | 766 songs | 57 h 35 min
Curated by Jesse Stoots, this playlist is calming and uplifting at the same time. With beats that help you get into the flow, it's the perfect mix for a night of graphic design.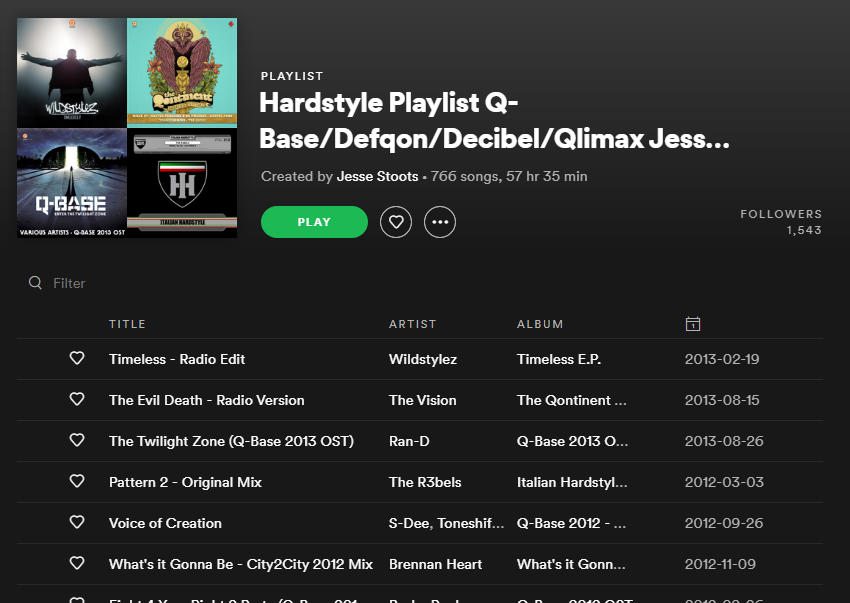 4. Coding & Crushing It
Listen on Spotify | 132 songs | 7 h 53 min 
Emitting a soft, film music vibe, "Coding and Crushing It" includes classics that justify the name. With tracks from Han Zimmer and M83, it has the musical touch of both film score and synth-pop, with just a bit of rock. The playlist offers the perfect inspiration for designers and is enough to keep you wanting more.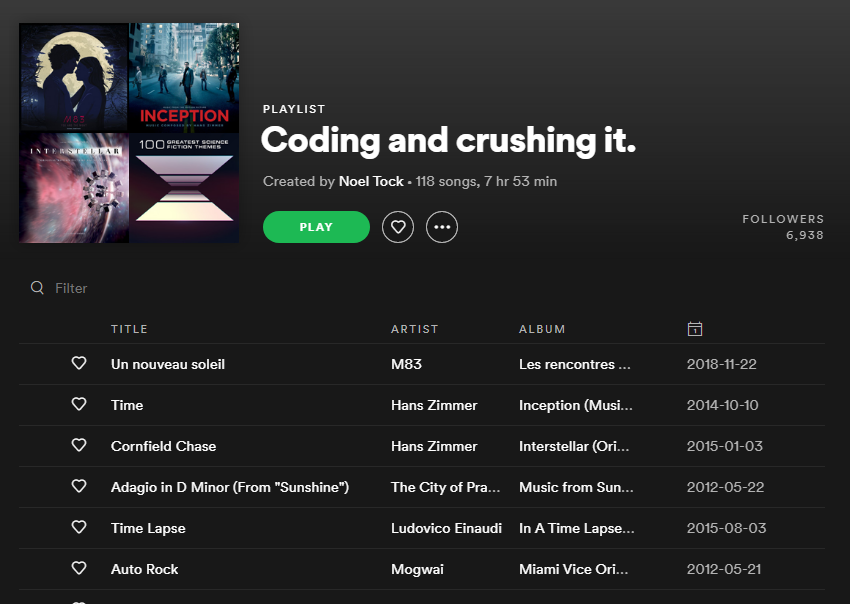 5. Blade Runner 2049
Listen on Spotify | 24 songs | 1 h 33 min
When classical compositions meet synthesizers, the result is a soundtrack that you can find yourself easily getting lost in. Taken from the movie "Blade Runner," this one will have you dreaming about another world (which is perfect for designers who need some out-worldly inspiration).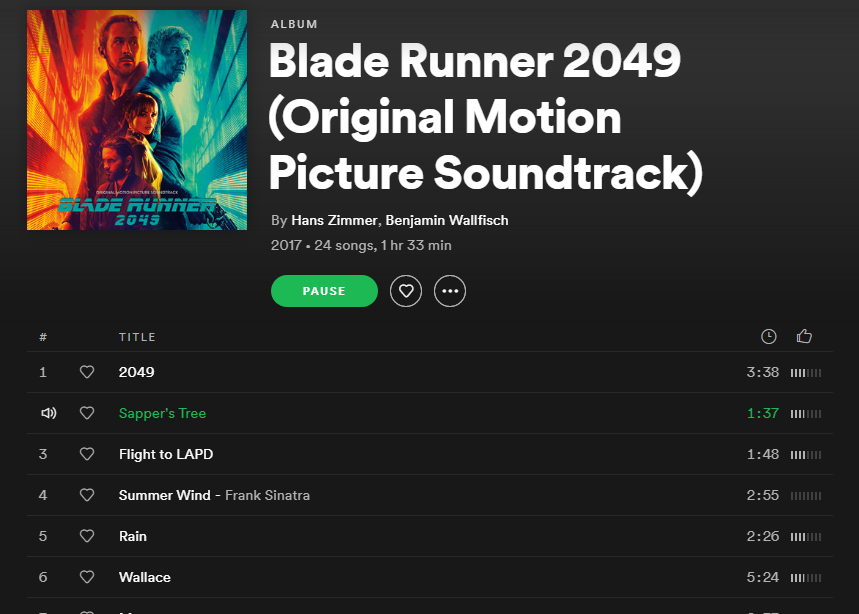 6. Design/Build
Listen on Spotify | 453 songs | 31 h 42 min 
Curated by Manik Rathee, this Spotify playlist consists of music ranging from some good R&B to softer tunes that can help you forget all your worries and concentrate on the task at hand. However, it does contain some pretty catchy lyrics, so if you're one to get distracted by those easily, you may want to avoid this one!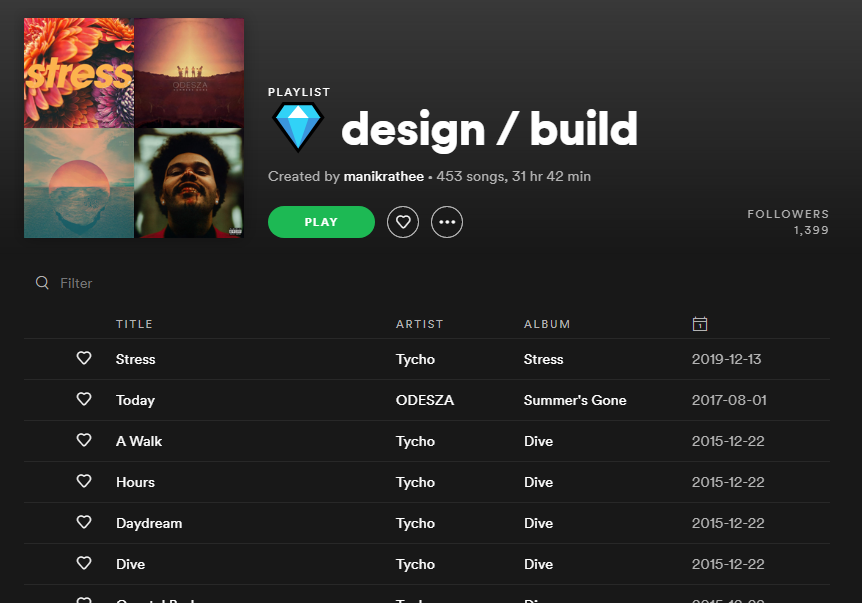 7. Drive Soundtrack
Listen on Spotify | 38 songs | 3 h 14 min 
Curated by Servaas Vehmeijer, this soundtrack has been taken from the film "Drive," and it's a collection of songs that work great as motivational music. With a variation in the build-up, you'll find yourself driven to do something more.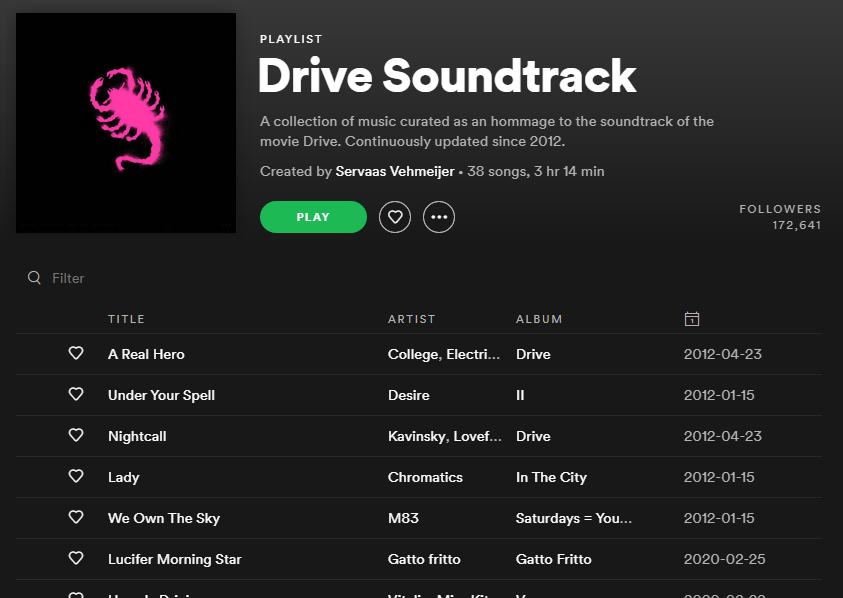 8. Deep Focus
Listen on Spotify | 190 songs | 9 h 43 min
An organic Spotify playlist, this one is a personal favorite. "Deep Focus" is exactly how the name suggests and has a wide array of musical compositions that get you into a deep focus state of mind to help you concentrate on your work.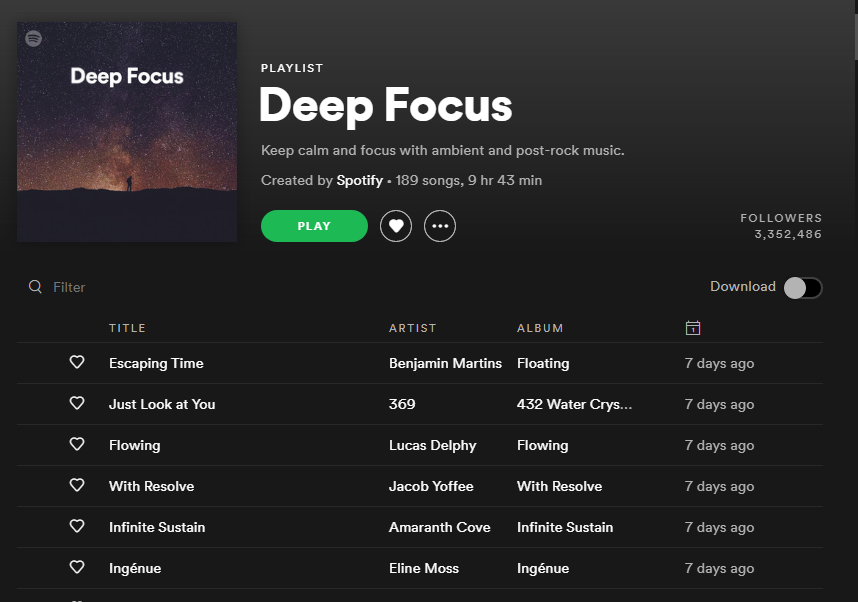 9. Soundtrack for Study
Listen on Spotify | 100 songs | 3 h 52 min 
Playlists created for "study" are always a good idea to use for creative work, too, even if on low volume in the background. And this one is no different. Including tracks from some of your favorite movies, this instrumental playlist was specifically crafted to help you retain focus.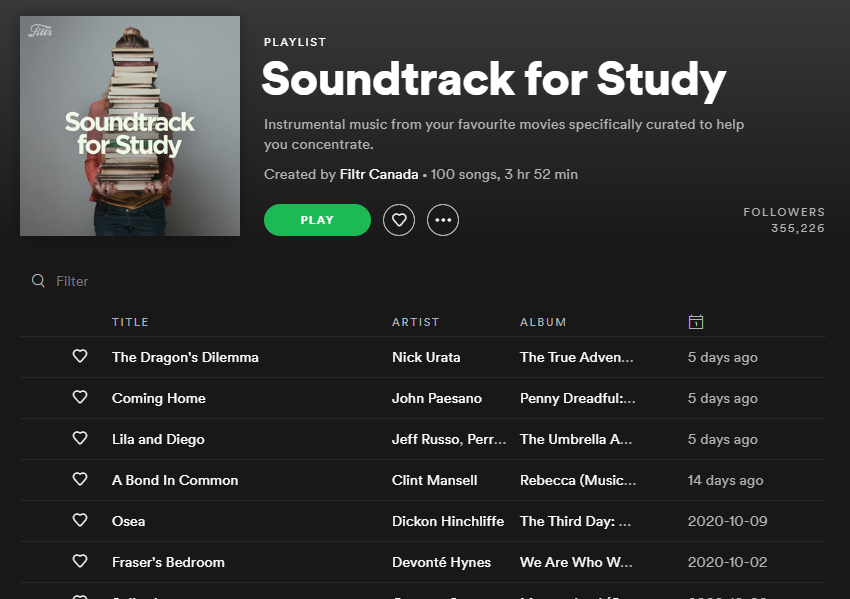 10. Interstellar
 Listen on Spotify | 24 songs | 1 h 36 min
If you've seen the movie interstellar before, then this soundtrack needs no introduction. With galactic vibes and dreamy space-themed tunes, you can use these songs to get into the mood to do some high-value design work.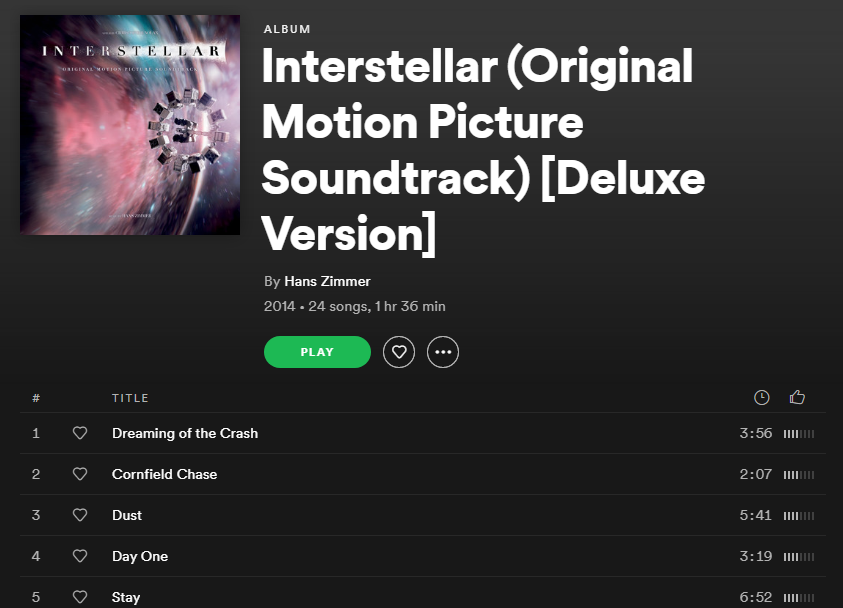 11. Coding & Designing 0.3
Listen on Spotify | 28 songs | 2 h 5 min 
An energy booster, this playlist is curated by Ross Dallaire on Spotify, and as you can see from the name, it was made for designers. What's more, if you like the playlist, there's also a "Coding & Designing 0.2" and "Coding & Designing 0.1" that you can check out.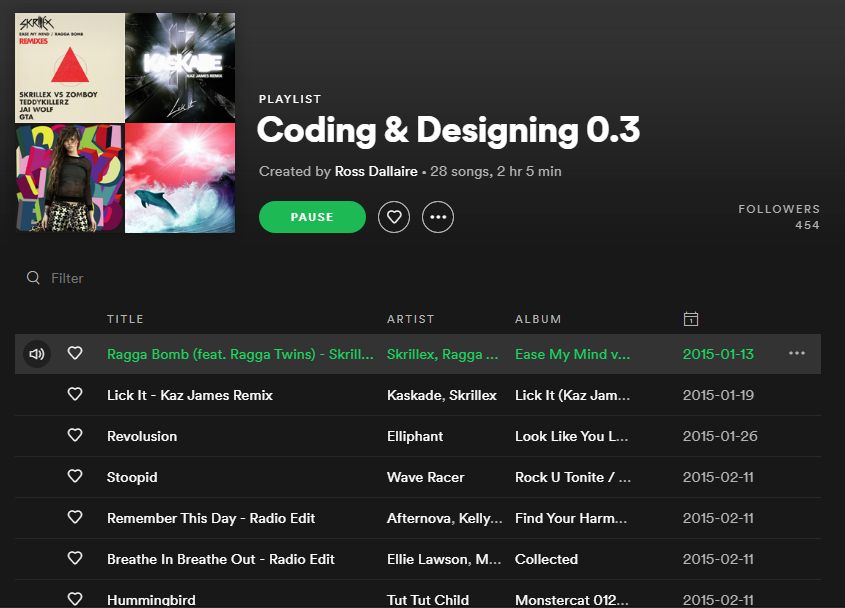 12. Chill Out Music
Listen on Spotify | 108 songs | 5 h 5 min 
As the name suggests, this one is the ultimate "chill out" playlist. The tunes are relaxing enough to put you at peace but not slow enough to put you to sleep. Hence, they'll allow you to get into that flow state you want, depending on whether you like this style of music.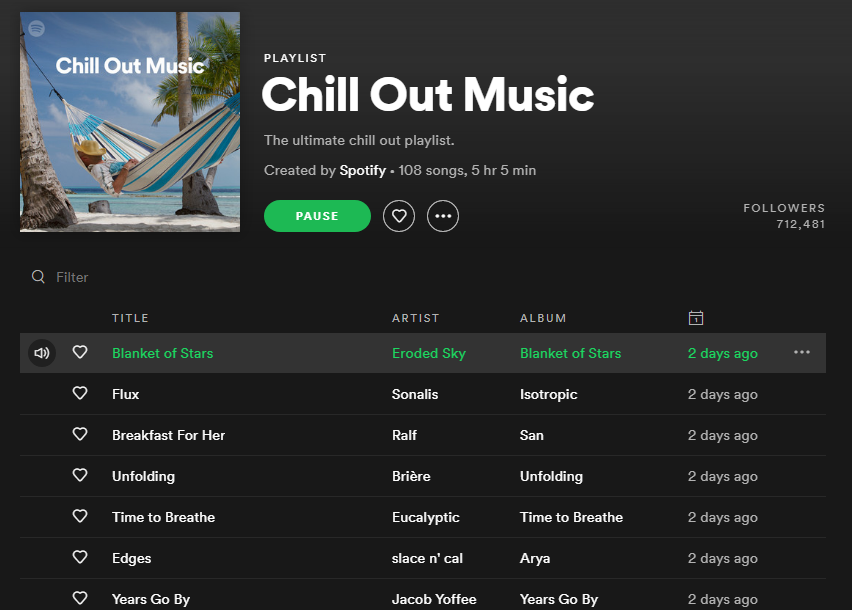 13. Liquid Drum and Bass
Listen on Spotify | 100 songs | 8 h 3 min
Meanwhile, if you're more of a drum and bass kind of person, you've reached the right playlist on our list. Featuring High Contrast, Netsky, Hybrid Minds, Chase & Status, and more, this Spotify playlist is great for some quarantine and chill time. And we bet design has never felt so fun!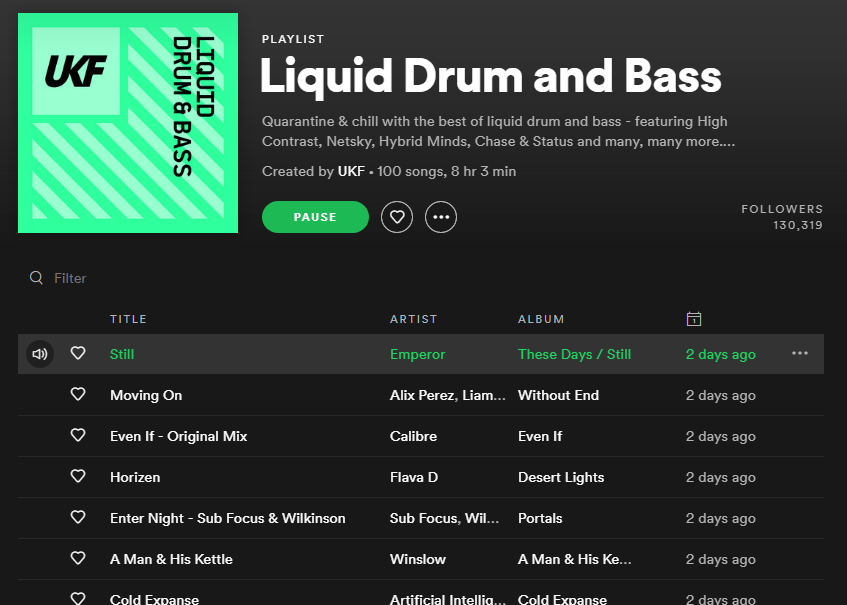 14. Stress-Free Classicals
Listen on Spotify | 94 songs | 6 h 52 min
A beautiful composition of classical music, this playlist will help you create that atmospheric vibe. Pair it with some low lighting, and you'll have yourself in the ideal work environment, whether that may be writing or graphic design.
15. Focus
Listen on Spotify | 42 songs | 2 h 24 min
Another Kalyn Nicholson playlist, "focus," is almost as good as Spotify's own "Deep Focus" playlist. The perfect tunes to get you into a mental state of complete focus and inner peace, Kalyn knows exactly how to craft masterpiece Spotify playlists.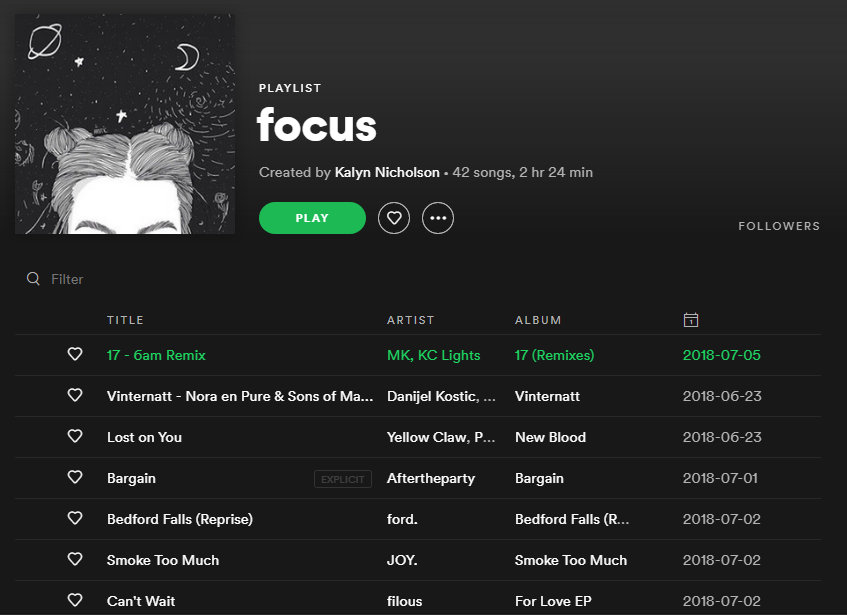 Let's Get Some Work Done!
So, now that we've got the best Spotify playlists music in place, it's time to get down to business and do some stellar design work! These hand-picked playlists were specially curated for creatives and designers and are meant to help you retain focus, encourage creativity, and boost motivation. After all, sometimes all you need is a little bit of music.