User Experience Design (UX) is all about making the user experience better and keep at it. So if you're looking to generate leads through an amazing UX design, you'd need to streamline your process first.
There are indeed over 1.7 billion websites on the internet. But did you know that out of this, less than 200 million are active?
And of the reasons for that is while creating a website is relatively easy, maintaining a great one can be daunting. This is where user experience design comes in. The better UX design, the more customers will have a great time exploring your website leading to more sales.
A good UX design ensures that your website is:
Aesthetically appealing

User-friendly

Mobile-friendly

Interactive interface
And today, we're going to discuss how you can streamline your user experience design using powerful review tools like GoVisually. So let's get to it!
Cut design & video review time in half
GoVisually is the #1 online proofing software to get visual feedback on Designs, PDFs & Video content.
Try GoVisually free today!
What is User Experience (UX) Design?
User experience (UX) is the way you experience a business through its website. Many people often confuse user experience (UX) with customer experience (CX), but they're actually different.
The customer experience (CX) is a broad term that encompasses the overall experience a potential customer or customer has with your brand. On the other hand, user experience (UX) is the experience a customer has with a specific product of yours, in this case, your website.
Have you ever tried booking a movie ticket using a mobile phone app? What was your experience like? Your experience and interaction with the app were basically the User Experience (UX) Design. 
In other words, UX design is the process of designing a product that takes all aspects into account, from the beauty of a product to its function. UX is a human-centered design approach that increases customer loyalty and satisfaction by providing utility and ease of use while interacting with a product. 
User experience design provides the users a meaningful and relevant experience when they interact with the product or service. This involves all the aspects of the branding, the design, ease of use, and function of the design. The sole purpose of UX design is to design a system that offers an excellent experience to the people using it.
Here are some ways a well-built user experience (UX) can benefit your business.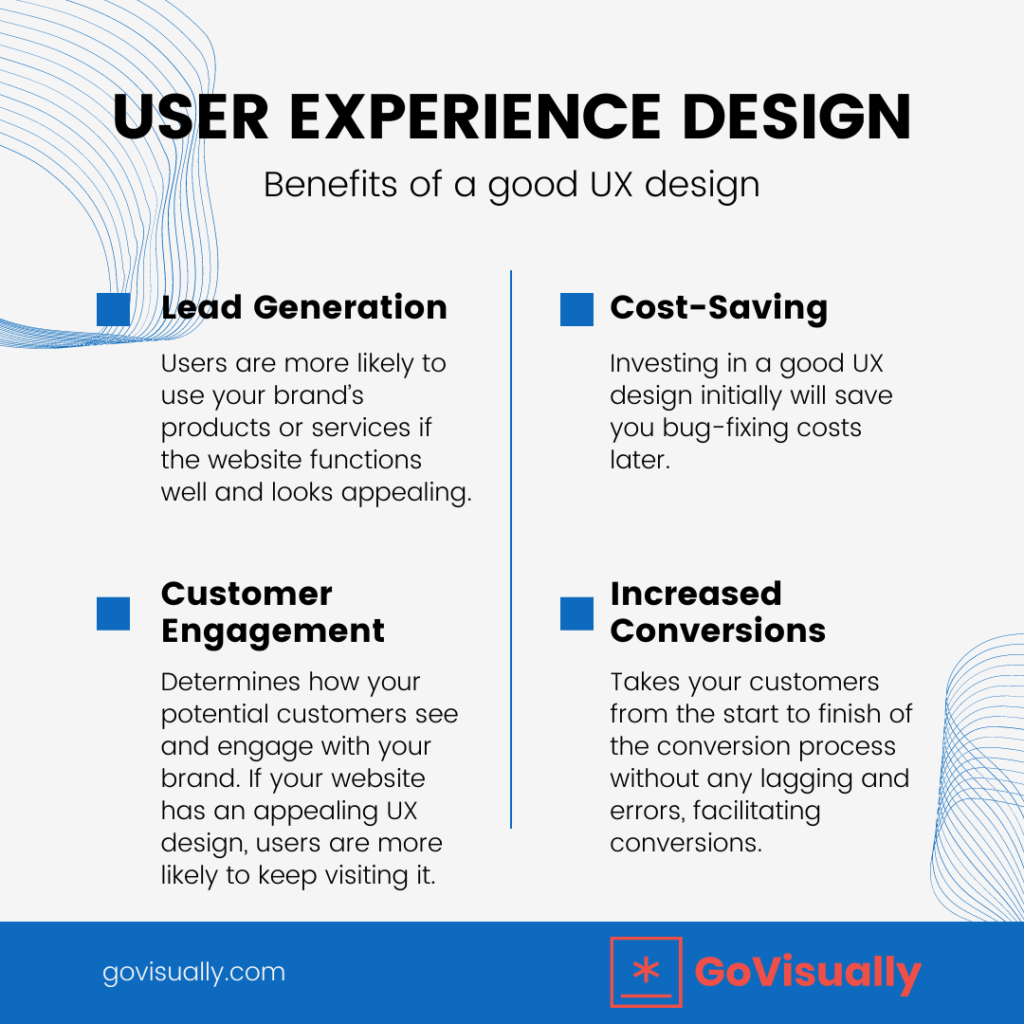 How to Streamline User Experience (UX) Design 
Here are some ways you can optimize your website's User Experience (UX) design. 
1. A/B testing
A/B split testing is the practice of putting out two different versions of a product to determine which one is performing better. In terms of web design, you can A/B test by creating two site versions and seeing which one attracts more traffic and leads.
This helps you gauge how users interact with your website and gain insight into what they want to see. 
2. Responsive Design 
A responsive UX design refers to a website that adjusts to the capabilities of the device being used to access it. Desktop and smartphone interfaces are considerably different and require a more dynamic development. If your website works well on multiple devices, you're appealing to a wider audience. Also, customers can use your website remotely without feeling like something is missing on their smartphone or tablet when it comes to your site's functionality.  
3. Usability Testing
Usability testing is testing out a product within a group of users to see how it performs. It will work similarly to A/B testing. You're getting insight into how the users feel about your website. It's essential to remember when developing a user experience that it's about the users. Your website is meant to facilitate the user to complete a conversion. 
4. Identify User Goals
When developing your user experience (UX) design, look at the site from your user's point of view. Trace your user's journey through your site and make their goals as easily accessible as possible. Website navigation is important. The easier it is to navigate your website, the more you're likely to generate leads. 
5. Accessibility 
Accessibility is an essential aspect your brand needs to consider in the developing process. A streamlined, optimized user experience (UX) design caters to all types of users; abled, differently-abled, and users with disabilities should be able to access your site with the same functionality. 
Make Exceptional UX Designs with GoVisually! 
Now that you know how UX design can supercharge your business let's quickly discuss how to ensure a great UX design.
One of the major problems designers face while curating the best design version is feedback collection and implementation. That's because getting feedback from various sources can become hard to track. But what's harder is implementing that feedback and sharing it with reviewers.
This is where GoVisually can help you ensure a smooth review process! It provides a collaborative platform where you can invite reviewers, add feedback to a design, compare it, get comments in the same place, and just like that, the design is up for approval.
The best part is that you can get feedback in one place, which makes the review and approval process straightforward. Sounds like a designer's dream? Try GoVisually free today and see how it'll help you streamline the approval process on your UX designs.