Did you know that 95% of employees are more likely to retain the information they get through video for internal communications than emails and newsletters?
The world has seen a swift shift towards remote work. Employees have been working from home, especially when it comes to digital and tech companies. Getting used to the remote work policies is a challenge in itself for many. 
As work from home becomes the norm for most, there are some challenges that companies and businesses have to face, including:
Higher-ups giving key messages that don't resonate with employees

Overload of internal communication, lowering employee engagement 

Lack of consistent messaging within internal communications 
Most of these problems companies face, whether big or small, can be solved by using video for internal communications. Nothing is more effective than video when it comes to practical communication tools. 93% of internal communicators believe that using video for internal communications is crucial.
But, why?
What makes video an excellent option for internal communications?
Cut design & video review time in half
GoVisually is the #1 online proofing software to get visual feedback on Designs, PDFs & Video content.
Try GoVisually free today!
Why use video for internal communications?
There are numerous reasons why using video for internal communications can benefit all your employees and your company.
Let's look at some of the advantages that make video an excellent option.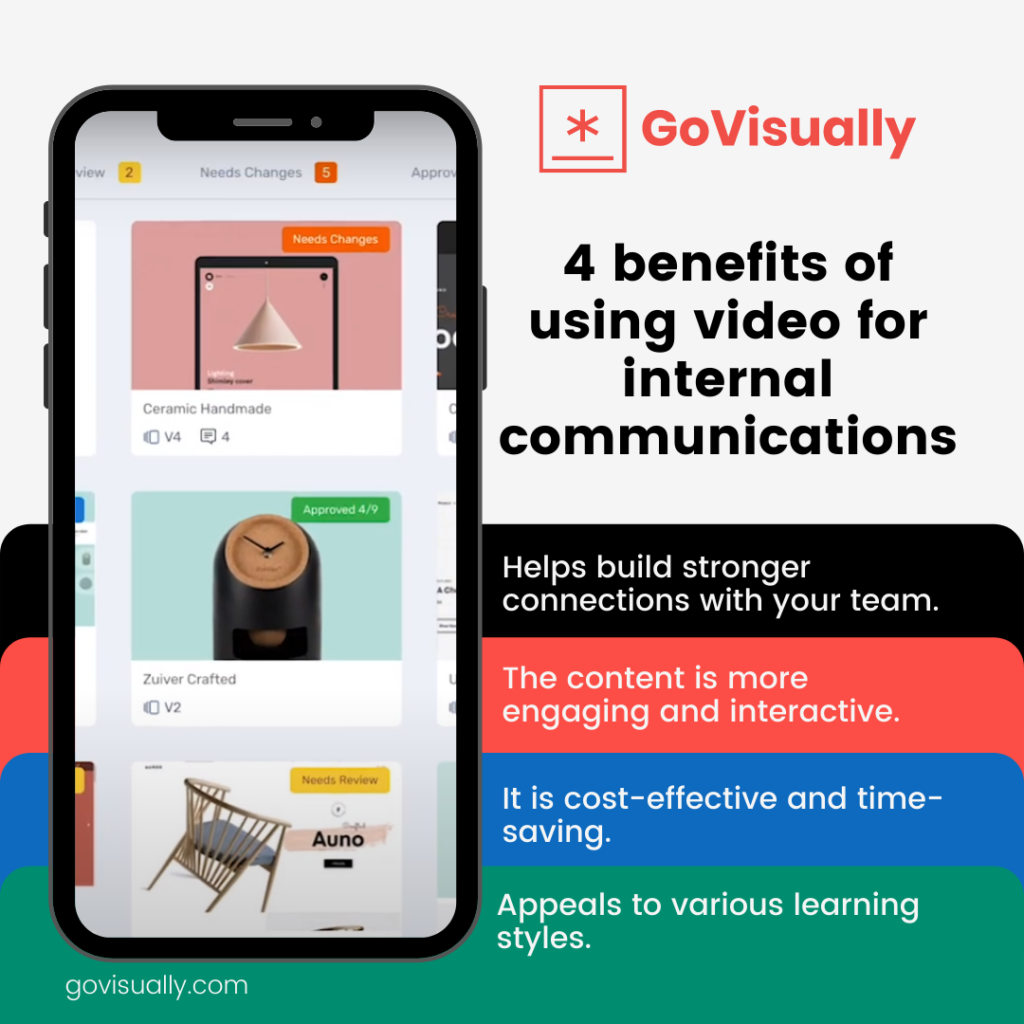 1. Build connections 
Providing your employees with emails and newsletters with your corporate branding can take away the human touch from your message. Using video for internal communications with people speaking to them can help you build a strong connection with your workers and humanize your corporation.  
2. More engaging 
Creating video content for internal communications at your company can make it more engaging for your employees. With the help of videos, you can discuss with your workers instead of just presenting them with information. It lets them know that what they have to say also matters to you. 
3. Cost and time-saving 
Creating high-quality video content for internal communications can seem like a waste of money and resources for many companies, primarily operating on a small scale. However, various tools like GoVisually can make the approval process of the video content extremely easy and efficient. You can use GoVisually for feedback and edits in real-time, and there is no need to spend a long time on the creative process. 
4. Appeal to various learning styles
Video for internal communications enables you to appeal to your employees' various learning styles. Everyone does not similarly retain information. With the help of video, you can incorporate multiple styles and deliver your message in a way that is easy to remember for most of your workers.
You can use different themes, styles, and video platforms for internal communications. 
7 ways of using video for internal communications to elevate your company culture
1. Announcement video 
Using video content for internal communications like announcements is an excellent way of letting your employees know that you care. They have used a video to remind the workers to take their vacation days before they expire a great message. 
The format used for such video announcements is clear and effective in relaying the message to everyone. Using videos for announcements ensures that everyone hears the announcement and can retain the message. 
Here's one example of how to curate a perfect announcement video.
The use of music and text in such videos helps them become more memorable and attention-grabbing. Workers who watch these announcement videos find them more engaging than newsletters, and they are more likely to remember the announcement that was made. 
2. Company culture 
Showcasing your company culture enables your employees to feel seen and heard. With the help of video content for internal communications, you can show your company values. You can use videos to make it more impactful and give a clear message.
Videos are an authentic and creative way for you to show your employees, and you can use these videos to focus on specific aspects of your company. For example, such videos can help you show how diverse your company is and the morals and ethics you stand by. 
Here's an example of one way you can make these videos. Icahn School of Medicine ran an online campaign, #HowWeHeal, to present their opinions on an important matter. And this way, they're also imparting the values they stand for.
Using videos to showcase your company culture to employees internally can make the workers feel unique and involved. These videos for internal communications can be a source of motivation and representation. You can add music to these videos to make them more impactful and full of energy. 
3. Promotion for events 
The use of newsletters, emails, and posters to promote an upcoming event is a thing of the past. You don't know for sure that all your employees will check the newsletter or open the email update you have sent them, which is why video has become crucial.
Using video to promote an event for your company ensures that everyone gets the message. You must include all the necessary information like what, when, why, who, and where regarding the event. Your employees are more likely to remember the details when presented to them through video. 
Incorporating calls-to-actions at the end of such videos motivates your employees to get excited about the event and take time to ensure they are present. When you use video content to promote your webinars or workshops, your employees will RSVP or book their tickets to attend.  
4. Interviews
Creating video content by interviewing your employees is one of the best ways to make them feel special and seen at the corporation. Instead of the usual, boring newsletters, you can create an interview series where you ask your employees about their experience at your company, what they have learned so far, their goals, and much more. 
You can use various creative techniques to make videos that stand out and make your employees shine. Putting in extra effort for interview videos can help keep everyone motivated and improve productivity. It can help you create an environment where everyone feels like they matter. 
Using multiple cameras to film interviews for internal communications can help you create videos that look dynamic and are fun to watch. These videos can be an excellent tool for grabbing everyone's attention. You must showcase the subject of the interview in the best way possible and make the interview informational for all your employees. 
5. Tutorial and demo videos 
Tutorial video content for internal and external communications can be highly beneficial for everyone. These videos can help you save time and resources. More importantly, they provide your employees and audience with valuable information to improve their performance. 
In this day and age, upskilling your workforce has become crucial. Your employees are also looking for opportunities to help them learn new skills and improve the way they work. With the help of tutorials, you can provide your workers with new avenues to understand and implement their skills. Tutorial videos are also an excellent way of letting your employees know that you care about them and their performance. 
Tutorials can help you teach employees about new skills and software quickly. They are also cost-effective, as you don't have to bring in professionals to teach lessons to your workers or even your audience base.
6. Onboarding or introduction videos 
Emailing your company handbook to new employees won't cut it anymore. You need something that is more exciting and will help them learn about the company better. Creating onboarding videos is a brilliant way to show your newly-hired workers that you are different from other companies. 
Onboarding videos for internal communications to new employees can be uplifting and motivate them to give their best performance at work. These videos are a crucial tool for creating your company's reputation.  
For instance, take a look at this introduction video for GoVisually. It perfectly encapsulates the need for the product and how GoVisually helps its target audience resolve review and approval needs.
Similarly, by adding unique intros to the onboarding videos, you can create a personalized experience for your new employees. These videos can create an exciting look into your company culture and innovatively provide your workers with all the necessary information.
7. Project recap videos 
More often than not, executives and employees don't understand the extensive work other employees have done on a project. Most workers themselves find it challenging to understand their work's impact on the company and the positive changes with their skills. 
Creating project recap videos for internal communications ensures that everyone in your company is aware of the latest developments and projects that have been completed. They are an excellent way of showcasing what your employees have achieved. You can also exhibit their work's positive effects on your business. 
Project recap videos are an effective tool for maintaining transparency and providing employees with the opportunity to celebrate each other's success. They help create a positive environment in the workplace and can help boost productivity and realign brand goals.  
Final takeaway
Using videos for internal communications in your company helps you grab your employees' attention. Video content of various types can help you connect with your workers more personally. More importantly, it makes them feel empowered and involved.
So if you want to elevate your company's culture, start investing in video creation.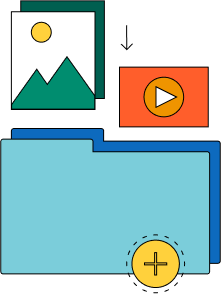 Need a quick way to share large files and creative assets?
With GoVisually Share, it's absolutely free! Try today.