Have you ever wondered what makes certain brand messages more effective than others? To answer your question, how a message is communicated is what determines its impact on its audience. 
As a brand, you must have tried multiple methods to convey your message. From long, textual pieces to highly advanced graphics – you probably have used everything at this point to give your brand message that necessary flair. While these methods can also be useful, they are less likely to appeal to your audience. Here's the deal: your brand will attract more attention using explainer videos than any other method of communication!
This post will cover all aspects of explainer videos; from what they are to how you can create your very own, we will discuss it all. So, if you want to find out more about how to build a powerful string of communications with your audience, keep reading. 
Defining "Explainer Video"
First things first, what is an "explainer video"? To put it simply, explainer videos are short-form marketing videos that you create to explain and represent your company, a product, or service online.
You'll often find explainer videos placed on prominent spots on a website, such as the landing page or the homepage. The purpose of an explainer video is to highlight and communicate your brand message in the most effective way. 
To create highly professional and engaging explainer videos, brands utilize explainer video software. As of now, there are plenty of different video explainer tools that help brands in video creation. Most of these are extremely convenient to use and navigate. 
All together, explainer videos significantly held brands in enhancing their presence online and attracting the right customers. They are an incredible resource and can be integrated into your brand message in a variety of ways.
Different Types of Explainer Video
There are different types of explainer videos, and each type is fit for a different purpose. Each type also has a different look, feel, and level of complexity – so you can choose whichever suits your needs the best. This post will cover the three most common and useful types that brands use to highlight their products/services.   
1. 3D Explainer Videos
3D explainer videos are possibly the most complex ones you can opt for. The creation process will indubitably be more complicated than some of the other types mentioned on this list, but it is worth it. Here's an example of a great 3D explainer video by the Kasra Design group. Look how amazingly they've explained their process using 3D animations that are bound to grab your attention.
Three-dimensional animations can make explainer videos extremely appealing. The effort to create such videos will reflect on your brand and will definitely impress your audience.
2. 2D Explainer Videos
You can also opt for the incorporation of two-dimensional elements in your videos. The process for this will be considerably less demanding than that of a 3D video, but the appeal won't be much different! All you have to do is arrange some striking illustrations and graphics, and you're good to go.
This 2D explainer video for Prophesee is a perfect example of how 2D videos are just as effective!
3. Animated Explainer Videos
Frankly, almost all explainer videos are going to be animated – at least the fun ones. Animated videos provide that necessary creative space for you to stretch into while communicating your brand message. This is the most popular style for explainer videos, and rightly so!
Suppose you're still wondering why to look at the animated explainer video example below. You'd see how it's an easy and effective tool for conveying a message.
4. Whiteboard Explainer Video
Whiteboard explainer videos are the simplest to create! All you need for these is many hand-drawn animations on a whiteboard, which change through the video. This is the most affordable option, but are equally effective given their comprehensive yet straightforward nature. 
Don't believe us? See it for yourself with this whiteboard explainer video by Washbear Production.
Here's How You Can Create Your Very Own Explainer Video
Now that you understand what an explainer video actually is, let's dive into how you can make your very own! You will need an explainer video software to put everything together, but of that later.
Formulate Concept/Message
Before diving into the fun stuff like illustrations and video production, figure out what you want to communicate to your audience. A lot of thought must be put into this, as the message you convey here will essentially become the basis of your branding! 
Create a plan that outlines the video's purpose and the message you want your audience to part with. Not only that, but you should also brainstorm all the different styles you can use. For example, you're considering whiteboard and 2D types. You should list down the pros and cons of each, analyze if it enhances your branding or not, and then incorporate the better when into your plan. 
Organize Your Ideas in a Storyboard
Once you have a rough list of all the ideas, put them into a proper structure by creating a storyboard. This will usually include a detailed timeline and a description of all the elements you plan on placing in your video. If you want to know more about how to make a storyboard, visit here. 
Create Your Video
Now – action! Bring your ideas (and storyboard!) to life by creating your explainer video. This will comprise of multiple tasks, like putting everything together, making last-minute arrangements of elements such as sounds, special effects, etc. The software you pick is necessary for this step – but again, we'll get to that in a while.
Review and Edit the Footage
Once the first draft has finally be created, get to reviewing. Call all members of your team, sit together, and oversee the video. Judge it neutrally – ask yourself whether it effectively conveys your chosen message and presents your brand in a desirable light. If the answer is yes, move to the next part. If not, make the necessary changes in the editing process. 
A Few Tips to Help You Pick The Right Software
Even if you follow all the steps laid out above, your work's success primarily depends on the kind of software you use to create your explainer video. For this reason, it is indispensable for you to pick out the software that meets all your needs carefully. 
To make this task more comfortable for you, we have compiled a few pointers that you should keep in mind before picking the right software to create your explainer video. 
Check if the software addresses all the existing issues within your video production workflow.

Check whether it is convenient to operate and navigate.

Make a list of all the mandatory features it should have to execute your video plan properly.

Consider multiple options, and make comparison lists with the pros and cons of each option clearly enunciated. 
Best Video Explainer Software – Our Suggestions
1. Adobe Animate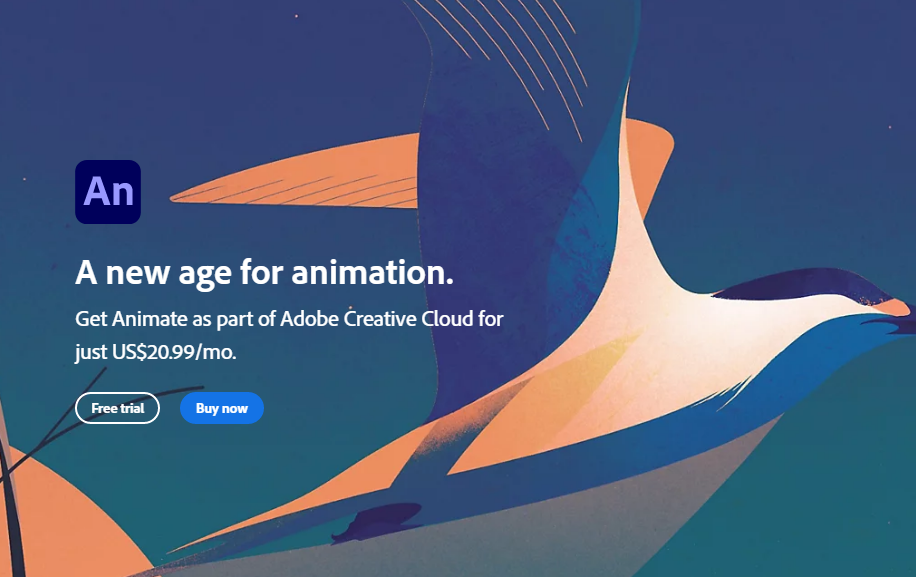 Adobe Animate is a powerful explainer video software that allows you to seamlessly bring your video ideas (and doodles!) to life. With a straightforward design and advanced, interactive animations, Adobe Animate has all the potential to be your go-to software for explainer videos.
It may be a little complicated for beginners, but you can create whatever content you want once you get the hang of it.
2. Animaker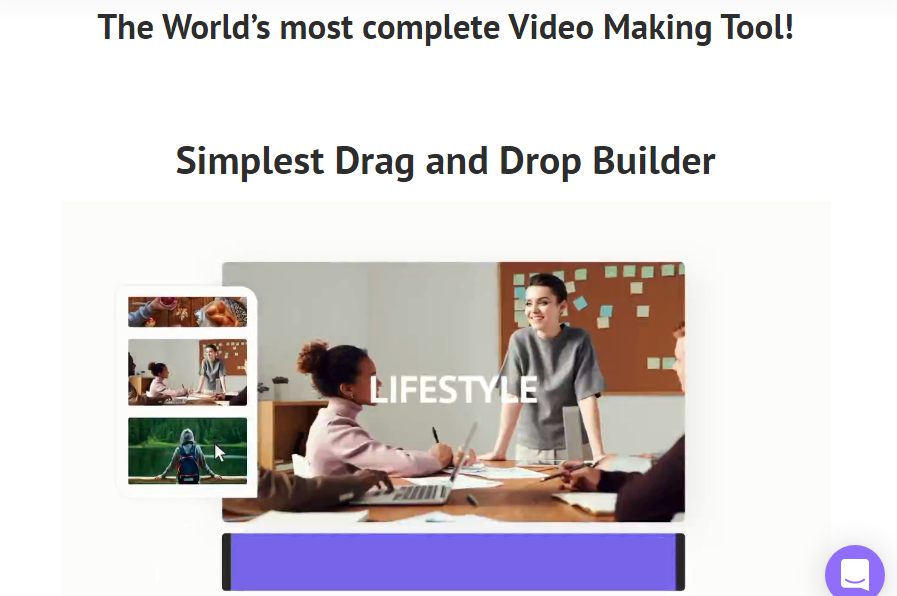 Animaker is an easy-to-use explainer video tool that simplifies the whole video production process for you. It has a drag and drop interface that enhances convenience on your end while not compromising productivity. Additionally, it also carries the world's most extensive animated library! If your ultimate focus is to include as many engaging animations in your work as possible, then you must consider Animaker.
3. Fastreel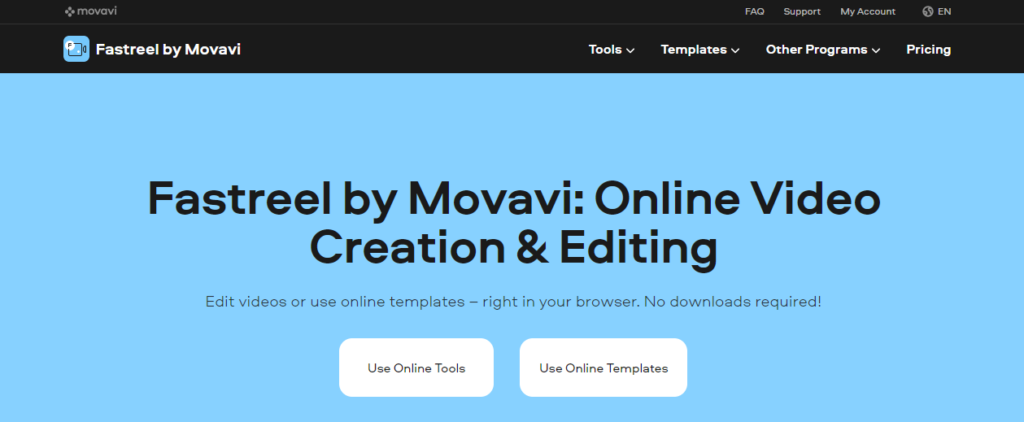 Fastreel is an online video editor developed by Movavi. You can use this program in a browser and create a slideshow tutorial or a short explainer video using simple templates as well as edit them with different tools
4. Animatron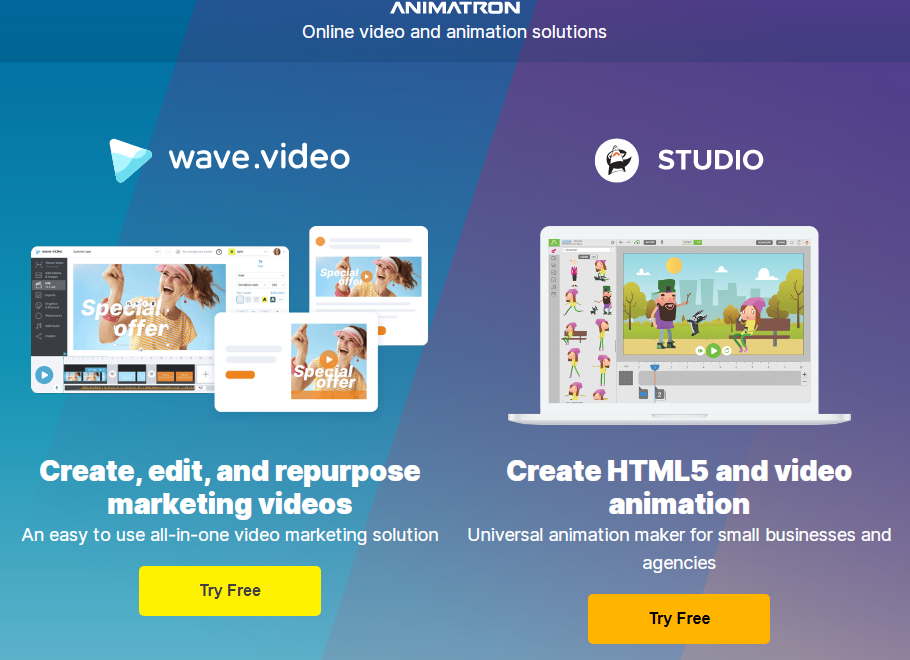 Animatron is the ultimate app for all beginners! In fact, it has been built to fit the needs of beginner animators. Drag and drop your graphics and other elements into the template of your choice, and voila! All done. With Animatron, you can personalize everything, too, so don't worry about coming out with generic results. 
5. Animoto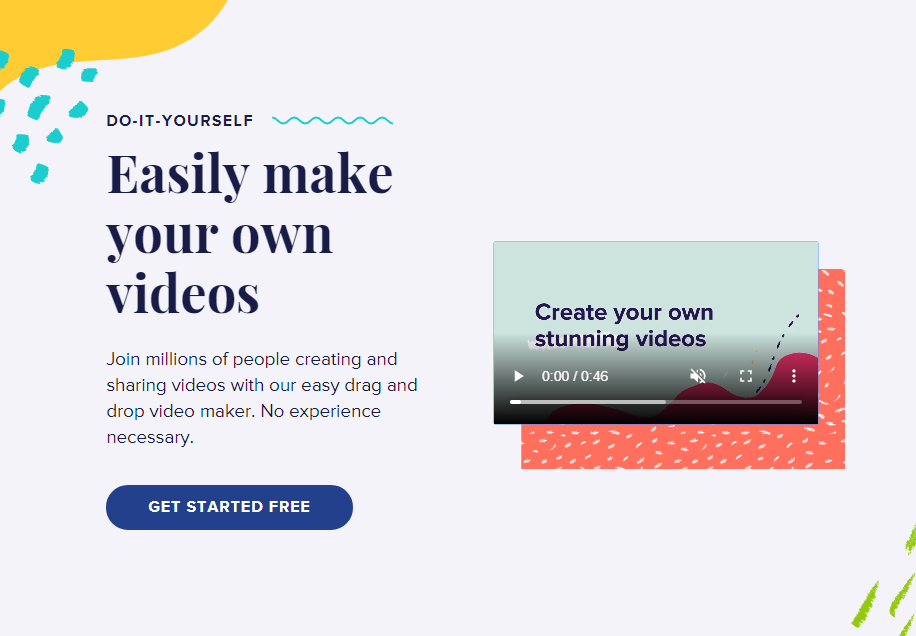 Animoto allows you to create engaging and highly professional virtual video tours. You can then incorporate these video tours in your explainer videos or even elsewhere on your social media. All in all, Animoto will enable you to enhance your online presence.
6. Biteable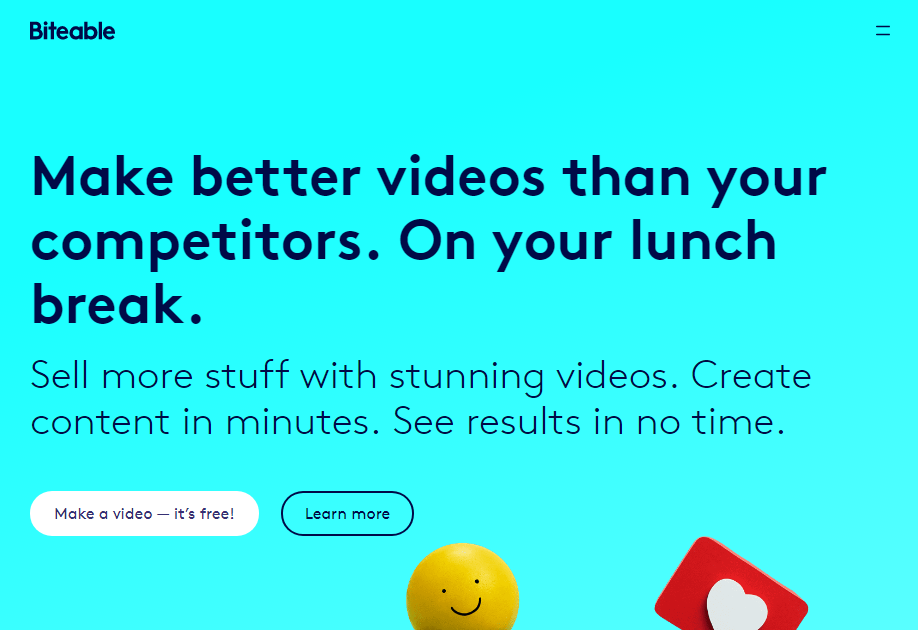 Biteable is a 2D explainer video software that will allow you to pick from various trendy, pre-made templates and then refine them using your own element. You can choose two plans, and the free one itself includes almost 2 million free images and clips.
7. Camtasia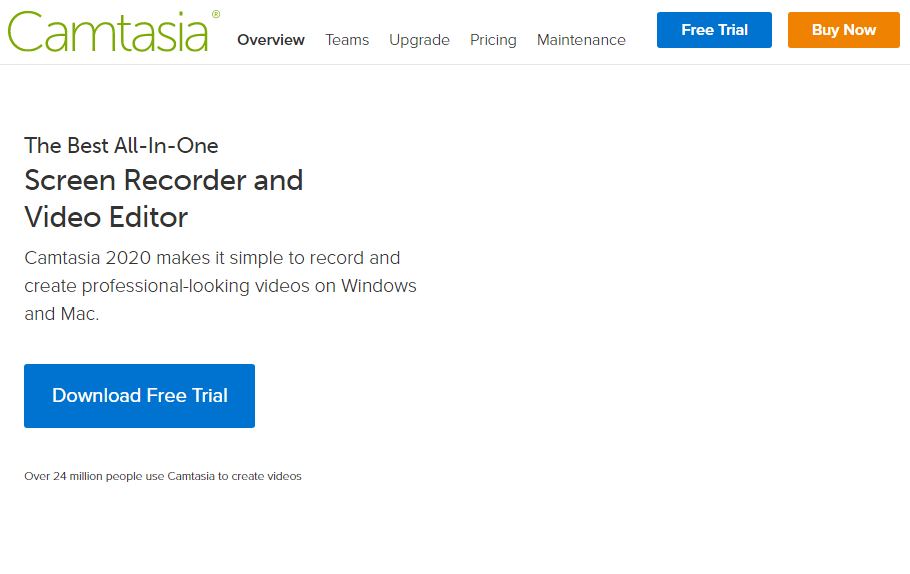 Camtasia enables you to record what's on your computer screen, and you can create a well-finished explainer video through that. It can be used to make virtually anything – whether it's product demos or lesson tutorials, you can use Camtasia to create gripping content. 
8. Doodly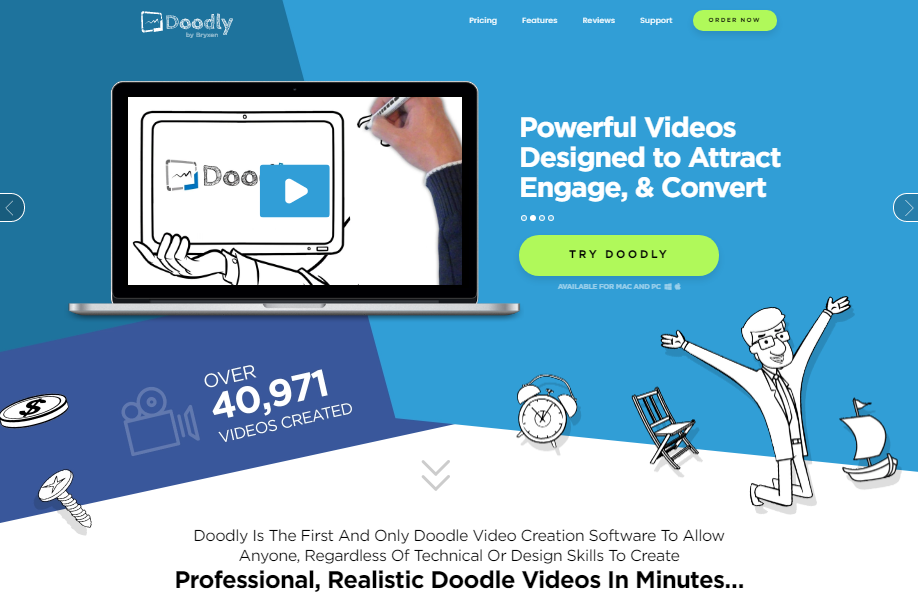 Doodly is a simple yet intelligent explainer video software that enables users to create 2D animated videos as smoothly as possible. With Doodly, you can quickly drag and drop doodle animations onto a template and then create a brief but effective whiteboard explainer video.
9. iMovie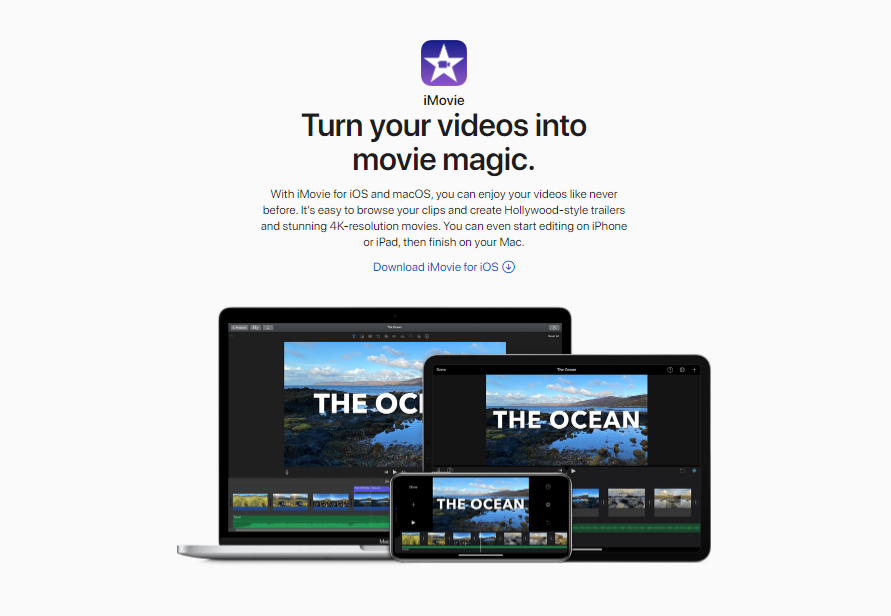 With iMovie, Apple users can swiftly create and edit explainer videos. They can also easily share them across multiple platforms. You can design corporate, professional, and stylish videos with this software. 
10. Magisto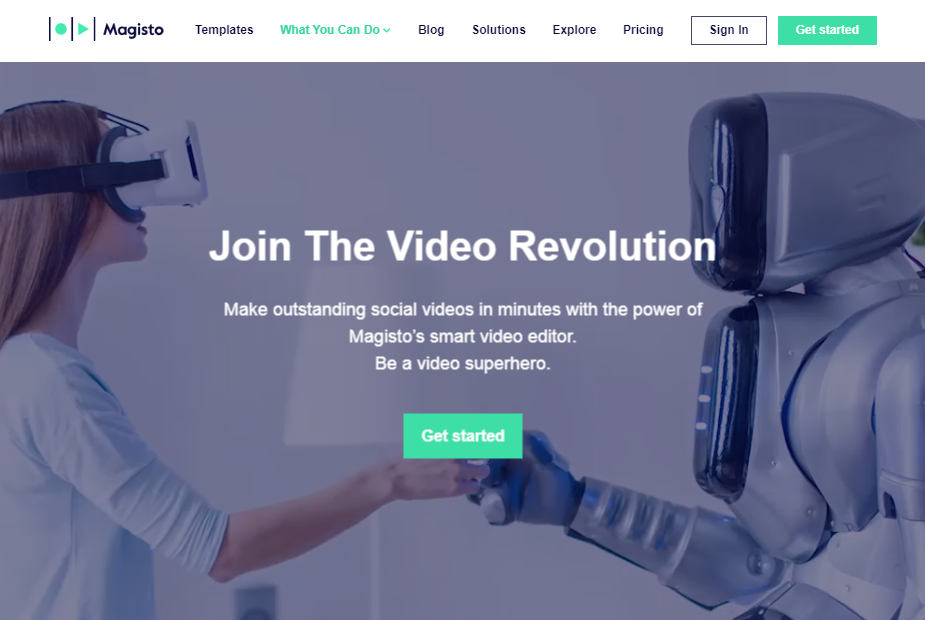 It uses AI as a crucial component in its software. Magisto serves as an influential online end-to-end video maker. It is an all in one video explainer software that promises to translate your viewers into customers!
11. OFFEO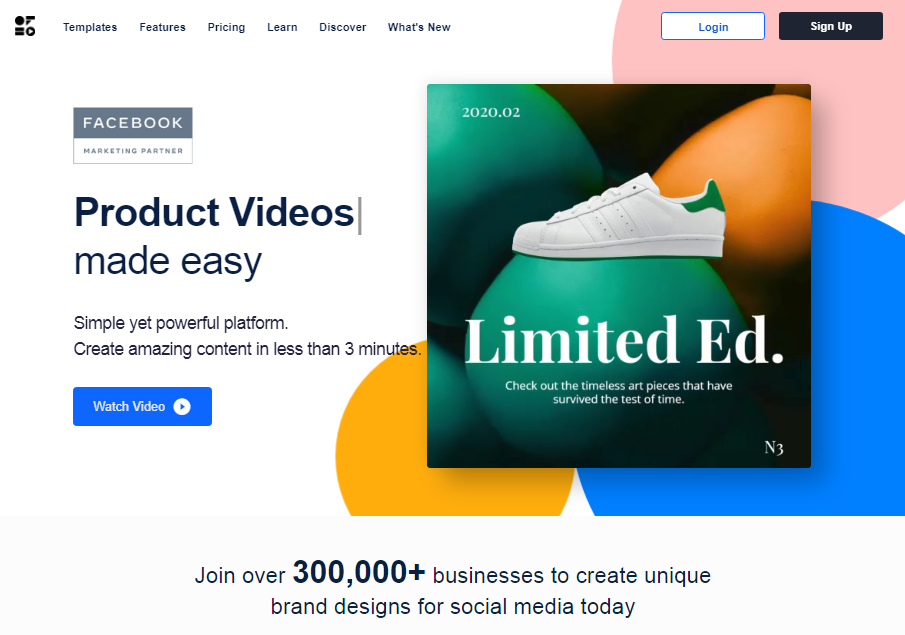 OFFEO aims to assist small business owners and marketers in creating compelling content for their brands. It offers attractive graphics, pre-made video templates, and a convenience with which you can easily make the best explainer videos.
Review Your Explainer Videos with GoVisually!
So you now know which software to use for explainer video creation. But what about reviewing it after you've made it?
Surely, we all know the lengths to which creative teams have to go to get approvals. And often, the most crucial details are lost in the long threads of responses and changes.
So before we leave you to create your very own explainer videos, we'll equip you with the best tool to streamline the process. Yes, you guessed it right – we're talking about GoVisually's video collaboration tool. You can upload the complete video content here and get your reviewing team on board to complete the approval process.
The best part? You can even share these with your clients without any hassle. So start creating your explainer videos today, and for the best results, don't forget to review them on GoVisually.