Video marketing is the leading marketing strategy in today's digital landscape. This year alone, the audience reach for video content was over 92% on digital platforms globally! 
While these numbers might have you gaping, there's more. Videos are a major source to increase brand awareness, drive more conversions, and generate a higher ROI. A survey shows every 8 out of 10 people decide to buy after watching the brand's video. 
Excited to know how that works.
That's it. You've found the perfect guide to learning the art of effective video marketing!
Without further ado, let's begin! 
Video marketing is winning the current digital scene. 
Videos are more effective at engaging your consumers than any other medium. They are more interesting and engaging than the other options. Video marketing can help you generate good ROI, increase traffic, and ultimately increase sales. 
Videos can connect with people and keep them interested in a way text can't. Trusting your intuition is not necessary; there is scientific evidence to support your view.
A study has found that 89% of video marketers report a considerable ROI from their video campaigns. And according to Animoto's Social Video Forecast, 91% of marketers are satisfied with the return on investment of using videos on social media for brand awareness.
With that said, many businesses now require video marketing as a digital marketing strategy. But it's brutally competitive out there. 
To leverage video marketing most smartly and make a winning strategy that is bound to succeed, you must fit videos into every part of your sales funnel. That means using videos for bottom-of-the-funnel marketing down from the top.
Cut design & video review time in half
GoVisually is the #1 online proofing software to get visual feedback on Designs, PDFs & Video content.
Try GoVisually free today!
9 surefire ways to use video marketing for more conversions  
The idea behind using videos on your website is the same as how you might use a blog post. Aligning your video content with a sales strategy will push visitors toward the ultimate goal of becoming a lead, converting into a customer, and retaining their loyalty.
So while we focus on conversions, these 9 ways to use video marketing will probably benefit your digital marketing strategy at all stages!
1. A fun introduction on your landing page 
A landing page is a page on your website designed to get the visitor to introduce your brand as the first point of contact. Typically, the first landing page someone sees on your website is the homepage. Since landing pages are part of your overall brand development, they must be effective marketing pieces. 
Regardless of applying all UX principles on your landing page, you might lose traffic if it has a high bounce rate. This is often due to the absence of a catchy introduction. Video can be a very effective way to engage visitors, allowing them to learn more quickly and intensely. 
If you include a powerful video on your landing page, you increase your chances of winning new leads and customers. Videos bring an 80% increase in landing page conversion.
2. Add videos to product pages 
Your website's product pages provide detailed information about a particular good or service. Understanding its specific features is the best way to generate interest in your product. 
By including videos on your product pages, you can make your product feel more appealing to prospective customers while also imparting a lot of valuable information in a short amount of time. Videos showing live demonstrations of products are especially popular. 
Customers can gain insight into product dimensions, understand what it looks like in someone's hand, and see how the product is used. Some people like to show off their product's unboxing experience by picking apart the product or taking pictures. Above all, video product pages can make your product more attractive and useful to your customers.
3. Repurpose blogs into videos 
According to the study mentioned earlier, 73% of people prefer to watch a quick video to learn about a product, while 11% would rather read a text-based article. 
When you offer the same points in both formats, you'll reach more people than if you present the information only one way. When you're saving time and using already available content, repurposing is also a great way to save your marketing budget.
Using blogs to make video content and publishing it on platforms like YouTube will bring more traffic to your website and get the word out there. Creating how-to or explainer videos will also target the top-of-the-funnel audience and attract them to your brand.
4. Entertain and educate on different platforms  
When creating your video content, make sure it's informational and engaging. Humans are fundamentally story-driven creatures. We like stories that are interesting and make us feel entertained.
By focusing on the entertainment value of your content, you can kill two birds with one stone: You can make your content more interesting to read and keep your customers from getting lost in your product. This is also where you can use different platforms for different types of content.
However, make sure your video content is befitting the platform you're publishing it on and is consistent in branding. 
5. Personalize emails with videos 
After lead generation email marketing campaigns, you should work on converting those leads into customers. This is where you make use of video marketing.
There are various ways to personalize your email. You can start personal and conversational skills if those people have signed up for the mailing list. But in a personalized video email, you can speak to the customer in a friendly manner. 
Your leads will usually respond better to video messages. They make customers feel like they are a part of the conversation, even if they are not speaking. The email is more powerful if there's an actual person on video speaking to them.
6. Utilize videos to humanize your brand 
You will likely lose out on many leads if you don't make your brand more human than digital. People interact more with devices in this era, and giving your brand a human touch is crucial. Your video messages need to be trustworthy and authoritative, making visitors feel at ease. 
There are various ways to create videos that seem trustworthy. You can start with About Us videos or a series to introduce your team and brand behind the scenes. Such content is widely watched and appreciated by audiences regardless of niche.
Keep in mind that there is skin in the game – the production quality is important to establishing a sense of professionalism and trustworthiness. Make sure your videos are filmed in a high-quality way to create a believable and confident presentation.
7. Videos make better social proof 
Whether it's video demos or ads, nothing comes off as better social proof than video testimonials, case studies, and reviews. 
Video case studies and testimonials are a great way to show potential clients that your company is legit and that your product or service is good. Some people have used my services and have had a positive experience instead of a negative one. 
A written review containing no information other than the reviewer's name can look unauthentic. Even if these people are trustworthy, people will typically judge them as untrustworthy. Creating videos that feature people describing their positive experiences with your company makes it much more real and compelling.
8. One-on-one videos for the impact 
To summarize many of the tactics used in video marketing, one-on-one video content can considerably impact your audience. Your videos must address individual concerns and provide evidence that your company members are willing to engage directly with their customer base. 
You can have one team member interview another about the design process for a product and how the product benefits. Or reach out to your customers directly and have a personalized video that quickly grabs their attention.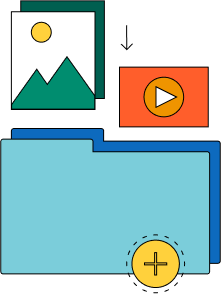 Need a quick way to share large files and creative assets?
With GoVisually Share, it's absolutely free! Try today.
9. Make videos for every buyer stage 
A rule of thumb in video marketing is to consider where that content falls in the buyer's journey. Create a video strategy that pushes prospects from one step to the next.
Testimonial and product demonstration videos make the bottom-of-the-funnel sense to encourage a purchase. In contrast, how-to and explainer videos are powerful top-of-funnel content that drives brand awareness. Use your content wisely and publish it with a strategy.
GoVisually – faster review & collaboration for creative teams 
Marketing is a team sport. And it relies more on on effective teamwork when it's about creative production for content and video marketing.
Spending hours figuring out what works for your brand video, having a tough time communicating with your video makers, and long threads of emails that don't mention the same edit several times. That's a recipe for disaster and low-quality production. 
GoVisually is a video-proofing platform that supercharges your creative workflow with advanced tools to leave visual feedback, collaborate and communicate in real time, and bring everyone on your team on the same page.
Are you excited to know how this works?
Book a demo with our expert and find out why GoVisually is the revolution for digital collaboration!
Final word 
Video marketing can help you attract visitors and keep them coming back. Creating a strategy that prioritizes content to drive conversions can use video to turn prospects from visitors into customers. 
It's undoubtedly a powerful tool many marketers use, so implement these strategies and see your conversion rates skyrocket above and beyond your expectations. Don't forget to stay tuned for more helpful guides and tips from your very own creative fellows.