A review and approval procedure is a lengthy one. Getting video reviews and approvals from remote teams makes it even lengthier. 
So how do you make it less time-consuming and more productive? 
The answer is much simpler than you think. But to help you understand how it specifically applies to working remotely, there's a handy guide waiting for you ahead.
So let's get into it! 
Cut design & video review time in half
GoVisually is the #1 online proofing software to get visual feedback on Designs, PDFs & Video content.
Try GoVisually free today!
What are video reviews and approvals?
Any creative project that involves collaboration also involves getting feedback and approvals as a critical stage of progress. It is also the only stage that will potentially repeat times and times over until the project is finished. 
It can become exceptionally difficult in the case of a creative video project, even more so with a remote team. 
Making changes in a video could take anywhere between three hours and three days. This makes the editing and reviewing process more time-consuming than other creative projects.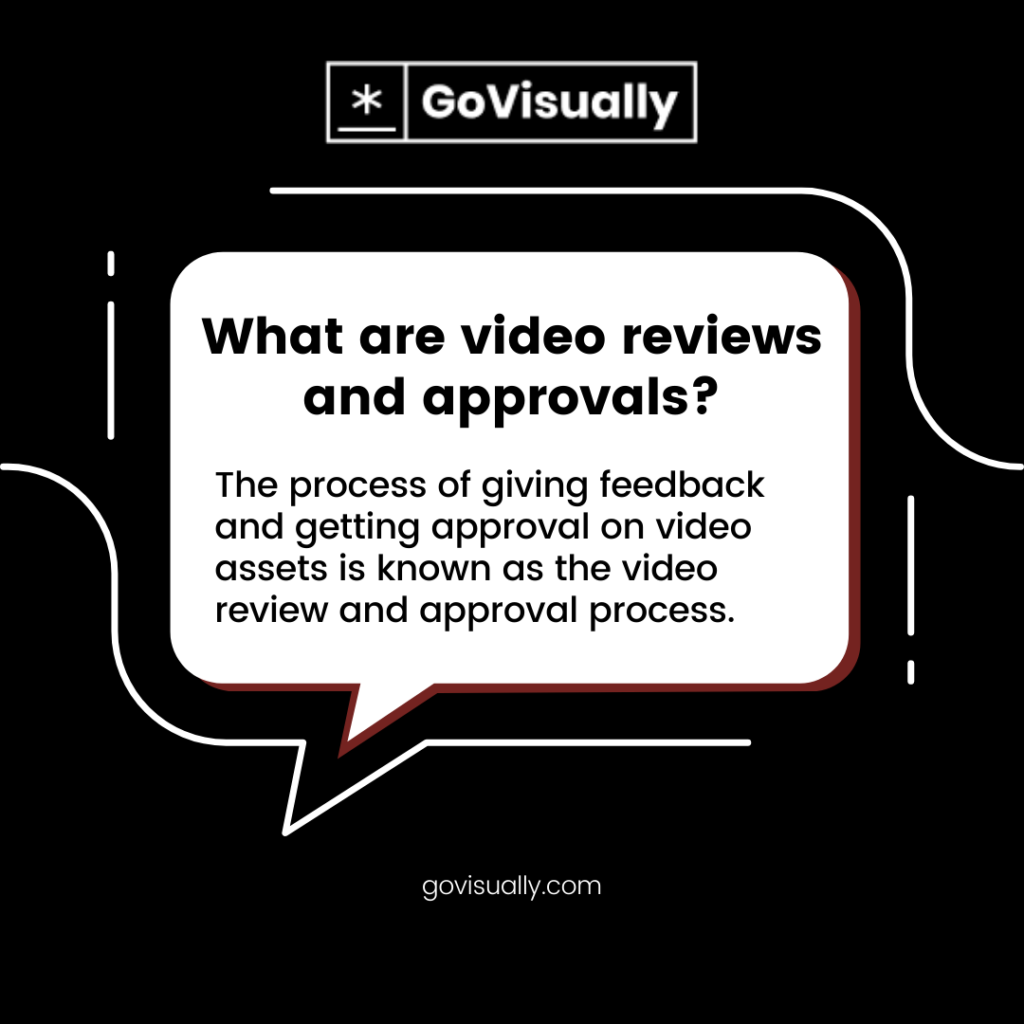 When working remotely, we're talking about numerous threads of emails, most saying the same thing but differently. There are many different collaborators, most saying the same thing but differently, too. You're not showing anyone the video while they verbally give their suggestions and flag the errors.
With a combination like that, creative direction and project completion will turn out as unproductive and inefficient as they can be, especially if your remote marketing team is a newly established one.
The review and approval process is very important for remote teams. You might be considering doing a review and approval stage only at the end to save you from the hassle of skipping it altogether. Stop considering that.
Why are video reviews and approvals important for remote teams?
A well-structured review and approval process is essential as a well-crafted remote work policy. When collaborating on creative projects with a remote team, both should be considered carefully and implemented unconditionally. 
Having a feedback and approval process for remote teams is necessary for the following reasons:
Properly communicating to keep the team on the same page

Tracking task progress and making timely suggestions

Successful project completion without disruption from last-minute changes

Aligning the creative project with organizational goals and persona

Keeping clients and stakeholders satisfied

Increasing productivity in your team
Using video proofing and collaboration software like GoVisually helps make your remote work policy an effective one and helps to structure your approval process.
How can you devise an effective video review and approval process for remote teams?
Remote work is the future of work. Ever since the Covid-19 pandemic, this has become an untold fact.
Of course, it also makes things difficult in many ways traditional office work doesn't. But that's where technology comes into play. 
Your review and approval process no longer has to be several threads of emails. Instead, it can be one platform, with everything you need in one place. There are several project management tools available to make remote collaboration easier. 
However, you should start devising a video review and approval process that sits well with your team. Here's an outline of what an effective review and approval process looks like to save your time and effort post-production.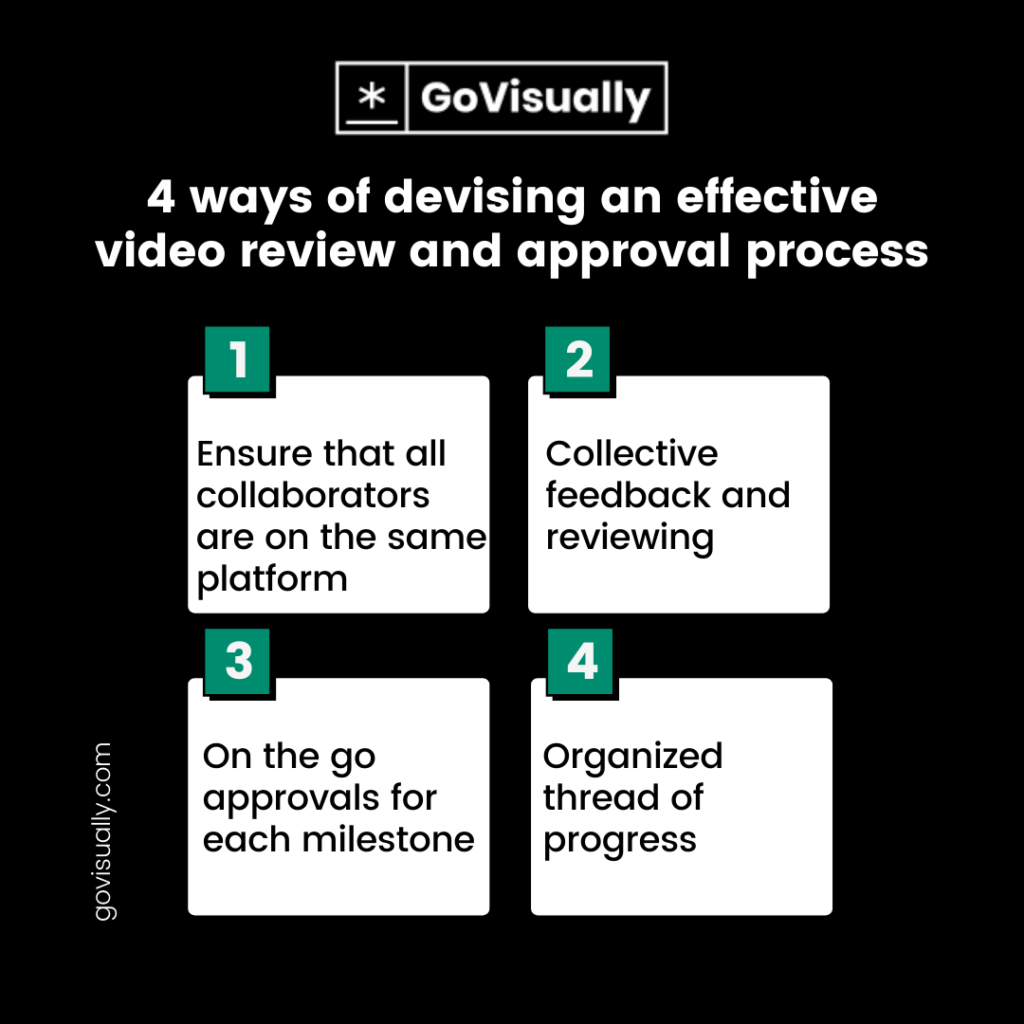 All collaborators on the same platform
Using a one-for-all platform could be the biggest factor in making your remote teamwork smooth and organized. You can upload your videos, documents, or related files directly on the cloud-based software. They will remain safe and accessible throughout your project timeline.
Collective feedback and reviewing
The greatest benefit of using a video review and proofing tool is that your entire team, the collaborators, creators, and stakeholders, can view and suggest feedback collectively. It will prevent confusion and disorganization. 
Video proofing tools like GoVisually allow you to conveniently add time-stamped comments, visual textboxes, pointers, and remarks on any part of the video. Sending and receiving feedback is as simple as one click.
On the go approvals for each milestone
Approvals on completing each step of the project are necessary to avoid making major changes after everything is done. Worst case scenario, you'll have to start from scratch again. 
The good thing about online video reviewing tools is that you don't have to send bits and pieces for approval to multiple people separately. On a platform where the task progress is available for everyone to see, making the right suggestions at the right time is much more convenient.
Organized thread of progress
Finding important changes and feedback from a pile of daily emails is difficult. It can take a ridiculous amount of time for the editors and creators and intervene with their workflow. Project management software can help you resolve comments and changes like a checklist.
How to counter the drawbacks of remote team collaboration?
When working remotely, we don't just miss out on social interactions. 
We miss out on important details that don't get communicated through emails, the reminders a colleague doesn't call us out on, and the crucial creative direction the manager gives as unsolicited advice in the office but doesn't do so through texts.
Remote collaboration on a creative video project commonly causes five main problems.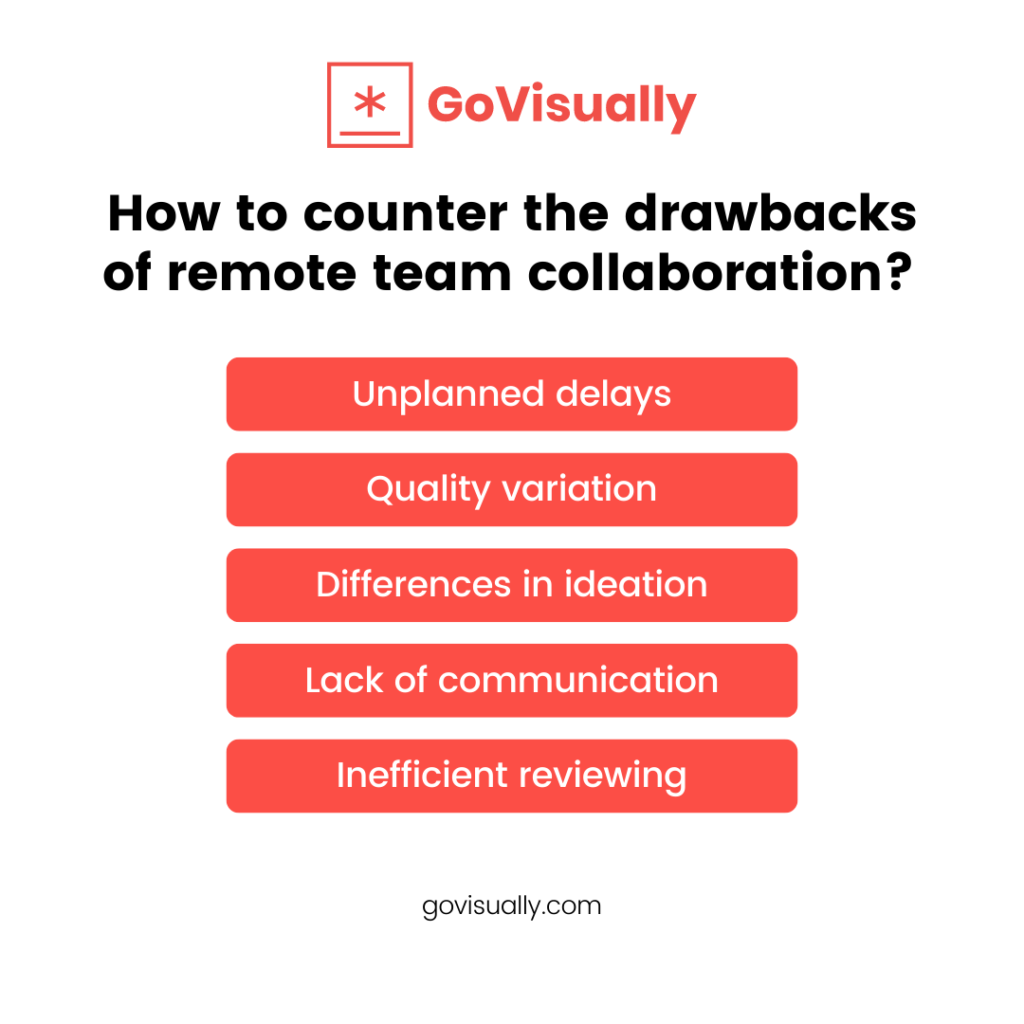 Unplanned delays
When everyone is working from their homes, their schedules are difficult to maintain, and video production is a long process itself. Combine that with a delay in approvals and response from the team, and you'll be struggling to keep up with the deadlines. 
Quality variation
Video creators have their aesthetics and innovative tools to work with. A team not working closely together can cause greater variation in the quality of a creative project. Too much variation reduces the overall quality of the video.
Differences in ideation
Ideation itself is a collaborative task. Your storyboard may be the same, but every creator can interpret and implement it differently, leading to differences in ideation. In a remote team, these differences are more obvious because they don't communicate their ideas to each other directly enough.
Lack of communication
This is one of the biggest drawbacks of remote teamwork. Lack of communication can create multiple other problems, from delays to mismanagement. Remembering things from one video conference or comprehending a jumble of words in an email is a tiresome task. And many of us fail to complete it.
Inefficient reviewing
Sending videos in their original quality, giving feedback, and asking for changes in a list, make that four lists and compare them to the consecutively changes. It is nothing less of a disaster. A messy, disorganized feedback process can send you many weeks behind in progress.
The solutions?
Each one of these problems either stems from poor communication or disorganized procedure. 
To improve collaboration and teamwork within remote teams, you can start by integrating communication strategies for remote teams into your work model.
Everything else, from meeting deadlines to efficient project management and organized review and approvals cycle, can be created using some great video review software with advanced features.
If you're wondering where you can find them, we have the best ones sorted right here!
Top 3 video review software for remote teams 
1. GoVisually 
The best online proofing software. GoVisually remains in the lead for its user-friendliness and cost-effective range of advanced tools. Especially for marketing professionals.
You can upload and annotate various types of media formats, including:
Video

Audio

PDFs

Documents

Images (JPG/PNG)

PSD (Photoshop file)
You can share your project with unlimited reviewers, and they can point, mark up or leave comments on any part of your visual project. The platform also allows you to categorize your projects for better organization. The comments are time-stamped, and there's a separate option for team-only private comments.
It's the easiest video review tool with the fastest uploading speeds for all file types. It is also integrated with other project management and creative tools, making it widely accessible. You can watch a product demo video before getting started. 
2. Wipster
Wipster, one of the most aesthetically pleasing creative collaboration software, is popular for its visuals and feedback tools. You can organize, comment, and review your projects asynchronously and make it easier to track edited versions.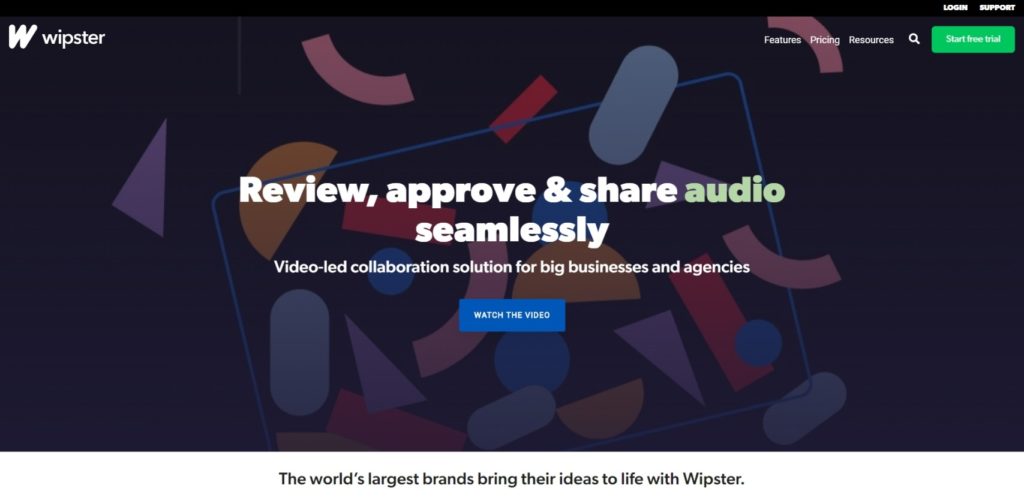 This video proofing software is the second-best option for marketing professionals because of its functionality that's better supported than Frame.io for other file formats.
Supported file formats include:
One major drawback of using Wipster is that it does not have integrations with other creative project platforms and all files have to be manually uploaded for review. 
3. Frame.io
Frame.io is yet another great tool for video proofing. It is also integrated with Adobe Premiere Pro and After Effects making it easier to collaborate.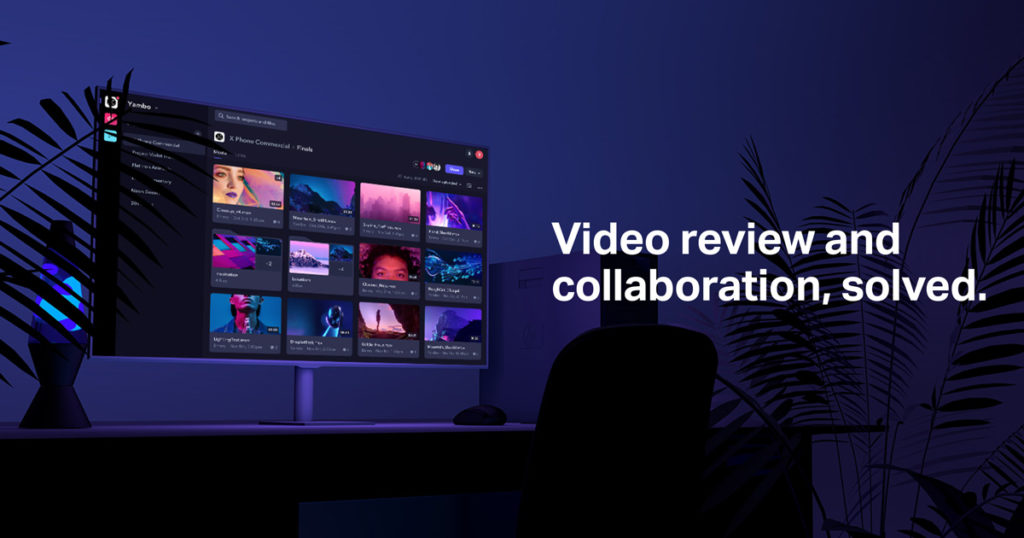 The UI of this software is a little tricky, but it can benefit video production professionals and game design teams once you learn it. 
Supported file format:
Frame.io is more on the practical side of the spectrum rather than user-friendly. For a marketing team, it could be a step too far. But since it's exclusively for video review, it has a range of tools for video proofing and editing.
Key takeaway
It is important to streamline your workflow when working remotely, and project management tools should always be your go-to option. However, looking for the ones that fit your needs is time-consuming. Hopefully, this guide saved you much precious time while looking into video review and approval strategies for remote teams. 
If you're wondering which tool to use, it's better to consider your workflow and the offered features. You can also request a free demo to assist you in making the right decision.
Happy collaboration to you and your remote team!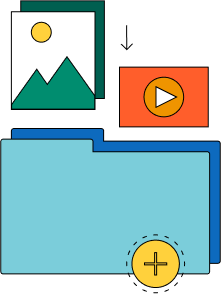 Need a quick way to share large files and creative assets?
With GoVisually Share, it's absolutely free! Try today.