Imagine a world without online tools to make your workflow easier. You can't, right? We get it! And that's because visual collaboration in recent times has been hailed by several remote and creative teams!
The option of connectivity through online means from anywhere around the globe facilitates people, especially the globally distributed businesses. And that is the promise of visual collaboration.
In this article, we will discuss how prioritizing visual collaboration can enhance creative production among teams. We'll also feature our top 5 visual collaboration tools. Let's start!
Cut design & video review time in half
GoVisually is the #1 online proofing software to get visual feedback on Designs, PDFs & Video content.
Try GoVisually free today!
What is Visual Collaboration?
What comes to your mind when we talk about visual collaboration?
A Skype conference call?
Well, it is much more than that now. Teams of any kind can connect and collaborate through visual collaboration to have a word and share ideas. Visual collaboration means a virtual meeting through multiple software, which eases the operation of any work. Groups, primarily creative teams, widely use these tools to exchange ideas about innovative projects without any hindrance. 
For example, a company has various offices globally with its website design and development team working from different locations. The gap between team members makes the process slow and almost impossible to achieve the objectives, where visual collaboration comes in.
There are various types of visual collaboration such as:
Video conference call
By talking about conference calls, the only picture that comes to our mind of a video conference call is that more than two people can join the call to speak collectively from different locations. It is like that in visual collaboration but with many other unlocked features to make the experience more realistic and comprehensive. 
Screen Share
The screen sharing option included in the video conference call is a primary feature of visual collaboration. Teams can avail these features through multiple ways like presentations, learning, and mind mapping. 
Boards
Through screen sharing, you can write on the screen on the whiteboard to explain the structure of your plan with your team or to write key pointers during the presentation.  
Share and Review Content
Instead of instructing your team members about making changes, you can share the content or do it yourself, just like anyone can share and edit a single Google document. 
Why Should Visual Collaboration be Prioritized by Creative Teams?
Visual collaboration is more than a tool; it connects people from around the world. The globally expanding businesses would not be successful as they are today because of a lack of communication. The video conferencing followed by screen sharing options allow us to engage with each other from anywhere at any time. 
Let's take a closer look at why you should prioritize visual collaboration in your team.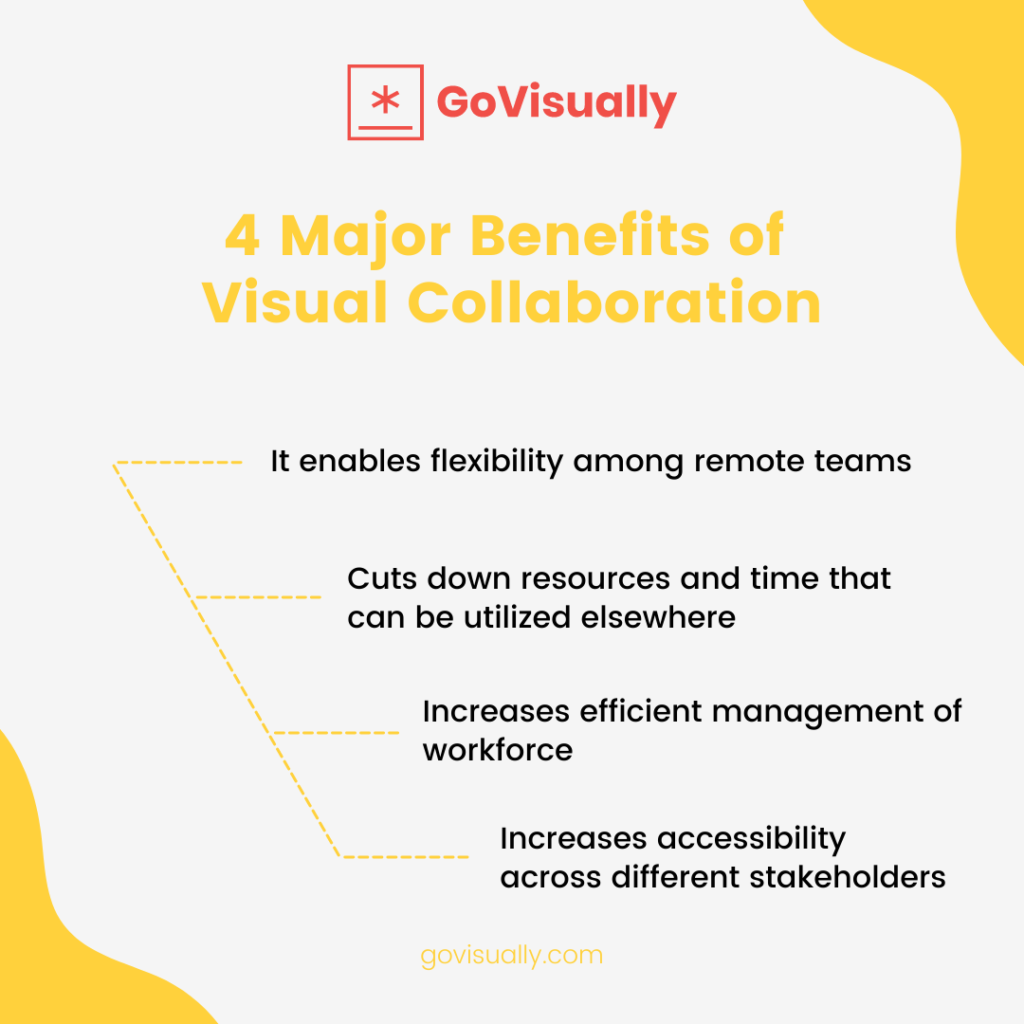 1. Enables Flexibility 
Imagine having to travel every day across two cities to spread the word from your team. It's pretty nerve-wracking. However, you can now sit at home or anywhere else to collaborate with your team through visual collaboration. It enables and increases flexibility. 
Since businesses have been switching to online platforms, the need for cooperation is also fulfilled through online means. The flexibility in your life after digitization has indeed increased exceptionally. Meetings are done, and plans are discussed with the help of virtual availability. Creative teams can engage from anywhere around the world. Moreover, online platforms like fiber, Upwork, or Freelancer.com allow you to work for people globally and communicate the structure of executing their objectives and need visual collaboration. 
2. Increases Efficiency 
Instead of gathering the whole workforce to communicate a plan or get updated about the progress of the work, a video conference call can bring everyone together without any hassle; you can perform your task in the meantime. The visual collaboration aims to increase efficiency by smoothing out the process, and it does not require you to stop while you are running errands for merely an update about the work.
Since the creative project needs time to think and develop unique content, you can save time traveling and focus on your project. Moreover, visual collaboration allows you open access to communicating with your client if there is any confusion.
3. Cuts Down Cost
One of the primary reasons visual collaboration should be prioritized is not having to travel for miles. The transportation cost is eliminated through virtual meetings. Moreover, if you are working with teams from platforms like Fibre, Upwork, and Freelancer, you can have video conferencing with your clients; you don't have to travel across nations or cities to discuss the project. 
4. Easily Accessible
When we look back at how the pandemic hit the world and impacted our daily lives, from educational institutes to businesses, traditional jobs became irrelevant. The awareness about the importance of digitization accelerates. Visual collaboration connected firms and people to resume the working process amid the pandemic making access to information available for everyone. 
If your creative team is engaged on online platforms, access to information and learning becomes easier with visual collaboration. You can hit up your team member to explain your role and provide you with resources to complete the project at any time. It shatters the boundaries created by traditional jobs. 
Suppose you are stuck at some point in your project and need guidance and your team members are not available to have a physical meeting with you. The limited access might hinder the progress of your work. So, utilizing this opportunity to conduct visual meetings makes every information regarding your work more accessible for you. 
5. Increases Autonomy of Team Members
While working on a creative project, your team requires autonomous decision-making where each team member can utilize their abilities to contribute to the project. However, you cannot make the decision right away without getting acknowledgment from your team. Ongoing updates through visual collaboration allow you to enable decentralized decision-making. 
You can choose to do your part of the project your way, but continuous engagement with your team sets you on the same page as your team members. Moreover, consistent remote jobs tend to make your team members demotivated about the project since they are unaware of if other team members are being dedicated as you or not. 
6. Quick Sharing
Suppose the client you are working for wants to see your work and wants you to explain it as well immediately. Visual collaboration is always an available option for this kind of urgency. The features included in the visual collaboration tools allow your clients to have a high-quality view of your work and optimizes it. 
How Can Creative Teams Execute Visual Collaboration?
Although multiple reasons stated above sound promising for prioritizing visual collaboration, its features entail further reasons to make you intrigued for using it- for example, the mobility it provides. You can anywhere; at home, at a restaurant, in a car, etc., you are just one call away to access information regarding your project. 
In addition, visual collaboration entails straightforward tools with minimal skill development, making it accessible to people of any profession. For example, the digital whiteboard, slide sharing, screen sharing options in the visual collaboration tool are created by keeping the user experience aspect in mind. 
However, for an authentic user experience for your creative team, you must choose the relevant tool since various tools have different features. As a result, we've compiled lists of varying collaboration tools in a variety of topics; have a look at them:
1. GoVisually
GoVisually is the #1 video proofing and collaboration tool. That's because not only it has power-boosting features, it can also be integrated with 1000+ apps using Zapier. It simplifies the design approval process and makes it easier to stay on top of your work by capturing feedback in one place.
The best thing is that you do not have to work with the chaos of emails. That's because, with GoVisually, you can invite internal and external reviewers on one platform. In fact, you can even set reminders, deadlines and download approved assets directly from the app.
GoVisually is an excellent option if you are looking for in-built proofing software. It requires minimum time investment and decreases the use of email as a means for communication. With just basic guidelines, anyone can easily use this software. It is ideal for Solo designers, creative and marketing teams, and design studios. They can easily upload their files, whether magazine pages, PDFs, or any other print material.
2. Miro
Miro is one of the most top digital whiteboard tools for collaborating with a dispersed creative team.

It makes it possible for several people to collaboratively modify the restructuring of the project outline from various devices along with sharing whiteboards to other softwares.
3. Heurio
Heurio visual collaborative tools are ideal for creative teams who create websites.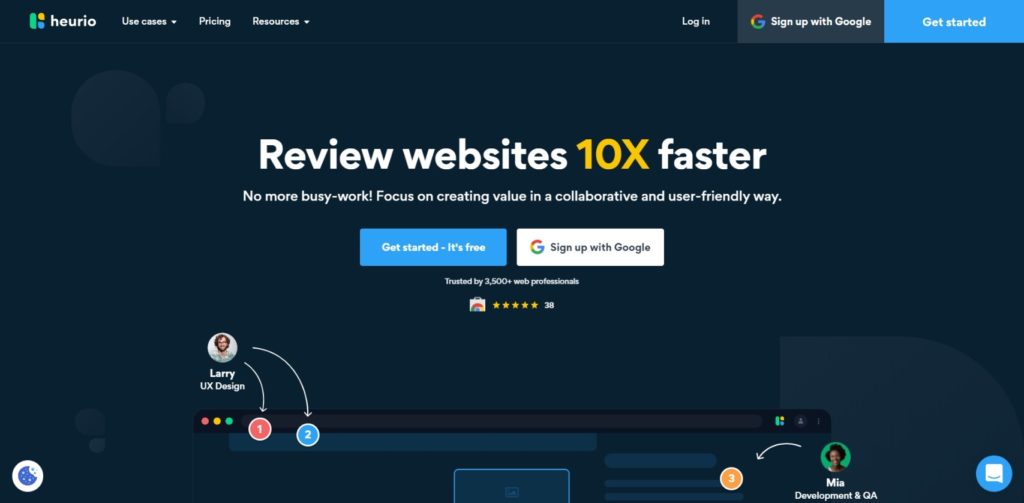 The software is a perfect combination of advanced features like UX assessments, layout designing, programming, copywriting reviews, evaluations, usability testing.
4. Lucidspark
Lucidspark is a visual collaboration tool that aims to bring your team's creative ideas to life through the virtual whiteboard.

It allows you full access to collaborate with your team regardless of your location. Moreover, It enables you to gather creative ideas, organizes them, and choose the best path of action to execute them.
5. Creately
Creately is a visual collaboration tool that assists groups in communicating ideas, thoughts, and plans with the help of real-time synchronization and expandable canvas. Teams can use this virtual collaboration tool as a shared whiteboard virtually or in the same place.

Ace Visual Collaboration with GoVisually!