If you're in charge of creating your team's marketing strategy, then you know just how crucial an editorial calendar is. It streamlines your content planning and organization.
With a well-made editorial calendar, you can optimize efficiency, save time and easily keep track of all the different content created and published. Depending on your time convenience, you can organize it weekly, monthly, or bi-annually. 
Depending on which industry you're a part of, there's going to be a ton of content that you'll have to plan and keep organized. This includes:
Upcoming articles

Planned promotional events

Updating old content

Publishing videos

Status updates

Case studies
But to create a good editorial calendar, you need specialized strategy-specific tools, and you have to try various methods to figure out what will work best for you and your team.
Here's everything you need to know about an editorial calendar and what you can do to create the best one that will work like a charm. 
Cut design & video review time in half
GoVisually is the #1 online proofing software to get visual feedback on Designs, PDFs & Video content.
Try GoVisually free today!
Editorial calendar vs. content calendar
Before getting started, let's get one thing out of the way. An editorial calendar and a content calendar are not the same things. It's easy to get confused between the two, and you'll see many people use the terms interchangeably, but both have different functions you should be aware of. 
An editorial calendar will lay out the bigger picture of your content strategy. The long-term plan that you come up with will be its focus, and it will outline the overarching themes and subjects you plan to address over a set period. 
This tactic is excellent for garnering relevant and maximum traction towards your marketing efforts since you'll be able to plan content and come up with diverse content ideas. 
Now let's talk about content calendars. What a content calendar does is outline a day-by-day plan for executing your content marketing strategy. And since it's planned around a shorter time frame, you'll be able to include all the details of what kind of content you will be publishing daily. 
In a content calendar, you will also include details such as how to repurpose content across your various company channels and what you can do to make it more specific and relevant to your audience.
An editorial and content calendar go hand in hand for a well-employed marketing strategy. You're going to need both if you want to run your operations smoothly, but in this article, there's going to be a heavier focus on creating the best editorial calendars.  
5 ways of creating the perfect editorial calendar
Nowadays, there are numerous tools you can use to start developing your editorial calendar, the most commonly used being Google Sheets and Google Calendar that will help simplify the process. 
You will soon find that there's no universal editorial calendar template you need to follow, but if you want to customize it to your liking, it's essential to know some basic steps.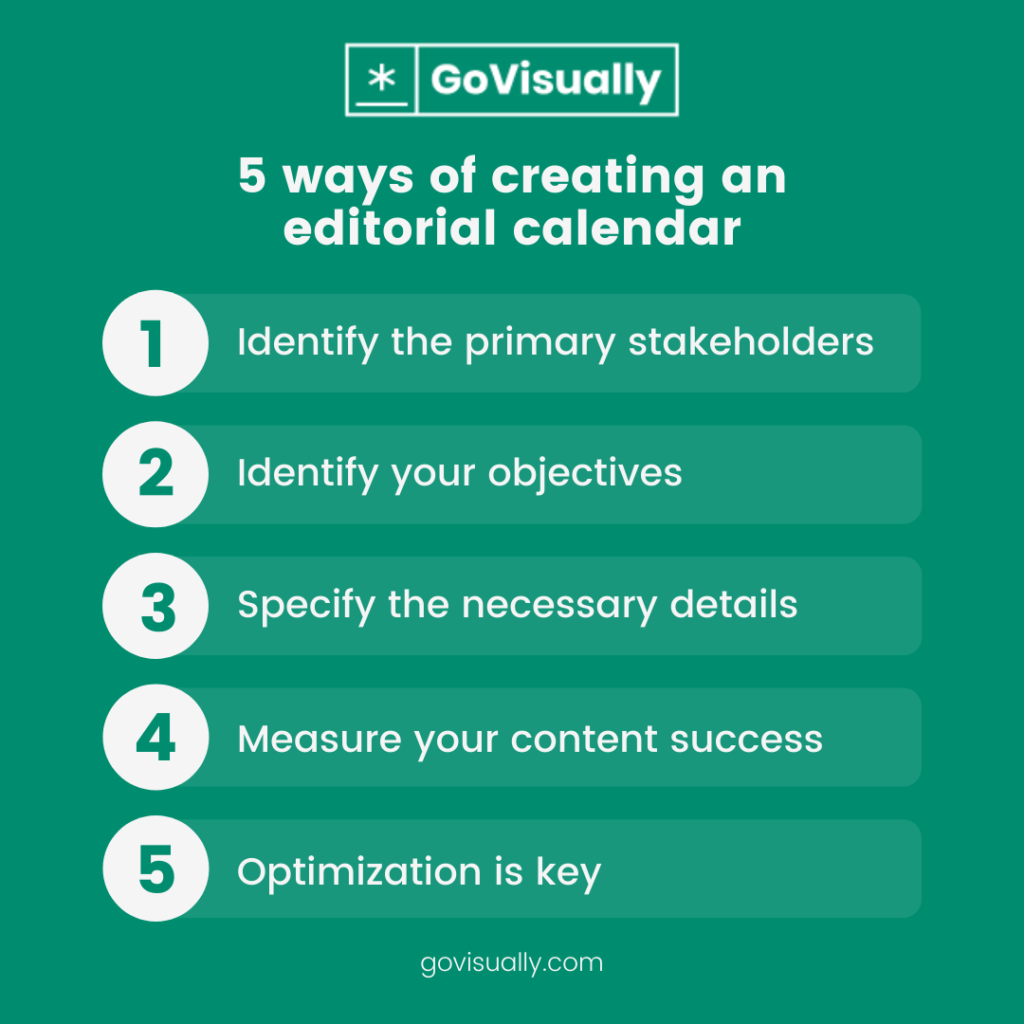 1. Figure out who's involved
Before you start gathering material for your content, you have to pay attention to the sources, in other words, who are the people involved when coming up with the ideas and primary structure of the content you are planning to publish.
If you want content curated according to your marketing needs, you will have to make sure that your content sources come with a range of viewpoints and not through just one person in the department. 
This means the people included should be from various professions such as subject-matter experts, writers, editors, graphic designers, or even an external content creation partner.
The extra effort will help you reap benefits in the long run because people like subject-matter experts, for example, can provide specialized insight into the relevant topics that you're looking to include in your editorial calendar. 
After deciding what kind of people will be involved, you can choose how much time each person can devote to the content over the set period. 
2. Identify your goals
Now's the time to align your goals with the work you're going to be doing. Your goals will play into the content directly you will create, and you won't be able to streamline the process without it. 
In content marketing, three primary goals should be at the forefront. These include brand awareness through thought leadership, increasing leads by generating the content, and improving search rankings for targeted keywords (which has everything to do with SEO). 
Start by picking your primary goal for the quarter. This will shine a light on the topics you should be focusing on, and you can go ahead from there. Make sure that the goals you set are realistic enough to achieve within the time frame you've set. 
3. Specify the details 
Next, you can open up a spreadsheet and start jotting down all the content ideas that come to mind. Organizing what you're writing down under different tags such as 'author,' 'status,' 'category,' 'publishing date' etc., will be helpful and keep things sorted out cleanly. 
To elaborate, kind of details that need to be added include topics that have been confirmed, which authors are assigned to do what, any questions that have to be addressed to a subject-matter expert or editor, and the answers to those questions. 
Moreover, the status of the content being worked on has to be included in the editorial calendar as well, so that will consist of whether the content draft is completed, needs editing, has been approved, or has been uploaded yet or not. 
By curating your editorial calendar in this manner, you will be able to take your work vision and translate it into reality. At the same time, it will allow everyone involved to stay on top of their tasks because they will be sure of what work is expected of them and how much time they have to get it done. 
Another essential aspect to keep in mind is that your editorial calendar must be flexible. There will always be some changes that you'll have to make along the way, but this is a good thing because it will allow you to stay in control and not let any ups and downs get the better of you. 
4. Measure the success of your content
The metrics will allow you to see how effective your editorial calendar has been regarding your marketing strategy. This directly correlates to your goals, and you'll be able to pinpoint exactly which parts of the plan need changes and which are working well. 
Here are some of the essential metrics you should consider when evaluating your marketing success. 
Brand awareness
The metrics for brand awareness include social shares on published articles, click backs to your website, any new connections made on LinkedIn and other platforms, and people reaching out to your subject-matter experts. 
Lead generation
The metrics for lead generation have to do with the clicks back to your website from published content and the conversion rate for blog posts and any new leads generated from gated content. 
SEO
Any links earned through published content, traffic from organic search, and rankings coming from your target keywords are all metrics for SEO that you have to analyze.
5. Optimization is key
Change is never a bad thing, and when curating an editorial calendar, there might be things working now that won't work in the future. Eventually, there will come a time when bumps in the workflow process or tools you don't need anymore. 
You should continuously check in with your team and consider their criticisms. Some of the areas you can review includes:
Your schedule

The tools you are using

The volume of the content

The time between the various stages

Metric tracking
Doing this will eventually understand if collaborative working works for your team and optimize the process as you see fit. 
4 editorial calendar examples 
Now that you know how to create an editorial calendar, let's review some examples of an editorial calendar. But before we do, understand that editorial calendars for each company would differ as it's designed to serve their needs.
Let's look at some of these examples.
1. GoVisually
Here's an exclusive insight into one of the editorial calendars for blog content. We like minimalism as it helps us stay focused, which is reflected in our content creation process.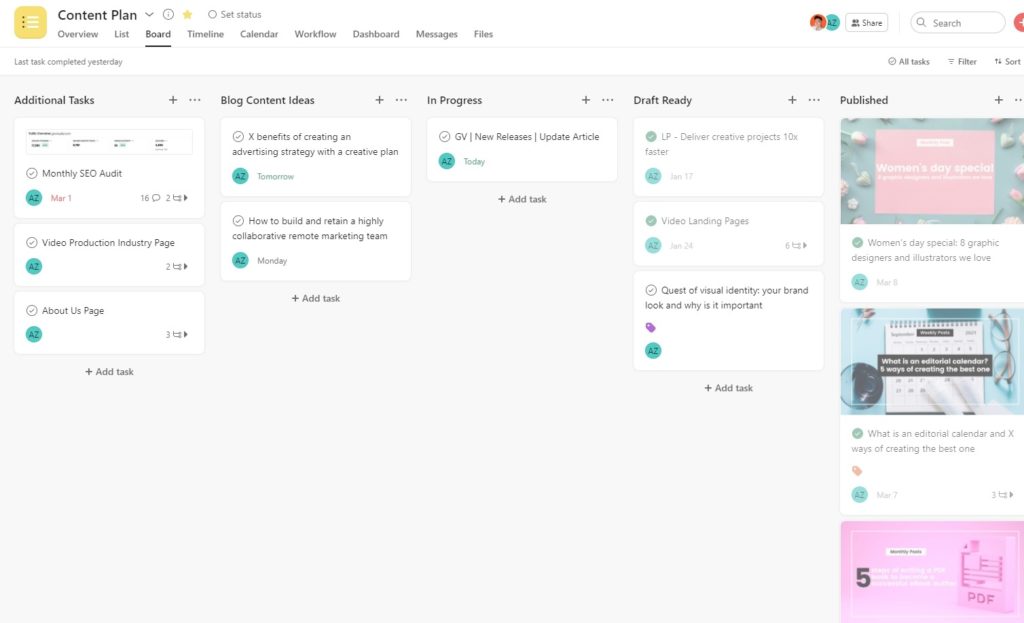 We use Asana to create our editorial calendars. Their easy-to-use features like tags, due dates, kanban board and variations in style allow us to personalize the experience as well.
2. Unbounce  
Unbounce is a landing page creator, and they use Google Sheets for their editorial calendar. As you can see, Unbounce sorts out its content by month and campaign. The way they have customized their calendar is genuinely pleasing to the eye.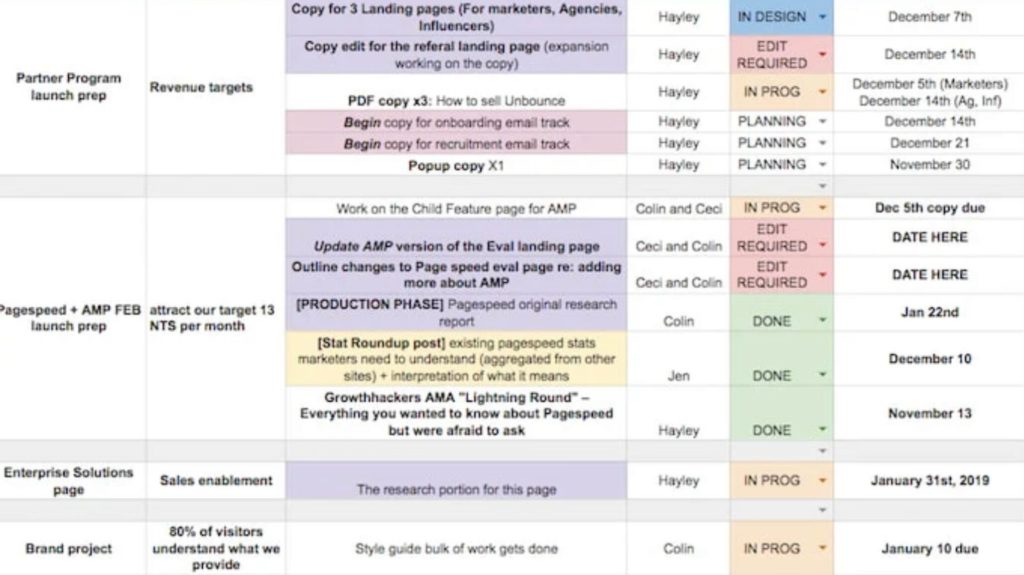 3. Digital Authority 
Digital Authority is a digital marketing agency. They excel when it comes to content and social media. As you can see above, they use CoSchedule for their editorial calendar. One more thing to note is how they have divided their big picture goals and smaller content-related tasks. 
4. Storyteller's Saga
The editorial calendar for the content house, Storyteller's Saga, is created on Trello. As you can see, the calendar streamlines all the content. You can see who the assigned person is when it is due and which stage the content is in. These categories include ideas, design, review, editing, etc.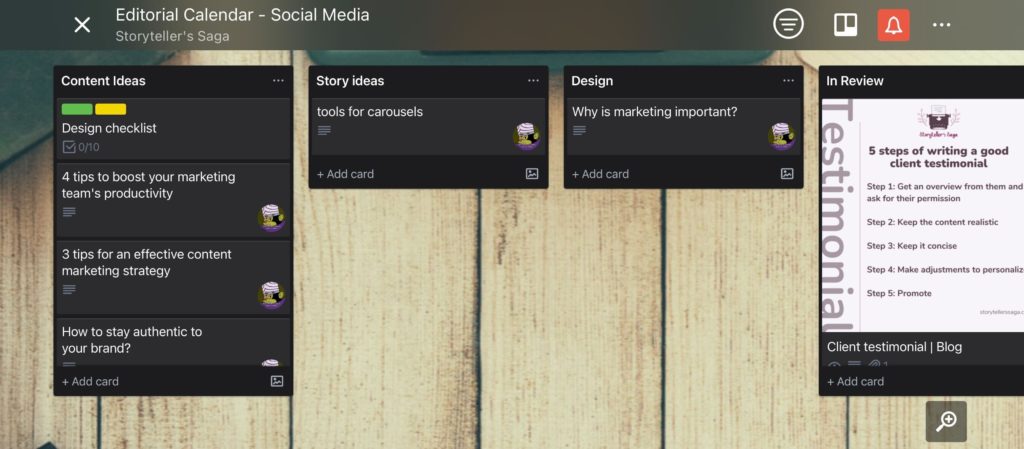 Review editorial calendars with GoVisually
The process of creating, reviewing, and getting approval on an editorial calendar can become pretty extensive and exhausting. So what you need is a tool that can make the experience smoother and more efficient for your team. 
And that perfect tool is GoVisually, the #1 online proofing software that helps you review and approve creative assets blazing fast. 
This way, you'll be able to keep all your revisions organized in one place. Moreover, you'd be able to annotate various types of files and generally be on top of your game.
So try GoVisually today and change the trajectory of your workflow process for the better.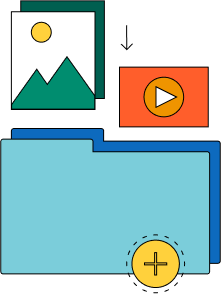 Need a quick way to share large files and creative assets?
With GoVisually Share, it's absolutely free! Try today.