Imagine a digital world where you never miss a deadline, your content flows easily, and you have a clear action plan for your creative activities. The answer? An editorial calendar!
With an editorial calendar, you can avoid the stress of scrambling for ideas at the eleventh hour and feeling swamped by the content creation process.
It brings structure, coherence, and a sense of ease to your content development journey. Depending on which industry you're a part of, there will be a ton of content you'll have to plan and keep organized.
Luckily for you, this article will provide you with comprehensive information on editorial calendars.
From how to create an editorial calendar to the benefits of having one with editorial calendar examples, we will tell you everything you need to know to bring a whole new level of organization and efficiency to your content creation game.
Let's start!
What is an editorial calendar?
An editorial calendar is a content roadmap that helps you plan, organize, and schedule all your upcoming content in one spot.
But, there's more!
An editorial calendar is a comprehensive schedule to inform you of the publication date of your content and specify the type of content, designate the responsible creator, and identify its publishing location.
With an editorial calendar, you can see the big picture of your content strategy. You'll know which topics you'll tackle, which platforms you'll conquer, and precisely when your content will grace the online world.
You can use it to create a roadmap for the following:
Upcoming articles
Planned promotional events
Updating old content
Publishing videos
Status updates
Case studies
Editorial calendar vs. content calendar
Before getting started, let's get one thing out of the way.
An editorial calendar and a content calendar are not the same things.
It's easy to get confused between the two, and you'll see many people use the terms interchangeably, but both have different functions.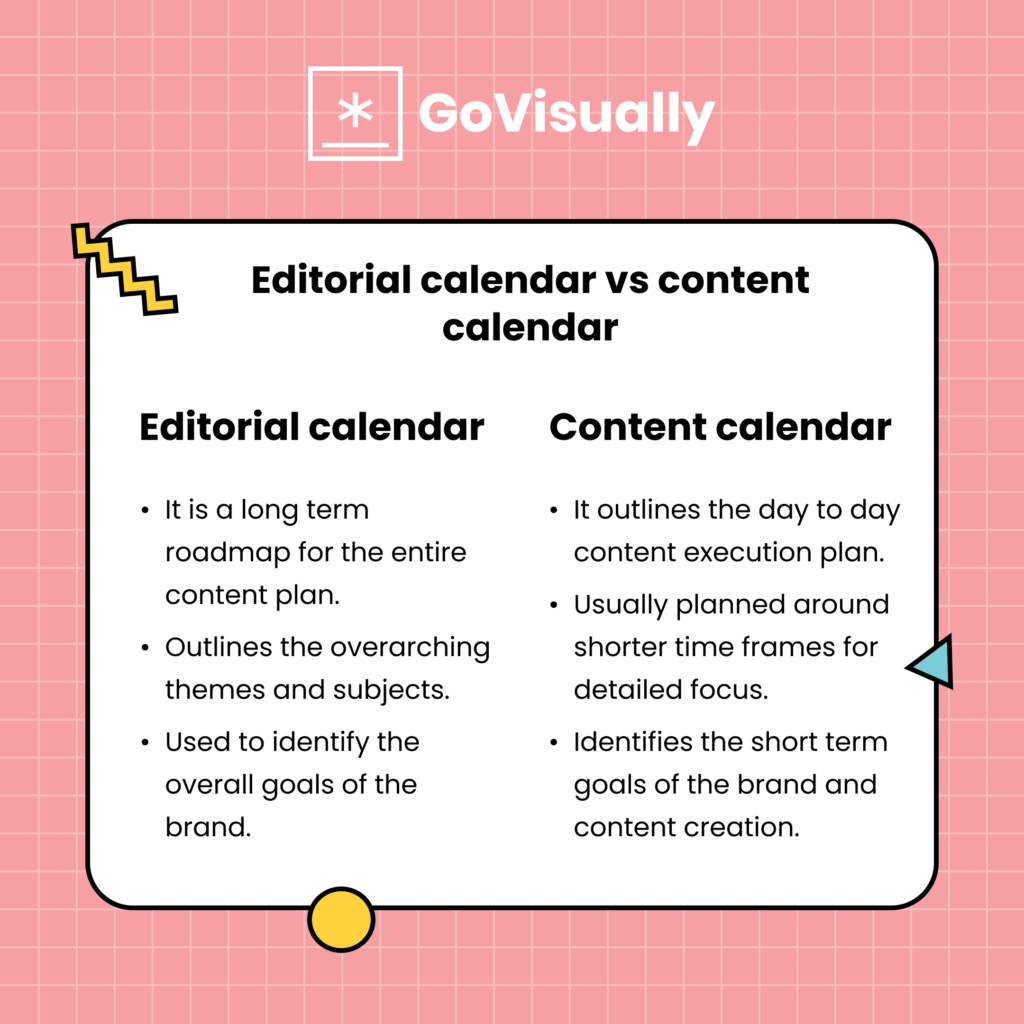 An editorial calendar will lay out the bigger picture of your content strategy. The long-term plan you develop will focus on and outline the overarching themes and subjects you plan to address over a set period.
This tactic is excellent for garnering relevant and maximum traction toward your marketing efforts since you'll be able to plan content and develop diverse content ideas.
Now let's talk about content calendars.
A content calendar outlines a day-by-day plan for executing your content marketing strategy. And since it's planned around a shorter time frame, you'll be able to include all the details of what kind of content you publish daily.
In a content calendar, you will also include details such as how to repurpose content across your various company channels and what you can do to make it more specific and relevant to your audience.
However, you will need both to run your operations and campaigns smoothly.
6 benefits of creating and using an editorial calendar
Let's explore the many perks of an editorial calendar.
1. Streamlines content creation
Producing consistently high-quality content can often feel challenging. But with an editorial calendar, you can identify the key themes to cover and divide them across monthly and weekly chunks of content.
This helps you stay aligned with the overall plan while also hitting the immediate goals.
2. Helps you find inspiration
We've all faced those moments of staring at a blank screen, desperately seeking fresh ideas. With an editorial calendar, you can lay out existing topics and brainstorm ways to expand on them effortlessly. This way, you can eliminate creative obstacles with ease!
3. Creates consistency
Want to leave a lasting impression on your audience?
Consistently delivering remarkable content is the key to an engaged audience.
An editorial calendar helps you organize your content and stick to a schedule. This way, you can eliminate the possibility of random posts or extended periods of content inactivity. You will become the dependable and consistent content creator your audience can always rely on!
4. Promotes smart scheduling
Time is a precious commodity.
By scheduling your content in advance, you can bid farewell to last-minute rushes and focus on what truly matters. Prepare your content, set the dates, and let the magic unfold. You'll have months of content ready at the click of a button.
Running a business is no walk in the park. Your to-do list seems to grow endlessly, and time feels like slipping away. You need a tool to help you, like your assistant, to keep the process hassle-free. Here's where an editorial calendar comes to your rescue.
5. Aligns promotions and marketing campaigns
Have exciting promotions, sales events, or special offers on the horizon?
Planning your content ahead of time ensures seamless integration with your marketing efforts. This saves you ample time and last-minute efforts to create a great post on your blog and social media accounts.
Attending industry conferences or hosting business-related events?
An editorial calendar lets you be prepared with engaging content that keeps your audience updated and excited about what's happening. Share the behind-the-scenes excitement and build anticipation among the audience. This way, you can be on top of things without worries or hassles.
6. Makes delegation and organization easy
When collaborating with a group of skilled writers or video producers, organizing tasks can be made easier with the help of an editorial calendar.
It is a reliable tool to keep track of the schedule and delegate tasks ahead of time, making team efforts more seamless and efficient.
Managing multiple channels, from blogs to social media to emails, all teeming with content, is nothing short of a challenge. It can be pretty overwhelming and lead to burnout.
An editorial calendar can be your reliable ally, keeping everything organized and well-organized. So you can avoid all kinds of chaos and welcome peace of mind!
Who needs an editorial calendar the most?
Whether a budding entrepreneur or a seasoned marketer, an editorial calendar is your secret weapon for content success.
So, let's explore who exactly needs this tool and how it can revolutionize your content creation.
Small business owners
Small business owners are constantly struggling with countless responsibilities. An editorial calendar is a reliable tool for organized content creation, which can be your trusted ally.
With limited resources, time becomes your most valuable asset. An editorial calendar helps you allocate your precious time effectively, ensuring a consistent flow of content without sacrificing quality.
As a small business owner, content brainstorming and creation often fall on your shoulders.
A well-organized editorial calendar helps you plan and manage your content effortlessly. You can easily schedule your topics, themes, and posting schedules as if you have a dedicated personal assistant for your content needs.
Content creators and marketers
Whether you work as a freelancer, blogger, or marketer, an editorial calendar can be your ultimate tool to succeed in the constantly changing content world.
In the fast-paced digital world, consistency is the key to success. An editorial calendar lets you maintain a steady stream of high-quality content, keeping your audience engaged and hungry for more.
In addition, an editorial calendar becomes your collaborative hub if you're part of a team. Promoting efficient communication is essential in achieving shared objectives, ensuring everyone is aligned, and working towards common goals.
Social media managers
If you work as a social media manager, you understand the significance of staying ahead of the game and ensuring that the platforms remain lively with captivating content. An editorial calendar is your secret weapon to social media mastery.
Social media success lies in strategic planning; an editorial calendar is your blueprint. It lets you plan your posts in advance, ensuring a consistent flow of captivating content.
Plus, while social media never sleeps, you deserve some rest! It's entirely impossible to be active 24/7 and post regularly. This is where an editorial calendar comes to your rescue.
It lets you schedule your posts in advance, freeing up precious time for other crucial tasks. This way, you can spend less time scrambling for content and more time engaging with your audience.
5 steps to create an editorial calendar
You can use numerous tools and templates to start developing your editorial calendar. However, if you want to customize it to your liking, you must know some basic steps.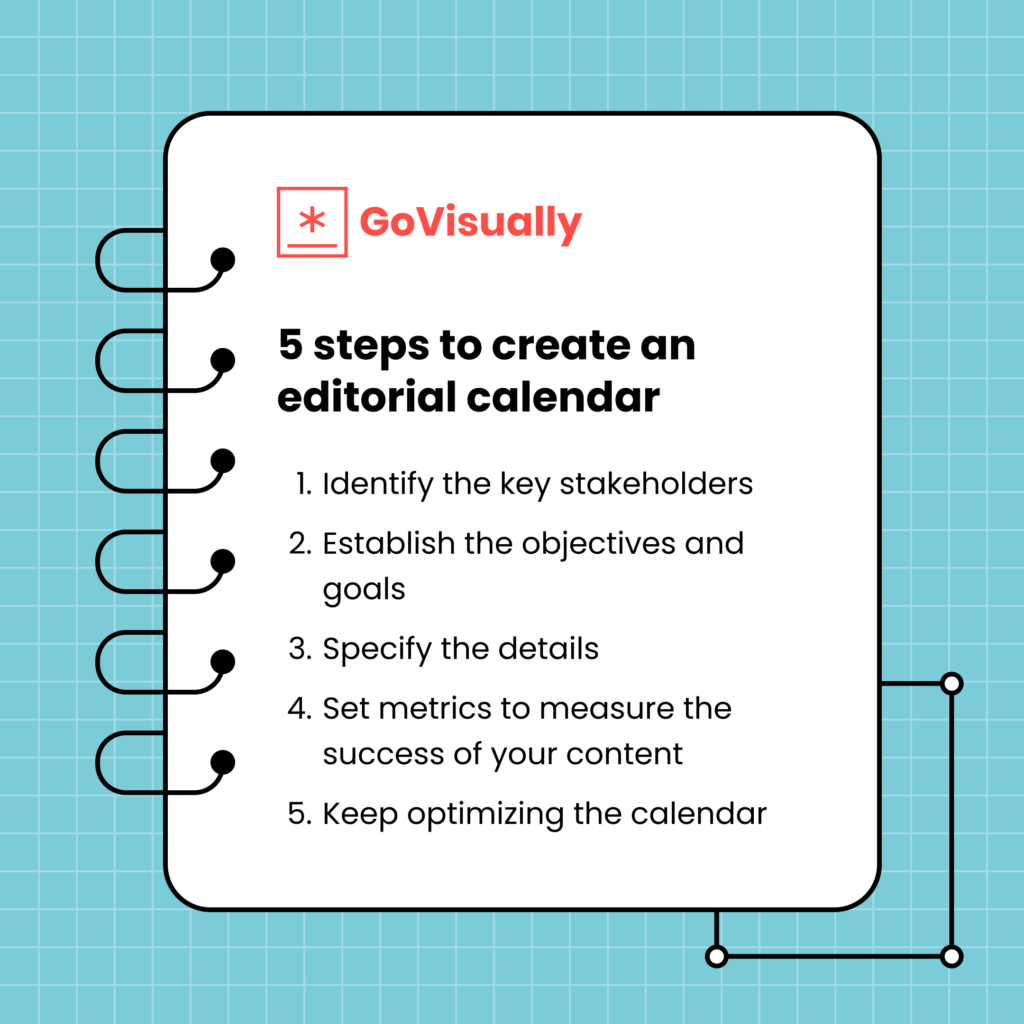 1. Identify the key stakeholders
Before you start gathering material for your content, you have to pay attention to the sources, in other words, who are involved when coming up with the ideas and primary structure of the content you plan to publish.
If you want content curated according to your marketing needs, you must ensure that your content sources come from various viewpoints and not through just one person in the department.
This means the people included should be from various professions, such as subject-matter experts, writers, editors, graphic designers, or even an external content-creation partner.
The extra effort will help you reap benefits in the long run because people like subject-matter experts, for example, can provide specialized insight into the relevant topics you want to include in your editorial calendar.
After deciding what kind of people will be involved, you can choose how much time each person can devote to the content over the set period.
2. Establish the objectives and goals
Now's the time to align your goals with the work you will be doing. Your goals will play into the content directly you will create, and you won't be able to streamline the process without it.
In content marketing, three primary goals should be at the forefront. These include brand awareness through thought leadership, increasing leads by generating content, and improving search rankings for targeted keywords (which has everything to do with SEO).
Start by picking your primary goal for the quarter. This will illuminate the topics you should focus on, and you can go ahead from there. Ensure that your goals are realistic enough to achieve within your time frame.
3. Specify the details
Next, you can open up a spreadsheet and jot down all the content ideas that come to mind. Organizing what you're writing down under different tags, such as 'author,' 'status,' 'category,' 'publishing date, ' etc., will be helpful and will keep things sorted out cleanly.
To elaborate, kind of details that need to be added include topics that have been confirmed, which authors are assigned to do what, any questions that have to be addressed to a subject-matter expert or editor, and the answers to those questions.
Curating your editorial calendar in this manner will allow everyone involved to stay on top of their tasks because they will be sure of what work is expected of them and how much time they have to complete it.
4. Set metrics to measure the success of your content
The metrics will allow you to see how effective your editorial calendar has been regarding your marketing strategy. This directly correlates to your goals, and you'll be able to pinpoint exactly which parts of the plan need changes and which are working well.
Here are some essential metrics you should consider when evaluating your marketing success.
Brand awareness
The metrics for brand awareness include social shares on published articles, click-backs to your website, any new connections made on LinkedIn and other platforms, and people reaching out to your subject-matter experts.
Lead generation
The metrics for lead generation have to do with the clicks back to your website from published content, the conversion rate for blog posts, and any new leads generated from gated content.
SEO
Any links earned through published content, traffic from organic search, and rankings coming from your target keywords are all metrics for SEO that you have to analyze.
5. Keep optimizing the calendar
You should continuously check in with your team and consider their criticisms.
Some of the areas you can review include:
Your schedule

The tools you are using

The volume of the content

The time between the various stages

Metric tracking
Doing this will help you understand if collaborative working works for your team and optimize the process as you see fit.
3 editorial calendar examples
Now that you know how to create an editorial calendar, let's review some examples. But before we do, understand that editorial calendars for each company would differ as it's designed to serve their needs.
Let's look at some of these examples.
1. GoVisually
Here's an exclusive insight into one of the editorial calendars for blog content. We like minimalism as it helps us stay focused, which is reflected in our content creation process.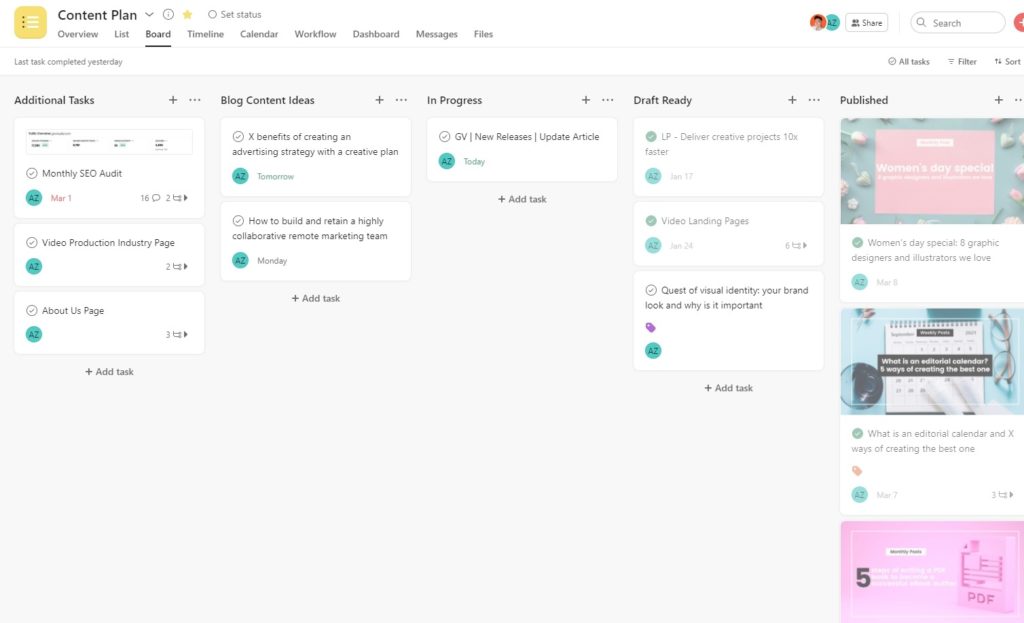 We use Asana to create our editorial calendars. Their easy-to-use features like tags, due dates, kanban board, and variations in style allow us to personalize the experience.
2. Unbounce
Unbounce is a landing page creator, and they use Google Sheets for their editorial calendar. As you can see, Unbounce sorts out its content by month and campaign. The way they have customized their calendar is genuinely pleasing to the eye.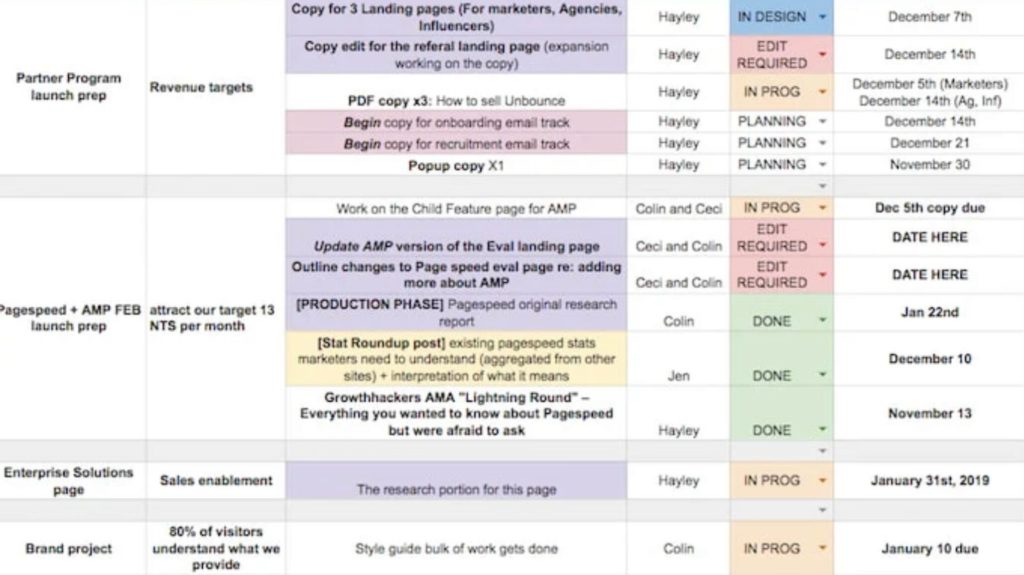 3. Storyteller's Saga
The editorial calendar for the content house, Storyteller's Saga, is created on Trello.
As you can see, the calendar streamlines all the content. You can see who the assigned person is when it is due and which stage the content is in. These categories include ideas, design, review, editing, etc.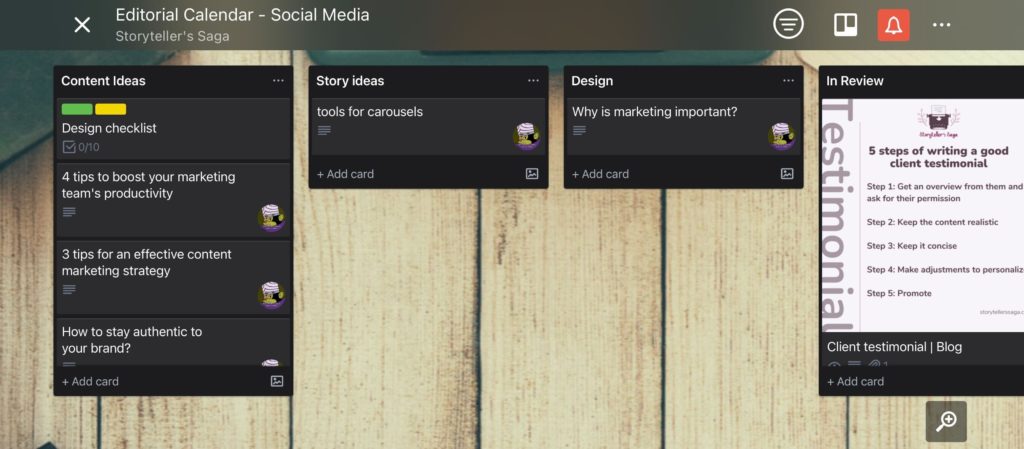 Review editorial calendars with GoVisually
Creating, reviewing, and getting approval on an editorial calendar can become extensive and exhausting. So you need a tool to make the experience smoother and more efficient for your team.
And that perfect tool is GoVisually, the #1 online proofing software that helps you review and approve creative assets blazing fast.
This way, you can keep all your revisions organized in one place. Moreover, you could annotate various files and generally be on top of your game.
So try GoVisually today and change the trajectory of your workflow process for the better.