Online Proofing Software – An Overview
Collective reviews are critical for the success of any project. A proper review cycle ensures that the end product delivered is free from any errors. and the client experience is elevated. Email proofing or paper-based methods can be quite a cumbersome and time-consuming process.
Online proofing, on the other hand, is quick, efficient and effective. It is the process of reviewing and approving any digital asset using feature-rich online software.
Creative and marketing teams use digital proofing software to review and collect approvals on their work. This includes graphics, documents, videos, artwork, site plan and more.
Advantages of Using Online Proofing Tools
The most prominent benefits of using online proofing tools are:
Speed and accuracy – Unlike manual reviews, online proofing tools makes work easy. It helps you to pace up and streamline the review and approval process. Since the feedback is saved online, you have better accountability.
Ease of access – You can access the designs from anywhere! Work on the go with online proofing tools.
Collaboration – Online proofing tools help to create a collaborative work culture. Everyone in the team and outside can share their feedback through a single medium.
Commitment – You can enjoy the creative journey even more since everyone involved is on the same page. And best of all work towards the same goal.
Our list of rising Online Proofing Tools: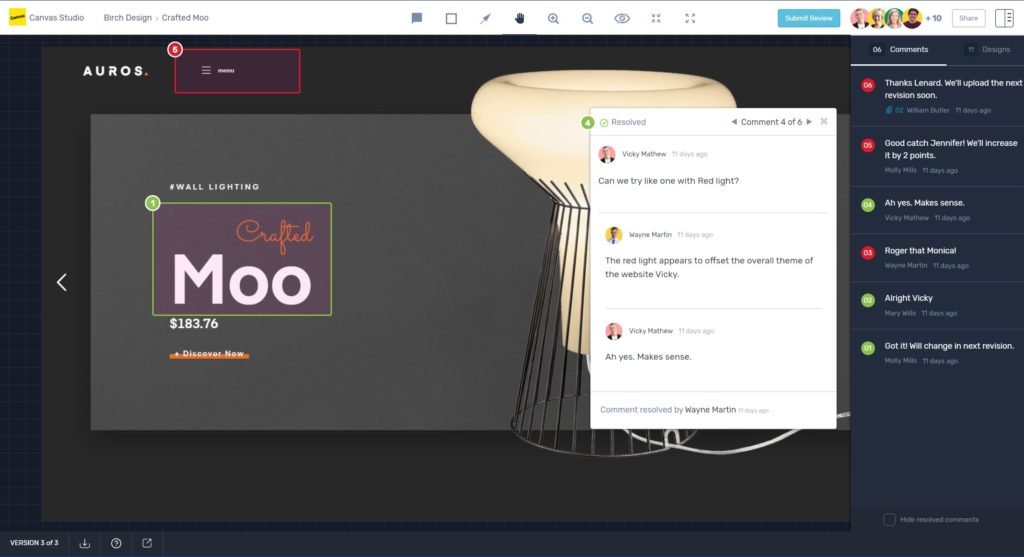 GoVisually one of the leading online proofing software out there. Used by creative teams to review and sign-off digital assets with their clients. GoVisually is the most straightforward and intuitive proofing platform out there. Regardless of what your team is working on!
Pros
Your clients can view and start to review your designs without any sign-up process.
Creative designers can easily add new projects, remove old ones, and request revisions.
The revision tab even provides a real-time list of all changes to date. So you can track your version history.
The Platform allows users to 'download' the original design file. Although you can turn this feature on and off for each account.
Password protect projects.
Support for over 1000 page PDFs.
Turn on "private comments" – great for internal team discussions
Upload attachments in comments to provide additional context or support files.
Simple connection to Slack channels
Approval Studio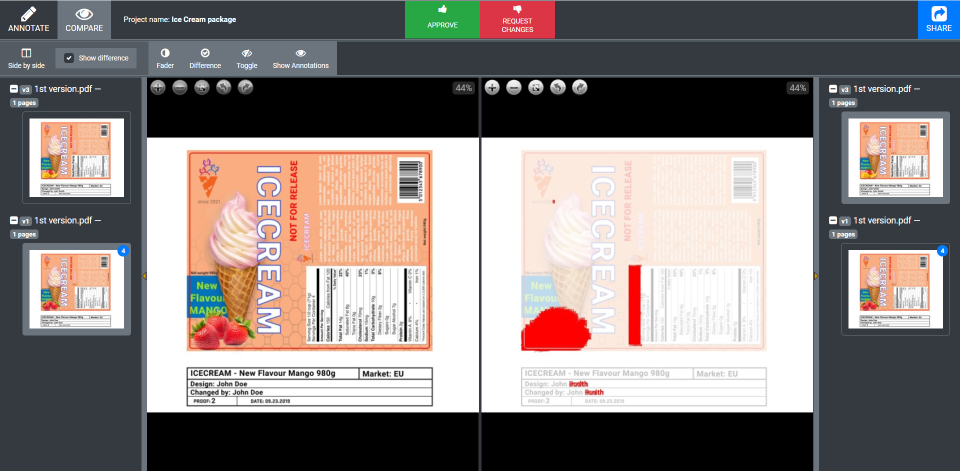 Approval Studio is one of the best online proofing tools for artwork projects.
Pros:
Approval Studio offers four comparison modes. This ensures you do not miss out on a single error in any of the versions.
A multi-language interface to help you easily communicate with stakeholders. No matter where they are from.
Review designs from all possible angles. The tool comes with rotation and zoom functions.
Notism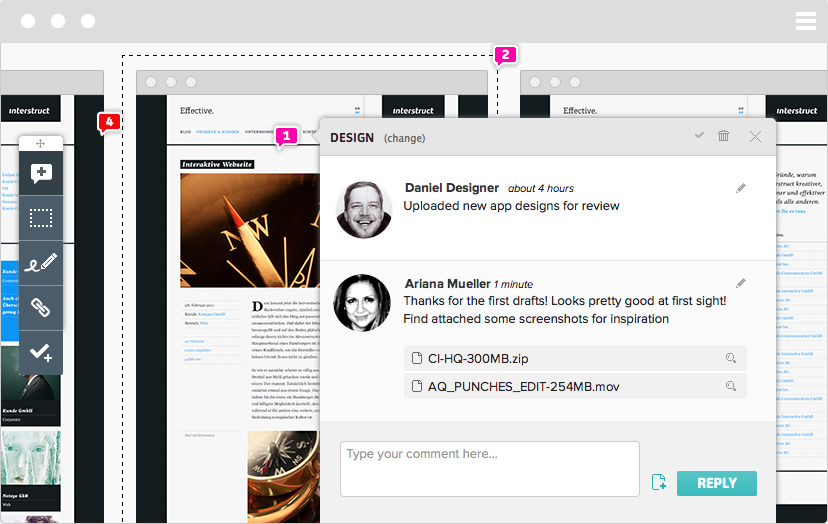 Thoughtfully created for creative teams. This digital design and video proofing tool help you to share and review designs effectively.
Pros:
Review video content and receive live feedback from team members
Collaborate through notes or sketches on your uploaded work
Turn static screens into interactive prototypes without using a single line of code. And then test them on your mobile devices.
Comes with enhanced security (SSL) as data is backed up in multiple locations
Go Pro For More HighlightsGo Pro For More Highlights
Workfront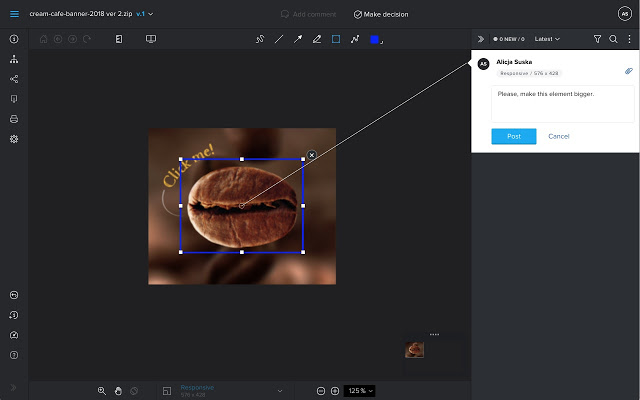 Workfront is another powerful work management tool with online proofing capacity. The software has a customer base of 3000+ companies. Some of which are the most world's powerful brands.
Pros:
Create content, share ideas, manage projects through one single application platform
Can be configured to support any team, region, or a project across the enterprise
Manage project plans and measure work on the basis of data
Integrate with other top enterprise systems or tools like Adobe, GSuite, Slack. Jira, etc. to help your team become more productive
Aproove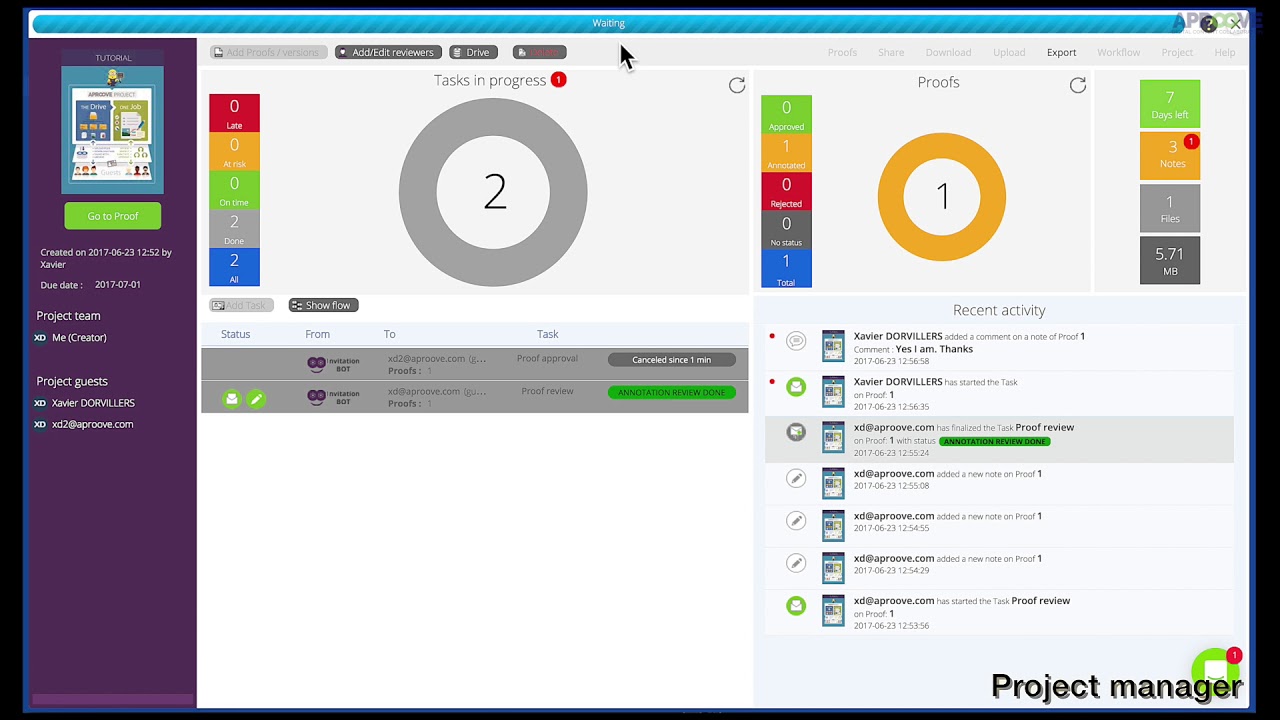 Streamline your business and improve collaboration among teams with this popular online proofing tool.
Pros
Centralise all your projects to ensure complete visibility
Automate your work process with predefined workflows
Increase your efficiency with the powerful form intake
Collaborate with your team members and track work through a centralised report dashboard
ConceptShare
Aimed at marketing and creative teams, ConceptShare is a powerful online proofing software. It helps to produce content at a faster rate by speeding up and streamlining the review and approval process.
Pros:
Avoid rework, reduce expenses, and deliver more by integrating online proofing with workflow automation
Share design ideas and content drafts and collaborate with teams across regions all through one single platform
Comes with a host of markup tools that exactly convey where the changes should be implemented thereby doing away the need for any guesswork
QuickReviewer
Designed for creative agencies, QuickReviewer is a cloud-based online proofing software.
Pros:
Review live websites by adding and sharing the website as a zip file or the live URL
Add your team members and share files through a common campaign folder
Pen down your suggestions in detail with the increased 1000 character comment limit
Offers flexible storage options and pricing
Pastel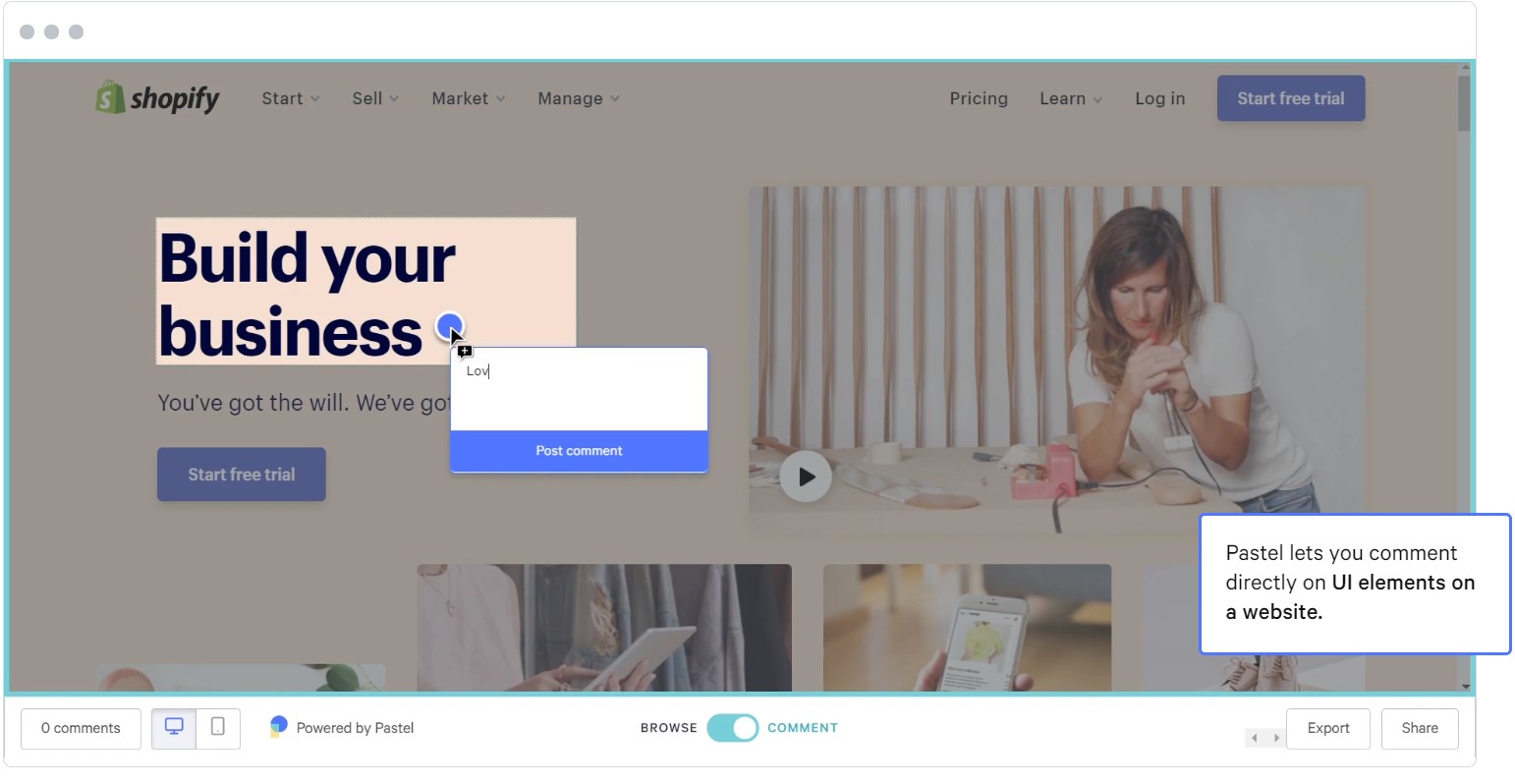 A super easy and efficient online proofing tool to speed up your design review and approval process. Pastel is highly preferred by many website designers.
Pros:
Get to see visual feedback and comment real-time on live websites
Create a canvas out of any website and share feedback with your designers and stakeholders
Organize feedback with labels and images
Invite multiple people to share their feedback
Attach names when you want to address feedback to someone specific
Slope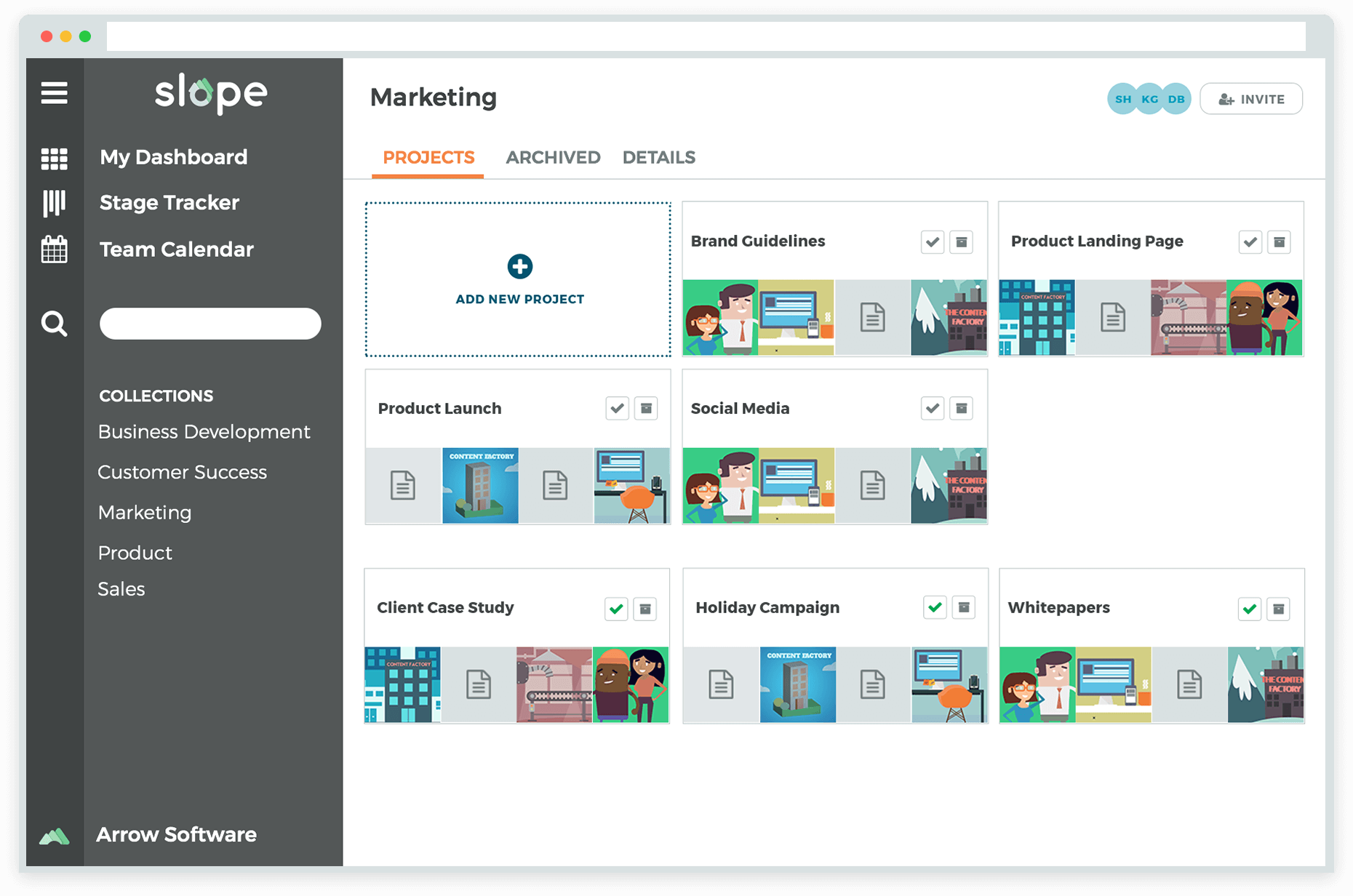 Slope is a uniquely designed online proofing software with many useful features. The app is known to simplify your creative process.
Pros:
Streamline your work by grouping your creative projects into predefined collections
Encourage your team to submit work requests in Slope. This helps to keep the workflow in one place
Plan your projects, assign responsibilities, and set timelines to ensure everyone is on the same page
Comes with annotations and time-coded comment functionality as well as version control
Different Types of Online Proofing Software
The creative industry produces a wide range of contents. Creative work for business always has multiple stakeholders. And so, a variety of software have emerged over the years for proofing.
Design and artwork approval software
These tools help the creative teams to share their design work and collect feedback from relevant stakeholders. The best online proofing software comes with annotating and commenting functionalities.
Site plan approval software
Site plans can get pretty complicated and feedbacks even more. To produce the perfect site plan architects and engineers collect feedback and approvals from important stakeholders using online proofing tools.
Creative approval software
Working on creative assets require a lot of planning and these software provides the base to have discussions around the project, work on it, and finalize it, all through a single medium.
Document proofing software
An effective copy is the heart of a creative campaign. An online PDF proofing software allows stakeholders to share their thoughts and feedback to contribute towards a perfect copy.
Video proofing software
These tools enable the marketing team to review and manage approvals on large video files.
Common Requirements for Online Proofing Software
Online proofing tools can be utilised to its fullest capacity for:
Website proofing –
Brand websites are constantly being developed with fresh content and new designs. Website design teams use online proofing tools to get feedback and approvals. The key decision-makers involve internal team members and clients.
Design proofing –
A design not communicated well can make or break a digital campaign. Marketing teams typically use these tools to take approvals from stakeholders. No more 100s of email back and forths.
Artwork proofing –
Any artwork is a collaborative effort. An artwork proofing tool helps to consolidate the feedback from different members. This drive the piece of art towards its final form.
Ad proofing –
Online proofing tools help marketing teams review and work on minute details of their print and digital ads.
Video proofing –
Great video proofing tools always help marketers to upload and review large video files. Allowing relevant stakeholders to submit their feedback and approvals.
Email proofing –
Online proofing software helps the teams to polish their emails. Cut through the noise to communicate the right message to your target audience.
To sum up:
Online proofing tools are a must-have in your project management kitty. They ease the review and approval process and transforms the entire project workflow. They pave way for constructive feedback to be shared and implemented. This, in turn, elevates the overall project experience.