All of your hard work can be ruined in seconds by a poorly designed animation. Luckily, animation tools make this process more effective and easy.
Motion design has quickly become one of the most popular and sought-after skills in the design industry. Unsurprisingly, many designers are looking for an easy way to create animations with simple tools. Animations can tell a fun story and capture people's attention in ways that static images cannot.
But finding the right tools that are both easy to use and affordable can take time and effort. That's why we've compiled this list of the five best animation tools available so you can get to animating quickly.
Let's review these in detail!
What are animation tools?
Animation tools are an essential part of your creative arsenal. They're used to create animated graphics and illustrations. Creative designers use 3D animation software to bring their ideas to life and communicate their messages. Designers can create stunning visual effects that make their designs stand out.
There are a variety of tools available to help you out. Some of these tools are more complex than others, but all can be used to create simple or sophisticated animations.
The most basic tool is a pencil and paper. By sketching your ideas beforehand, you can plan your animation and get a feel for how it will look before you start creating it. This can be a helpful way to visualize your ideas and make sure they fit together well before you start animating them.
Once your sketches are ready, you can begin animating using 2D animation software. These programs allow you to add movement to your drawings and create sophisticated animations. If you're starting, many online tutorials can help you learn how to use these programs.
Another option for creating animations is stop-motion animation. This involves taking photos of your drawings or 3D models and then stringing them together to create an animation. This can be a fun and creative way to animate, but it requires more patience and time than other methods.
Finally, some mobile apps allow you to create simple animations on your phone or tablet. This may be your option if you're looking for a quick and easy way to get started with animation.
Cut design & video review time in half
GoVisually is the #1 online proofing software to get visual feedback on Designs, PDFs & Video content.
Try GoVisually free today!
4 reasons to use an animation tool
The reasons to choose animation tools are many and varied, but the main reason is that they can help you create stunning animations that will engage and entertain your audience. These tools can also help you save time and money by avoiding hiring a professional animator.
Some of the best reasons to use animation tools include the following: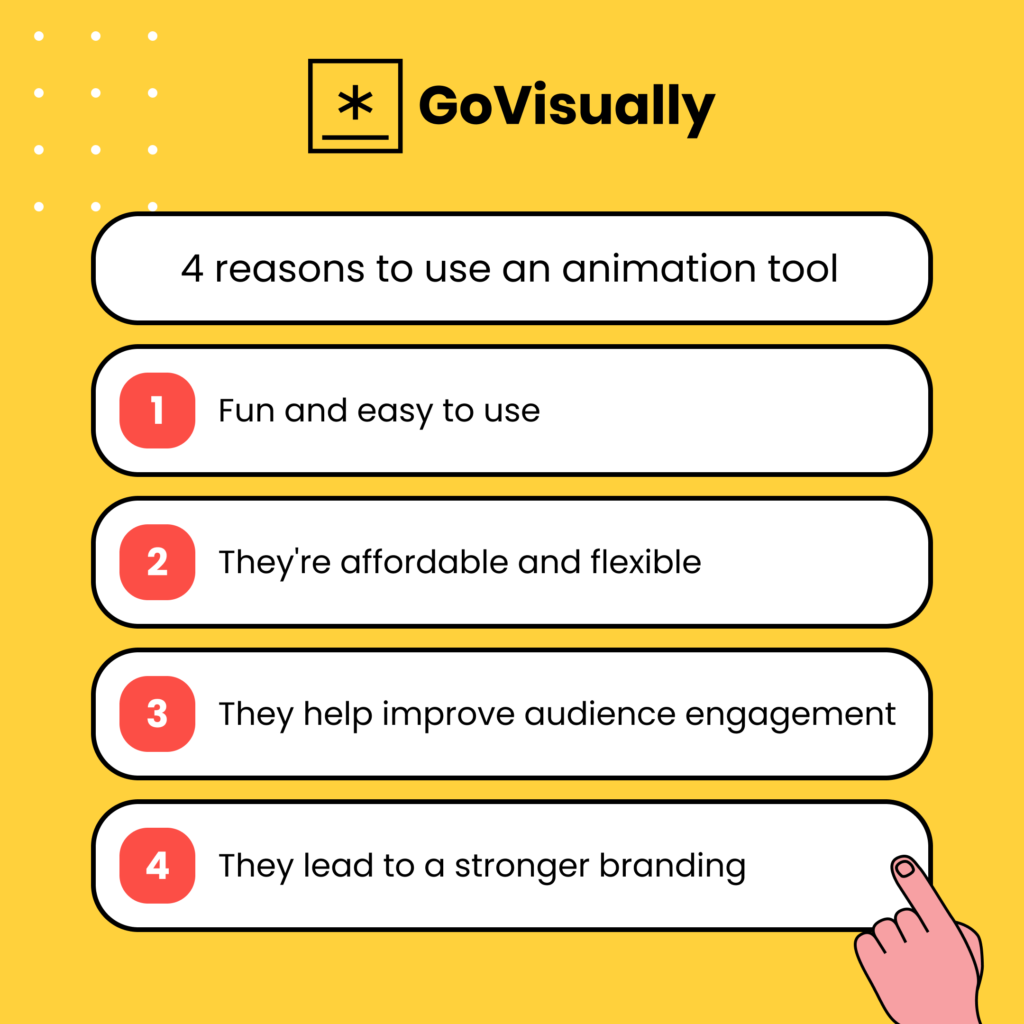 1. Fun and easy to use 
If you enjoy creating animations, then using an animation tool is a great way to spend your time. You can experiment with different techniques and styles and create something truly unique.
2. They're affordable and flexible
Compared to hiring a professional animator, using an animation tool can save you a lot of money. You can even find free tools online if you know where to look.
Animation tools are also very flexible, allowing you to create complex and simple animations. This means you can tailor your animations to fit your specific needs and goals. Whether you want to create a short animated video or a long-form explainer video, these tools give you the power to do it all.
3. They help improve audience engagement
You can use animation to liven up any presentation or company pitch to better engage with potential customers or partners. No one wants to sit through a long, dry presentation – but adding a short animated clip can help break up the monotony and keep viewers engaged. Additionally, animation can be a helpful tool for communicating complex concepts or ideas that may be difficult to understand using traditional methods like text or static imagery.
4. They lead to a stronger branding
In today's competitive marketplace, it's essential to have a strong brand recognizable by your target audience. Animation can be a powerful branding tool – especially when used consistently across all your marketing channels (website, social media, email, etc.). 
A well-crafted animated logo or mascot can help make your brand more memorable and distinctive, setting you apart from the competition.
Because animation can help improve engagement and communication (as mentioned above), it can also lead to increased sales and ROI for your business. Using it in your marketing materials makes you more likely to capture attention and interest, which can be converted into paying customers or clients.
8 features to look for while choosing an animation software 
Here are the features you should look for while choosing an animation tool for your project: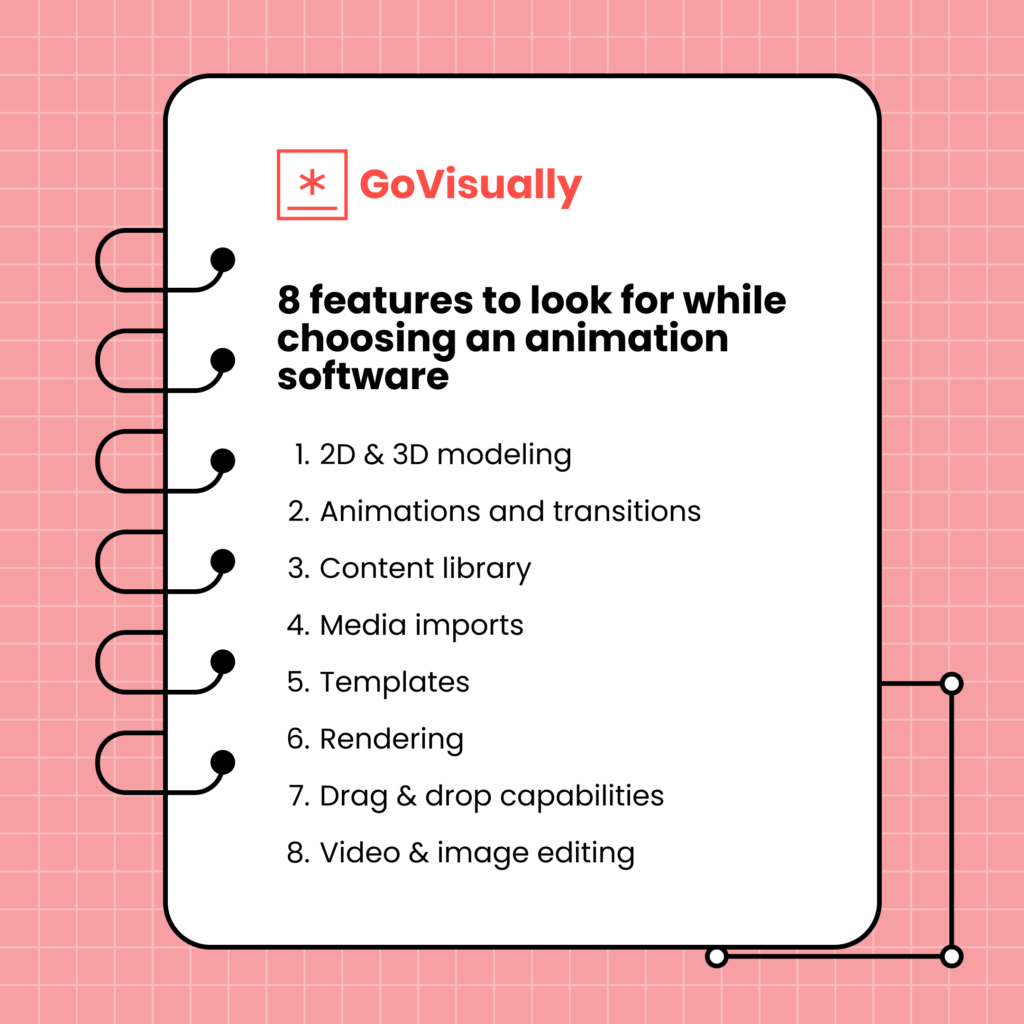 1. 2D & 3D modeling
Most animation software nowadays supports 2D and 3D modeling, allowing you to create animations in whichever format you prefer. Some software lets you mix and match 2D and 3D elements in the same scene.
2. Animations & transitions
Animation software typically has many built-in animations and transitions that you can use in your projects. These can add some extra polish to your work or for creating complex animations that are difficult to achieve by hand.
3. Content library 
Many animation programs also have premade content you can use in your projects. This can be anything from stock photos and videos to 3D models and sound effects. Having a library of content can save you time and effort when working on your animations.
4. Media imports 
Most animation software will let you import various media types, including images, videos, and audio files. This can be a great way to add extra interest and realism to your animations.
5. Templates
Many animation programs come with a library of templates you can use to start your projects. These can be a great way to save time and ensure that your animations have a professional look.
6. Rendering 
Rendering is the process of creating the final version of your animation. This usually involves adding special effects and ensuring the overall quality is high enough for publication or broadcast. The software should render your animation in a variety of formats so that you can view it on different devices.
7. Drag & drop capabilities
With drag & drop capabilities, you can easily add or remove elements from your animation without starting from scratch. This is a great way to save time and ensure that your designs look exactly how you want them.
8. Video & image editing
With video & image editing, you can easily edit your existing videos and images or create new ones from scratch. This allows you to create animations that are truly your own.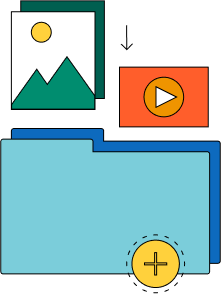 Need a quick way to share large files and creative assets?
With GoVisually Share, it's absolutely free! Try today.
The top 5 super easy-to-use animation tools
Check out these five super easy-to-use tools for creative designers: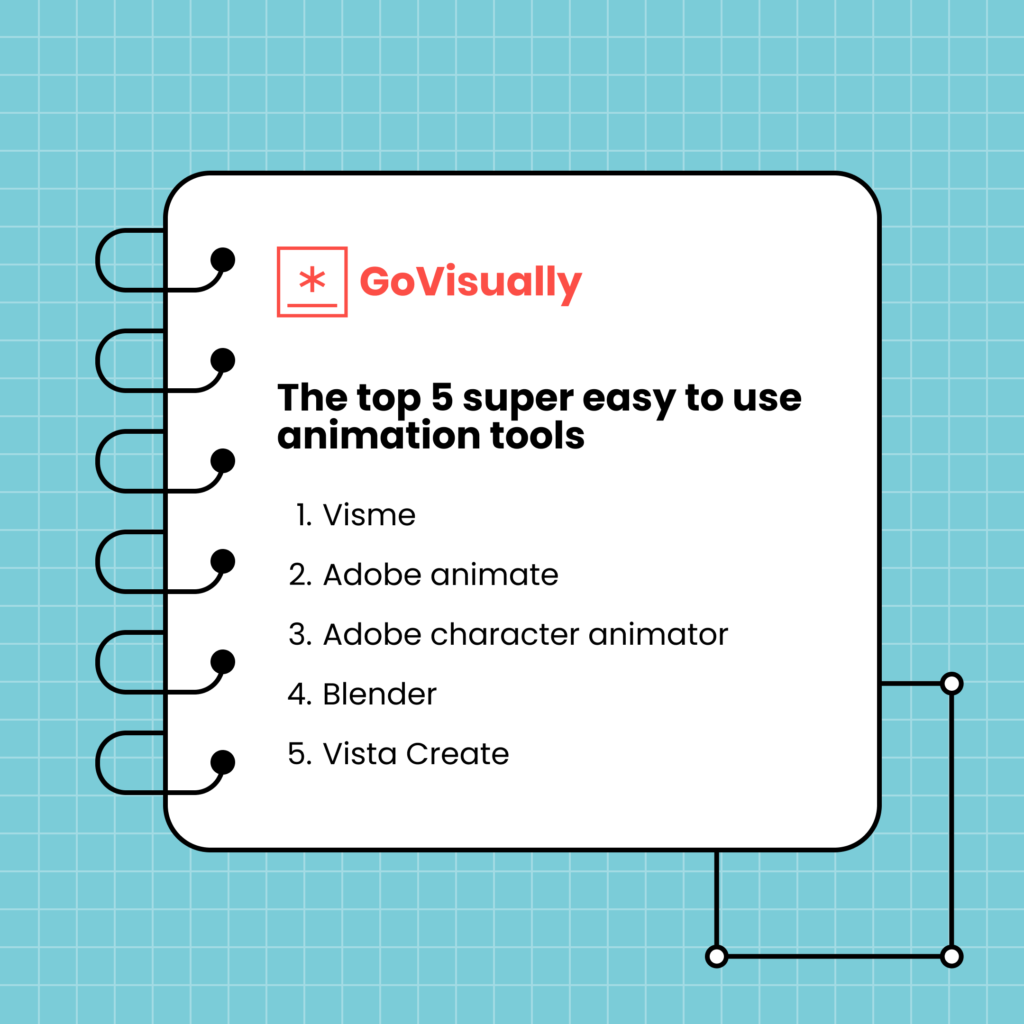 1. Visme 
Visme is a design tool anyone can use to create animated social media images, infographics, presentations, ads, banners, and other visuals. It's all online and in the cloud- making it easy to share and collaborate on projects with other Visme users.
Its animation and interactivity features will help you create eye-catching designs that go above and beyond static images.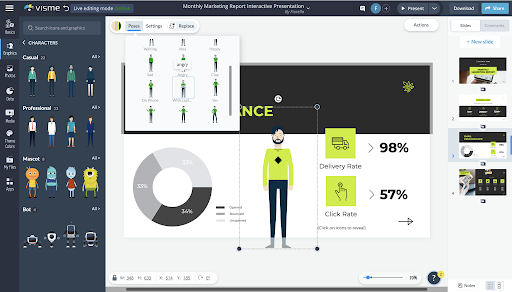 Visme offers animation and presentation software that you can customize to suit your needs. It has free stock images, premade templates, customizable pre-animated characters, illustrations, and gestures. You also have access to tons of other features designed to make creating animations easy and interactive.
Features 
Our easy-to-use editor gives you the ability to create awesome websites.

There are a variety of animated templates to choose from, including categories like business, technology, education, and more.

We have a treasure trove of pre-animated, customizable assets. Choose from characters, illustrations, and gestures to make your message pop!

Supporting animation timeline to customize scenes and sync audio.

Choose from 14+ animated charts, graphs, and maps.

Explore advanced custom animation and enjoy world-class graphics that can be applied to any object.

We create interactive images, call-to-action buttons, and hover effects.

Visme is an excellent tool to animate your visuals! With Visme, you can lay out each step in animation and export it for sharing on the web.

Designers and developers can download high-quality, royalty-free stock images, videos, icons, and shapes to add to their websites.

Import your images, videos, and fonts to create awesome content that stands out from the crowd.

Get access to videos and other online content to add to your design.

Share your projects with your colleagues with Team collaboration features. 

Get your logo, brands, and colors in one convenient file!

You'll have access to graphs and statistics for project views to see how well your content performs and react to what your readers want.

Digital-download formats: HTML5, MP4 video, and GIF.

Share your design with others using a link or generating an embed code.
Pricing
Free plan – limited features. 

Paid plans are billed yearly from $15/month per user.
2. Adobe Animate
This software is a perfect option if you're looking to produce high-quality animation without coding skills.
Develop 2D graphics and animations for videos, ad campaigns, TVs, games, and more. Animate characters and assets with timeline controls. Build interactive vector graphics and explore the possibilities with a rich set of features.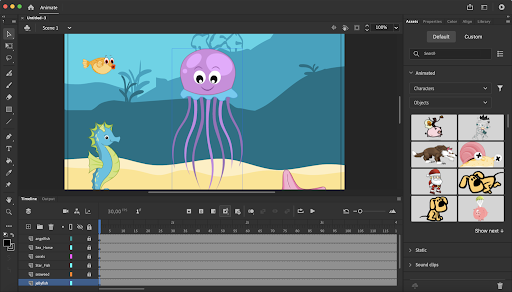 Features
You can use Adobe animation software to tweak vector brush settings to fit your needs. For example, you can set size, smoothness, pressure, and velocity.

An advanced animation timeline with intuitive controls makes managing your posts and videos easy.

The virtual camera features will let you add effects, including pans and zooms.

Combine audio with animations and create continuous loops.

With Typekit integration, you have access to premium fonts.

Flexible export options with various formats, including HTML5 Canvas, WebGL, and more.
Pricing 
from $20.99/month.
3. Adobe Character Animator 
Adobe Character Animator is one of Adobe's animation software stacks, but it offers a slightly different experience than Adobe Animate for animation software beginners. Instead of creating animations from scratch, you can use this software to animate 2D characters using motion capture. For example, you could create a character in Illustrator or Photoshop and import it into Character Animator. If you create tags for your character, you could animate using facial movements captured with your webcam.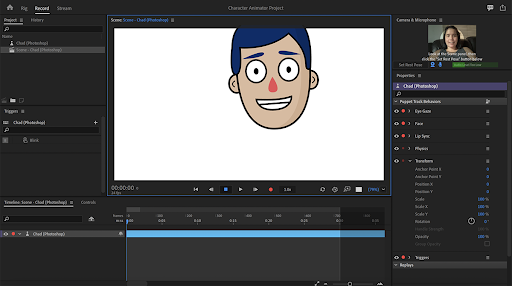 Features
Motion capture and facial tracking in real-time.

Download characters.

Photoshop and Illustrator integration.

Use your mouse to move the character's limbs.

The timeline panel will allow you to edit and record your scenes more efficiently.
Pricing 
Creative Cloud All-Apps Plan – $52.99/month.
4. Blender 
If you're looking for video editing software, Blender is a great option. The program offers advanced features that let you control every aspect of your animation, including modeling and rendering. Blender works on various operating systems, which is convenient for cross-platform use.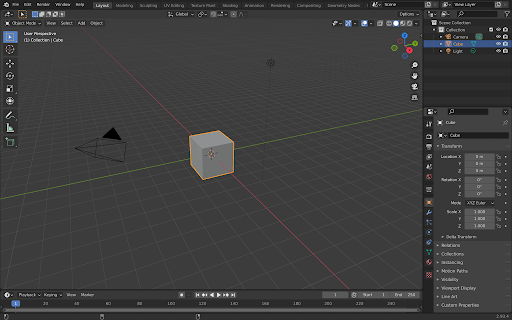 Features
Powerful modeling and sculpting tools can create beautiful objects that render or print beautifully.

You can bring your characters to life with advanced animation and rigging tools.

Edit and draw in three-dimensional mode.

This new software can help you edit videos, create VFX, and more. You can learn advanced things like motion tracking, masking, and compositing.

Our powerful and realistic simulation tools help you capture stunning photos.

Python API provides scripted, hands-on customization as simple as presenting your best ideas.

The interface, window layout, and shortcuts are fully customizable.
Pricing
Free 
5. Vista Create
VistaCreate is a top animation software different from anything you've seen. It has an expansive library of animated templates and thousands of pre-animated objects and characters. Plus, with VistaCreate, creating animated ads, square videos, and Facebook covers are as easy as clicking a few buttons.
You can also combine photos and videos with animated GIFs to create attention-grabbing social media posts.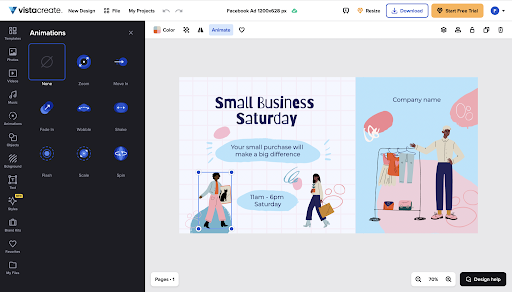 Features 
Thousands of animated templates are available for your use and customization, so you can find a template that best matches the animated videos you want to create.

Access to over 50 million high-quality stock photos.

The library of free videos and animations you can use in designs.

You can use imported fonts, graphics, and animations to make your designs unique.

You can download videos in MP4 format.

Share your animation straight to social media.
Pricing
Free plan – Limited features. 
Pro plan – $10/month, billed yearly. 
GoVisually – the fastest and easiest animation review tool!
With GoVisually, you can easily review your animations with clients or colleagues from anywhere in the world. GoVisually makes the feedback, review, and approval process 10x faster than any normal feedback routine. With built-in tools for adding comments, and drawing on the screen, you can make animation reviewing easier and much more fun!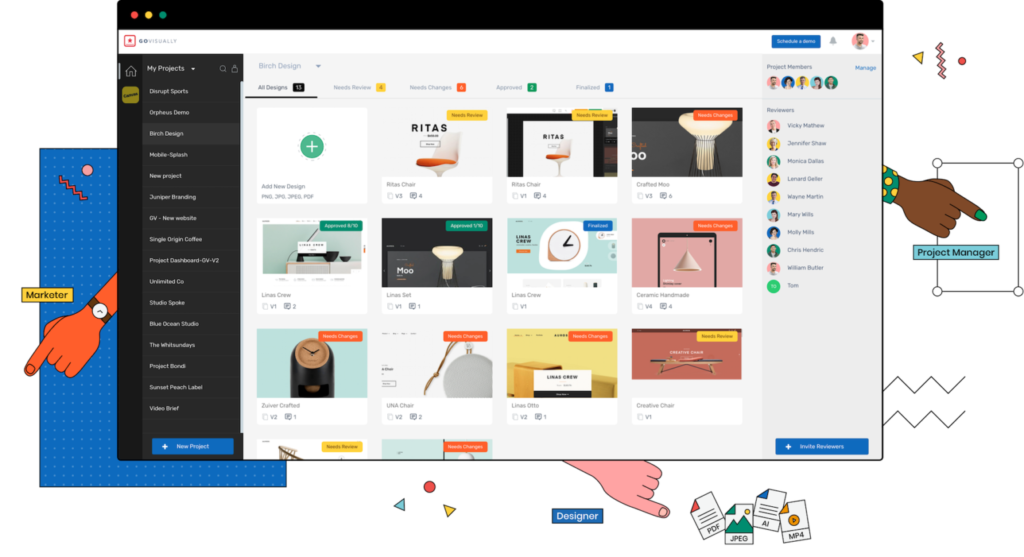 The best part is that it integrates with 1000+ other applications, so you can easily connect it with your existing applications (even Adobe CC!)
So if you're looking for an easy way to review your animations, GoVisually is the number one choice.