The impact of design decisions on customer experience is huge. 
If you're a professional designer or illustrator, presenting your work to clients in the best possible quality is critical. However, to achieve that, you've to manage artwork, track tasks, and review designs while juggling other day-to-day tasks, which can be frustrating. 
Often, when you submit artwork for approval, you've to wait for days to get feedback, and chasing the client or even the internal team to approve feedback is another hassle altogether. This is why important to make artwork proofing easier and simpler. You need the right software to ensure your artwork can be reviewed and finalized within hours, not days!
This article will cover selecting the best artwork workflow management software for your creative business. Let's start!
What is artwork proofing?
Artwork proofing is reviewing and approving a design before it goes live. This step is important to ensure that the final product meets your project's requirements.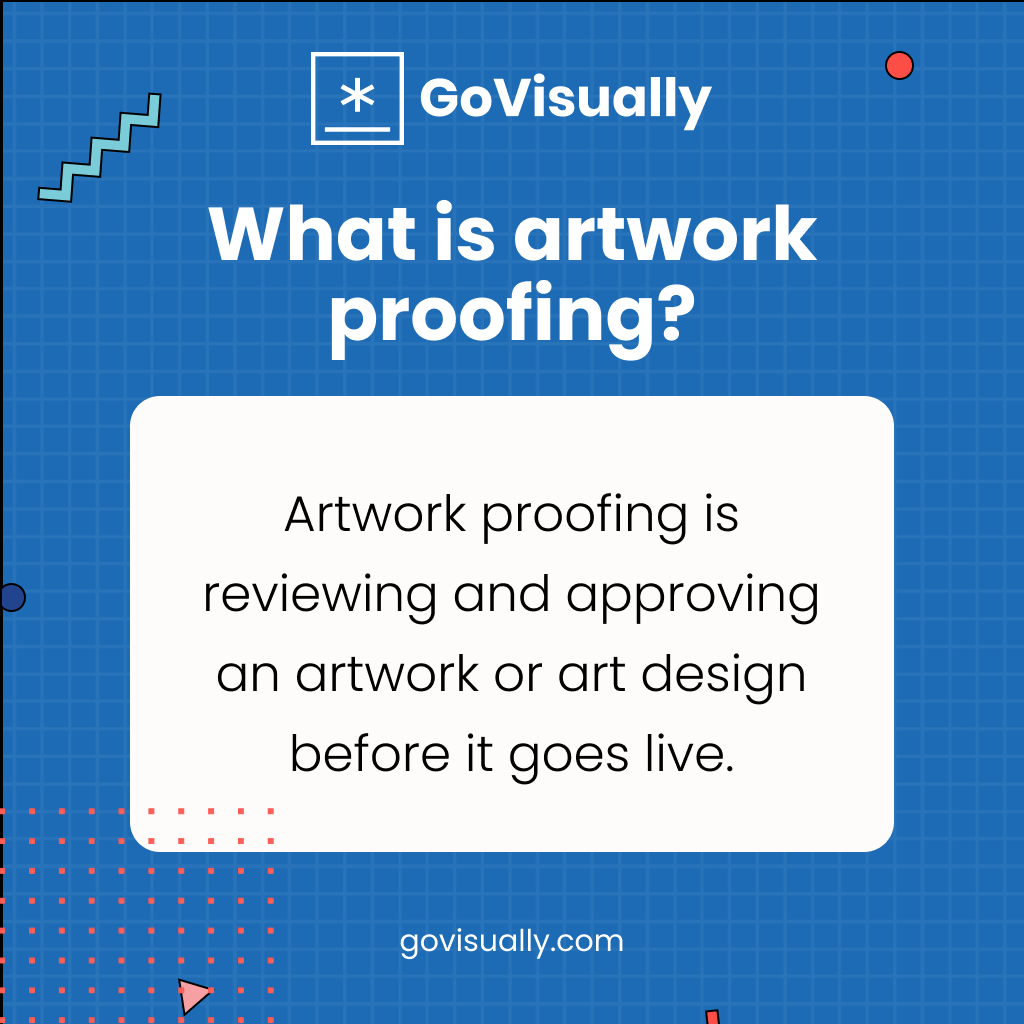 The proofing process usually begins with a digital proof, a low-resolution version of the design. However, if you're using a good artwork proofing software like GoVisually, you'll have the option to upload designs in high-res too. This allows you to get an idea of the overall look and feel of the piece. Once you have approved the digital proof, a high-resolution version is created and sent to you for review.
At this stage, the reviewing team should closely examine the artwork to check for any errors or changes that need to be made. Once satisfied with the design, you can sign off on the proof and send it to be published. 
Why use a content approval platform?
If you're in the creative industry, you must know how important it is to get your proofs right. Not only do you need to ensure that the colors are accurate, but the composition is perfect. This ensures that the overall design is cohesive.
This is where artwork proofing software can help. It's designed for creatives who need to prove their work before sending it to clients or printing it out. By using artwork proofing software, you can be confident your proofs will be accurate and your clients will be happy. You'll find both paid and free proofing software on the market. Consider price, features, and compatibility factors when selecting artwork proofing software. 
When do you need to use artwork proofing software?
With artwork proofing software, you can be confident that your artwork looks great in every format before publishing. It lets you see how your artwork looks on various materials, including paper, canvas, and the web.
There are a few different types of artwork proofing software available on the market, so do some research and find the one that will work best for your needs. 
Features to look for while evaluating creative review software 
Choosing the right design approval software can take time and effort. But there are a few key features you should look for to ensure you're getting the best possible product for your needs. 
Here are nine of the most important features to consider:
1. White label
A white-label online proofing solution will allow you to brand the software with your logo and colors, giving your business a professional look and feel.
2. Customizable email template
It is important to customize the email template sent to clients when they receive their proof. This way, you can include your branding and message, ensuring that every client interaction reflects your company in the best light possible.
3. Live website review
A live website review allows you to see how your proposed changes will look on your website before you make them live. This can be extremely useful for ensuring everything looks perfect before going live with your changes.
4. Shared workspace
A shared workspace gives all team members involved in the proofing process a place to collaborate on the changes. This can be extremely helpful in ensuring everyone is on the same page and avoiding confusion during the proofing process.
5. Files of every type
The main thing you should look for in online proofing software is the ability to support many file types. This way, you can be sure that the software can handle the files you need to work with, no matter what format they're in.
6. Adobe cc integration
Your online artwork approval system must integrate Adobe Creative Cloud if you use its products for your design work. This way, you can easily share files between applications and ensure that everyone works with the most up-to-date versions.
Cut design & video review time in half
GoVisually is the #1 online proofing software to get visual feedback on Designs, PDFs & Video content.
Try GoVisually free today!
7. Slow-motion video review
Some online proofing software includes reviewing video footage in slow motion, which can be extremely helpful when spotting small details or errors. If this feature would be useful, ensure that the software you're considering includes it.
8. Versioning & comparison
Another important feature is the ability to keep track of different file versions and compare two versions side-by-side. This can be extremely helpful when trying to spot changes or track down errors.
9. Guest commenting
If you need to collaborate with people who don't have access to the proofing software, then guest commenting is an essential feature. This allows people without accounts to leave comments on files, which can be invaluable for getting client feedback. 
10 best online artwork proofing software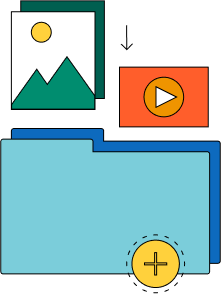 Need a quick way to share large files and creative assets?
With GoVisually Share, it's absolutely free! Try today.
1.

GoVisually

– the #1 artwork proofing software for creative teams
GoVisually is a design and art approval software that helps creatives get feedback and approvals from clients quickly and easily. With GoVisually, you can upload your designs and artwork, add comments and notes, and invite clients to view and comment on your work. 
You can also track who has viewed your work and when, so you can follow up with clients who have yet to receive feedback. GoVisually makes it easy to get the feedback you need to make your designs and artwork the best they can be.
Pricing:
For solo entrepreneurs, our Solo plan is $20 per user per month. FYou can get the Team plan for $50, including unlimited users. For each additional user, you pay an extra $10.
Features:
Annotate and review videos, images, PDF PSD Images, PSD, PDF, and GIFs

Manage project revision

Compare proof versions
Add watermarks for protection
Apply global settings to all projects and avoid the hassle of specifying settings again and again
Rotate the proofs to annotate and leave the feedback from all sides

Project dashboard to control everything

Integrates with 1000+ apps using Zapier
Integrates directly with Adobe CC
Workfront is a project management platform built by Adobe. It offers many useful features that boost productivity, improve collaboration, and increase workflow efficiency.
The platform has a wide range of tools designed to help with project management, collaboration, and resource management. Another of Workfront's great features is the ability to customize approval workflows.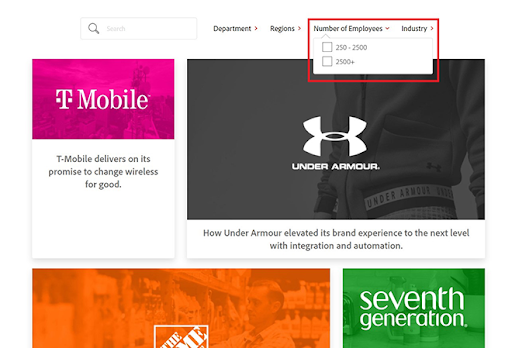 Pricing:
Workfront offers three pricing models: the Enterprise Business and the pro plan. But the actual price for each plan will be made available on request. 
Features:
Proof images, videos, audio, GIFs, and other content types 

Updates on project workflow are sent through notifications.

Compare versions side-by-side
Miro is an online collaborative whiteboard app that can be used in real-time and asynchronously. With Miro, you'll always have infinite virtual canvases to work with.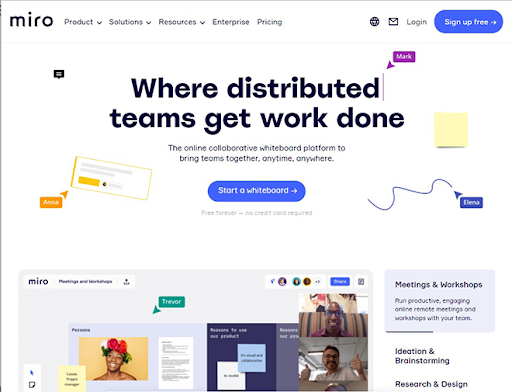 This platform enables you to gather feedback for iterations and reiterations of your design project in one place. You can post your design project and solicit feedback from stakeholders in different departments to ensure you're heading in the right direction.
Pricing:
Miro offers three pricing models, including the team ($8 per member per month), Business ($16 per member per month), and Enterprise plans (price shared upon request) to its customers. 
Features:
Documents, spreadsheets, images, and PDF file proofing

Project templates

Sticky notes
Whether freelancing or working at a design agency, Filestage will help simplify the approval process for your creative deliverables.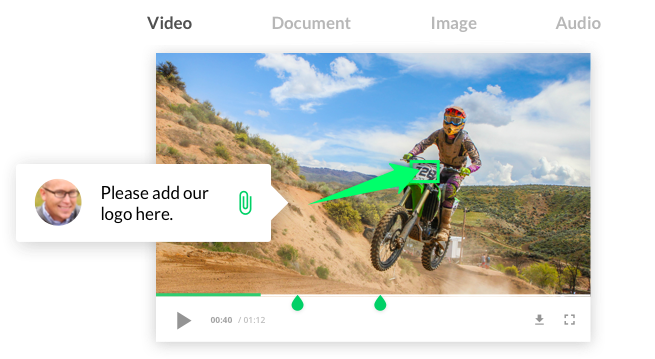 Filestage is very user-friendly, which makes it a great tool for facilitating remote collaboration. It allows for effective remote brainstorming and increased transparency regarding workflows.
Pricing:  
Filestage pricing starts at €10 per month and goes up to €270.
Features: 
Proof images, videos, documents, text, and audio files

Track project version

Track the project's progress 
The Ziflow platform offers customers multiple tools to optimize their approval workflow. It streamlines the review process while providing collaboration opportunities to allow you more time for other tasks.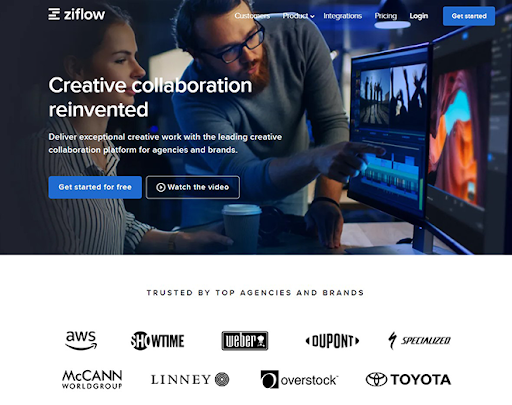 Pricing:
Ziflow offers four pricing options, namely, the Personal (free for one user, allows 30 proofs and 1GB/month), Starter ($20/month), Business ($40/month), and Enterprise (Price shared on request). 
Features :
Ideal for proofing documents, images, audio, video, PSD, and websites

Version Comparison available

Track project status 
MarkupHero is a collaborative tool that simplifies the artwork approval process by allowing you to add comments and communicate with your design team. A robust commenting system makes it easy to stay on top of all the changes.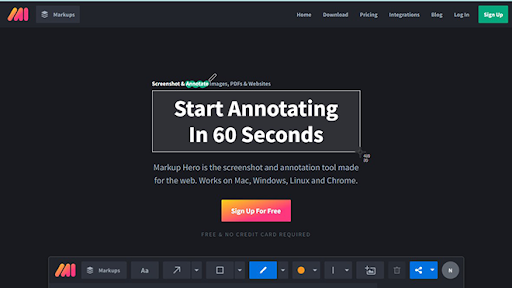 In addition to being a great tool for creative teams, Markup Hero is an excellent choice for most design organizations. 
Pricing:
Markup Hero has three plans – two free ones and one paid version. One of the free plans is time-limited, meaning you can only edit markups for one day before they're locked. The only paid plan offered by Markup Hero is the Superhero plan, which starts at $4 per user per month.
Features:
Proof websites, PDFs, and images 

Manage Artwork 

Shareable links for collaboration 
GoProof is an online artwork proofing tool that allows designers to collaborate with clients on projects using Adobe Creative Cloud. Not only does GoProof make it easy for developers to review designs, but design feedback is also made convenient by enabling users to get it with the Adobe tool.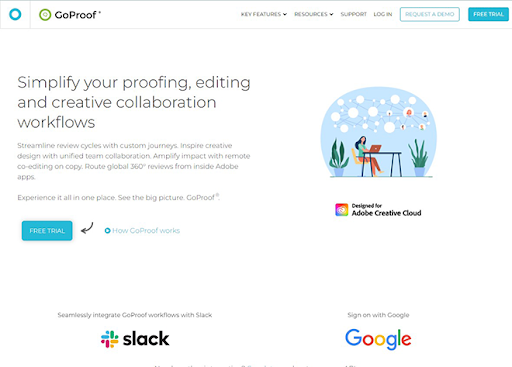 Features: 
Access to markup tools 

Track project version 

Automatically proof workflows 
PageProof is a powerful online tool that lets you review and approve work quickly and efficiently, helping your team become more productive.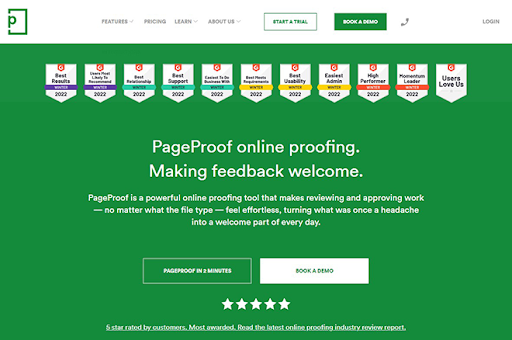 Pricing:
PageProof offers two plans – The Team Plan at $199 per month and the Enterprise plan prices are available only upon request.
Features:
Proof PDF, Photoshop, Illustrator, DOC, PPT, JPEG, and video files.

Create custom workflow 

Proof Version Smart Review
ConceptShare is a cloud-based application that offers digital solutions for project teams and business operations of any size. Deltek created it, and it offers a variety of solutions through the web interface and mobile application.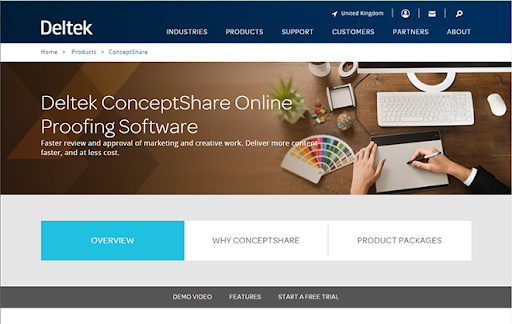 The quick and relatively inexpensive ConceptShare proofing system is designed to improve production speed and lower the cost of your content management.
Pricing: 
The Core plan is designed for small businesses and agencies, including proofing and artwork review management features. The Enterprise plan offers enterprise-grade security and integrations with various platforms, giving your business extra storage space.
Get a 30-day free trial before you request a price quote.
Features:
Proof images, documents, videos, and audio files

Track artwork approval status

Compare versions side-by-side

Receive automated review notifications
QuickReviewer promises to help you make your go-to-market process for your campaign 400% faster.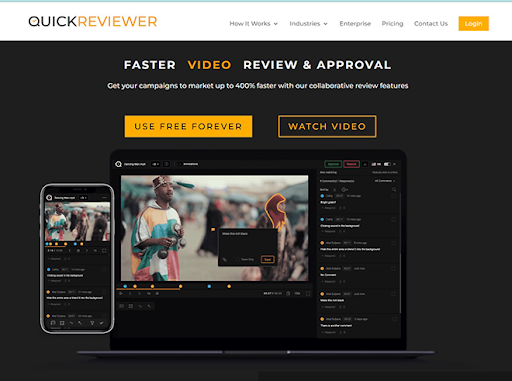 What makes this product different from other artwork management systems? In addition to uploading different media types, you'll be able to share with your team members, and everyone can provide feedback on each piece.
Pricing:
The Essentials plan allows 5 users for $8 per month.

The Pro plan allows10 users for $20 per month.

The Pro+ plan allows 15 users for $35 per month.

The Premium plan allows 20 users for $50 per month.
Features:
Proof images live websites, videos, and audio files

White labeling

Control project version 
Get instant visual feedback with GoVisually – the best artwork proofing software!
Good artwork proofing software can save you time and money by helping you produce high-quality prints quickly and easily. With so many different options on the market, it can take time to figure out which one is right for you. With GoVisually, you can upload your images quickly and get instant feedback on quality, color, size, and composition.
Submit your work for review, then get instant feedback from the entire team with our leading artwork & design approval software.