As architects, we collaborate with clients to craft buildings from scratch that turn their visions into reality. All architecture design projects demand a kind of routine or flow to go along with creativity and fun. As you pore over the design board and create something beautiful and unique, you also require a system to keep you focused.
That's why we've created this guide, collecting all the essential information in one place to help you through your design process. You can refer back to it every time you want to refocus on your priorities, and we've even added some stellar recommendations to help simplify your work.
As you streamline your design process, you'll find client contentment easily and see yourself finish projects in a way like never before.
And if you want to get to the top?
You can't leave any room for mismanagement, and you certainly can't have your clients thinking they're not being heard. Miscommunication is a vile disrupter of flow. The last thing we want is to take away from the integrity of your work. But many such issues are avoided with the suitable systems in place. 
So, let's talk about what matters most, ways to streamline your workflow, and the best tools to use for architectural design.
Why the Design Process Is A Game Changer
Using a clear-cut and precise system to lead you through the entire design process, you're already one step closer to dominating the game. The more organized your work can be, the more efficient your operations will be. So, let's take a look at the purpose of taking this approach.
Designs That Shine 
When you regularly ask for and incorporate client feedback, you can consciously improve your work performance. Sometimes, industry-level expertise is all around you, and at other times, you may have to seek it out. But getting feedback from a third party can make all the difference. You'll get an outside perspective, and people may point out minor details or fixes that you would've never noticed yourself. 
The process of a constant feedback cycle can help you reshape and revamp your designs so that they meet the quality standards you want. It's this process of fine-tuning that makes you the best architect you can be. 
Prioritizing Client Satisfaction Above All
Perhaps the most crucial aspect of working with clients is listening to them and satisfying their needs. It may be even more important than the actual design itself. 
Think about it from the perspective of a client. If you were commissioning an architect to design a building or house for you, you'd want everything to be flawless because it would be your property. So, clients are usually looking for architects who can clearly understand what they're trying to accomplish and turn their ideas into 2D or 3D models almost perfectly. 
If your client feels involved and satisfied through the entire process, they'll respect you immensely, and that's what will build your reputation. Even as a company, your focus and attention should be visibly directed toward your clientele. 
Clear, Consistent Communication 
In any business, communication is key to performance and efficiency. Whether you're working as a team or sole designer, it's the ability to hold professional conversations with charisma that will put you at the top. It'll benefit both the designer and the client because it would mean everyone is thoroughly aware of what's happening, and there are no misunderstandings. 
As a result, you can work according to your client's wishes and requirements and ensure smoother efficiency in the process. 
The Six Phases of the Architectural Design Process
Now that we've discussed how an architectural design process can change the game, let's talk about its phases. It can be broken down into six core phases, which aren't linear but overlap and connect in many ways.
1. Pre-Design Phase: Programming
The first step is meeting with the client to discuss their vision for the project and any other requirements they may have for you. Discussion points can include the plot of the land, the scope of the project, its core features, any existing structures, and any wishes the client may have for the future building. If possible, visiting the site in person to get a closer look can help you get the most accurate information before you start designing. 
After you've created a coherent plan with the client, the next step is research. That may include data related to local zoning or land-use restrictions, any cost estimates or budgets to follow, etc. After that, you can draw an official contract for your services with all stakeholders and clarify the time duration and charges.
2. Schematic Design (SD)
Once the vital information has been collected, the next phase is to create a rough sketch considering all these initial ideas. The architect can turn the vision into a building design concept involving drawings, sketches, 3D models, floor plans, preliminary site plans, and building elevations. Moreover, building systems, such as HVAC and plumbing, should also be part of your schematic designs.
That aside, remember to start the review and approval process right off the bat. It would help if you didn't wait for later phases to collaborate with the client actively and actively take their feedback. A great tool you can use to assist you with this is GoVisually, enabling users to share concepts with clients and communicate effectively easily. 
3. Design Development (DD)
Design Development is when your designs should manifest into detailed plans. For instance, if the project requires a structural engineer to help with the technical aspects, this is the time to include them. You may also provide the client with exterior and interior finishes that should go on top of the foundational structure. This phase is all about turning visualizations into tangible realities, whether using paper sketches or 3D models. 
At this stage, it's also likely that a realistic cost estimate will reveal itself, and all stakeholders will start getting a better idea of the resources that'll be needed. 
4. Construction Drawings (CD)
Next, you should take your final designs and create good construction drawings out of them. These sketches are highly technical as they will be used by the constructors and on-site builders. You'll also submit these when you apply for a permit. 
Using these drawings, you can communicate your proposed plans in solid form to all stakeholders. They should contain all essential data, including set parameters for the building, structural details, and interior components. 
And at the risk of sounding repetitive, you must seek out outsider advice, skills, and expertise throughout this phase. It would help if you stayed in active communication with the client regarding interior design matters. And as such, you should continue to alter elements and make updates to improve the final product. 
5. The Building Permit Phase
At this stage, it's time to apply for the permit based on your set of drawings. In most cases, your city or county will review your submission for structural integrity and check that there's adherence to building codes and zoning laws. You may have to exercise some patience here because getting a permit can often take a long time. But it's important because it protects architects, property owners, and builders from any construction errors. 
Plain construction projects that meet all local requirements get approved in a matter of days, but if your plans are more ambitious than that, then it can take up to several months. 
6. Construction Administration (CA)
The final stage of the design process is when your plans will begin to materialize in physical form. Your final blueprints should be set and ready for use by constructors. However, your job isn't done yet! You must now monitor the building's construction, ensuring that all necessary steps are being taken. 
Periodically visiting the site is a good idea to see that your work follows the construction documents' data. And of course, you should also keep an eye on policies and ensure that the construction contract is being followed to a tee to protect yourself from any serious problems. 
Overall, your final job is to keep the process in line with your client's expectations. 
The Finishing Touches to Any Design Project
Integrating the six phases mentioned above into your work life, you can then create a schedule and several deadlines for yourself (or your team) to meet these requirements. But we're not done yet! 
To take your work to the next level, you must keep a few more things in mind. The following two final steps will be the perfect finishing touches to your design process:
Establish a clear review and approval process 
We know how vital client feedback and communication are, so you must ensure that you have devised a system to keep these things in order. For instance, what platforms will you use to communicate with clients? That aside, you should also keep close track of the review and approval needs so that things don't pile up. 
So, establishing a clear review and approval process will save you a lot of time. And you can use some industry-leading tools to help you do just that. We've listed some excellent recommendations below.
Evaluate each finished process 
Evaluation is critical in upgrading your work. A great finishing touch to add to your work is taking the time and humility to step back and evaluate areas for potential improvement. As you do this, your work will embody higher accuracy. And attention to detail is how you win your clients' approval. 
Thus, it's always beneficial to keep an open mind and make any necessary changes to your designs. Some of the best artistic work often comes after constant revamping and reconstructing!
Some Brilliant Tools to Use for Architecture Design Process
Even though the architectural design process involves many time-consuming phases, you don't have to deal with everything alone. Some brilliant design softwares in the market can help simplify the process for you.
We've compiled a list of the best ones. 
GoVisually
GoVisually is the fastest and #1 review and approval solution. It is reliable, fast, and modern.
GoVisually provides users with one centralized platform to share designs, drawings, and construction documents with clients and partners. And what's more, the online proofing software enables clients to leave clear feedback, making it a lot easier for architects to understand clients' wishes and adapt accordingly. 
Thus, GoVisually simplifies the review and approval process for the architect and client with its intuitive features and interface. It's an efficient collaborative tool that you can use to help with communications and reviews.
SketchUp 
SketchUp is a powerful 3D modeling application that makes design development seamless, intuitive, and highly organized. It allows users to create intricate, detailed building designs in 3D and add 2D details to their drawings and specifications, such as text descriptions.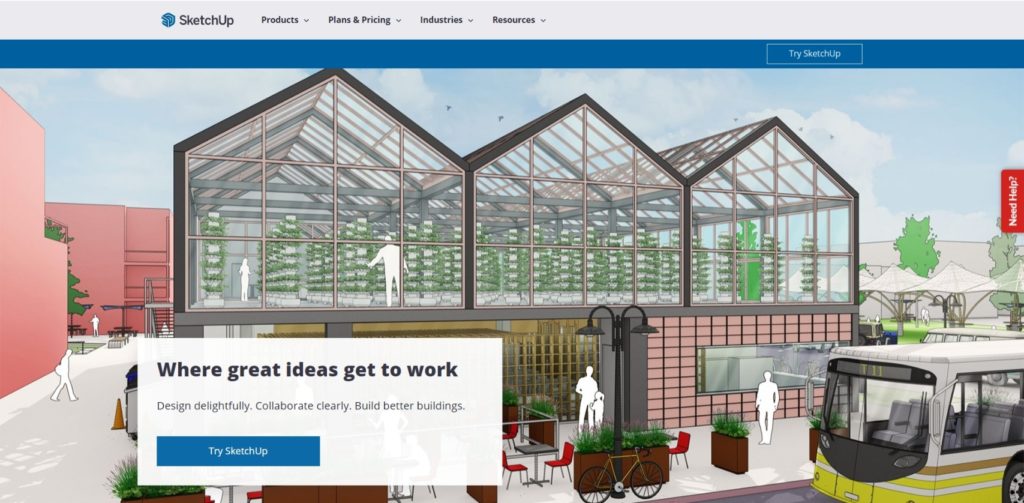 Their 3D modeling website is one of the most intuitive, robust, and industry-leading of its kind. It's specifically designed to assist professional creatives from various backgrounds and digital skill levels. SketchUp can also make the entire collaborative work process faster. 
3DS Max
3D Studio existed before Windows 3.x and was one of the first tools to offer a hardware-accelerated rendering of 3D images. Its value is creating visuals and fly-through animations to promote a project rather than design it from the floor up.

Along with the vanilla 3DS Max, you can choose three unique flavors designed for Media work & Entertainment, Production design & manufacturing, and an Architecture, Engineering, and Construction collection.
Things have changed since those primordial days of computer graphics and 3D Studio (running under DOS). For example, 3DRhino is one of the softwares steadily becoming more popular due to its parametric plugins and brilliant modeling features. However, it's 3D Studio Max, which is the most popular software in the 3D market.
Usually, video game developers, TV commercial studios, and architectural designers use it to assist in projects. The tool has excellent modeling capabilities and a flexible plugin architecture. 
Revit
You may know that AutoCAD has long been a staple of construction engineers and architects, but now Revit has replaced AutoCad in the market.
Revit is a multiple-use software for 2D and 3D design projects and includes features that provide total project output, such as modeling, rendering, and even 2D construction documents. What's interesting is that instead of circles or lines, you can use roofs, beams, walls, columns, and other building components to illustrate your designs. You can even add other real-world characteristics of the physical building, such as windows and doors.
One of its best features is that every change you make to the model is updated in all views, including plans and elevations. It reduces coordination and drawing time significantly.
Cedreo 
Cedreo is an intelligent, user-friendly floor plan software. It makes architectural designers' lives just that much easier, allowing them to craft professional and visually appealing designs in nature.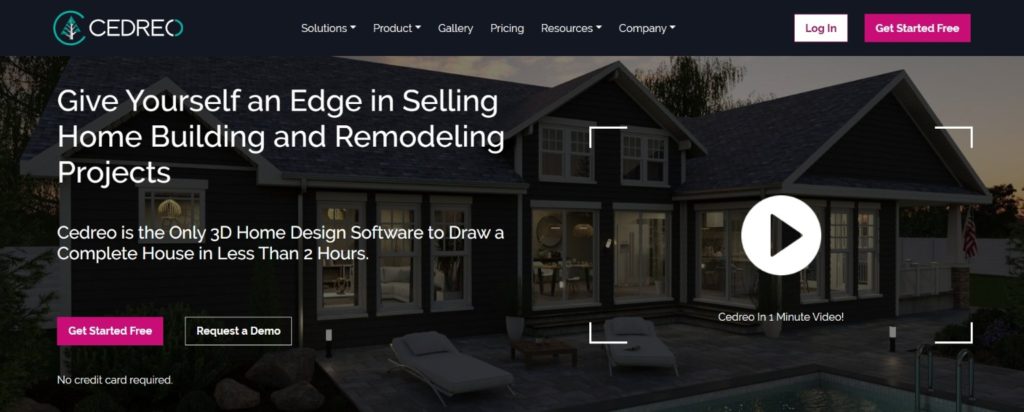 Cedreo enables you to see your vision in tangible form early on in the process. Its instant 3D visualization tool consists of a wide range of features, including photorealistic 3D renderings, wall openings, and roofing, an extensive library of templates, pre-existing downloadable floor plans, and even home decoration additions to the drawing.
Chief Architect 
Chief Architect is a professional home design software for interior designers, architects, and home builders.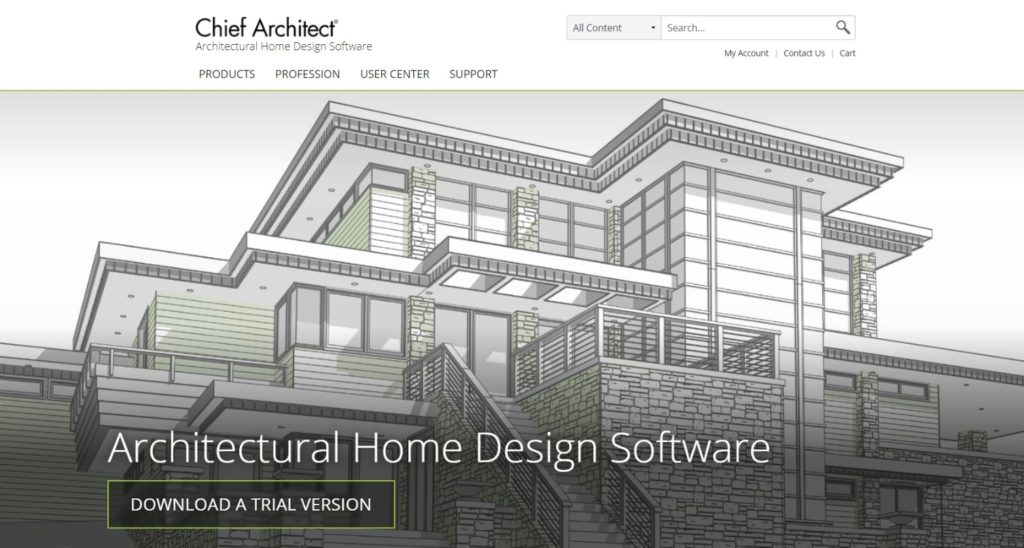 The design software turns the initial ideas of architects into reality. It lets users create intricate and hyper-realistic three-dimensional drawings of buildings and homes. The tool also gives your work a sleek and professional finishing touch, which is always a bonus.
Key Takeaway
Architectural design involves patience, creativity, and innovation, but a little discipline and organization can kick it to the next level! As you remain consistent with your approach and divide the work into clean phases, you'll find your job much easier! With our guide, you have all the tools and information you need in one place, and it can be helpful to remember these throughout the process.