Is your design project good enough? How can you make improvements, and what is it that you want to remove?
Whether you are an illustrator, a designer or an animator, a large-scale company, or just an individual, we all feel the need to get feedback on our project. That's because feedbacks help us improve our creative content work quality. 
And this is where online artwork approval software provides you with tools for annotation and creative proofing to make your work better. This process saves you time and money. More importantly, it keeps your brand consistent and organized.
So if you're looking for artwork approval software for your content creation process, we're here to help!
Today, we'll talk about the best artwork approval software that you can choose from. Let's start!
What is Artwork Approval Software?
An artwork approval software is an online proofing tool for your creative content. It helps you streamline and centralize feedback by capturing it all in one place. You can invite reviewers, use powerful annotation tools to mark changes, and download the approved files – all through one software.

Before marketing the content, teams get feedback and approval from different stakeholders, which helps them improve the quality of their work. However, most of the time, collecting this feedback can become nerve-wracking. That's because many of us still rely on outdated feedback collection methods like emails or long meetings. However, with artwork approval software, you can speed up the process and get precise feedback.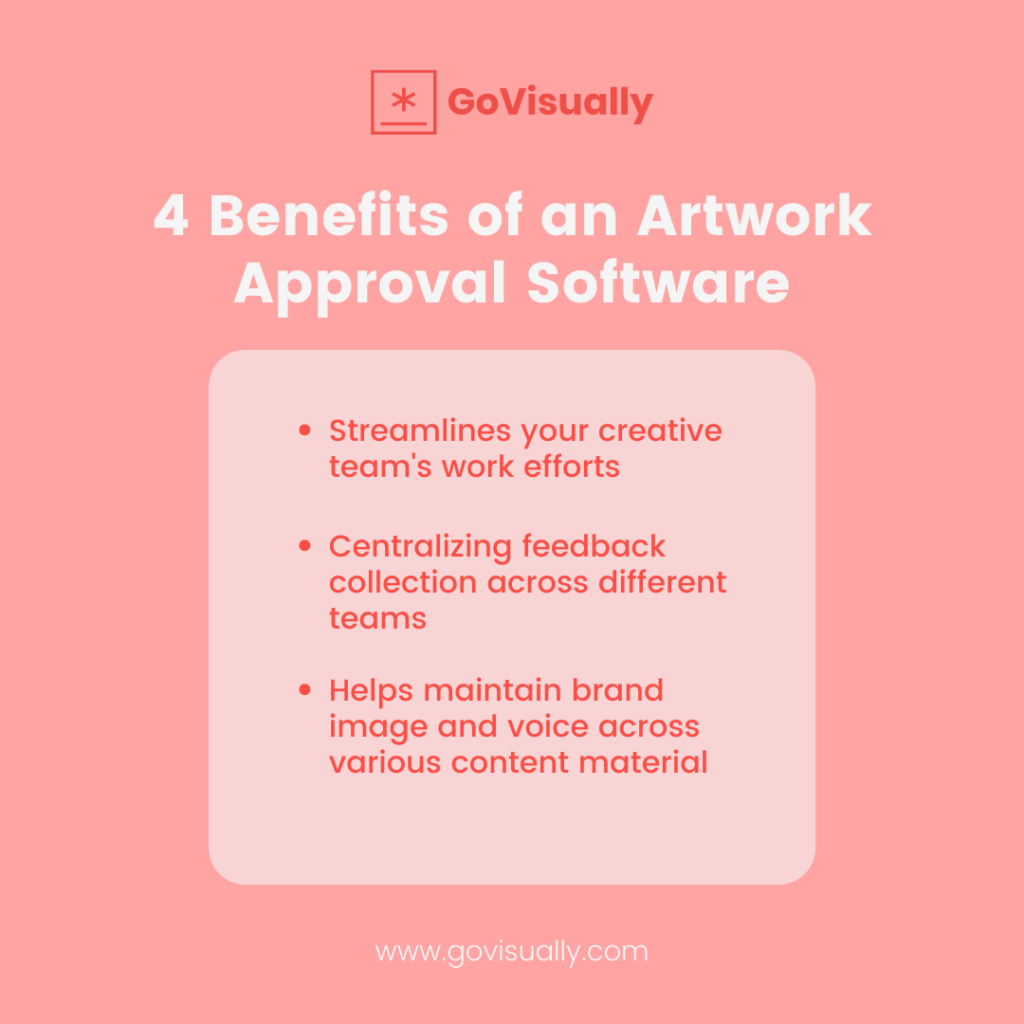 Best Artwork Approval Softwares
Now that you are familiar with the idea of artwork approval software let's talk about the best approval software.
GoVisually
GoVisually simplifies the design approval process and makes it easier so that creative teams can stay on top of their work. This software is best for teams working online on various file types. In fact, a lot of successful brands and creative and marketing teams, online retailers, and merchandise use this.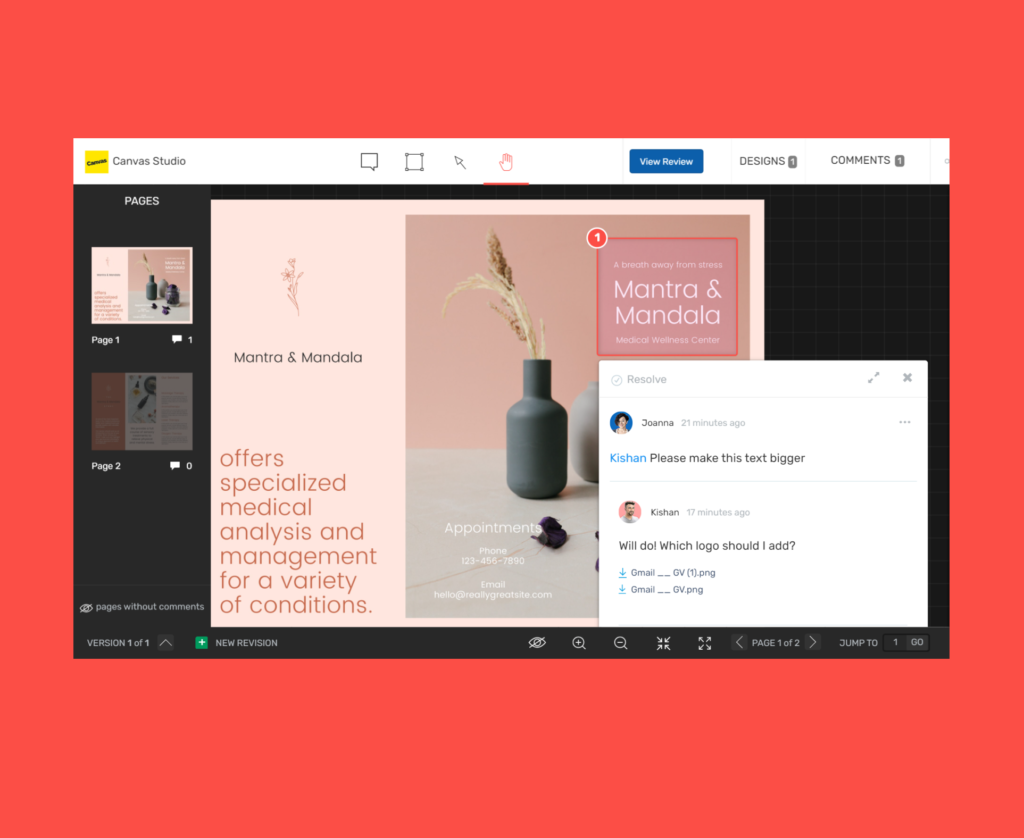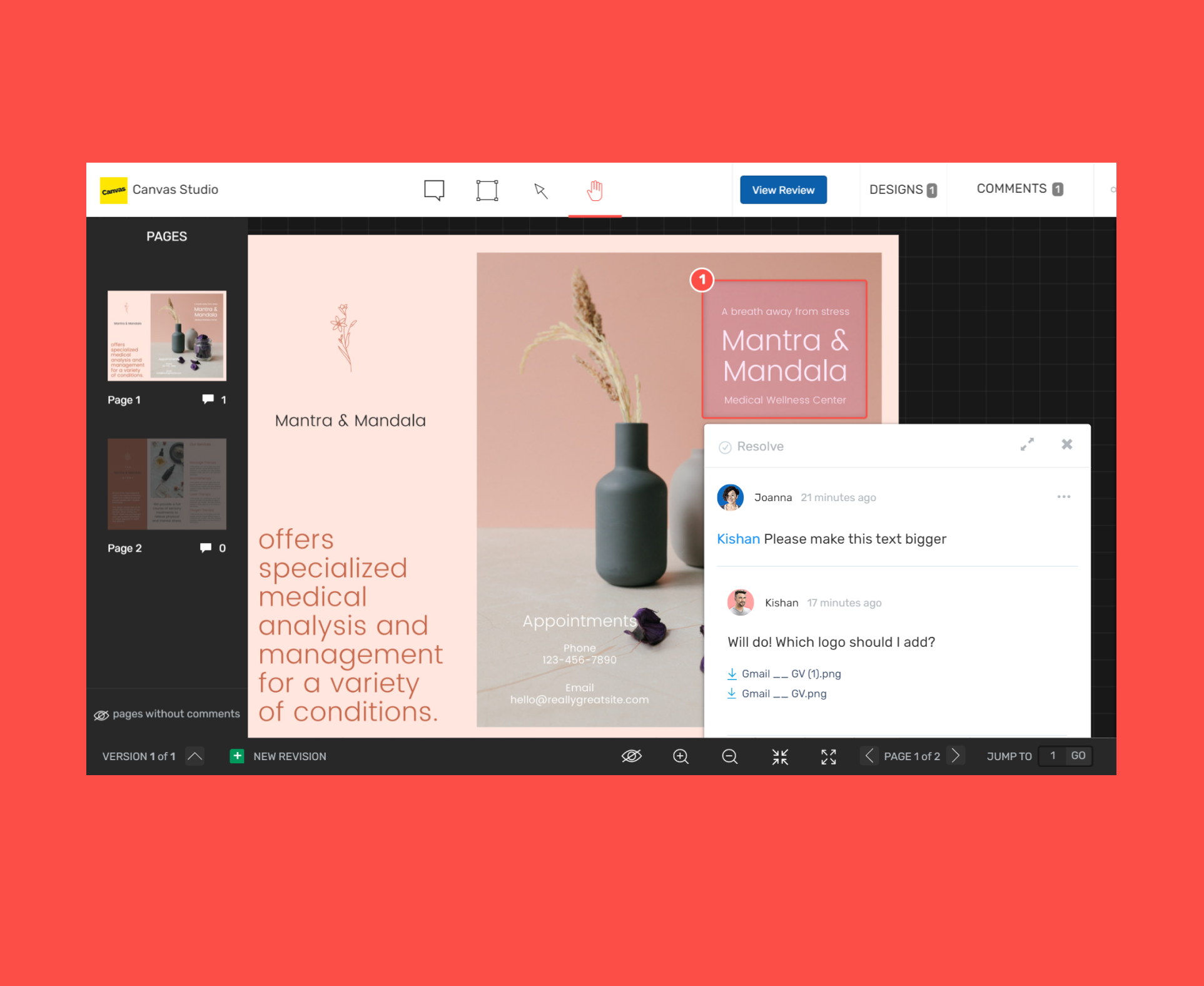 With GoVisually, you can centralize feedback which makes deadline management easier.
Key Features:
Centralized system for feedback collection.

A user-friendly interface that lets you easily connect with team members.

Automated notifications via email.

Integration with 1000+ other apps using Zapier.

Videos and graphics of any format or file type can be shared.

Certain proofs can be restricted.

Send reviewers a reminder.

Provide you with powerful annotation tools.
Pricing:
GoVisually has two types of paid plans, Solo and Team. A solo plan of $20 per month is suitable for freelancers and small-scale businesses with fewer needs. A team plan is $50 per month, which is the best for large-scale companies. Team plan offers unlimited clients, reviewers, and various video file support.
ConceptShare 
It is an online proofing tool software started by Deltek. This software provides us with a quick and inexpensive way to deliver content to the approval team. ConceptShare lets you share documents, images, videos, or any webpage, making it an outstanding tool among marketing campaigns.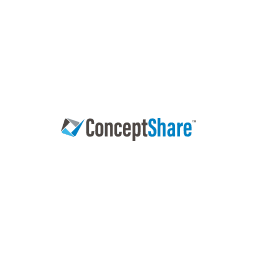 It helps the team speed up the approval process, enabling you to stay on top of your work and not miss deadlines. This allows you to review and deliver projects to the client on time.
Key Features:
Automated new version and changes notifications.

Clear and specified feedback from members.

Set the feedback according to your priority.

Ability to annotate on designs and make changes accordingly on the uploaded content.

Summary reporting feature for the feedback.
Setbacks:
No feature is available to manage or prioritize your task.

Provides a bit of training for non-technical users.

No editing tools are available to make changes to the whole design process.
Pricing:
You can request a quote or get a free trial for 30 days to try out the tool.
QuickReviewer 
QuickReviewer is an easy-to-use and robust approval software free. It helps the design team review the design process like videos, images, and HTML ads. The clients or reviewers can easily comment on this software and leave their feedback on the files. This software makes it easy for the teams to get out of confusing reviews over email and on this software.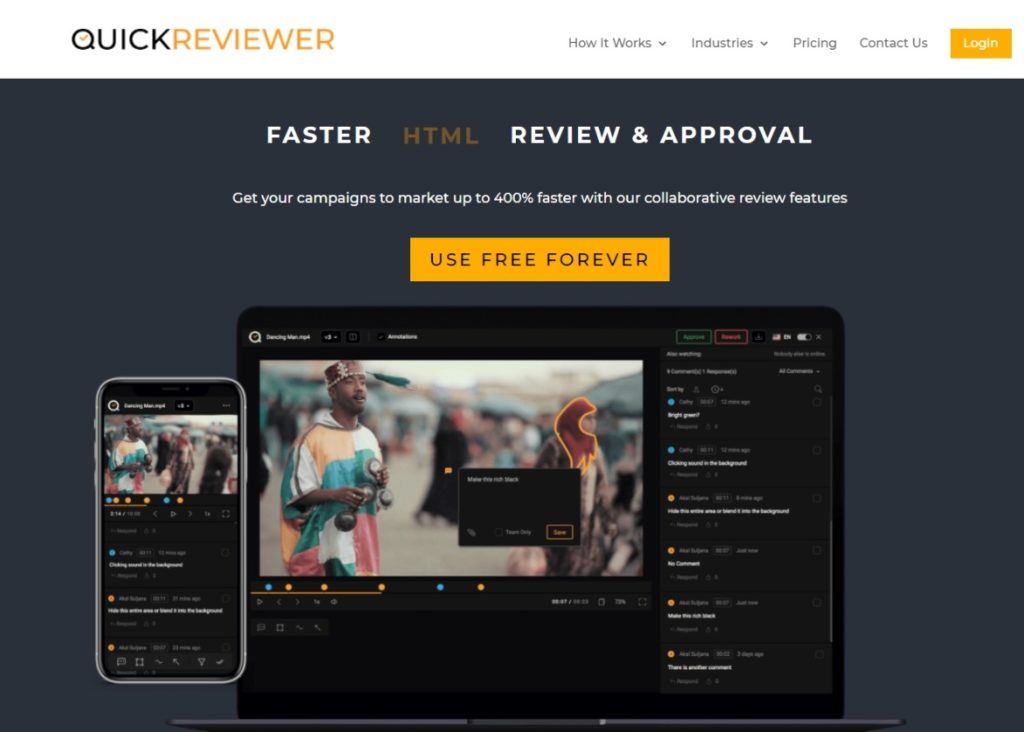 This software increases your workflow efficiency and saves you time. Most teams share their files for the experts to review and give clear, authentic feedback on the project. This software makes two-way communication easier for the team and externals, making the design process more manageable. The best part is that it allows you real-time editing.
Key Features:
Let's control the speed of the video in the preview window.

Easy Drag and Drop feature available to upload your files.

Splitting of the screen to compare unedited and edited versions.

Automatically notify you about the reviews and updates.

Let's add your branding company.
Setbacks:
Limited tools available for the annotation and mark-ups

Only four types of files can be uploaded, decreasing compatibility.

In the free or standard plan, only limited features are available.
Pricing:
You can avail of the free plan to save money, but only limited features are available on this plan. To get more parts and storage, users have to buy their power plans. They offer four types of paid plans which users can avail themselves of according to their budget. 
Pastel
Pastel is one of the most popular online approval software that provides proofing tools, mainly designed for websites. It helps the web designers or developers to get feedback from the experts and deliver efficient live web projects.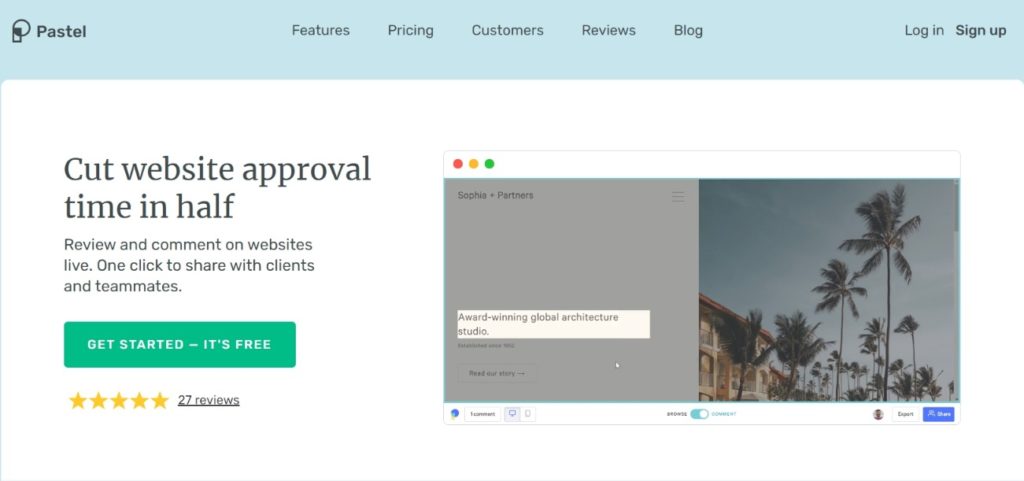 This software easily lets you collaborate with outsiders and manage your creative project from the beginning till the end. It helps the design team to stay on board with the collaborators and deliver the project on time. 
You need to upload your URL, make notes about the project, and send the link to the reviewers to add your project. Then they can give you feedback on the project.
Key Features:
It keeps you updated with all the new versions of your website.

You can organize feedback using the labels.

Links can be shared with the reviewers.

Ability to pause feedback.

The most efficient comments are always pinned to the element of your webpage.

Changes can be easily made to the software, which can be compared with older versions.
Setbacks:
You can not move the comments to the top according to your priority.

It isn't easy to use the application browser from your smartphone.
Pricing:
If you want to avoid spending money, then you can use their free plan. For individuals, they also offer you a solo plan. Both plans are suitable for the users, but fewer features are available with these plans. They also offer Studio and Enterprise plans that provide you with more advanced features and integration with third-party apps.
Aproove 
Aproove is an online proofing and work management software. It helps the design team optimize their workflow and make it easier for them to manage tasks. It is a professional tool that provides you with a detailed dashboard that sets it apart from the other softwares.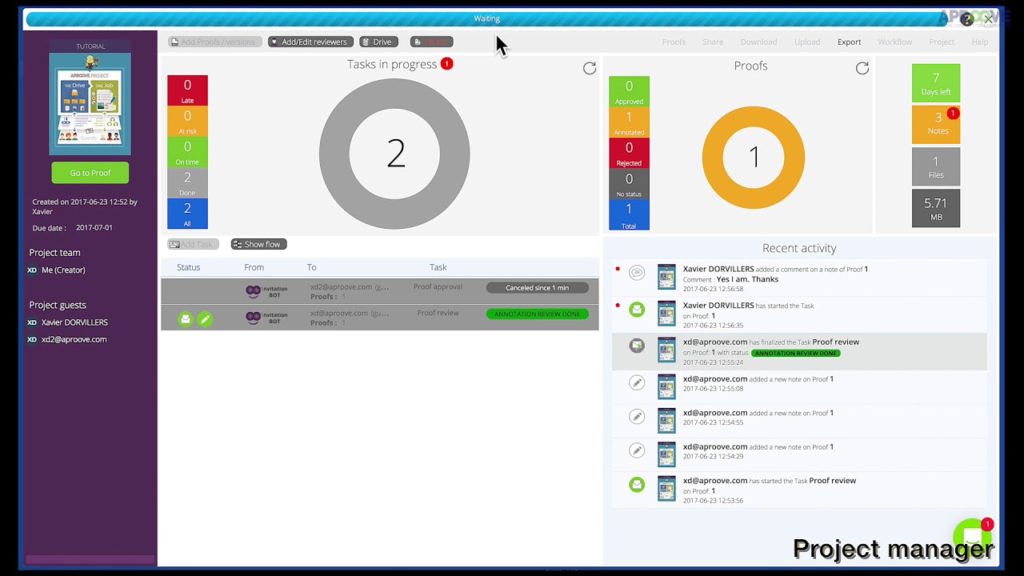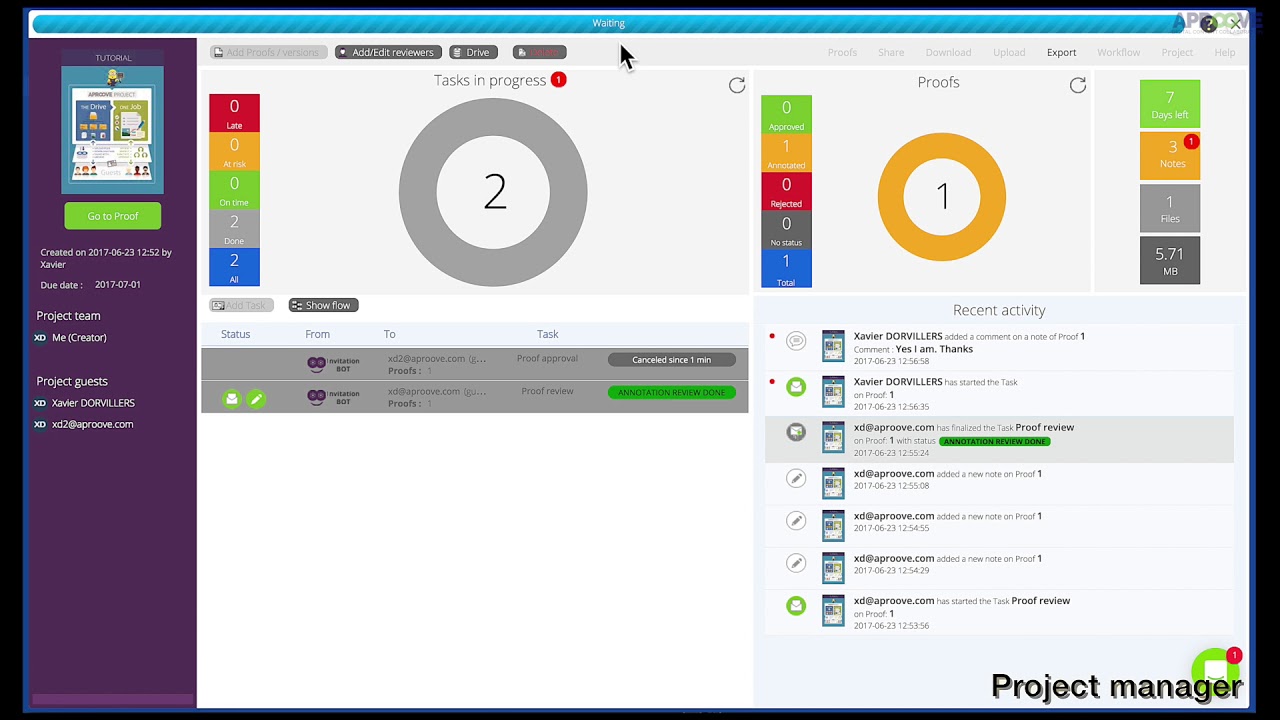 This software is best for brands, design teams, photography studios, agencies, and the government. A lot of teams out there can use the features available of these brands. It is a powerful tool to help different kinds of brands.
Key Feature:
Useful features are available on Dashboard with helpful reporting.

The team can create and manage the work by using the tools.

The review and approval feature is available for about 180 file types.

The application is also available on iOS and Android applications.
Setbacks:
No deadline tracking feature is available.

The capacity to set role-based permission is not set up.

An audit trail is not available.
Pricing:
It is easy to use a pricing plan with Approve as they offer you two programs to choose from. One plan is for small businesses with few members on board, and another plan is for large-scale companies with many members on board.
Approval Studio
This is a fantastic tool for all the creative agencies who wish to streamline their entire proofing process. It acts as an artwork approval tool as it offers features that automate the approval process. The best part is, if you're on the go and unable to use your laptop, you can still review your files on your mobile device as well.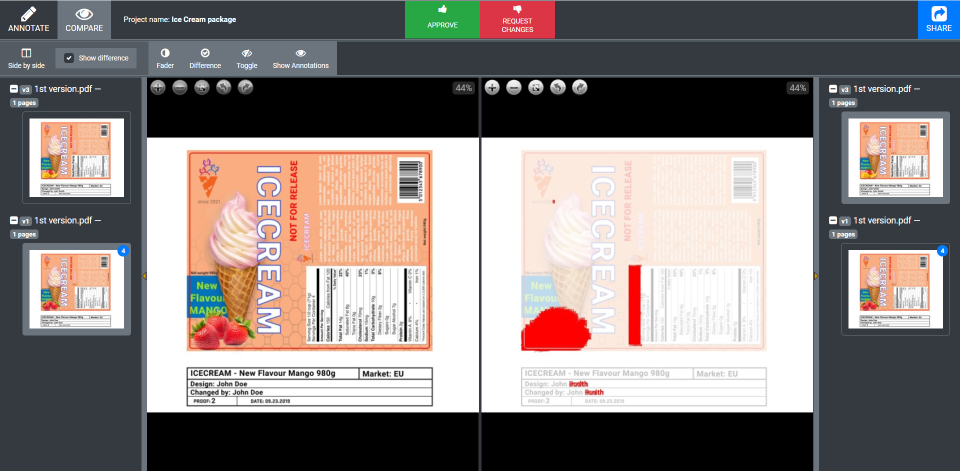 Approval Studio allows the creative teams to stay ahead of schedule and not miss deadlines, acting as an all-in-one proofing and collaboration tool.
Key Features:
A multi-language interface

Unlimited collaborators for increased creativity and productivity 

Four comparison modes

API integrations to allow systems to exchange data sources and keep data in sync

Real-time activity tracker
Setbacks:
There is no option for white labeling.

The video proofing option is also not available.
Pricing:
There are three available tools for the users to choose from according to their requirements. The is a Lite plan which provides you with the most basic features for $35 per month. Next, we have a Pro plan that provides all the Lite plan features but additional storage and users at $240 per month. The third is an Enterprise plan, which provides you with the most advanced features and large capacity at $3999 per month.
You can help decide which one of the three best suits you the best utilizing the free trial period. A 14 days trial is available for both Lite and Pro, while Enterprise has a free trial for an entire month. 
Ashore
Ashore is an approval software best for freelancers and design teams to get faster client feedback on creative projects. It allows the clients to receive, review and approve the digital files, therefore, saving the time going back and forth.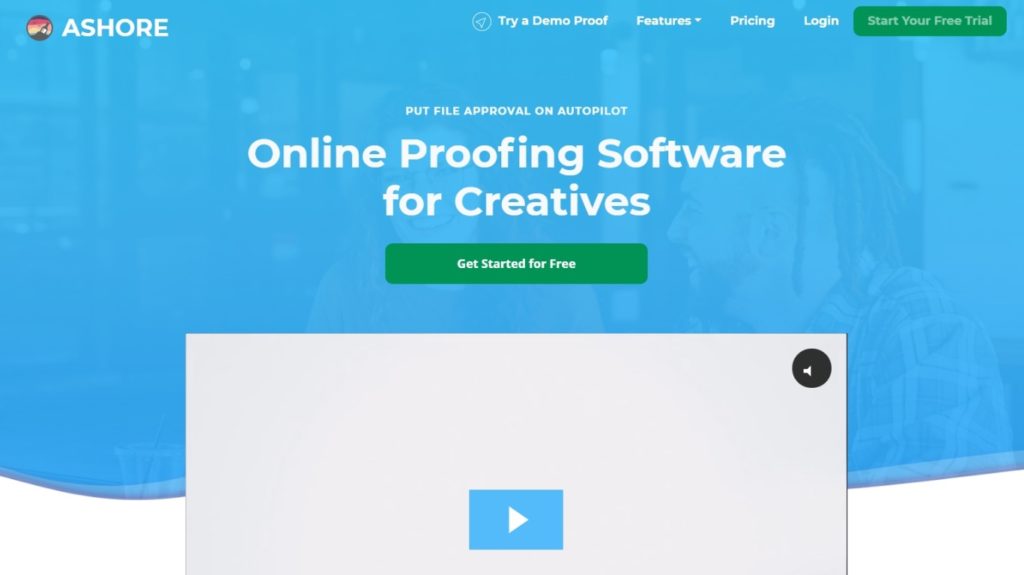 The files can also be shared therefore increasing the chances and ease of collaborations. Thus improving the quality of the features of the project.
Key Features:
Auditing designs

Audit logs for projects

API options

Automating Approval workflows

Ability to white-label your brand

Electronic signature
Setbacks:
No compliance tracking

Limited document retention
Pricing:
Ashore provides you with four different options to cater to according to your need. The first plan is a 2-week trial plan which offers you the most basic features of the software. Next, a freelancer plan for $45 per month allows you to integrate your email and add your company logo. 
The third plan is a Design team plan of $95 per month; this offers you similar features to the freelancer plan but allows up to five users. Lastly, we have an Enterprise plan for $165 per month; this plan provides you unlimited uploading of files, and you can avail more advanced features, such as 'API' access.
ReviewStudio
ReviewStudio was established in 2006 and became a tool for proofing. This software makes viewing, marketing, approving videos and images more accessible. The mechanisms of ReviewStudio make the artwork approval process easier by providing us with various features.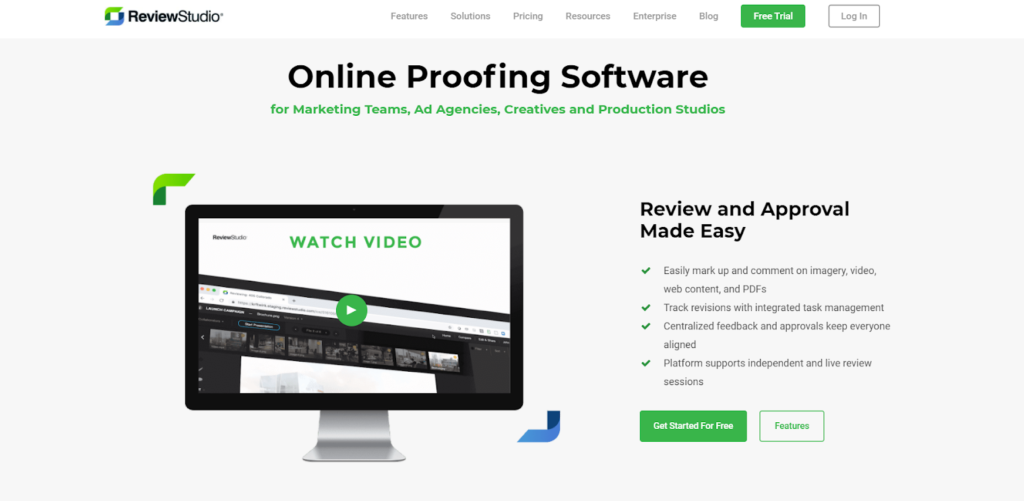 ReviewStudis primarily targets Ad agencies, production and creative studios, and various marketing teams. It provides companies with proofing automation tools.
Key Features:
It lets you share images, videos, and web pages.

Side-by-side comparison feature.

Ability to give feedback, annotate and communicate in real-time.
Setbacks:
It does not let you review the audio.

No real-time editing feature.
Pricing:
There are four types of pricing plans available on ReviewStudio. You can choose the most suitable one according to the scale and demand of your business. The Pro plan is best for individuals working on fewer projects, which is $15 per month. As the size of your business and project increases, you can choose the more advanced plans.
Key Takeaway 
Artwork Approval software helps you bring your design work projects to life. They let you compile your process work in a single environment. Whether you are a logo designer, 3D animator, webpage designer, or illustrator, you will need constructive criticism over your design work. 
Getting approval and multiple perspectives over your design work, you can work on your creative content better. This kind of software helps you get exactly that but in a centralized way! Whether it is a small-scale or large-scale process, it is always better to get a review one step at a time. This approval process standardizes the workflow of feedback and reviews for a business. 
Artwork approval softwares helps all your team members to stay on the same page and agreement. Recently, many software companies have started using the artwork approval softwares as it helps them organize and prioritize their work according to the need. They allow you to save time that is wasted in printing out the documents and getting client approval.