The standard hierarchy and efficiency are often shattered through cross-functional teams.
That's because instead of being divided into various departments to achieve different objectives of each department, working together on a similar one is better, right? In this sense, if you and your team work collectively to accomplish a similar objective, the outcome would be effective and efficient. 
However, it takes efforts to make such teams functional; otherwise, the dysfunctionality of cross-functional teams may bring chaos.
So, indeed, having an excellent cross-functional team is no less than having a catalyst. That's why we are presenting you with comprehensive ways so you can start with a dream team!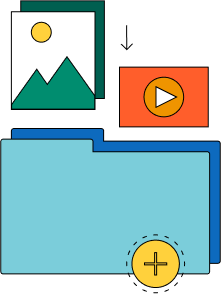 Need a quick way to share large files and creative assets?
With GoVisually Share, it's absolutely free! Try today.
What is a Cross-Functional Team?
But before we spill over our secrets of building an efficient cross-functional team, let's quickly understand what a cross-functional team is.
In essence, a cross-functional team is when people with different skills or expertise work on a similar project to get the desired outcome. This structure eliminates the standard hierarchy of management and leads to a more flexible and diversified organizational system. 
Many leading organizations like Google, Netflix, Amazon have also adapted to this structure since such organizations believe that cross-functional teams are the sources of productivity and efficiency.
For instance, Amazon utilizes cross-functional team efforts for producing the initial draft of its annual objectives. By doing this, the company uses diversified expertise to generate ideas to set the end goals of every year.
Why Do You Need Cross Functional Teams?
If your organization has a vertical management structure, the top management would unlikely connection with the customers. For running a business, the customers need to be satisfied.
With cross-functional teams, the silos or vertical structure is eliminated since all the team members with different expertise are integrated to work on the sole purpose of satisfying customers.
10 Ways To Build Cross Functional Efficiency In Cross Functional Teams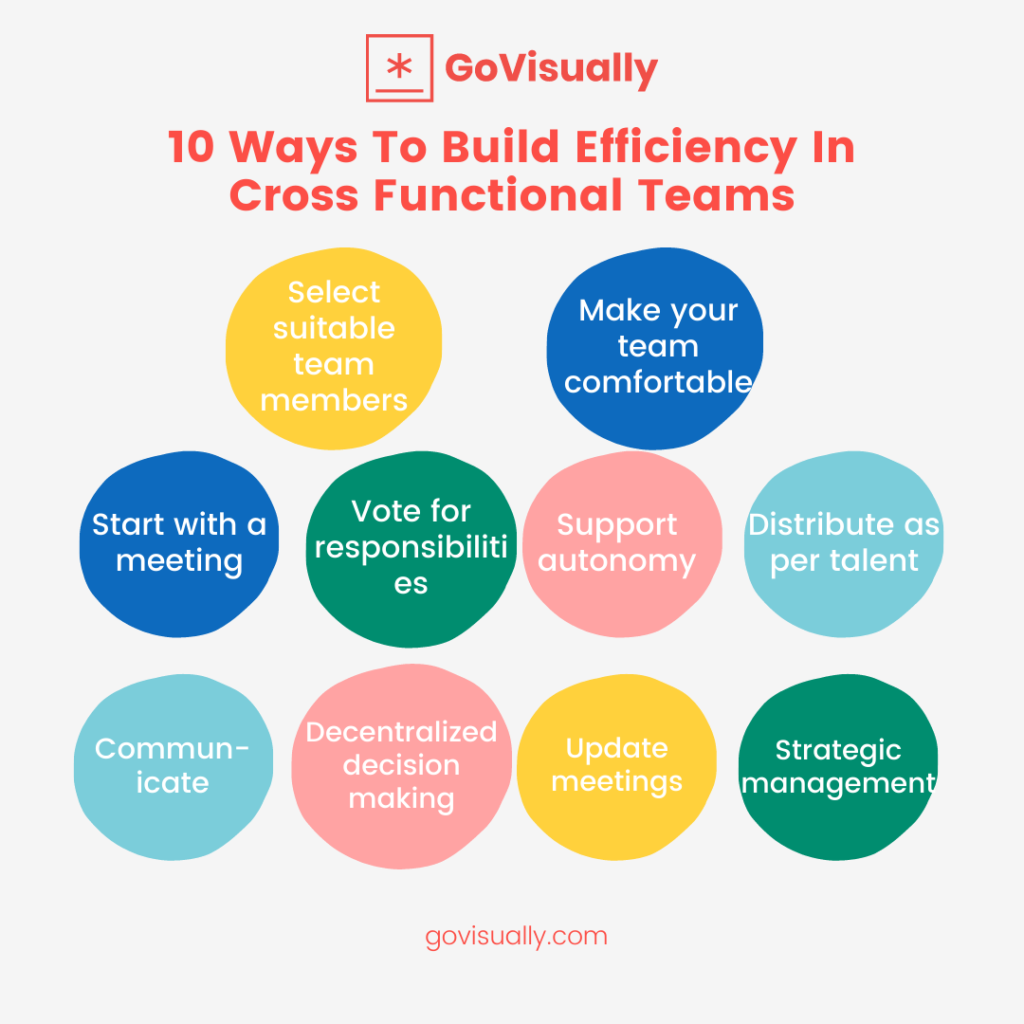 1. Select the Suitable Team Members
The bigger is not always better. Before you begin to dive in for making a cross-functional team, as a leader, you need to figure out what skills you want to have in your group. That's because this will make sure that none of the team members are left out while utilizing the entire team's capabilities. 
If you choose the members abruptly to increase the team's strength and end up having a bunch of people with expertise that your business cannot utilize will result amicably in productivity. 
Take this example, and a graphic designing team would require individuals to help design the graphics and visuals projects. In that case, having a fashion designer in your team will be of no use regardless of how skillful they are. 
2. Make Your Team Comfortable
Productivity and efficiency are achieved by having a good relationship with your team when all team members are comfortable in your working environment. This part is necessary since your team will have diversified individuals with different views. 
For example, you can take this; a Muslim marketer has to promote wine products or bring in a Muslim and Jew to work together. Now this example states a religious mismatch.
That's why before gathering individuals to form a cross-functional you must get feedback and opinions from the candidates to make sure they are comfortable with working conditions and state your policy clearly to not face conflicts in the future. 
3. Conduct a Meeting Before Begining
As to begin with anything, a word needs to be conveyed for acknowledgment. The same is the case with building cross-functional teams. 
After you have finally gathered potential individuals with expertise, you were looking for the next step is to spread the word among the team members by conducting a meeting with them. The discussion should state your vision, mission, values, strategies, policies, and code of conduct clearly to avoid ambiguity for the team members. 
After presenting your views to the team, you should have a Q/A session for your team. This way, they will be inclined to ask you questions about what they are concerned about and proceed with a transparent and unbiased process. This strategy is excellent for mitigating hiccups in the team.
4. Vote for Responsibilities
To have a dream cross-functional team, you need to play a fair game. This is where the difficulty begins, but to cope with them, you must have an alibi of votes if any mishap occurs in the future. 
An excellent cross-functional team consists of relevant expertise that needs to be divided accordingly. That's why you should carry out a strategy to make all the team members vote for the desired positions to be unbiased. This way, any team member with more votes for a particular job will be elected to play the role fairly. 
5. Support Autonomy of Team Members
One thing to keep in mind for building a cross-functional team is that the team is full of diversity, and at any point, team members' opinions will oppose one another. That's why the individuals in the team must have an autonomous sense of control to make decisions for themselves, including when to leave. 
Moreover, any decision related to the top management should be discussed with your cross-functional team member for their opinion. This way, the individuals will have confidence and involvement, motivating them to perform better.
6. Distribute Responsibilities According to Expertise
A carpenter cannot treat patients. That's why you need to make sure the positions divided among the team members are suitable for them or not. Without knowing what your team's upto, you are putting productivity at stake. So, to make your helpful team and productive simultaneously, you must hand out the responsibilities according to their expert level so that every team member is on the same page while performing a task. 
7. Communicate
Talking your problems out can solve almost every situation, having conflicts? Discuss it with your team!
Every team faces difficulties at some point, but that does not mean adjourning the whole process and starting over. If you have an open gateway for communication with your team members, nothing can stop you from having a productive cross-functional team. 
8. Maintain a Decentralized Decision-Making
The most sensitive aspect of building a strong cross-functional team is to have decentralized decision-making. This is one of the reasons why we need a cross-functional team and not a vertical structure. 
That's because the decision-making process is divided among team members to choose what's right according to their capabilities. This aims to help make quick decisions while not affecting productivity if any hiccups occur during the task. So, the collective choice by team members can also result in fair and intelligent decisions. 
9. Involve Strategic Management
Not every problem can be solved by you; that's why you need to involve upper management to hold the reins. That's why teams need to seek upper management for follow-ups and approvals. The strategic managers in your organizations may not participate in the daily team activities, but they report all of your actions and working routines. 
That's why Google has also adapted a cross-functional team structure, and if Google counts the cross-functional teams functional, so can you. So, to make the working processes smooth with your cross-functional team, proper management is crucial to keep the tasks going. 
10. Arrange Quick Meetings for Updates
Having an open floor to communicate is always fruitful since most teams can resolve problems with quick meetings. Arranging short meetings with the team members for updates will allow them to talk about their experiences with your working environment. 
In this sense, any changes that need to be made can be discussed with team members to have their opinion. Consistent follow-ups with your team will ensure the integrity and motivate team members to perform better.
Improve Cross Functional Efficiency with GoVisually!
Cross-functional teams have become an excellent strategy for leading organizations worldwide. And if you want to experiment with that within your organization as well, we'd suggest you also use a powerful online proofing software like GoVisually.
This would help keep all teams streamlined with the review and approval process. And keep the major stakeholders in one place.
Moreover, with our latest release of GoVisually Share, you can even share assets. And oh did I mention, it's absolutely free!