Final Cut Pro is one of the industry-leading video editing software that allows you to create stunningly visual videos with text and unique effects. 
This article will discuss the Final Cut Pro FAQs and reveal the secrets to creating the most creative videos that will take your video editing game to the next level. Excited?
Let's begin!
What is Final Cut Pro?
Developed by Macromedia and acquired by Apple Inc. Final Cut Pro is a non-linear video editing software targeted to consumers who want to up their video editing skills and professionals who create and edit high-quality content for television and movies.
The video editing program enables users to edit, modify, and trim content relatively quicker than any other software. 
The software is equipped with basic and advanced features for amateurs and professionals. With an easy-to-use user interface, this video editing tool has been used by professionals across various industries to create creative content for their next projects. 
Final Cut Pro FAQs
Cut design & video review time in half
GoVisually is the #1 online proofing software to get visual feedback on Designs, PDFs & Video content.
Try GoVisually free today!
1. How to process red footage for Final Cut Pro? 
To import REDCODE RAW (R3D) files in Final Cut Pro, download and install RED Apple Workflow Installer to help the software recognize the RAW files. Once the media files are imported, you can make color correction adjustments in the files.  
Don't forget to de-select the "Create optimized media" and "Create proxy media" options when you import the media. 
2. Which is easier, Adobe Premiere Pro or Final Cut Pro?
Although many professional editors have preferred Adobe Premiere Pro for editing and modifying high-content for their videos, professionals based in the industry, such as animators and directors, find Final Cut Pro more versatile and flexible. 
3. Is Final Cut Pro a one-time purchase?
This is one of the most frequently asked questions about Final Cut Pro. 
Final Cut Pro is a one-time purchase and can only be bought through the Apple app store for $299. You can also try the free software version for 90 days before making the final decision. 
4. How much does Final Cut Pro cost for students?
For students, faculty members at educational institutes, and other employees, Apple has created an option to purchase a Pro Apps Bundle for Education. 
The bundle includes full versions of the five of the most popular professional software from Apple, including, 
Final Cut Pro X 

Logic

Motion

Compressor

MainStage
You can purchase the Pro Apps Bundle for Education through the Apple app store at $199.99. 
5. How to cut a clip in Final Cut Pro?
Once you import the files in the software and place the clips on the timeline,  you can easily cut them to remove unwanted parts from the clip or change their duration. One of the most commonly used editing features is straight cut. 
Every time you cut a clip, it is split into two parts. You can cut as many clips as you want simultaneously. 
6. How can I change the aspect ratio in Final Cut Pro?
Add the desired clip to the timeline and over the pointer to any part of the video to begin working on its aspect ratio. 
You will find a property window on the screen's top right corner. Click 'Modify' to change the aspect ratio values according to your preference. You can also change the format of the Video to Custom and the resolution values to fit the required video size. 
7. How to flip a video in Final Cut Pro?
To flip a video clip in the timeline, make sure the clip is highlighted before clicking the Inspector icon on the right side. 
The Inspector panel consists of a transform tool with positions X and Y that allows you to move the image vertically, horizontally, or from top to bottom, depending on your need. 
The easiest way to flip a video clip horizontally is to enter -100 in the sidebar of X and press Enter key to save the changes. Similarly, flipping a clip vertically/upside down can easily be done by entering -100 in the Y sidebar. 
8. What is rendering in Final Cut Pro?
In Final Cut Pro, rendering creates temporary audio and video render files that you can alter and manipulate to view your videos in real time. Rendering can easily speed up your video editing process. It allows the editors to translate the data into visuals, makes it easy to cut and trim the videos, and adds text and effects within the timeline.
Video rendering in Final Cut Pro runs automatically in the software as a background function. You don't need to switch on the program unless you change the default setting of the video editing tool. 
9. How to clean the Final Cut Pro library?
You can easily delete unwanted video projects, clips, and events from your Final Cut Pro library to make more space. The deleted clips, source media files, and projects are moved to the Trash. 
However, the media clips or content of an ongoing project will remain in the library. To remove any event or items of an event, select the file in the Libraries sidebar in the application. 
You can either: 
Delete items from an event by selecting the clips of projects you want to eliminate, then Select File > Move to Trash. 

Delete the event by selecting, Choose File > Move Event to Trash. 
10. How to export frames in Final Cut Pro?
You can easily save still-image frames of any video clip or project in your browser. In the timeline, place the cursor on the video frame you want to save and export as a still image. You can choose to do one of the two options,
Choose File > Share > Save Current Frame.

Click on the Share option in the toolbar, then click Save Current Frame.
Speed up the video review process with GoVisually
With the help of the Final Cut Pro FAQs, you've finally edited the video and are now looking for software that could make the reviewing process a breeze.
GoVisually is the perfect option for you!
GoVisually is an online video proofing software that offers consumers a wide range of review features to streamline the workflow and optimize the results. The video proofing software helps creative teams collaborate seamlessly with one another and communicate effectively with the client to produce the best outcome. 
Reviewing content, sending feedback back and forth, and getting project approvals can be a long and complicated process. Many inefficiencies and communication errors can lead to disastrous results and cost you an important project. But you don't have to worry about anything with GoVisually – the best online video proofing software.
You can upload video files on the software, share the link with your clients and receive real-time feedback and annotations on the video file. The clients don't need to sign up for an account to annotate the files. This way, teams can deliver excellent results in a relatively short time.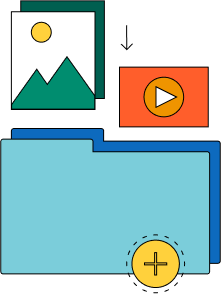 Need a quick way to share large files and creative assets?
With GoVisually Share, it's absolutely free! Try today.
Key takeaway
Final Cut Pro is one of the market's most popular video editing tools with an interactive interface and stellar features.
However, several unlocked secrets of the application can open a world of possibilities for you.  In this article, we talked about some of the most frequently asked questions about Final Cut Pro so you can take full advantage of the program. 
Do let us know if you find this helpful!