In a world of millennials and Gen-Z, the fastest way of approaching your audience is through consistent and quality video content. People love and prioritize accessibility and great content over everything else now. And you'd be surprised to know that YouTube alone has two billion users. What that means for you as a marketer is that you need to start creating fresh YouTube content. Like from today!
If you're confused about where to start from, don't worry. We've got you back. So let's bounce in and roll into the things you need to sort out for great Youtube content creation.
7 Steps for Starting Your YouTube Channel
Before you create online video content for your YouTube channel, you need a channel. And that is not hard at all. We've simplified it for you in just 8 easy steps. Let's look at them.
Step 1: Create a Google brand account
This one is fairly simple. We all have a Google account, now, don't we?
But here's where a Google brand account differs from your normal one; it isn't yours. Well, not really. This account belongs to the company, and even your team members can access it. More importantly, when you start your YouTube channel and upload content, it would be reflected under your company's name and not yours.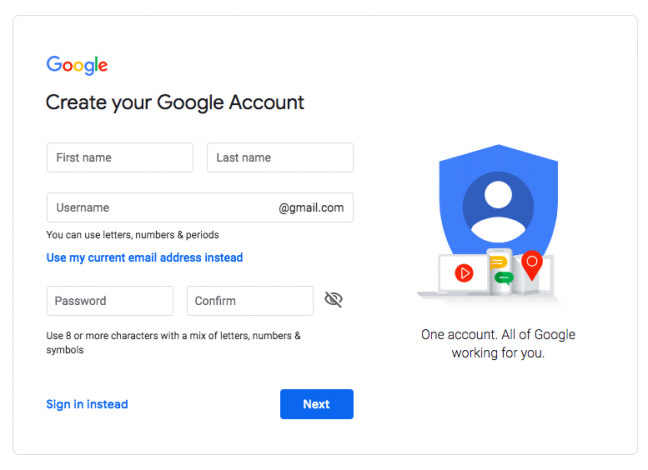 So start by creating a Google brand account.
Step 2: Create a YouTube brand account
Now that you have a Google brand account, all you need is to connect it with YouTube. When you open YouTube, you'd see that you're already logged in to your personal account. So here's what you need to do to switch to your company's account:
Open your YouTube channels page.
Enter your company's name, and voila! You just made your company's YouTube channel.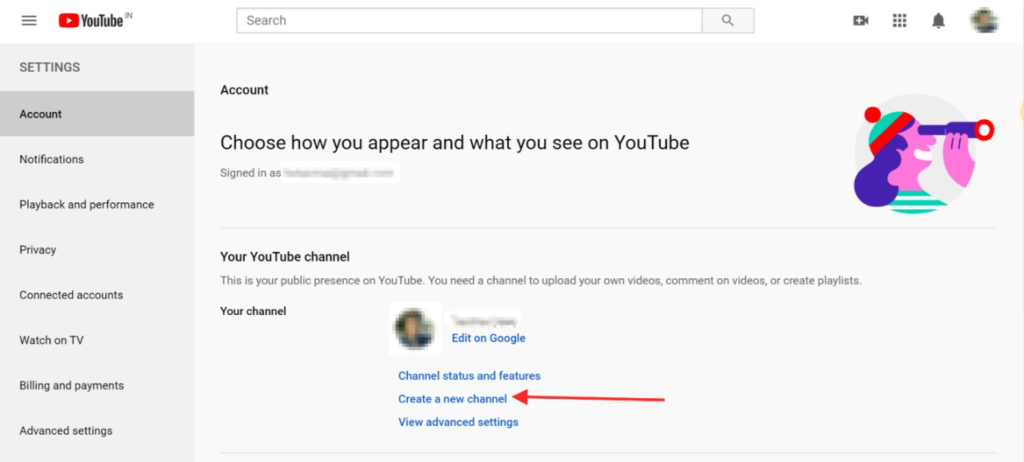 Your brand account would also provide you access to YouTube Analytics, where you can see the big guns rolling. That is to say that you can access your viewership and get insights into your audience's behavior for different types of videos that you upload. This will help you identify which type of video performs the best.
But do keep in mind that this may differ for each niche. For instance, for a record label channel, music videos will obviously perform better than educational videos or conspiracy theories.
So as content owners, you need to ensure that you pick the right type for your niche.
Step 3: Add your brand identity to the channel
This is the most crucial step to creating a channel that will stand out from the rest. How do you normally differentiate yourself from other brands on different social media platforms? The answer is simple – through your branding. And that is exactly what you need for your YouTube channel. You need to optimize it as per your brand guidelines to reflect in the subject matter of the content you upload later.
Here are some quick tips on how to do that effectively:
Here's a great example of a popular channel trailer that encapsulates the essence of creating one.
A word of advice? Try to keep it short and concise – remember, you want to grasp your audience's attention immediately, not bore them to death!
Step 4: Develop a YouTube content and marketing strategy
You would often notice content moderators and content creators running after experts to create the perfect strategy. Don't do that. And that's because the more time you spend listening to others, the less you'll have for planning. Whereas what you should be doing is the opposite.
Start by creating a strategy for your channel and then optimize it as per the recommendation algorithm or expert advice. This way, you can target popular content as per the requirements of your niche.
After you have a content plan, start investing in a marketing strategy. YouTube Analytics will help you out here again. It can offer insights into the traffic sources for your individual videos. You can also explore different video sharing or live streaming options with YouTube live.
But for starters, your marketing strategy should be quite basic so that you have more time to invest in creating great content. Upload videos but focus on creating amazing channel art and graphic content that distinguishes you from the rest. And don't forget to share it on the rest of your social channels too. A lot of times, your audience can also give you video ideas. This is why it's important to include them as a crucial constituent to your marketing plan.
Once you have your initial content and marketing plan, start by uploading your first YouTube video. To make sure that it performs well, focus on the right video format. If you think that animations would work better for your niche, go for it.
Also, make sure that your company or brand is the only copyright owners for the content so that you can avoid any litigation in the future.
After a while, when you have established several video blogs and a series of videos, it's time for you to organize it. This is where you'd need a structure for your video channel. So while making one, keep in mind how you'd want your audience to navigate through your types of content. Obviously, there would be a wide variety to explore, which is all the more reason why you should consider creating playlists.
Here's how easily you can create one:
Click customize channel.
Click on the playlists tab and create a new playlist.
Enter a title or a name for your new playlist. But make sure that it's under 150 characters. Then click on create.
You'll be taken to a screen where you can click on edit to start adding videos.
Click on add videos and add videos from your channel.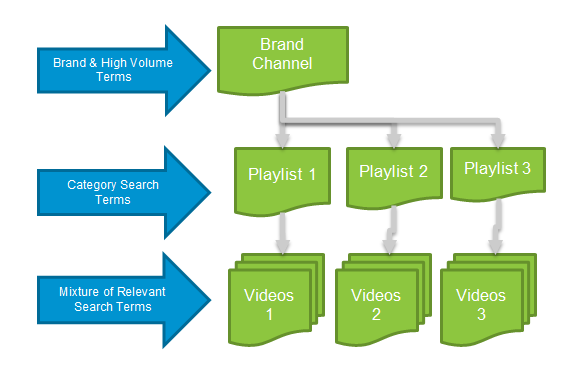 Step 7: Verify your account if you want to access more features
If you want to access more features and the audience to trust you, you'd need to verify your account. Once you've verified it, you can upload videos that are longer than 15 minutes like most popular videos are. Moreover, you can create custom thumbnails too.
So here's how you can do it:
1. Go to youtube.com/verify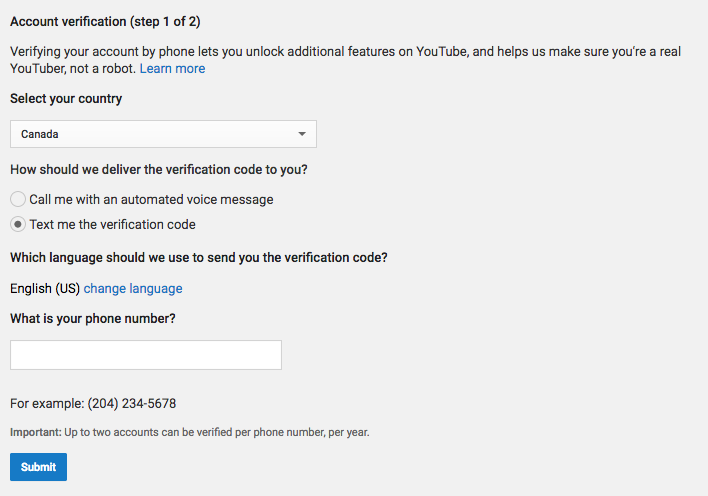 2. Select your country
3. Select whether you want to receive the verification through text or automated voice message
4. Enter your phone number
5. You'll receive a verification code. Put that verification code and click on submit.
Congratulations! Your channel is now verified!
6 Tips for Creating Great YouTube Content
It's all about the extra effort you put in for your content creation at the end of the day. The type of content you produce has a lot to do with the measures you employ for content creation. Let's look at the 6 tips you should follow to get direct viewers and organic traffic.
Tip 1: Competitive research and knowing the market is the key
Bad keywords will lead to no audience, and popular search terms will generate more subscriber counts. It's really as simple as that.
So the best way to ensure that you're using the right keywords is by seeing what most users are searching for. You can take up on Google trends or use Buzzsumo to identify your competitors' keywords.
But we would suggest you stick to YouTube for competitive research. See the list of videos your competition has. Explore their hours of video or the advertising campaigns that they are employing for their video platform. That would help you identify what they're doing right. More importantly, what they're not doing and you should do!
Pro tip: Conduct a SWOT analysis before you finalize a strategy. Identifying your strengths, weaknesses, opportunities, and threats would place you in a better position.
Tip 2: Get inspired by your favorite channels
And while you're on to competitive research, don't forget to be open about it! If you like content, you have every right to feel inspired by it. Just make sure that you keep the terms of service and community guidelines in mind while creating your own video version. It shouldn't come out looking like an exact copy of the original video.
Perhaps, you can only take inspiration from their categories or the kind of calls to action they are using.
In any case, taking inspiration is fine by all means as long as it increases levels of engagement for your video uploads. If not, revise your strategy and see what you are missing out on.
Remember, the idea is to grow your own channel. So it is likely that what might be working for your favorite channels might not work for you.
Word of advice? Please look at YouTube's trending list. Even if those viral videos have nothing to do with your niche, there's still a lot you can learn from them. For instance, how to place your video title, what kind of video file to upload, or how to employ influencer marketing in your videos.
Recently, this video was on YouTube's trend list. And we're sure there must be several others as well. So the big questions you should be asking yourself should be:
What kind of content would make sense for your YouTube Studio?
How can you optimize your production workflow?
What is the kind of series playlists that would work for you?
What are the channel ideas or common types of questions that you can make content around?
Or perhaps, ask all of these!
Tip 3: Optimize your video content to attract more subscribers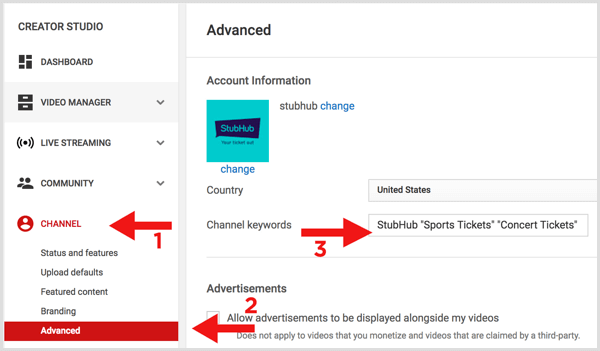 This is one of the most crucial steps that most channels miss out on! If you want more subscribers, you need to optimize your creator studio according to it. Here are the things you need for that:
Channel description:
You want people to know about what type of content you'll be posting? Put that up in your channeled description. You can edit it through the about section on your channel. Make sure that you enrich it with the keywords and terms that you'd want to rank for.
Channel icon:
Your profile picture should be in high resolution. Ideally, it should be the logo of your company to establish brand presence and authority.
Channel art:
Next, you would need to add a banner to your channel. Most people change their banners frequently with the latest updates. If you ask us, this could be a good place to upload a schedule for your content and let your audience know what they can expect.
Add captions and translations:
Finally, if most of your videos will be in English, that could be a problem. Why did you ask?
Well, get this, only 33% of the popular videos on YouTube are in English. The rest, well, not so much. So if you want to reach a wider audience, start by adding captions.
Tip 4: Collaborate with influencers in your niche
Do you know that 60% of YouTube subscribers are more likely to follow the advice of their favorite content creator? What does that mean for your channel?
Simple – you need to get an influencer in your niche on board for a potential collaboration. There could be a plethora of reasons why they would agree to it. Perhaps, there's a monetary benefit, or maybe they believe in your content. In any case, a collaboration or rather consistent collaborations can prove beneficial for your channel.
You can tap into their subscriber's list and expand engagement on your channel. But most importantly, having them on board would bring their ideas on board too. This potentially means that you might learn something that can prove to be helpful throughout your content strategy.
This father-son duo's channel, What's Inside, proved to be a miracle for Exxon mobile. They engaged them to release their new motor oil, and the video crossed a million views!
See? It's not that difficult. All you need is a good influencer on your side and let them do the talking.
Tip 5: Focus on optimizing the Watch Time
If you think about, YouTube's #1 goal is to get more people to watch videos. And that is why watch time matters a lot! If you're wondering what that is exactly, here's a straightforward definition of it.
In simple words, it is the total time spent watching a YouTube video since it went live.
So your channel's goal should be to ensure that you have maximum watch time. Here's how you can do that effectively:
Publish long videos.
Cut out the extra content or the fluff from your introduction.
Incorporate graphics and animations.
And most importantly, script every line that you have to say. It's because when you have a script, there would be less room for fluff.
Streamline your post-production process.
Tip 6: Try YouTube advertising
If you want to grow your audience apart from the organic reach, YouTube advertising is your ladder to reach that milestone. You can adopt any of the four following ways to start advertising your content:
The first option is skippable streaming ads. These would appear between videos, and the viewer has the option to skip it after 5 seconds. So your job would be to come up with a mind-blowing catch – one they can't skip.
The second option that you have involves the non-skippable ads, also known as bumper ads. Yes, they cost more. But they're more effective if your message is clear and concise.
The next option is the video discovery ads. They were formerly known as in-display ads.
And finally, you can opt for non-video ads as well. These include banners and overlays. These are less aggressive and can get you results as well.
So based on your needs, pick the option that suits your requirements the best. You can also try all of them and see which set has the most conversion rate. But do keep in mind that you need to identify the right audience for these ads to work. After all, it wouldn't be of any use if you'd be advertising to the wrong audience.
A Magical Solution for Faster Results!
Creating content for YouTube demands instant communication and approvals on designs. You'll need your creative and design team to collaborate on the thumbnail designs. You would also want approvals on video content. And honestly, we understand how strenuous that can be.
So to streamline your reviewing process and get instant approvals, use GoVisually. All you have to do is upload your content there, and your team can take it from there. Once you see how easy that makes your reviewing process, you'd be thanking us later.
Key Takeaway
Here's what we're going to leave you with: start creating content! There's no other way of finding out what YouTube holds for you. These tips and strategies will help you get a headstart and set things in motion. However, it's only when you'll draft a strategy and execute it and you will be able to gauge its results.
So start today – fail, if you must! But keep putting up great content.