2023 is the year of growth in your personal and professional lives.
And that means it's time to step up your game. Whether you're thinking of starting a side hustle, creating another product to increase your income streams, or scaling your business idea, now is the right time to invest.
With so many amazing no code apps breaking the market, you'll no longer rely on additional resources to start your business.
In this guide, I'm going to break down the 280+ no code apps that you can use in 2023 to create, build, and grow your business. I've divided it into 7 categories for your convenience.
Time to say goodbye to excuses. Let's review the apps!
Design
The first category in our list is design.
The digital world is made of and surrounded by amazing designs. To truly make an impression on your audience, you must create unique designs that align with your brand.
Here are the 9 no code design apps.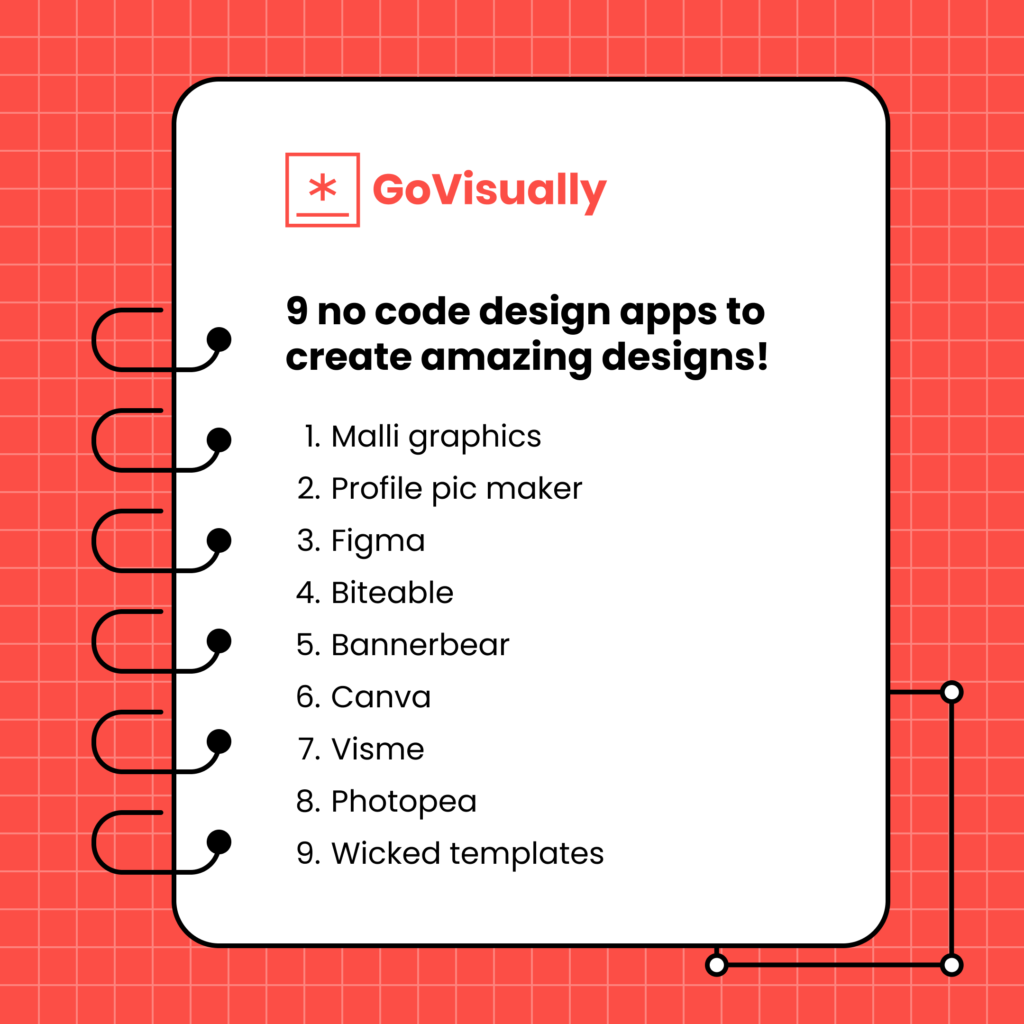 Malli graphics provides the design updates that you need for your work. They have free weekly mockups and exclusive features you can use just by signing up.
Do you want to create professional profile pictures for your social media handles or team pictures?
Use profile pic maker to customize, resize, and adjust your pictures.
Figma is the acclaimed champion of every designer's work.
The software has endless amazing features that you can use to create designs, mockups, and illustrations and share them with your team and clients.
Looking to create tailored designs and videos? Try Biteable today to create brand-centric collateral that'll help you create an impact on your audience.
All social media channels need a great banner to catch the immediate attention of your target audience. This is why you need Bannerbear – to create striking social media banners.
Canva has a fan base of its own, and rightly so!
The online platform is great for solo or team to use. It is essentially a one-stop shop for all design needs.
If you want to create branded, professional presentations and documents, Visme should be your go-to platform.
Photopea is an online alternative to Adobe Photoshop. You'll find similar features and tools that you can use to edit graphics online easily.
If you're a UI designer, you'll love Wicked templates, with 1000+ free templates of perfectly crafted files.
Scheduling
Scheduling is an important part of any business, especially for solopreneurs and small teams. You must ensure that your time is being spent properly on things and meetings that'll bring value.
Here are the top 2 no code scheduling apps that we recommend.
Calendly is the #1 scheduling automation platform. It eliminates the back-and-forth of emails and messages to set up a meeting. You can add your available slots and let your clients pick up an available slot.
Want to have a light day at work or with your colleagues?
You can use Queue to add your team's favorite shows and movies to the list and stream unlimited. You can also use it to schedule watching your favorite business podcasts and documentaries.
E-commerce and storefront
eCommerce is all the rage nowadays!
And why wouldn't it be?
If you compare it to a few years back, setting up your own online store is easier now.
Here are the top 8 no code eCommerce apps you can use to set up your very own online store.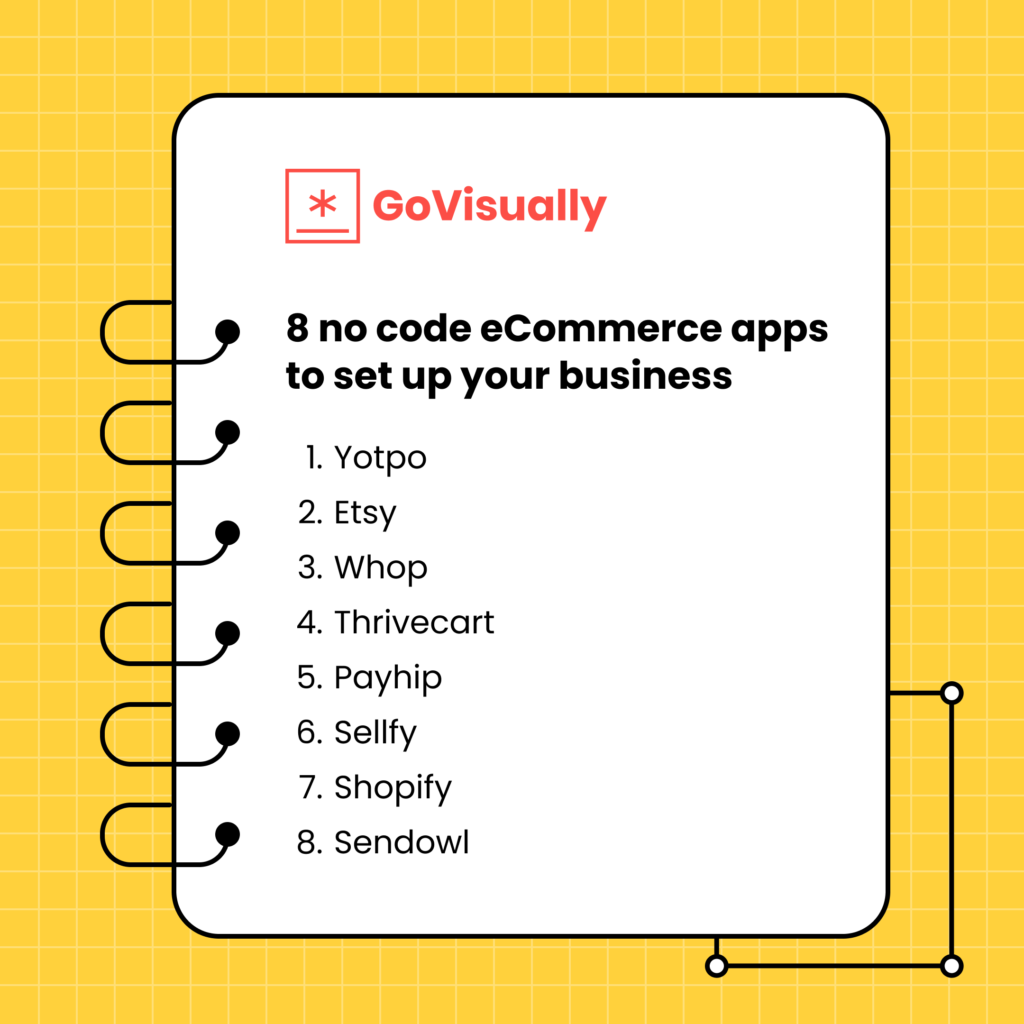 Use Yotpo to get insights f your eCommerce store. Use these insights and data to add value to your products and maximize sales.
Etsy is one of the leading global online marketplaces where everyone can easily make, buy, sell and collect almost everything!
If you have a small business or a home-based setup, we highly recommend setting up an Etsy shop.
If you want to be a part of the fastest-growing online marketplace, sign up for Whop today!
Get your Thrivecart license to start selling and buying things online easily and conveniently.
If you're a content creator and want to sell your courses online, Payhip would be the best platform to do that.
Have any merch to sell?
Sign up on Shellfy to easily sell your merchandise, apparel, and digital products.
Shopify is arguably the best platform to set up your eCommerce store. It has amazing site-building and tracking features to provide you with
everything in one place.
Sendowl is the ideal online marketplace to sell everything you can digitally. This can include:
Audiobooks,
eBooks,
Photography or images,
Software or a tool,
Memberships,
Event tickets,
Online courses, and much more.
Ideas mapping
Next on our list is the one thing most creatives need: tools for ideas mapping.
Here are our 2 top favorites.
If you dislike using spreadsheets of any kind, switch to Funnelytics today and save yourself and your work.
Whimsical is one of our personal favorites at GoVisually. It combines the power of whiteboards with docs, and you can use it for all kinds of idea mapping and collaboration.
Email campaigns
Email campaigns are predicted to be one of the best ways for lead generation in 2023. And that means ensuring that you have a clear email campaign system.
Here are the 4 no code email campaign told you could use to maximize value from your email list.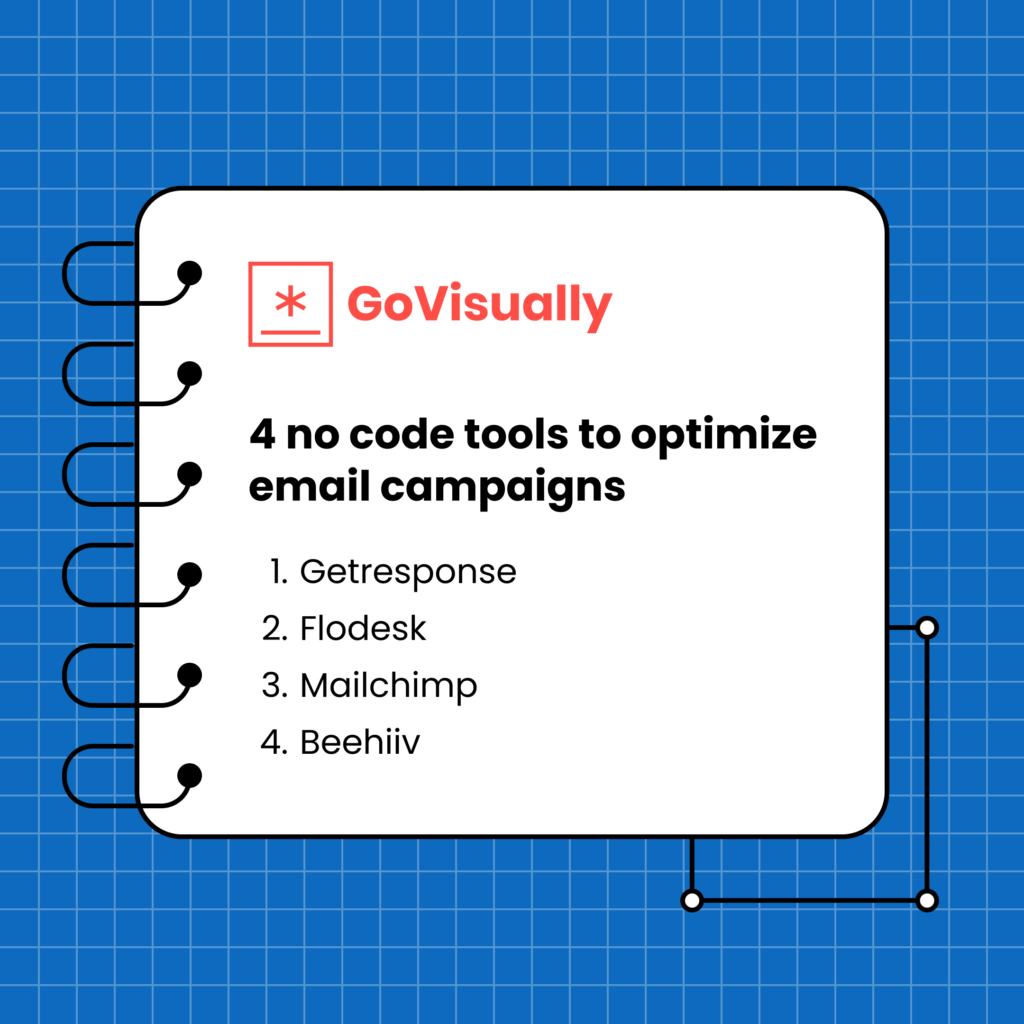 Get a response to your emails with Getresponse's powerful features and tracking tools.
If you're a beginner at email marketing, you should use Flodesk to optimize your landing pages and get the best response on emails.
Want to keep winning customers through email?
Sign-up for Mailchimp to optimize and automate your email campaigns.
Do you have a newsletter for your business?
Use Beehiiv to share it with your subscribers and attract more bees for your brand!
Project and ideas management
Let's look at the top 4 no code project management apps for you to use in 2023.
Airtable is one of the leading project management apps that more than 300,000+ innovative companies use.
ClickUp is arguably one of the best and highest-rated client management software used across many companies and leading brands.
If you want to create and communicate your work clearly, try Clearbit today to pinpoint exact changes and tasks.
Memberstack allows you to keep control of your user base, revenue, and tech stack for ultimate performance control.
Icons
To win over your audience, you'll need great iconography in your marketing collateral and content.
So to assist you, here are the top 12 apps you can use to create great icons in 2023.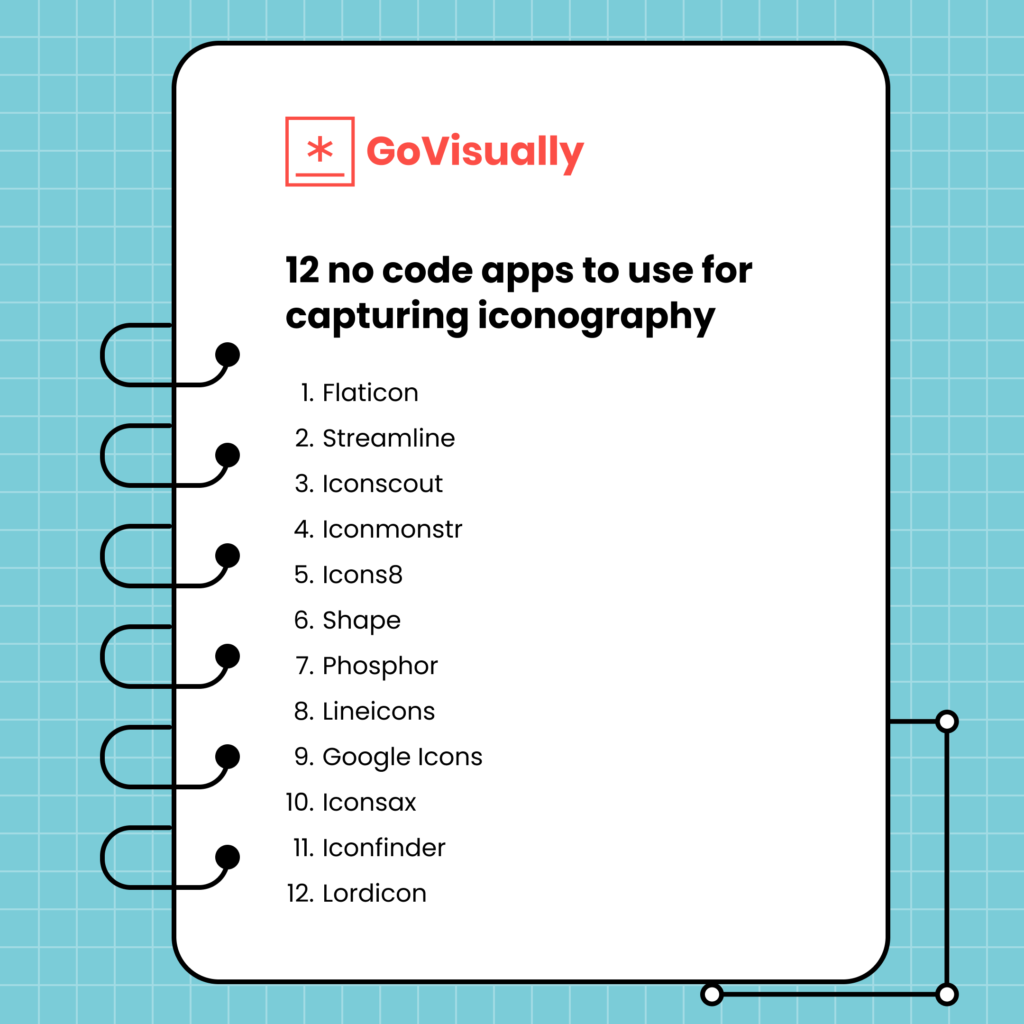 You can download unlimited free icons and stickers for all your projects using Flaticon.
Streamline is one of the digital world's largest repositories of icon and illustration sets. With over 140,000+ customized graphics, it's sure to add the 'wow' element in your work.
Over 7000+ new icons, illustrations and graphics are uploaded on Iconscout daily. What else do we need?
If you want simple and free icons for your work, sign up for Iconmonstr today to discover their 316+ collections.
Icons8 has a huge library of icons, illustrations, photos, and design tools.
Once you sign up for Shape, you'll get access to the entire library of more than 36,500 assets growing daily!
If you're looking for flexible icons, diagrams and interfaces, Phosphor should be your go to site.
Lineicons has a huge and comprehensive variety of handcrafted icons, designs and professional mockups.
Want the best icons for your work that can be downloaded in any size and density? Choose Google Icons.
Iconsax has a great variety of icons for personal and commercial use.
The best part? They're all free to use!
Become a part of a community of independent designers with millions of graphics for your design projects.
If you want a powerful library of animations, icons and digital products, sign up for Lordicon today.
Images and stock photos
Every design work or website often needs images and stock photos. This help presents a more realistic appearance of the content and marketing collateral.
However, finding a good website with free stock photos is always challenging.
Well, not anymore.
Here is our pick of the top 11 no code apps you can use to find great images and stock photos.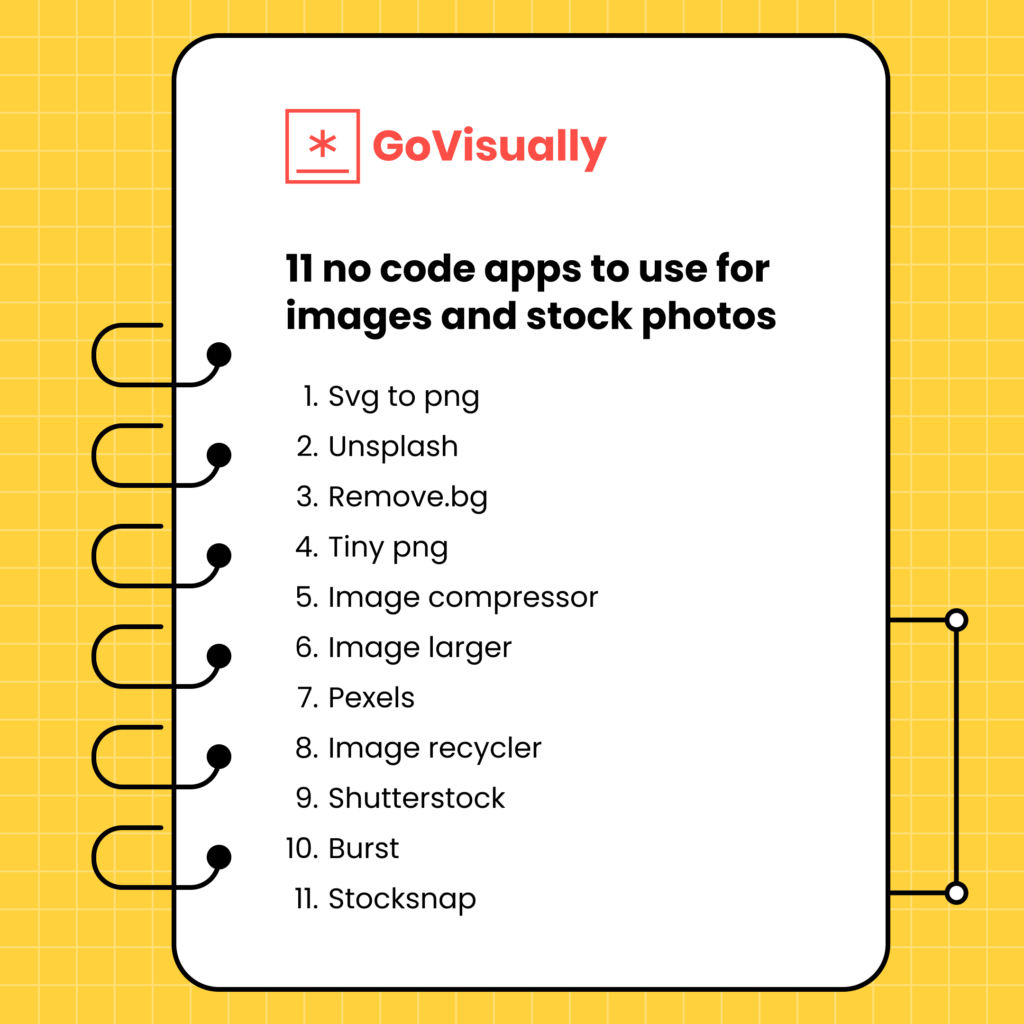 Looking for an online tool to convert your svg files to png?
Try SVG to png today to convert your images without any software quickly.
Unsplash is the leading internet source for visuals. It's powered by creators all over the world.
Do you want to get your hands on an online tool to remove background from images? Try remove.bg today!
Tingypng has a repository of more than 1 billion webp, png, and jpeg images.
Use Image Compressor to compress, shrink and optimize your jpeg, gif and png files.
Imglarger is an all-in-one AI toolkit that helps you enhance and upscale images.
Pexels is one of the leading online repositories of royalty-free stock photos, images, and videos.
Looking for the best image compressor for your jpeg and png files? Try Image Recycler.
Use Shutterstock to access millions of free images, videos, music, and tools you need to turn ideas into achievements.
You can download stunning photos for your website and commercial use with Burst.
Stocksnap has an amazing repository of beautiful royalty-free stock photos.
Content creation
As social media influencers and creatives, we're always looking for great content creation tools to assist our content creation process.
So here are the top 4 no code content creation tools that you can use in 2023.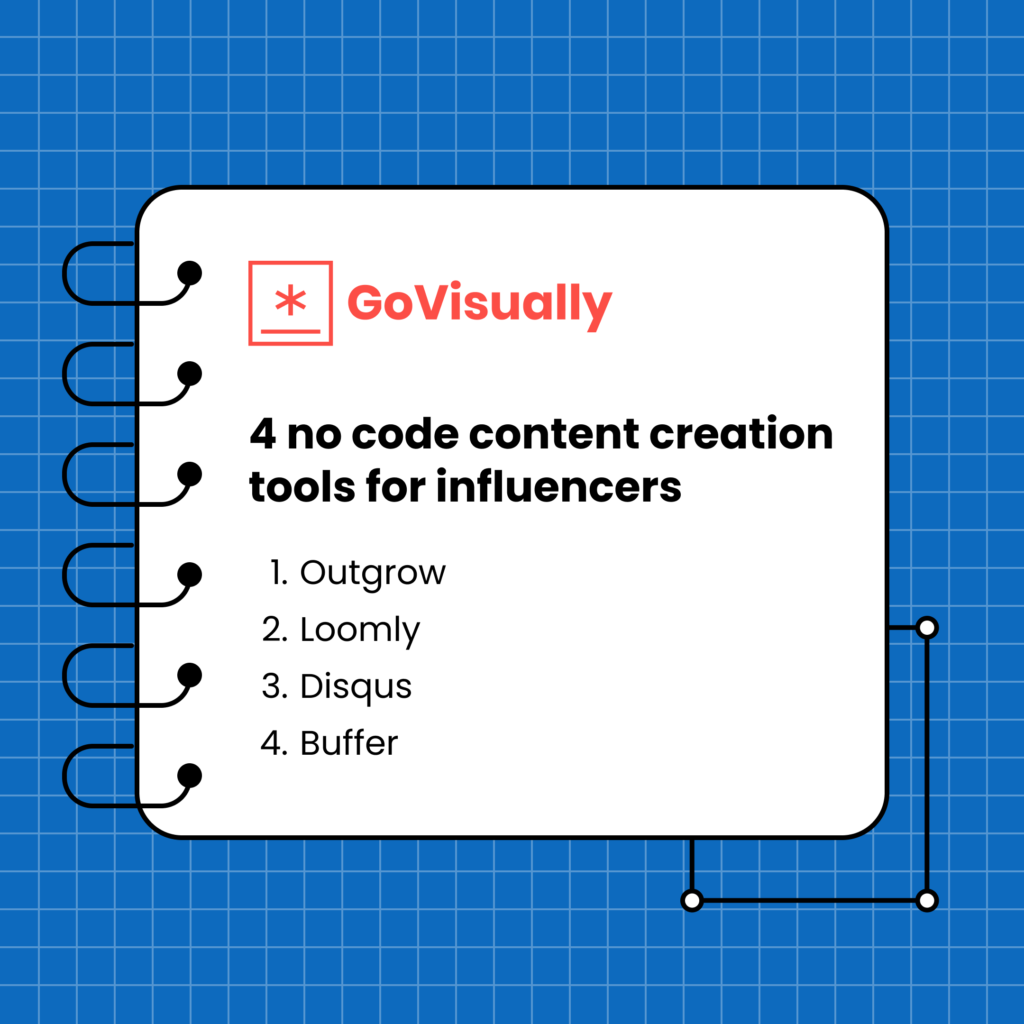 Want qualified leads in your inbox?
Use Outgrow's simple, no-code tools to get that!
Looking for an amazing social media calendar tool? Try Loom.ly.
Disqus is one of the internet's favorite comment plug-in. It makes it easy for publishers to bring their content to life.
Want to build an organic audience? Try Buffer today to get value-driven tools.
Automation
Try these top 7 no code automation tools to streamline your work processes today.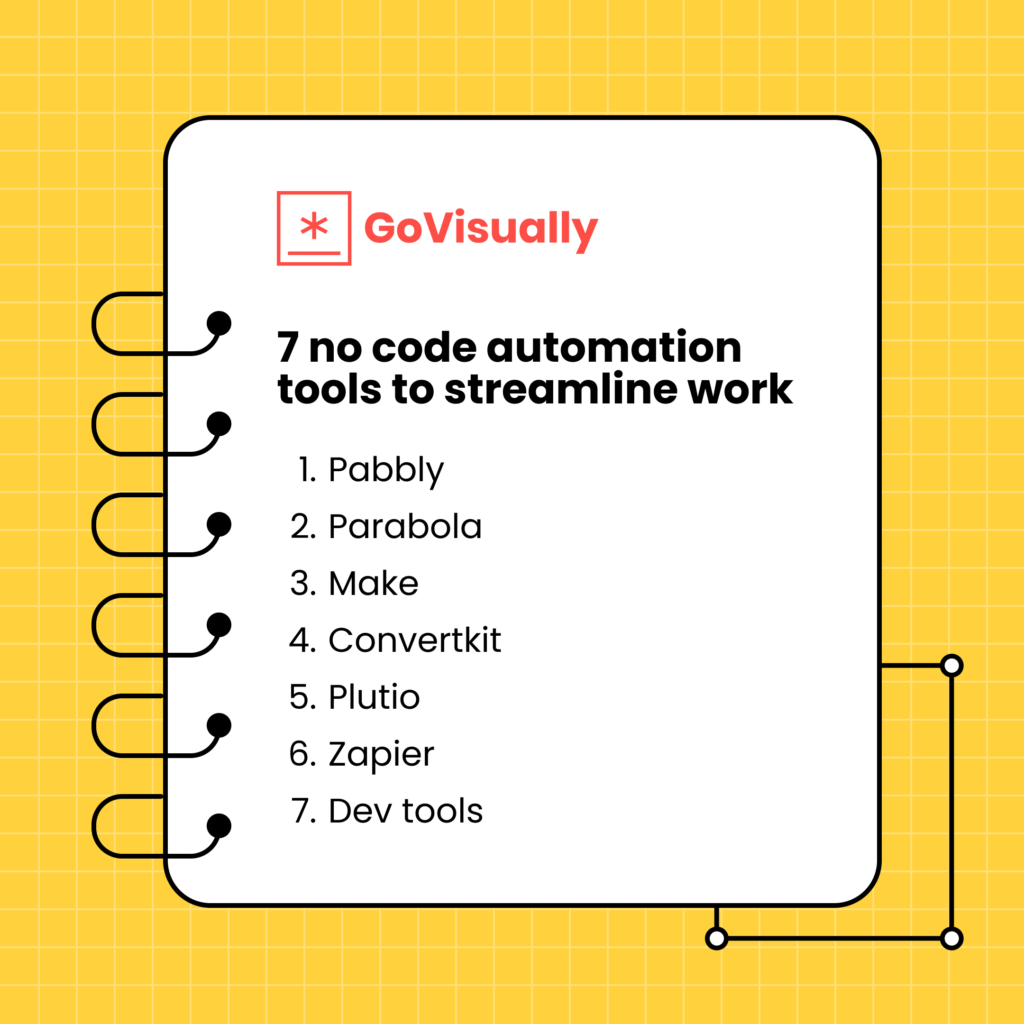 Want to get access to business-critical applications? Sign up for Pabbly to get hands on email marketing, billing and automation tools at a single price.
Don't get stuck in tedious manual processes. Try Parabola to automate, document and collaborate your operational processes.
Use Make to build and automate workflows, apps and systems.
Monetize your audience with ConvertKit today!
Plutio has everything you need to manage and collaborate on projects. You can easily share files, build forms, create proposals and get paid.
Zapier has 5000+ apps to help you automate your work processes across multiple apps and software.
Try Dev tools today to automate your workflow from one app.
Marketing
The world of marketing is ever-changing and growing. In 2023, we can expect to see more rapid changes in it. So, to keep up with the pace of digital marketing, use the following 9 no code apps.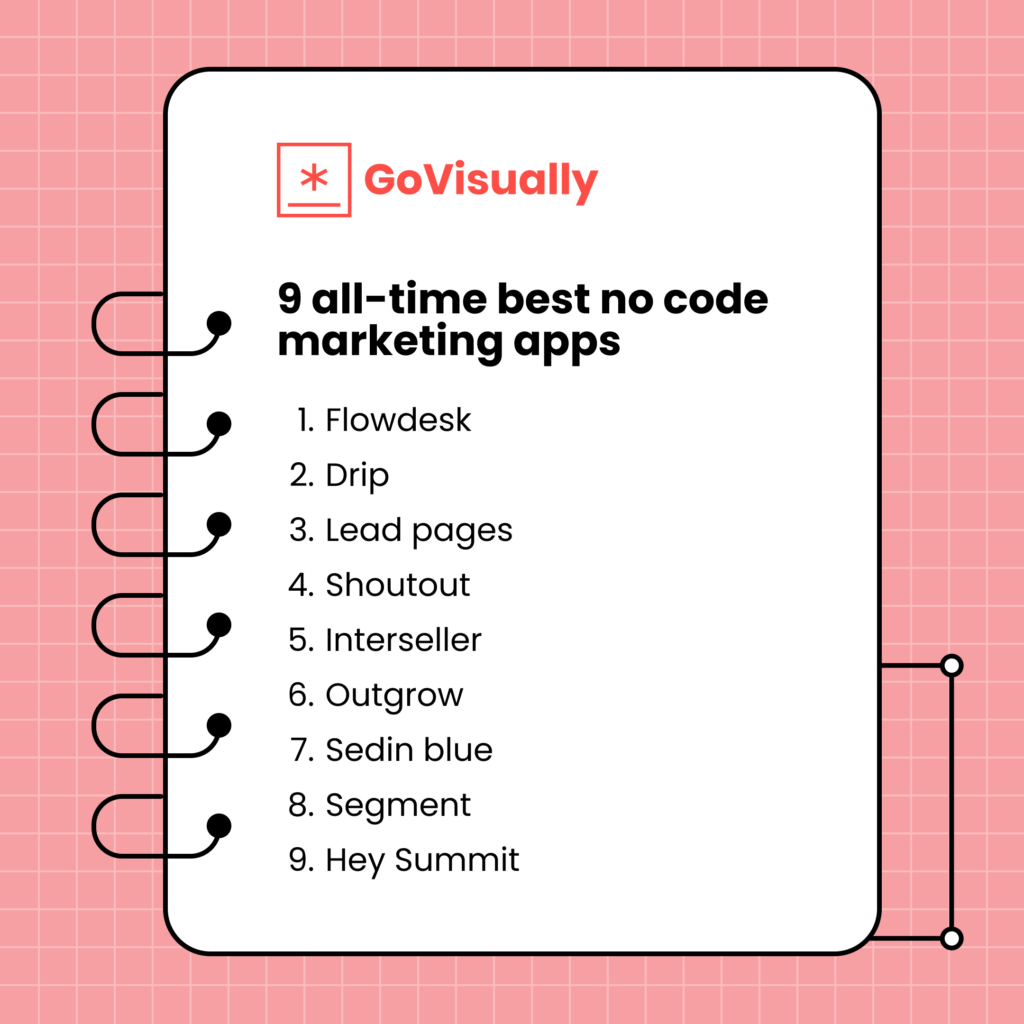 Flodesk is great for beginners and experts for email campaigns and checkout pages.
Want to use the power of emails to forge lasting client relationships? Try Drip today!
Shoutout is actually one of the leading marketing agencies you can employ to raise your conversations. There are also other branding and content agencies you can use services from.
Want to make contact with new signups? Try Intersellar for automated emails and tracking.
Outgrow the old methods of collecting leads and try Outgrow's simple, no-code tools to acquire qualified leads.
Looking for a reliable and intuitive platform for your growing businesses? Check out Sedinblue today!
Join Segment today to become a part of the community of 25,000+ businesses and activate your customer data.
Planning the next virtual event for your team or external clients? HeySummit can help pull off a banger!
Fonts
Fonts can make or break your brand's personality. And that is why you need the right typeface for your business.
Here are the top 4 no code apps you can use to select great typography styles for your company.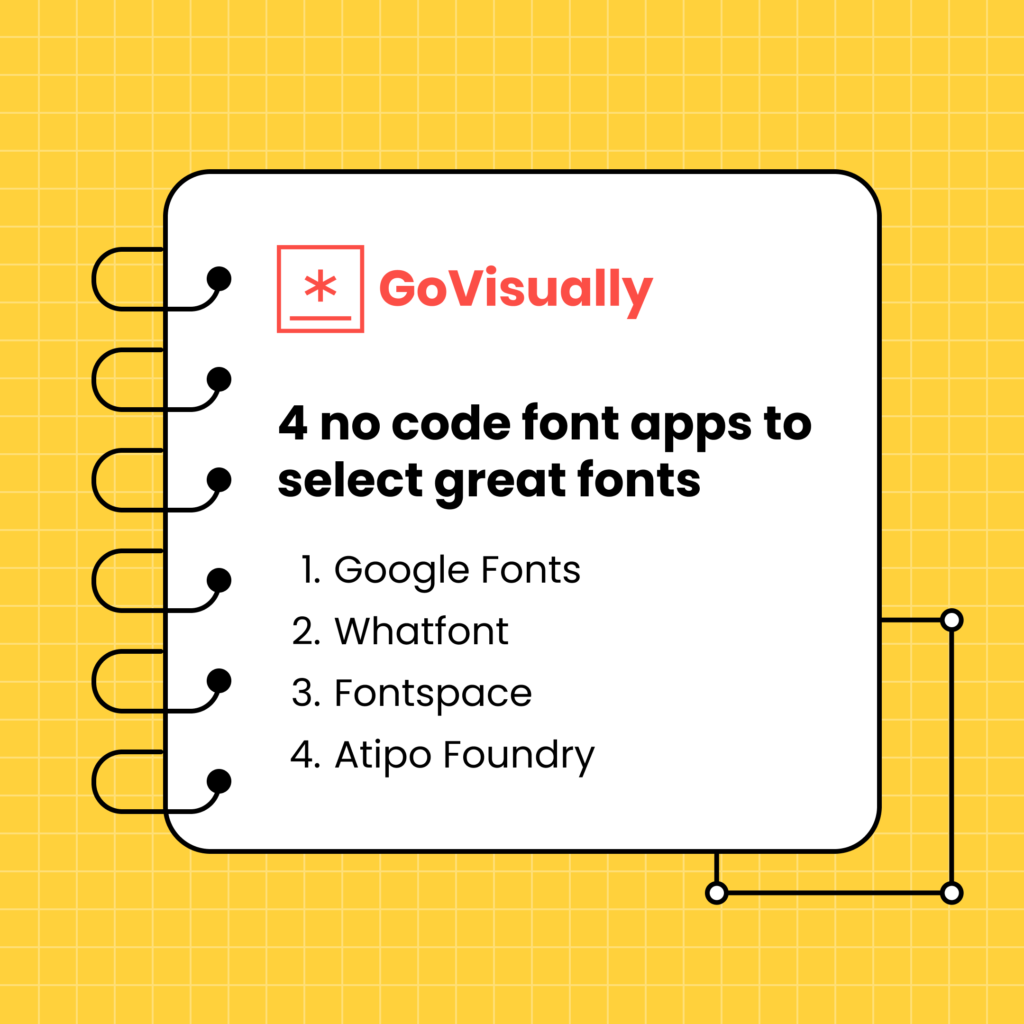 From material symbols to over 2,500 glyphs, you'll find all font families on Google Fonts.
Whatfont boasts a catalogue of 840K+ fonts for commercial and free personal use.
Download legally licensed fonts for free!
Looking for a more customized typeface for your work? Try Atipo foundry!
Payments
Smooth and easy payment processes are the backbone of any good business. But setting up a good payment gateway can become your personal hell if you don't do it right.
Well, not anymore.
With these 4 no code apps you can accept online payments without any hassle.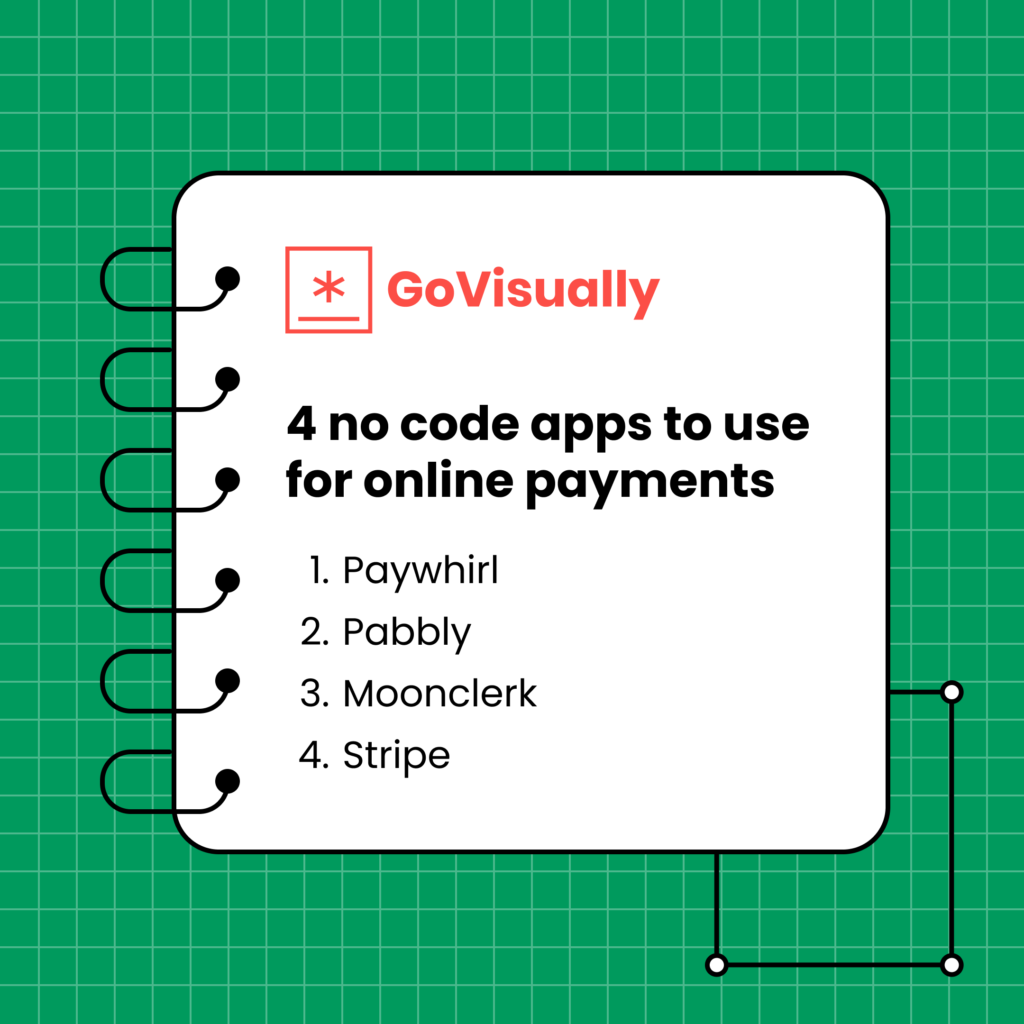 PayWhirl provides powerful tools that assist in handling your recurring billing and payment plans.
Use Pabbly to access business-critical applications like billing, automation, campaigns, and many other enhanced features at just one price.
Want an easy and quick set up to accept recurring and one time online payments? Set up Moonclerk!
Millions of businesses of all sizes around the globe trust Stripe. Become a user today and access all the solutions it offers.
Presentations
Are you a crazy PowerPoint or Google Slides user?
Well, so am I!
But creating great presentations can take up a lot of time and energy. With the following 5 apps, you can do it for free and much more quickly.
Let's review these!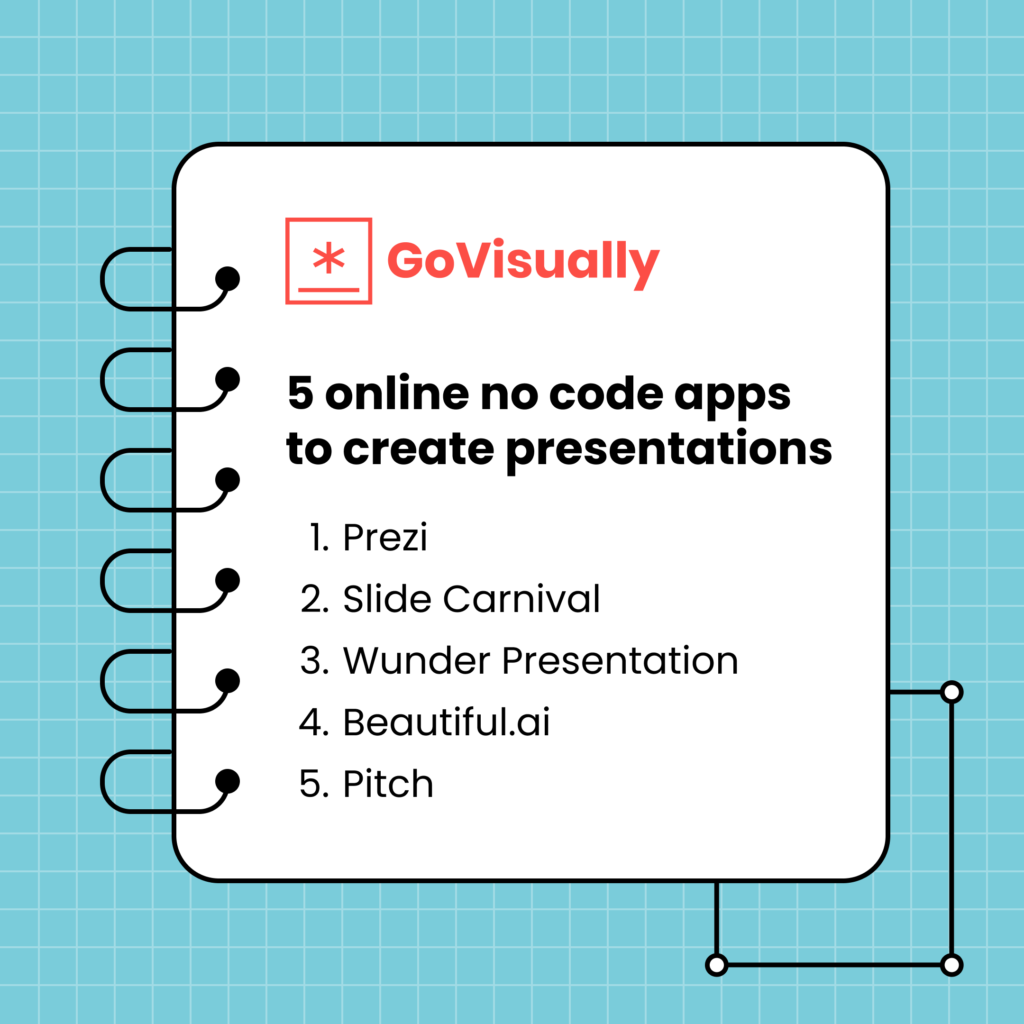 Prezi is one of the leading apps for customized presentations.
Want to access free PPT templates & Google Slides themes for your presentations? Try Slide Carnival for free and unlimited downloads.
Don't have time to create a great presentation? No worries!
Wunderpresentation automatically converts your text into beautiful and interactive presentation slides.
Want an expert deck designer that saves you hours on creating pitches? Meet Beautiful.ai.
Combine the power of productivity and design with Pitch.
Learning and resources
Learning and resourceful apps are a part of any great business. You need these apps to have easy access to growth options.
So here is our pick of the top 9 no code apps you should be using as extra business resources or for learning purposes.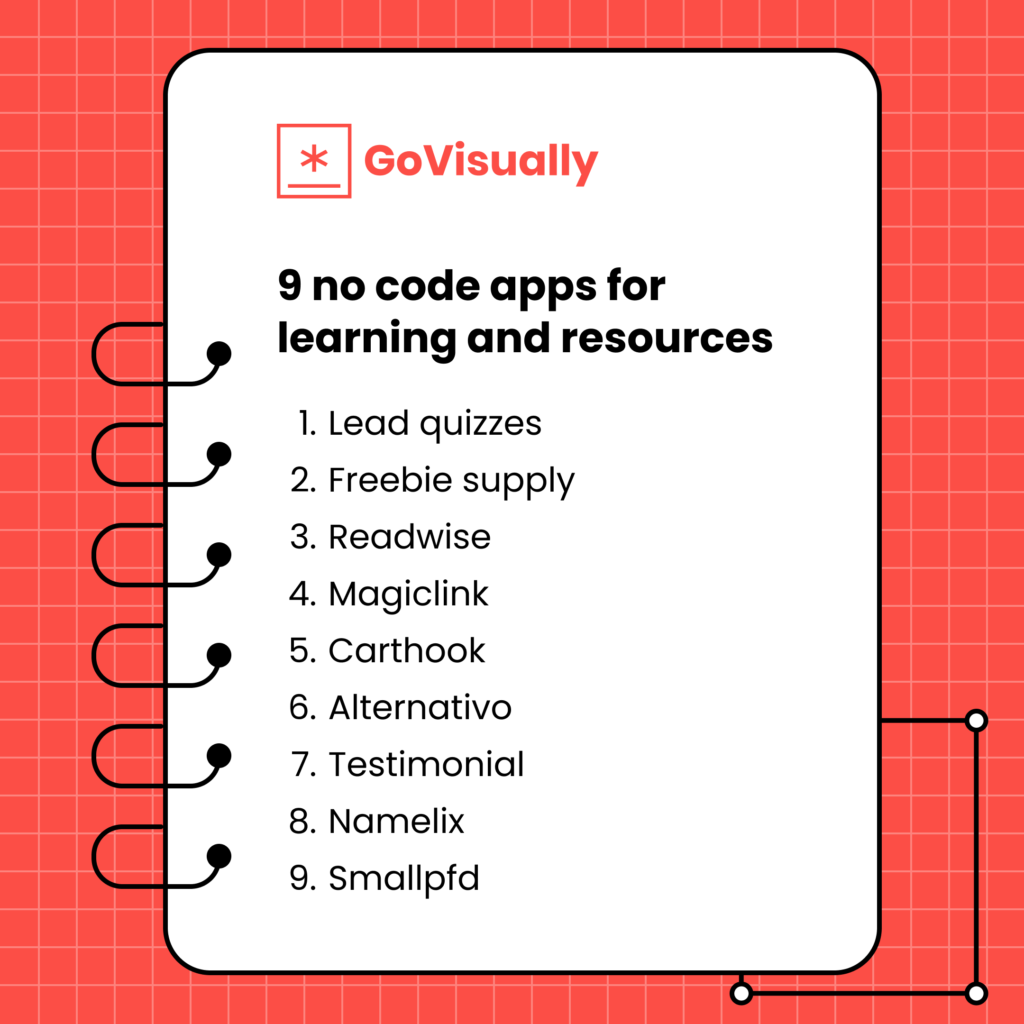 Create engaging quizzes to know your audience more and better with LeadQuizzes.
Freebie supply literally supplies you with the freshest design resources for Adobe XD, Figma, Sketch, Photoshop and Adobe Illustrator.
Get the most out of what you read with Readwise by marking and highlighting your favorite parts from eBooks and articles.
Magic link provides the most optimized experience of the internet with tools to explore the internet freely.
Carthook helps you set up your retail store properly and without any difficulty.
Looking for an alternative to an app or software? Try Alternativo.
We understand how hard collecting testimonials can be. That is where Testimonial can help get you testimonies from your precious clients and customers in minutes.
Can't decide a name for your business? Try Namelix.
Smallpdf allows you to compress, covert and e-sign your PDFs easily. They also offer a free 7 day trial.
Writing
With ChatGPT making rounds on social media and Twitter, 2023 will be crazy for content writers.
Or is it?
One thing is a fact; AI can not replace genuine value-driven content. However, it can help you create and distribute that content effectively.
So here are the top 10 no code websites and tools you can use to write, polish and distribute your content.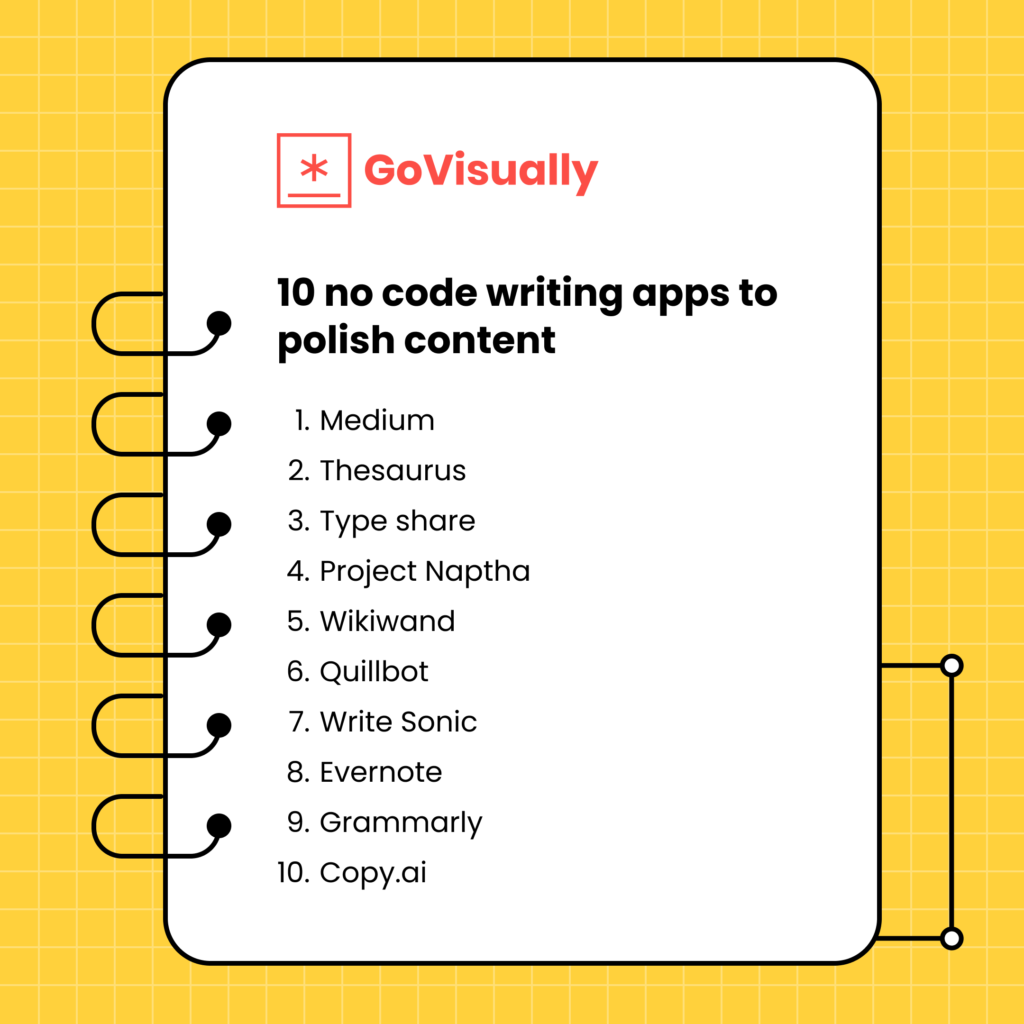 Medium is the leading online platform for expert advise, thinkers and stories!
Want to build your vocabulary with new words, definitions, and origin stories? Sign up for the online Thesaurus.
Typesshare has hundreds of free templates to create content and track its performance.
Project Naptha automatically applies state-of-the-art computer vision algorithms on every image you see while browsing the web.
Use Wikiwand for an optimized reading experience on your mobile phones.
You can use Quillbot to help you paraphrase content better.
Create SEO-optimized and plagiarism-free content for your blogs, ads, emails, and website with Write Sonic.
Take note of everything in Evernote.
Use Grammarly for clear and mistake-free writing.
Want to create content faster and better? Try Copy.ai.
CRM
CRM, or customer relationship management, is integral to the success of any business. Try these top 5 no code CRM software in 2023.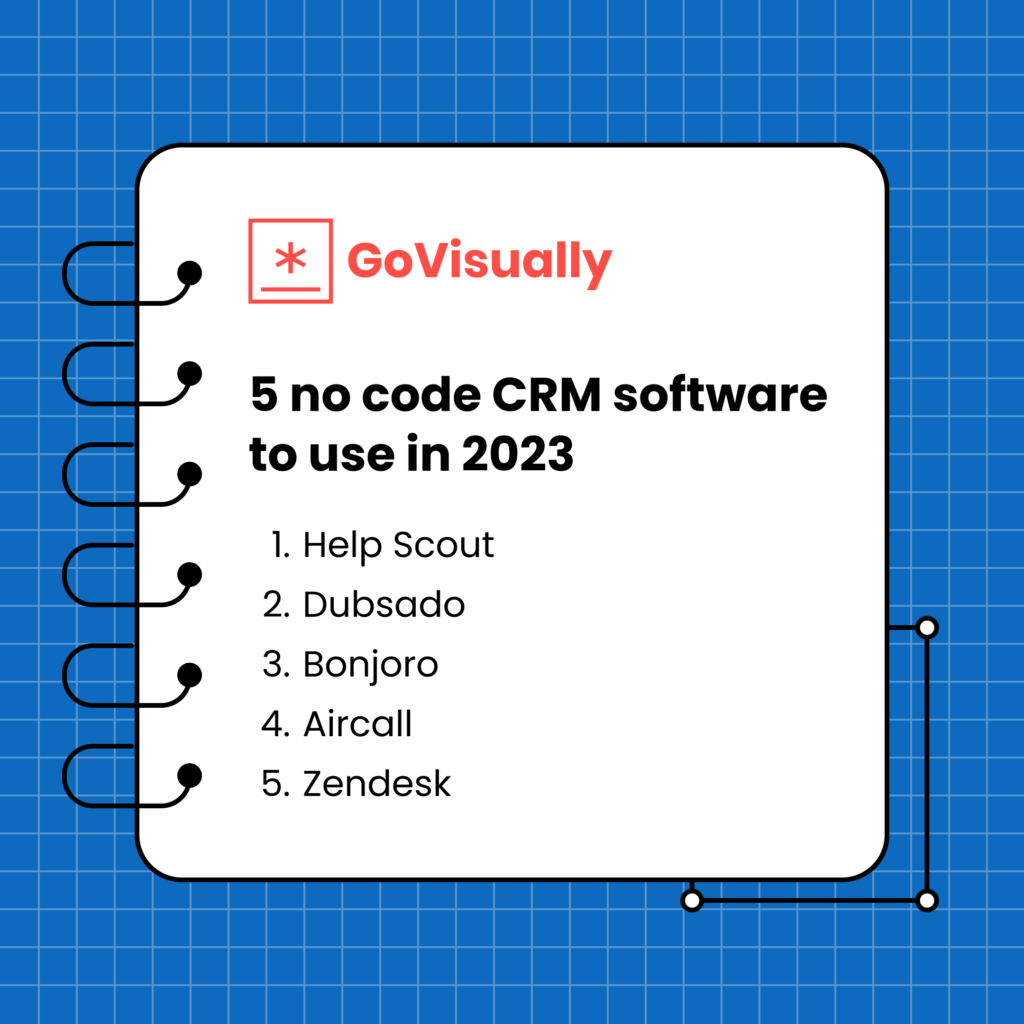 Manage all your customer conversations with Help Scout.
Dubsado is an all-in-one system that streamlines the necessary CRM tasks for business owners.
Send quick, targeted, and personal videos to your new leads and customers with Bonjoro.
Looking for an IT-approved cloud call centre for your sales team? Try Aircall.
Zendesk is one of the leading CRM software to set up your team for success.
Illustrations and Vectors
Who doesn't like catching and captivating illustrations for their design work?
Check out the 13 apps and tools you can use to get your hands on amazing vectors, illustrations and graphics.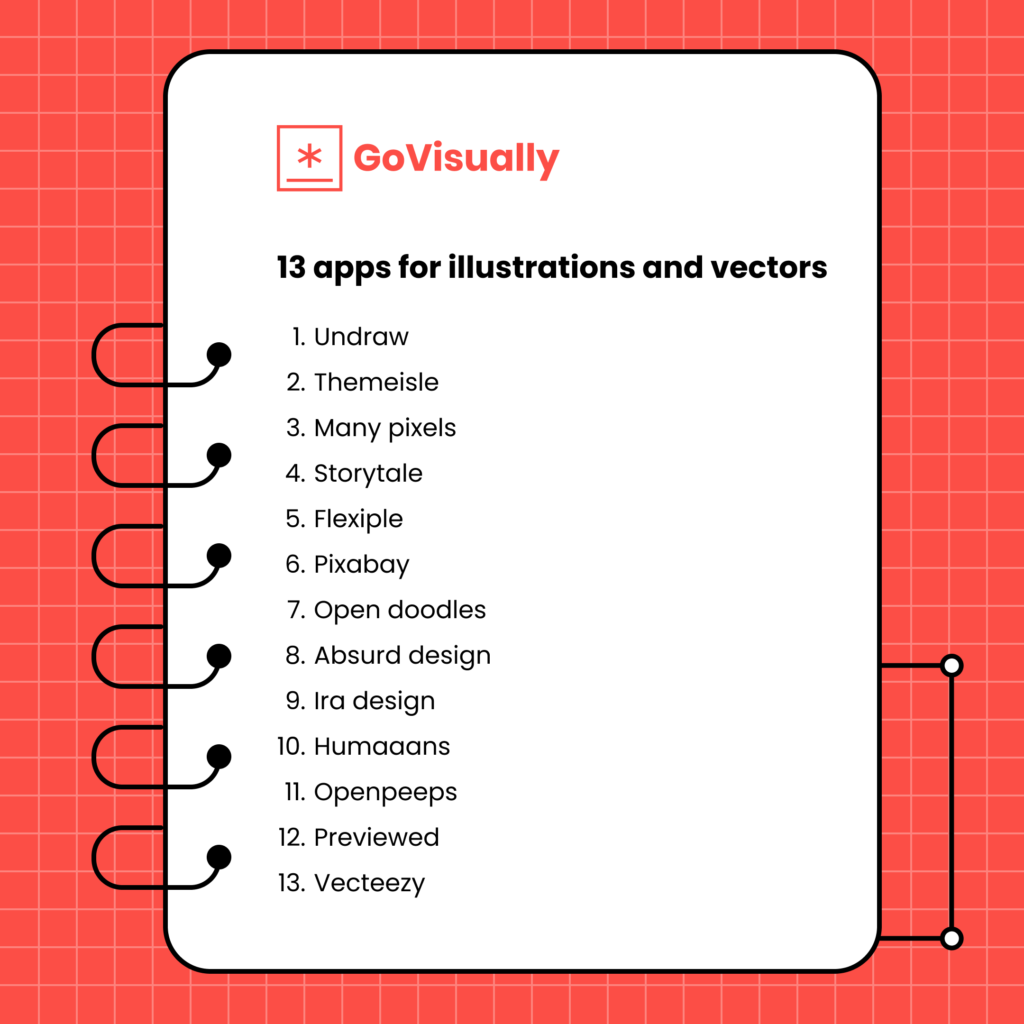 Undraw has it all – well-designed colors, vectors, graphics, illustrations, and everything you need to create meaningful digital experiences.
Themeisle makes it easy for anyone worldwide to launch and grow their online presence with amazing vectors.
Sign up on Manypixels and discover new illustrations every week.
Tell a visually appealing story with the help of the visual content from Storytale.
Flexiple has a great network of freelance designers and developers who have amazing work.
Pixabay has an amazing library of over 2.7 million+ high-quality stock images, videos and music.
Open Doodles is a set of free illustrations that embraces the idea of Open Design.
Looking for absurd illustrations for your crazy ideas and our box projects? Try Absurd design.
Build amazing illustrations using the awesome gradients and hand-drawn sketch components available on Iradesign.
You can use Openpeeps in product illustration, marketing imagery, comics, product states, user flows, personas, storyboarding, and even invitations.
Mix-&-match illustrations of people with an amazing design library.
Want a simple way to create device mockups? Try Previewed.
If you want to download free vector art, stock photos & videos, sign up for Vecteezy today.
Community and communication
Community management is essential. But it's also hard, especially if your team works remotely or on hybrid work models. You need effective community building and communication apps to keep the rhythm going across the company.
So here are the top 9 apps you can use for team communication in 2023.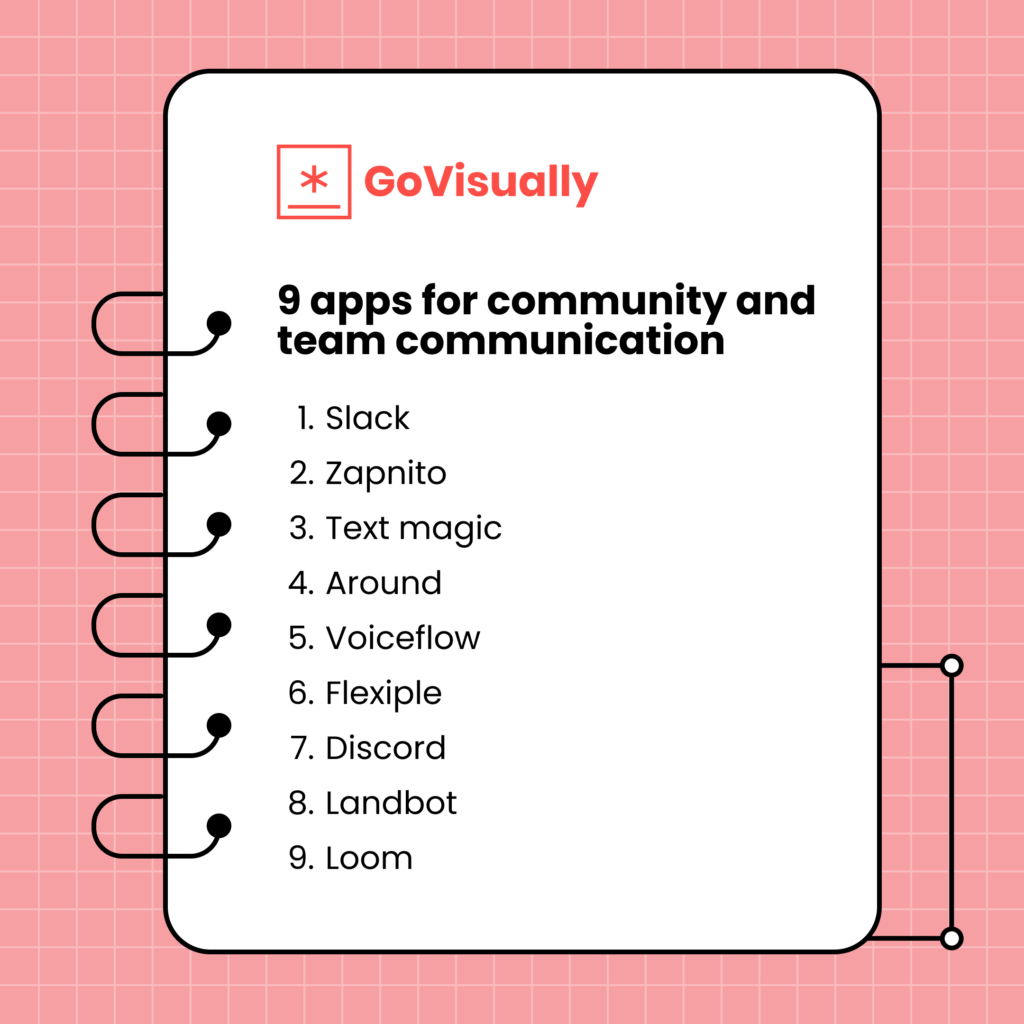 With all your people, tools and communication in one place, you can work faster and more flexibly than ever before.
Zapnito is a community software platform built to showcase expertise. Build your own branded community and engage the people who really matter to your business.
Transform customer experiences with our easy-to-use text messaging marketing software. Send notifications, alerts, reminders, confirmations, and SMS marketing campaigns anytime, anywhere.
Communication activities, public communication and cultural marketing are among the strong points and defining features of Around Culture's experience.
Conversational AI product teams use Voiceflow to design, test, and ship chat and voice assistants- together, faster, at scale.
Flexiple is a network of top freelance developers and designers with hourly rates ranging from $30 to $100. Join 100+ teams who have hired talent from Flexiple for a few weeks to a few years!
Imagine a place where you can belong to a school club, a gaming group, or a worldwide art community. Where just you and a handful of friends can spend time together. A place that makes it easy to talk every day and hang out more often.
The Most Powerful no-Code Chatbot Builder. Grow your revenue, cut operational costs, and delight your customers.
Record quick videos to update your team and cut down meetings by 29%.
Forms
If you want to create great forms to test your audience, know them better or gather data, try one of the following no code apps.
Chilipepper is built to look great in Notion. Embed easily on any page — public or private.
We believe the right form makes all the difference. Go from busywork to less work with powerful forms that use conditional logic, accept payments, generate reports, and automate workflows.
Websites and website builders
Creating a website used to be such an Achilles heel for business owners and solopreneurs. But now, it's as easy as squeezing a lemon.
Of course, you'd need to learn a few basics to do it but with the help of the following 16 apps, you can sure as hell do it on your own.
We track design trends so websites created on Tilda look current.
More than 3,500,000 designers use Webflow and teams to create, collaborate on, and scale beautiful websites in a completely visual canvas — no coding needed.
Increase sales, trust and credibility. Fomo is a simple, automated social proof solution for businesses like yours
Discover the platform that gives you the freedom to create, design, manage and develop your web presence exactly the way you want.
Build high-performance landing pages, websites and storefronts designed to convert browsers into buyers. No code required.
42% of the web is built on WordPress. More bloggers, small businesses, and Fortune 500 companies use WordPress than all other options combined. Join the millions of people that call WordPress.com home.
With Typedream, you can build web pages, customize them, and even connect your existing database without code.
Experience a seamless design process from concept to production with responsive CSS powered by smooth drag & drop.
Quickly create insanely fast, mobile optimized AMP landing pages without any code using Swipe Pages, the landing page builder for ROI driven marketers.
Potion adds the magic, generating a speedy site with custom domains, styles and great SEO.
the fastest way for startups to go live, design and publish a beautiful website in no time.
Power your vision with Elementor to build, manage and host stunning websites!
We've got you covered from A-to-Z with the #1 website platform for WordPress.
Create a website in less than a minute that's easy to manage and looks great, with instant page loads, SEO optimization, and no-code. All your content stays in Notion so you can focus on creating while Super handles the rest.
A complete set of advanced features to build and manage your website with Ucraft.
Everyone has unique needs for their website, so there's one way to know if Squarespace is right for you: try it!
Focus and Productivity
Staying focused is a great accomplishment on its own. With so many distractions surrounding us, it's almost inevitable to lose focus while working.
Download one of these 3 apps to improve your focus.
Stay focused help you track and restrict your mobile usage
The Pomodoro Technique is a time management method that can be used for any task. For many people, time is an enemy. The anxiety triggered by "the ticking clock", especially when it involves a deadline, leads to ineffective work and study habits, leading to procrastination.
Connected to your business data. Delightful to share.
Rows is how teams work with numbers and share their results.
Colors
I love colors!
They are so much more than just simple hues – especially for a brand that wants to become memorable.
Colors define your brand personality and play a significant part in brand activation.
So use one of these 4 apps to select a captivating color pallet for your business.
Explore beautiful gradients for your projects or create your own gradient with the gradient maker.
Are you unsure what colors to use in your designs or where to use them? Happy Hues is a color palette inspiration site that acts as a real world example as to how the colors could be used in your design projects.
ColorZilla for Google Chrome is an extension that assists web developers and graphic designers with color related tasks – both basic and advanced.
Our deep integrations with today's most popular and trusted tools like Chrome, Adobe XD, Figma, Opera, Microsoft Edge, and Sketch tie in seamlessly to your existing workflow within a scalable online color app.
Invoicing
Invoicing doesn't have to be hard with these 2 amazing and super easy online tools.
Invoice Generator lets you instantly make invoices with our attractive template straight from your web browser. Your invoices can be sent and paid online or downloaded as a PDF.
Invoicely comes with a fully-featured suite of invoicing and accounting tools for your business. Take the tour to see why you'll love it as much as we do.
File sharing
Share your digital assets and files easily with these 2 no code apps.
Digital Pigeon helps creative people deliver their work beautifully and quickly.
Drive collaboration, boost productivity, and experience the power of open source with Bitwarden, the easiest way to secure all your passwords and sensitive information.
App Builder
Do you have a breakthrough idea for an app? Don't want to break your bank trying to build it?
No sweat!
Try one of these 8 no code apps to build your own app in 2023.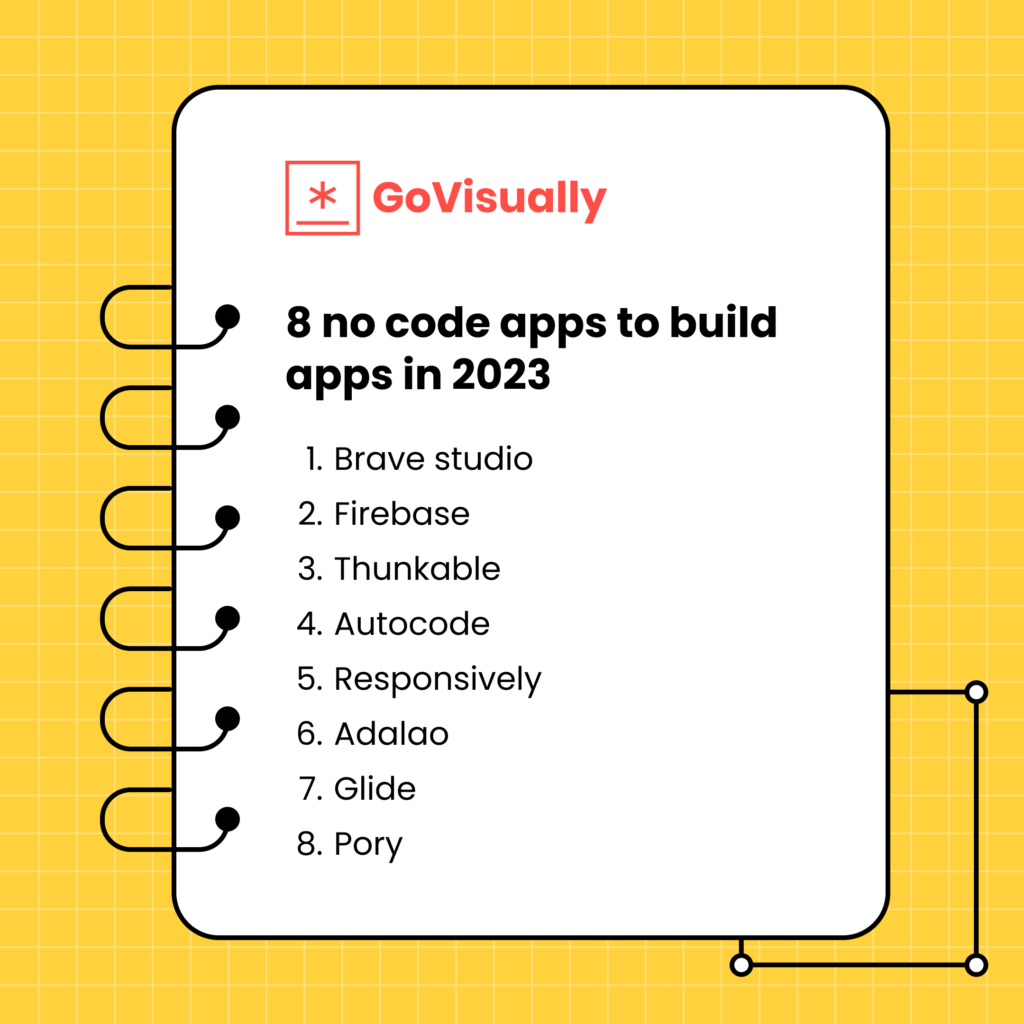 Make, manage and maintain fully native mobile apps for iOS and Android. Develop fast, iterate fast, adapt forever.
Firebase is an app development platform that helps you build and grow apps and games users love. Backed by Google and trusted by millions of businesses around the world.
Join the millions of creators turning their ideas into apps with Thunkable. Get started today with your no code mobile app development.
Build and host Node.js endpoints in seconds. Connect to your favorite APIs like Airtable, Discord, Notion, Slack, Webflow and more.
A must-have DevTool for all Front-End developers that will make your job easier.
Adalo enables creatives, business owners, and founders to create custom web & mobile applications without code. What will you build?
Glide lets anyone in your company create powerful custom tools to move your business forward. Stop waiting on IT and create your app today.
The ultimate no-code platform for completing projects 10x faster and at a fraction of the cost.
Analytics
Data is essentially nothing on its own without proper analysis. This is why you need great analytics tools to make sense of your data.
If you're looking for such an app, try one of these 5 no code apps to track analytics in 2023.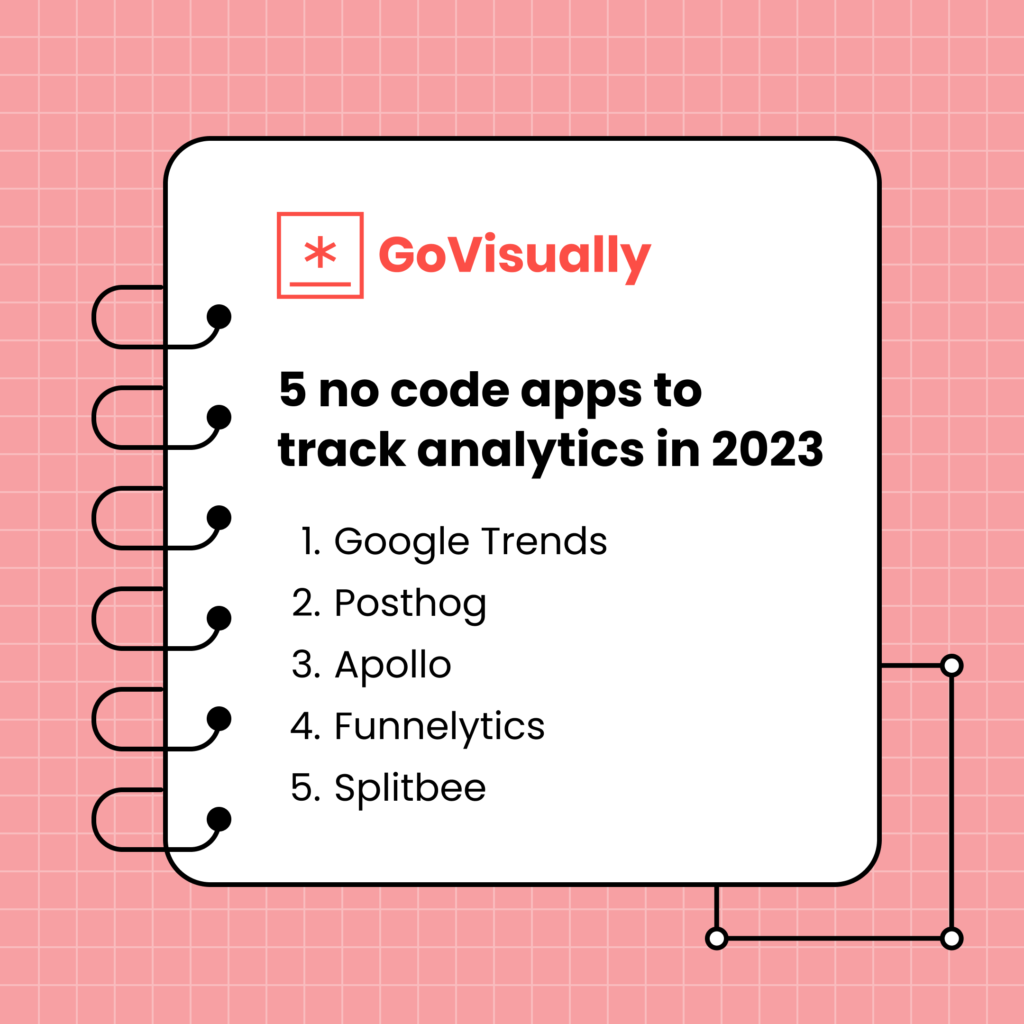 The Google News Initiative is our effort to work with the news industry to help journalism thrive in the digital age.
A suite of product and data tools. Built on the modern data stack.
Apollo empowers organizations to increase their ROI from digital analytics, making analytics management easy.
Combine strategy and data to visualize where people come from, how they navigate your website and which paths lead to conversions.
Track and optimize your online business with Splitbee.
Video
Create and deliver amazing video content with the following top 3 software.
Harness the power of toons to bring your message to life, making your viewers say "Got it!" with a little extra POW!
Create engaging videos without the long lead times, expense or even "producing". Find out why 65% of the Fortune 500 use Vyond to accelerate business outcomes. Get started today, like a pro.
Change the speed of a video. Increase or decrease a video's speed. Online, free.
Social media
Want to become the rising star of social media? Or do you want to leverage great social media to advance your brand goals or personal ambitions?
Whatever the case, the following selection of 9 social media apps and tools can surely help you win the space.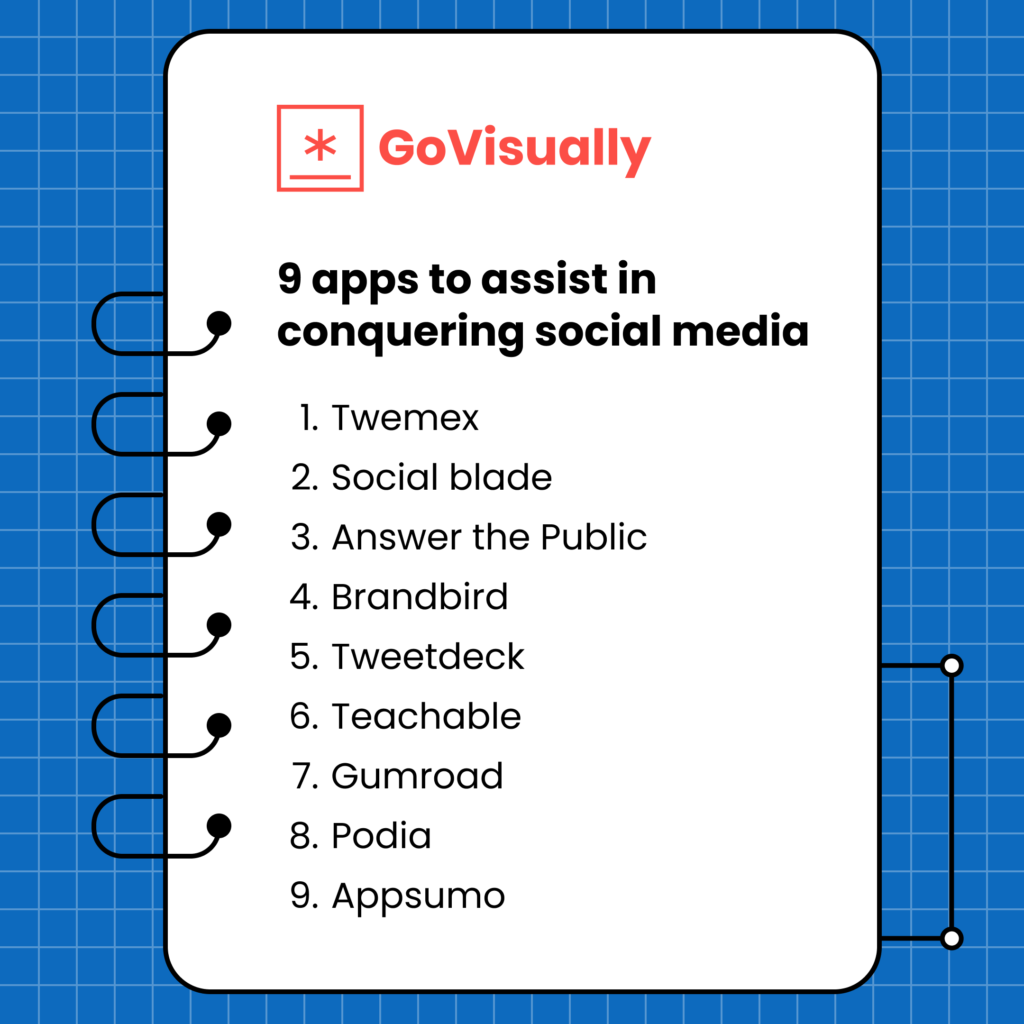 Twemex is a browser extension for Twitter that automatically surfaces the most interesting ideas. It helps you spend less time mindlessly scrolling, and more time developing your thoughts.
Social Blade tracks user statistics for YouTube, Twitch, Instagram, and Twitter! Get a deeper understanding of user growth and trends by utilizing Social Blade
With Your Content And Our Search Listening Tool, It's Easy To Grow Your Business
BrandBird turns your screenshots into captivating graphics aligned with your branding to help you boost your social media reach & engagement!
The most powerful Twitter tool for real-time tracking, organizing, and engagement. Reach your audiences and discover the best of Twitter.
Transform your knowledge into a thriving business with the best online course platform for creators everywhere.
With Gumroad, anyone can earn their first dollar online. Start with what you know, see what sticks, and get paid. It's that easy.
Thousands of people like you use Podia to build websites, sell courses and digital products, and host communities. Podia is free. And when you grow, it has all the tools you'll need along the way.
AppSumo is all about making entrepreneurship accessible to everyone.
Domains
A domain is your business' identity. Pick your own identity today with one of these apps to purchase and manage your domain.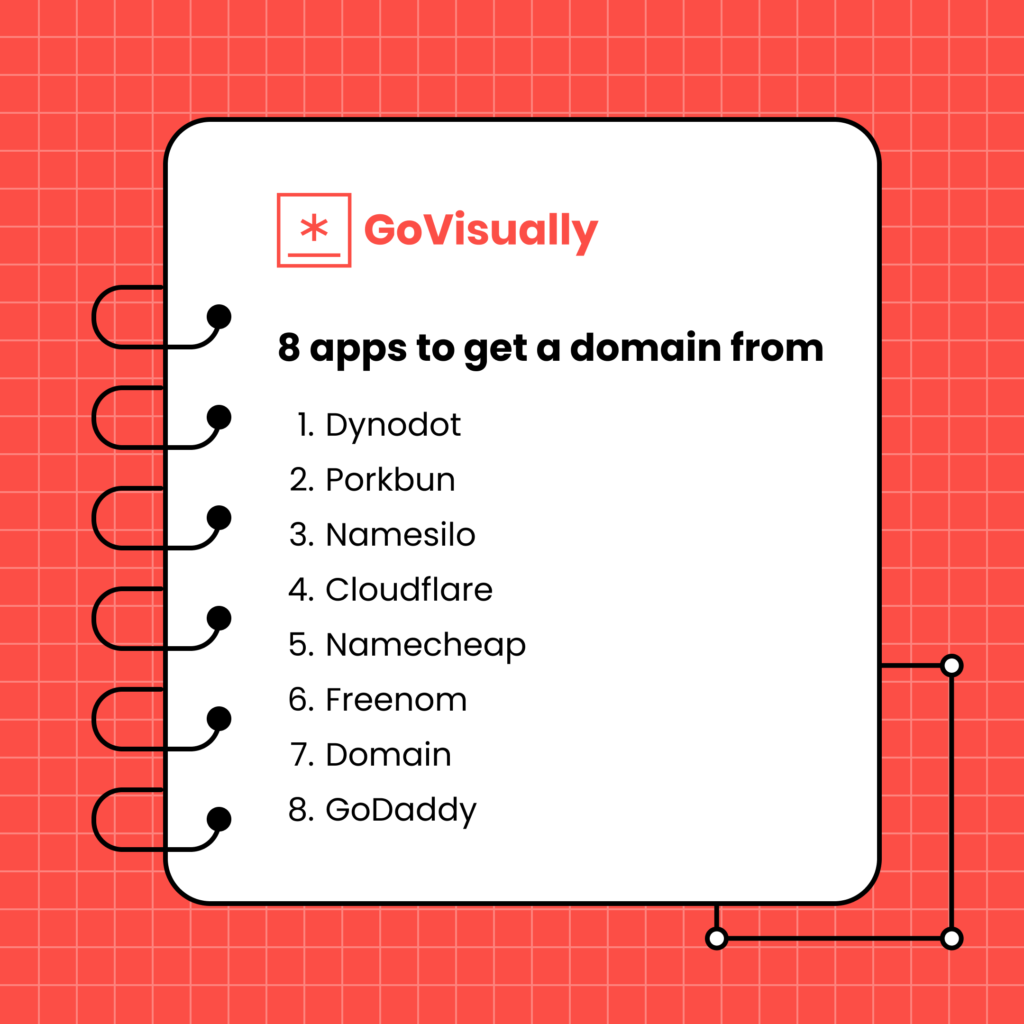 Our application program interface provides you with the tools to build and use your own software and servers to search for domains, register domains, and more. Dynadot's API is available to all accounts, so select one of our API options that's right for you and get started today!
Porkbun is an amazingly awesome ICANN accredited domain name registrar based out of the Pacific Northwest. We're different, we're easy, and we're affordable. Use us, you won't be sorry. If you don't use us we'll be sad, but we'll still love you.
Hosting, Email and SSL solutions are available to set up your online presence under one roof.
Cloudflare is a global network designed to make everything you connect to the Internet secure, private, fast, and reliable.
Why Namecheap? Simple — it's all about you
Freenom is the world's first and only free domain provider.
You've got the ideas, we've got the domains.
GoDaddy is the world's largest services platform for entrepreneurs around the globe. We're on a mission to empower our worldwide community of 20+ million customers — and entrepreneurs everywhere — by giving them all the help and tools they need to grow online.
Landing pages
Landing pages are the most effective in lead generation and audience capture. But it can take weeks to create an effective landing page if you do it manually or with a coder.
So if you want to speed up the process and create amazing landing pages faster, try one of the following apps.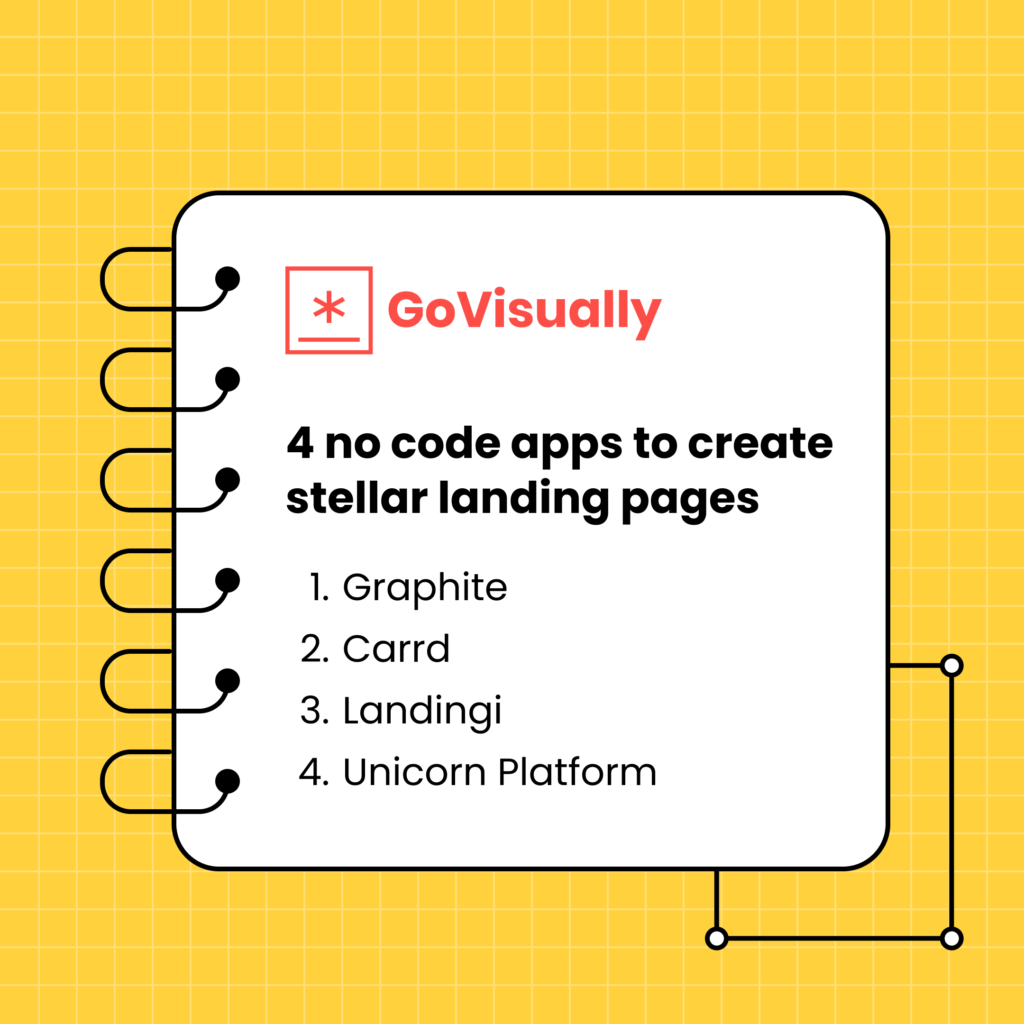 Use familiar graphic editor tools to create pixel-perfect Web Pages, not just mockups.
Simple, free, fully responsive one-page sites for pretty much anything.
Landingi's simple drag-and-drop page builder lets you quickly create, launch, and optimize unlimited campaigns to turn more traffic into revenue.
Unicorn Platform is a drag & drop website and blog builder for startups, mobile apps, and SaaS.
Notion
Notion has become an amazing app and deserves a category of its own. Gere are the 6 most useful Notion apps to help you create, disturbite and optimize content.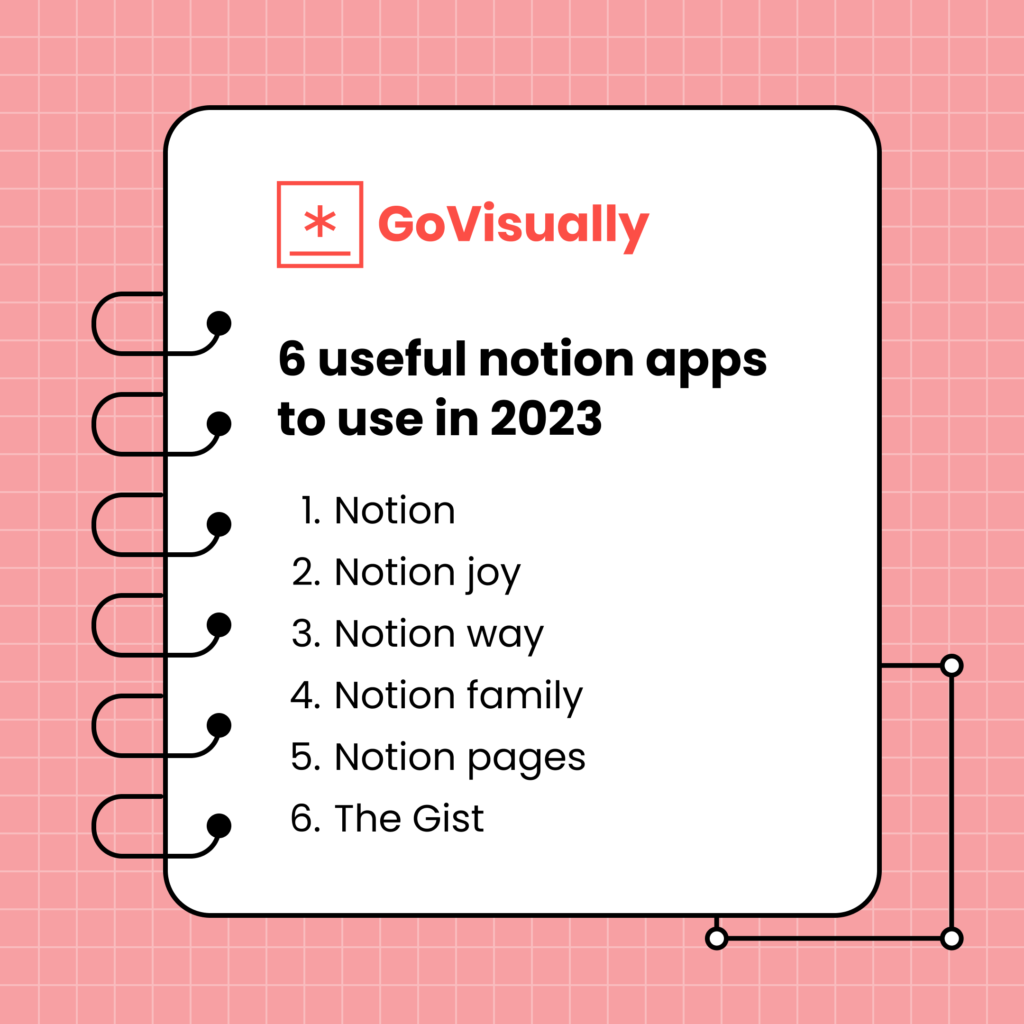 We're more than a doc. Or a table. Customize Notion to work the way you do.
Discover the best free and premium Notion templates and pages available on the market — made by top digital creators worldwide.
Unlock the way to maximize productivity. Become more productive and organized in your personal and business lives with Notion.
We help busy families organise their lives.
Discover new, productive Notion templates, and share your Notion setup with the world
The easiest way to automate your Notion workflows. Save money & time building your Notion automation.
Widgets
Looking to add widgets to your website or a landing page?
Try one of these online tools to help fasten the process.
Customizable widget for notion available.
Build better habits on the notion with our beautiful widgets
Butn is reinventing how cashflow works in the business with simple, secure and instant finance solutions for every business need.
Inspirations
Running out of creative fuel? Get instant inspiration from these amazing apps in 2023.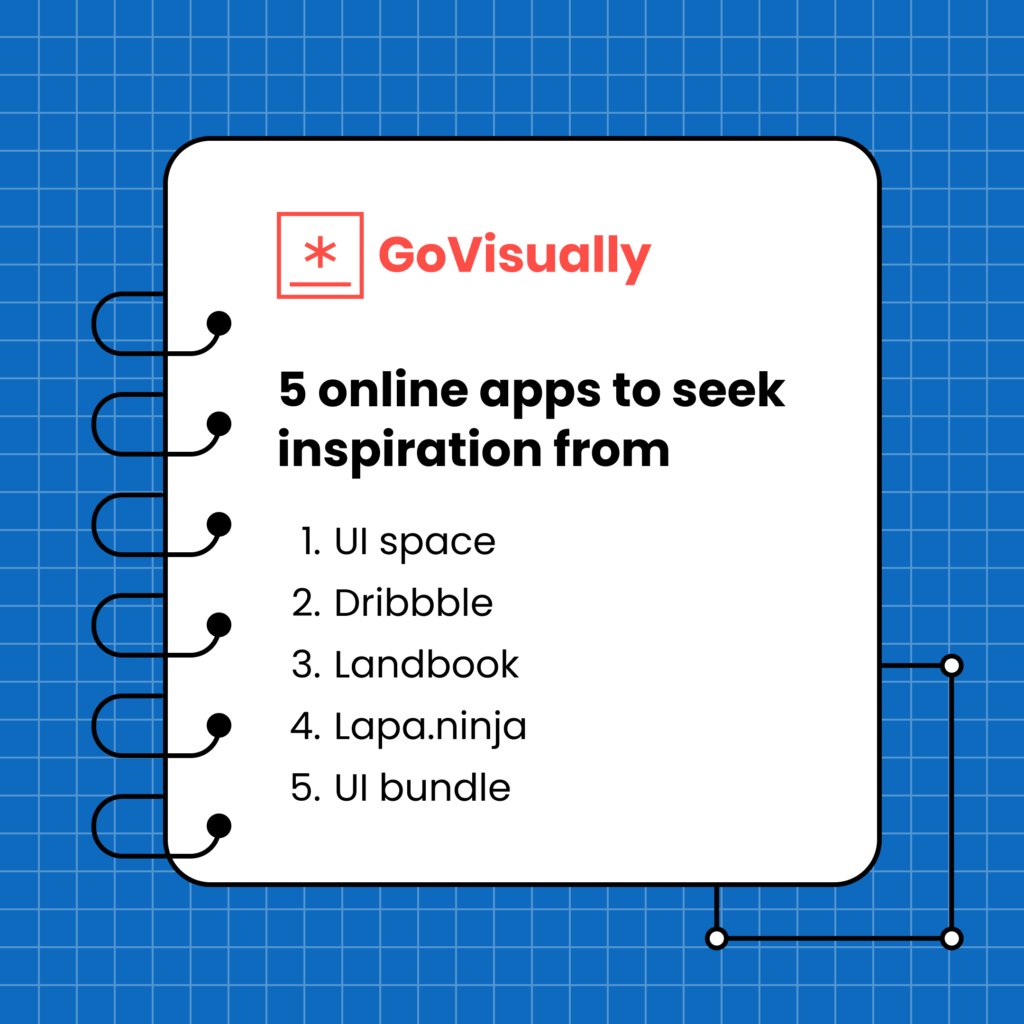 UI Space is completely free. Please support the project by disabling your ad-blocker. In case you still see the message and you don't have any ad-blocker, let me know at hello[at]uispace.net
Millions of designers and agencies around the world showcase their portfolio work on Dribbble – the home to the world's best design and creative professionals.
Lapa Ninja is a gallery featuring the best 5423 landing page examples, free books for designers and free UI kits from around the web.
Accelerate your projects with hundreds of ready-to-use resources made by 329 talented designers from around the world
SaaS launching platform
Are you launching your own SaaS platform? These 3 apps can help you create the perfect product.
Launching Next publishes the newest trending tech startups and projects.
BetaList is a community of makers and early adopters showcasing their startups and exchanging feedback.
GetApp helps you find and compare trusted software for your business.
Sign up for GoVisually – the #1 online review and approval tool!
And finally, the list can not be complete without our most favorite recommendation – GoVisually.
The #1 and only tool you'll need to review and approve creative assets.
Book a free demo today and learn all you need to do.
We hope you liked this list and that it does help you pick the right tools for your brand growth in 2023.