Speaking of following trending developers of GitHub, the thought that comes to your mind is looking out for their hot tools repositories.
That's because as a developer, you need to generate ideas for developing software and create, change or revamp further steps to initiate the process. 
So if you are clicking on GitHub often to find and fathom the repositories of popular developers, then hold your horses. We have made it easier for you by enlisting the most trending Github developers on a single page.
Let's start!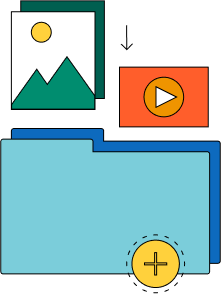 Need a quick way to share large files and creative assets?
With GoVisually Share, it's absolutely free! Try today.
What is GitHub?
For those of you who don't know, GitHub is an open, globally integrated platform for software developers and programmers to work collectively on several projects irrespective of their geographical location.
GitHub allows developers to collaborate and build software of any kind along with these things:
GitHub allows developers to create repositories of each project.

The repositories of projects saved on GitHub allow GitHub developers to track and make changes.

The developers of GitHub can create an alternative project to experiment by bringing in new changes or updating the existing ones to ensure the operating software's performance is not affected. 

The new changes or updates on the alternative project can be implemented on the existing software through the integrated system after getting approval from team members.

Every team member on GitHub has access to repositories to share new ideas.

GitHub allows team members to communicate about problems, ideas, updates, or changes.
Popular Developers of GitHub to Follow
Tom Payne is a Switzerland, Zurich-based GitHub developer currently trending as the number one amongst all the developers of GitHub. The software developer has over 1.1k followers on GitHub and contributed to over 2,550 contributions in 2020, along with a successful code contribution in one of the repos used in the Mars 2020 Helicopter Mission.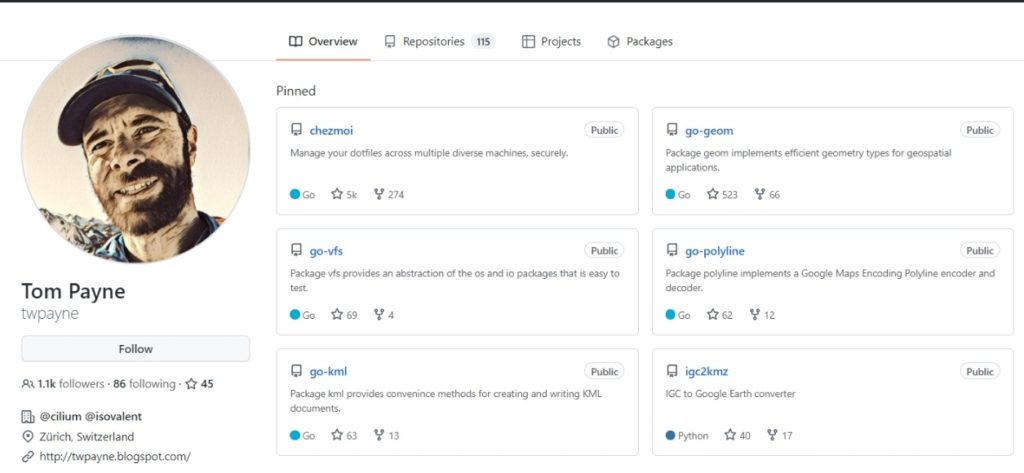 Moreover, Tom has also included his code in multiple repositories utilized in Arctic Code Vault software, a GitHub Archive Program to preserve the vital codes used in successful projects in history. 
Popular Repo: Chezmoi
Tom has created around 115 repositories on GitHub, out of which Chezmoi is the most successful one, along with six others like go-geom, go-vfs, go-kml.
2. Asim Aslam
Asim Aslam is a Muslim developer and technologist by trained GitHub with over 2,490 contributions in the last year. He has been trending on GitHub since he contributed and founded successful projects like Micro creation, known as The Open Source Public Cloud Platform. Moreover, the developer has over 1.7k followers on GitHub.

Popular Repo: Go Micro
Vadim Makeev is a multi-talented Russian developer out of all developers of GitHub. He is the founder of the @web-standards-ru community and an author of Shower Presentation Engine projects and hosting various podcasts. Vadim has over 1.7k followers on GitHub.

Popular Repo: fontsource
Jake Archibald is another trending developer on GitHub with over 8.6k followers and 900 contributions in various successful repositories. He has been integrated with leading businesses like Google open source. Jake has been the most rated out of all developers on GitHub. 

Popular Repo: svgomg
Shougo is the text editor and believes that the text editor is the world mantra. He has contributed to over 1700 successful projects during the last year and has been gaining attention ever since. He has around 4.3k followers on GitHub. So if you are looking for some great project repositories, you can check his profile on GitHub. 

Popular Repo: neovim
Jan has been passionate about his career since he swerved from a watchmaker to an incredible app developer. He climbed his app development career ladder by initiating with developing WindowsPhone. Moreover, Jan is the only Windows developer responsible for providing prompt utility service in terminals worldwide, which he merely created to fulfill his needs initially. The GitHub developer is thriving to become a GitHub star with currently over 7.8k stars earned on GitHub. 

Popular Repo: winget-pkgs
Sebastien Ros is a French software developer in  Bellevue, WA (US) and is an adventurous and passionate developer on GitHub. Sebastien's passion for coding can be understood by his code contributions to various open-source projects without getting paid to do so. Sebastien has been working with a leading firm Microsoft since 2010 and has been growing with experience ever since.
Currently, Sebastien is working on two significant projects like benchmarking ASP.NET Core and building distributed benchmarking services, along with being the community leader and contributing to helping enhance the features of the Orchard Core project. Sebastien is also known for contributing to Artic Vault Project 2020.

Popular Repo: zio
Carlos Alexandro Becker is a trending Brazil-based Site Reliability Engineer who lives in Cascavel with a passion for learning more. The app developer is known for his contributions to 2,947 projects in the last year, and he has thrived ever since. Carlos becker is currently managing his work remotely at TOTV, Labs, and in the meantime, he has been focusing on his hobbies and coding in various projects.
Moreover, Carlos is highly passionate about programming, and he is capable of programming anything like languages, distributed systems, containers, monitoring, and softwares. 

Popular Repo:
GoReleaser
GoReleaser is a great app developed by Carlos, and it is one of his trending repositories. The app aims to release Go Projects as fast as possible.
Final Word
It can become pretty confusing to choose the right inspiration out of all the developers on GitHub as developers. That's because you can find many app developers contributing to similar projects as you want to or may find some different projects intriguing to pursue.
In any case, we hope that you found our shortlisted 8 GitHub developers' profiles helpful. Do let us know which other profiles you'd like for us to feature next!