Looking for ways to ensure your creative team is on the same page and produces their best work? What you need is Creative Proofing Software.
Let's rewind here to understand why your creative team would excel better with creative proofing software.
Think of it this way – creative teams are constantly pressured to produce their best and deliver content. Sometimes, even with fewer resources available in the market. Most of the time, the clients are from around the globe, which means they all have different needs. Due to this, designers, illustrators, animators, or any creative team member may feel that the process is too overwhelming.
And this is where creative proofing software comes riding with a superhero cape!
Collecting all feedback and approval comments on one platform makes your workflow more efficient, accessible, and easily manageable.
So let's find the 10 best client proofing software tailored to creative teams!
What is creative proofing software?
A few decades ago, creative and marketing teams used more extensive and messy methods to prove their work. They had to use printed papers or long emails, which was exhausting and time-consuming. Creative proofing software lets you do the same but more advanced.
This software makes reviewing, proofing, and approval more accessible and less time-consuming. Your design process is compiled in a single platform, making it easier for your clients and team members to review and approve the creative content.
This kind of software provides you with a collaborative platform for your creative content and innovative tools to improve your work. You can edit, upload, share, and get reviews on your work on a single platform. 
Moreover, it is easier to communicate with clients and assign work to team members with creative proofing software. All this helps you improve your workflow and speed up the marketing process by providing various features.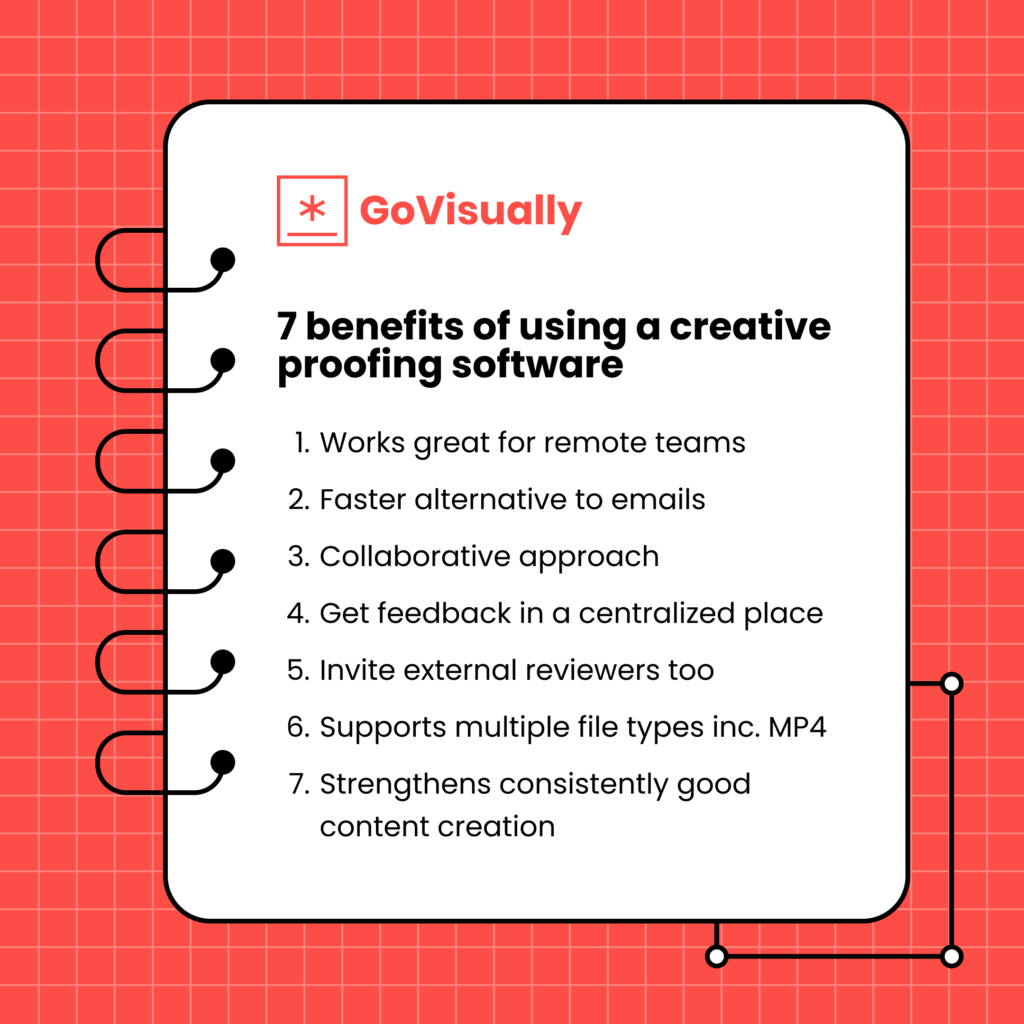 Top 10 creative proofing software to fuel your creative energy!
Now that you know why creative proofing software is a good option for you and your creative team let's walk you through the different proofing software.
1. GoVisually
GoVisually is the best creative proofing software.
That's because it has power-boosting features and can be integrated with 1000+ apps using Zapier. It simplifies the design approval process and makes it easier to stay on top of your work by capturing feedback in one place.
The best thing is that you do not have to work with the chaos of emails. That's because, with GoVisually, you can invite internal and external reviewers on one platform. You can set reminders and deadlines and download approved assets directly from the app.
GoVisually is an excellent option if you are looking for in-built proofing software. It requires minimum time investment and decreases the use of email as a means of communication. With just basic guidelines, anyone can easily use this software. It is ideal for Solo designers, creative and marketing teams, and design studios. They can easily upload their files, whether magazine pages, PDFs, or any other print material.
Main Features:
File sharing and unlimited data sharing.

User-friendly automation tools.

Send notifications to clients.

Video of any format can be shared.

Detailed audit trail.

Provide you with different controls.

Set deadlines and track status.
Pros:
Easy sign-up process.

Allows you to download original files.

Video reviewing with a timestamp.

Turn on private comments for your team.

You can upload file attachments in the comments.

Certain proofs can be restricted.

Annotation and comment on all types of files.
2. Review Studio
Established in 2006, Review Studio became a tool for creative proofing. Review Studio provides you with the means to collect and manage feedback on your content.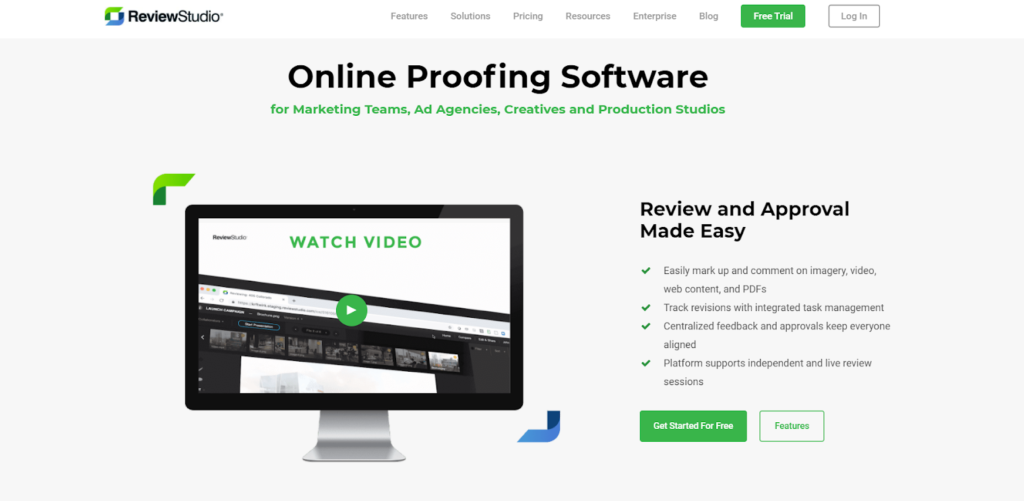 The software lets you track the status updates on your images, videos, web pages, and other document files. Production and creative studios, ad agencies, and marketing teams mainly use this software. It also provides companies with automation proofing tools.
This software lets you make side-by-side comparisons of your files. Your team can review the projects and help complete the task faster. It makes viewing, marketing, and approving videos and images more accessible. 
Main Features:
Let's share files.

Different control versions.

Deadline tracking.

Annotation on files.

Role-based permissions.
Pros:
Ability to make side-by-side comparisons.

Simple commenting method.

Have multiple reviews on a single channel window.

Quick and easy to upload a file and get links for reviews.

Keep the comments of clients on a single page.
Cons:
No option to review audio.

Comments are not in chronological order.

Difficult for new users to understand the software.

Recent updates slowed the website down.
3. GoProof
GoProof is another creative proofing software that lets you manage and organize your workflow.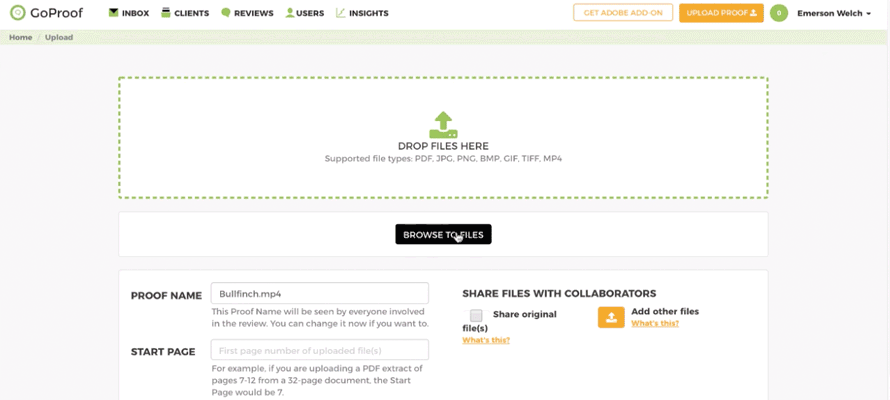 This software's automation removes the tardy task of exporting PDFs, MP4s, and images and creates tons of disconnected email trails whenever feedback is required. Creative teams can use the Adobe CC extension to upload their work for approval and feedback. This allows many externals to view, comment, and make automation on the file.
GoProof lets you access more than ten annotation tools and enables you to mention people in the comment section. This software is available as web-based, SaaS, Android, and Apple.
Main Features:
Multiple Workflow Options.

Android and iOS applications are available for mobile.

Customizable notification and 'sent from' domain available.

Different plug-in extensions.

PDFs, PNGs, JPGs, GIFs, TIFFs, BMPs, and MP4s can be used to upload files.
Pros:
Set deadlines for each draft and the option to notify the reviewer.

Easy integration between Adobe and GoProof software.

Option to establish permission for four paid users.

Easy to add a review and comment through the collaborators and history tab.
Cons:
Comment to unlock a change request.

It does not allow users to upload a new version of the draft.

The client has to email you the change instead of directly putting it on the website.
4. Approval Studio
Approval Studio is a great software to get proofing on your creative content.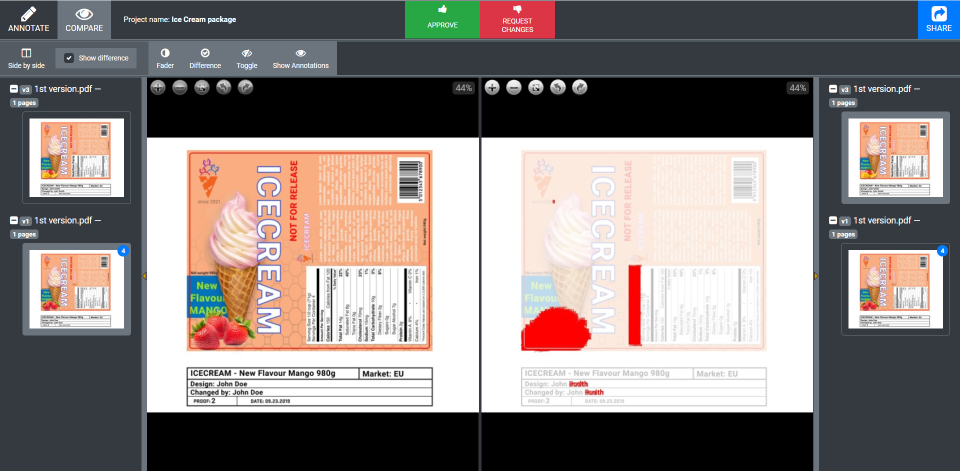 It is an excellent tool for teams who want to streamline their proofing process. That's because Approval Studio offers you features to automate the approval process. Four comparison tools let you find differences and track changes in new versions. You can avail of this software on your mobile devices as well.
This software comes with seven different language version that allows the member to select the preferred language, making it easy to use worldwide.
Main Features:
API integrations allow systems to exchange data sources and keep data in sync.

Third-party integration.

Real-time chat feature.

Four comparison modes.
Pros:
Unlimited review and projects.

Multi-language interface.

Unlimited collaborators for increased creativity and productivity.

Real-time activity tracker.
Cons:
White labeling option not available.

No video proofing option is available.
5. Pastel
Pastel is a software that provides you with tools mainly for website designs.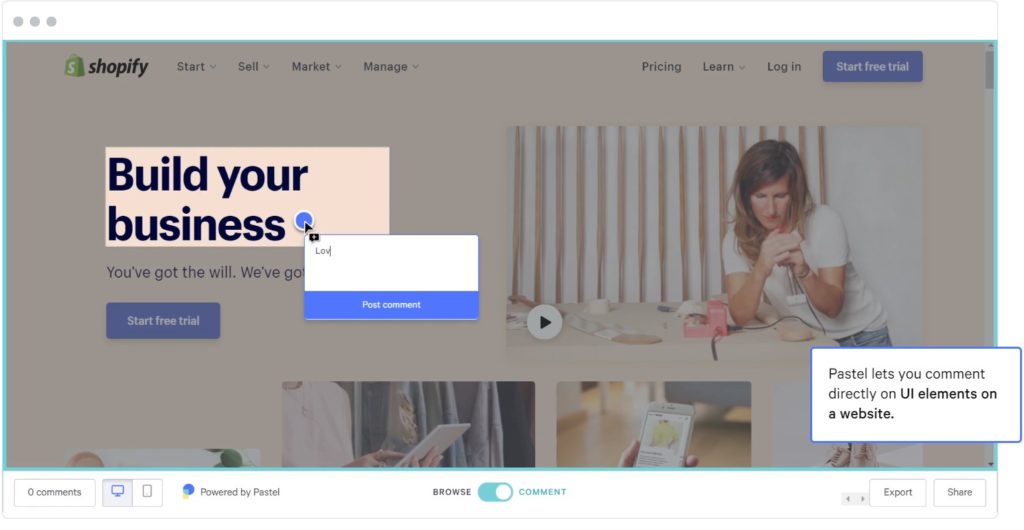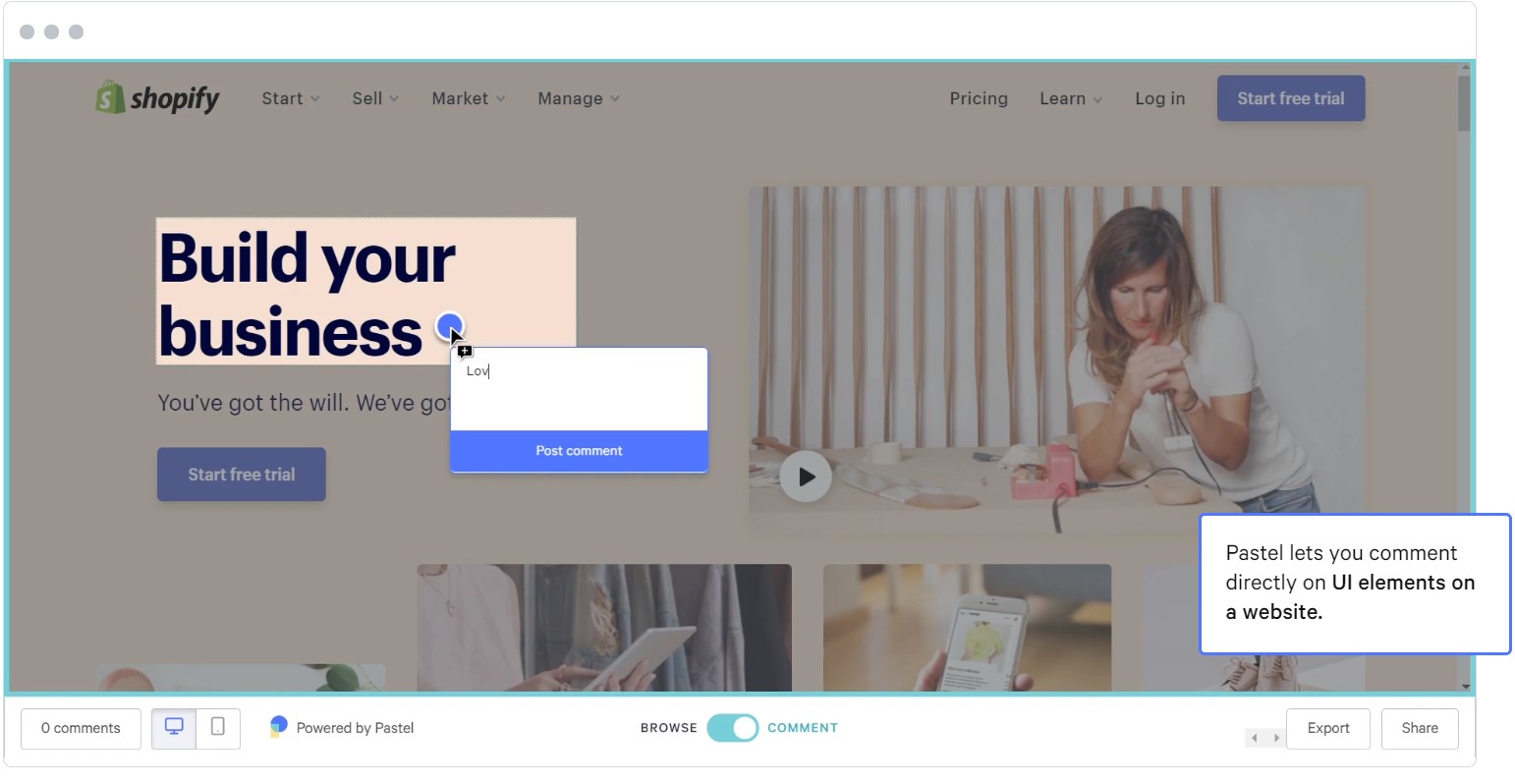 It is the most popular creative software for online proofing. This software easily lets you invite your clients and team members to leave a comment directly. It enables you to collaborate with outside parties from beginning to end. The design team stays on board with the collaborators to deliver the project on time. 
It is easy to invite clients and team members with pastels; all you have to do is upload your URL and send links to reviewers. The comments are pinned to a specific element and can be recorded to help resolve the project issues.
Main Features:
URL link sharing with reviewers.

The most efficient comments are always pinned to the element of your webpage.

Website changes are constantly updated.

Comments pinned to specific elements.
Pros:
A free plan version is available.

Labels are available to organize feedback.

It keeps you updated with new versions.

New changes can be easily compared with the old versions.

Feedback can be paused.
Cons:
Can not move comments according to priority.

Mobile applications are challenging to use.
6.
Workfront 
The Workfront client proofing software makes work easier and faster by creating a more modern and intuitive work canvas. Workfront is a project management platform that helps connect creative and marketing teams and individuals to create successful projects.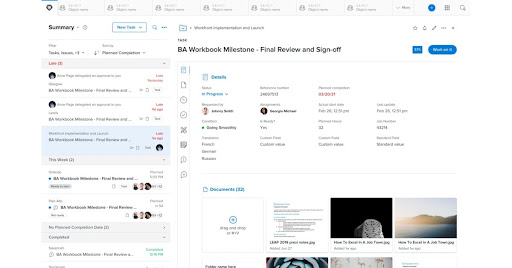 The tool helps employees plan and complete tasks efficiently and effectively and report on their progress in real-time. Collaboration, automation, and speed all benefit from eliminating communication barriers. Workfront is perfect for creative teams who manage projects with digital collaboration and resource management requirements. 
However, the platform is extremely complex with a steep learning curve, so you might need to consider Workfront alternatives that play the role of project management, communication, and online proofing in one place.
Main Features:
Ensures that all changes are tracked and locked.

Version control with automatic document locking.

Gantt charts and a high-level team planning view

Automated proofing features.
Pros:
Versatile platform.

It can be configured widely for all types of teams and projects.

Integrates with other platforms.
Cons:
No video proofing.

Doesn't support visual annotations.

No version control or access to advanced proofing tools.

The platform is counter-intuitive and difficult to navigate.

Does not offer one-click approvals for creative projects.
7. Ziflow 
Ziflow is an online tool that supports a wide range of creative assets. Using software to send files and links can be very helpful in getting feedback and meeting deadlines. The software is designed to be very clear and effective.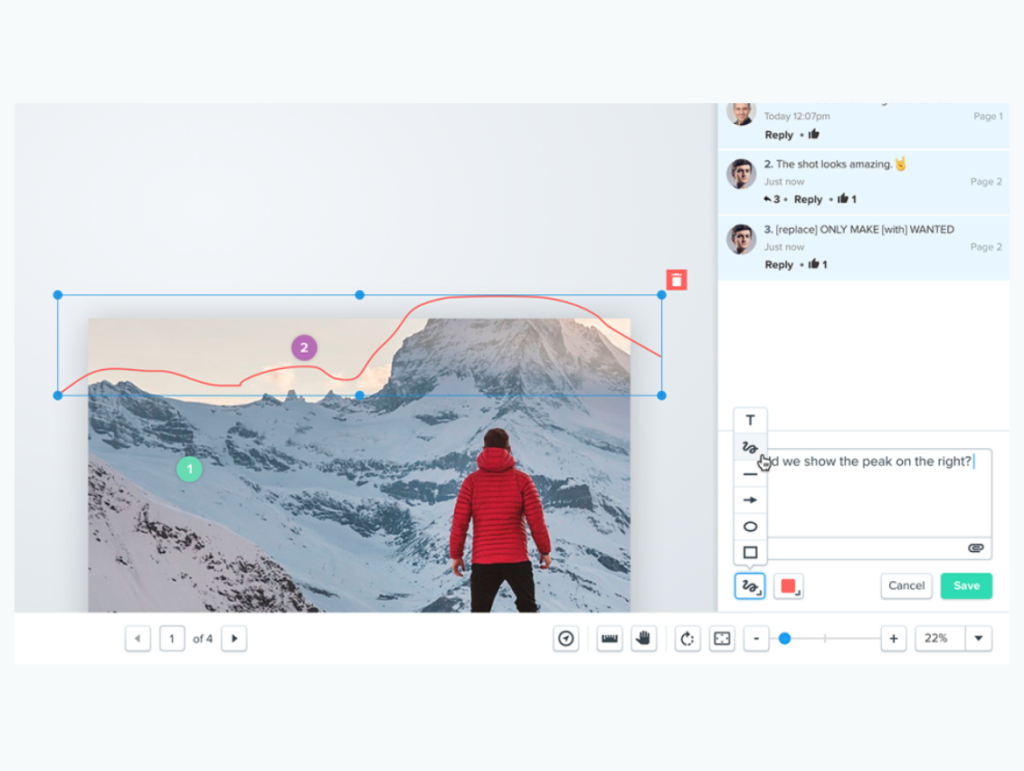 Ziflow's powerful collaboration features go beyond comments, allowing you to format your comments, attach files to them, use @mentions, label your comments, and more. Ziflow includes a version comparison tool that compares the current version of your document with previous versions.
This tool can help you determine which changes need to be made so that your document is compatible with other versions. If you want to revert to a previous document version, you can easily do so.
Main Features:
A collaborative review allows team members to add comments and respond to them in real-time.

Different permissions for sharing. 

The review also features version tracking and comparison with audit trail features.

The file organizer integrates with a wide range of third-party tools.
Pros:
Helps prevent comments on a document once it's been finalized.

Support for a wide range of file types is available.

Protects your document from unauthorized access.
Cons:
Doesn't offer a desktop app platform.

There are no task management features.

The limited set of integrations compared to alternatives.

High pricing for small teams.
8. Aproove 
Another creative proofing software is Aproove. It is a helpful tool for checking your work for errors and ensuring it is error-free. The cloud platform is designed to streamline project approval and collaboration processes.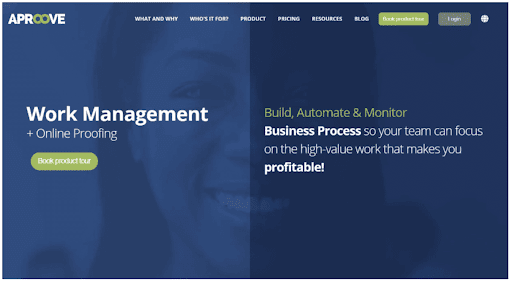 It can meet the most challenging requirements of visual professionals and other users. The project-centralized dashboard ensures you always meet deadlines, as you can easily track your progress on each project and receive early warning indicators of late project submissions. 
Main Features:
Offers video proofing.

Every account has two-factor authentication for security.

File sharing and document management.

Team management dashboard.
Pros:
User-friendly with a simple UI.

Support many file types.

Works as both a proofing software and management system.
Cons:
Doesn't offer advanced proofing tools.

Does not support visual annotations.

More expensive for the same features compared to alternatives.
9.
Hightail 
Hightail is a creative proofing software that is intended for use by agencies. It allows for quick and easy collaboration between members of an organization. A content management system can speed up the review and approval process, help keep projects on track, and help manage the overall content.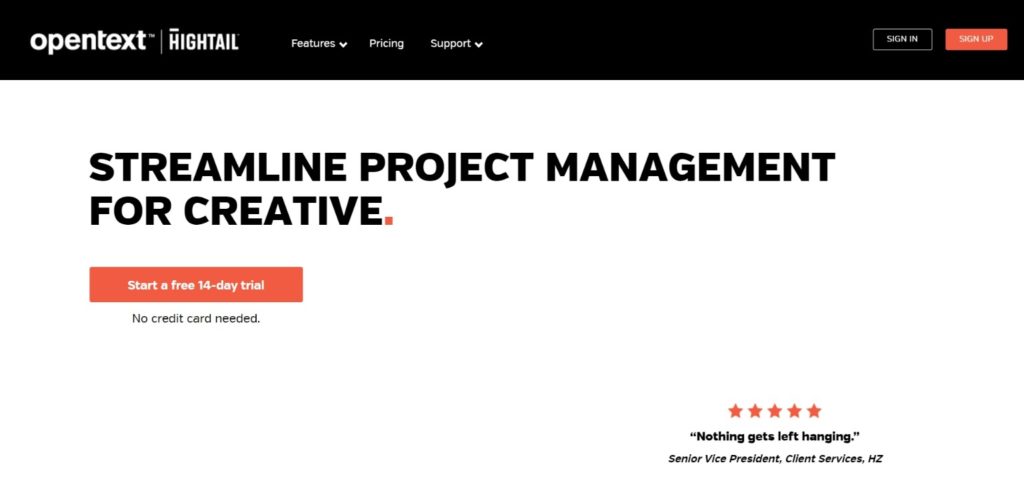 Hightail makes it easy to follow up on feedback, tasks, revisions, and approvals in PDFs, videos, and HTML documents. It also helps you organize tasks so that your projects are completed on time without worrying about them.
Main Features:
Managing tasks with to-do lists is easy.

Files can be shared easily with other people. 

You can be notified when someone else receives your file.

Filtering options that can help you find the file you're looking for. 

You can also bulk upload videos and video streaming files.
Pros:
You can assign follow-ups to team members.

Handle in-context discussions in a dedicated project space.

View high-resolution, live previews of your documents.
Cons:
Offers no time tracking functionality.

Offers limited file support on the mobile app.

There isn't a desktop app platform.

Very few integrations.

Lack of advanced proofing tools, e.g., side-by-side comparison.
10.
Filestage 
Filestage is a great proofing software that lets creative teams of all sizes easily share, review and approve their work. On the centralized platform, colleagues and clients can share their thoughts on content for ad campaigns, video production, landing page design, or any other project.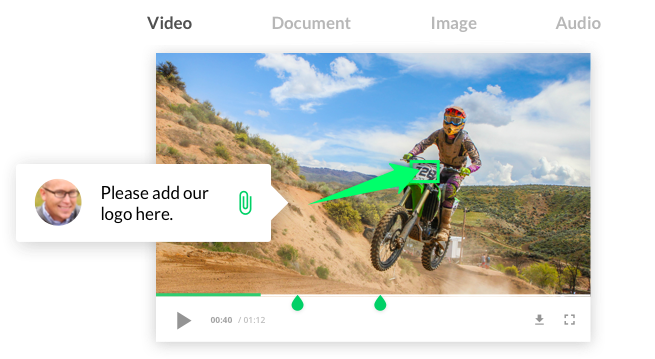 Once everyone is happy with the content, they can approve the file with just one click. Filestage has many great features to make your work easier, like task automation, versioning, and customizable workflows. 
Main Features:
A project dashboard that tracks the progress of reviews on deliveries.

System to maintain older versions.

Markup tools for the client to leave comments on an image or PDF file.

Time codes to review audio and video files.
Pros:
External stakeholders can review files without needing to sign in. 

Make comments directly on the file. 

There is no need to download anything. 

Comments left on to-do lists can be used to generate automated tasks.
Cons:
No desktop or mobile app platforms can be used to predict completion data or team productivity. 

No features that allow time tracking or goal setting. 

The free plan only supports 10 members.
Cut design & video review time in half
GoVisually is the #1 online proofing software to get visual feedback on Designs, PDFs & Video content.
Try GoVisually free today!
Key takeaway
Creative proofing software has made work more accessible by providing annotations and markups that help bring our creative content to life. It enables you to complete your design work from top to bottom effectively.
Your design process is compiled in a single environment, enabling you to keep track of the whole process. And remember, if you want to refine your work process, you can always rely on powerful software like GoVisually to quadruple your team's efficiency.