There are several Workfront alternatives, but which is the most efficient? 
Well, let's have a walk through one of the best Workfront competitors and find out which features make it so remarkable! 
Workfront may have been ideal if you're managing synchronized teams. Many professionals choose Adobe Workfront because they can easily collaborate with clients and colleagues online. But if you're not satisfied with Adobe Workfront (there are many reasons you might not be), there's an all-around Workfront alternative to consider.
So without further ado, let's get into it!
Cut design & video review time in half
GoVisually is the #1 online proofing software to get visual feedback on Designs, PDFs & Video content.
Try GoVisually free today!
What does Workfront offer? 
Workfront is a project management software that Adobe bought in 2000. Its main selling points are that it can streamline processes and make them easier for people to follow. It has tools for collaboration and sharing information.
You can manage multiple projects and assign tasks to members of your team. Workfront helps teams get organized and collaborate from project management to task management.
Designed for medium to large businesses, Workfront offers many useful features. It provides a detailed breakdown of tasks, time tracking, and management tools. However, if users and those looking to find a Workfront alternative are searching for something else, there should be a reason.
Reasons why you might need a Workfront alternative 
A primary reason to look elsewhere is that you're not a large organization. Workfront is better suited for enterprises, not small-scale companies. The user experience is particularly bad if your company is organized via a flat organizational chart.
Another drawback here is the steep learning curve of using Workfront. From set-up to understanding how to properly utilize the platform for project management can be complicated and counterintuitive at times.
Workfront reviews often highlight the platform's lack of advanced tools. For software that wants to connect people, it can be frustrating finding your tasks on the platform; there is no global search functionality, so finding your task may take multiple searches through each project. 
Now, let's find out one of the best Workfront competitors and why it's a better choice as an alternative.
GoVisually is the best alternative to Workfront. 
GoVisually is a powerful collaborative project management tool designed specifically for visual communication within creative teams.
With GoVisually's simple yet robust workflow and easy-to-use features, teams can work together effortlessly. Whether collaborating on a presentation, writing reports, editing videos, or sending documents worldwide, GoVisually makes working together easier.
It's also one of the leading online proofing software to make reviews and feedback easier for design teams, whether it's for video projects, magazines, images, or documents. It also offers 10x more than Workfront integrations.
GoVisually, as one of the Workfront competitors, offers everything you can find on Workfront and beyond. Its user-friendly interface makes the platform easy to navigate and manage for all types of teams, regardless of their size.
Regarding size, GoVisually is perfect for all types of businesses and individuals. It offers countless project collaboration capabilities where bringing more people into your project for feedback is as easy as sending a link! You can also make a space for your team with 'team only' comments and communicate in real-time with everyone.
Workfront vs. GoVisually – the feature showdown 
Regarding advanced tools, GoVisually, as a Workfront alternative, leaves no room for question with its visual annotations, compatibility with different file formats, and boundless integrations through Zapier. However, Workfront integrations offer their fair share of great features. So let's find out what GoVisually offers more.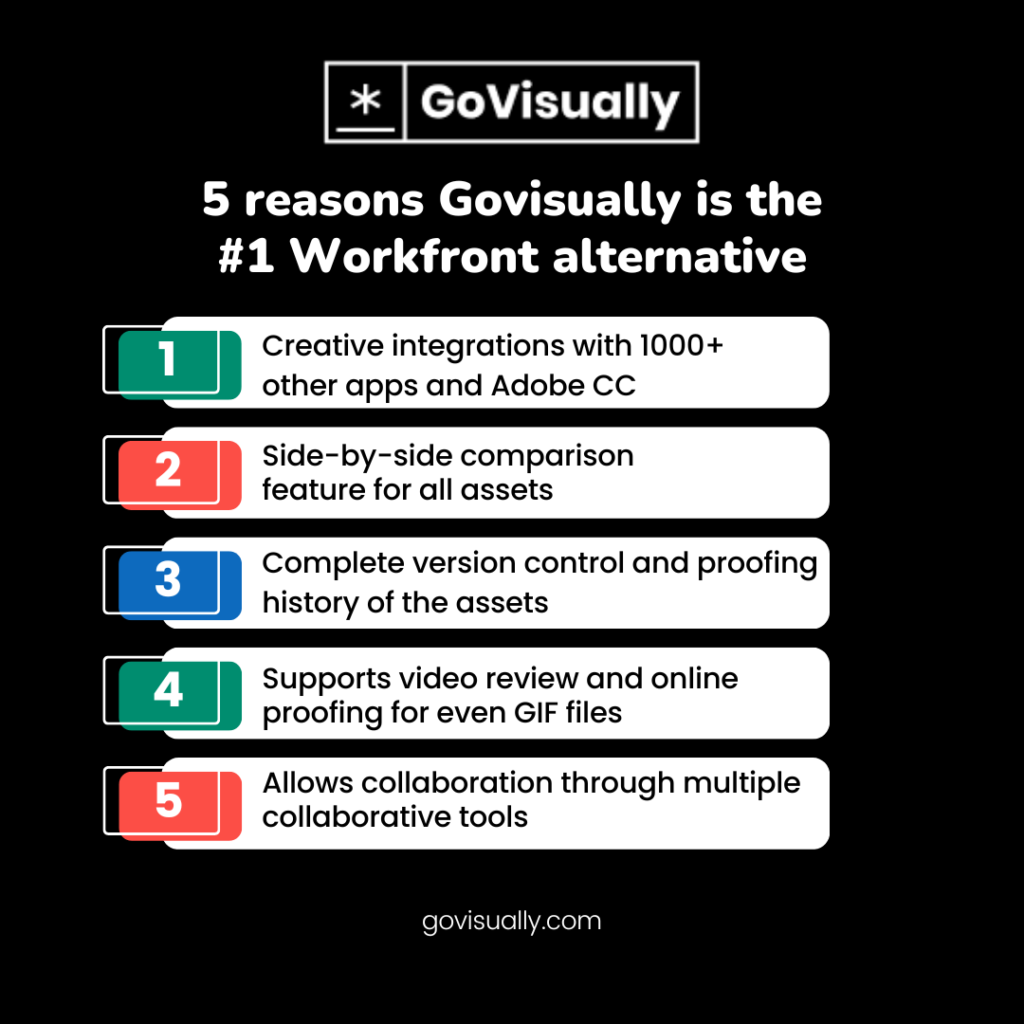 Integrations with other apps 
The only feature where GoVisually falls short compared to Workfront is task management, but they have you covered.
While you can keep track of workflow and progress on your creative projects through the platform, GoVisually offers 1000+ integrations with other project management apps like Trello and Asana, so you won't have to worry about assigning tasks and keeping track of them either!
The most useful of them all is GoVisually's Adobe Creative Cloud integration. With a friendly interface, you can easily connect your projects to Adobe InDesign, Illustrator, Photoshop, and more through GoVisually for approvals and feedback. So, work and editing go hand-in-hand for all!
Wouldn't that be a game-changing feature in a Workfront alternative and online proofing software? 
Well, GoVisually is both!
Version control 
GoVisually offers comprehensive project management tools such as file backup and version control to help customers effectively manage projects. 
Users can easily keep track of every change made during the process and review the history of each version with the click of a button. They can also view earlier versions of any document or image without uploading them again. You can also export documents in PDF format, edit them offline and then upload them back to the website.
Side-by-side comparison 
Creative project management is Workfront's thing. Especially when it comes to online proofing. Project collaboration, whether it's in-house or remote, has to be efficient when delivering results. This is where GoVisually's comparison feature saves the day for all of us.
No matter what type of file you're working on, PDF, PSD, PNG, JPG, WebM, webP, or videos (yes, GoVisually supports them all!), You can compare your file versions side-by-side to identify changes and determine if the edits turned out the way they should.
Direct annotations 
It's not just a Workfront alternative; GoVisually is also an intuitive application for creating visual annotations. You can make direct annotations using text, shapes, and even images on the platform; everyone will understand what you're referring to.
To enhance the document editing experience, GoVisually provides tools including drawing, annotation, shape, object, text editor, and measurement tools. Besides, you can insert images or other files with your comments directly on your current project. 
Video proofing 
GoVisually is an easy-to-use video review platform that offers fast upload times and integrates well with other project management apps to make video proofing accessible and innovative for your teams. 
You can directly leave feedback, comments, or annotations on videos and review them frame-by-frame. The features offered by GoVisually for video proofing are truly unique, with a range of advanced tools you won't find anywhere!
Video makers and designers have the toughest time figuring out their workflow. While Workfront can be very complicated to use here, GoVisually is not just the best Workfront alternative but also the best choice for video reviewing and collaboration on video projects.
Final word 
Professionals are constantly searching for an affordable, all-inclusive project management system that caters to all of their needs. And there's a ton of project management software available today beyond Workfront.
While GoVisually does not offer budget planning tools, Gantt charts, and the like, it does offer everything for creative teams that like to work on all things visual for their project management.
With your team's needs in mind, try GoVisually with a free expert demo to ensure that you're making the right decision when choosing the Workfront alternative.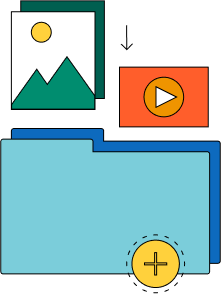 Need a quick way to share large files and creative assets?
With GoVisually Share, it's absolutely free! Try today.