Oroson is shutting down! And you need an Oroson alternative before it's too late!
Well, Oroson announced that they would be shutting down their platform and merging with another similar software, MarkUp.io. Oroson has claimed to be taking this step to broaden its ecosystem.
But here's the catch – both platforms are simple visual feedback tools that make PDF and video annotation easy. However, they don't allow real-time feedback on these annotations and that means it's time for you to step up and sign up for the best Oroson alternative that offers online proofing too! 
Moreover, this merge has left a lot of users confused and disrupted their workflow and processes.
So what does that mean for you if you're an Oroson user?
In this article, we'll be covering everything you need to know about this merge. From how it will affect the users, the features MarkUp.io will be bringing after its alliance with Oroson, and the more advanced alternative you can use on a similar budget – one that isn't an easy sellout and prioritizes customer satisfaction and progress above all.
Cut design & video review time in half
GoVisually is the #1 online proofing software to get visual feedback on Designs, PDFs & Video content.
Try GoVisually free today!
MarkUp.io and Oroson – is the collaboration going to be 100% effective? 
Oroson was a free platform for simple visual collaboration and feedback launched in 2014. Although the features offered were not as advanced as Oroson's competitors, the platform was a great option for small teams to make collaboration easier.
Earlier this year, Oroson announced that MarkUp.io had acquired their platform, and their desktop app has been no longer available since June 30th, 2022.
So let's talk about the features this collaboration offers and how MarkUp differs from Oroson.
Functionality 
Oroson and MarkUp are strikingly similar in terms of how they function. As with Oroson, MarkUp allows you to review and annotate videos, live websites, images, and PDFs. The focus of both platforms remains on visual feedback and that alone.
Likewise, the files created with MarkUp will be stored on a user-controlled workspace and are open for collaboration by adding other individuals to upload, comment, and review the projects.
Features 
In terms of features, it's rather unfortunate how Oroson provided more features than MarkUp.io. Advanced tools aside, the platform hardly even manages to work as the perfect annotator, which is the concept it stands for.
Oroson enabled visual annotations by adding shapes and a drawing tool. On the other hand, MarkUp does not offer either of them. You can not add shapes or draw to your file, whether it's to annotate on video, images, or documents.
Current features on the MarkUp.io platform only include visual commenting with attachments. This only leads to asynchronous communication by adding team members on the same platform. Which, we must say, is too little for an enterprise plan costing up to $49.
Accessibility 
This is where MarkUp can practically be considered as an Oroson alternative. Like Oroson, you can add unlimited team members and reviewers to your project. But since MarkUp isn't up to par in its development yet, there is another drawback you need to look out for.
Unlike Oroson, MarkUp does now support a desktop application. This reduces its accessibility a lot more because every user needs to separate work on the browser and manually upload every update to their workspace.
It's not bad for a free tool to use occasionally, but this can be extremely inefficient and unproductive for professionals. This also takes us to another con of using MarkUp.io.
API and integrations  
MarkUp offers no integrations or API. Yes, you read that right.
Oroson could be integrated with Google Drive, Dropbox, and OneDrive. Whereas MarkUp fails to provide even the bare minimum regarding a user-friendly interface. You will have to continuously jump from one app to another and fall into the spiral of uploading and downloading several different versions all day.
Not to mention, your comments are neither time-stamped nor do they appear as a tangible thread that you could refer to later on in the process. If you lose an upgraded version of your file, your project is bound to doom because the whole process is disorganized.
It's a given that MarkUp.io is yet to emerge and offer its true potential, and we can tell that the team is working on more features for the future. And while the future for MarkUp.io seems promising, no one knows when these features will be released and how efficient the performance will be.
Moreover, the merge has left long-term customers confused and disenfranchised with the software as they now have to look for a more stable alternative.
So it would be right to conclude that you should be considering MarkUp.io alternatives to suit your workflow better and make creative collaboration easier for you and your team.
Of course, we always strive to provide you with the best solutions, and we have got you covered with this one too!
GoVisually – the #1 Oroson alternative
GoVisually is a proofing, collaboration, and project management software that serves as a one-for-all solution for creative team projects.
Video and PDF annotation is the tip of the iceberg when you consider the features GoVisually offers in the same affordable packages for individuals and enterprises. The platform offers advanced tools and multiple integrations to make your proofing process faster, organized, and productive.
Let's look at the value GoVisually can bring to your creative project management and collaboration.
Why is GoVisually the most trusted Markup.io and Oroson alternative? 
As the leading online proofing software and the best MarkUp.io alternative, GoVisually has various features and user-friendly functionality, making your creative collaboration effective and high-quality.
Upload and annotate all types of files
You can easily upload and visually annotate any PNG, JPG, PSD, PDF, or WebP files and annotate Videos or WebM files in a few clicks. With various annotation tools, you can point, mark up, comment, add images, and draw on any part of your visual designs.
With GoVisually's annotation, editing, and uploading are much more versatile and creative than any other proofing platform. More importantly, you can easily annotate on videos as well and comment on exact timeframes for better feedback.
Share with unlimited reviewers
You can add all your team members and make it easy to get feedback and approval with free, easy sign-in for an unlimited number of reviewers. Note that GoVisually also allows you to create a timeline to seek approvals on each milestone; your approval is only a link away.
There is also an exclusive feature for team-only comments that you won't be able to find on other software. It allows your team to communicate easily over the same project while their comments don't necessarily need to be shown to other reviewers, like clients and stakeholders.
Keep all your revisions organized in one space
GoVisually is also a project management platform. This means you can organize multiple revisions of your designs in one space, all categorized and labeled, so you'll never mix up different versions.
You can also compare these versions in real-time and go through a thread of previous feedback. GoVisually, comments are time-stamped so that you can date back to different milestones. The platform also allows you to resolve feedback like a checklist and streamline your project conveniently.
Compare proofing versions side by side
How many times have you heard a client or a reviewer say, 'but what is the exact change? I can't see any…'
With GoVisually's side by side version compare feature, say goodbye to the old age hassle.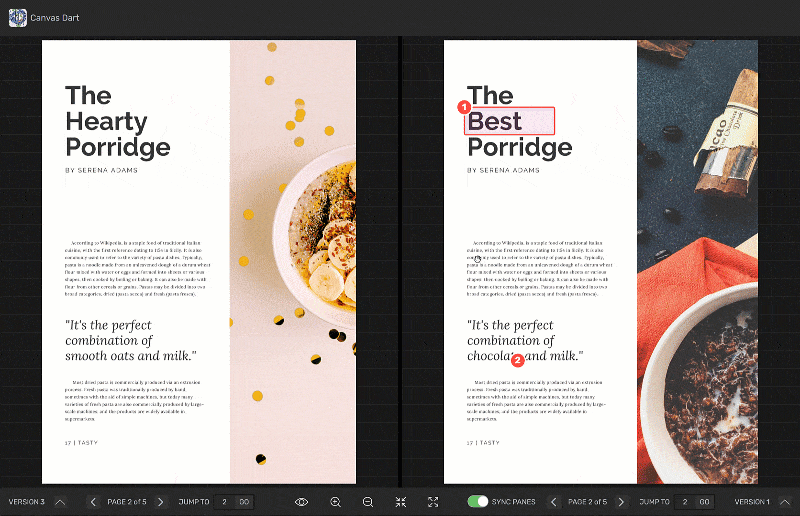 Whether it's the font change or the change in spacing or content, you and your reviewers can spot everything!
Integrate other communication and creative tools 
GoVisually is optimized for multiple platforms and allows you to integrate different workspaces for an unparalleled creative experience. Whether it's Slack, Trello, Zapier, or Asana, you can plug-in other project management and communication channels for increased team productivity and efficiency.
The best part here is that you can directly work on your creative projects in Adobe Illustrator, Photoshop, or InDesign with the Adobe Creative Cloud integration, so you won't need to switch between platforms to get feedback.
GoVisually web app is also supported on all browsers, such as Safari, Chrome, and Firefox, and provides cloud-based storage for your projects.
Unleash visual proofing power with GoVisually!
While MarkUp is supposed to be an Orson alternative, GoVisually is the complete solution for creators who like to work on everything visual. 
Book a free demo with our experts today and start your visual journey!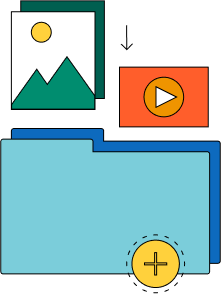 Need a quick way to share large files and creative assets?
With GoVisually Share, it's absolutely free! Try today.