Video content has successfully become the most popular type of content in the digital marketing world. The way video catches our attention, no other kind of content can compete with it. As a video reviewer, you should know the kind of creative feedback that needs to be provided to make the creative process smoother.
The video review you provide should cover all the crucial elements, and it should give the creator clear direction. 
Marketers have realized the importance of video content in digital marketing, and 51% of marketers would prefer investing more in video. Videos are entertaining and easy to watch. People are more likely to retain information provided through video content than written articles.  
However, the creative process of coming up with video content that is equally entertaining and informative can be challenging. The team requires you to provide creative feedback as the video reviewer and help them develop valuable content. 
How does a video review help?
If you don't know yet, video creation is a process that involves multiple teams and team members. It is a collaborative effort. When creating a video, a team handles the pre-production and an innovative idea. Then, another team brings that idea to life during production.
Once production is complete, the video has to go through post-production. Someone makes edits, looks after the graphics and visuals, and adds the required effects. 
What we're trying to say is it is quite the process. As a video reviewer, you need to understand the amount of effort put into the content and do your best. It is also crucial that you know how the video will perform on different platforms like Instagram, YouTube, etc. And if the draft of the video does not receive help creative feedback from the video reviewer, it will not turn out cohesive. 
6 tips to become an efficient video reviewer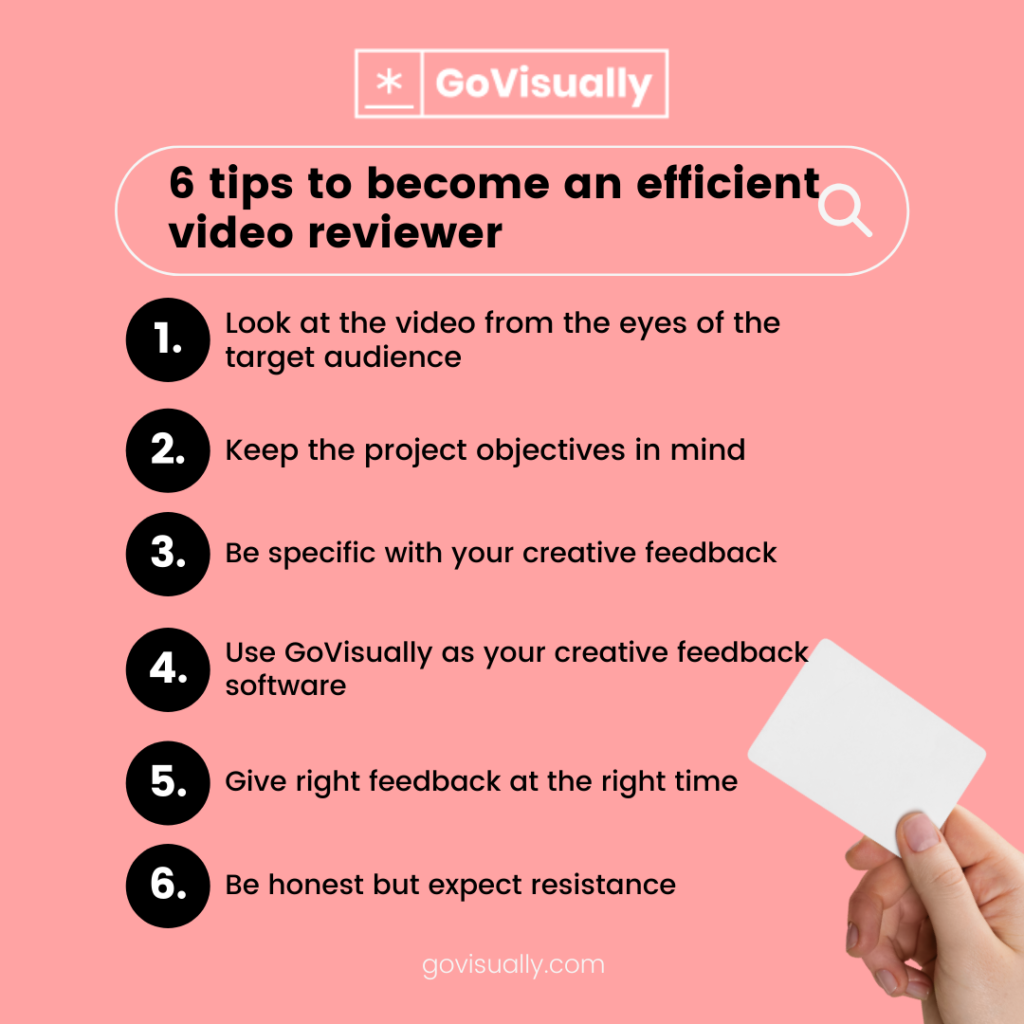 1. Look at the video from the eyes of the target audience 
As the video reviewer, if you also happen to be in the demographic representing the video's target audience, life is straightforward. You can judge whether you and people like you will enjoy the content and gain something from it. The honest, creative feedback you give will represent the video's people. 
However, you will not be the target audience for the video you review more often than not. For instances like that, you need to put yourself in the shoes of the target audience. What age are they? Where are they from? What are they looking for? What solutions do they require? These are all questions you must answer before reviewing the video. 
Knowing what the target audience wants and looking at the content from their perspective will enable you to provide creative feedback to improve the video. You can let the creators know what edits to make and which elements to add to help the video attract the people they are targeting. 
2. Keep the objectives of the project in mind 
When you are giving your video review, you need to understand why the project is being done in the first place. It is crucial that you know the project's goals and objectives and keeps them in mind when giving creative feedback. As a video reviewer, you should know what the creative brief was and what the video is trying to achieve. 
When you understand what the theme and mood of the video were supposed to be, you can give feedback that can help improve the video production. You should be able to tell the creators what changes they need to make, and if there is anything required in the post-production, like color correction or setting the tone, you should be able to point that out. 
As the video reviewer, your creative feedback should focus on the video's objective and relate to the brief given before the project's start. If you feel something is missing from the video, a crucial element, you should relay that message to the creators. 
3. Be specific with your creative feedback 
Being vague will not get you any good results for being a video reviewer. You should know exactly what the video should have and have a clear picture in your mind. If there is clarity in your head, you will convey it to the video creators and tell them where they were lacking. 
Video content combines moving imagery, sounds, and various effects. Giving a video review with just words can be challenging, so you should incorporate examples and provide a clear image to the video creators. You can always refer back to the storyboard or creative brief and point out any specific elements that need to be changed. 
Once the video is complete and you give creative feedback during post-production, you should refer to the timestamps and let them know exactly where the edit is required. Saying something like "make it stand out!" is not enough. Don't be afraid of getting into the details of the video. 
4. Use creative feedback software like GoVisually
As a video reviewer, you should know the software to make the creative feedback process as efficient as possible. There are various innovative feedback methods, and one of the most comprehensive and efficient ones is using a tool to give feedback and make edits. 
This is where creative feedback software like GoVisually comes in and you can use it to benefit your video review process. GoVisually enables you to upload and view as many video projects as you want. And give creative feedback on the spot. One of the best features is that the reviewers can all make edits in real-time, and you can see how the final product is coming together by comparing versions together. 
GoVisually is a trusted tool globally because of how easily you can proof video content online. It completely takes away the hassle of long email chains and you can be set on your path to clear review and easier delivery.
5. Give the right feedback at the right time 
Video creation is a long process. It has multiple elements, and it is done in various stages. When you give a video review, you need to keep in mind the stage of production the video is in. For example, if you think the video should have some special effects or graphic design elements, you need to provide this creative feedback in the post-production stage. 
Often, the people who want you to review the video tell you what you need to check at each stage, making it easier to follow a timeline. Even if they don't let you know, you should ask them how many cycles of reviews there will be and what they want you to check at each stage. Similarly, if something you think should be in the video's script, you should provide this information at the beginning of the production. 
6. Be honest but expect resistance 
As a video reviewer, you should never hold back. If there is something that you think can be made better by editing, you need to let them know. Not being honest takes away your credibility, and it won't give you the desired results. Biting your tongue just because you think it can hurt the feelings of the people creating the video will not benefit anyone in the bigger picture. 
People, especially in the creative field, are not always open to criticism of their process and vision. However, you should always be ready to face some resistance. You must put your point across clearly and make them understand what you are trying to say. Similarly, it is also essential that you listen to what they have to say, and if their point is valid, you should be accepting. 
Final Takeaway 
A video reviewer has a lot of burden on their shoulders and I understand that.
As a video reviewer, you have to ensure that the creative feedback methods you use are helpful and the review you give makes the final product shine. And I hope that the things we've discussed today will help you.
And remember, using video proofing software can make the process significantly more efficient and streamlined.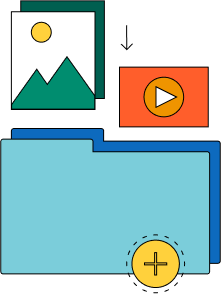 Need a quick way to share large files and creative assets?
With GoVisually Share, it's absolutely free! Try today.