One more edit.
That is the phrase that people working in creative agencies dislike the most. And the top reason for that is they have inefficient agency proofing.
In a digital landscape where companies are constantly looking to boost efficiency, agency proofing review has to be of prime importance. That's because, to make their services better, that is what they struggle with the most.
You know how much this holds if you've worked on any creative projects, especially with multiple departments. Especially if you're proofing and perfecting projects digitally, there is a significant chance of errors and miscommunication. This is one of the many reasons that agency proofing processes need revamping. 
But before we get into solutions, let's get into some primary reasons why agency proofing workflows need an upgrade. 
The proofing problem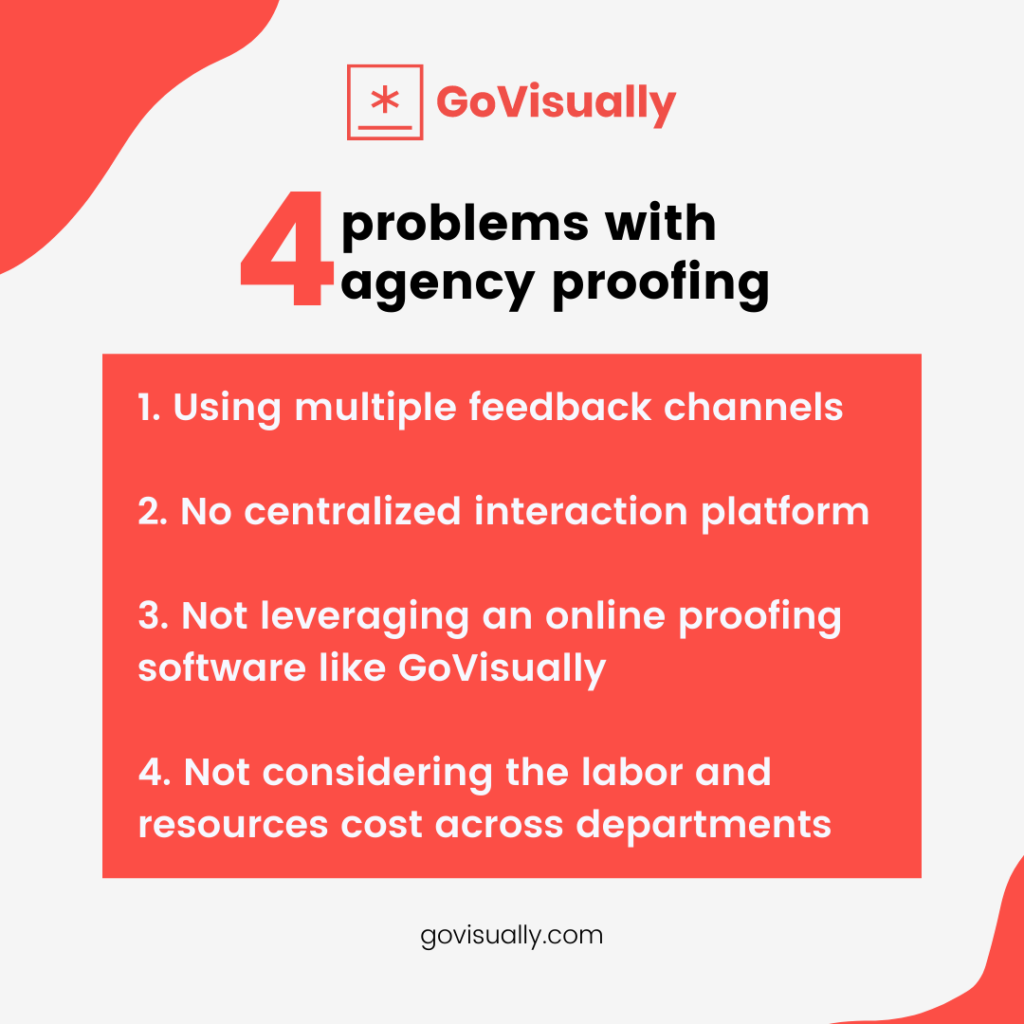 Agencies often tend to make the mistake of spreading correspondence and feedback over multiple channels. For instance, your internal team members may be using Slack for communication. But with external collaborations happening over emails or other means, balancing out the channels can become difficult.
If there is no centralization on the interactions of a project, it's hard to tell which production flow is going where and why. It's easy for communication to get muddled, with different versions of the same thing floating around and feedback coming in from different directions. This also complicates tracking the progress of a project by shareholders.
Every mistake and delay happening is breaking the flow of the work and affecting the operations of various departments, but it is also negatively impacting overhead and project costs. It is a common mishap not to consider the cost of labor and resources. 
And all this is caused by inefficiencies in the production workflow and channels of communication and client management.
However, you can solve most of these issues by following the step-by-step guide to solving inefficient agency proofing. Let's start!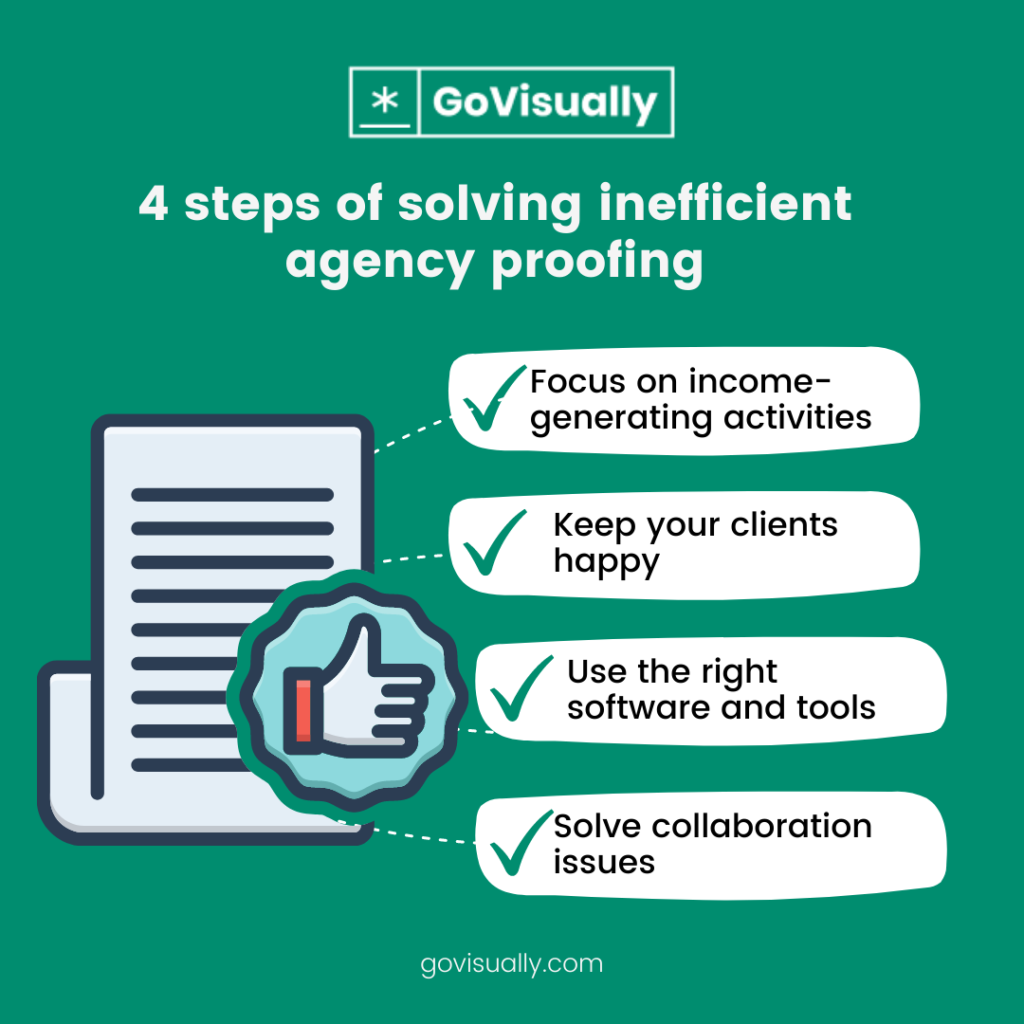 Step 1: Focus on income-generating activities
As a company, you have to focus your teams' attention on tasks that generate income rather than wasting time on anything outside of that. And this doesn't mean the usual procrastination or daydreaming at their desks. That's the real problem. 
They spend time chasing feedback approval from clients across multiple different channels and threads, looking for the changes and managing haphazard emails, reformatting files that weren't uploaded the first time correctly, etc.
And all of these tasks are likely to be split into multiple screens that you have to keep track of. 
For example, just downloading a file from your email will have you chasing it to the file it got downloaded to and three to four tab switches before it is finally attached to the document it is intended for. This is evident inefficiency because of the number of steps required. 
This kind of disorganization in the workflow takes time away from focusing on the actual work at hand that your clients are paying you to do. 
With an excellent online proofing software like GoVisually, you will find everything you need to work on in one place; the documents, the tools needed to edit and make comments, and the feedback itself.
Step 2: Keep your clients happy
The consequences of poor customer experience will lead you to failed projects and loss of income. And all it takes for that disaster to happen is for mistakes and delays in the proofing process to go unchecked. 
There are many ways that problems can occur, which might leave a bad impression on the client because of delayed deliverables, broken contracts, and vendor costs. 
If you want to keep clients happy, missed deadlines and low quality have to be avoided at all costs. Such issues can lead to the client being fed up enough to stop doing business with you altogether and increase your operations costs even further. 
You can solve these problems by streamlining your process. And one way to do this is to centralize communication to make sure that you and your clients are on the same page and know what to expect from the other. 
In this case, reviewing documents by using agency proofing software becomes a breeze. That's because all communications get centralized and can be accessed within the same place.
Step 3: Don't waste money on excess tech
In short, use the right tools and software that would actually benefit your proofing process.
Sure, there are plenty of free applications nowadays that support the tools you need to complete your work-related projects. 
But are they really efficient and refined enough?
Mostly, you'd find that free tools come up with multiple ad interruptions. Or doesn't offer as much as a premium tool. 
At the same time, do you need all those complex stacks of tools to do a few easy jobs? Or are you just trying to use them all now because you had to pay for the whole pack of them?
You have to recognize precisely which tools you need for specific tasks and which are just complicating and lengthening the process instead. It is a common mistake that companies make when they try to integrate many tools without considering that all the seemingly small costs coming from them will snowball into a significant inconvenience when the bills start rolling in. 
One way to recognize this problem is by identifying if you are not overlapping the same tools for tasks that only need one. In the end, you may find that each department is paying its subscription costs for the same set of tools, causing unnecessary expenses to rise. 
So to ensure that you're not wasting time on meaningless tools that no one ends up using, pick the ones your agency needs and use them company wide.
Step 4: Solve collaboration issues
39% of employees believe that there is not enough collaboration between their colleagues in their own companies. This may be one of the root problems during the production process, as it is not always obvious enough to identify. 
Cross-team collaboration is vital if projects are to be completed on time according to the client's needs, but this becomes difficult if communication channels are either lacking or too all over the place. 
In essence, the longer it takes for responses to arrive, the more difficult it becomes to manage work. 
So for importance, company-wide announcements, we'd recommend using video. It is accessible, easily shareable, and widely understood. As for the rest, we'd recommend that you create project groups and invite all stakeholders to each group so the projects can be individually managed with the respective people involved.
Moreover, you can leverage GoVisually for online collaboration, both for internal and external communications. Not only does it make collaboration faster and more organized, but it also leads to more transparency in projects.
Wrapping Up
Time to put an end to your agency proofing problems now!
And the best way, as you may have realized by now is to have,
centralized communication platform

compartmentalized projects

and using GoVisullay for online proofing purposes
Do let us know what you think and how you solve your agency proofing problems. We'd love to hear from you!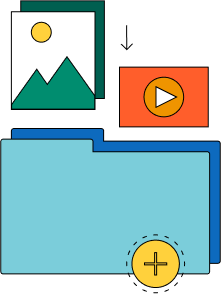 Need a quick way to share large files and creative assets?
With GoVisually Share, it's absolutely free! Try today.