Managing customers, projects, and tasks can be a headache. With client management software, you can efficiently manage a high volume of clients while managing projects and cutting costs – all in one place!
In today's fast-paced business world, staying ahead of the competition is more important than ever. That's why having the right software to manage client relationships and streamline processes is key to success.
Read on to find out how client management software can help your business stay ahead of the game in 2023.
What is client management software?
A client management system is your secret weapon for building rock-solid customer relationships. It's a centralized hub where you can store all the details of your customer interactions, from that first hello to the final sale.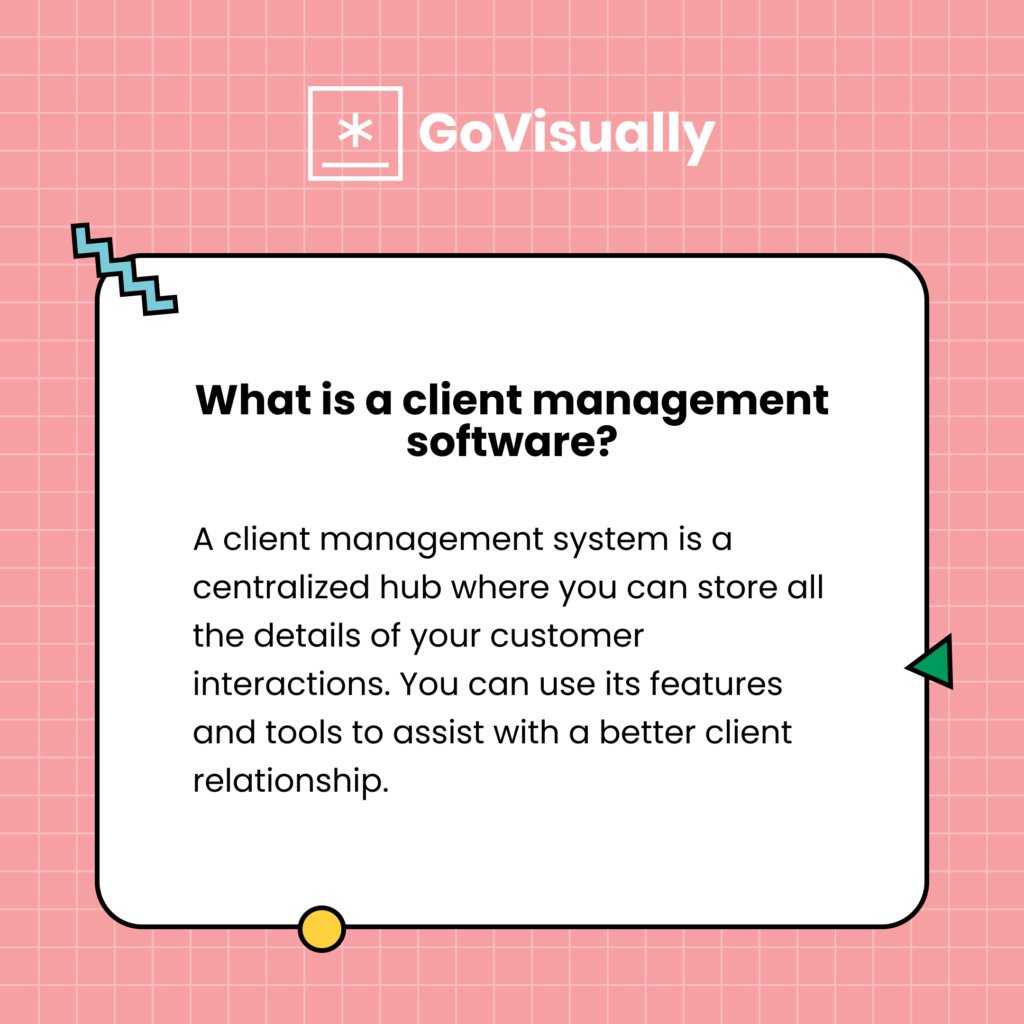 With the right client management software for creatives, your sales team can instantly spot their top customers and tailor their sales pitch to their specific needs. The marketing team can also use the CMS to create targeted campaigns guaranteed to convert by segmenting customers based on demographics, purchase history, and other criteria.
And when your customers need help, your support team can quickly come to their rescue with all the information they need to provide a top-notch customer experience. No more scouring through different channels and systems to find the needed information.
Client management software for creatives is the ultimate tool for taking customer relationships to the next level. It's like having a personal assistant for your customers, ensuring they're happy and coming back for more.
4 key benefits of using client management software
If you're not using client management software for creatives, you will likely not get the most out of your customer relationships.
Here are the benefits of using client management software to help your business: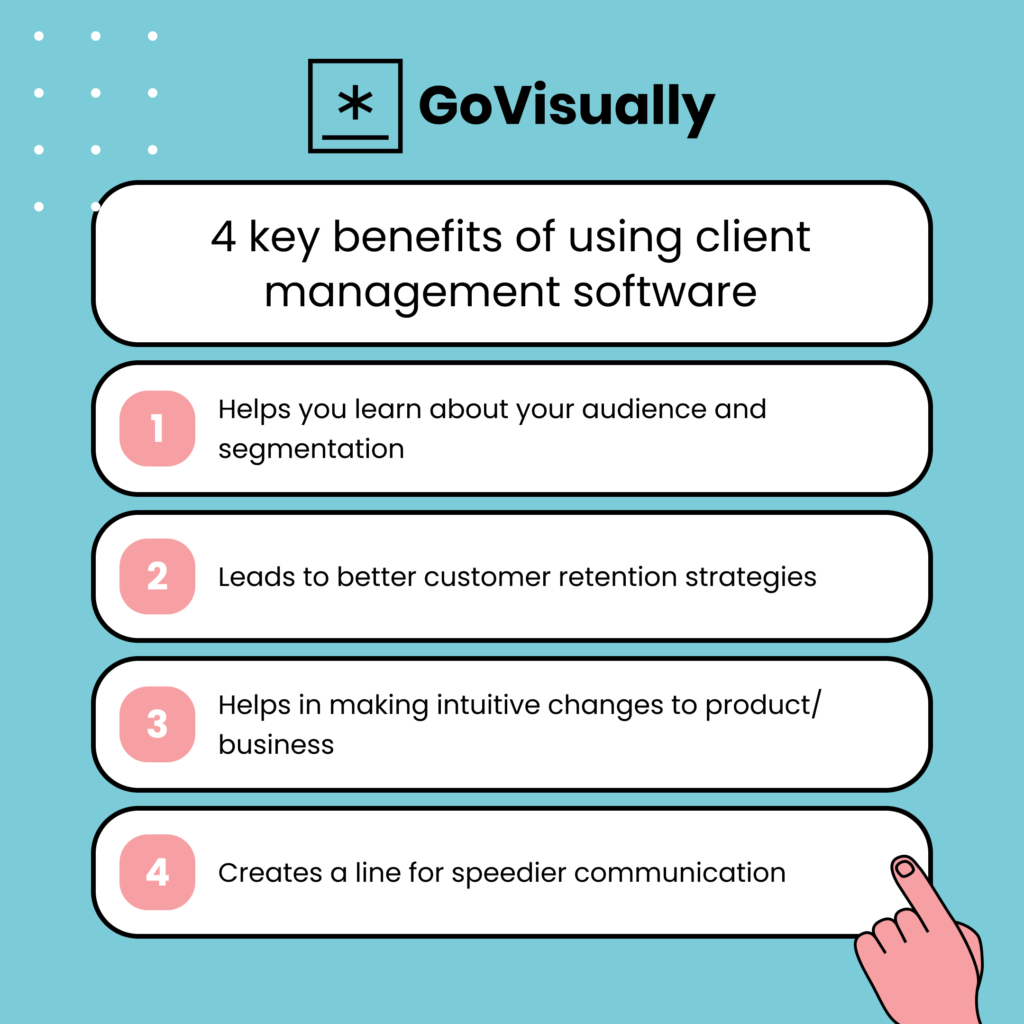 1. Helps you learn about your audience and segmentation
When you have all your customer information in one place, it's easy to get to know them better. You can see their purchase history, interaction with your company, and needs. This knowledge can help you provide better service, and support and sell more effectively.
Good client management software for creatives will let you segment your customers based on criteria like location, product interests, or spending habits. You can efficiently target your marketing and sales efforts and improve customer retention rates.
2. Leads to better customer retention strategies
By understanding your customers better and providing them with targeted content and offers, you're more likely to keep them as clients or customers for longer. In addition, happy customers are more likely to refer others to your business.
3. Helps in making intuitive changes to product/business
When you clearly understand your customers' needs, you can anticipate their future needs and desires. This allows you to proactively offer products or services they're likely interested in rather than waiting for them to come to you first.
4. Creates a line for speedier communication
With client management software for creatives, you can quickly send targeted messages to your customers based on their specific needs and interests. This way, you can ensure that each customer receives the right message at the right time, boosting communication. 
Client management systems: 4 features to look out for
Having the right client management software for creatives is essential when managing clients. But what exactly should that software be able to do?
Here are 4 key features to look for: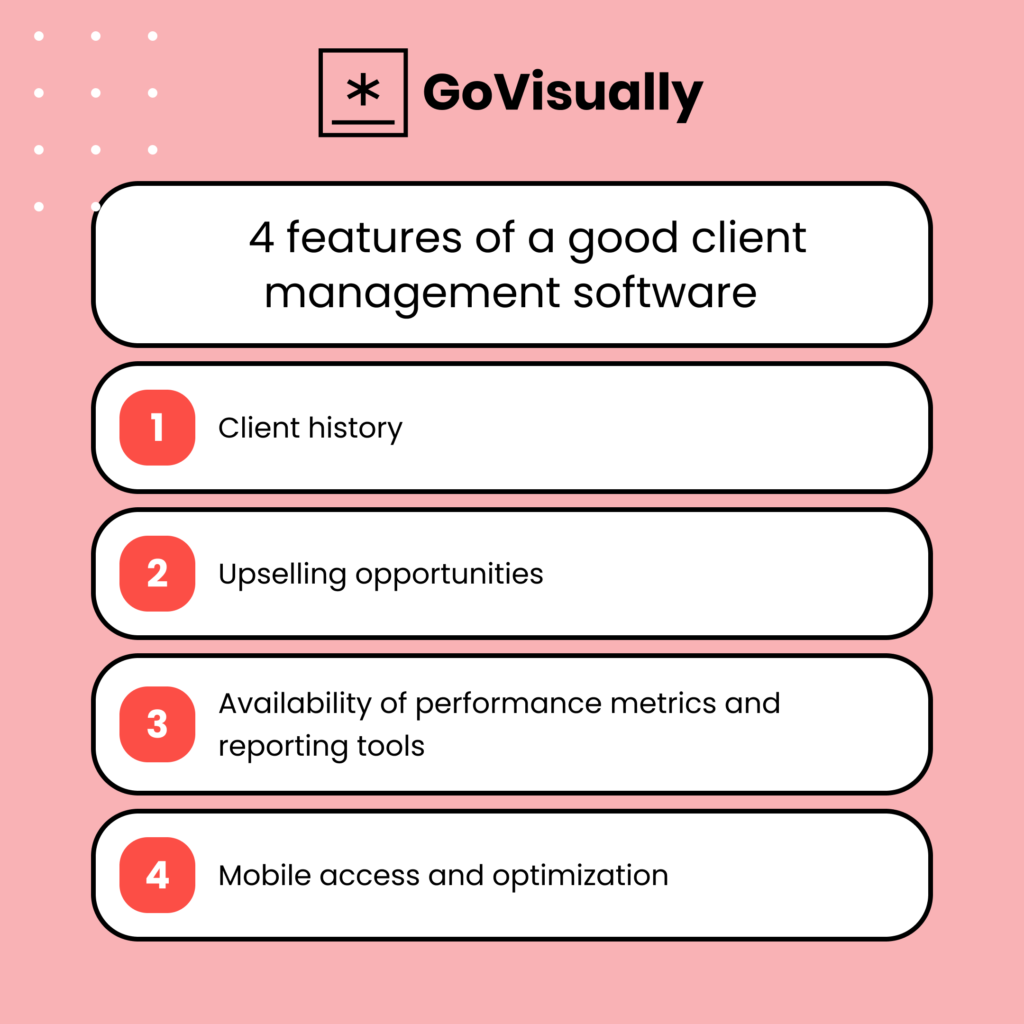 1. Client history
The best creative management platform should allow you to track all your client interactions. This includes notes from phone calls, emails, and meetings. This history can be helpful when trying to upsell or cross-sell a product because you can quickly reference what products they purchased and their pain points.
2. Upselling opportunities
Software client management should make it easy to identify upsell opportunities. For example, if a client has expressed interest in a product but has yet to purchase it, you can follow up with them and offer a discount or additional information.
3. Mobile access and optimization
With most people using their smartphones for everything nowadays, your client management software must be accessible on mobile devices. This way, you can manage your clients even when you're away from your desk.
4. Availability of performance metrics and reporting tools
Client management software for small businesses should have built-in performance metrics to track your progress and see which areas need improvement. For example, you can track how many new clients you've acquired or how much revenue you've generated from upselling products.
The best client management software will come with reporting tools that allow you to generate custom reports based on your data. This helps you understand your clients better and present data to upper management.
12 best client management software to maintain great client relationships
As the world increasingly moves online, businesses are searching for ways to streamline their operations and reduce costs. Creative management software is one solution that offers the potential to do both.
Here's a list of the best Client Management Software available on the market: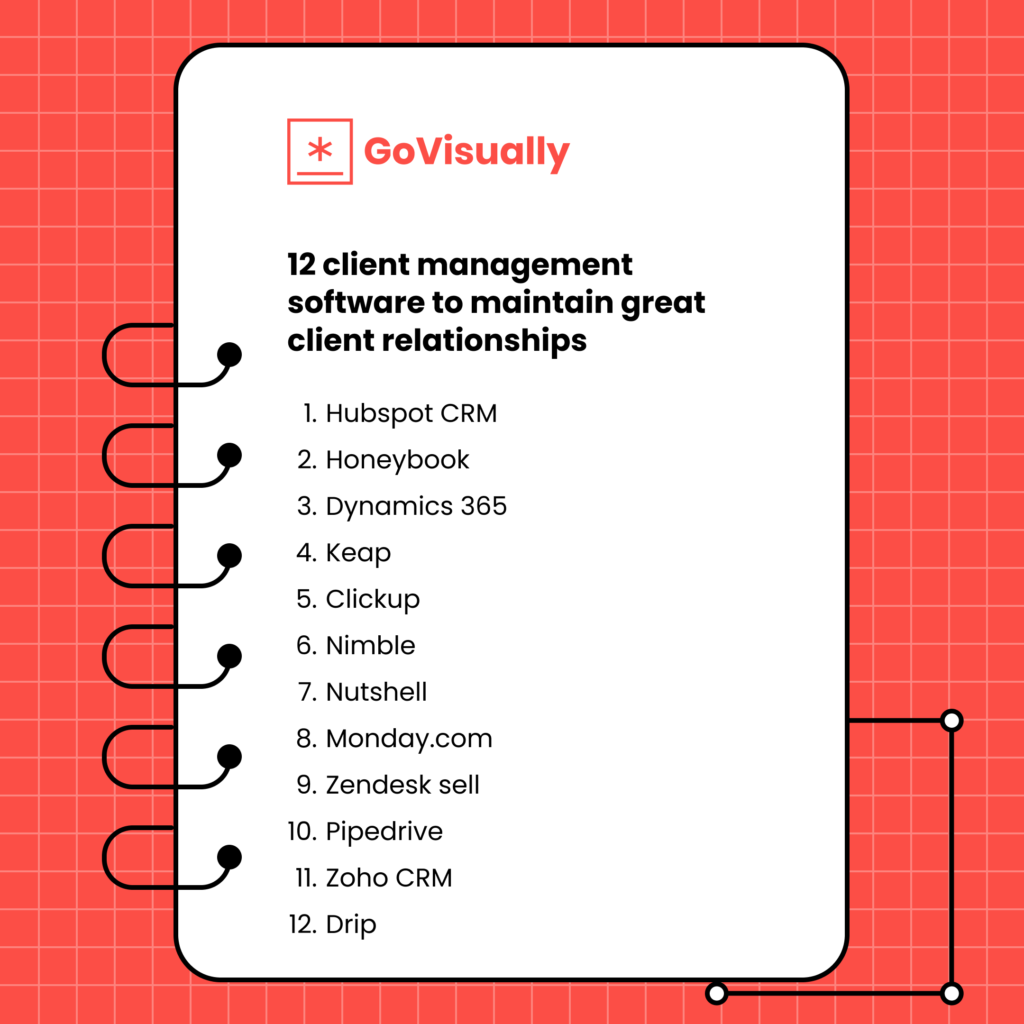 All-in-one HubSpot CRM is crafted in-house with your growth in mind and is flexible, cohesive, and easy to use. In addition to email tracking and notifications, prospects tracking, meeting scheduling, and live chat, it lets you stay in touch with your customers, who drive your business.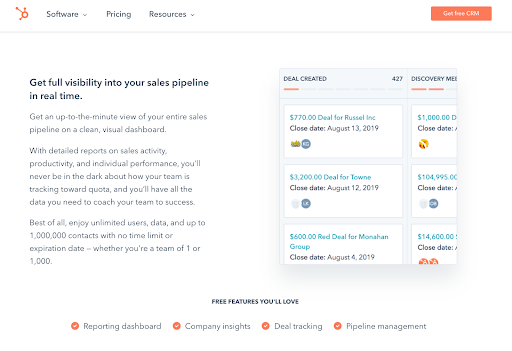 By integrating HubSpot CRM with Gmail, G Suite, Office 365, and Outlook, you can spend less time logging notes and more time building relationships. In HubSpot, you'll have unlimited users, data, and contacts with no time limit or expiration date – whether you have a team of one or thousands. Premium CRM features are available in Sales Hub's paid editions if you need more functionality.
Features 
Flexible and cohesive CRM

Email tracking and notifications

Prospects tracking

Meeting scheduling

Live Chat

Integrate with other platforms

Unlimited users, data, and contacts

Premium features available
Pricing 
Whether you need to send invoices, contracts, payments, or communicate status updates with clients, Honeybook has you covered. The Honeybook software is great for entrepreneurs and small business owners who work on a project-by-project basis. From onboarding to offboarding, it provides templates that will delight your customers throughout their journey.
Using the Scheduling tool, you can invite your clients to schedule meetings after sending a proposal tailored to your brand guidelines. As the deal approaches, collect digital signatures with the Contracts feature that notifies you when the client has signed their documents.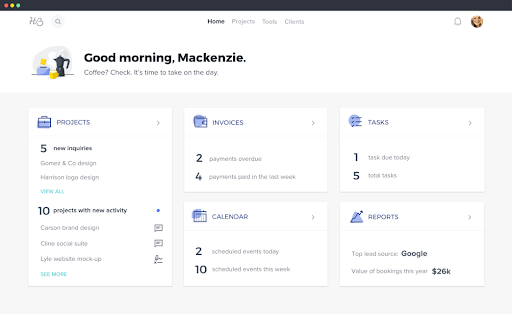 Honeybook Automation can help you nurture client relationships as you work on projects. With custom workflows, your clients will know exactly where you are. This means you don't have to send follow-up emails and status updates so that you can focus on your job.
Features 
Project management tool

Customizable templates

Scheduling tool

Digital signature collection

Automation workflows

Communication and status updates

Nurture client relationships
Pricing 
Dynamics 365 is the client management software solution for large enterprise teams that want to deliver more value in less time. This system makes it easy to onboard new clients in a matter of days, whether you have a long or short sales cycle.
It integrates seamlessly with other Microsoft applications, such as Teams and Outlook, that you already use. Rather than putting together an entire client management ecosystem of unrelated products, you can focus on building relationships with your customers on systems you're comfortable with.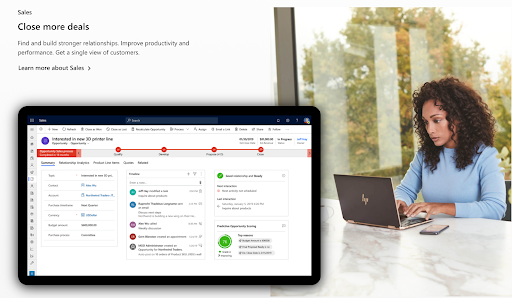 Together, Dynamic 365 Sales, Dynamic 365 Marketing, and Dynamic 365 Customer Insights can help your team acquire new customers and personalize existing ones, delighting them all.
Features 
Client management solution

Seamless Microsoft integration

Acquire and personalize customers

Sales, Marketing, and Insights
Pricing 
Keap helps businesses collect more leads, convert more clients, and create more fans by integrating client management software and CRM.
With Keap, you don't need another form builder. You can embed custom forms into your website landing pages, triggering specific actions so your team can follow up on time. You can segment prospects by specific attributes using Keap's email and SMS marketing tools to drive greater sales after collecting those leads.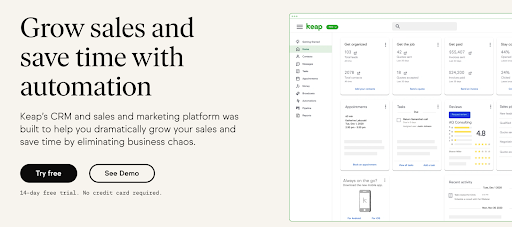 Keap lets your sales team automate their follow-ups to convert more quality leads into customers if you're running a smaller sales team, where personalization may not be at the top of your list of priorities. As a result of such quality client relationships, you will become the first choice for your clients.
Features 
Lead generation and conversion

Customizable forms

Segmented prospecting

Email and SMS marketing

Sales automation

Personalized client relationships

Increased client loyalty
Pricing 
ClickUp is your go-to productivity tool to improve account management and customer relations. It's packed with customizable features, such as a list, calendar, table, or Kanban-style board. Dashboards guarantee real-time reporting with detailed insights into your customers' lifetime values. Put it all together, and you can efficiently stay on top of every transaction!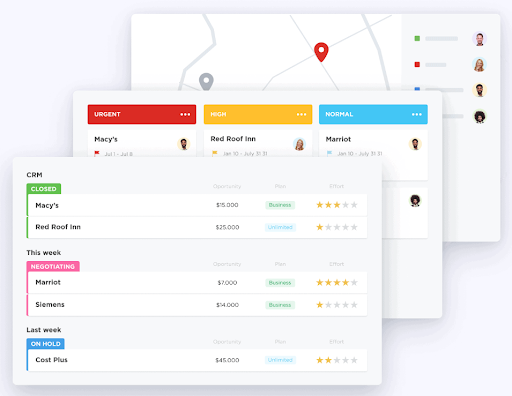 With ClickUp, you can quickly onboard clients, update tasks, and send messages from a single, centralized work hub while integrating over 1,000 other tools, such as email. With ClickUp's Free Forever plan, you can start building your customer database immediately or upgrade to even more advanced tools for just $5 a month.
Features 
Productivity tool

Customizable features

Real-time reporting

Centralized work hub

Integrations with other tools

Free and Paid plans

Onboarding and updating clients

Task management and messaging
Pricing 
The client relationship journey occurs not only
within client management software; social media also plays a role. With Nimble Prospector, prospective leads' contact information is captured. You can reduce your time spent on data entry by hovering over the LinkedIn or Instagram profile of a professional you want to contact.
Using Twitter, Facebook, and LinkedIn, your team can unify client contact data using more than 160 apps. Your team will never miss an opportunity to connect with a prospect or existing client with Nimble's calendar, activities tracker, and pipeline manager.
Features
Lead capture tool

Social media integration

Data entry reduction

Contact data unification

Calendar and activities tracking

Pipeline management

160+ apps integration
Pricing 
With Nutshell CRM, you can manage contacts, pipelines, sales automation, reports, and emails.
Your reps can find a system that works for them with its flexible pipeline management tool. With board view, reps can drag leads to the next stage and mark them as won, lost, or cancelled. This view gives reps a quick overview of their pipeline. With list view, you can sort your leads by stage, value, and opportunity so reps can see what's coming up.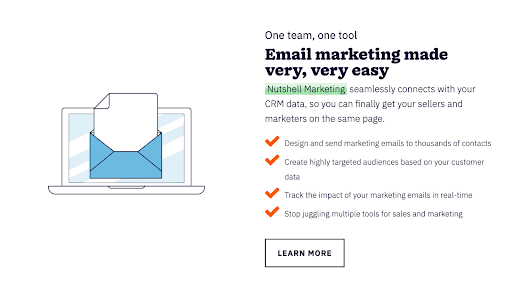 The map view helps sales reps plan meetings and activities by showing prospects' locations. The chart view displays open leads' time frame, quantity, and value. By customizing pipeline management, you can keep your sales reps ahead of the competition.
Features 
Flexible pipeline management

Drag and drop leads

Overview of pipeline

Sort leads by stage, value, and opportunity

Map view for sales planning

Chart view for open leads

Customizable pipeline management.
Pricing 
Sales CRM templates help your team manage leads, customer relationships, sales pipelines, and tasks efficiently. Lead management lets you create forms on Monday.com and place them on your website. Submissions are collected directly into your Monday.com board, and the tool records every interaction with your contacts, including phone calls, emails, and meetings.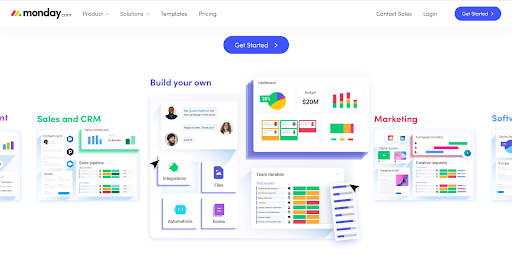 You can also manage your sales pipeline with the Kanban view in the sales CRM template, which shows you how many prospects you have and at what stage they are. The sales CRM also organizes your deadlines, so you know what tasks to complete each day to close the deal.
Features 
Lead management

Contact interaction tracking

Sales pipeline management

Kanban view for pipeline stages

Task and deadline organization

Monday.com forms and board integration
Pricing 
As a customer support tool, Zendesk has grown to include sales. A unique feature is how it integrates sales and support teams. You can sell smarter, maintain context, collaborate, and delight customers by combining its customer support and sales tools.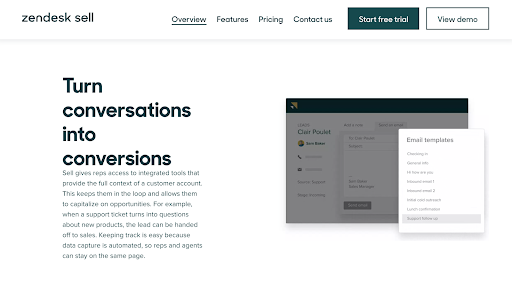 With Zendesk Sell, your sales reps can see if a prospect or client has opened a support ticket right in their contact records, giving them complete visibility into the customer's situation. Their contact record also keeps all communication history, so they understand the past context. Zendesk Sell is designed to reduce friction between sales reps and support.
Features
Combines customer support and sales tools

Integrates sales and support teams

Provides visibility into customer support tickets

Keeps all communication history in contact records

Reduces friction between sales and support

Provides complete customer context to sales reps.
Pricing 
Pipedrive's features include pipeline management, chatbots, web forms, and artificial intelligence (AI) sales assistance. Sales Assist is one of the unique features of this CRM. With Sales Assist, your reps will receive personalized tips and automated recommendations.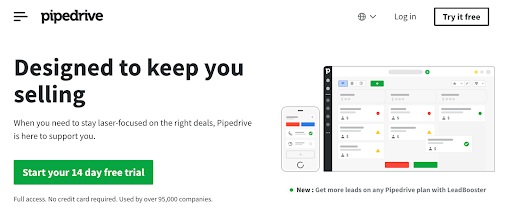 The AI sales mentor will analyze past performance and suggest new ways to boost your results. These tips will assist your sales teams in upskilling without lengthy training. Furthermore, the AI sales mentor will also analyze your actions and identify areas for automation.
Features 
Pipeline management

Chatbots

Web forms

AI sales assistance

Personalized tips and automated recommendations

AI sales mentor for performance analysis and upskilling

Identifies areas for automation.
Pricing 
Zoho CRM lets you automate sales, predict sales, manage sales, and communicate with customers through multiple channels.
One of Zoho CRM's strongest features is the ability to communicate across multiple channels. With the multichannel tool, reps can communicate with prospects via telephone, email, live chat, social media, and web forms. Also, they can measure the effectiveness of their communication by choosing the right time and channel.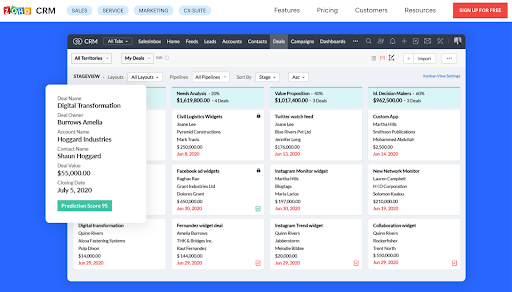 To facilitate multichannel communication, Zoho CRM integrates with various business applications, such as Google Suite, Ring Central, Whatsapp, Eventbrite, Quickbooks, Proposify, LinkedIn Sales Navigator, Mail Chimp, Facebook, Slack, Dropbox, and SalesIQ. These integrations help you communicate with prospects by email, phone, social media, and live chat.
Features 
Multichannel communication

Integrations with various apps

Measured communication effectiveness

Facilitates sales automation
Pricing 
Drip is a CRM specifically designed for ecommerce professionals, with advanced segmentation tools, contact management, personalization, multichannel touchpoints, and email marketing. Users can add tags to any contact to customize and personalize their needs. With the ability to filter prospects based on past purchases, spending, and activity, Drip helps tailor messaging to increase conversions by understanding customers' needs and behavior.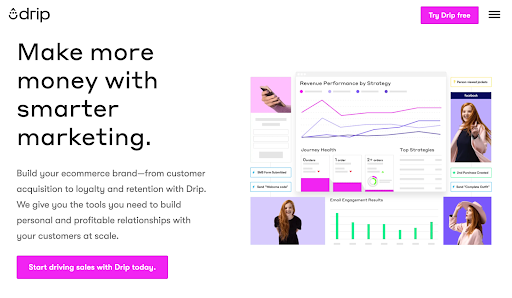 Features 
Advanced segmentation tools

Customizable contact tagging

Personalized messaging

Ecommerce-specific CRM
Pricing 
Integrating GoVisually with a CRM allows businesses to streamline their proofing process and improve client collaboration. The software allows creatives to share proofing links, receive feedback, and communicate with clients directly within the CRM. This eliminates the need for multiple tools and simplifies the proofing process for both parties. Features, such as commenting, annotation, and approval workflows, can be customized to fit the specific needs of a business. This ensures that the proofing process is efficient and effective.
GoVisually allows multiple stakeholders to review and approve the same document simultaneously, making it easy for teams to collaborate in real-time and get feedback quickly. This makes it a powerful tool that can improve the workflow of a business when integrated with a CRM. 
Integrate GoVisually into your CRM to streamline your business processes in 2023!
By leveraging cutting-edge technology, client management software can automate tedious processes, reduce the cost of operations and save valuable time that would have otherwise been spent on manual data entry or reconciliation tasks. 
And you can further streamline your approval and review process by integrating GoVisually with a CRM.
You can use Zapier to integrate GoVisually with 5000+ apps and take advantage of all its features.
Not only will it save time and effort, but it will also enable better collaboration between creatives and clients.
So why not give it a go?
With GoVisually, your team never has to worry about losing an important approval again or marking off things timely.
Improve the efficiency of your approval process by booking our demo at GoVisually today.