The global marketplace is filled with diverse and bold choices. To stand out in such a market requires a unique approach to your business. In today's time, that approach is a conventional design.
To put it more simply, being ordinary.
It's common knowledge that you must create products that meet customers' demands. To do that, the popular approach focuses not just on functionality but also on aesthetics. Brands that go bold and dramatic with their product design usually garner much attention.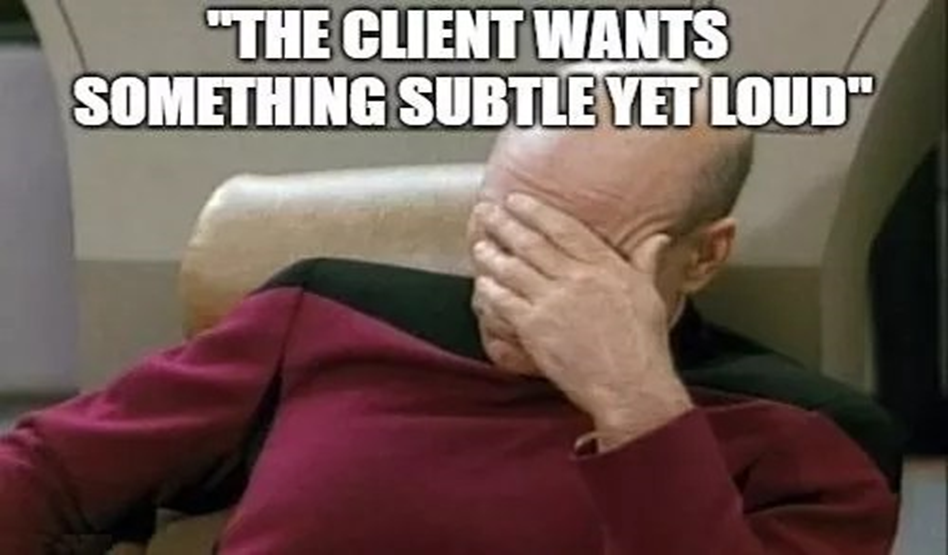 So you must wonder why the ordinary is good and how it works.
Well, we got the answers for you.
So let's find out why 'drama' doesn't always work and conventional design is a better choice!
What is conventional design?
The fact of the case is this: products that work better sell better.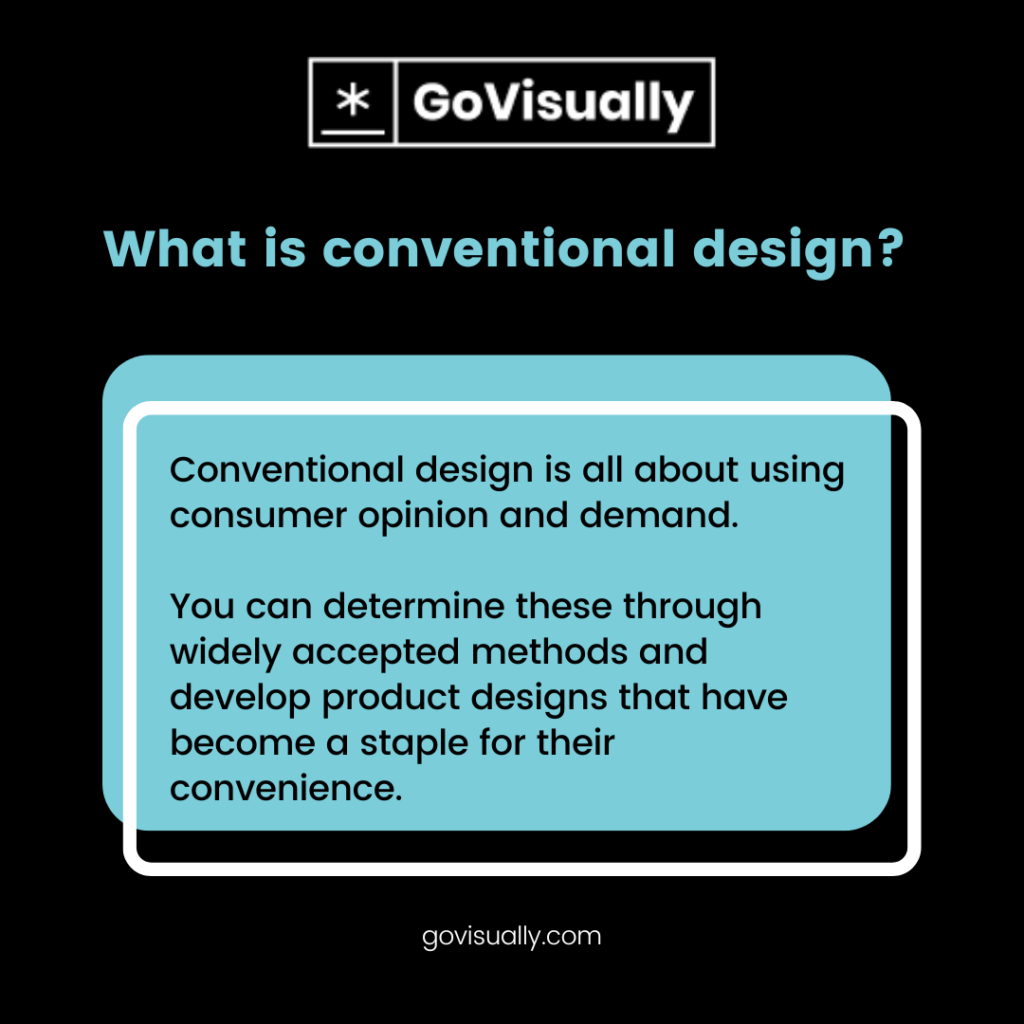 However, design is important for success and deserves a place on your product roadmap. Great design thinking demands that you finalize product designs early so they can seamlessly incorporate aesthetics, usability, and manufacturing into the project.
Now, there is no clear answer to what is a conventional design since it's a matter of perspective.
Still, as a general definition, conventional design is all about using consumer opinion and demand, which have been determined through widely accepted methods and developing product designs that have become a staple for their convenience and abundance in everyday use.
But why are the ordinary good and conventional designs a better choice?
Reasons why the ordinary is good 
When creative professionals start designing a new product, they often get caught up with the urge to try out something completely new. Often these ideas come from a desire to stand out amongst competitors, but they don't always work the way you expect. 
Think of it this way, any login page on a website has a username/email field followed by the password and a button to proceed. That's a conventional design for websites. Imagine doing something different than this convention and switching the password and email fields.
The order of adding email and password has become ingrained in every user on this planet, which means your user will face a lot of inconvenience out of pure muscle memory by making the same mistakes over a small 'innovation.'
Would that be a great design choice? No. 
It may be 'different' from every other website, but it will reduce the functionality of your website's UI and make users frustrated.
While going bold may be great, they often fail to consider what conventions and people like them already exist. For a significant part of your design, a conventional approach can be crucial to optimize your design process and improve your product's UX/UI.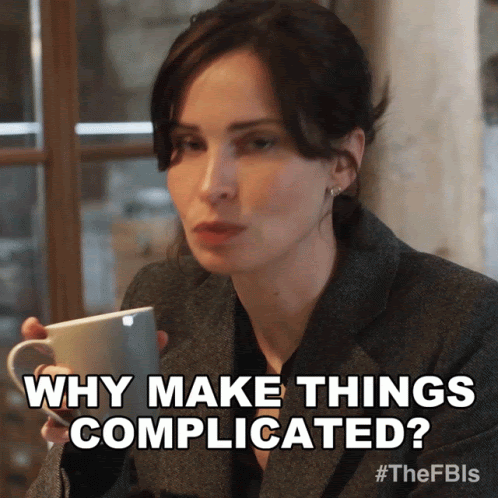 So let's discuss 7 design aspects that make ordinary designs better than something completely out of the blue.
7 design principles that make ordinary designs work
Contrary to popular belief, some of the best-selling and widely used products in the world support a plain and ordinary design. While you might find it surprising, conventional designs have all the essential properties of a good product design.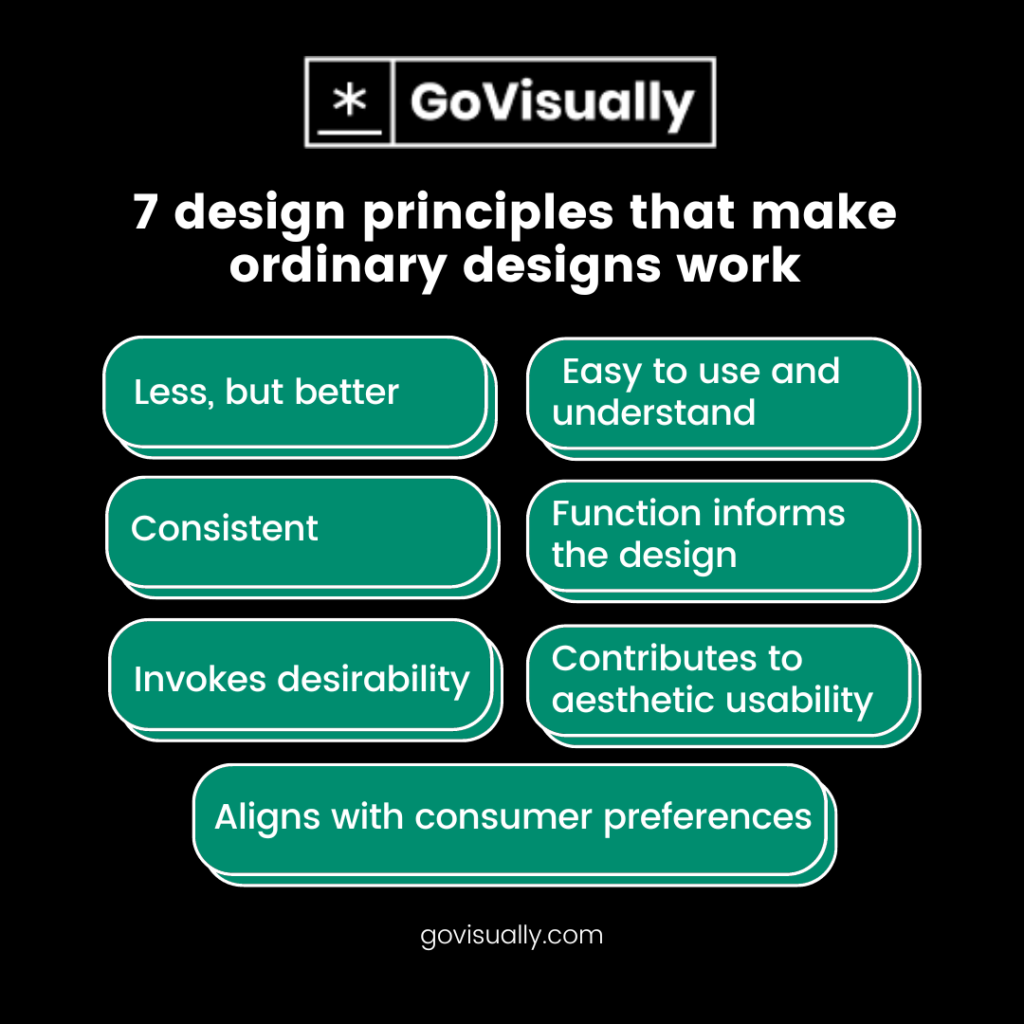 1. Less, but better 
A good product design must make a product easy to understand. It clarifies the structure of the product. Even better, it can make the products self-explanatory. That is exactly what conventional and ordinary designs are for.
A conventional design does not interfere with the user experience. Instead, it makes the functionality stand out and does not require decoration or artistry. The idea was best summarized by Dieter Rams, an interior designer and architect, that a good design is less but better.
2. Easy to use and understand 
A user experience designer seeks to make an interface simple enough that users can easily understand how to interact with it and navigate it. Designers also seek to minimize friction between the end user and the system by creating intuitive and consistent interfaces across platforms. 
This is precisely why there are some essential components in a design system that can not be overlooked. They ensure that the interface reflects the user's context and tasks, which in most cases, becomes a convention for future products.
3. Consistent 
It's no quantum theory to understand that simpler designs are easy to maintain throughout your product's production and contribute to brand identity. It is also easier to keep brand compliance in check with ordinary designs.
Since we're talking about the ordinary, I'll give you an ordinary example. The Canadian skincare brand The Ordinary is a great example of using conventional product design while keeping it simple and consistent. Is ordinary a good brand? Everyone knows the answer. 
But the reason they accumulated such a large fanbase wasn't just their products but also the design that emphasizes their brand's main goal: simplicity and honesty. And obviously, it costs them less to keep up with their designs.
4. Function informs the design 
When we start creating new products, the customer experience team, the product architects, and the development team sit together. They start prototyping ideas, create mockups, test them, and iterate until the final version is perfect. 
Because they are working together, they understand what customers expect and how their expectations should be met. This ensures that every product meets customers' needs perfectly, and that's also what conventional designs offer users because they have already been tested and proven to work.
The same idea of functionality over design applies here, so keep in mind that product designs should enhance your product's role and not overshadow it.
Cut design & video review time in half
GoVisually is the #1 online proofing software to get visual feedback on Designs, PDFs & Video content.
Try GoVisually free today!
5. Contributes to aesthetic usability 
An aesthetically pleasing product is perceived as being intuitively easier to understand, navigate, and interact with. Therefore, products with an appealing design tend to outperform those without one. However, as humans, we are reluctant to try out things alien to us. 
A conventional design paired with the aesthetic appeal will do wonders for your product without much effort. If what they see looks familiar, you have their instant trust and interest because they realize it's something they have tried before.
This does not mean you should stop experimenting with designs or brand colors; you need to stand out after all. However, make your product design go around the same fundamental aspects as other similar products, so it doesn't alienate people.
6. Invokes desirability 
Desirability is rather a perception of value. When someone perceives something as valuable, they also view it as desirable. We can easily judge whether something is desirable simply by asking ourselves, "Is it something I would enjoy owning?" 
Conventional designs rarely fail to invoke desirability. Because people find familiarity, they choose ordinary products more than exotic ones. Nevertheless, this approach works better with unconventional designs as long as they gain popularity.
7. Aligns with consumer preferences 
This is the most important part. Your product design should always align with consumer preferences and buyer personas, whether ordinary or dramatic. Conventional designs work better as an overall method because they target everyone regardless of their preferences. An ordinary design for the ordinary audience.
However, some products are designed to attract a certain group of people. If that's the case, you should not hesitate to go overboard with making your product unconventional and out of the ordinary to meet your buyer's demands. As always, consumers and functionality are a priority for designing anything.
Innovative examples of conventional designs and why they worked 
Yes, you got that right. We used innovative and conventional in a single sentence. No matter how paradoxical it sounds, conventional designs can also be used innovatively, and that's what we are about to show you with some amazing examples.
1. Popsockets 
Founded in 2012, PopSockets is a fascinating example of how a simple idea can evolve into a fully-fledged business. Professor Barnett originally used the gadget to hold and store his headphone cords while he was out. But after realizing it could be useful for others, the gadget quickly grew beyond that original purpose.
The design itself is ordinary. However, the purpose this product could serve soon became innovative. These increasingly popular, customizable smartphone grips started as a consumer item. However, they quickly got into the business of customized marketing, where they could be personalized for a brand at a very low cost.
The takeaway is that you can use a fairly simple and conventional design to create a product that serves more than its practical purpose. As designers, we usually feel the urge to be creative and bold while forgetting the most important (and cliche) part, the beauty in simplicity.
2. Sonos speakers 
While every other brand was transitioning towards smart, built-in speakers that could be hidden in walls, Sonos brought back the conventional approach of showing off speakers bold and clear right beside your TV. 
While their speakers still maintained the wireless charm of the new era, they designed something based on consumer preferences. Function informing design is what Sonos did, as indicated by the release of its Playbase, a wireless home theater speaker that also doubles as a TV stand. 
The idea, they said, came from studying the way that humans live and interact with entertainment technology at home; the company found that most people, around 70% by Sonos's count, do not mount their televisions on the wall, preferring instead to place them atop a piece of furniture. 
Users followed conventions, and so did the company to make their product successful. Because who owns the ordinary? The people!
GoVisually – is the best platform to streamline your design process 
There are times when breaking conventional design can make sense. But if you're not careful, they can also lead to confusion and mistakes. There are methods left unquestioned for too long, and that's when you break the ordinary.
GoVisually is the innovative approach to collaboration, communication, and feedback for design teams. As an online proofing software that allows users to collaborate on documents and annotate them visually, GoVisually goes beyond conventional methods. 
Support for multiple file types, including images, PSDs, and videos.

Visually annotate with boxes, arrows, and comment points.

Invite clients to comment without registration with a single link.

One-click client and team approval workflow.

Attach files to comments.

Full version control and comparison tools.
More features on the platform help you streamline your design process with your creative team and stakeholders, so you won't need to worry about making 50 copies of the same file to get feedback and make edits.
Final takeaway  
When you're working on a project involving a lot of back and forth between designers, developers, and stakeholders, it's easy to get caught up in the process and forget the end goal. 
You might think you're being thoughtful by following conventional designs, but if you take too much time to adhere to them, you could be causing serious damage to your product's potential. 
With these matters at hand, make sure to use this guide and see whether your ordinary design adheres to all designing principles for its success. And whether you choose a conventional design or something completely out of the ordinary, getting buy-in from your team and smooth project collaboration is a must. So remember to take a demo with GoVisually!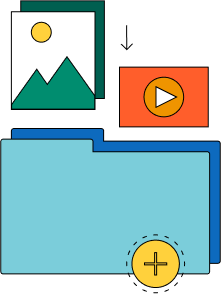 Need a quick way to share large files and creative assets?
With GoVisually Share, it's absolutely free! Try today.