When you think design portfolio, think power. 
As a creative professional, you must already know the power a great design holds in our daily lives, whether in the real or the digital world. And that's precisely why your design portfolios should showcase the impact your designs make.
If you're a seasoned designer or just beginning your career, a thoughtfully designed portfolio can be the most effective tool to prove your competence. And to assist you with making one, we'll cover some expert secrets for designing a professional portfolio highlighting your skills and potential for success.
So if you're in for this creative ride, let's get started!
Why make a design portfolio? 
Not only the projects listed in your portfolio but also the design for the portfolio itself demonstrates your skills and tells your story. Clients should be able to see themselves through your work, understand your style, and feel comfortable with your overall approach. 
Your portfolio presents your work and your journey organized to show off what you do best. A good design portfolio conveys information about your personal life and professional background. When creating a new one, it goes without saying that you should consider your unique qualities and interests.
Still, many of us fall short of ideas regarding portfolio design graphics. There is no fit-for-all guide when creating your portfolio, and you can not make it look generic. But what you can do is understand the design thinking behind some of the greatest portfolios to inspire you to make your own.
So here are some design portfolio examples, tips, and ideas behind them to get those creative juices flowing in your brain!
Cut design & video review time in half
GoVisually is the #1 online proofing software to get visual feedback on Designs, PDFs & Video content.
Try GoVisually free today!
The visual side of an effective design portfolio
A small detail is enough to hook your clients and compel them toward your portfolio. Humans acknowledge visual cues in under 13 milliseconds. So think of it as having that long to catch attention, then give it more depth than a simple 'design' to catch a job.
Instead of throwing a bunch of complex sentences to explain how effective design works, we will show some of the best design portfolio examples and link them to our tips so you can understand them better.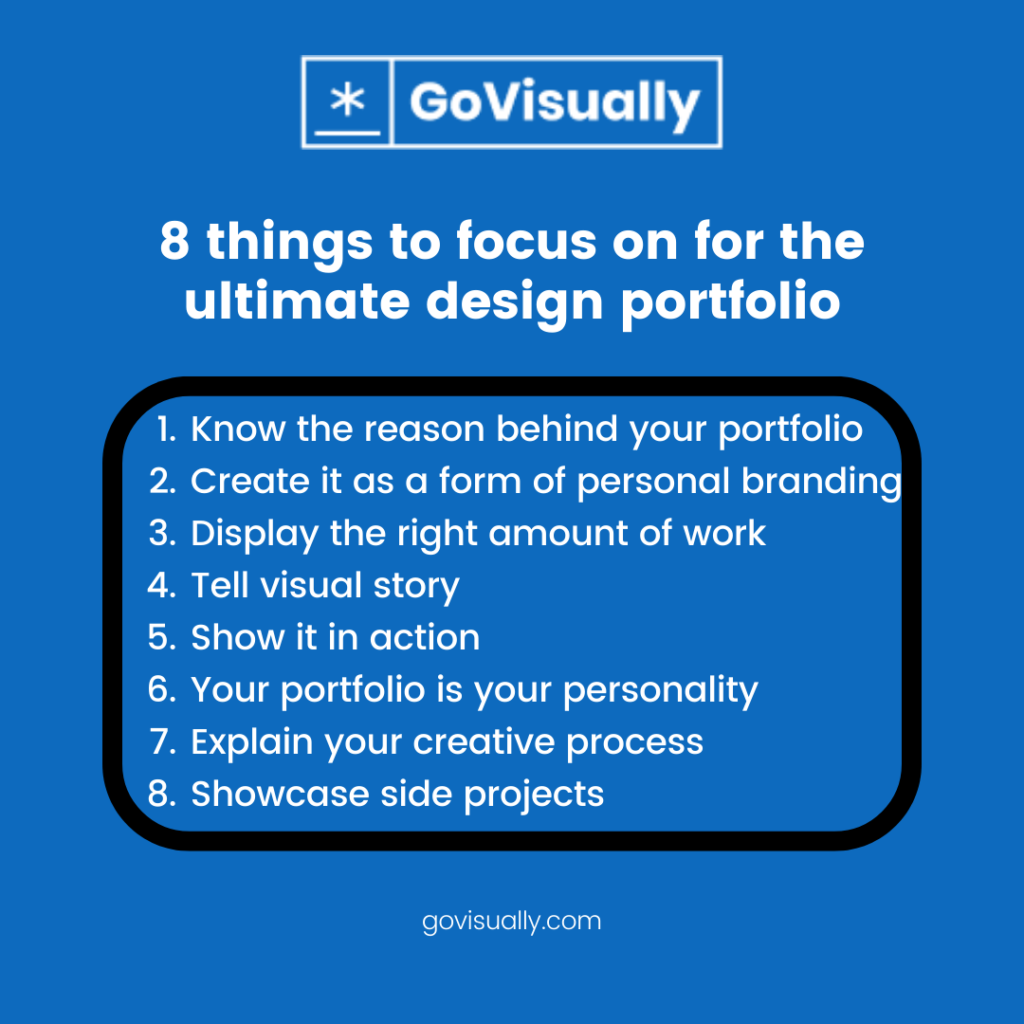 1. Know the reason behind your portfolio 
Before jumping straight into creating your portfolio, you should consider what your portfolio's purpose is. Do you intend to attract potential clientele or employers? How will you present yourself to each group? 
These questions can help guide what kinds of content you might include in your portfolio. For example, if you're trying to find a job, you may want to focus on showcasing your best work; as a freelancer, you might want to add more credibility with case studies and reviews.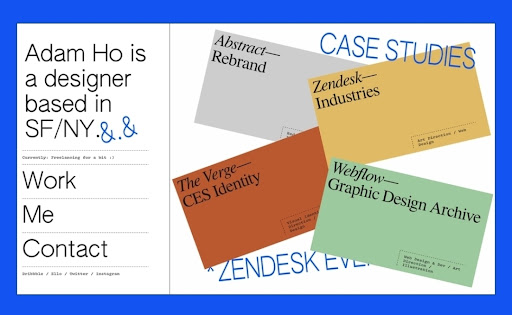 The idea also applies to making your areas of expertise clear through your design, like in this portfolio design by Adam Ho. One can instantly tell the type of work the creator does and what is to be expected from their services.
2. Create it as a form of personal branding 
Stand out in a crowd of designers by consistently incorporating your visual branding across your design portfolio websites, from your header to footer, to your social media profiles and email. 
Your brand should extend beyond just your logo; everything on your website should reflect the same style and theme so that clients instantly recognize you as an expert in your field. Even as a freelance designer, you should create your own identity, so people recognize you at a glance.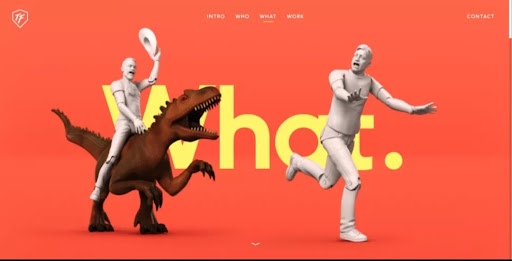 Our inspiration here is ToyFight Studio. When you look at the logo, the figures, and even how they phrased their content, you can tell it's their thing, representing their brand identity perfectly. There's much more to learn from their portfolio, from animated transitions to visual humor, so better take notes.
3. Display the right amount of work 
Honestly, there is no right amount of work regarding portfolio designs. In this sense, Studio Feixen is one of the best design portfolio examples. The home page showcases too many design tiles at once, making it look cohesive and creative.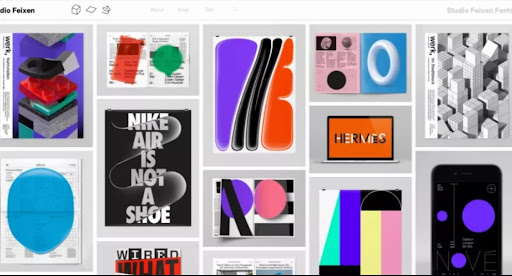 However, as an individual designer, before you upload every single design project you've ever worked on, stop, and consider how much of a passion project each one was. Only use the type of work you wish to attract in the future; make it precise, even if it's just graphics.
4. Tell a visual story 
This is our favorite but trickiest part of creating a design portfolio. As a creative professional, you should know how to communicate using your design and tell a story. Humans are wired to communicate through stories, so we recommend creating a narrative around your work to draw people in.
You can do this by crafting an impeccable user flow, where your design guides your clients to follow through with your story. Adding content here is also important, but remember to keep it short, so it seamlessly fits your design and gives necessary information.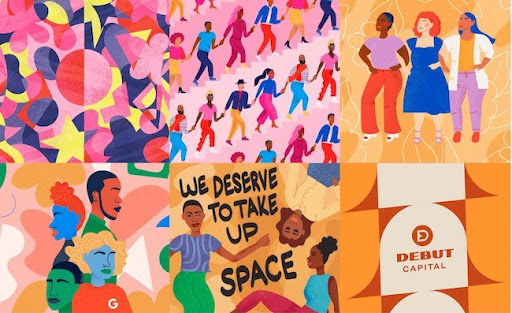 One of the most stunning design portfolio examples of telling a visual story is the website of Sophia Yeshi, which is probably why several big brands like Nike and Google decided to work with her on their projects.
5. Show it in action 
Clients want to see your designs in action. When showing off your design work, try including actual examples of products that incorporate your design. If this is not an option, consider creating a set of mockups to show what your work could look like if it were created into reality. 
Mockups can include everything from simple wireframes to high-resolution image files, so make them detailed enough to showcase the quality of your work and realistic enough to demonstrate the impact your work could have if implemented properly.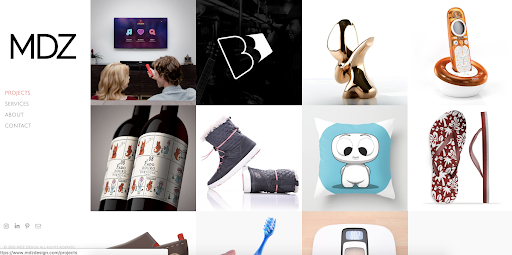 If your work is purely digital, adding links to your portfolio is enough proof; however, if your design portfolio includes packaging designs, product designs, or magazine designs, it's better to show the physical form of your work to make an impact, like MDZ design on their portfolio.
6. Your portfolio is your personality 
Whether you're a personal brand or a studio, it's important to understand how to inject your personality into your portfolio. Don't write an autobiography; instead, focus on sharing stories and insights about why you love designing and what you bring to the table. 
Adding personal anecdotes and following your natural writing style and communication skills is the best course of action to introduce yourself along with your work. You can also go creative by turning your text into graphics and making it responsive.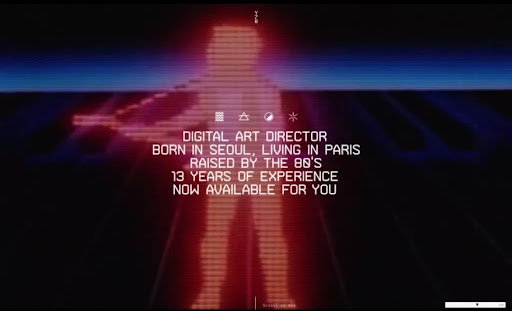 Our favorite design for the portfolio is Yul Moreau's 80's vibe with retro graphics and a single-page website with two sentences of the introduction. The portfolio design can give you an idea of what kind of person you can expect to work with.
7. Explain your creative process 
Every designer has a distinct style and method that helps them create beautiful graphics and standards they base their work. Before potential clients find you as a creative professional, they should know what kind of work you do best and how you handle it. 
A great way to show prospective clients exactly how you'd approach their project is to write up a detailed explanation about your creative process for each project included in your portfolio designs. Or you can make a separate page for writing case studies or video assets to represent your work process.
Either way, make sure to keep your descriptions meaningful and concise. As the best example, Locomotive's design portfolio wins this category by miles. You can find brief sections of their projects' aims, processes, and results when you navigate their projects.
8. Showcase side projects  
Side projects are a great way to showcase your creativity, innovation, and desire to put yourself out there in new ways. These projects may help you build your portfolio and make connections within your industry. 
While these projects may not directly relate to your client base, they provide valuable insight into who you are outside of your professional life. Adding your projects also show your motivation, initiative, and passion for your work.
The technical factors in designing portfolio websites
A range of technical guidelines is necessary to keep in mind while focusing on the 'design-only' aspect of your design portfolio websites to make them successful and result-oriented when it comes to attracting clients.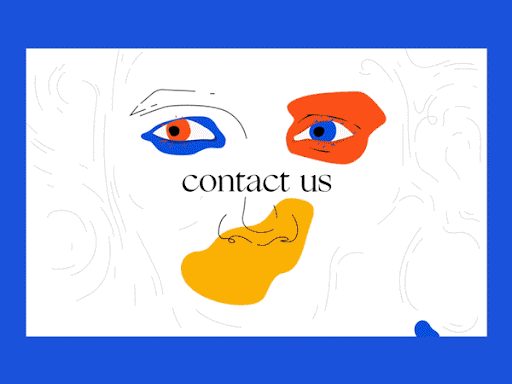 Add a call-to-action on every page of your design portfolio websites to direct clients and encourage them to take the next step. This can be graphics or simple text redirecting them to a contact link.

Optimize your website for Google based on your niche.

SEO for creative agencies

and freelancers is necessary if they're looking for long-term progress and to build an identity for themselves in the digital realm.

Utilize all

essential design components

for your portfolio design graphic. Putting the right icons in the right places will give your website a clean look. 
Make your design portfolio fail-proof with GoVisually! 
Adobe CC is the right place to start if you haven't already started creating your portfolio designs. And while you're at it, don't forget to review and proof your design with the rest of your team and collaborate with your web developers to make something unique.
Now, if you're working on Adobe CC or any other platform, GoVisually is the most advanced collaboration and feedback tool. With GoVisually, you can easily collaborate with others directly from your browser. Whether they're in your office or halfway around the world, you'll instantly get the feedback you need. 
You can also work offline and share your designs and comments later once you've sorted everything out. You can directly annotate images and videos, leave visual feedback and time-stamped comments, and upload a range of files on the platform. 
As a creative professional, you must also know the importance of streamlining your project, collaborating effectively, and getting approvals from your team and customers. GoVisually is one platform that does everything.
Sounds too good to be true? It's the perfect online proofing tool!
Book a free product demo and learn about the world of proofing, where everything is tailor-made for creative professionals who like to work on everything visually!
Final Takeaway 
Now that you've got our secrets put your very best foot forward online and prepare yourself for the task ahead by putting those new skills into action right away! 
Whether creating a website portfolio from scratch or updating an existing one, go and show the world what you've got. No matter where you start, show off your authentic, creative side, and it'll work out just fine.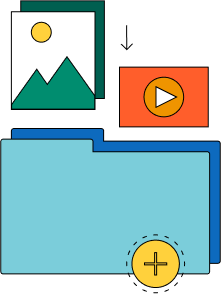 Need a quick way to share large files and creative assets?
With GoVisually Share, it's absolutely free! Try today.