Running a design agency is no easy feat. That is why you need only the best project management software for design agencies. 
In a design agency, you have to juggle multiple projects and manage numerous team members. But, with the right project management software, you can streamline your workflow, reduce tedious administrative tasks, and increase overall productivity. 
In this article, we'll explore the various software options that offer customizable workflows and integrations with other tools to help you keep your projects on track.
6 features to look for in design agency project management software 
Before we get to the list, let's look at some must-have features in the ideal design agency project management software.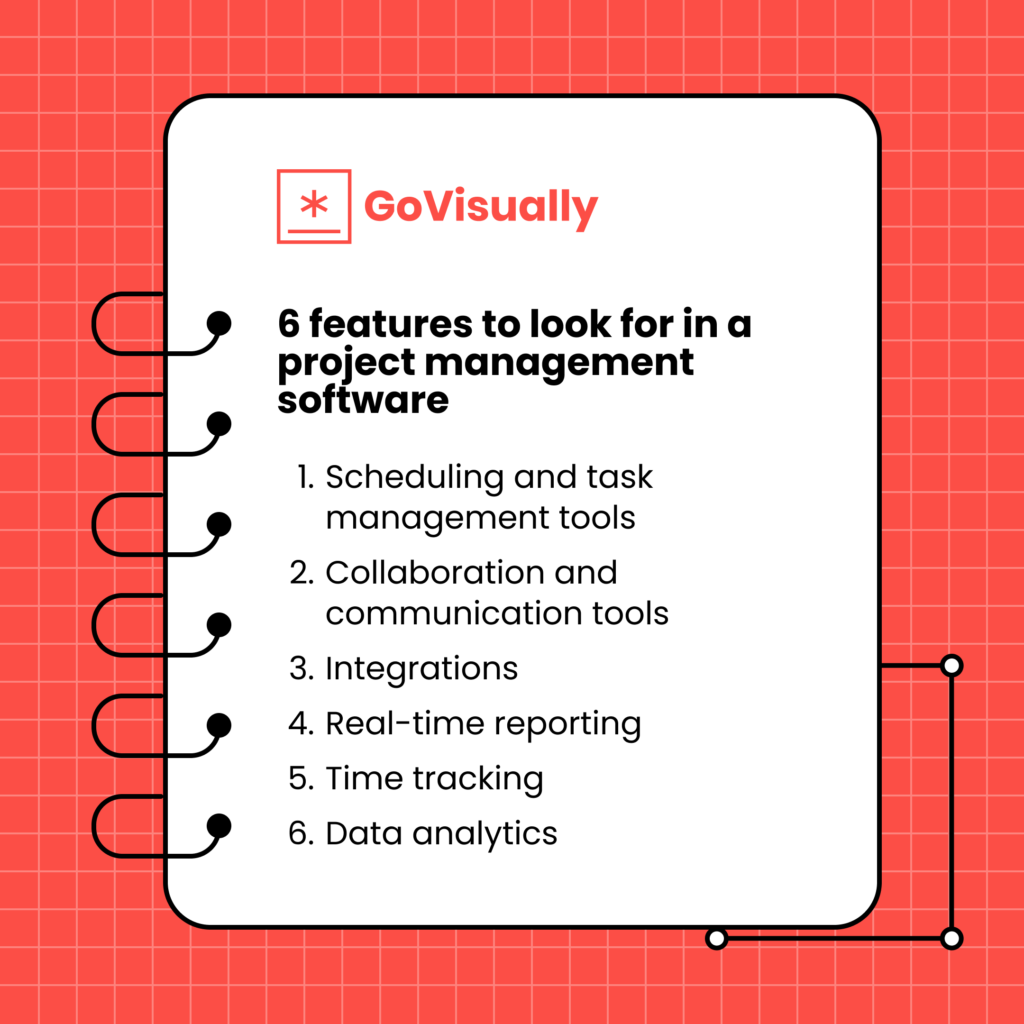 1. Scheduling and task management tools
Scheduling and task management features are must-haves for every project management system. You can plan and track the progress of your projects with these capabilities. Whether you're a large or a small team, look for features that let you create tasks, assign them to team members, set deadlines, and track progress.
2. Collaboration and communication tools
While working with a team, there's nothing more important than good communication. Your chosen project management software must have advanced communication and collaboration tools. The best creative agency project management tools offer chat, video conferencing, and file-sharing features.
3. Integrations
Many project management systems offer integrations with other software platforms. This can be helpful if you need to use multiple software for your projects. Look for integrations with popular productivity platforms such as Microsoft Office 365 or Google G Suite while choosing software for Project management for creative teams.
4. Real-time reporting
Being able to track the progress of your projects in real-time can be extremely helpful. Look for project management systems that offer real-time reporting features. This way, you can always stay up-to-date on the status of your projects and identify any potential problems early on. 
5. Time tracking
Time tracking is an important feature to look for when choosing a project management system. It also tracks the time it takes to complete a task. This ensures that projects are always on schedule.  
Always go for a program with an intuitive interface. This will ensure that the entire team understands the project timeline. Good Client management software for creatives enables you to allocate your resources better. That's because you have a better idea of the time it takes to complete the task or the entire project.  
Whether manual or automatic, your project management software provides a clear picture of where your time goes. Choose software that provides detailed reports of the time spent to ensure your team is productive and efficient.
6. Data analytics
Data analytics gives you an overview of your project's progress and identifies areas you can improve. You can also identify trends that help you better allocate human resources. You can use the acquired data to make better decisions about your future projects and boost your team's productivity.  
Top design agency project management software to streamline workflow 
Finding the best project management software is essential to your success as a design agency.
Here's a list of the best design agency project management software. From simple task management apps to more comprehensive solutions, there's something on this list for everyone.
Asana is great for large organizations that need to manage a portfolio of projects and keep track of organizational goals. It offers multiple ways to visualize a project, including the list, calendar, timeline, or board view. Additionally, it has if-then-else task workflow automation you can trigger when a task property changes.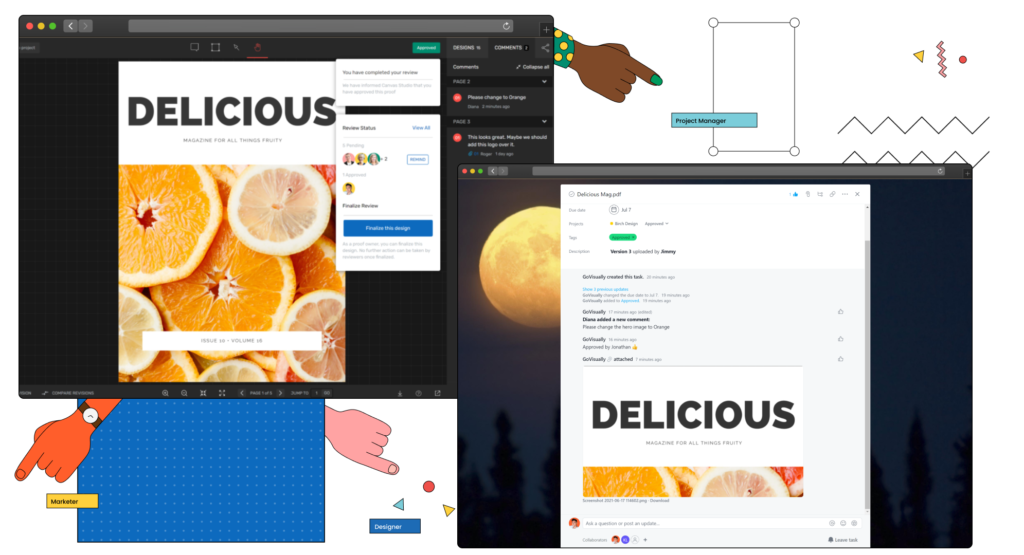 Asana is flexible, which makes it the perfect project management tool. It has various customizable features to fit the needs of any organization. If you're looking for a project management tool to keep your organization on track, we highly recommend Asana.
Features
Kanban boards, Gantt charts, calendars, and task lists to view tasks

Sub-tasks, task dependencies management 

Track organizational goals and project portfolios

Slack, Google Drive, Zapier, Pipedrive, calendars integrations 

Various project templates to suit every team

Task automation
Asana pricing
Free Plan – Limited features for 15 membered teams 

$13.49 to $30.49 per user per month
Trello is the ultimate project management tool for small and large projects. Its sleek Kanban interface lets you customize workflows to fit your team's unique process. 
Trello also has top-notch security features and integrations with other tools, making it perfect for simple and complex projects. And with the option to view your project in a calendar, timeline, or map view, you'll always have a clear understanding of what needs to be done. 
Take advantage of the ultimate productivity boost – give Trello a try today!
Features 
Kanban boards, timelines, and calendars to visualize projects

Powerups – add-ons to help you extend the project's functionality 

Admin tasks automation 

10+ domains with ready-to-use project templates 

Hundreds of integration options 
Trello pricing
Free plan – limited features – 10 project boards.

Paid plans – $6 to $17.50 per user per month
Basecamp is not a traditional project management tool. It is the ultimate team collaboration software, perfect for creative teams that thrive on organization and simplicity. Say goodbye to complicated tasks and hello to straightforward to-do lists.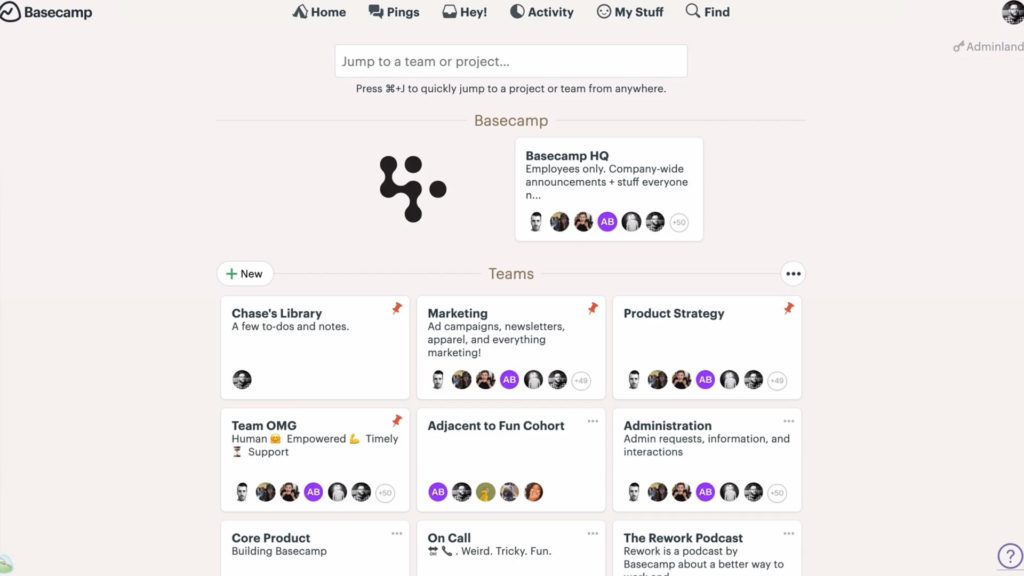 Basecamp also offers bulletin boards and messaging features to keep your team in sync and on track. If you value efficiency and streamlined communication, Basecamp is perfect for you!
Features 
Simple to-do-lists for task management 

Comments, file attachments, and bulletin boards to improve collaboration 

Status check-ins automation to boost team productivity

A unified schedule that entails to-do items, events, and deadlines 
Basecamp pricing
Free plan – limited features for individual users

Paid plan –  $11 per user per month
Monday.com is a blank canvas for your project management needs. Create the perfect workflow for your team's unique needs. It comes with a range of customizable fields and items.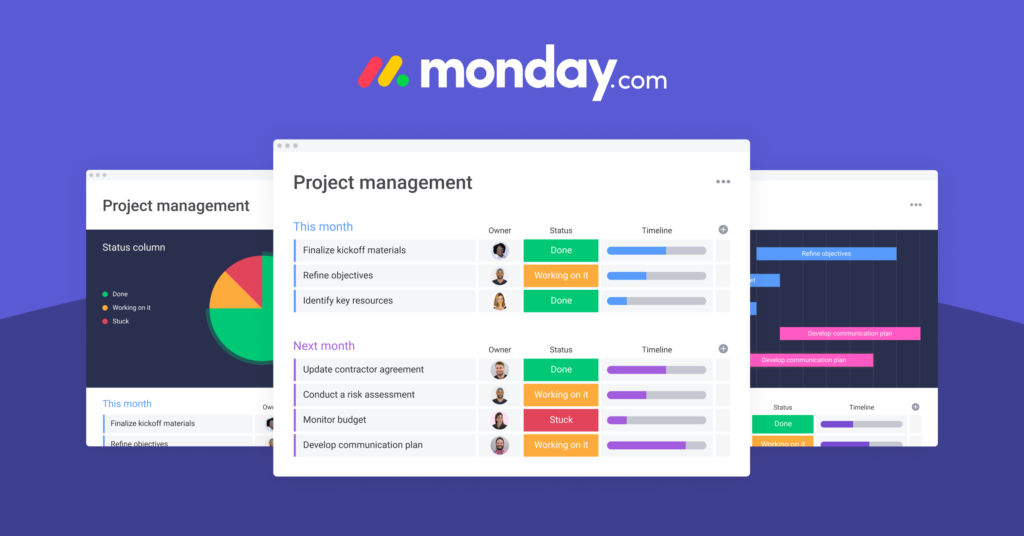 Monday.com covers whether you're working with clients, team members, stakeholders, projects, or more. What's more? A fun and colorful interface makes project management more enjoyable and exciting. 
Features
Customizable items and properties allow you to create an ideal workflow that meets your needs.

Kanban boards, calendars, timelines, and more to view work 

Automate workflow to save time on repetitive tasks 

Access to real-time insights for custom dashboard creation 

Ability to create collaborative documents 
Monday.com pricing
Free plan – up to 2 users

Paid plans – $10 to $20 per user per month – free 14-day trial
Workamajig is the ultimate solution for creative agencies looking for a comprehensive management tool. With its powerful project management features, sales CRM, and resource management capabilities, you can easily plan and track every aspect of your projects.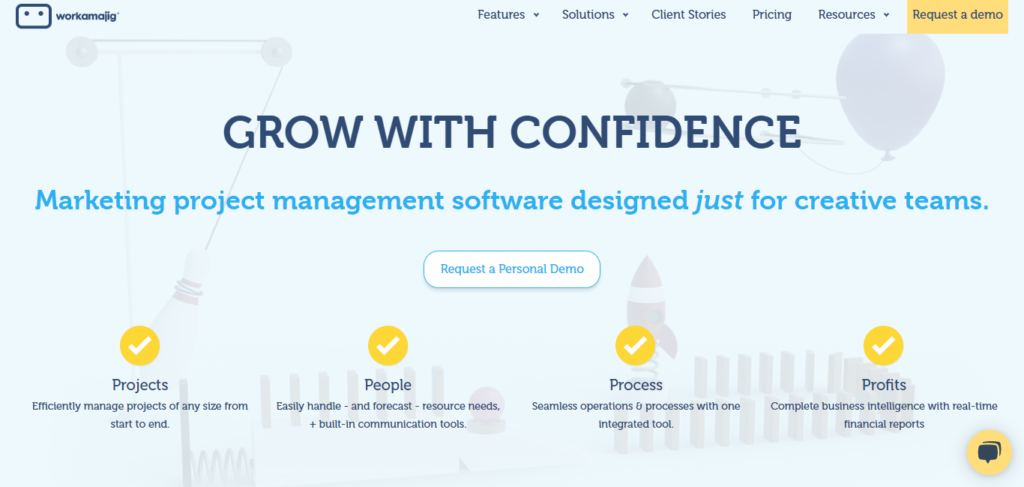 From proposals to invoicing, Workamajig has you covered. This tool is perfect for large organizations looking for an all-in-one solution but may be too complex for smaller agencies.
Features 
All-inclusive project management for creative agencies 

Various financial reporting and accounting tools 

A Sales CRM to track pipelines and business opportunities 

Tracking and planning team schedules 

Business insights that track cash flows and profitability 

In-built time tracking
Workamajig pricing
Free plan – limited features – no integrations

Paid plans – $9.80 to $24.80 per user per month, billed annually.
FunctionFox is a game-changing project management tool designed specifically for creative agencies and professionals. With its powerful timesheet feature, you can easily stay on schedule and within budget, allowing you to focus on what matters most: the creative process.

Plus, with built-in reports, you can get real-time insights into the profitability of your projects. FunctionFox is the ultimate solution to keep your creative projects on track and successful.
Features 
Gantt charts for planning and tracking project schedules 

Allows collaboration with internal project blogs 

comprehensive reports and interactive charts for advanced reporting capabilities 

Real-time updates 

Online Projects and expense tracking 

Assign new work by checking the team's availability 
FunctionFox pricing
Free plan – teams of 3/ up to three projects

Paid plans – $35 to $150 per month for the first user – $3.75 – $15 per user per month for subsequent users
Wrike is a feature-packed project management tool perfect for creative teams. With its powerful Gantt timelines, you can easily create detailed project schedules that account for task dependencies. Using critical path analysis, Wrike helps identify bottlenecks and keep your projects moving smoothly.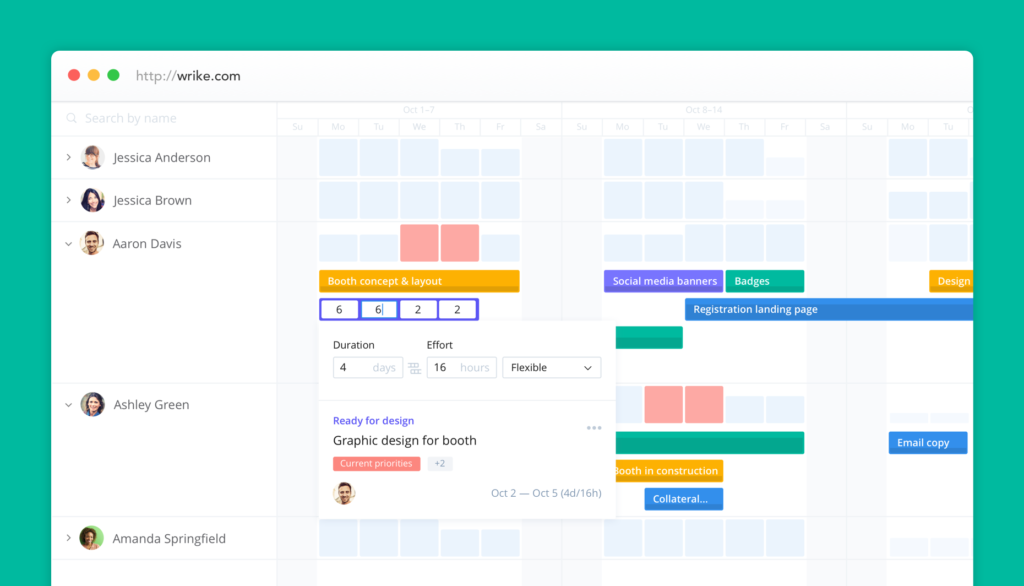 You can customize Kanban boards to fit your team's specific needs and even import project plans directly from Microsoft Project. Wrike is a sophisticated and versatile solution for managing your creative projects.
Features 
Dashboards, kanban boards, and

Gantt charts to view processes

, analytics, and tasks 

A built-in approval process to streamline proofing 

Resource allocation and planning to ensure timely project delivery 

400+ custom integrations

Save manual efforts by automating workflows 
Wrike pricing 
Free plan – limited features – no integrations

Paid plans – $9.80 to $24.80 per user per month, billed annually.
Proprofs is a user-friendly project management tool perfect for creative agencies. With features for planning, tracking, and invoicing client projects, you can easily stay on top of every aspect of your work. Proprofs makes it simple to communicate on tasks, share files, receive relevant notifications, and manage recurring tasks.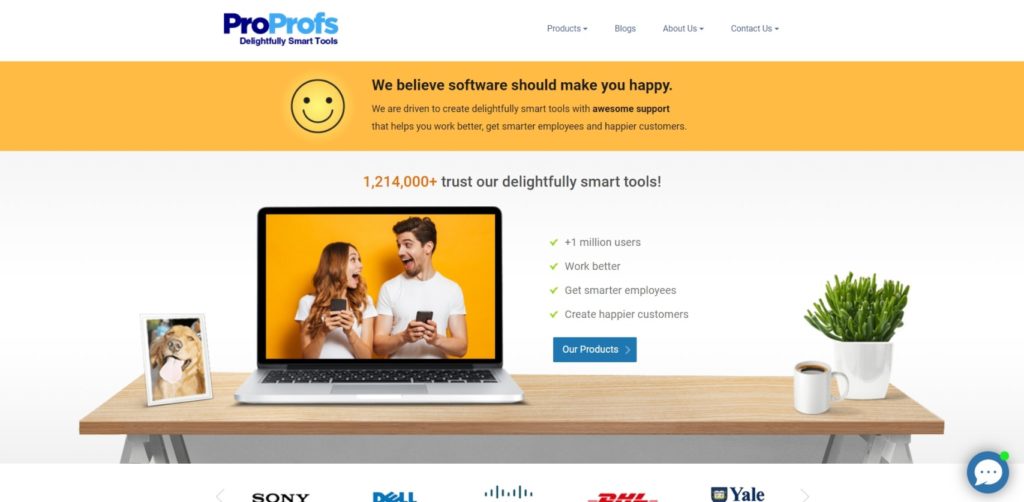 Its project tracking features help you stay on budget and identify discrepancies between your projections and actuals. Proprofs is a must-have for any creative team looking to streamline their workflows.
Features 
Projects, tasks, and milestones tracking and planning 

Effective collaboration with the ability to share files and task attachments 

An all-in-one platform for discussing projects, tasks, and files 

Track progress and productivity with reports

Track billable hours by instantly generating invoices 
Proprofs pricing 
Paid plan – $49.97 per month with a 14-day free trial
Nifty is the ultimate collaboration and communication hub for creative teams. It's packed with intuitive time tracking and task management features, making design agency project management easy. You can automate workflow management without being bogged down by a complicated interface.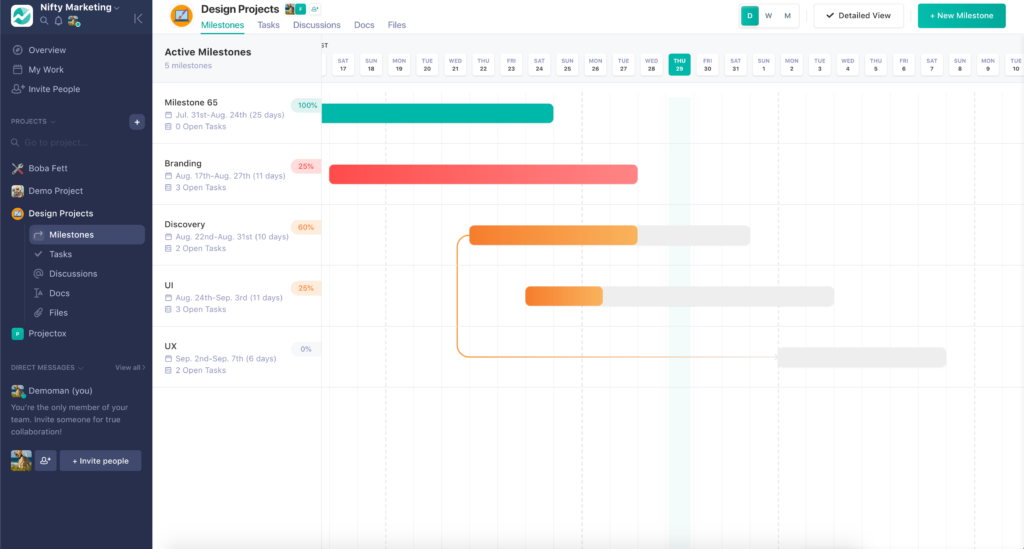 Get a clear picture of where your time is spent with Nifty's time-tracking feature. Identify the most profitable prospects and focus more of your time there. Being affordable, the software suits any budget or company size.
All in all, Nifty is the perfect platform for facilitating cross-departmental collaboration and streamlining creative workflows.
Features
Make collaboration easy with team discussions 

Task organization, management, and prioritization 

Portfolios to give you a bird's eye view of your project 

Drive efficiency with simple time logs

Visual reports presented in a dashboard style 
Nifty pricing 
Paid plans – $49 to $499 per month based on team size

Free plan – manages up to two projects
Teamwork is a powerful and flexible work and project management software that helps creative agencies stay organized, productive, and profitable. With customizable workflows and a central hub for visualizing team and client projects, you can easily manage high volumes of work.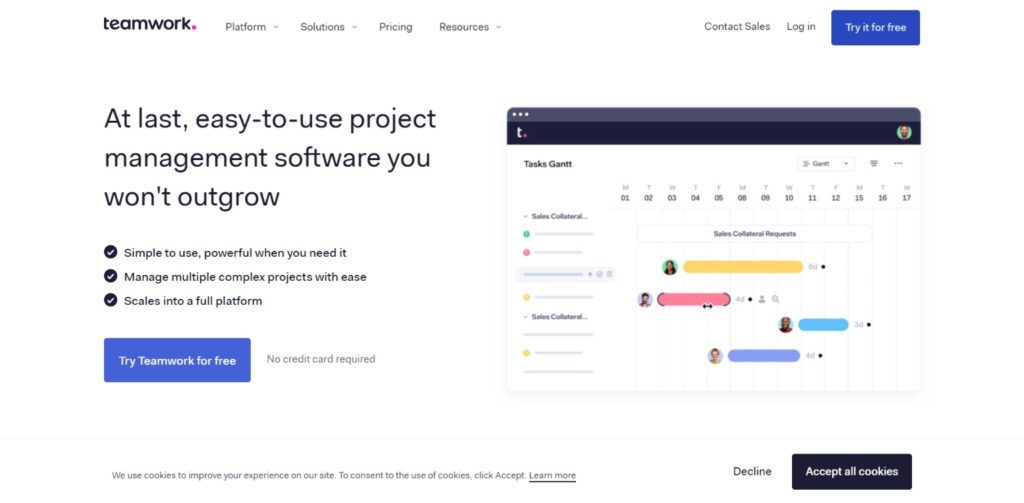 Teamwork's Workload feature gives you a complete overview of your team's capacity, while built-in time-tracking helps you log and track billable hours. Profitability reports allow you to track financial performance and stay on budget. Teamwork is the ultimate solution for streamlining your agency's work and maximizing your success. 
Features
Allow clients to collaborate with your team by adding them as collaborators for free. 

Leave comments in context.

Review assets and get visibility on project progress

Integration with Gmail, Harvest, Hubspot, QuickBooks, Slack, and Dropbox tools 
Teamwork pricing 
Teamwork – $10 per user per month

A 30-day free trial
ClickUp is the ultimate project management tool for creative teams. With built-in features for every step of the design process, you can easily collaborate with your team and share files and deliverables with clients.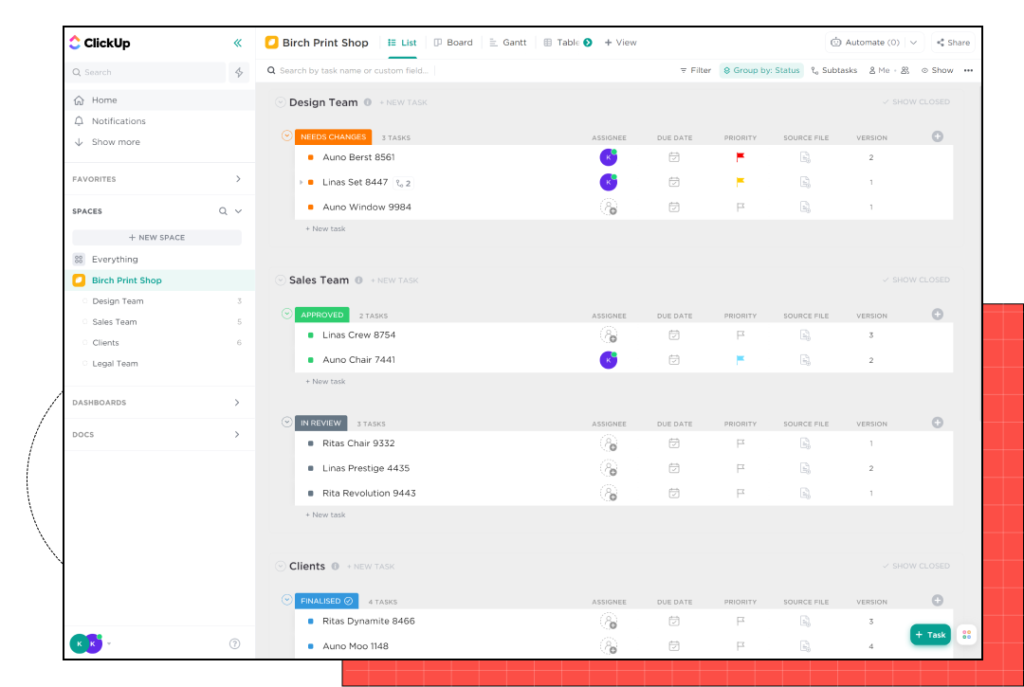 Custom branded forms help you collect approval, feedback, and customer information, while task management features like checklists, subtasks, and templates make organizing and prioritizing your work easy. Plus, you can use Gantt charts, calendars, and timelines to visualize tasks and stay on track. ClickUp is a comprehensive solution for managing all of your creative projects.
Features
Collaborate while creating, sharing, and editing documents and files

Ability to comment on documents and tasks

Chat with other team members for improved communication and collaboration

Create custom dashboards

Six built-in report types for team reporting.

Native integrations with Slack, G Suite, Dropbox, and over 1,000+ integrations through Zapier 
Pricing 
The unlimited plan – $5 per month per user 
Walling is a visual project management tool that helps creative teams stay organized and focused. With its clean and intuitive interface, you can easily manage your projects and work and get clarity on your tasks, ideas, and important information. 

Walling stands out for its ability to organize tasks, ideas, and files side by side, giving you a complete picture of your work. It's also very flexible, with various views like kanban, task lists, and database tables. Walling is the ultimate solution for keeping your creative projects on track.
Features 
Block level, comment, assigning tasks, and adding due dates and reminders 

The clear and visual experience keeps the entire team working towards the same goal

Get a bird's eye view of your projects 

Google Drive and a list of other third-party integrations 
Pricing 
Free plan – up to 100 bricks

Paid plans – $6 per user per month
Integrate project management software for design agencies with GoVisually to 5x your creative flow!
GoVisually is a visual collaboration and review platform that allows users to upload, share, and review design and marketing materials with team members and clients. It can be integrated with various project management software to streamline the approval process and make it easier to collaborate and get project feedback.
Integrating these tools allows users to easily access GoVisually from within the project management platform to review and approve designs and other materials.
Keep your projects on schedule and cut your creative review time in half with GoVisually. You can easily integrate it with any of the top software for design agencies to streamline and manage workflows. Get visual feedback directly on designs, PDFs, and video content with creative management tools. 
GoVisually integrates with 3000+ apps directly and using Zapier.

The simplest proofing solution allows you to upload and annotate various file types, share with unlimited reviewers and keep all your revisions organized in one space. 
So speed up the creative review by integrating project management software for design agencies with Govisually today!