There's never been a time when tablets and e-readers have reached significant heights in popularity more than now. So it's no surprise that everyone is scurrying off to try and become the next big thing as a successful ebook author with a PDF book they've created. 
And you might be wondering what it would be like to publish your eBook as well. If you have great content set to go, the temptation to jump right in is probably high. 
But what you need to consider is that the ebook marketplace is pretty competitive, and you need more than just good content to make your mark. Besides compelling writing, you're going to need a thought-out marketing strategy, persuasive writing, and visual appeal.
Nowadays, you'll find PDF books in almost every field. Everyone from businesses, educators, and entertainers to students rely on them as their go-to resources for fiction and non-fiction. 
PDF books are easier to access and can be opened on various devices no matter where you are. Because of this advantage, they will always carry a demand among different communities. 
Cut design & video review time in half
GoVisually is the #1 online proofing software to get visual feedback on Designs, PDFs & Video content.
Try GoVisually free today!
Tips you should know as an ebook author
Once you start getting into the process, you'll notice how making an ebook is no walk in the park and can get overwhelming at times.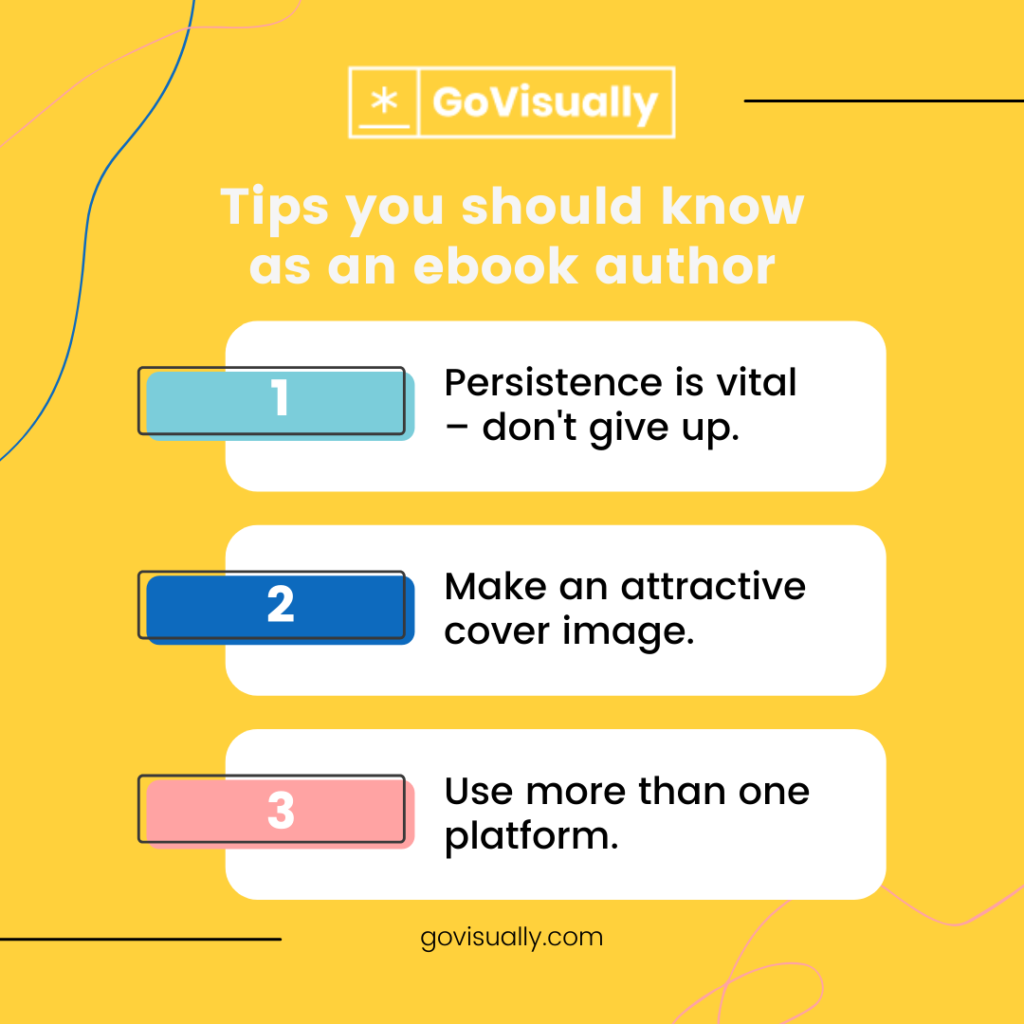 Persistence is vital – don't give up
It's easy to get discouraged if you don't get the response you hoped for with your first ebook. That's the thing – it takes time to learn what the right promotion strategy is that would work for your content and even what makes a book worth reading. 
The safe route is by first publishing a few short PDF books, something like short stories. If you're more into fiction or helpful guides on a topic on a topic, you're interested in if nonfiction is what you lean towards instead. 
This will stop you from feeling lazy and anxious about not working, and at the same time, you'll be able to see what kind of content you're good at and what clicks well with your audience and what doesn't. 
Suppose you look at the ratio of views versus comments on online published works. In that case, you'll notice that very few readers take the time to post their opinions (unless it's negative, unfortunately). 
So you'll have to exert patience to get the traction you need, even if it feels like your work isn't reaching the intended audience. The reviews will start pouring in eventually. 
One easy way to garner some interest in your PDF books is to share with friends and ask for their opinions, and you can also pay professionals for reviews. 
In both cases, honesty is what you should keep in mind because it is only authentic feedback that will help you grow as a writer and convince other potential readers to give your ebook a chance. 
Make an attractive cover image
Never believe those people who say that people don't judge a book by its cover – because they do, and they will. 
The cover image of your ebook is the first impression the audience will get of your work, and if it's not striking enough, no one will be interested enough to scroll and read the summary. This is why you have to make sure the cover you choose is high-quality, relevant to your topic, and is impactful enough to be memorable. 
Many ebook platforms have free cover builders, but using them will cast a repetitive and generic look on your ebook. It's better to look towards the world of freelance artists and graphic designers; nowadays, both traditional and digital artists have their platforms online open for commissions. 
All you have to do is get on their social media, browse their art catalogs and pick one that you think matches the vibe of your ebook and will be able to represent it well. 
Use more than one platform
Always remember – never place all your ebooks in one basket. Nowadays, most ebook platforms give authors the liberty to keep the rights to their work, giving them a chance to sell their titles on various other online marketplaces freely. 
Therefore, it is common for ebook authors to try out various platforms and judge which ones their ebooks are doing better. 
One thing to keep in mind is that ebook platforms all have their policies and formatting guidelines that are different from one another. So make sure to do your research and figure out how much you're willing to pay before committing to any platform.
5 steps of writing a PDF book
Writing a PDF book comes with many benefits; besides being portable, saving finances for publishing costs is another plus. The author and publisher can save on PDF book printing while keeping the essential formatting details and overall design. 
Sharing is also effortless because all you need is a link or a downloadable file, and that's all it takes for the ebook to be accessible both online and offline.
So let's get into the different steps you'll have to take to write a PDF book.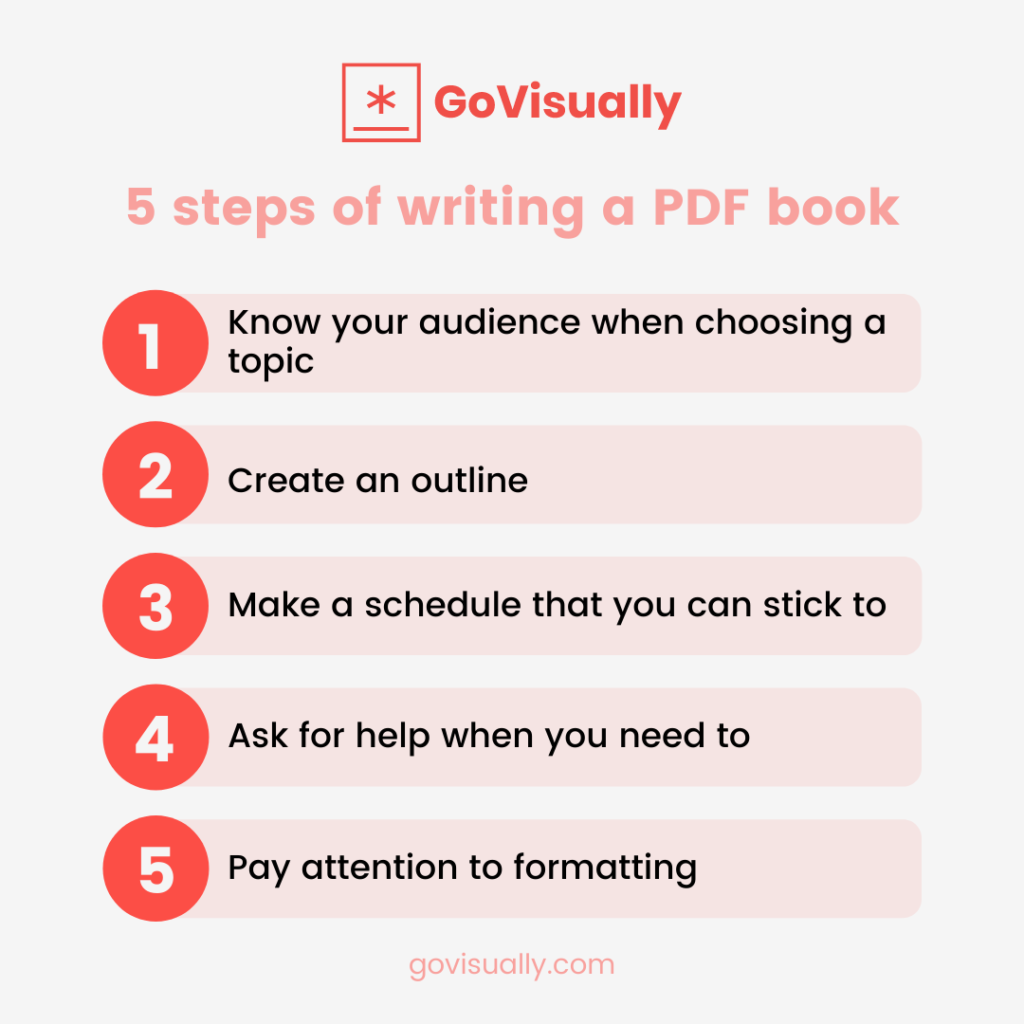 1. Know your audience when choosing a topic
The first thing you should be thinking about is who your target audience is and what are they like. What kind of content would they be interested in reading? What will make them click on your PDF book and not let go until they've read the whole thing in one go? 
If your topic has something to do with the business, your content should be curated to help your readers address the current problems weighing heavy on their minds. 
Content that directly addresses the audience's needs is for sure to be a hit because what you'll write will be of value to them. They will learn to look towards you as someone they can access knowledge from in a digestible way. 
2. Create an outline first for the PDF book
One of the biggest challenges a writer can face is not having enough to discuss a topic they want to flesh out in a full-length novel or book. This is where a detailed outline can be your lifesaver. 
A solid outline will help you stay on track from start to finish because it will include all the major plot points that you have to keep in mind as you're writing. You can even develop your initial broad outline to include more specific elements as you get into the writing zone and have written a significant amount. A road map like this will keep you from getting lost, especially if your PDF book spans more than a hundred pages. 
3. Make a schedule that you can stick to 
Making time to write isn't as difficult as actually doing the writing in question. Procrastination is easily every writer's biggest enemy, and because of it, you'll find yourself speed writing some days and being at a complete standstill during others. 
Time management is essential during this stage and one way to ensure it is by creating a realistic writing schedule that you can stand by every day, even when procrastination hits. 
Take every precaution possible that won't let you get distracted to focus with all the motivation you can muster. It doesn't have to be something too strict either. Just decide one time in the day that works for you where you can sit down and write regularly. 
4. Ask for help when you need to
There's no reason to be shy to ask for help if you need some support or help along your PDF book writing journey. If anything, you'll be able to make sure the PDF book is of the best quality it can be. 
Try joining online or offline writers' groups where you can find a community that can give you the constructive criticism and advice that you're looking for. You can even opt for enlisting the services of a book or writing coach for more expert and focused help. 
Getting the proper feedback will go a long way for your ebook, and a second or third opinion will allow you to spot problems that you may have never thought of before while writing and proofreading on your own. 
5. Pay attention to the formatting of the PDF book
Since a PDF format will have the formatting be set and unchangeable, you'll need to consider the look and feel of your PDF book from a style perspective. 
Everything from font size, margins, or leading (the space between the lines in your work) must be considered and paid proper attention to. After all, making sure the readability of your content is in pristine condition is one of the top priorities when publishing PDF books online. 
Wrapping up
Writing a PDF book can be tedious but worth it in the end. If you'd want to make the editing process easier for yourself and your editor, we recommend using online proofing software to review and exchange feedback on your PDF book.
With GoVisually, you can set deadlines and be ahead of your schedule. Designed specifically to streamline your proofing process, it helps you streamline your internal reviews and annotate various files, all under one umbrella.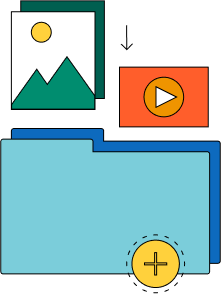 Need a quick way to share large files and creative assets?
With GoVisually Share, it's absolutely free! Try today.