Looking for Ziflow alternatives?
Organizations are embracing digital transformation more than ever today. The objective is to optimize their workflow process and augment performance.
And to do that, everyone is now looking for a cloud-based solution to automate task management and improve collaboration. One such solution is Ziflow which allows you to step up your collaboration game. 
However, like any other software, this one has its limitations or specific target areas that may not work for you – which is why you're here!
So if you're searching for Ziflow alternatives, read about the top 9 Ziflow alternatives and the features that make them stand out.
What is Ziflow? 
Ziflow is an online project management platform used by creative teams to go through the review and approval process more efficiently without the hassle of e-mail attachments.
It costs $40 per seat per month and has different enterprise pricing.
Why do you need a Ziflow alternative?
Ziflow is a remarkable design feedback tool for marketing teams that want to improve their review and approval process.
However, it may not be a right fit because of its functionality or pricing. Here are the top 3 reasons we've found that people make the switch for.
1. Slow loading times
Ziflow eliminates the need for email attachments. It improves performance by saving you the hassle of sorting various content versions. But a major concern associated with the design feedback tool is the slow loading period. 
The main goal of implementing an online proofing system is to speed up the content approval process. Ziflow's slow load times hold you back. Upgrading to a faster online proofing tool ensures a smooth and quick review and approval process. 
2. Limited notification features
Although the elaborate notification feature keeps the team updated on the project's progress, it falls short compared to other leading alternatives in the market.
Remote teams work on the move and want software that keeps them on top of things on the go with a push notification on a mobile app or an in-app notification center. Unfortunately, Ziflow misses this front as it doesn't offer such a feature. 
The constant flood of email notifications from Ziflow might get too overwhelming for the users. The software falls short in this area as it clutters users' inboxes with email notifications. With inboxes being a big part of our daily lives, even the top document review and approval solutions need to respect them and keep them tidy.
3. Complex set up
Ziflow is not the most user-friendly option for less tech-savvy users. If you are working with clients or colleagues who aren't that tech-smart, it might be worth exploring Ziflow alternatives for a user-friendlier option. 
9 top ZiFlow Alternatives
If you require the services of ZiFlow, but it falls short of your needs or you have different needs, these are the best alternatives worth trying:
1.

GoVisually

– the #1 Ziflow alternative
GoVisually is the ultimate collaboration and approval workflow booster for creative design and marketing teams.
The cloud-based platform offers various tools for collaboration, project management, version control, real-time feedback sharing, and more. 
Features 
Design & Video Collaboration

File upload in various formats

Annotation tools

Revision categorization & labeling

Comment tracking & to-do lists

Email notifications

Private comments & attachments

Mobile app access

Client review & approval.
Pricing 
Team Annual costs $10/user/month – 100 team users, 1000 projects, and various features.

Solo Annual costs  $20/month/ user with 10 projects and various features.

Team Monthly costs $12/user/month – 100 team users, 1000 projects, and various features.

Solo Monthly costs  $25/month/  user with 10 projects and various features. 
Verdict: 
GoVisually is more user-friendly than Ziflow and is great for SMEs. Moreover, it has an easier setup process and is top product support quality. Users prefer GoVisually over Zilflow for dynamic feature updates and pricing.
Filestage software is a cloud-based solution that allows companies to share, review and approve files on a common platform accessible to multiple users simultaneously.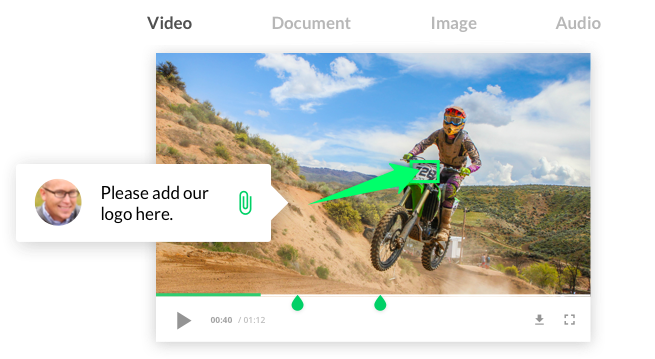 Features:
Filestage allows multiple users to access the same files in real-time

Annotation features! 

Automatic in-app notifications keep all the users up to date

Offers file revision; a user can view and revise older versions of files 

Sensitive files are protected and cannot be accessed without user consent
Pricing:
The Filestage standard plan costs $19/seat per month

Filestage professional plan costs $39/seat per month 
Verdict:
Filestage offers greater efficiency at lower prices than ZiFlow, which costs a business $40/per seat per month. 
Frame.io offers an online review and approval platform for files in video format. It is considered the world's most popular collaborative platform, and hundreds of thousands of filmmakers use it worldwide.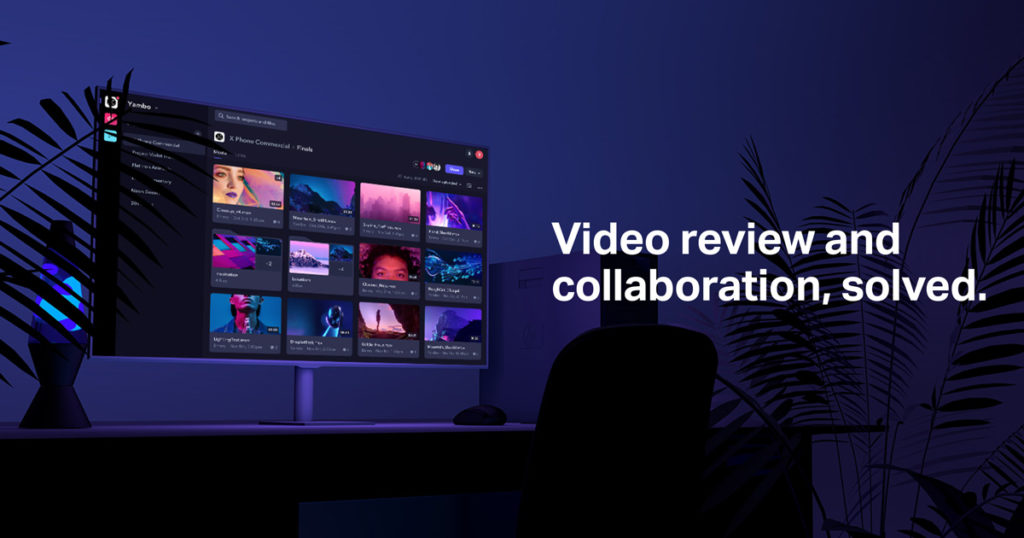 Features:
Multiple users can access it at the same time

Frame-accurate commenting is supported 

The user can compare two versions of the file side by side

Videos can be watermarked to ensure the security of the file
Pricing:
Costs $15/user per month for their pro plan

Costs $25/user per month for their team plan
Verdict:
Frame.io is the ideal choice if the brand is working on videos since frame-accurate commenting is not available in ZiFlow, and neither is the watermarking feature. Frame.io's pricing plans are also more attractive than the ones offered by ZiFlow.
Wrike is a collaborative project management platform that offers customized solutions to businesses to increase their output, manage workload and put their best work out.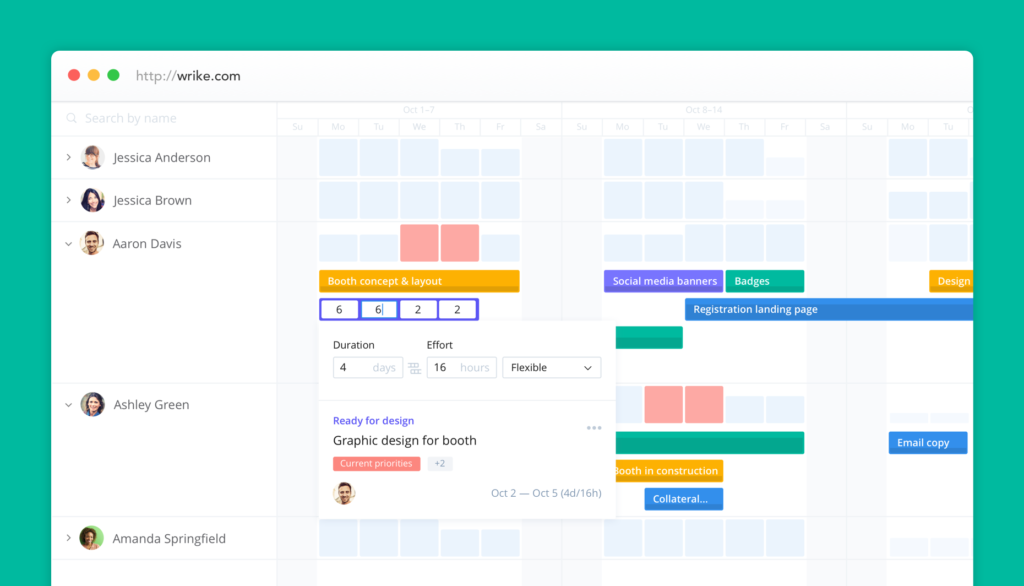 Features:
Data backups over the cloud

Provides team collaboration

Task management and organized requests

Creates and gets high-quality designs approved in the given time

Offers project tracking to monitor multiple projects on the dashboard

Approval processes with other apps can also be tracked through Wrike
Pricing:
Wrike costs $9.80/user per month for growing teams

Their business plan costs $24.80 /per user per month 
Verdict:
Wrike offers better tools than ZiFlow, with functions like task management, project tracking, and connection with other apps. 
PageProof is an online platform that facilitates creative project review and approval. It aims to reduce time and cost and increase the output for companies.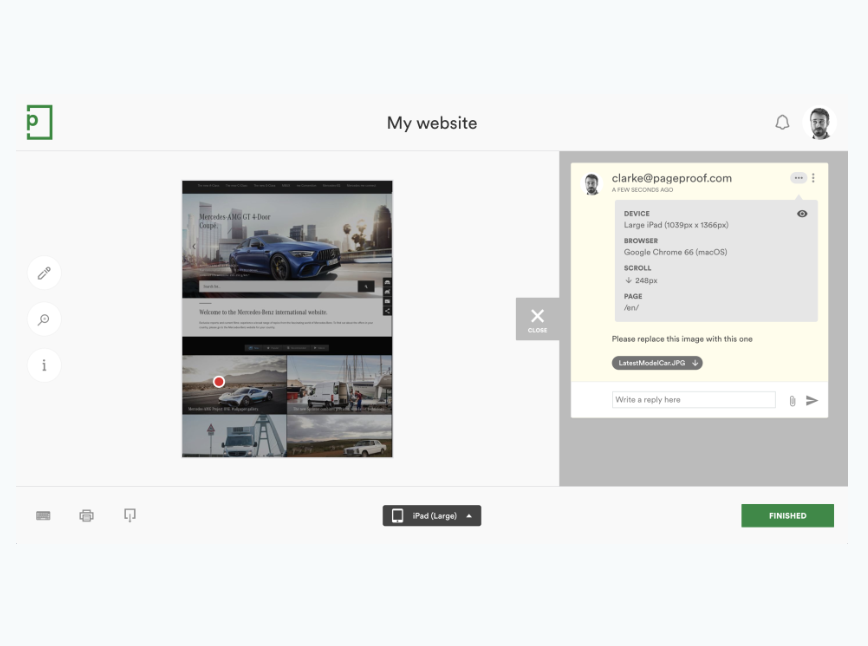 Features:
Annotations and comments can be added and replied to by other users

Pixel perfect proofing

The smart compare feature can highlight the differences between proofs by itself.

Offers one-click audit reports and checklists for files to be reviewed

Other software like Adobe Photoshop, Illustrator, and Microsoft Word are also supported
Pricing:
PageProof team plan costs $199/month for unlimited users

The team Plus plan costs $329/month with extra features
Verdict:
PageProof is a great alternative for businesses centered around creative work since it offers pixel-perfect proofing that zooms into every detail, allowing for more thoroughness in scrutinizing projects before release. PageProof also supports significant levels of integration of several external apps. 
QuickReviewer offers a single platform to all creative staff working with audio, video, or audiovisual content. The user can provide access to the whole team to go through the review and approval process faster, with no software installation required.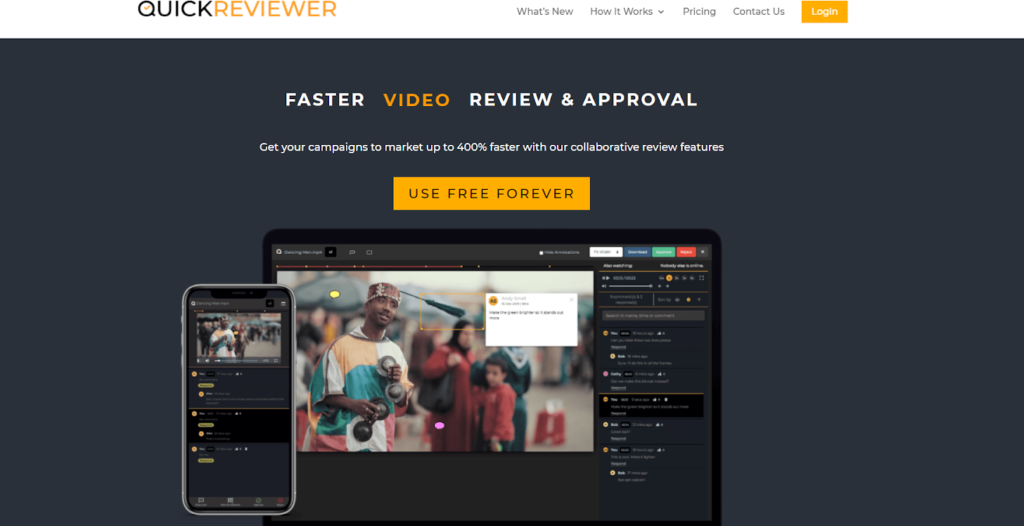 Features:
E-mail notifications can be customized

Smaller teams can be created for specific projects

Adobe Suite integration is available 

Available in multiple languages 

The auto-Compare feature helps compare the proofs side by side 

Users can send audio comments 
Pricing:
QuickReviewer Pro costs $29/month and can be used by 10 members

QuickReviewer Premium costs $84/month and can be used by 20 members
Verdict:
QuickReviewer is a great option specifically for small or multilingual teams. ZiFlow is only available in English. Hence offering multiple languages makes QuickReviewer a more accessible and inclusive platform. 
Workfront, an Adobe product, lets you manage marketing-related tasks like strategizing goals, planning and prioritizing tasks, managing workflow, and increasing productivity to meet, raise and maintain brand standards. 


Features:
Work automation which increases efficiency and productivity 

Goal alignment, which makes it easy to achieve goals by keeping track of daily tasks

Provides a user-friendly dashboard for workflow management that allows every member of the team to collaborate online

Offers integration with other apps

Keeps critical and personal information safe
Pricing:
Workfront's pricing starts at $30/month and varies according to the customer's needs and plan of choice.
Verdict:
Workfront's capability to accumulate all workflow data in one place and user-friendly interface makes it an alternative ZiFlow has no choice but to reckon with. 
Vimeo helps create high-quality videos, manage video files, and get them through review and approval – all on the same platform. 

Features:
Allows social sharing, which is great for digital marketing agencies

All the video content of a team can be stored on Vimeo without the need to export

Vimeo lets you build an audience from the millions of Vimeo users

Offers one-on-one feedback space 

Videos can be monetized on Vimeo, and additional revenue can be produced.
Pricing:
Vimeo starter plan costs $15/seat per month

Vimeo standard plan costs $30/seat per month

Vimeo advanced plan costs $60/seat per month 
Verdict:
Vimeo's competitive edge comes from features like the emphasis on socialization, one-on-one feedback, and hosting videos without the need to export. 
Wipster is a remote project management software for creative agencies with a worldwide team. It offers a seamless way of reviewing videos and creative content from anywhere and keeps all stakeholders updated in real time.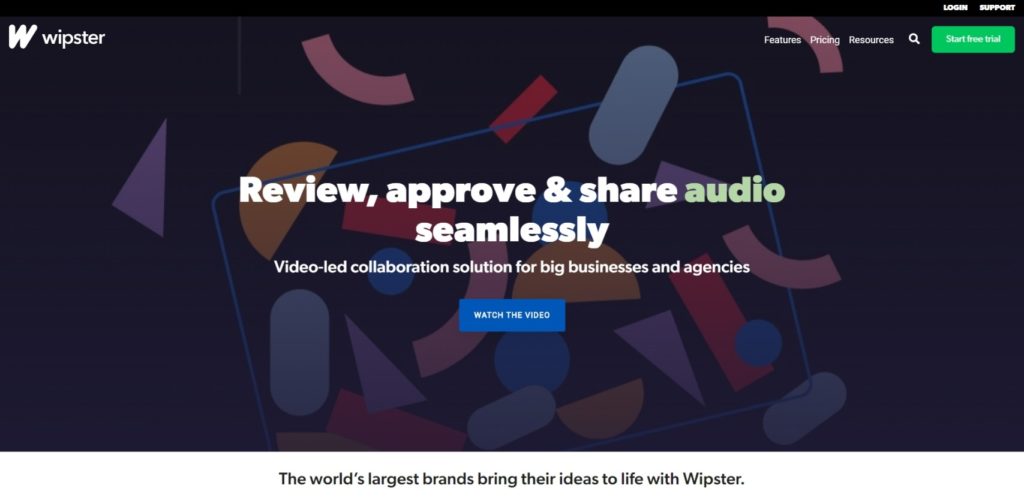 Features:
Easy-to-use interface for remote project management

Threaded comments for better feedback discussion among team members

HIPAA compliant and excellent at securing personal information

Real-time notifications and push notifications through third-party app integrations like Slack

256-bit HTTPS encryption for security
Pricing:
Free plan: For individuals and occasional use with 5GB storage and 540p playback.

Team plan: For small and growing companies with starting storage of 250GB at $19.95 per user/month.

Multi-team plan: For companies with multiple teams with starting storage of 500GB at $39.95 per user/month.

Enterprise plan: Customized for large, distributed teams with premium account management, a dedicated customer success manager, and more.
Verdict:
Wipster's user-friendly interface and easy remote project management capabilities make it a popular alternative to Ziflow review. Ziflow is SOC2 compliant, while Wipster is HIPAA compliant. Ziflow's notification process can be spammy, while Wipster's real-time notifications are efficient.
Features to look for in Ziflow alternatives
Look for the following capabilities in Ziflow alternatives to accelerate the creative feedback and approval process: 
Various files types
You must choose an online proofing system that supports multiple file formats. It should let you proof everything from PDFs to videos, images, and Microsoft Office documents. Doing so will help you boost productivity by accommodating multiple workflows and projects. 
Customizable email notifications 
You can improve the overall efficiency of the review and approval process using customizable templates. You can use these templates to send out invitations, updates, and notifications to streamline communication between you and the reviewers. 
Shared workspace 
A shared workspace boosts productivity by allowing team members to collaborate easily on design projects. Choose a proofing system that lets you optimize the review process by allowing you to track changes on the stored files. 
Adobe CC Integration
Improve collaboration between designers and stakeholders by choosing software that easily integrates with Adobe Creative Cloud tools, including Photoshop and Illustrator. Ensuring efficient collaboration allows you to optimize workflow and improve performance. 
Version history and comparison 
Improve accuracy and save time by choosing an online proofing program that compares different document versions. Track changes in real time to shorten the approval process. 
Guest Commenting and users capacity
You must choose an online proofing software that allows guest users. You can streamline the feedback and approval process by adding clients or external stakeholders to improve communication and collaboration. 
Choose an online proofing system that supports unlimited users. This helps you take on new projects and embrace growth as your business evolves and your team grows. This helps accommodate your business every step of the way. 
Dropbox or Google Drive integration 
Simplify accessing and uploading files with the right online proofing software. Choose a program that easily integrates with sharing and file storage tools such as Dropbox and Google Drive to increase efficiency. 
Pricing 
Get more bang for your buck with the right online proofing system by offering various pricing options. Choose the online proofing system that fits your budget like a glove. 
Upgrade your review and approval process with GoVisually – the best Ziflow alternative!
If you are looking for an all-in-one client management software for creatives, check out GoVisually. It has everything from efficient project management to seamless collaboration and top-notch security.
So, what are you waiting for?
Boost your team collaboration and productivity with GoVisually today!