Merch business has gained popularity with the rise of online stores. If you're designing your merch from scratch you need to bring creative designers on board and establish an effective merch proofing process.
A small content or design mistake in your merch can lead to serious loss in terms of cost and reputation. To ensure your merch isn't going to waste you need to set up a thorough feedback and approval process with all your creators on the same platform.
We're here to save the day once again with our comprehensive guide for online proofing. So if you're about to start up your new retail store or designing merch for YouTubers on your channel, here's the definitive guide covering everything.
So let's dive into the what, why, and how of reviewing merch designs right here!
What is merch proofing?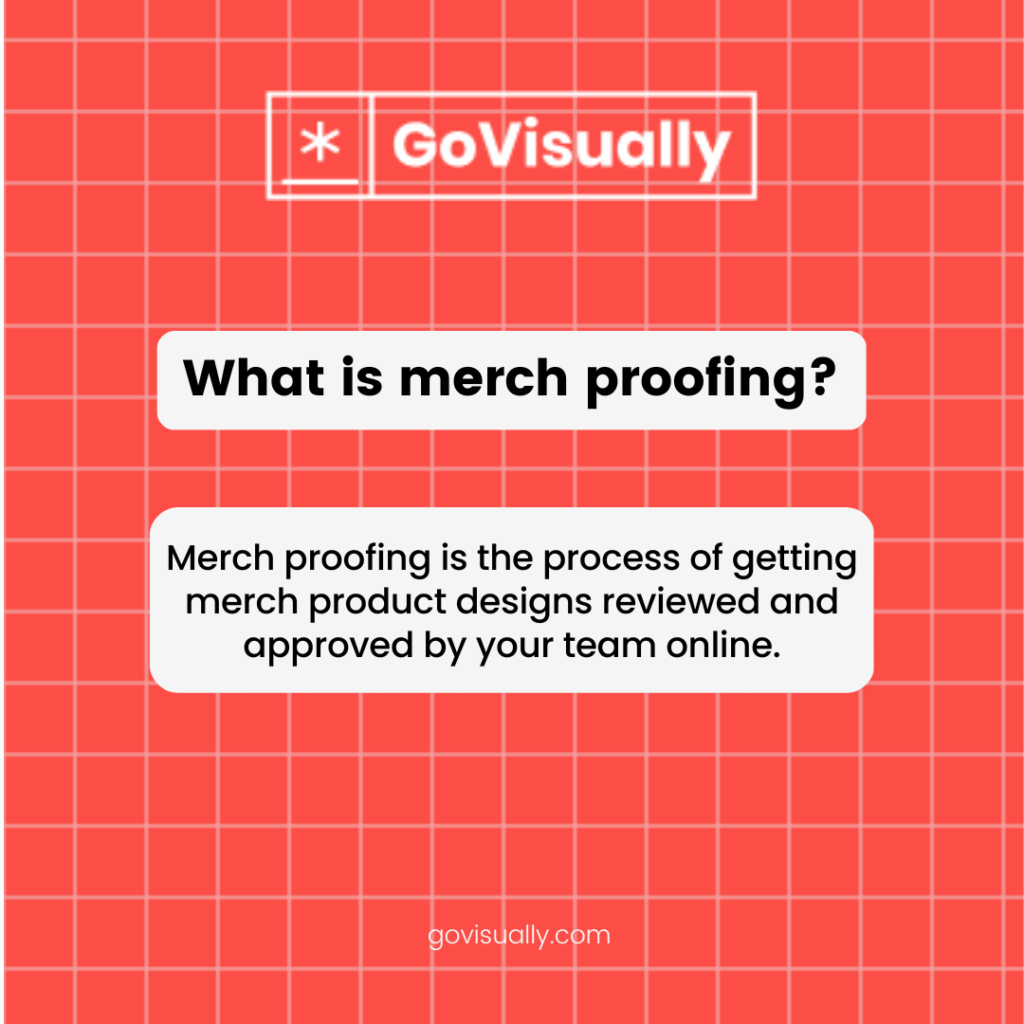 When it comes to creative projects or team collaborations, a well-structured review and approval process is essential to avoid confusion and make the end product free of the error to save both time and cost.
Merch proofing is the process of getting merch product designs reviewed and approved by your team online. Whether you run a retail store, e-commerce store, or sell merchandise for your music or art channel on YouTube, your product has to be reviewed by your teams so you can come up with better merch design ideas and make them real.
It gets even better when you can bring your designers and stakeholders on the same platform, upload your files, and make sure that each team approves the design so it is accurate and ready to be sold.
Why does your retail business need online proofing?
If you don't already have one in place, you might be wondering why you need an online proofing process for your merchandise. The reasons are simple. To verify your merch design ideas, collectively create a design board, send real-time feedback, and most of all, ensure brand compliance.
It's not about having a proofing process for the sake of it, but for the benefits, it has to offer. A few of the endless benefits merch proofing has to offer include: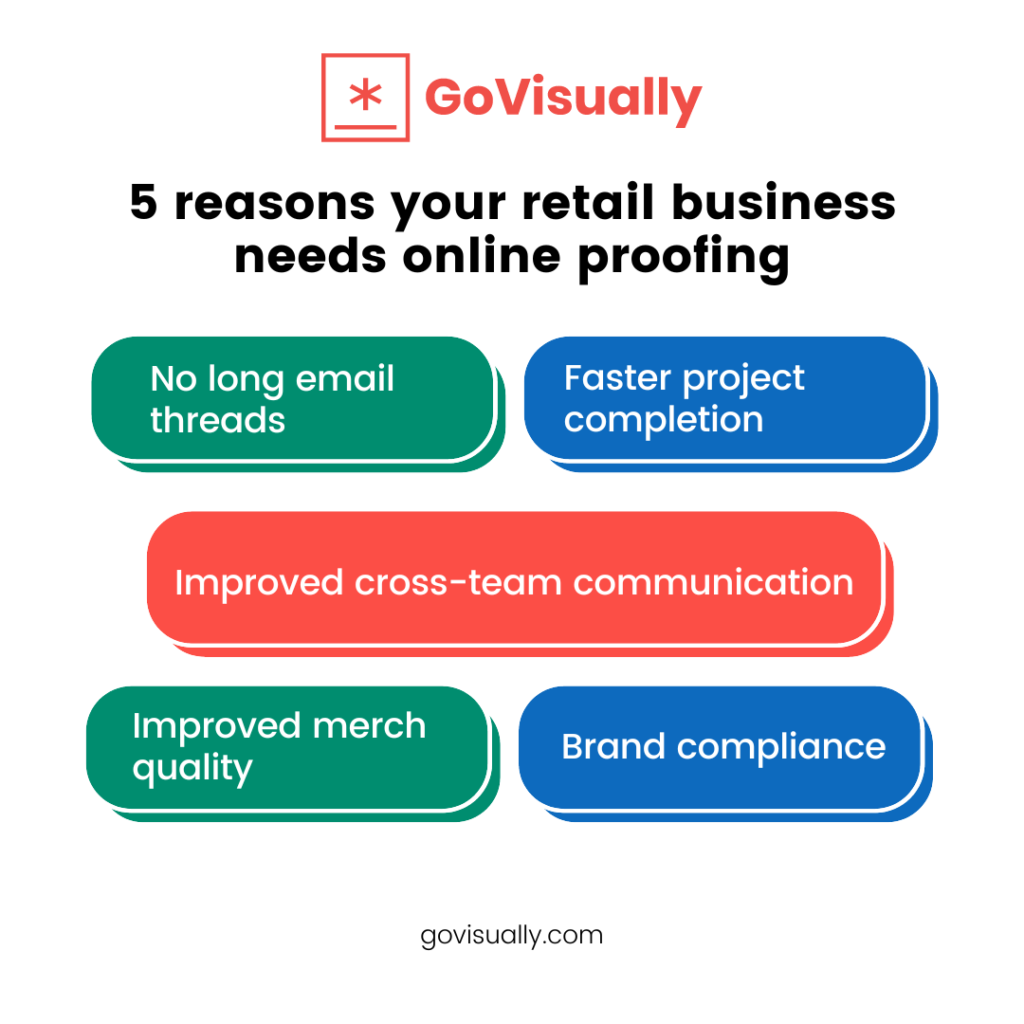 No long email threads 
Imagine going back and forth between emails and sending your designer several copies of the same document saying the same thing. It would be extremely inefficient and confusing. Using an online proofing platform for your approval process will make it more streamlined and effective.
Faster project completion 
Let's take designing merch for YouTubers as an example here. You want the main mascot illustration on your merch but you simply can't get the picture in your head conveyed to your designers with words.
This is where proofing software will help you get your idea across by adding visual annotations to your PDFs, images, or even videos.
Improved cross-team communication 
Real-time online feedback is better than emails or in-person meetings. Your clients, stakeholders, and creative teams can communicate on the go while working on their merch design ideas and collaborating to make things work.
Improved merch quality 
With the many individuals reviewing your merch designs and concepts, the chance of errors or low-quality products reduces considerably. Your team members are likely to point out something that could have been overlooked, like a color mismatch, an inconsistent design, or a typo.
Brand compliance 
No matter what type of merch you create, it should always symbolize your brand identity. When all teams work together on the same platform everyone will find it easier to point out inconsistencies and deal with them right on spot to ensure brand compliance. 
Features to look for in a merch proofing software
If you know why using a proofing platform is important you should also know the features that make a proofing platform the right choice for your merch business. You are probably going to need a review process for the following areas:
Packaging designs

Artwork and illustration designs

In-store display designs

Content marketing

Brochure and newsletter designs

Video ads

Color scheme markups
A platform that can serve the best in all of them is the platform you need. In addition, there are 4 essential features your #1 online proofing software must-have.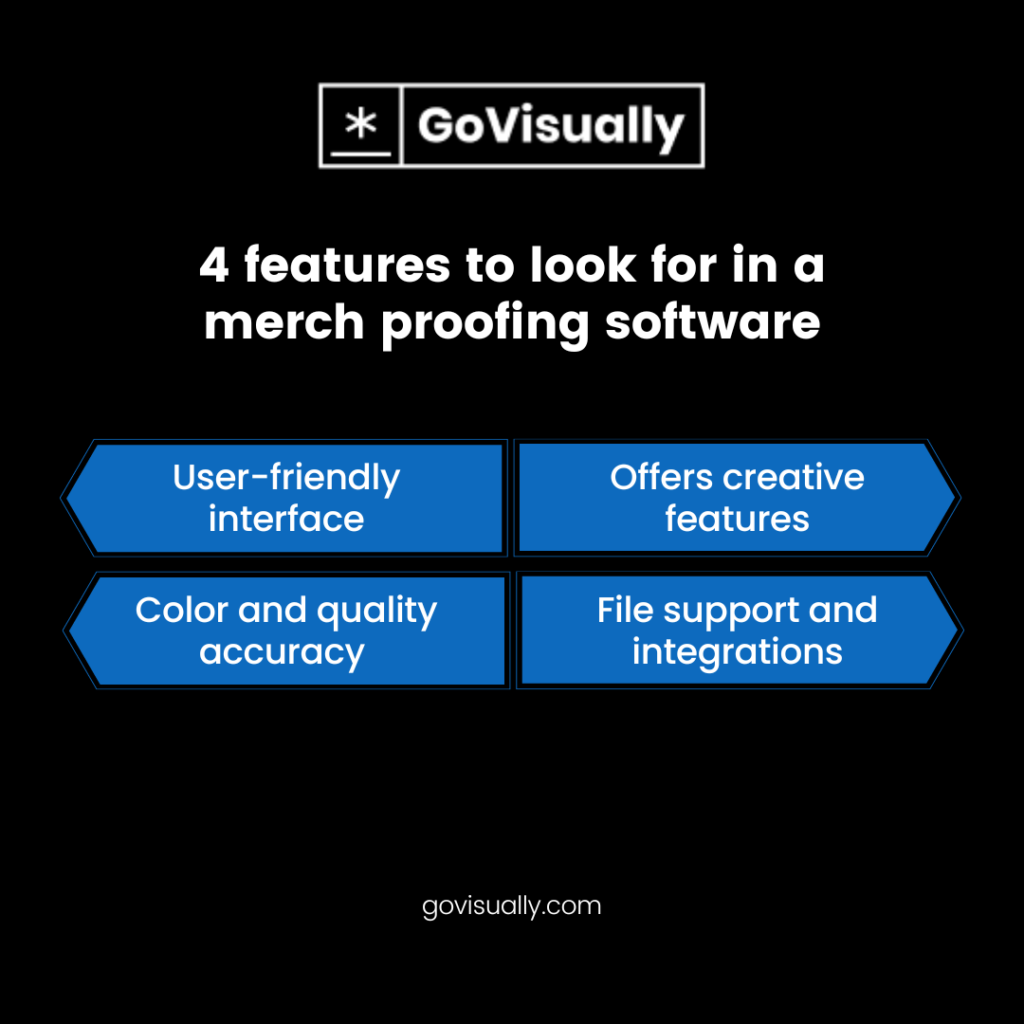 User-friendly interface 
It should be easy to use and offer several annotations and marking tools. High functionality and diverse features will help you speed up the work process and do it effectively.
Offers more than proofing
Software with project management capabilities is the best choice no matter how you look at it. Not only will your teams be able to collaborate and design your merch but this will also allow you to keep track of the workflow and encourage everyone to meet deadlines.
File support and integrations
This one is a given. When designing your merch you'll need to review a PDF, while other times, you might need revision in a video or work on an Adobe Illustrator file. Software that not only supports all file types but also supports an Adobe Creative Cloud integration is the one you need.
Color and quality accuracy 
Imagine the shade of red on your proof looks darker than it is, and while you keep telling your designer to make it light it ends up somewhere near more pink than red because you couldn't tell the difference online.
To avoid color and design inaccuracies your proofing software must support high resolutions and the right color inputs. If the software fails to show your illustration as it is, ditch it and run before it ruins your merch.
The fail-proof solution to merch proofing – GoVisually!
So, how do you create an effective proofing process for your merchandise design and production?
With all the essential features mentioned above and much more to offer, the answer is using visual proofing and project management software like GoVisually. With GoVisually, you can keep track of your workflow, design versions, and approvals in one place.
We are sure your next merch design and production procedure will be one of the most successful ones to come.
If you want to see GoVisually's proofing power unleash, we encourage you to book a demo with an expert.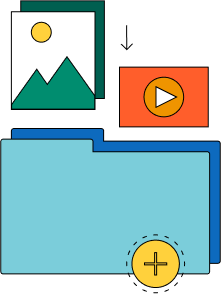 Need a quick way to share large files and creative assets?
With GoVisually Share, it's absolutely free! Try today.