PDFs are everywhere. And we need PDF annotation everywhere too.
The Portable Document Format is a widely used and preferred file format, yet it remains uneditable. Well, that's also one of its perks. 
However, when sharing documents, books, articles, and briefs in a PDF with others, we feel the need to add suggestions and feedback and share our opinions for everyone to see. 
So, just as PDFs have become a part of our everyday knowledge sharing, annotating them is also an important part of making knowledge sharing creative and productive for everyone.
If you have been searching for all the ways you can use an online PDF annotation tool, features you need to look for to determine its functionality, and an annotating software that is innovative and readily accessible, you've found the right guide.
Without further ado, let's begin!
Cut design & video review time in half
GoVisually is the #1 online proofing software to get visual feedback on Designs, PDFs & Video content.
Try GoVisually free today!
PDF annotation – the background 
There was a time when not just creative professionals but every individual struggled with retaining information in a file to make it available online, sharing it on different platforms, or saving it. The use of images, texts, and graphics, all in one place, also made it difficult to keep the file format readable. 
The history of PDF is one made out of necessity. It was a time when we spent numerous hours converting files from one format to another and hoping it wouldn't get ruined in the process. And a great innovation to make things easier for us today.
Initially, PDF was designed to serve as a digital hardcopy. It preserves a document's original color and formatting while allowing you to review its content. It does that well. 
But today, as we work through hundreds of different PDFs every day, we find ourselves lost on how to add feedback and comments for our teams to view collectively. At the same time, preserving everything a PDF does.
Most of us have experienced the complicated task of editing and annotating a PDF only to find out the formatting or quality of the document had dropped. So how can you add quality annotations to a PDF?
We got your answers!
How do PDF annotations for online reviewers work?
First things first, what is PDF annotation for online reviewing? 
PDF annotation adds comments, other text, graphics, or objects to a PDF document. It can be to correct typos, suggest changes, highlight errors or color enhancements, or simply leave some feedback for the creators before finalizing the shared project.
The importance of PDF annotations for online reviews increases tenfold when it's a collaborative project. The biggest factor is how it contributes to team alignment. Which, in turn, improves team productivity.
Annotations in a PDF are essential and tricky because you can't add comments to it as it works in Google Docs or MS Word. The best way to annotate a PDF is to use online annotation software.
Annotations, in general, are a crucial part of reviewing any text. We've all learned it through school. But traditional annotation from a pen on a paper wasn't so difficult. However, as far as we have come with technological advancements, most work on screens and devices.
An outline of what PDF annotations for online reviewers look like:
Uploading the PDF file on the software 

Use annotation tools to add your feedback, e.g., text boxes, sticky notes, highlighters

Save the annotated PDF

Email the annotated file to everyone separately for reviews and approvals again
This might look convenient, but it's not. (There's a better solution ahead)
Imagine ten different annotated versions of the same PDF file in several email threads. Anyone would lose track, especially when so many use cases for PDF annotation have become an integral part of our work.
The use cases for PDF annotation 
Regardless of what business niche you're from, or if you're still a student, PDF annotation using an advanced PDF annotation app can make your work much easier and more organized. If you're wondering how many ways it can be used, we have listed all of them here for you.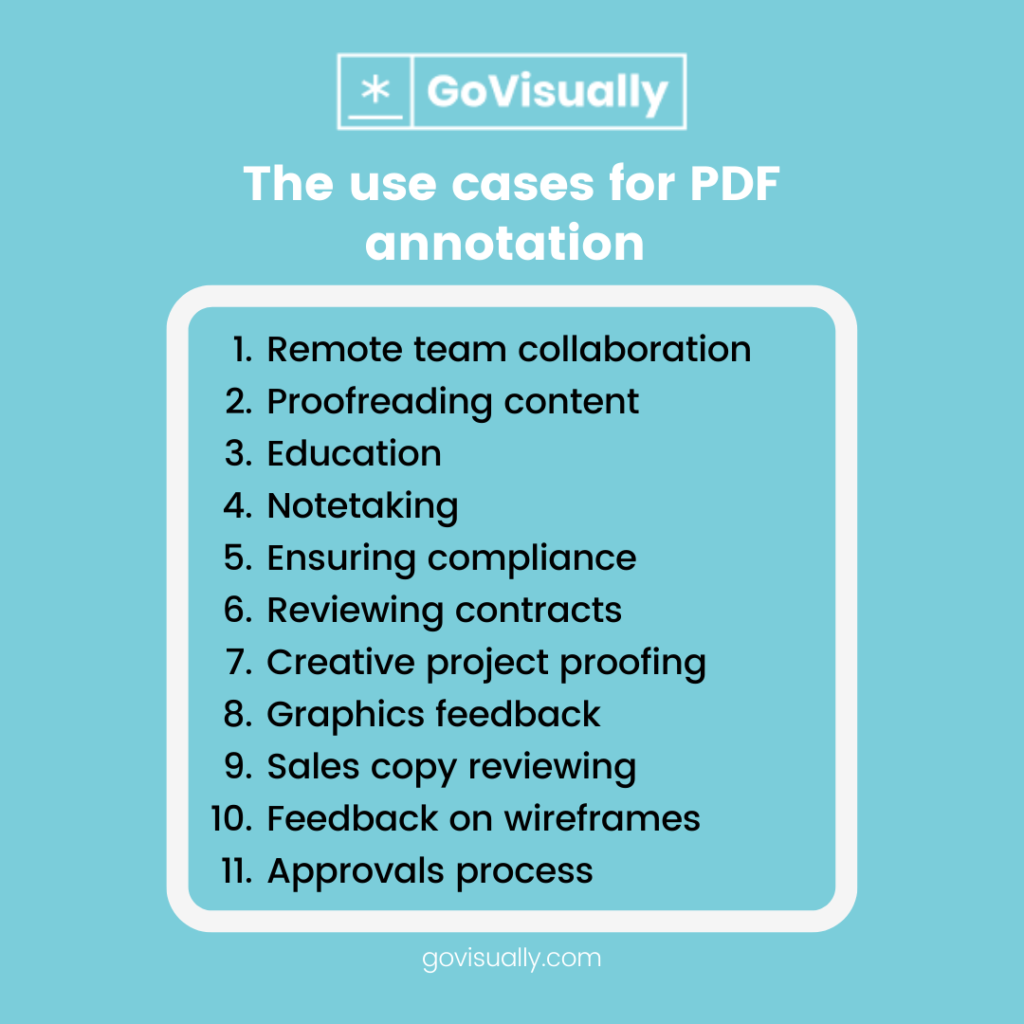 1. Remote team collaboration
Remote teamwork has become the norm. And there isn't a single remote team that can efficiently work without using the top remote work tools. A team-driven PDF annotation software is one of those tools you need for your remote collaboration.
For remote teams, the biggest drawback is that they can not share feedback in real-time. Using communication channels like emails, WhatsApp or Slack would cause delay and confusion.
Asynchronous feedback on creative projects can be time-consuming and inefficient. A real-time PDF proofing and annotation software like GoVisually works wonders for remote collaborators. 
2. Proofreading content
Conceivably, PDF annotation brings the most benefit to writers and proofreaders. Whether it's a novel, e-book, script, ad copy, or legal documentation, a proofreader's job is significant.
Ensuring your content is free of mistakes is necessary, but ensuring your original content remains intact while the proofreader makes their suggestions is also essential. No writer would want their work tampered with irrevocably.
By sharing your work as a PDF, you can rest assured that reviewers can not directly edit the content. However, they can add annotations, additional text, and comments for you to see and highlight sections that need to be reconsidered and discussed. Using PDF documents, in this case, is the best option. 
3. Education
Remember how your literature teacher at school spent a whole week teaching you how to annotate text properly? Why do you think that is? In an educational setting, both students and teachers benefit from using annotation while reviewing work.
Since this is the era of online classes and task submissions, PDF annotation tools are a must-have for every student and teacher. Whether it's a student making important notes or a teacher leaving feedback and comments. A good annotation app can make the process smoother and faster.
4. Note-taking
Taking notes isn't just for students. In a workspace, business setting, or group discussion, note-taking is an essential part of the process. While you're going through a report, a draft, or a contract, the need to make annotations often arises. 
Leaving pointers, sticky notes, and comments for your team and yourself leads to a better result in understanding the document's contents and keeps everyone on the same page with what needs to be changed.
Using a real-time annotation tool for group feedback would be great for any team working towards a shared goal or project.
5. Ensuring compliance
Perhaps, the most difficult part of collaboration is ensuring compliance. For marketers trying to build a brand persona, healthcare officials trying to follow guidelines, or a team trying to stay true to their goals. 
One reason to have an effective review and approval process is to ensure brand compliance and sticking to the guidelines. PDF annotations can make this process hassle-free and innovative with the right tools.
6. Reviewing contracts
In the same way, it works for writers and proofreaders. PDF annotation can also be used to review legal assets and documentation like contracts. 
By sharing a legal document as PDF, the reviewers can only read the contents without editing it. But with PDF annotation, they can suggest changes and make comments. This will leave the original content intact for comparison and further suggestions.
7. Creative project proofing
The reason why PDFs are everyone's favorite file format is the same. It retains the real color and quality of a graphic or image. For that reason, PDFs are also widely used to share and review visual projects like magazines and catalogs. 
Digital-PDF proofing and annotation are particularly useful for large-scale print jobs. A bonus point would be a collaborative platform for PDF annotation where the whole team can review their part of the work. 
From checking text and color to pixelation and comparing all versions side-by-side, an advanced PDF annotation tool saves time, printing cost, and reprinting errors for creative teams. 
8. Graphics feedback
In line with creative project proofing, PDF annotation allows you to give feedback on graphics and give graphic feedback. Get it? I'll explain.
Take a color correction as an example. You can mark that specific color and leave another color block for comparison beside it. Or, for an illustration, you can leave some hand-drawn alterations on the margins.
Most PDF tools are not advanced enough to make this happen, but there are a few exceptions, like GoVisually.
9. Sales copy reviewing
PDF annotation is key to reviewing when your marketing team and creative designers work together on an Ad campaign. An ad copy can contain a lot to be reviewed before release.
With everyone reviewing on the same platform, you can reduce the number of revisions and improve the quality of work together. Saving cost and time.
10. Feedback on wireframes
In web designing, wireframe annotations are used to demonstrate how an on-screen feature should work or look. Details like visuals, flow, interactiveness, and call to action can be worked on together and incorporated into the brainstorming session through annotations.
Using an advanced annotation app to guide your internal team and bring all developers, copywriters, and clients on the same platform can assist you in completing your project faster.
11. Approvals process
Getting approvals is our everyday struggle. PDF annotation tools make this struggle less unnerving. 
Most of us tend to forget long plain text lists of suggestions. Visual feedback helps understand the intent and interpret the suggestion in the right manner. It also makes implementing the changes more effective due to better understanding.
In all of the above-mentioned use cases, the importance of a PDF annotation tool is obvious. But another obvious thing is the features it needs to have for a better user experience.
8 features to look for in a PDF annotation software 
There are some indispensable features a good PDF annotation software must-have. If they don't, it's not worth much. Any of the best annotation tools will have the following features: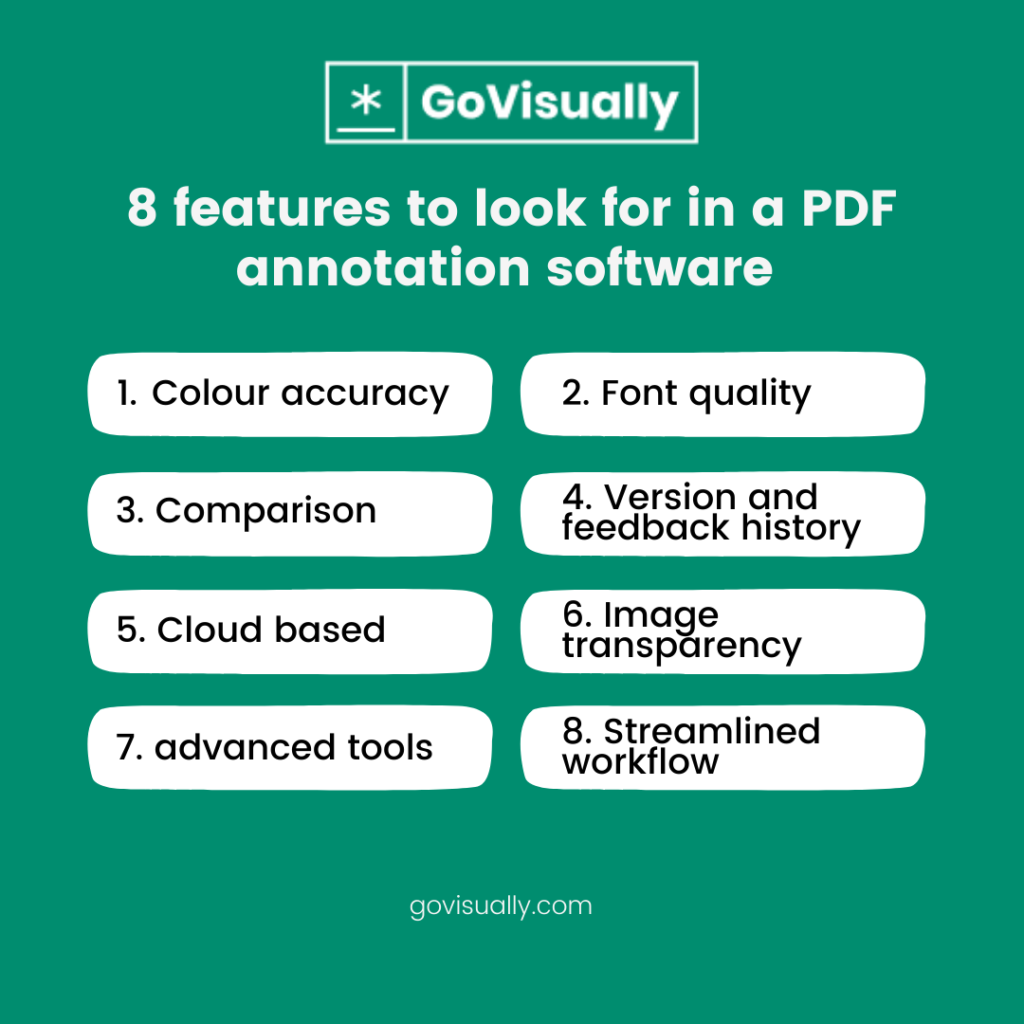 Color accuracy 
Many PDF annotations and proofing tools fail to replicate the original color quality of images and graphics in a document. They can appear lighter or darker and inconsistent, making the review process ineffective.
Maintaining color accuracy is a vital aspect of any proofing software. To avoid debates like the infamous "whether the dress is blue or golden," creative professionals must keep their versions of files consistent and accurate to make the approval process faster and without confusion.
Font quality
Keeping good font quality is to be expected from every PDF proofing tool. But one thing you should look out for is the drop-in rate when zooming in. The pixelation of text can go terribly haywire when zoomed in to a higher range if the app does not support better quality fonts.
Comparison
If you're using a PDF annotation app for long-term planning and projects, make sure they have these two factors to make your file comparison easier.
Version and feedback history
It retains all the previous information you have uploaded, including all versions of the PDF files, the first draft, edited, and the final approved. It will also help you compare the older versions and see if the intended changes have successfully taken place.
Feedback and chat history is also important to refer to it anytime throughout the process.
Cloud-based
Using cloud-based PDF annotation software can solve all your problems. You won't have to worry about losing your files or getting them mixed up. The software will also serve as a management and project organization tool to keep you on track.
Image transparency
A visual design or image in a PDF file format often uses transparent layers or graphics. Not many PDF annotation tools can support such a format and show distorted visuals in no way near the original. This is one of the crucial aspects you must not settle without.
Advanced tools
Since it's so important, a PDF annotator should use a range of advanced tools to make it user-friendly and practical. Some of the must-have ones include:
Highlighters

Strikethrough function

Comment placement

Use of arrows and pointers

In-built measurement tools

Automatic file conversion to and from PDF

Sticky note placement 

Graphic element placement

Handwriting tool

High-speed upload and download options
Streamlined workflow
If your PDF annotation software could serve as an all-in-one platform, wouldn't that be great?
GoVisually can be your project management, organization, and communication tool while being your PDF annotator and cloud-based collaboration software. It encourages a more streamlined workflow,  increases team productivity, and makes collaboration easy for remote teams.
Why do you need PDF annotation for an effective online review and approval process?
We have already covered all the case uses for PDF annotation, but there's one thing still left for clarification. The benefits of using advanced PDF annotation software in making your online review and approval process effective.
Although, it should be self-evident by now. But we're going to spell it out for you so you don't miss out on even a single advantage.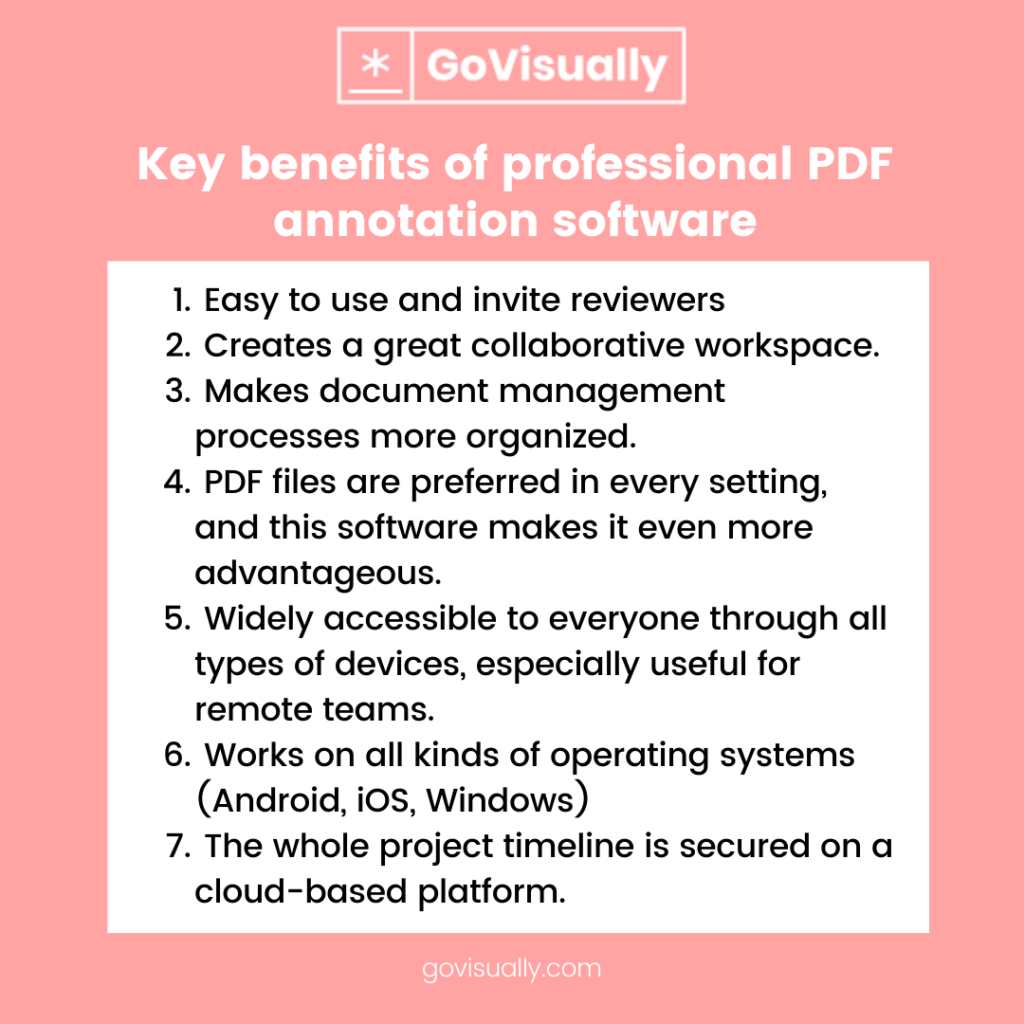 A professional PDF annotation tool keeps your review and approval process efficient and organized while maintaining version control and project management and allowing real-time information to be shared within your team working on creative projects and using PDFs.
3 best PDF annotation tools for creative collaborators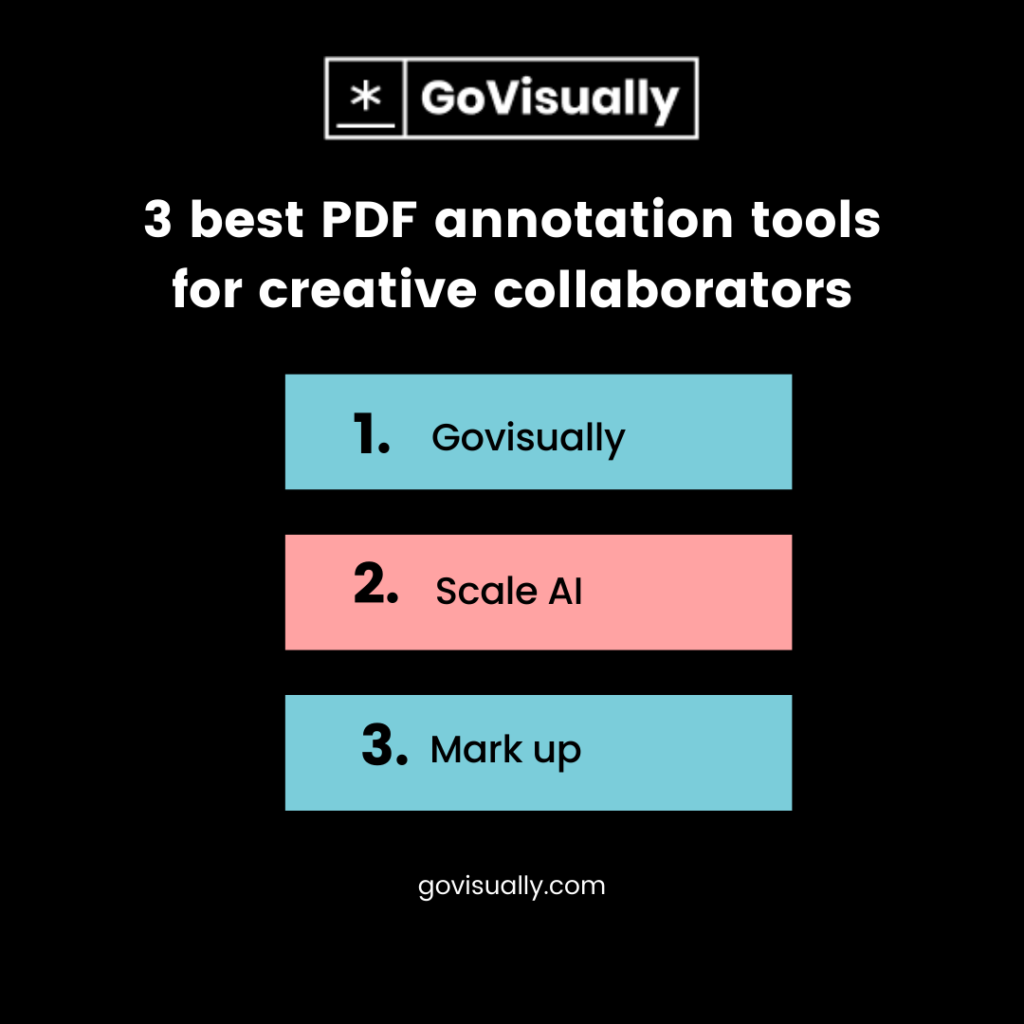 Bottom line 
Our workspaces are evolving with the evolving digital realm. You have to make sure you stay updated with the new ways of integrating technology into your work to avail of its benefits sooner.
Annotations and PDFs have been around for more than two decades. It shows how intuitive their use has become for all of us. We hope this article will help you find a PDF annotation and proofing platform to fit your organization's needs and make its processes more efficient.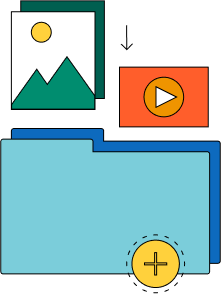 Need a quick way to share large files and creative assets?
With GoVisually Share, it's absolutely free! Try today.